Spy: Episode 16 (Final)
If Spy was ever about more than the pursuit of a flimsy piece of hardware holding the secret to immeasurable wealth, you might find yourself hard-pressed to remember that in a finale that revolves solely around the acquisition and eventual trade of The One Hard Drive. I wish I could say I'd miss that thing since we've spent what feels like sixteen dog years lending it an undue amount of conveniently arbitrary plot importance, but I'm happy to see it gone—even if it means saying goodbye to the rest of the show as well. We'll miss parts of you, Spy. You know which parts you are.
SONG OF THE DAY
JYJ – "Creation" [ Download ]
Audio clip: Adobe Flash Player (version 9 or above) is required to play this audio clip. Download the latest version here. You also need to have JavaScript enabled in your browser.

FINAL EPISODE RECAP
It's Ki-chul who picks up Sun-woo's call at the veterinary clinic, and he doesn't need to say anything for Sun-woo to confirm his location.
But when Ki-chul escorts Mom out, the scalpel on the floor is gone. Wait, does that mean she's going to actually do something?
Ki-chul and Mom find their way blocked when his lackeys line up to face them, guns raised. They take the hard drive from him, but need him to tell them the password to get on their escape boat out of the country—something he doesn't need to do, since he never even bought them passage.
That's when the wounded lackey turns on his comrades and fires. Both he and Ki-chul manage to shoot and kill every last one of the traitors, with Ki-chul explaining that he's loyal to him because of their time spent in a prison camp together.
So much for that, though—soon enough the wounded lackey has his gun pointed at Ki-chul. He demands to know what the password is, while one lackey (who's barely clinging to life) shakily aims his gun and fires right into the wounded lackey's back.
Ki-chul takes the opportunity to use him as a bullet shield before killing him, only to take a scalpel to the back from Mom, who proceeds to run away like the clueless girl in a slasher flick. Don't spies know how to double tap?
Yoon-jin sees Mom flee the clinic while Sun-woo goes inside, and calls him to tell him her location while she follows Mom, but doesn't reveal her presence. While she's on the phone with him, she hears someone step out from behind her, the click of a poison pen.
She turns around just in time to get stabbed by Ki-chul, who reminds her of his warning that she'd experience the same death as Soo-yeon if she ever betrayed him.
Sun-woo hears the exchange over the phone, and rushes to get the antidote kit Eun-ah had given him within the tiny three minute time frame it needs in order to be effective. He makes it just in time to shoot it into Yoon-jin's arm and save her life. In return, she tells him which way Mom went.
Ki-chul takes the opportunity to use him as a bullet shield before killing him, only to take a scalpel to the back from Mom, who proceeds to run away like a clueless girl in a slasher flick. Don't spies know to double tap?
Mom is gasping for air as she runs blindly down darkened alleys, flashing back to her despondency after having Sun-woo. "How can a woman like me become a mother?" she'd asked her husband accusingly, since he hadn't allowed her to get rid of the baby.
In the present, she can only shake her head as she breathes that this is all her fault. No doubt she blames Sun-woo's predicament on herself, and the fact that he was even born. That's probably the most unhelpful thing she could be thinking of right now.
While Sun-woo and Ki-chul look for Mom separately, Sun-woo calls Hyun-tae to alert him to the scene in the veterinary clinic. Mom flashes back to when she first held Sun-woo in her arms and promised him she'd protect him.
She's broken from her reverie by her son's adult voice calling out to her, bidding her to hold on just a little longer—they can arrest Ki-chul and go home soon. Mom would rather him not find her, but he sees her and starts to run toward her.
…Just as Ki-chul raises his gun to shoot Sun-woo the second he rounds the corner. Mom musters all her strength, and with a cry, leaps up in time to take the bullet intended for her son.
Ki-chul takes only a moment to recover from what he's done before he shoots again, this time hitting Sun-woo in the arm. He takes the hard drive and looks condescendingly down at Mom as he asks, "Is your family that important? To the extent that you'd throw your life away?"
Mom gasps desperately for breath as she ekes out that Ki-chul can't take the hard drive, because that's the only thing that'll save her family now.
He still tries to take it, but Sun-woo manages to bring himself to his feet, and the two exchange gunfire. Ki-chul gets away and Sun-woo doesn't pursue, instead dropping to his knees next to Mom.
Mom's fading in and out, but musters the strength to tell her son that she was happy to have had him, and that one of her greatest joys was being able to carry him in her arms and look after him as he grew up.
She tries to shoo him away toward the harbor where she knows Ki-chul will attempt his escape, but Sun-woo refuses to leave her and instead hauls her up on his back.
"I was wrong," she murmurs almost incoherently, her head hanging over his shoulder. "I was wrong." Yoon-jin steps out to meet them, managing to convince a reluctant Sun-woo to chase after Ki-chul—she'll get Mom to a hospital.
While Sun-woo calls Eun-ah for help tracking Ki-chul's boat down, Hyun-tae deals with the merciless Director Jung, who makes certain that Sun-woo will come through for them by taking Dad as a semi-hostage (again).
Before he goes, Dad makes sure to tell Young-seo that while she may hear many things about her parents from here on out, she should remember one thing: "Mom and Dad love you very much. We will work hard to become people you won't be ashamed of."
And more importantly, he adds, Young-seo must remember that whatever she hears about her parents, it has nothing to do with her. "You live the way you want to live with pride," he says. They embrace tearfully.
As Yoon-jin accompanies Mom to the operating room, they both think, but don't speak, that they would have liked to have met each other under different circumstances, and in a different time.
Ki-chul is suffering from a gunshot wound to the gut after his fight with Sun-woo, but still doggedly drives himself to the port where he's to take his ship (was he driving all night or did we just get lazy with the night/day transitions?).
He grabs the hard drive and staggers to the edge of the abandoned dock, leaving a trail of blood behind him as he goes. When he can go no further, he drops to his knees.
Sun-woo gets Eun-ah to ensure that the boat Ki-chul is set to travel on knows he's coming and will refuse him entry before he makes it to the dock himself. He finds Ki-chul's crashed car before he finds the man himself…
…Only to find him face down on the ground. Sun-woo is shocked as he approaches Ki-chul's prone form, just managing to catch a glimpse of the picture of Mom Ki-chul has in his limp hand. Whoa, wait… he's dead? Just like that?
He calls Hyun-tae to tell him he's procured the hard drive so that Hyun-tae can get Director Jung to stop the briefing, where he would've outed Sun-woo and his family for espionage. Now they're safe.
But Mom's not out of danger yet, as Sun-woo and Hyun-tae gather outside the operating room where doctors are fighting to save her life. Sun-woo knows Yoon-jin must have brought her here, even though Hyun-tae claims not to have seen her.
Hyun-tae delivers the hard drive to Director Jung, who hints that this isn't all Hyun-tae will be required to do. Uh oh.
While Sun-woo and his family keep vigil outside the operating room until morning, Hyun-tae can't help but think about Chief Song's last desperate moments while eating the kimbap Song said he could do away with if only he'd joined hands with him.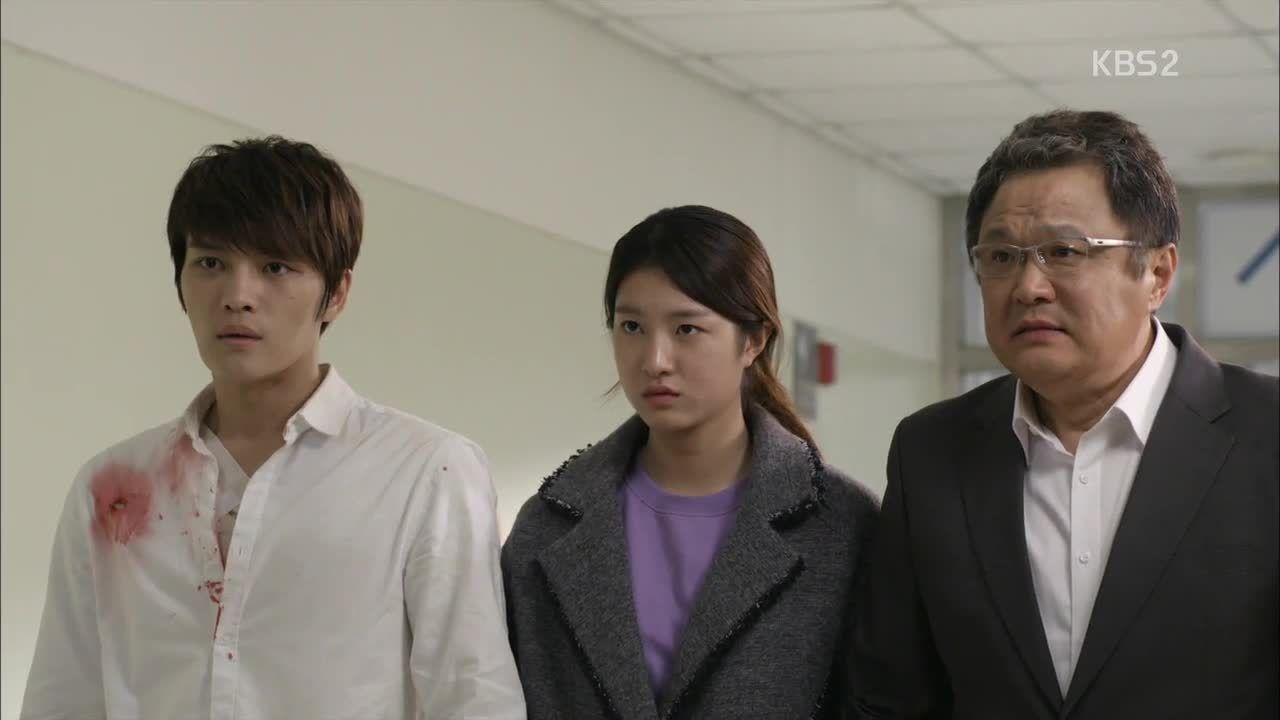 And when the surgeons come out to tell the family how the surgery went, Sun-woo, Dad, and Young-seo link hands in solidarity and support.
One year later.
Eun-ah spills her dating woes into Sun-woo's sympathetic ear soon before he leaves to tend to his utterly normal corporate job. He drinks with his sunbaes and takes some time to be alone, his eyes looking faraway and distant as he broods silently.
He and Young-seo are back to being their normal bickering selves at home, where Dad looks on dotingly. He even comments that Sun-woo is more nagging than a wife to her husband. But where's Mom?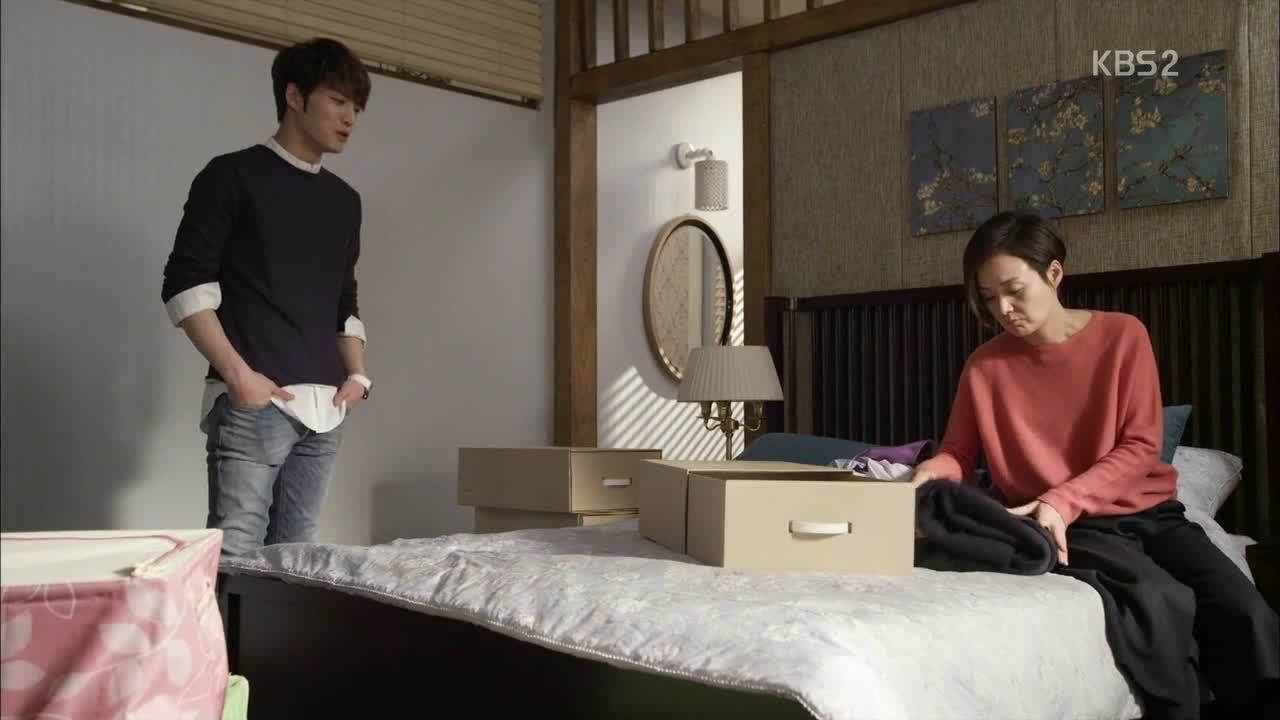 Sure enough, she's safe and sound as Sun-woo finds her in her room. She's packing their things for a move—hopefully with all of them together this time.
Sun-woo may have switched to a civilian job, but Hyun-tae and Eun-ah haven't, since they have a quibbling fight over Hyun-tae wanting her to call him the more familiar "oppa" rather than just "sunbae," despite having received a promotion. She doesn't give in, but jokes around with him about their dinner date at Sun-woo's house.
They arrive together bearing expensive health gifts for Mom and Dad, with Hyun-tae stopping Sun-woo specifically to give him something extra potent. Aw. I know it's product placement, but the sentiment is sweet.
Turns out Mom was packing because they're planning to move to the suburbs after Young-seo takes her college entrance exam, and after dinner, Hyun-tae asks Sun-woo if he isn't bored with working an ordinary job.
"It's good to be ordinary," Sun-woo retorts with a smile, though Hyun-tae still doesn't buy it—Sun-woo looks too comfortable and bored to be truly happy.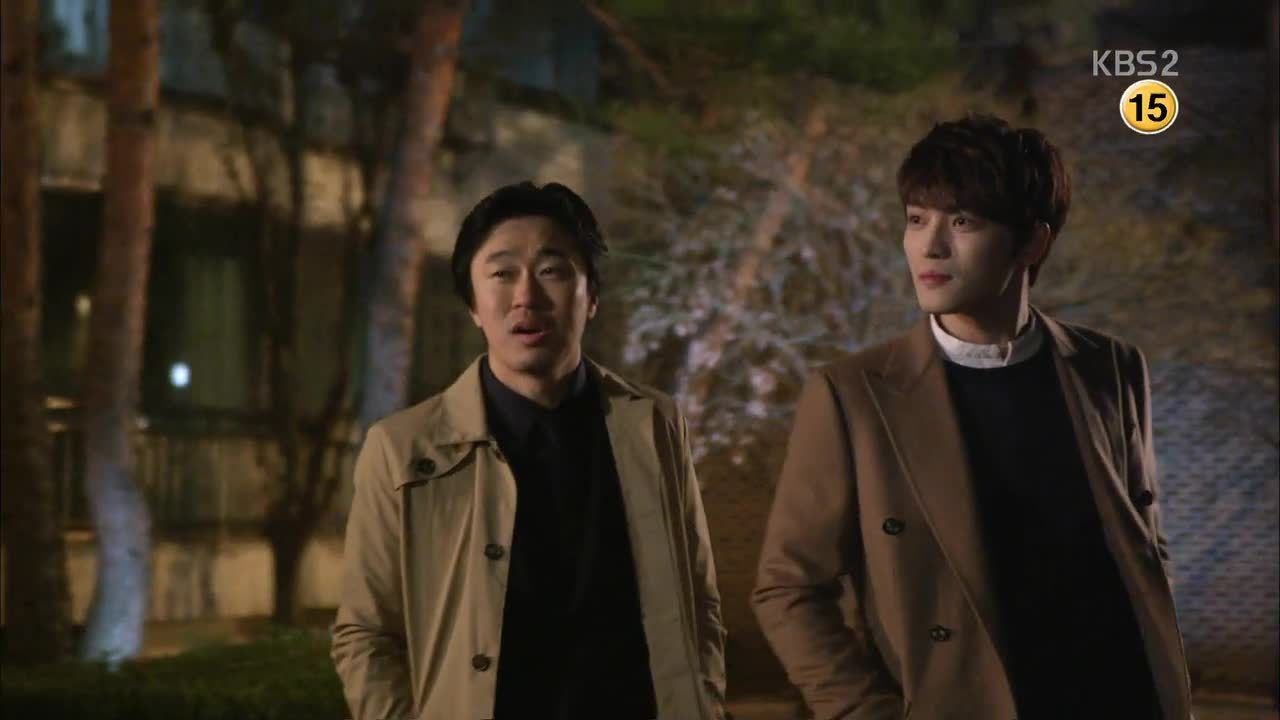 But he gifted Sun-woo with extra-special ginseng because he wanted him to read the note inside (okay, now this is just product placement), asking him if he wants to do one last job for the NIS by meeting with a double agent who has some questions regarding the hard drive incident from the year before.
He waits alone for the contact to meet him, until he hears a familiar voice yell his name…
…It's Yoon-jin, looking pretty in pink. She smiles as she struts over to Sun-woo to tell him that she needs his help for something.
Sun-woo just smiles, and she smiles right back.

HEADSNO2'S COMMENTS
Not to sound too bloodthirsty, but that's it? How anticlimactic. Of course we can give credit where credit is due and proudly proclaim that Spy didn't lose its mind in the final episode like so many shows are wont to do, but there's such a thing as being too safe, which is probably where I'd put this finale on the spectrum between Very Vanilla and Batshit Crazy.
To say that this finale spent its time tying a neat bow out of all the disparate plot threads would be dishonest, since a time skip and a languidly paced epilogue do not a satisfying wrap-up make. Stakes were all but missing, though the show desperately wanted us to think otherwise by shooting as many characters as possible in the hopes that we'd care about at least one of them. Even if we had, too many characters have been injured and survived for us to put much stock in one or two gunshot wounds.
Establishing life-or-death scenarios surprisingly takes more than just putting characters in deadly situations, especially in a show with so many fake-outs as Spy has had in the past. It's a matter of world building as well as crying wolf one too many times, so much so that when Ki-chul just up and died from that gunshot wound, it came as more a surprise than anything. It was both a fitting death for him and thoroughly unfitting, and even now, I still can't quite sort out how I feel about the way his end was handled.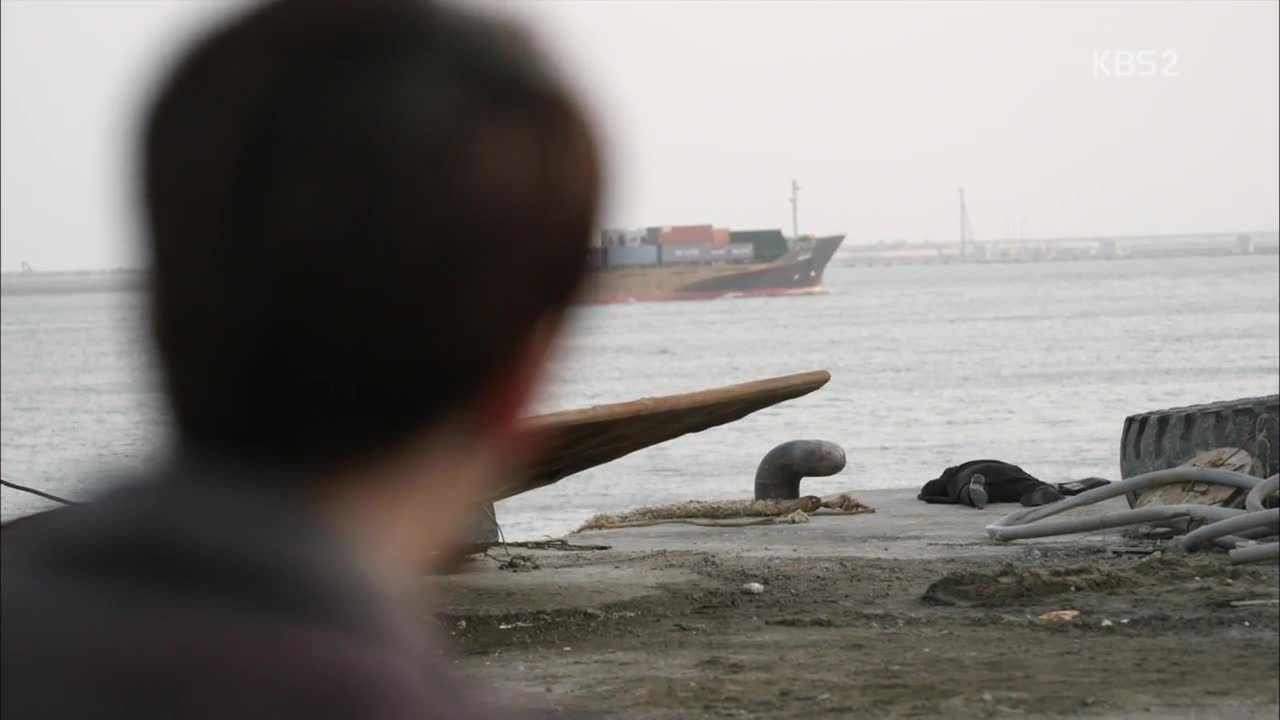 Which shouldn't be taken to mean that every character who's mortally wounded needs to die—we've seen plenty of character deaths in this show's run—just that it shouldn't come off like a lottery that some characters won and some didn't. I know that life can be like that, but when you create a fictional world you assume control of it, and that's just one of the things that should come off as a more calculated move than anything. Who you keep and who you kill makes a statement, and the statement Spy gave us was that Soo-yeon didn't need to die. (I'm still chafed about that.)
On the flip side, everyone else got to live, all the conflict surrounding the hard drive was conveniently wiped clean, and our core family got to return to their lives as if the events of the past fifteen and a half episodes never happened. If they've been irrevocably changed by those events, we'd certainly never know it, even though I'm still scratching my head about all the threats made to charge Sun-woo's family for espionage—so much so that Mom inexplicably believed that (1) not only would her family become criminals because of her, but (2) that fleeing the country with her misbegotten stalker would somehow and magically fix everything, only to be (3) genuinely surprised when it didn't.
The fact that Mom lost her ability to be understood is a crying shame really, since this show touted itself as being an engaging spy thriller with a fraught mother and son relationship at its core. Why? We'll never know. It had everything it needed to be that mother and son drama, though it intentionally decided to be about everything and anything else, with just a sprinkling of what should've actually mattered. Examples of what didn't include: Ki-chul's obsession with Mom, Mom's total inability to put two and two together, the North's motivations, the South's motivations, motivations in every sense of the word, Chief Song's entire character, and that hard drive.
And after all that time spent on the supposed importance of the hard drive, it was traded for a deal we didn't know had to even be made in the first place and that was that. It could not have had any less importance to Sun-woo, and was only made relevant to him when his family was threatened during everyone's mission to acquire it. The only meaning it had was the importance arbitrarily assigned to it, which would've been fine and well if we'd ever really been given a reason to care—instead it was just a thing, and the use of that thing to string one scene into the next so that Sun-woo's journey as a son and agent were more like afterthoughts in relation to it was not the story I think most of us signed up for.
The cast remained mostly solid till the end, with obvious standouts being Jaejoong, Jo Dal-hwan as Hyun-tae, and Ryu Hye-young as Eun-ah, who each showed a special dedication to their roles. Hyun-tae and Eun-ah's roles especially could have come off much flatter, but Hyun-tae was humanized by his struggle to do right by his fallen partner and his inherent goodness as a person, while Eun-ah came off as surprisingly real and just plain human. I'm going to miss them.
Despite the structural failings that ultimately resulted from an unfocused script, this was still a fitting pre-military sendoff for Jaejoong, who's proven himself a capable leading actor even in unfavorable circumstances. While I'd point to Triangle as his breakout role, what both shows had in common was that they required a relative acting newbie to carry them on his shoulders, which is what made both performances all the more memorable. Of course, that'll only make the next two Jaejoong-less years all the more difficult to swallow, which I'm pretty sure is the whole point. No one ever said loving Oppa was easy.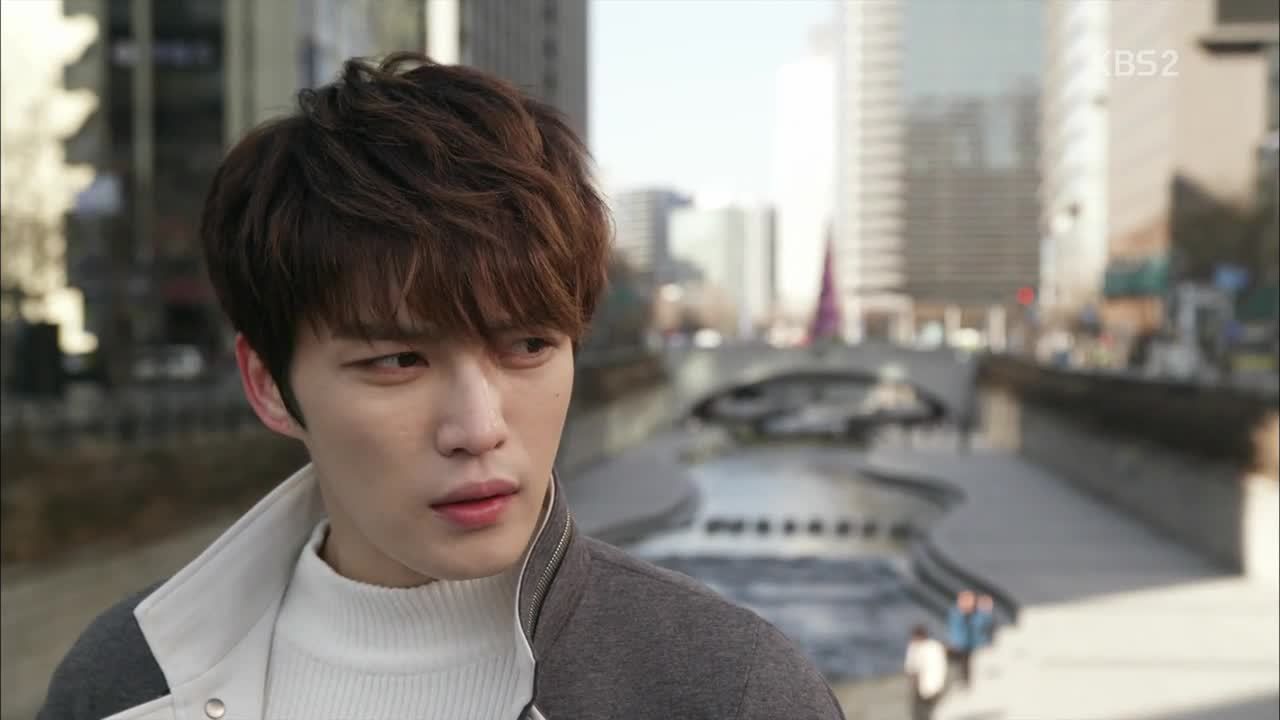 GUMMIMOCHI'S COMMENTS
Uh… hi, Yoon-jin. Sorry to say, but I'm not happy to see you. Oh boy, I already feel much better now that's off of my chest. Initially announced as an action-packed, family-centric drama, Spy certainly possessed the elements of an engaging bit of spy fiction: one family unit entangled up in a political conflict that would potentially shake the already tense relations between the two Koreas. That kind of premise would practically write itself into a gripping tale, because we as viewers would love to know why it has to be THIS family—why these people were so damn important.
Not knowing why our hero is so sought after ten episodes down the road is cause for worry, but if an entire series can wrap-up and make a viewer question what the point of the whole mission was (answer: a hard drive) and realize that the story could have chugged along at the same pace without its core group of characters (presumably, our family), then a show is in serious trouble. Although I wouldn't be able to pinpoint exactly where Spy first made a wrong turn, I can say that this show is an example of what can happen to an reboot in the hands of a clumsy writer. For a spy-action show, there was plenty of non-action and non-spy work going on, and even the initially heart-tugging familial moments turned into jumbled story elements thrown in to occupy airtime.
It's almost criminal to imagine then that Spy had a solid source material (the Israeli drama The Gordin Cell) at its disposal to use as an idea bank. I could understand the notion to use source material as a launching pad to branch off into a different narrative, but then again, what we got was nothing to sing accolades of. By the end, Sun-woo and his family members turned into pitiable characters caught between two greedy semi-evil entities in Ki-chul and NIS (and virtually everyone in the NIS apart from Eun-ah and Hyun-tae). Ki-chul's motivation for that hard drive and badgering Mom & Co. were mutually exclusive — the first for riches, the second for personal vengeance. Together, these pieces failed to fit quite right, because there would be times where one motive took precedence over the other.
Given the great importance Spy had placed on that damned hard drive and all the action happening on my screen over it, I'd hoped that it would be destroyed or dealt with otherwise. And it was in that moment I'd realized that after everything, it ended up in Director Jung's hands and the awful man has exactly what he wanted. Which practically makes the whole fight over it (and sadly then Chief Song's death) virtually moot. In the epilogue, the show had me believe that perhaps either Mom and/or Yoon-jin had passed away, which I thought was why Sun-woo appeared more solemn. When I discovered that neither was the case, and that Yoon-jin's reappearance was the same move I'd seen in every lazy flick of writing of an open-ended reunion, I felt cheated out of any threat that had been brought up at any point in the show.
If there ever was a shining redeeming quality to this show, it would be by far the men in this family. I could fill pages about Dad and his steadfast devotion to his wife and children, along with his willingness to protect his family. His helplessness in the time when he knew that there was nothing he could do broke my heart, but how could you not love a jolly, honorable family man? And wouldn't you know that Sun-woo takes after his father in his own relationship with Yoon-jin (even if I was never sold on the romance). Coming across a hero who actually comes from a loving home with solid parent-child relationships is hard to come by, which makes me appreciate Sun-woo all the more. Jaejoong has come a long way, improving with each role he takes on. We'll need to wait at least twenty-something months until he can be back on our screens, but rest assured that we'll be here waiting.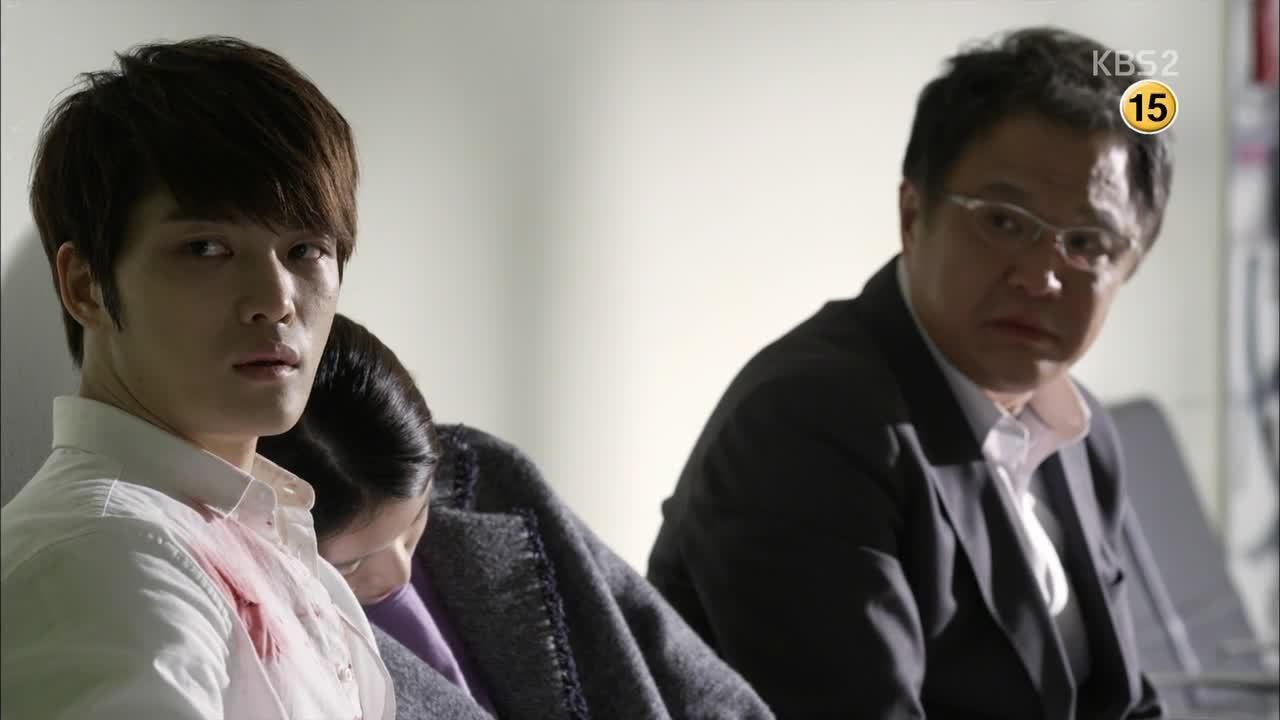 RELATED POSTS
Tags: Bae Jong-ok, featured, Go Sung-hee, Jaejoong, Spy