Running Man: Episode 249
You'd better eat a full meal before you watch this week's Running Man episode, because I can say with confidence that the food here will make you salivate. It's a jjajangmyun-centered mission where the focus is on eating, and trust me—there's lots and lots of eating that goes on here.
I'd go on and tell you all the other things that happen, but my stomach is already grumbling just from thinking about it. Aw man, now I want jjajangmyun.
EPISODE 249. Broadcast on May 31, 2015.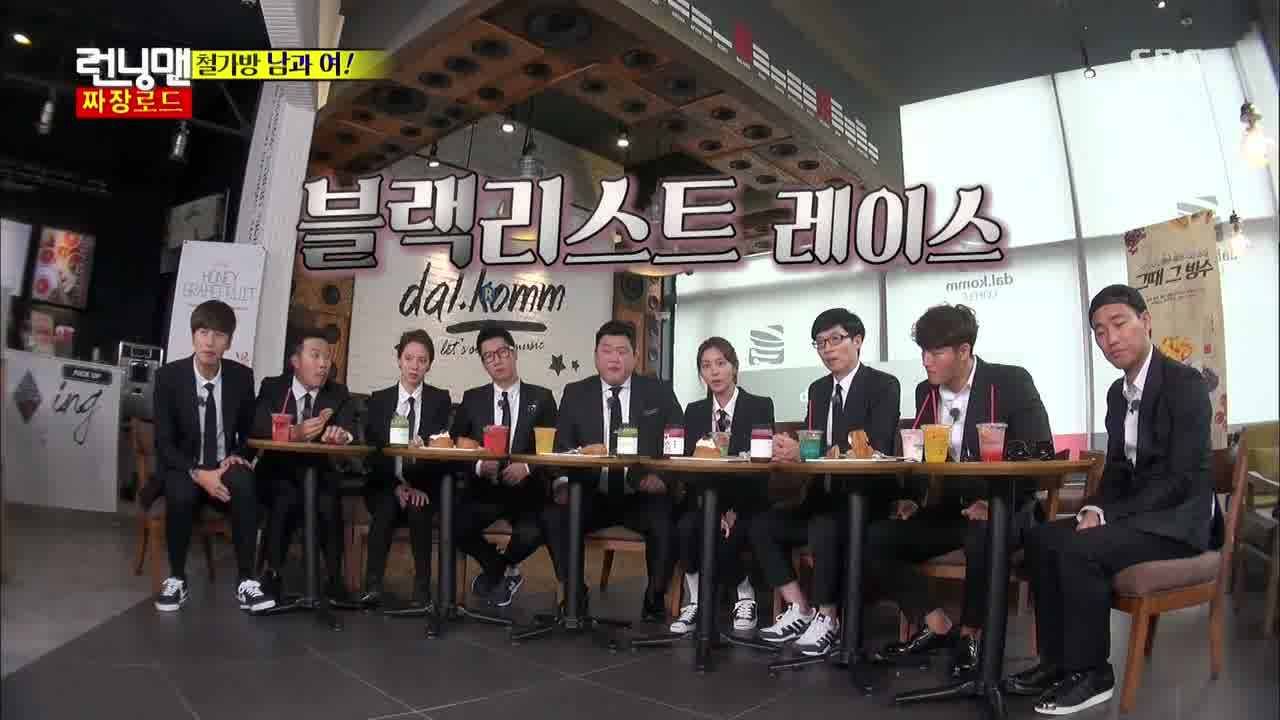 We join our sharply-dressed cast at breakfast this morning—the memories of Suk-jin's bungee jumping punishment and Kwang-soo and Gary's nearly broken relationship last week still fresh on their minds.
Cue our guests' entrance: comedian Kim Jun-hyun and UEE (High Society) carrying delivery boxes. These two are the celebrity icons of eating, both known for their abilities to eat lots of food and enjoy it.
UEE does look to be more frail since her last appearance, and the boys call her an "idol killer" because no matter how much she eats, she doesn't easily gain weight. In the spirit of this mukbang trend (where viewers will tune in usually via webcast to watch individuals eat large quantities of food) today's "Blacklist Race" will be every man or woman for themselves.
The first one to complete their blacklist will be the victor; however, they must do the legwork on acquiring hints about said list. First stop are jjajangmyun (black bean noodles) restaurants that offer various kinds of these noodles. Ha, why am I not surprised that Jun-hyun knows how to properly eat every kind?
That jjajangmyun-bread dome variety looks delish, as well as that spicy red jjangjangmyun. Okay, so does that sizzling plate one. Ahh, I knew I should've had lunch before I started this recap.
Time to draw chopsticks and Haha says he wants to see Jun-hyun eat in person. UEE gets to choose first and asks if she can't choose who she wants to go with too. When asked who in particular, she points to Kwang-soo: "Oppa, you've gotten better-looking."
The hyungs jump up to warn UEE against instilling false hope in Kwang-soo and unintentionally hurting his feelings. But she goes with Kwang-soo's recommendation anyway. Asked what type of guy she likes, UEE sends him a cute wink, saying, "A guy like you." At this rate, Kwang-soo's going to turn permanently red.
By the time it's Jun-hyun's turn, his decision determines whether Jae-suk or Haha eats alone. He chooses to go with Jae-suk, which means Haha will be eating spicy jjajangmyun on his own.
While Jae-suk and Jun-hyun happily talk about their mutual love for jjajangmyun, Kwang-soo asks why UEE chose him. He beams when she says he's become cooler and more popular these days… but then swallows his disappointment when UEE says she isn't interested in whether he becomes more impressive for her benefit or not.
Cut to: Haha, singing his heart out in the car by himself. Aww. We first check in with SpartAce in Incheon Chinatown for their white jjangjang while Gary and Suk-jin drool over their neighbors' food. Is that… injeolmi tangsooyook (deep-fried sweet and sour pork sprinkled with sweet rice cake powder)?
Arriving at his destination, Haha admits that he momentarily forgot that he was filming. Elsewhere, Jun-hyun and Jae-suk are grinning from ear to ear as soon as they step into the restaurant.
But then here comes the twist: they must succeed in their mission in order to eat. Those are dangerous words to say to two jjajangmyun maniacs, and the others share the same reaction, all, Wait… you're saying there's a chance we might not get to eat?
Jae-suk and Jun-hyun are given a speed quiz, where they must succeed in getting passersby to answer ten questions correctly before their order is ready. The parking lot ajusshi is pretty quick, answering seven question by the time the noodles are cooled.
They're short by one questions when they're told that time's up. Which means those delicious noodles get to be eaten by the staff.
Kwang-soo and UEE must figure out the item in the delivery case. They get a prime opportunity when the case gets stuck, but UEE answers incorrectly. Once Kwang-soo says he knows, the cook calls out the order. They can only watch as the PD digs ins.
Meanwhile, Gary memorizes the group order like rap lyrics. He gets most of them but can't remember them all, but dang, that's a good mnemonic device. The experienced rapper gets it on the second try, though, so he gets to eat.
You guys, I don't think I'm going to make it through this episode—just looking at this sizzling jjajangmyun is making me salivate. Evidently Ji-hyo is tortured as well, having to watch Jong-kook munch on a bowl of white jjajangmyun.
Haha promises to pay for everyone's meals if he wins, but his clever way of asking what the granny will play in rock-paper-scissors works against him. She just keeps winning hand after hand, no matter how many times he tries.
Although Kwang-soo and UEE get a clear shot for their second item, in her haste, UEE accidentally bops him on the nose. She gets the answer right, so she gets to eat her food.
Jun-hyun and Jae-suk's speed quiz moves inside, where a fellow customer happens to know all things Korean-Chinese food. The way Jun-hyun slurps his noodles cracks me up, and the rest is really like watching a mukbang BJ (short for broadcasting jockey otherwise known as the host) in action.
Given how much he's enjoying his food, Jun-hyun jokes that it's almost like Jae-suk's a guest on his own eating show. Hehe. Oh man, watching everyone eat to their hearts' content is truly painful. Why isn't smell-o-vision a Thing yet?
Afterwards, everyone is told that the first person who collects all five ingredients of the jjajangmyun will win today's mission. However, they must keep in mind that ingredients can be stolen away later, so it's to their advantage to choose something that someone else might not necessarily pick.
At least two or three people pick similar ingredients, be it peas or chopsticks or black bean sauce apart from Jun-hyun (yellow radish) and Suk-jin (noodles).
Kwang-soo and UEE are the first to arrive back in Seoul to a Chinese restaurant set. When asked if they had a good time on their date, UEE jokes that Jae-suk was right when he said Kwang-soo's a kind of guy who you get sick of easily.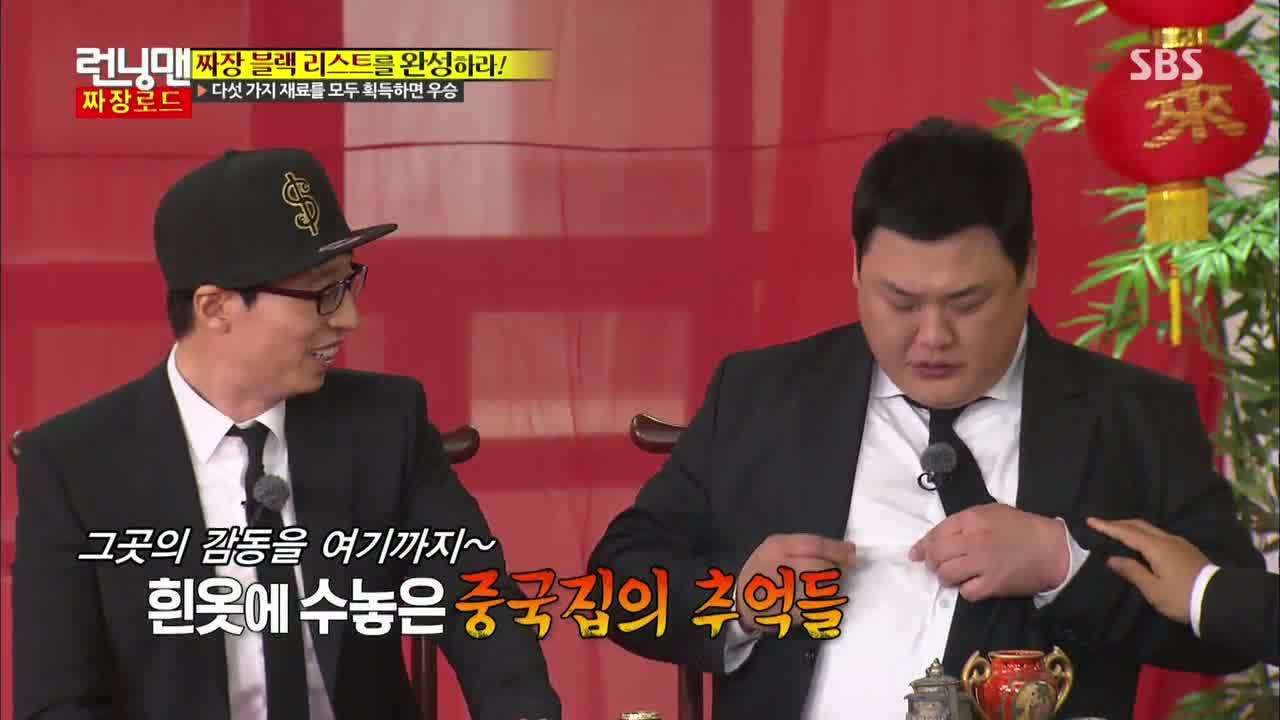 Jun-hyun proudly shares with the group of how he and Jae-suk had a whole set course, pointing at the food stains on his white shirt as mementos. Here, our first game will be going up against the big bellied Jun-hyun and try not to get knocked out of the ring.
Jun-hyun and Jong-kook are up first—and while Haha thinks Jong-kook will win, he's cheering Jun-hyun on instead. As expected Jun-hyun pushes Jong-kook back easily, and a few more attacks pushes Jong-kook out of the ring.
In the second round, Jong-kook repeats the same words, saying that Haha might win but he's cheering Suk-jin on instead. UEE hopes Suk-jin wins too because "I feel bad for him." It's a much more lively match this time around, with bellies aggressively knocking up against one another.
Mostly it's Suk-jin getting knocked down but not knocked out of the ring until Haha moves aside and Suk-jin runs out instead. Jae-suk wins his round with one strong bounce, and when Kwang-soo gets caught helping UEE out before her match, he gladly steps into the role of her gentlemanly boyfriend.
Fighter Ji-hyo wins the ladies' match, and later Jae-suk exclaims that things aren't going his way. Those are words that Gary repeats, saying that's true of his on-and-off Monday Couple relationship. But Ji-hyo advances to the semi-finals anyway.
Haha's air-filled belly is no match against Jun-hyun's, as evidenced when the former goes flying. But Haha gets tossed back each and every time, and on the last bounce, he deliberately rolls out of the ring.
Despite his exhaustion, Haha gets placed back in until his loss finally gets acknowledged. And then Haha bends down to show everyone his busted pants. Haha: "This happened the first time I got knocked out!"
Kwang-soo is up against Ji-hyo, who knows about his true gentlemanly ways despite all the betrayal we see onscreen. But Kwang-soo won't go easy on his adoring noona, as he knocks her down. Pfft, are you trying to impress your new girlfriend by being awful to your noona castmate?
So the next time, Ji-hyo grabs him by the hair and starts kicking him. Jong-kook criticizes Jae-suk for just standing there while UEE fixes his mic, so then Jae-suk knocks his off too. As expected Jong-kook dutifully waits and soon the others are lining up to have UEE fix their mics too. LOL, Gary lets his mic hang below his belt.
But she doesn't help Kwang-soo, so Jae-suk helps him out instead, attaching the mic to Kwang-soo's lip. Kwang-soo goes ahead to knock Ji-hyo out and drink in his victory before swooping down to check if she's okay.
There's an impromptu dance break before the final round with UEE dancing to After School's "Diva", then it's down to business again between Kwang-soo and Jun-hyun. As soon as the whistle blows, Kwang-soo runs around his opponent, only to find himself cornered a minute later.
One powerful push sends Kwang-soo to the ground, but our giraffe won't be beat just yet. Kwang-soo charges Jun-hyun and tries his best to knock him down, but Jun-hyun is like a brick wall.
The next push successfully pushes Kwang-soo out, giving Jun-hyun the win, and UEE is put on the spot once more for an encore celebratory performance.
Jun-hyun is given first pick among the various ingredients and swipes the noodles. Kwang-soo picks up some yellow radish, and Ji-hyo selects the black bean sauce.
We jump right into the second game where the group must use their facial muscles to move the radish slice from their foreheads to their mouths. The four with the fastest times will be able to pick up another ingredient.
Jong-kook, Jun-hyun, Kwang-soo, and Jae-suk all pick up more ingredients, then we move right along to our final mission. Winning the 1:1 battle here means stealing away one of the loser's items; additionally losing here means they're out of the running.
This last game sounds a lot like Battleship where the opponent would call out locations on the board to "sink" the battleship. Here, the other person will try to guess where the jjajangmyun is. Furthermore, if they discover the location of a jjampong (spicy seafood noodles), then that means they're close.
Lastly, the loser must eat their jjajangmyun once they're eliminated. That doesn't seem like such a bad idea to Jun-hyun.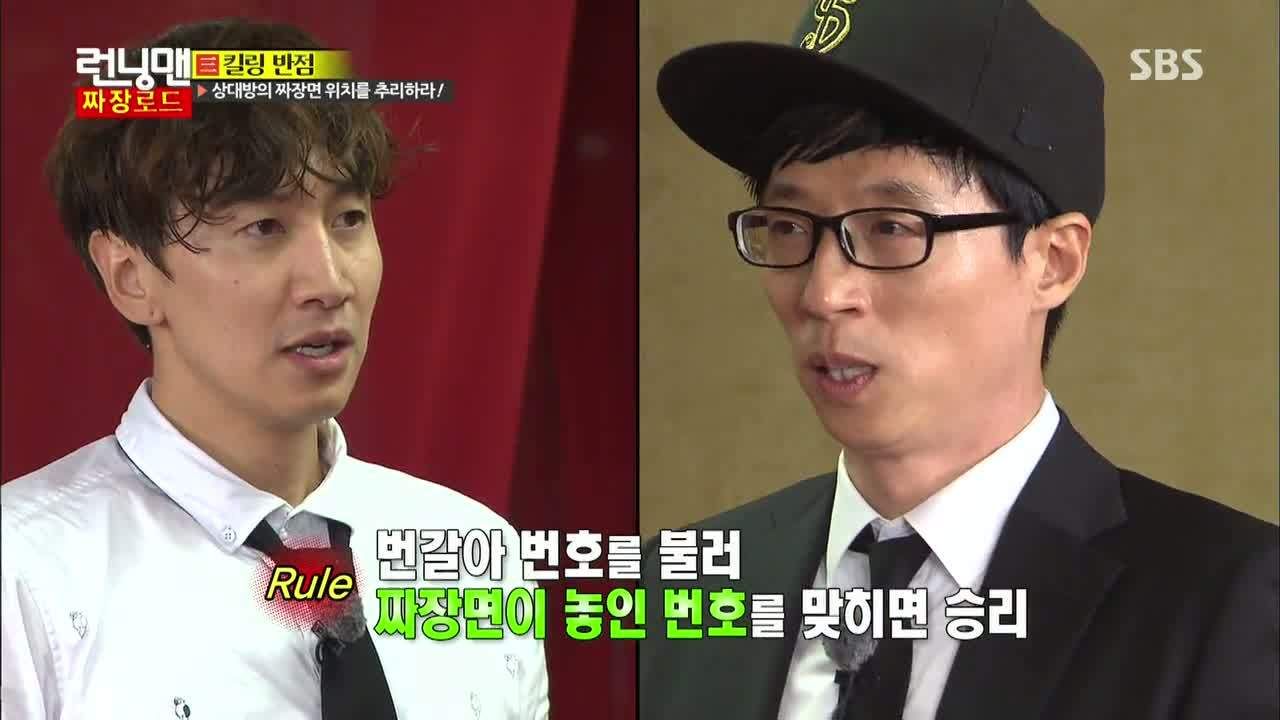 Kwang-soo start things off with Jae-suk but doesn't guess the jjajangmyun on his first try. But then Jae-suk calls out "14!" which is exactly where Kwang-soo has placed his jjajangmyun. Wow, that's just bad luck.
After taking Kwang-soo's noodles, Jae-suk calls out Suk-jin next. Both men place their bowls of jjajangmyun on the edge of the board. Once Suk-jin calls out a number, Jae-suk takes his chopsticks out… and downs the pomegranate-flavored red vinegar.
The mat-hyungs go shot for shot, and Kwang-soo wonders if the men think they look cool right now, downing vinegar like water. But soon enough, Suk-jin guesses the right number and steals Jae-suk's chopsticks.
UEE has her game face on when she gets called out, but then freezes when Suk-jin calls out one of her jjampong numbers. She appeals to him to go easy on her, but then Suk-jin calls out "8" which is where her jjajangmyun is. She tries pleading once more, but Big Nose Hyung sticks to his guns, and she's eliminated.
Suk-jin is on a roll when he eliminates Jun-hyun too. Now he has four ingredients in his case, so he calls out Jong-kook who has those peas he needs to win. However for Jong-kook (and the others) their combination of ingredients isn't enough, so if he wins, today's prize will be delayed to next week.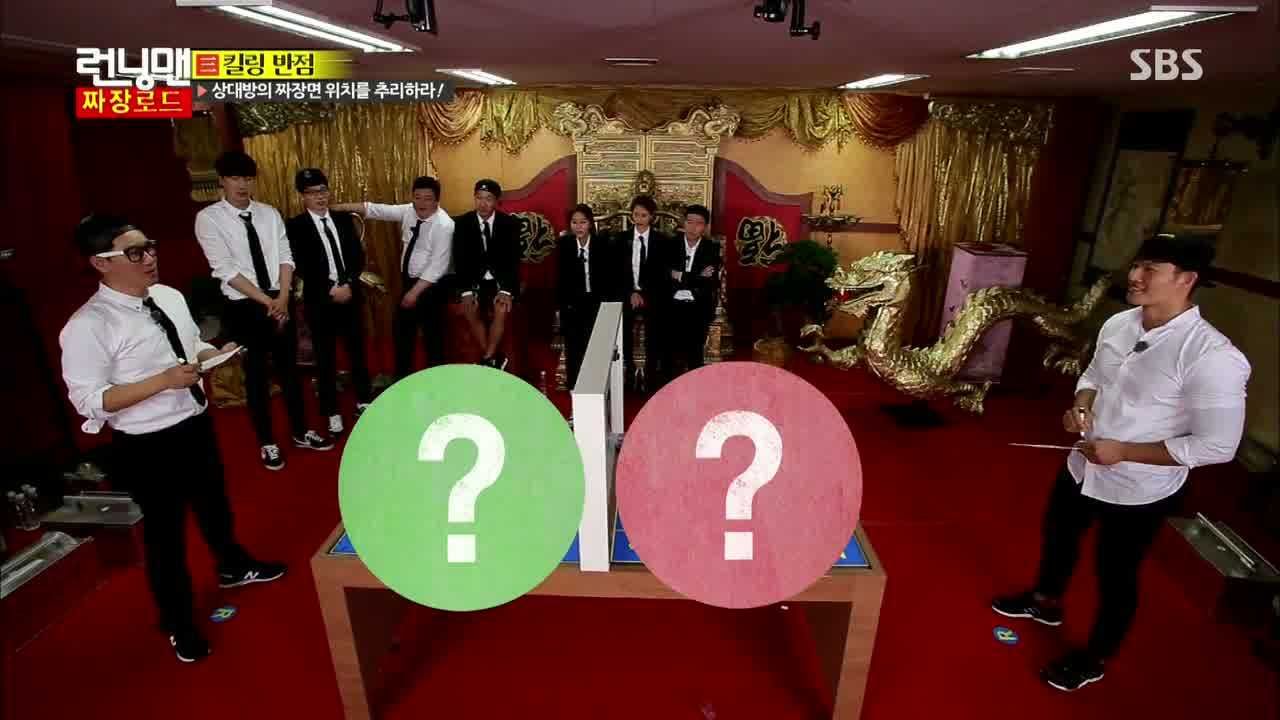 Suk-jin's first shot has Jong-kook drinking the red vinegar, and then Suk-jin picks up his chopsticks on the very next turn. Could it be…?
Big Nose Hyung picks up the jjampong, and soon enough it's Jong-kook's turn once more. Jong-kook guesses wrong again, but that's enough for him to deduce where the jjajangmyun might be.
He guesses right the next turn, which means there is no victor nor prize for today's race. And even though Jun-hyun and UEE won't get another opportunity to win, we know who might: BIGBANG is back.
RELATED POSTS
Tags: featured, Haha, Ji Suk-jin, Kang Gary, Kim Jong-kook, Lee Kwang-soo, Running Man, Song Ji-hyo, Yoo Jae-suk