Dramabeans Top 10: Korean dramas about enemies-to-lovers romances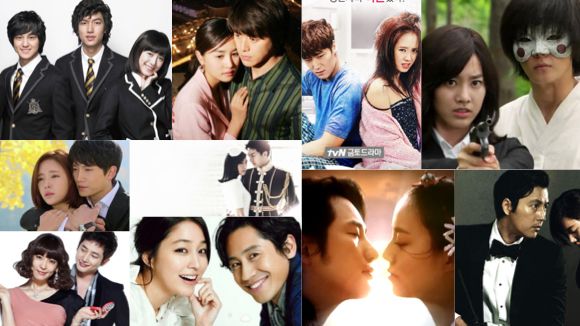 girlfriday: We promised more Dramabeans Top 10s and now we're back! Year-end shenanigans kept us busy for a while there, but it's a brand new year and there are many more dramas to be watched!
javabeans: Our last Top 10 focused on friends who became lovers, so what better counterpart than ye olde dramaland favorite, enemies to lovers? There's just something to be said about that crackling energy in the air, the bicker-bicker-bicker back-and-forths, the sparks that start out full of anger and hate before turning to the happier kind…
girlfriday: …Mind you, this is no model anyone should be endorsing for real-life romance, but sometimes hate is irresistible.
javabeans: The bickering courtship is a staple of dramaland and you'll find it in just about any romance story, so we had to narrow our focus down for this list—we skipped the couples whose initial conflict was relatively mild and focused on couples who had a particularly antagonistic dynamic, otherwise we would have had a Top 100 list instead.
girlfriday: Yes, we went with hate in the form of high treason, deep-seated betrayal, generations-long animosity between families, or just plain hatey vitriol. In other words, the foundations of any healthy, long-lasting relationship.
Enemies of the State
1. Gaksital (2012)
HeadsNo2: There are differences, and then there are ideological differences, which can inspire whole new levels of antagonism—which is why your mother always warned you to never talk politics at the dinner table. Set during the Japanese colonial era of the 1930s, the romance at the heart of Gaksital focused on two people who couldn't be any further apart on the ideological spectrum, with a heroine fighting for Korean independence and a pro-Japanese anti-hero determined to stop her.
That is, of course, until he ended up donning the infamous bridal mask himself, effectively becoming the figurehead of the independence movement overnight. When wearing the mask, he was the hero who represented everything the heroine was fighting for. When he wasn't, he was nothing more than a vile traitor as far as she was concerned, and the real conflict came when he couldn't reveal his true identity to her. You can think of it as being kind of like Superman, only better. Yeah, I said it.
2. The King 2 Hearts (2012)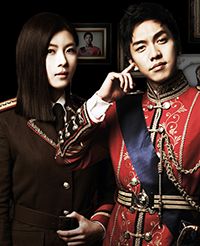 LollyPip: A hoped-for political alliance was the driving force behind pairing a spoiled South Korean prince with a badass North Korean soldier who had no use for his bratty antics. It was hate at first sight (and some reluctant attraction), and coercing them into courtship was no way to ease the already high tensions between their countries. Ordinary romance would have been bumpy enough with their warring personalities, but the show put their road to marriage on the international stage and turned the two people into symbols of their countries' hope for reunion.
But nobody was more surprised than the hero when his life turned upside-down and the biggest source of support came from the woman he'd considered his enemy. While threats from within and without the country made it difficult for him to trust anyone, she became his friend and greatest ally, making it possible for him to rise to the challenge of leading a nation as its king. Despite the difficult road, both politically and personally, in the end their love became so strong that it could prevent wars. It doesn't get much grander than that.
3. Athena: Goddess of War (2010-11)
girlfriday: Athena has the quintessential enemy spy romance at the center of its story. You know the one: Boy meets girl, girl turns out to be badass double agent killing machine, boy loves girl despite her allegiance to enemy terrorist organization, girl is torn between anarchy and love. Ah, romance.
Of all the enemies-to-lovers dramas on this list, Athena probably had the most clear-cut enemy pairing, between a South Korean agent and the double agent who was sent to infiltrate his organization and kill him. She was always the enemy, and yet never fully evil (or so we hoped, trail of dead bodies be damned), and just when you were convinced he'd walked into a yet another death trap, she always found ways to protect him. Her loyalty remained in question until the very end, lacing every romantic development with an undercurrent of danger and suspicion. I guess that's just what you sign up for with spy-on-spy romance—love and duty must always be at odds, and you're never quite sure whether you've been double-crossed, triple-crossed, or just plain played.
4. All About My Romance (2013)
odilettante: When two members from opposing political parties go head-to-head (or, in this case, fire-extinguisher-to-head), sparks are sure to fly. Romance was the last thing the fiery leader of the tiny progressive party wanted as she idealistically put her constituency first. There was no way she'd fall for a pompous (but so charming) member of the conservative majority party, whose policies she actively abhorred.
But he found her fervor irresistible, and she gradually began respecting him when she discovered that even though they were on opposite ends of the political spectrum, their desire and determination to better people's lives were more alike than she'd believed. The news headlines may have trumpeted the antagonistic rivalry between these two leaders, but behind closed doors it was classic rom-com, replete with accidental smooches and grand romantic gestures. Despite their best efforts to keep their burgeoning relationship on the down-low, it became a test to see which was stronger: love for each other, or loyalty to their party. Navigating both love and politics is no easy journey, but for these legislative enemies, it was the beginning of a beautiful bipartisanship.
Enemies of the Heart
5. Boys Before Flowers (2009)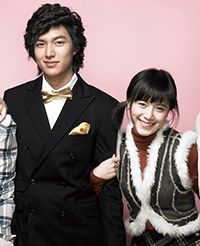 javabeans: This one's a classic enemies-to-lovers romance, albeit perhaps filtered through a kindergarten lens, where attraction manifests as a boy pulling a girl's pigtails and leaving bugs in her shoes. Childish antics aside, this youthful romance between a spoiled rich manchild and the plucky common girl who wouldn't give him the time of day sucked us in with its addictive pacing and juicily over-the-top characters. While we knew our hero's gruff attitude and crude maneuvers were part of his (comically misguided) attempt at the courtship dance, to our exasperated heroine, they bore all the marks of an enemy out to get her and made her determined to stay away. (Luckily for him, he eventually figured it out. Eventually.) There were definite hot mess moments in Boys Before Flowers, but somehow the drama tapped into our guilty pleasure vein with its deliciously makjang episodes (makeover delivered via kidnapping! Bullying! Obsessed admirers running interference!), its jet-setting vacations, and of course, its beautiful privileged boys with an excess of money and a dearth of common sense who won us over, eventually.
6. Secret (2013)
Saya: Secret was, dare I say, gloriously dysfunctional—it transcended everything wrong with it to become terribly, terribly right. Or at least, terribly addictive.
When the heroine willingly took the fall for her boyfriend's hit-and-run, she didn't anticipate the victim's boyfriend holding her responsible and going after her with everything he had. And when he sought to punish her for it, repeatedly coming uncomfortably close and blazing with hatred, he didn't anticipate falling in love with his victim instead. Yet through her steadfast goodness, he came to realize her innocence and true nature, and somehow transformed our livid hate for him into burning loyalty. Their relationship had an immediacy that sucked you into the moment, with character growth and payoff to mitigate the heavy dose of heartache. The crazy chemistry alone was enough to drive the compelling, addictive story—this couple positively crackled with it, whether as enemies or lovers. And let's be honest, sometimes we couldn't tell.
7. Emergency Couple (2014)
Saya: Maybe it's strange to call husband and wife enemies, but this couple was the perfect example of marrying in haste and quarrelling at leisure. A hasty marriage led to bitter divorce, and when the pair met again years later and were forced to work together, it was hardly a happy reunion, or functional workplace.
He couldn't stop himself from finding the pettiest ways possible to snipe at her, while she just tried to do her job amidst his constant belittling and immature behavior. But working alongside each other every day and saving lives, they found themselves constantly relying on each other in crises. Her competency and maturity forced him to look at her anew, and his respect for her grew every time she succeeded where he failed. It was gratifying to watch them both gain perspective on themselves, and finally recognize the mountain of misunderstandings that had grown between them. He managed to grow up and she managed to forgive him, and lucky for these lovers-to-enemies-to-lovers, Emergency Couple was, at its heart, a romance of second chances.
Enemies of My Father
8. Prosecutor Princess (2010)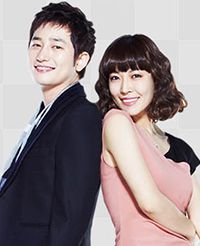 girlfriday: If you're in the mood for an enemies-to-lovers story but not in the mood for a heavy drama, this is a good one to watch. Prosecutor Princess was a light, fluffy comedy for the most part, about a spoiled rich princess who became a prosecutor and slowly learned the ropes of adulthood in an entertaining fashion (with an emphasis on the fashion). But the love story was straight out of a classic revenge drama, because the hero had inserted himself into her life with a mysterious agenda. He was out to prove that her father had committed a crime, and because you never quite knew what he was thinking, their relationship maintained a fantastic tension between his lifelong desire for justice and revenge, and his growing affection for this hilariously lovable woman he didn't intend to fall for. They weren't outright enemies who hated each other, but because he approached her in order to take her father down, they had all the angst of two enemies falling in love in spite of their allegiances. Sometimes it's just nice to be reminded that once in a blue moon in dramaland, falling in love with the enemy of your father doesn't mean your love story has to end in tears.
9. Princess' Man (2011)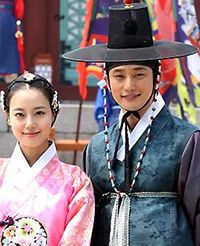 LollyPip: Set in the Joseon era, this drama took the descriptor "enemies of my father" as literally as could be taken: The star-crossed lovers fell in love during a time of political unrest, not realizing that her power-hungry father was out to destroy his, and by the time all hell broke loose, their affections were too strong to sever. Their family strife held them apart, but despite it their love grew deeper while the world around them spiraled out of control, testing their loyalties, drawing in their friends and family, and threatening their lives. But this was more than a simple Romeo and Juliet story—this Romeo wasn't about to sip some poison when he had revenge to pursue, nor would this Juliet stick a knife in her chest before doing everything in her power to stop her usurper father from destroying not only her love but his own self. These were tragic lovers who refused to roll over to fate and insisted on writing their own ending—dramaland could use more like them.
10. Green Rose (2005)
javabeans: These two were lovers first, not enemies, but as this was a Count of Monte Cristo-esque revenge story, the wedge driven between the couple served as a key element of the drama's setup. It was bad enough that the unassuming hero was framed into taking the fall for a crime he didn't commit, but learning that her father was a key player in his demise fueled his rage, and his mother's death from shock and grief was the nail in the coffin, propelling him to reinvent himself with new name and new attitude. But no matter how fixed his mind was on payback, his heart couldn't be indifferent in the presence of his old love, and the angst was made more delicious by her certainty that he was exactly who he couldn't be. Green Rose placed its lovers directly on enemy lines and drew out that tension intentionally alongside the romantic tension, playing with our hearts in the best/worst of ways. It may be an old-school revenge romance, but old-school doesn't have to be a bad thing: The fashions and the hairdos may be dated, but that romantic angst (and our addiction to it) is forever.
Other Enemies-to-Lovers Dramas
(Some of these are decent, some are much less decent—watch at your own risk)
Golden Cross: Her father killed his sister, prepare to die.
A Love to Kill: He hates her for his brother's demise and intends to take her down. But who can resist falling in love with Shin Mina?
Queen of the Game: Her father ruined his father's life, so he'll make her fall for him and get revenge. Just don't fall in love with her… oh wait.
Fantasy Couple: She's a haughty heiress and he gets revenge when she conveniently gets amnesia. His revenge involves convincing her that she's his girlfriend. If you don't think too hard, this drama is cute.
Sword and Flower: Her daddy is king, his daddy kills the king, their love is doomed. But don't skip this because it's sad, skip it because it's directed by a crazy person on acid.
Level 7 Civil Servant: He's a manchild and she's a liar. This is a terrible drama.

RELATED POSTS
Tags: 1 show to rule them all, All About My Romance, Athena: Goddess of War, Boys Before Flowers, Dramabeans Top 10, Emergency Couple, Fantasy Couple, featured, Gaksital, Golden Cross, Green Rose, King 2 Hearts, Level 7 Civil Servant, lists, Princess's Man, Prosecutor Princess, Secret, Sword and Flower