Oh My Venus: Episode 16 (Final)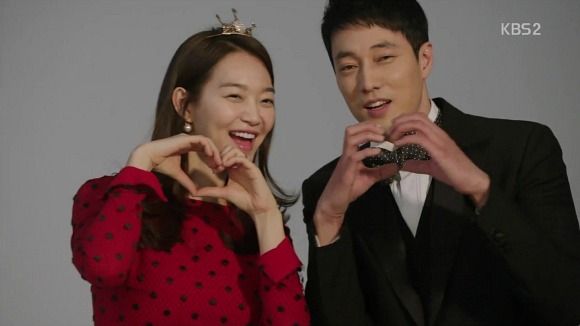 It's a finale filled with neat little bows for Oh My Venus, with hearts and flowers flying everywhere. We don't get all the answers we'd like, but when is life ever perfectly tidy like that? But that's not to say that the show doesn't have a surprise or two left for us, as we say goodbye to our adorable couple and their sweet little self-made family.
EPISODE 16 RECAP
Young-ho reveals that Joo-eun has been carrying her own engagement ring in her scarf ever since he gave it to her, and proposes to her. She nods her yes, and they hug, both of their wishes coming true at once.
Later Joo-eun stares at her ring, though she tells Young-ho that the real gift was the scarf. You can buy a ring anywhere, but he made this scarf just for her. I love that she gets how meaningful that is for him.
Young-ho drops her off at Hyun-woo's so she can flash her ring at her friend, and he starts to warn her about his family. But Joo-eun stops him and says they'll take things one step at a time. She assures him that she plans to live with him forever, so nothing anyone can say will change that.
Joo-eun pretends to have a headache, holding her beringed hand to her forehead, and of course Hyun-woo sees her new ring right away and shrieks excitedly. Best friend ever. Joo-eun can admit to her friend that she's nervous about meeting Grandma, so Hyun-woo role-plays the worst stereotypical chaebol grandmother ever, to get Joo-eun pumped up.
Joo-eun has her dial it back a bit, and this time it's more helpful, though Hyun-woo bails when Joo-eun mentions her dead father. Ha, her advice is to give Grandma some spending money, based on her interactions with her own mother-in-law, but that's a bad idea for obvious reasons.
At work in the morning, Joo-eun gets a visit from Joon-sung's mother, with a gift of some pretty white mittens. Joo-eun asks how her husband is these days, and it sounds like he's in prison but doing well there, and even wants to make amends with Joon-sung's mother when he gets out. Joo-eun suggests counseling, and they talk about how happy Joon-sung seems these days.
Young-ho visits Woo-shik at work, here to get up to speed before he goes back to work soon. He asks if Woo-shik had a lot of injuries when he was a swimming star, and Woo-shik says that's why he eventually retired. He tells Young-ho that he did his physical rehab in Japan, France, and America, which prompts Young-ho to pull out a set of plans.
He wants to build a new rehab center in Korea, which Woo-shik knows the directors will fight against. That's why Young-ho is here, to ask for Woo-shik's support on this project. He admits that he doesn't fully trust Woo-shik yet, but as a fellow athlete who's been through similar health challenges, he wants to mend fences and team up.
Young-ho asks after Uncle, and we see Uncle playing a board game with another man when he gets a text from Young-ho. He asks to see him at the company, which surprises Uncle, but he looks pleased.
Joo-eun nervously arrives to meet with Grandma, psyching herself up before entering the dining room. The mood is tense as both women size each other up, and Grandma reaches for her purse. But Joo-eun quickly grabs an envelope, and asks Grandma to accept hers before offering her one (presumably full of money to entice her to leave Young-ho).
She says that it's not money in her envelope, but her blood test results proving that she no longer suffers from hypothyroidism. She says respectfully that no matter how much money Grandma offers, or how much she objects to their relationship, she won't ever leave Young-ho.
Grandma nods knowingly, and says that with age, one becomes stubborn. She reaches for her purse again, but instead of an envelope of money, she pulls out a handkerchief to wipe her mouth. Joo-eun looks like she'd like to crawl under the table, ha. Grandma says that, other than her outfit (a hideous creation Joo-eun borrowed from Hyun-woo), she has no intention of objecting to anything. It's hilarious how Joo-eun jumps up to apologize her her outfit.
Grandma does have one condition, and that's that she wants a really extravagant wedding gift. Okay, she's not so bad, and I see where Young-ho gets his dry sense of humor. We see that Grandma witnessed Joo-eun's tearful speech outside Young-ho's hospital room a year ago, which was enough to convince her of how much Joo-eun loves her grandson.
Joon-sung is flustered to hear that Yi-jin received an award, and said, "I love you, JJS," in her acceptance speech. Ji-woong teases him mercilessly, making it even worse, ha. So when Yi-jin next pops up in his locker room, Joon-sung can only grumble and look embarrassed when she gives him a watch with their faces on it.
Yi-jin grabs him and demands to know why she's been chasing him for a year, when he doesn't like her as much as she likes him (I think we'd all like to know that, sweetheart). For the first time, Joon-sung calls her by her name affectionately, and says in his roundabout way that he is interested in her. That's all she needs to hear, but she still looks surprised when he gives her a little peck, then backs her up against a locker for a longer kiss.
Joo-eun invites Young-ho to her place that night, but the house is dark when he arrives. He finds her sitting on her bed with a serious air about her, and she moans dejectedly that she met his grandmother today. Hee, she's totally faking him out.
Young-ho falls for it and offers to go talk to his grandmother, but she says that he can't fix this problem. Grandma wants a super-expensive wedding gift ~giant sigh~. Young-ho actually does a double-take, and Joo-eun rips open her robe to reveal a sexy teddy. She holds up a pair of baby You Bastards and suggests a really expensive wedding gift — great-grandchildren.
Young-ho is shocked, and it's Joo-eun's turn to flip him over and straddle him. She mentions that she's been studying jiu jitsu and has three stripes, but Young-ho quips that she needs four to beat him. And then he flips her right back, suggesting other ways to express their love.
Cut to him showing her some new jiu jitsu moves, hee. Joon-sung and Ji-woong watch from the doorway, wondering what they're doing (Ji-woong: "I think they're flirting." Smart boy.).
Joo-eun is determined to convince Young-ho to make a baby, tossing the little stuffed sloths at him and flashing skin at every opportunity. Young-ho is mighty tempted, but insists on four stripes before he'll consider it. Joo-eun stomps off to beat up You Bastard, poor thing, while Young-ho looks like this is killing him. Eventually he caves, because he's human, after all.
They finally go to meet his family officially, and wow, Joo-eun looks radiant in hanbok. Joo-eun starts to formally bow to Grandma and Young-ho's father, and her face is priceless when Grandma is all, Let's just eat. Even Manager Min looks like he's choking back a laugh, and Young-ho asks dryly if she's filming a sageuk. HAHA.
Joo-eun gets a nervous stomach, so Young-ho massages a pressure point in her hand. She asks if the house is always this quiet, and Manager Min helpfully informs her that it's quite noisy today, since they have a guest. HAHAwhoops. Joo-eun is confused as to why Grandma and Dad both just went to their rooms after she arrived, though nobody else seems to think that's strange.
Joo-eun can't accept this as normal, and confirms that she's been accepted as part of the family, then gets a look in her eye that makes both Young-ho and Manager Min squirm. She drags Grandma and Dad out to the living room, and proceeds to sing a song for them. Now it's Young-ho's turn to want to crawl under the table.
He finally jumps up and makes the horror stop, and he begins to apologize to his family, but Grandma starts laughing so hard she can't even breathe. Her guffaws get Dad started, and even Manager Min looks pretty amused.
Joo-eun thoroughly charms Young-ho's family, and even gets them to pose for a group selca (Young-ho: "Manager Min, it's not an ID photo." ~snerk~). It's only later that Joo-eun wonders if his family thinks she's weird, and Young-ho calls that a solid Yes. But he's never seen his Grandma or Dad laugh like that.
He turns serious and starts to say something, but Joo-eun already knows what he's thinking. He's scared to have kids, because he doesn't want to pass on a genetic predisposition to cancer.
Young-ho tells her that when he was young, he blamed his father for making him go through so many surgeries and suffer so much pain. He promised himself that he'd never live like his father did, but now he realizes that it was more that he doesn't have the heart to.
Joo-eun says that she's been doing research, and the chances of passing on the disease are low. But Young-ho knows that even a small chance is terrifying. The child and the parents suffer, and he doesn't want to put her through that. But Joo-eun is optimistic, and willing to at least try their best.
She paints a picture of a son and a daughter, and tells Young-ho how she wants to watch them grow up, and complain about their father, and hear them call him "Dad." Young-ho looks touched, and finally concedes defeat. She asks if he wants a son or a daughter, and suggests twins.
Woo-shik is still leaving porridge for Soo-jin at her place, and she's still ignoring it. But she's kept her engagement ring, and the baby booties he bought, and looks at them longingly. Woo-shik comes back, knowing she's home, and debates whether to let himself in. Ultimately, he decides against it. He'd gone to her doctor and confirmed her diagnosis, and he spends long hours trying to think what to do.
Young-ho visits his father in the hospital while he's undergoing treatment for his own cancer, and Dad asks how he knew. I love Young-ho's answer: "I'm supposed to know. I'm your son." The two sit quietly, needing no more words than that. When Young-ho gets ready to go, Dad offers a quiet thanks.
Stepmom and Young-joon arrive to visit, and when Young-joon addresses him formally, he corrects him to "hyung." Young-ho leaves, and Dad tells Young-joon that he should major in medicine. It seems backwards, but all Young-joon ever wanted was for his father to show interest in him, so the paternal guidance makes him happy.
Young-ho visits Joo-eun's mother alone to look at her wrist, suspecting that she suffers from carpal tunnel syndrome. He gives her some tips on home care but tells her to see a doctor, and she promises to obey. Mom says that she knows he was sick when he was young, and tells Young-ho that it's better to be sick when you have someone around. He thanks her for giving birth to Joo-eun, and for giving him permission to marry her.
Soo-jin thinks back on all of her interactions with Woo-shik, going all the way back to her college days when she was overweight and he was kind to her. Woo-shik is also thinking of her, and he finds her where she's walking and puts his coat around her shoulders. He asks if she's okay, and makes his last apology to her.
He says he's sorry for being a selfish person, but he loves her, and wants to marry her. Overcome, Soo-jin just cries on his shoulder — but Woo-shik smiles, knowing that this is a yes.
While Woo-shik and Soo-jin walk through fields making moony eyes at each other, Young-ho and Joo-eun (naturally) go for a jog together. Joo-eun complains as usual, and Young-ho jokes for her to watch it, because he hasn't decided if he's going to let her live with him or not.
The boys (including Manager Min) suit up for a photo shoot together, and they all gape at Joo-eun in her sexy red dress. Young-ho is obviously smitten, though he does tease that she's supposed to be wearing white for this.
The photo shoot looks fun, though Manager Min gets stage fright in front of the camera and has to be tickled to smile. It's so sweet how Ji-woong and Joon-sung take him under their wings like family. Young-ho and Joo-eun even change into their jiu jitsu uniforms and pose for pictures while grappling on the floor. Cute.
After an alarming amount of flashbacks, we skip to the summer of 2016. Joo-eun arrives at the airport to meet her boys as they return from various out-of-town jaunts. Aww, Ji-woong finally made it into the Marines, and he salutes Joo-eun before pouncing on her with his famous attack-hug. He looks great in uniform.
Prior to getting married, Young-ho flew to give assistance to people in a flooded area, and he's just now returning for the wedding. When he calls out to Joo-eun, she turns and we finally see her face — which has filled out with the weight she gained while he was gone. HAHAHA, his face is priceless.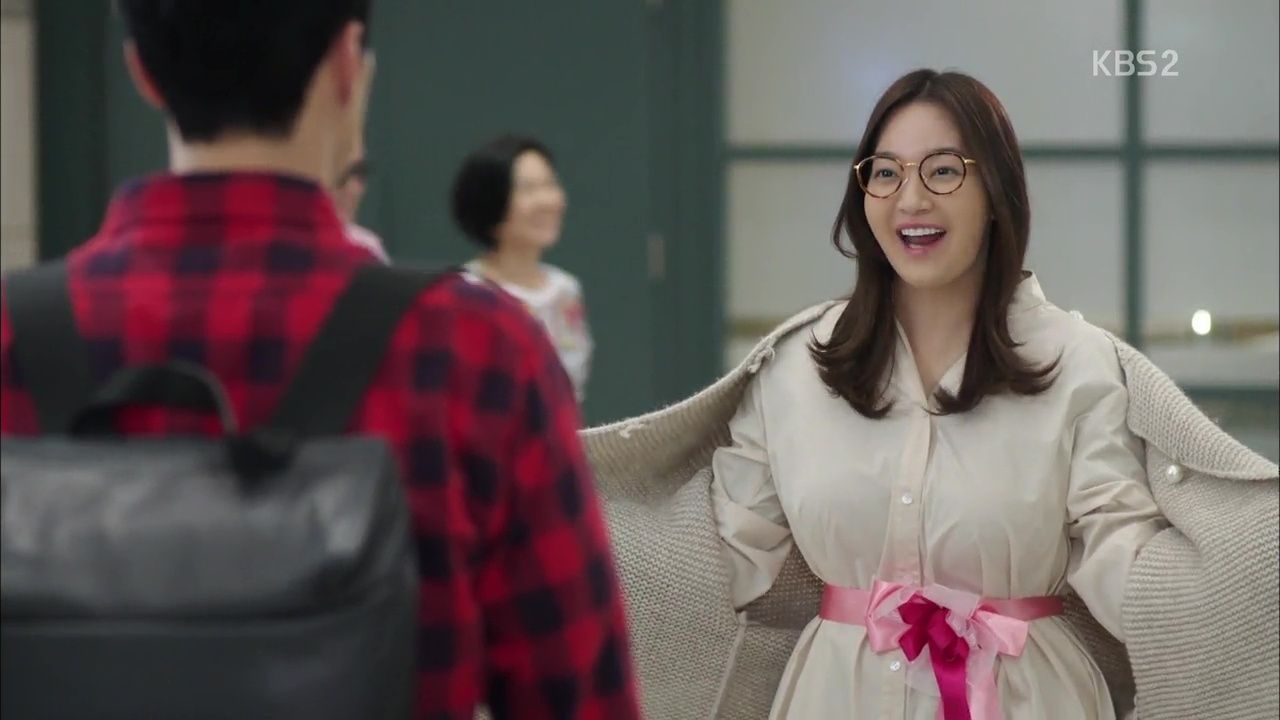 Joo-eun beams at her husband-to-be, and opens up her coat to show a ribbon tied around her belly. She's not overweight, she's pregnant! Young-ho stares for a moment before a gorgeous smile spreads over his face, as he realizes he's going to be a daddy. And not only that, but it's twins!
Of course, the pregnancy means that Joo-eun has gained back all the weight Young-ho helped her lose, and it makes Young-ho worry for her health even as he's thrilled to pieces at the news. Ji-woong and Joon-sung are ecstatic at the prospect of being uncles.
Young-ho is ready to start her new exercise regimen right away, though Joo-eun protests that it was the babies eating all that food, not her. He worries about her fitting into her wedding dress, but Joo-eun reminds him that Venus is the goddess of beauty and fertility.
As they leave the airport together, one big happy family, Joo-eun says in voiceover that among all the men in Korea named Kim, the name Young-ho is pretty common. "It seems very ordinary, for all coaches who exist, especially you…"
Young-ho joins in with, "For the wicked and risky Venuses in this world…" and together they finish: "Now boarding to outside of your world. Departure!"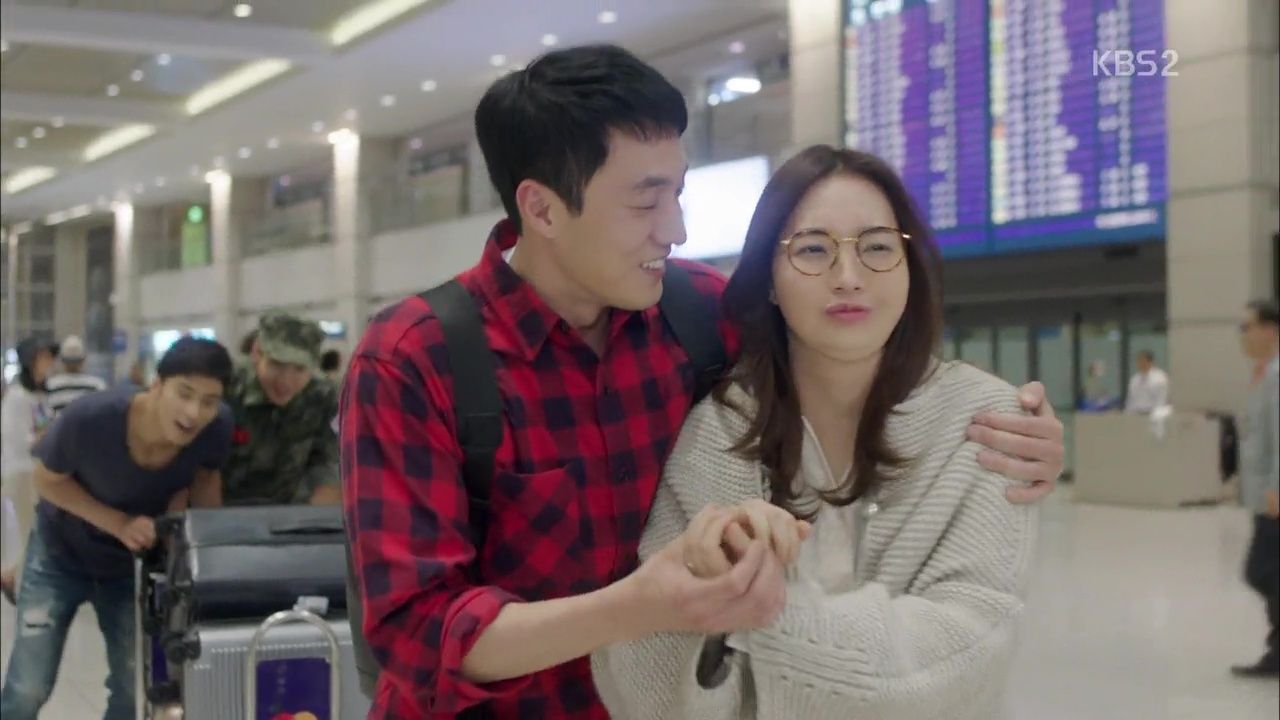 Epilogue
A young Young-ho sits in his wheelchair outside his home soon after surgery, his leg propped up in a cast. A girl walks near and stops, asking if his leg hurts. He nods, and he pulls a bandage out of her pocket and puts it on his cast. She tells him that it won't hurt anymore and to trust her.
Little Young-ho asks how she knows, and she says that if you believe you can do something, then you can. Young-ho nods, then smiles tentatively at little Joo-eun.
COMMENTS
Well, that was cute, though ultimately unnecessary. Did we really need to see them meet as children for thirty seconds just to believe they'll live happily ever after? Can we not just have one drama where the main couple didn't meet as children and thus are Fated To Be? Oh well, at least it was a small scene, and not part of the overall story.
Oh My Venus definitely had its share of plot holes, odd editing choices, and continuity issues, of which I could name many that bugged me as a viewer. Such as Joo-eun planning to spend all of Christmas Day with Young-ho, only leaving to spend time with her mother who showed up unexpectedly. Then she immediately goes to a work meeting that hadn't previously been mentioned. And how about Joon-sung's mother talking about her son's girlfriend, before Joon-sung ever tells Yi-jin that he likes her back? And don't even get me started on the whole Yi-jin issue… just UGH. It's not cute just because she's a girl, it's still stalking, and several things she did bordered on sexual assault. I found it quite disappointing that a show that spoke out against women being sexually assaulted, had a main male character receiving repeated unwanted sexual advances from a woman, and it being played off as adorable. There were several examples of this kind of thing throughout the drama, and occasionally it took me out of the story because I was too busy wondering what was happening and why it made no sense.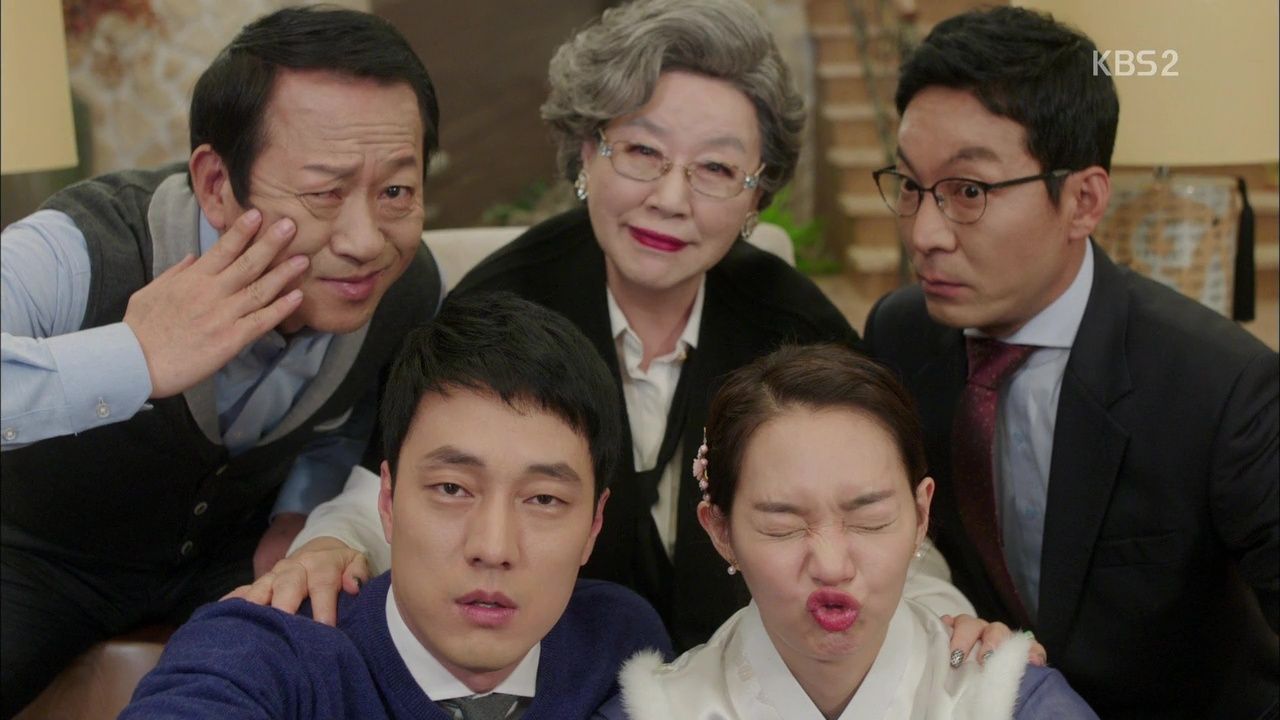 And while the main love story between Young-ho and Joo-eun was wonderfully mature, both emotionally and physically, I felt as though the secondary characters' relationships mostly came across flat. Particularly Woo-shik and Soo-jin — there was such a wealth of plot to be mined from their courtship that just got left by the wayside. I would have loved to see Soo-jin's journey be more about loving herself, than about finding a man to love her. Not that being loved by someone else is bad, but it creates a dissonance when Joo-eun's whole character was based on her self-confidence and the fact that she didn't need a man. So why was Soo-jin left to flounder in insecurity and depression until her white knight showed up to rescue her? I love a romantic happy ending as much as the next person, but in my opinion, Soo-jin needs to do a lot more personal work before she's ready for a relationship.
But regardless, my main takeaway is of a cute, sweet love story, and there's no doubt we got that in spades. Young-ho and Joo-eun's romance was always respectful, always loving, and always honest. Not to mention their crackling chemistry, and adult way of discussing sex and their mutual attraction. And through her loving example, Young-ho was able to heal many of his family's wounds, which was nice to see. They were never bad people (except for Uncle), it's just that they didn't know how to relate to each other. Even with just the tiny tentative beginnings of baby steps, you can see that they'll all be just fine. Not to mention the beautiful symmetry in the two families that have merged, that Young-ho now has a mother, and Joo-eun has a new father.
This drama never promised a complicated plot, and really, I don't think it needed one. In many ways, the simplicity of the plot of Oh My Venus is one of its biggest draws and greatest charms. Though there were bigger messages there, such as the benefits of healthy living, domestic abuse, and violence against women, it never got bogged down or became preachy. Those were just issues the characters were dealing with as they lived their lives, but the show was never about those things. Keeping these issues present but on the periphery allowed the show to have a lightness that was refreshing, while still touching on important issues. In a different show I might find this a weakness, and some viewers may still feel that way. But for me, I came here to see a sweet romance with fun chemistry between the leads, and that's exactly what I got. Serious issues and chaebol machinations aside, this drama was always about the romance between two people who needed each other, and it delivered that beautifully.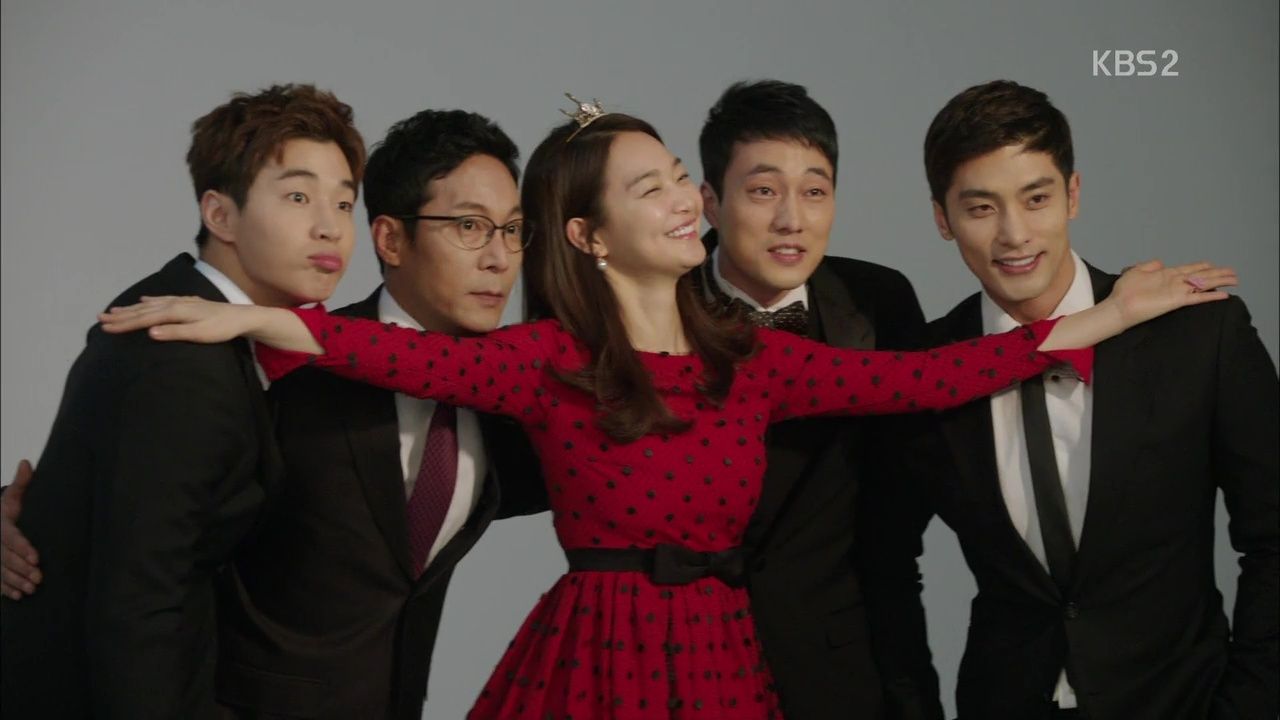 RELATED POSTS
Tags: featured, Oh My Venus, Shin Mina, So Ji-sub