Team Dramabeans: What we're watching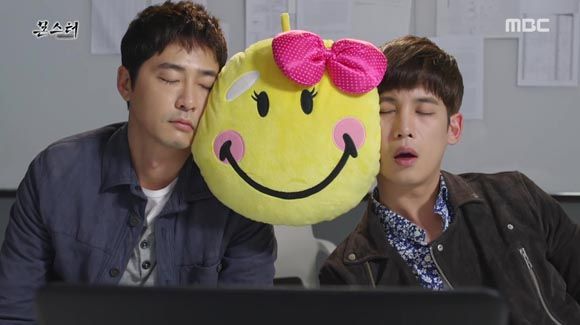 Time for our weekly check-in.
Hope your week was better than mine! This week, my body decided it was done doing what I asked it to do and laid me up in bed, refusing to bend in any of the natural ways that would allow for sitting in a chair, or standing in front of a desk, or settling into any position conducive to doing work. Real questions asked this week: "Do you think I need a hip replacement?" and "I'm sorry Cat, is my pain inconveniencing you? No no, don't move on my account." Also: "Girlfriday, can you bring me something to eat, maybe in a straw? Something that doesn't require me to sit up or lift my head or move?" I tell you all this not to fish for sympathy (sympathy can suck it), but in the hopes of making something productive out of my pain, like entertainment.
Sadly, this was a result of overdoing the whole sit-at-desk-and-write-about-dramas routine, which you would swear didn't have a lot of downsides until your body begged to differ. Even more sadly, this is not the first time in Dramabeans' existence that this has happened to me, the first time resulting in six bedridden weeks in December 2014, thanks to our possibly overly ambitious previous year-end review format. In case you're wondering, it was exactly this reason that spurred us to change up the format this past year, since despite my love for Korean dramas, I put my foot down at actually allowing them to incapacitate me physically. Turns out, watching dramas can be more hazardous than you'd think! I felt like a real-life reenactment of that morbid comedy Take Care, which I found hilarious and horrible and real, at least for the first half; I stopped watching because I didn't want to know how that story ended.
Anyway, that meant this week all I was good for was typing laboriously with two fingers, foisting off 90 percent of my work onto girlfriday's plate like an uneaten pile of cold lima beans, and watching dramas while flat on my back. I think that's the literal definition of giving both the injury and the medicine.
I'm rambling now, but blame the meds. And the boredom. Oh my god, the mind-numbing boredom.
Currently recapping: Lucky Romance

Beautiful Gong Shim: A happy pick-me-up drama, even with the story veering ever slightly more emotional and dramatic (though still lighter than most of the other shows on). I love the lead couple, and their quirky random courtship. What's better than weird goofball Namgoong Min? Lovesick, heart-in-his-eyes goofball Namgoong Min.
Oh Hae-young Again: A little less fun and a lot more heartbreaking this week, although I was ready for the shit to hit the fan and kind of enjoyed the suffering that ensued. Does that make me a bad person?
Mirror of the Witch: The best thing about this show is its unpredictability — the story is fresh and inventive, and I'm content to let it draw me along and reveal itself at its own pace. I would read this drama in novel form.
Dear My Friends: Hilarious in an exasperating way. Every time Go Hyun-jung wails in frustration at getting roped into things despite her best efforts to be entanglement-free, I'm there with her. 'Cause what can you do when confronted with old ladies whom you love but who make you want to tear your hair out? You can't scream at them, so you scream ineffectually at the skies instead.
Monster: I watched a lot of Monster this week. Why? I could fish for reasons like Kang Ji-hwan or Park Ki-woong or complicated revenge setups, but really, the answer is simple: It was the only show airing right now dumb enough that I could watch with half a brain and not feel like I was missing much. I could follow it with partial attention, without looking at the screen for long periods of time, and as such it was slightly better than silence. Sometimes.
Descended From the Sun: I know, I know, what is this doing on the list? Basically, I never got around to finishing the last two episodes of the show when it aired, and didn't really feel a strong need to know how it ended. Now I regret waiting this long, because the wait made it extra anticlimactic to finally reach the end and find it to be as shallow as it was. Everything about this drama feels so flip and cavalier, like nothing was ever that important.
Skip Beat: I ran out of things to watch and was looking for something stupid-happy, although this turned out to be more stupid-stupid. I'd already seen a lot of the bubbly comedies of the type I wanted to see (like Gong Shim, You're Beautiful, and the like) and recalled hearing about Skip Beat at one point. Donghae is, hilariously, much less terrible an actor when I can't understand what he's saying. I prefer Siwon, on the other hand, when I can understand him, so that was a wash. The show's entertainment quotient couldn't overcome the too-many-ads quotient, so by the time the fourth ad break hit within the first episode, I was out.
Currently recapping: Lucky Romance
Oh Hae-young Again: I'm so mad at Park Do-kyung right now! I feel like the angst is all backwards this week, because I was under the impression that he'd already been through this, knowing who Oh Hae-young was from the near-start, and having decided already to love her anyway. ALREADY. Do I sound like a broken record? Well so do you, Oh Hae-young Again. Make it up to me on Monday or we're breaking up. Again.
Dear My Friends: It's strange that Go Hyun-jung's character is so often unlikable in this show, and yet I've never not liked her. She just feels so real and believably flawed, like a lovable mess. I didn't think her character could handle any more shitty turns in her life, and then this new revelation about her mom hit us all like a ton of bricks, and I actually don't even know how to process it. Drinking heavily might be a good start.
Beautiful Gong Shim: I finally caught the first episode, and so far I like the quirky characters in this world. I think what sold it for me was Namgoong Min's weirdness (So odd. So funny.) and the way he and Minah snuggled SO hardcore during their accidental sleepover.
Mirror of the Witch: You know how Yoon Shi-yoon's eyes sparkle with sadness when he's sad, and they sparkle with anger when he's angry, and they sparkle with happiness when he's happy? How's he doin' that?
Entertainer: Wow, this show can be really moving when they take the romance out of it. This recent arc about Hyung's last song focuses purely on music and family, taking out all the extraneous stuff that Entertainer does badly and just giving us all the earnest brotherly love we could ever want. I was moved to tears by how they brought Hyung back for that brother duet, and I'm sad that this show didn't figure out its strengths sooner. I have no idea what they're going to do next week though, since Episode 16 was the climax of the story for me and the only ending I needed.
Currently recapping: Dear My Friends

Baek-hee Has Returned: I'm pleasantly surprised by how much I'm enjoying this little drama — it's filled with quirky townsfolk and doesn't take itself too seriously, and is a nice break from some of the heavier dramas. Kim Sung-oh is definitely a scene stealer and perhaps the best thing about the show, although I love that Baek-hee's daughter is a "chip off the old block" as she learns more about what her mother was like at her age. It's maybe not the kind of drama I'd commit to for a full 16 episodes, but I'll happily stick it out for its run of four. Besides, I need to find out the father is!
Vampire Detective: The last couple of flash-back episodes only make it painfully clear what direction I'd originally hoped this show would go — y'know, where people deal with being vampires as they solve crimes (or commit crimes, if you're Yo-na). The last episode better have San going full-on vamp mode because that's all I've really wanted since the beginning.
Monster: I still don't understand why this show couldn't have been edited down to 20 or 24 episodes, but I'm just glad that they're bringing back the spy/revenge intrigue instead of getting totally bogged down with boring CEO shenanigans. More of Jo Boa is always a plus, and her hilarious crush on Gi-tan makes me hope there will ultimately be a higher ratio of comedy to angst in the second half.

Oh Hae-young Again: After having spent a few weeks on a drama-watching hiatus, I finally got on the Oh Hae-young Again train (I'm still only two-thirds of the way through the current episode count). I headed into the show fully expecting to love it from the start, but I was surprised to find that it actually took me four or five episodes to really get invested. It's beautifully directed, superbly acted, and overall exceedingly watchable, but the drama doesn't quite have the crack factor I was expecting it to have. The characters are drawing me in, however, and by this post next week I could be eating my words.

RELATED POSTS
Tags: 1 show to rule them all, Beautiful Gong Shim, Dear My Friends, Entertainer, Mirror of the Witch, Monster, Oh Hae-young Again, Vampire Detective, What We're Watching