Beautiful Mind: Episode 6
Our hero has always been confident and assertive in everything he does at the hospital, but just because he usually gets the right diagnosis doesn't mean he's exempt from hitting new lows. Young-oh takes a thorough emotional beating from hospital politics this week, and while we learn a lot more about the mechanics behind the murders, we're still left wondering who the puppet master really is.

EPISODE 6 RECAP
We rewind to a scene of Young-oh and his girlfriend Min-jae during happier days, where Min-jae is being as optimistic as possible about her transfer to a countryside branch of the hospital. She rushes over when she sees Young-oh picking up the files on her desk, and despite her attempts to hide what's beneath her papers, Young-oh easily pokes her away to uncover an embarrassingly lovey-dovey collage of their pictures.
Young-oh reassures her that he'll visit every weekend, and touched, Min-jae gives him a light peck on the cheek. She explains that she was worried he'd want to break up, and Young-oh takes her wrist in his hand.
Min-jae is momentarily confused when Young-oh tells her that he feels the same way, but when he explains that her wrist is saying, "I love you," she realizes that he just took her pulse. She's a little stunned, but when Young-oh declares that he'll never let go of her hand first, and she nods happily.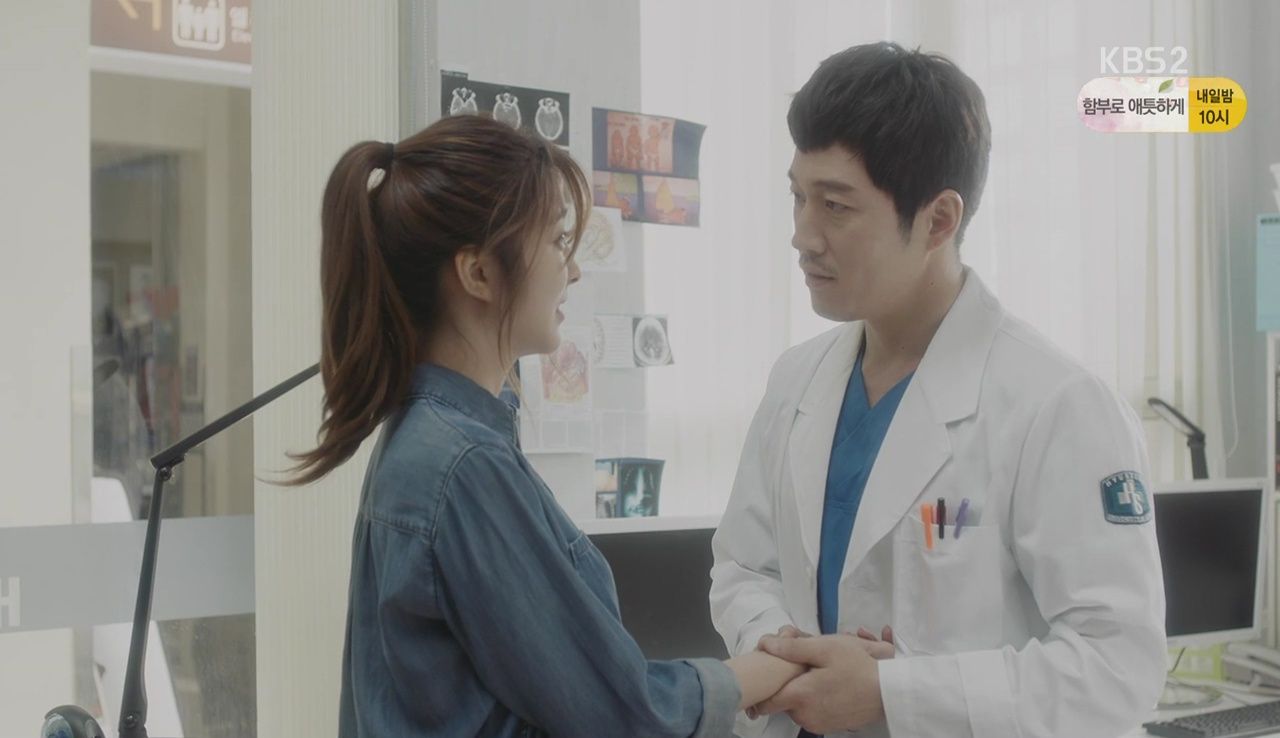 In the countryside, Min-jae hurriedly searches through library books when she incidentally comes across an article with a picture of Young-oh as a child and his adoptive father, Dr. Lee. She digs through the archives for more information and she's shocked to learn about Young-oh's inability to empathize.
She also finds out that Young-oh's been trained to imitate human emotions, and previously romantic moments take on a different hue when she realizes that Young-oh was only pretending to have feelings her.
Late that night, she makes a call to him and asks why he's dating her. His response pains her, but hiding her true reaction, she simply tells him that she loves him too.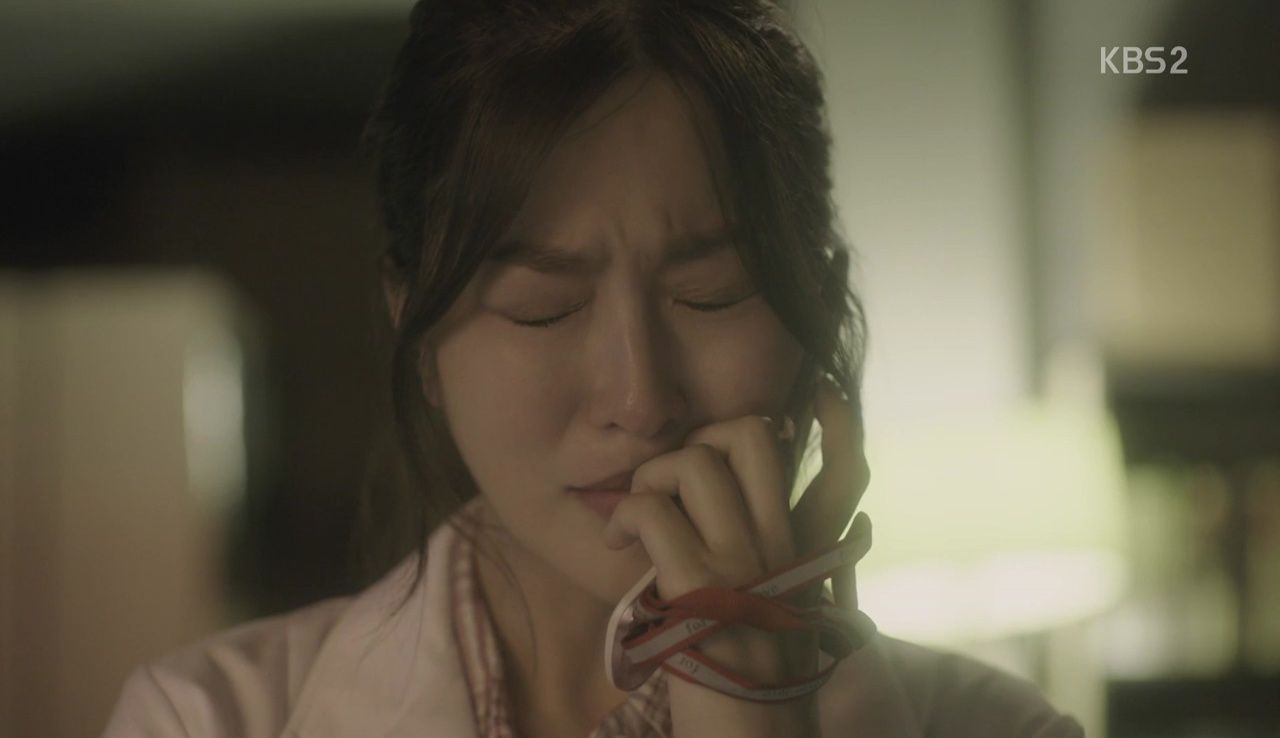 In the present, Min-jae reveals that Young-oh has antisocial disorder to everyone at the mortality conference, and explains that he shouldn't be a doctor. Jin-sung overhears everything from the back of the auditorium, and watches as Young-oh stares at Min-jae in shock.
In the research lab, Suk-joo confronts Assistant Manager Chae about being the motorcyclist's primary doctor and asks if he knew about the missing heart from the very beginning.
Everything starts to click for Suk-joo, as he realizes that the strange heart lesions were an adverse side-effect of their research. He concludes that Chief Director Shin must've discovered the same thing and collapsed after meeting with Assistant Manager Chae.
A flashback shows an out-of-breath Director Shin arriving at the office of Assistant Manager Chae. Offering Director Shin some water, Assistant Manager Chae had poured a substance into a cup before handing it over, and Director Shin had subsequently gulped down the water.
In the present, Assistant Manager Chae tells Suk-joo that Director Shin died because of this very reason, and nothing will change by digging into the past. With a veiled threat, Assistant Manager Chae says that he doesn't want Suk-joo to die for the same reason — after all, Suk-joo is an important part of their research lab.
Disturbed, Suk-joo asks, "Wasn't our research meant to save more lives?" He throws the incriminating file down on the desk in frustration and starts to walk out when Assistant Manager Chae calls out after him. Assistant Manager Chae tells him that they're dealing with a 200 billion dollar market, and Suk-joo is disgusted, wondering if Assistant Manager Chae expects him to keep quiet just for the money.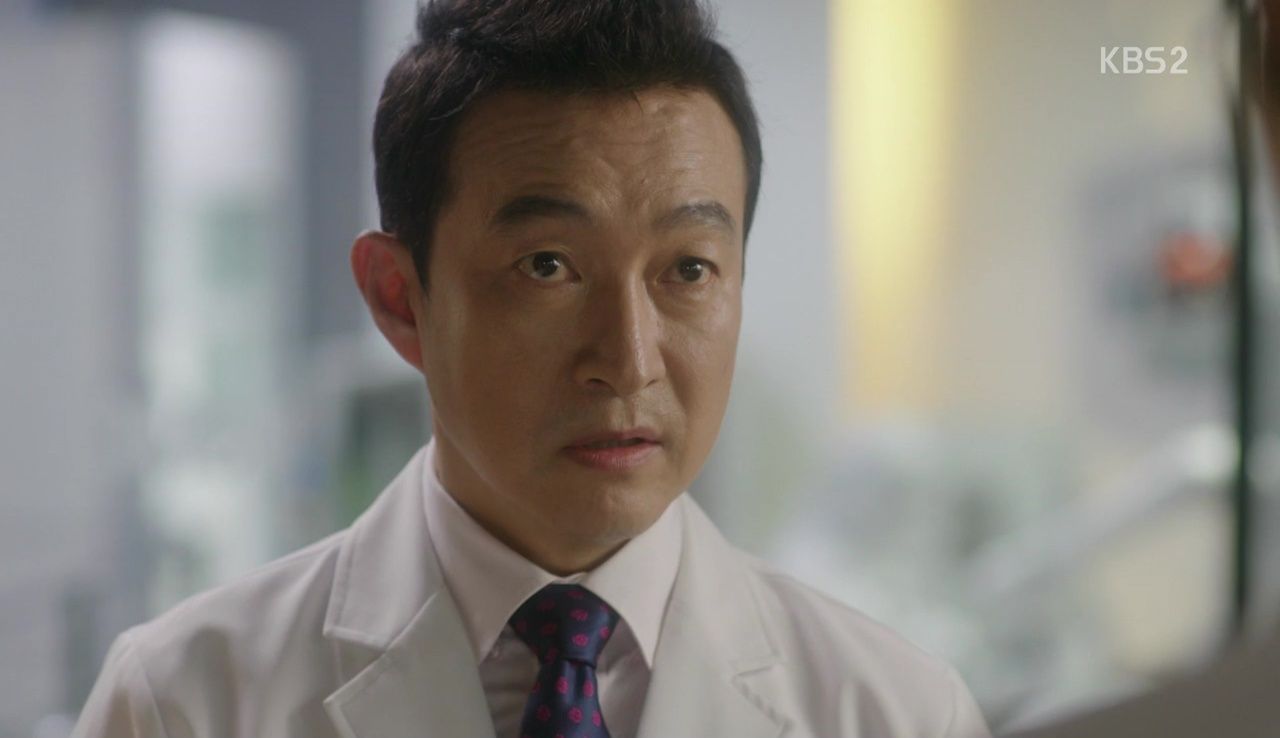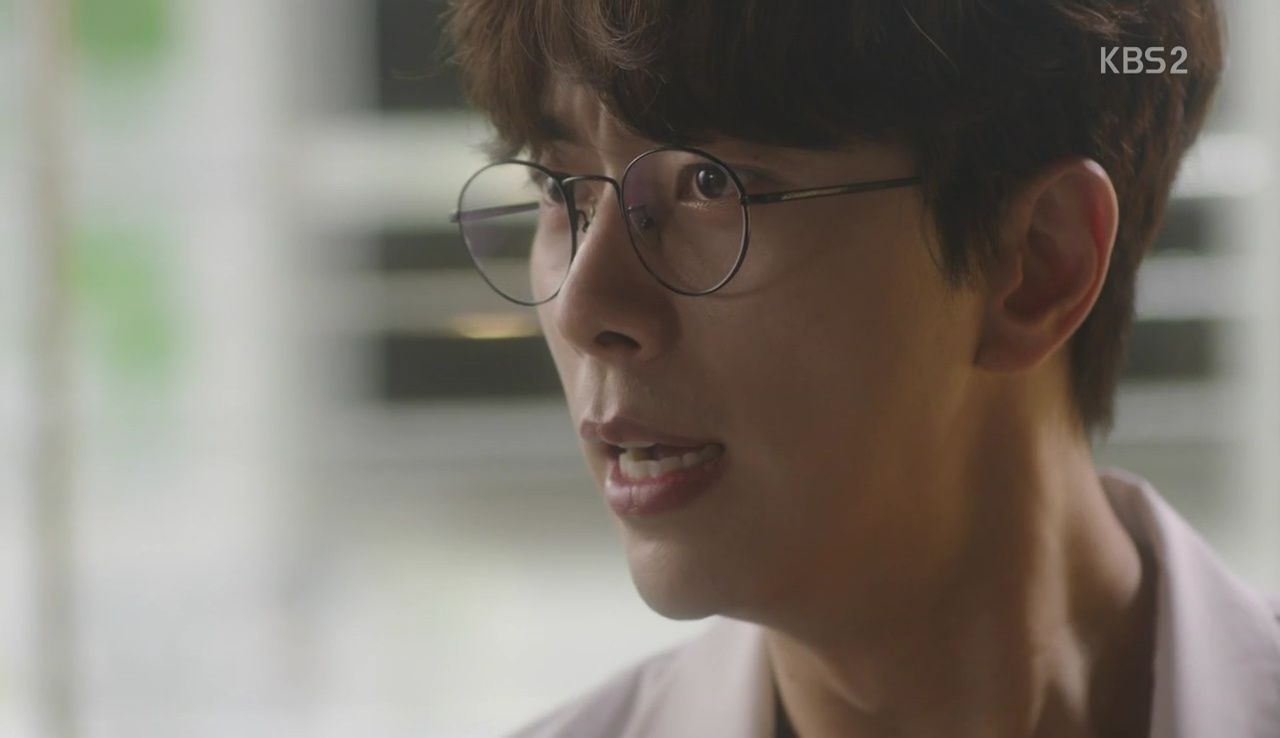 Assistant Manager Chae smirks and responds that it's not that Suk-joo will keep quiet for the money, but rather, that the money will shut him up. Assistant Manager Chae notes that so far it's been the motorcyclist, Director Shin, and Dr. Shim to die. He asks Suk-joo threateningly who he thinks will be next.
Back at the mortality conference, Director Kang makes a show of revealing that he knows Dr. Shim died after Young-oh injected her with medicine, but Young-oh is only focused on Min-jae's betrayal. He doesn't even notice that he knocks over the podium as he walks over to her, asking what she's trying to protect by doing this.
Min-jae looks distraught as she faces him and Director Kang answers for her, suggesting that she's worried for the safety of Hyunsung's patients. Min-jae avoids Young-oh's gaze as officers come in and put him in handcuffs, leading him away to the police station.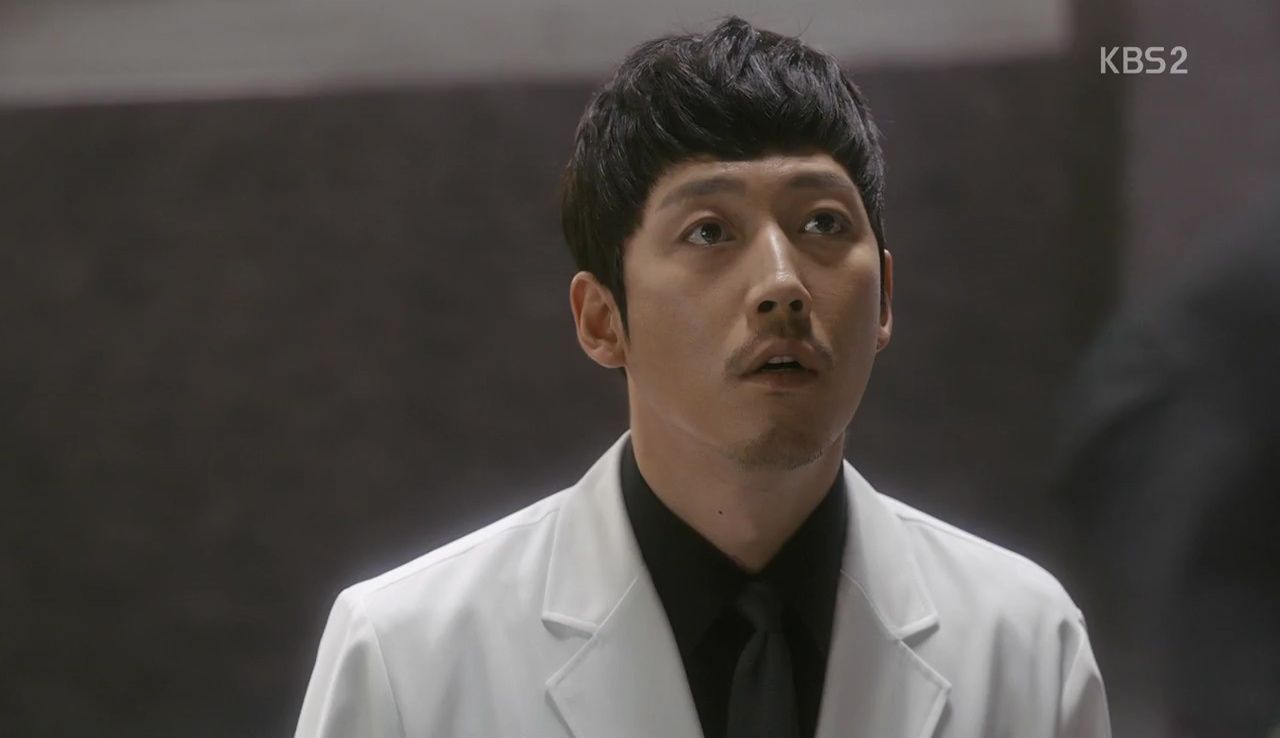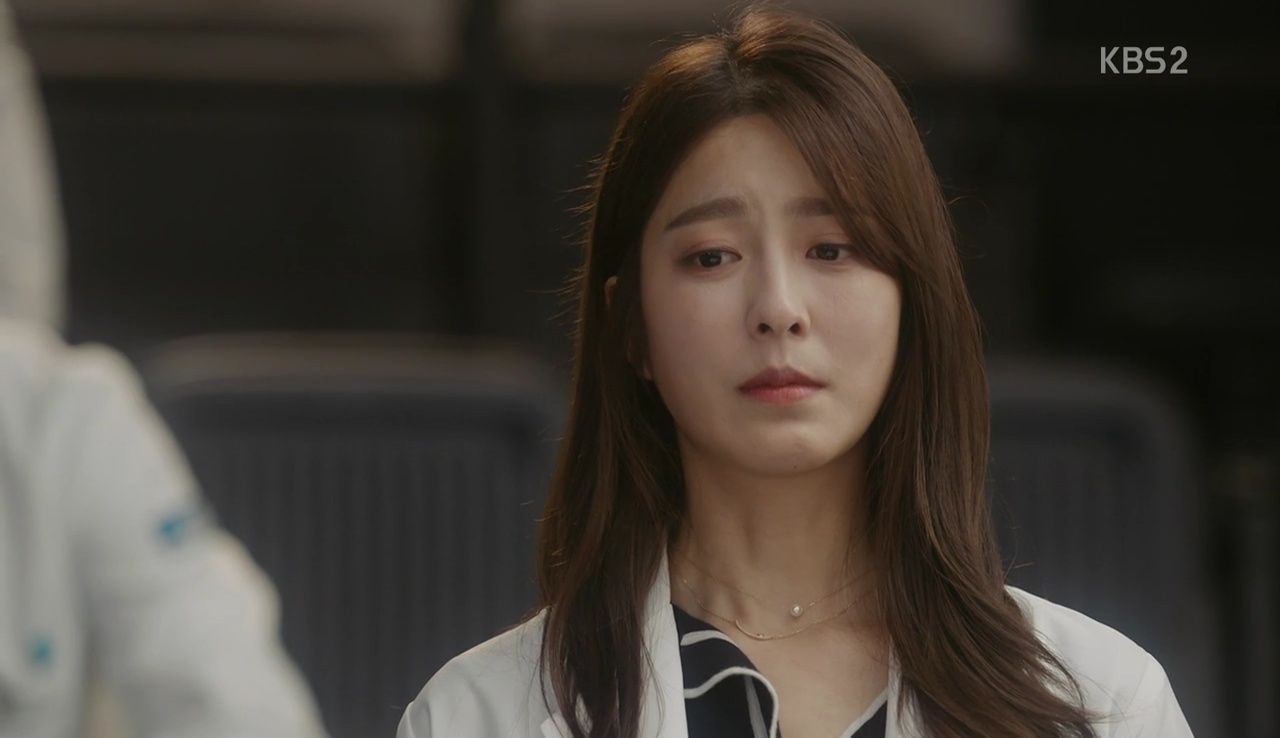 The other doctors gossip about Young-oh, wondering how Dr. Lee is reacting to this situation, when one doctor mentions that Min-jae and Young-oh were supposed to get married. They wonder what she could've possibly been thinking.
The woman herself is in Director Kang's office, noting that Hyunsung's scapegoat might as well be a devil-like person like Young-oh. Director Kang congratulates Min-jae on becoming a professor thanks to her betrayal, and offers a handshake, but she merely bows to him as she leaves.
Min-jae meets Dr. Lee in the hallway, and he asks her if she only became close to his son in order to betray him like this. She smiles bitterly as she tells Dr. Lee that she couldn't even tell something was wrong with Young-oh at first, because he had been so well-trained.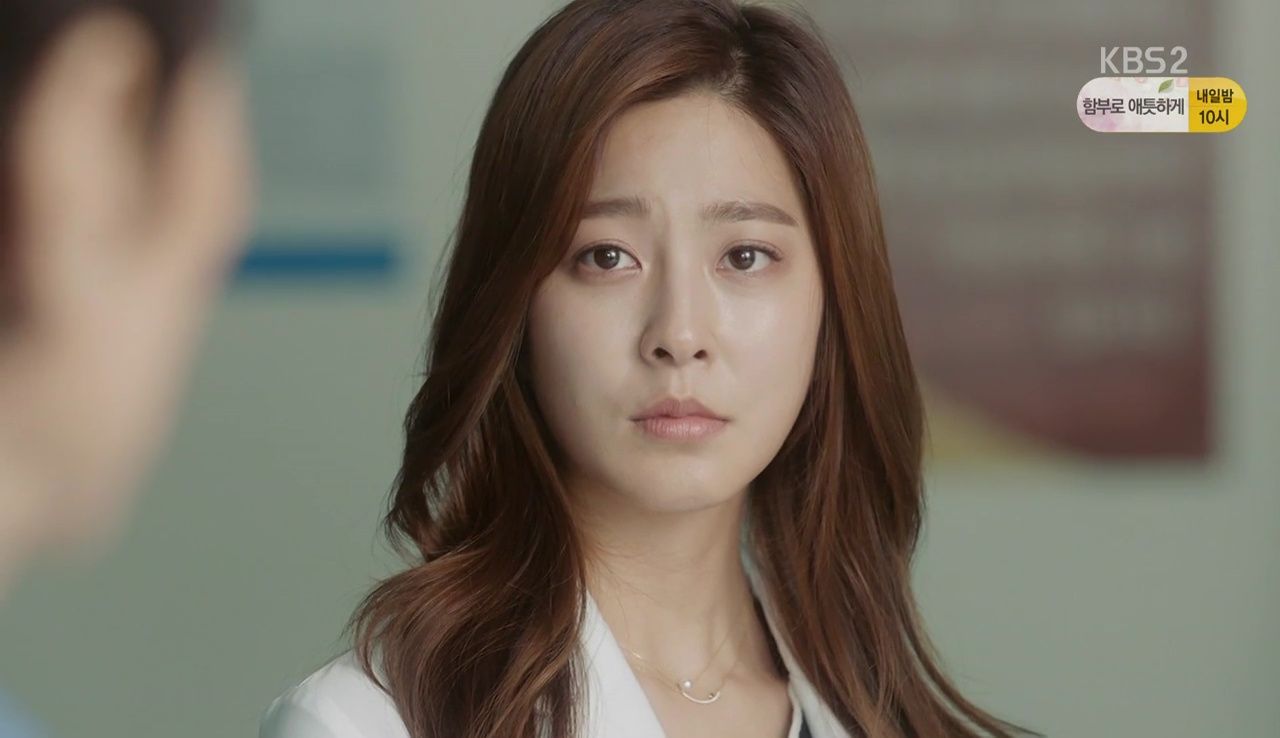 Dr. Lee asks Min-jae if she really thinks Young-oh committed the murders, but Min-jae evades the question, answering that this was for the safety of Hyunsung's patients. She asks Dr. Lee what he thinks, commenting that he must know more because of his special relationship with Young-oh.
At the police station, Young-oh is currently hooked up to a polygraph test, and the leading officer warns him not to try anything funny. The officers ask him about Dr. Shim's death, noting that she went into cardiac arrest not too long after he left her room. Young-oh sits there silently, but the polygraph test begins moving erratically.
At the hospital, Suk-joo confronts Dr. Kim, demanding to know why she didn't tell him that her daughter was involved in their research. He asks Dr. Kim if she killed the motorcyclist and Chief Director Shin, and her lower lip begins to tremble.
She walks away but Suk-joo grabs her, and he notices the needle marks on her arms. Horrified, he asks Dr. Kim if she's gone crazy, but she indignantly tells Suk-joo that he has no right to judge her.
She snaps that Suk-joo always acts so righteous, but he can't even do anything to save her daughter. Her voice turning high-pitched, Dr. Kim tells him that she didn't do anything, and she stifles back sobs as she says that she's only lived as a mother.
In the hallway, another doctor stops Dr. Kim to let her know about Young-oh's arrest. Dazed, Dr. Kim makes her way to the storage room, where she weakly injects herself with some medicine. She takes out her phone and collapses; a tear trickles down her face and we see that her phone-screen wallpaper is a picture of her and her daughter.
Suk-joo is in the locker room, looking thoughtfully at his phone. When he steps out though, he's startled to find an unconscious Dr. Kim being wheeled through the hospital.
In the interrogation room, Young-oh quietly confesses that he killed everyone – Dr. Shim, Chief Director Shin, and the motorcyclist. The polygraph reads his confession as the truth, and the leading officer asks Young-oh how he could've done something so gruesome as a doctor.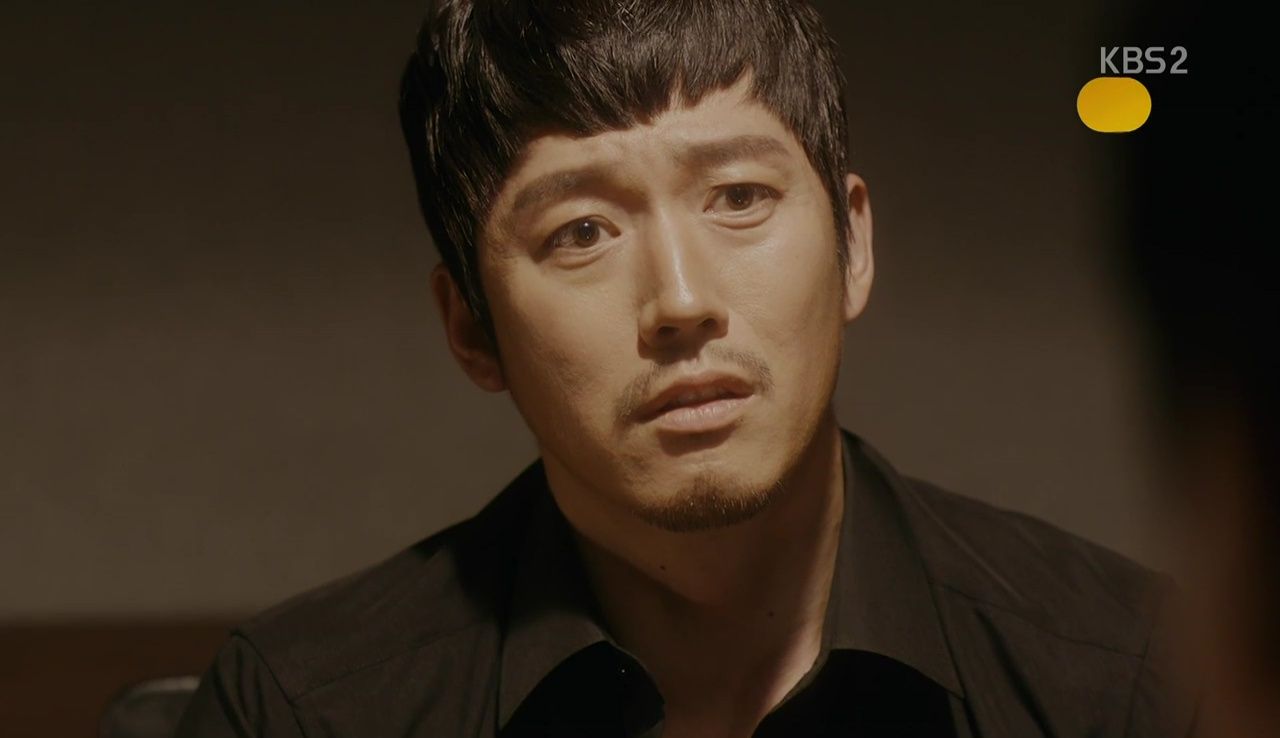 When Young-oh is asked to confirm his previous statements, his facial expression suddenly turns to one of anguish, and he says emphatically that he didn't kill anyone. He then begins to give conflicting statements, oscillating between them like a madman as the needle on the polygraph test goes wild.
"I am a killer. I'm not a killer. I'm a man. Or am I a woman? I am a human. I'm not a human. I'm alive. No, I'm dead." With the polygraph unable to differentiate between truth and lies, the situation escalates to such a degree that the leading officer has to yell at him to stop.
The officer working on the polygraph test leaves the room, and Young-oh asks the leading officer if this is the kind of thing that he wanted to see from him. Enraged, the leading officer throws a glass cup against the wall, and it shatters across the room as Jin-sung steps inside.
Young-oh takes off the polygraph test and asks the leading officer if he's capable of feeling how deep someone else's pain is because he's not a monster like him. Picking up a shard of glass from the floor, Young-oh scrapes it across his bare chest, and asks the leading officer if he can feel his pain.
Young-oh leans forward and tells the leading officer that just because he won't tell lies about how he feels someone's pain, that doesn't mean he's killed anyone. The leading officer curses and stalks out of the room.
Jin-sung walks over to Young-oh and tells him that she may not be able to feel his pain exactly, but she can guess what it must feel like. Handing him a handkerchief, she urges him to return to the hospital.
Jin-sung talks to the leading officer and tells him that Young-oh is innocent. She hands over a bag containing a vial of potassium, and explains that this was the weapon used in the murder of the motorcyclist and Chief Director Shin.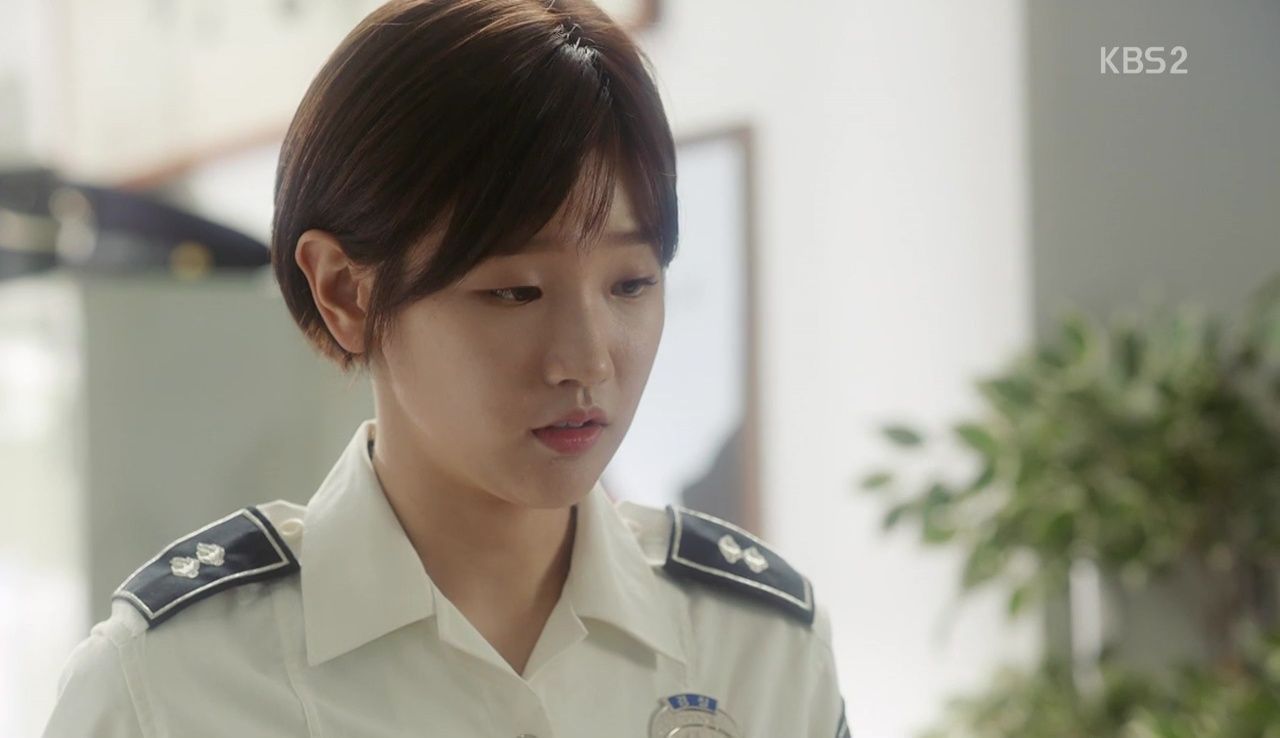 She reveals that Dr. Kim had administered potassium to both victims during the surgeries, and administered it to herself while in the storage room out of guilt. Jin-sung tells the leading officer that Dr. Kim had confessed, and in a flashback, we see Suk-joo reading her text message, telling him that she planned to turn herself in.
Director Kang discusses Dr. Kim's situation with Assistant Manager Chae, and comments that she's rather irresponsible for leaving her child alone. The reporter who had previously threatened to dig into Chief Director Shin's death is now sitting with them, and Director Kang bribes him with a position on Hyunsung's newspaper.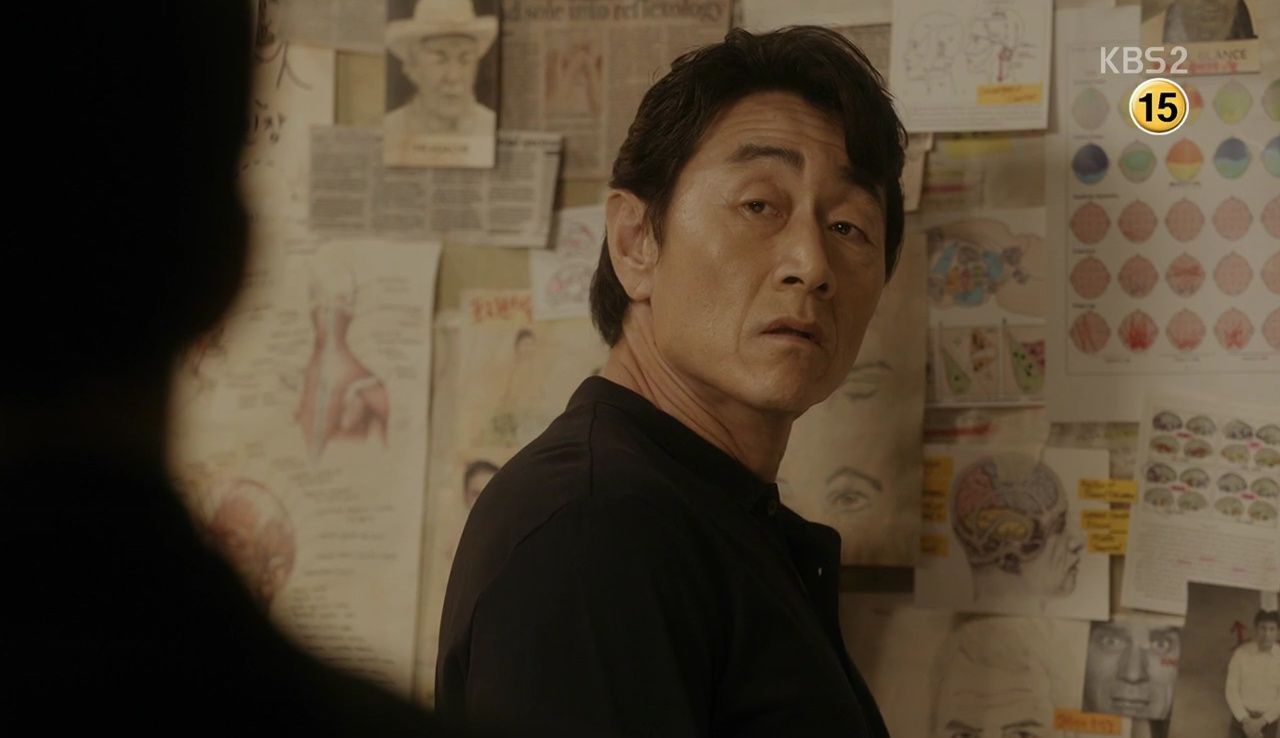 At home, Young-oh greets his father, who tells him that Director Kang has filed for Young-oh to be fired. Young-oh insists that he's innocent, but Dr. Lee doesn't seem to care, and just wonders where he went wrong with Young-oh. Dr. Lee leaves the room and Young-oh stitches his chest wound himself, notably leaving Jin-sung's handkerchief on the table.
The JCI-accredited flag hangs proudly on the Hyunsung hospital building, and Young-oh gazes at a replica of it inside Director Kang's office. Young-oh demands that Director Kang take back the request to fire him, arguing that Director Kang knows he's completely innocent.
Young-oh asks if Director Kang is worried that Young-oh will figure out his and Assistant Manager Chae's secret, and Director Kang remarks that no one would listen to a psychopath dismissed from the hospital because of a murder charge anyway.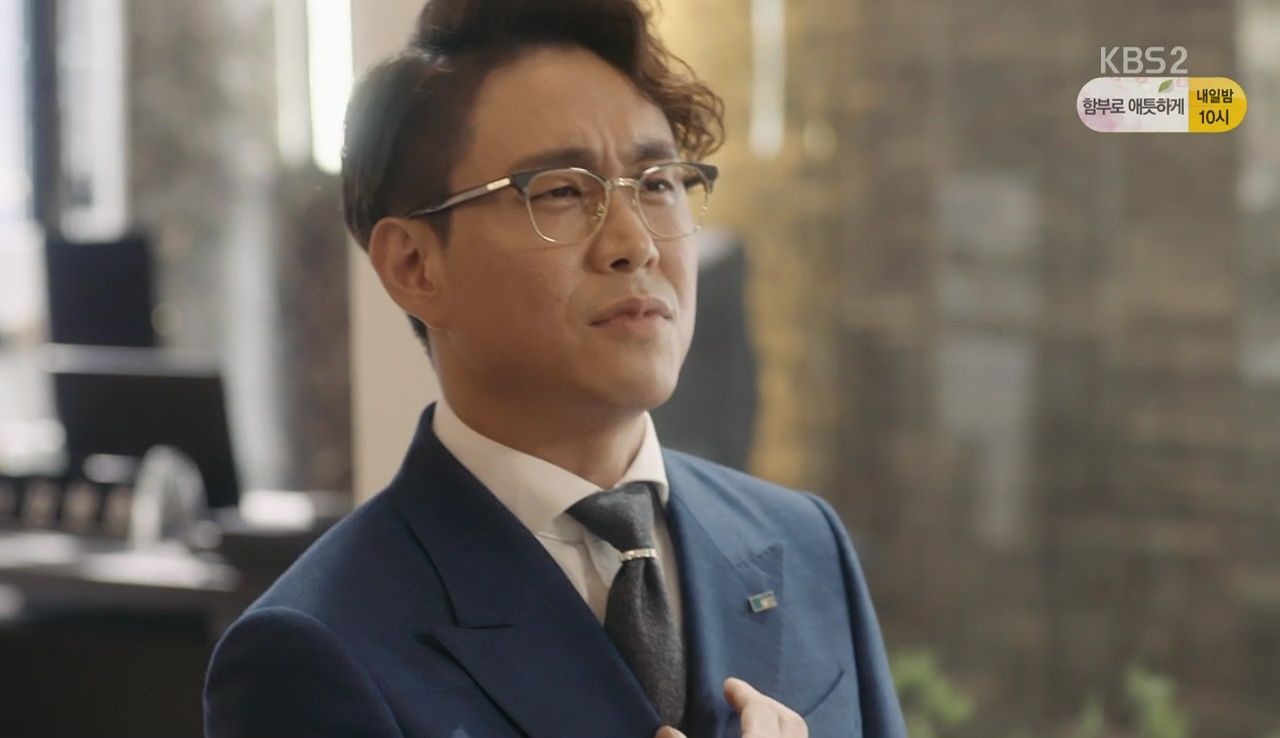 Young-oh asks if that's why Director Kang needed Min-jae, and Director Kang laughs, saying that Min-jae was the one who approached him with her thesis on antisocial personality disorder first.
Finding Min-jae at the hospital counter, Young-oh confronts her, and they relocate to a private room to talk. Tenderly, he asks why she didn't tell him, and she retorts that that's the question she's wanted to ask him all these years. She looks at Young-oh coldly, telling him that he was the one who used her first — he needed her to pretend like he was a normal person.
Young-oh is still stunned, telling Min-jae that she's never lied to him — not even once. He reaches out to cup her face, but she moves away from his touch as Young-oh asks her to confirm that she loved him.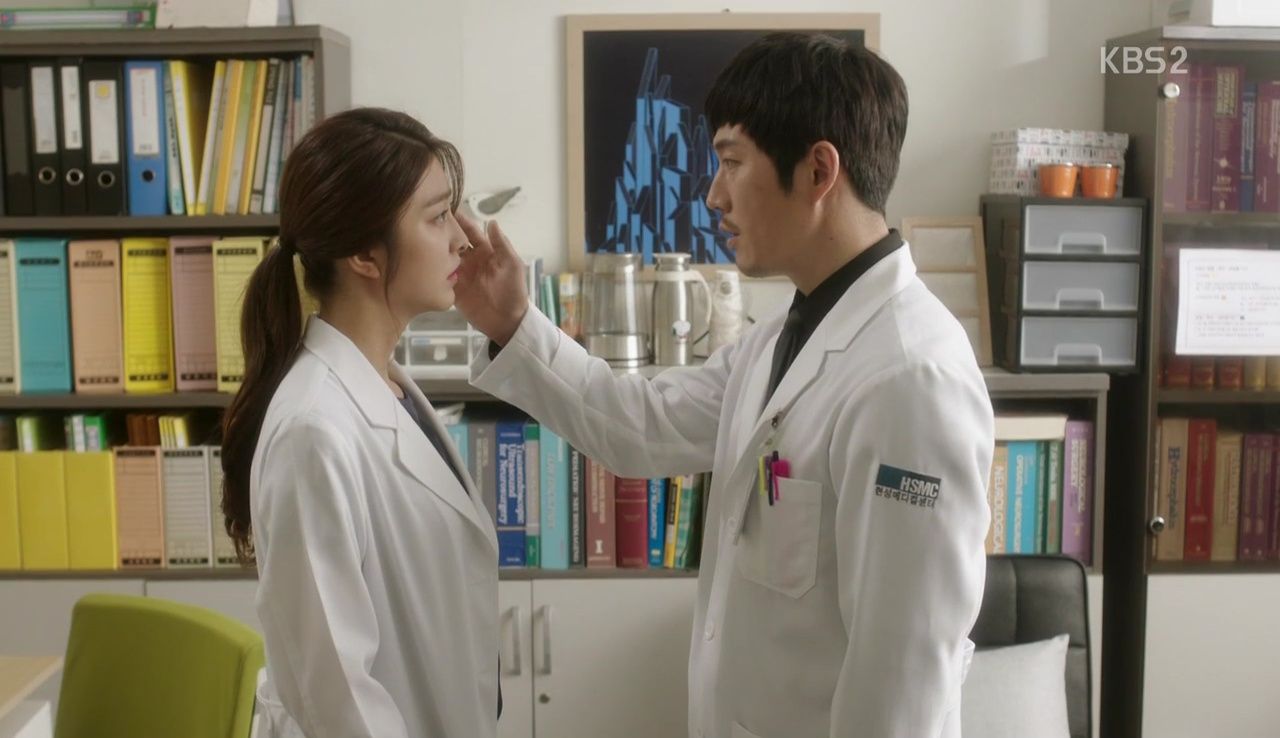 Young-oh begins to analyze her facial expression, but Min-jae gets to it before he does. "Raised eyebrows, wrinkled nose, withdrawn feet. These show contempt and fear," she says with tears in her eyes.
He's shocked that she knows about him analyzing body signals, but she doesn't stop there, and demands to know what body signals express the emotion of love. She notes that love encompasses all emotions while being none of them, and tells Young-oh that he'll never be able to read it because he never learned what love is.
She says that this is probably why it was so easy to fool him, and comments that this kind of thing shouldn't really hurt someone like him. Young-oh's hand suddenly reaches for her neck and he grabs Min-jae close, choking her.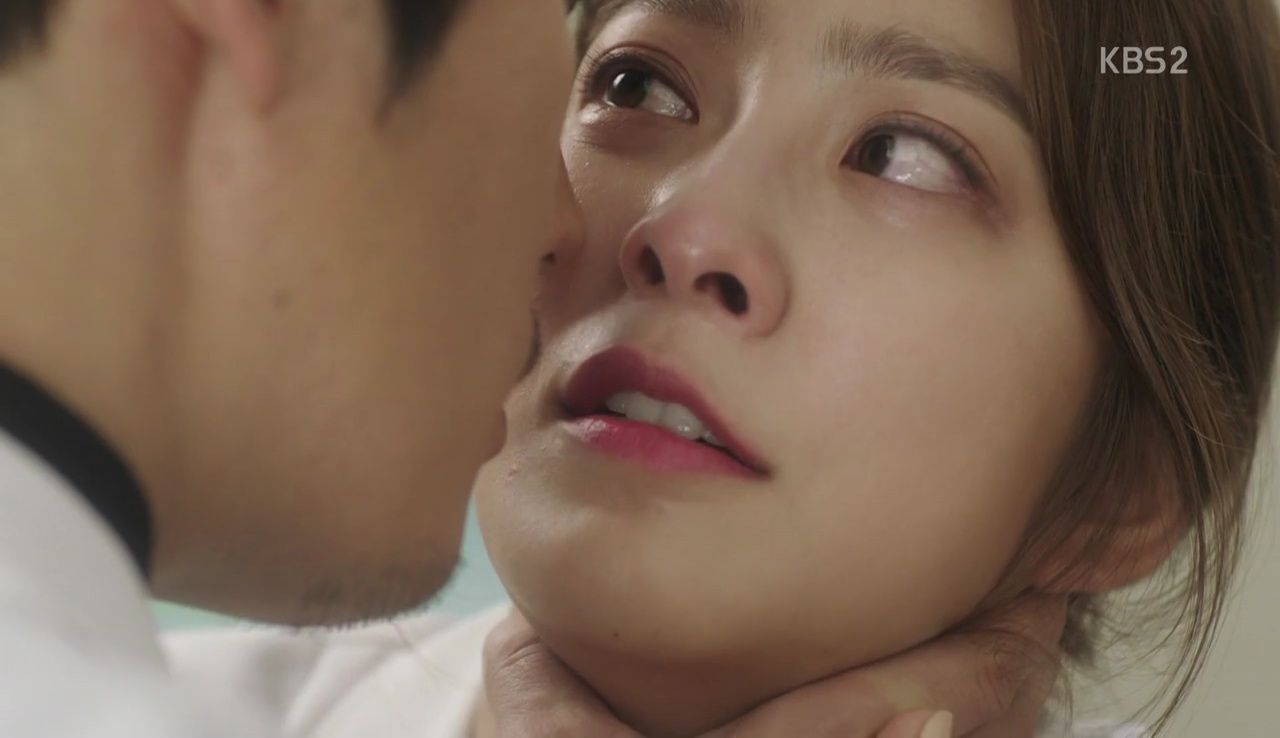 Young-oh whispers that he did his best for her, but Min-jae responds that he only did his best to imitate his best for her. Stepping back, he releases her and stands there lifelessly.
Meanwhile, Jin-sung is dropping the motorcyclist's son off at school and scolds him for being late again. Sergeant Park jokingly asks if she's going to transfer to the Female and Youth division this time, and she unabashedly explains that helping a traffic accident victim's family member is part of her job as a traffic officer.
Later, she gets some ramen at an outside stand, and adds a bottle of soju to her order. She looks longingly at the soju bottle cap and to her surprise, Suk-joo turns out to be sitting a few tables across, at the very same stand.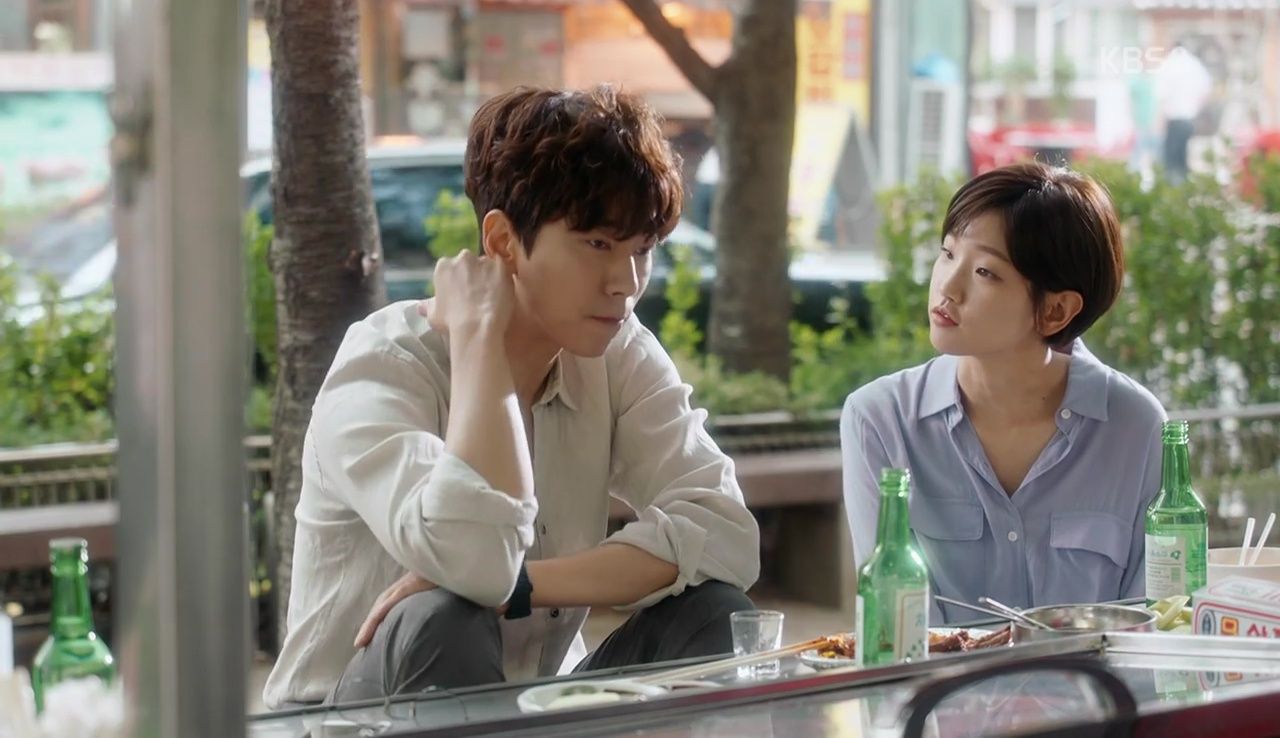 They share a drink and reflect nostalgically on Chief Director Shin and his love for alcohol. Jin-sung comments that she used to think the police pursued a murder case to catch the criminal, but now, she realizes that it's really for the people who have been left behind.
At the hospital, Suk-joo watches over Dr. Kim's daughter, and thinks back to the first time he met Dr. Kim. She had been kneeling by a patient's bedside, examining his urine drainage bag. A young Dr. Kim had practically burst with excitement when she realized that the drainage bag had reached 130cc, which meant the patient — her first patient ever — was going to live.
She had kissed the bag (ew!), and introduced herself to Suk-joo, and though he had been reluctant to shake her hand (since she had been holding the urine bag just moments before) back then, it's a fond memory that Suk-joo sheds a tear over now.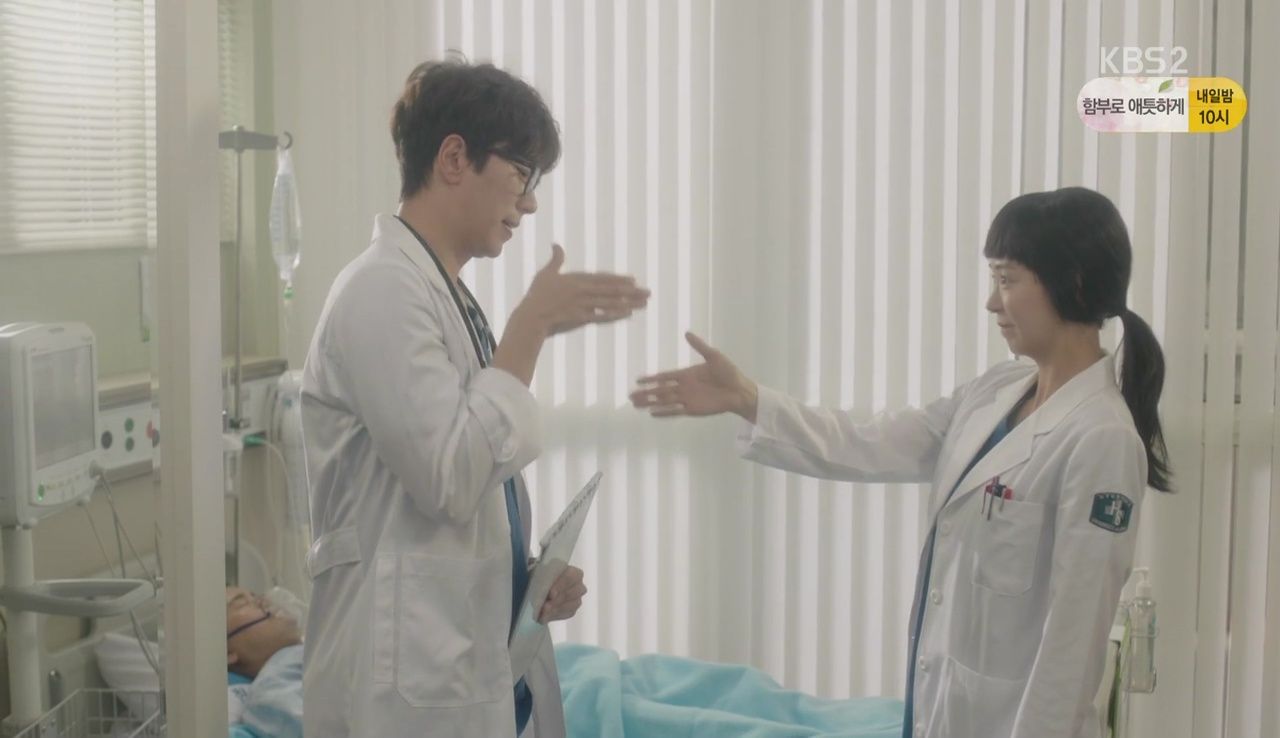 Dr. Lee and Assistant Manager Chae watch Director Kang golf with Assemblyman Kim, who asks when the regenerative medicine they've been working on will be available for commercialization. The assemblyman wants it ready as soon as possible so he can get votes for next year's presidential election, but Director Kang just tells him that it's not the treatment that's important — it's the fact that there's research going on that's important.
Dr. Lee tells Director Kang that the hospital director spot can no longer be left open, and just as Assistant Manager Chae voices his agreement, Dr. Lee says he'll be applying for the spot. Dr. Lee takes his leave, and Director Kang notes that Assistant Manager Chae now has a strong competitor for the position.
Assistant Manager Chae catches up to Dr. Lee and remarks that he didn't think Dr. Lee would be interested in the position because he was so close to Chief Director Shin. Dr. Lee tells Assistant Manager Chae that it is precisely because he was so close to Director Shin that he won't let the regenerative medical treatment center turn into a tool for the stock market or the political arena.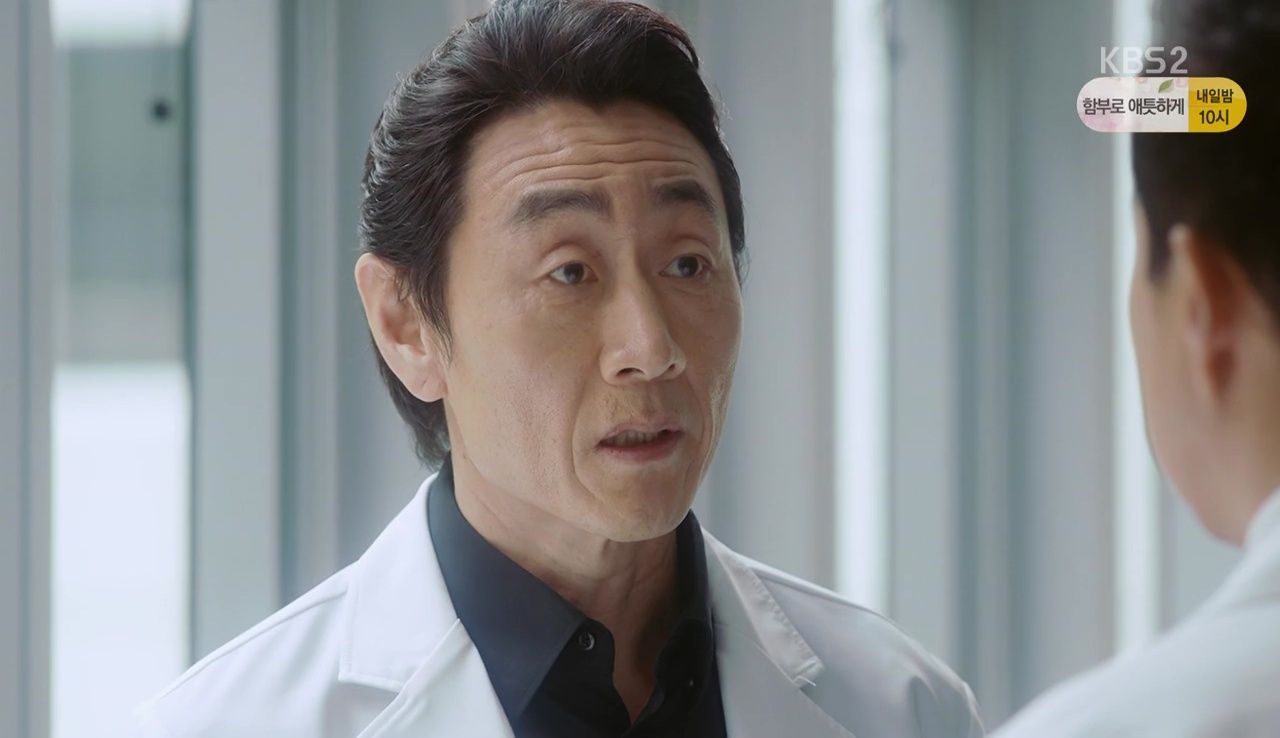 Dr. Lee explains that there needs to be someone to keep the hospital chairman in check, and that is the role of the hospital director. Throwing out a few barbed comments of his own, Assistant Manager Chae wonders if Dr. Lee can get the position considering everything that's happened to his son, Young-oh.
In the bathroom, Young-oh practices his facial expressions in the mirror and splashes his face with water to clear his head. As he walks through the hospital, all the other doctors and nurses avoid him, wondering how he could be so oblivious to what everyone thinks about him.
Suddenly, a patient comes through on a stretcher, and the nurses report that he had fallen down the stairs. Young-oh walks over and calmly inspects the patient, saying that it is highly likely the patient has glioblastoma, a rare type of brain tumor.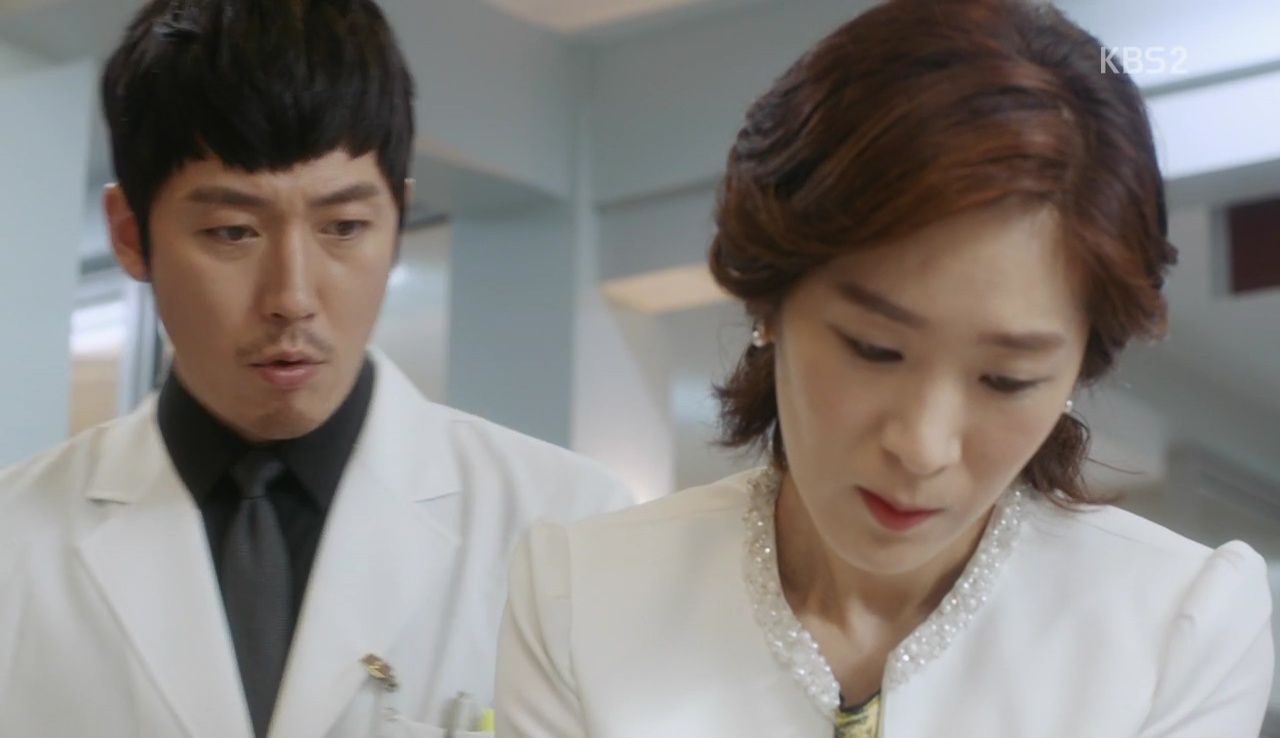 The other doctor looks distrustfully at Young-oh, and asks the patient if he has any existing illnesses, but the patient only asks for his wife. The wife comes up behind them, and answers that it's true — her husband has glioblastoma.
She talks soothingly to her husband and tells him everything will be over soon. She asks Young-oh to discharge her husband, showing him the legal papers that her husband had signed. The patient had stated that he did not want to be resuscitated and had given his wife power over all of his medical decisions.
Young-oh asks the patient directly, and the patient simply asks for him to do as his wife says. Young-oh repeats to the patient that he may die if he is discharged now, and reads the patient's body signals — his eyes especially tell Young-oh that he's under excessive fear and stress, hiding his true desires.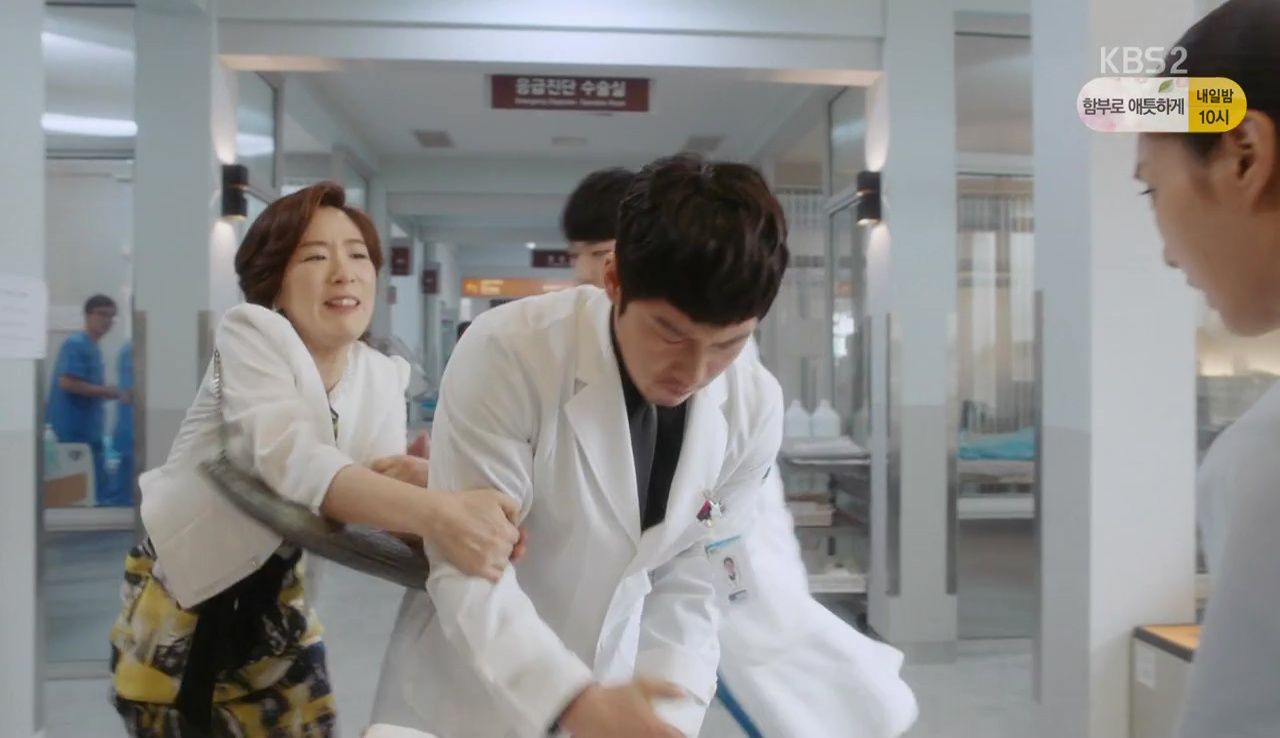 Young-oh tells the patient not to worry, assuring him that he will definitely save him. The wife pleads for Young-oh to stop saving her husband, and the other doctors have to forcibly drag her away when the patient goes into cardiac arrest.
Young-oh manages to successfully save him after a complicated procedure (of drilling into his head and releasing fluid), and he announces as much to the wife. The wife walks over to her husband and begins sobbing as she watches his pitiful state.
In the CT room, another doctor criticizes Young-oh for forcing the patient to live when the man had already previously signed the papers, and Young-oh just tells the doctor that he's certain the patient wanted to live.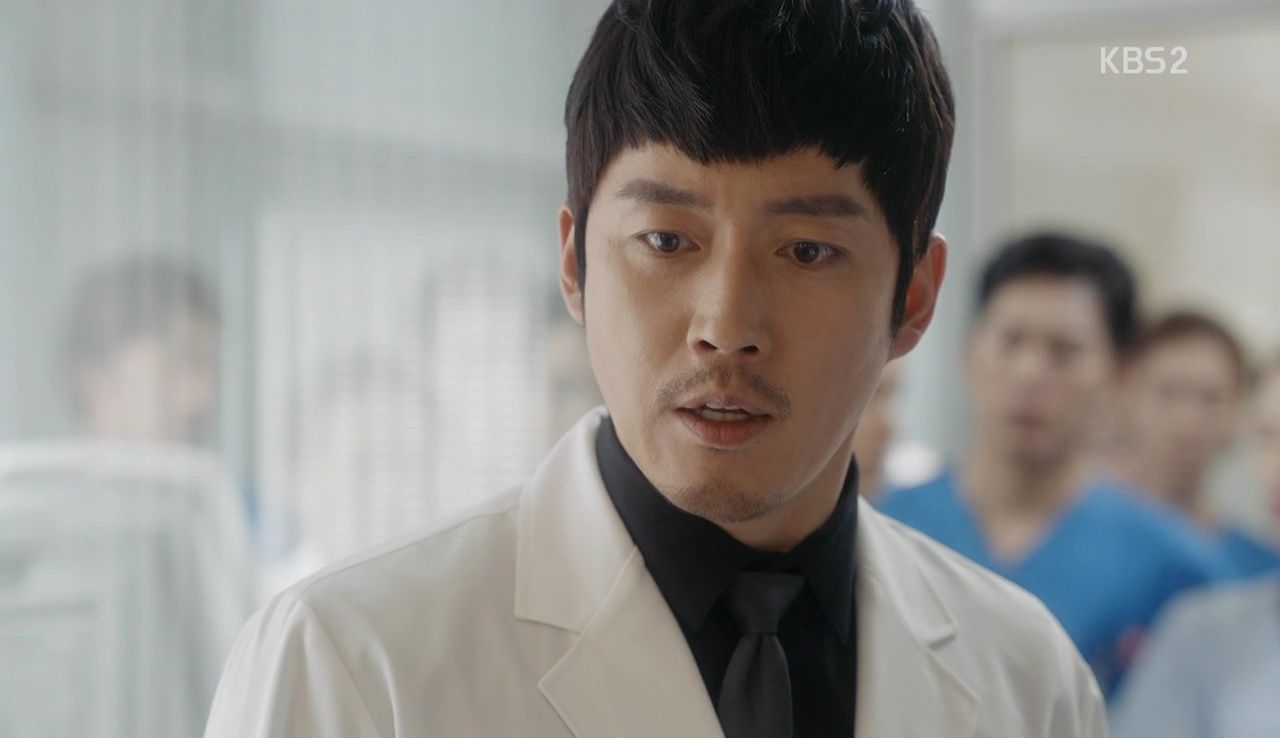 Suddenly, an announcement over the speakers calls for Young-oh, and he rushes to the room of his patient. He finds the wife holding an unattached life support cord, and she screams that Young-oh was the one who made her do this.
She cries that she had pleaded with Young-oh so desperately to let her husband go, and asks if all she has to do now is go to the police. Young-oh yells in fury at this unbelievable situation and as he makes his way out. The doctors watching the scene quickly back away from him.
Dr. Lee steps in front of Young-oh, and tells him he has been fired from Hyunsung Hospital. Confused, Young-oh asks what he's done wrong when all he did was save a patient. Dr. Lee rebukes him, telling him he's forced a patient's guardian to end the life of a beloved family member. What's even worse, Dr. Lee says, is that Young-oh doesn't even realize that what he did was wrong.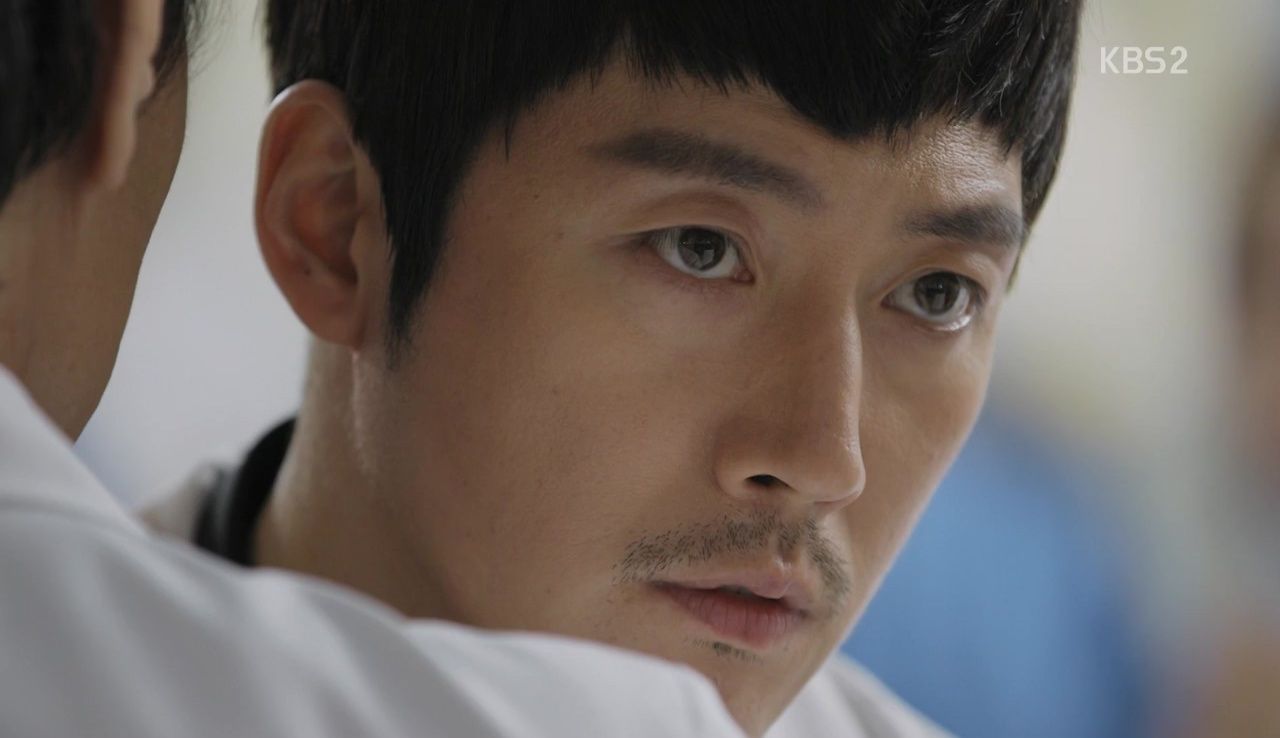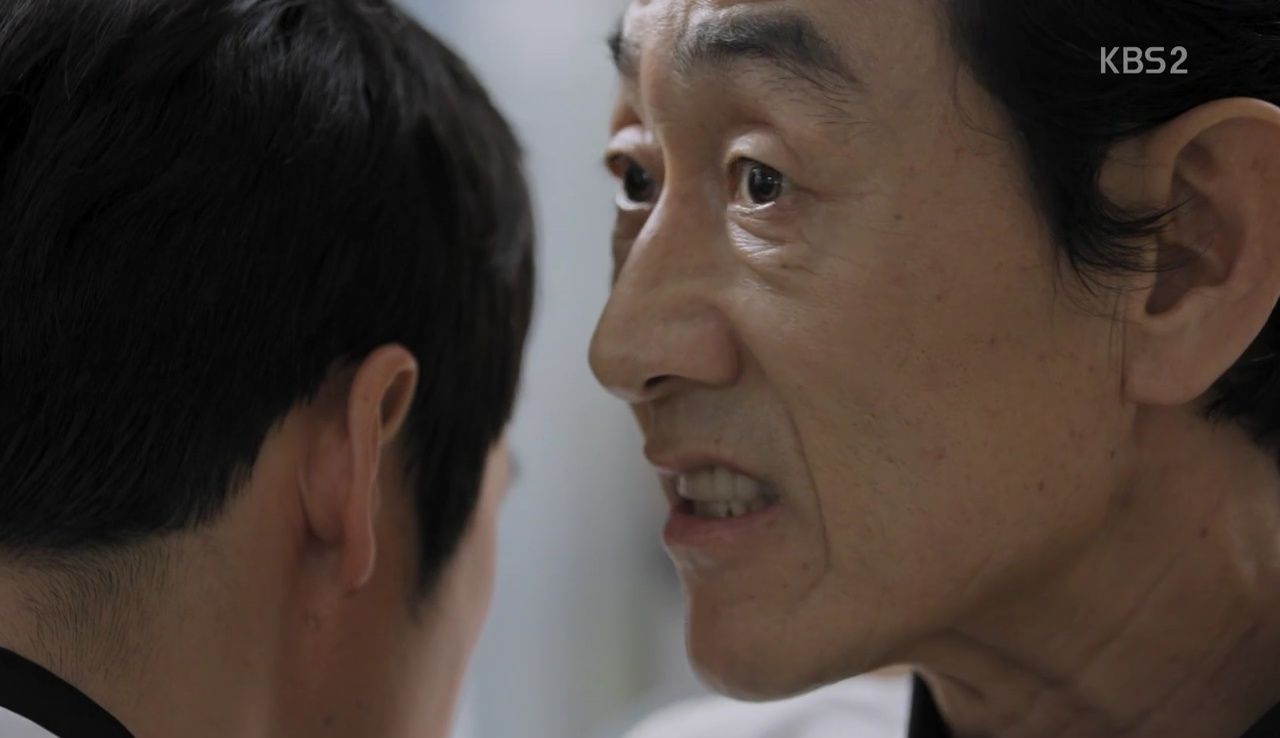 Dr. Lee leans in closer to Young-oh and grabs his shoulder, whispering that this is why he was opposed to a monster like Young-oh becoming a doctor. Glaring, Dr. Lee announces again that the ethics committee has dismissed Young-oh.
In a daze, Young-oh looks at the doctors around him, who all avoid his gaze. He listlessly stumbles out of the hospital as he thinks back to the wife pleading for him not to save her husband, to Min-jae telling him that he won't ever understand love, to the childhood spent on being trained to read emotions, and to his father's harsh words just now.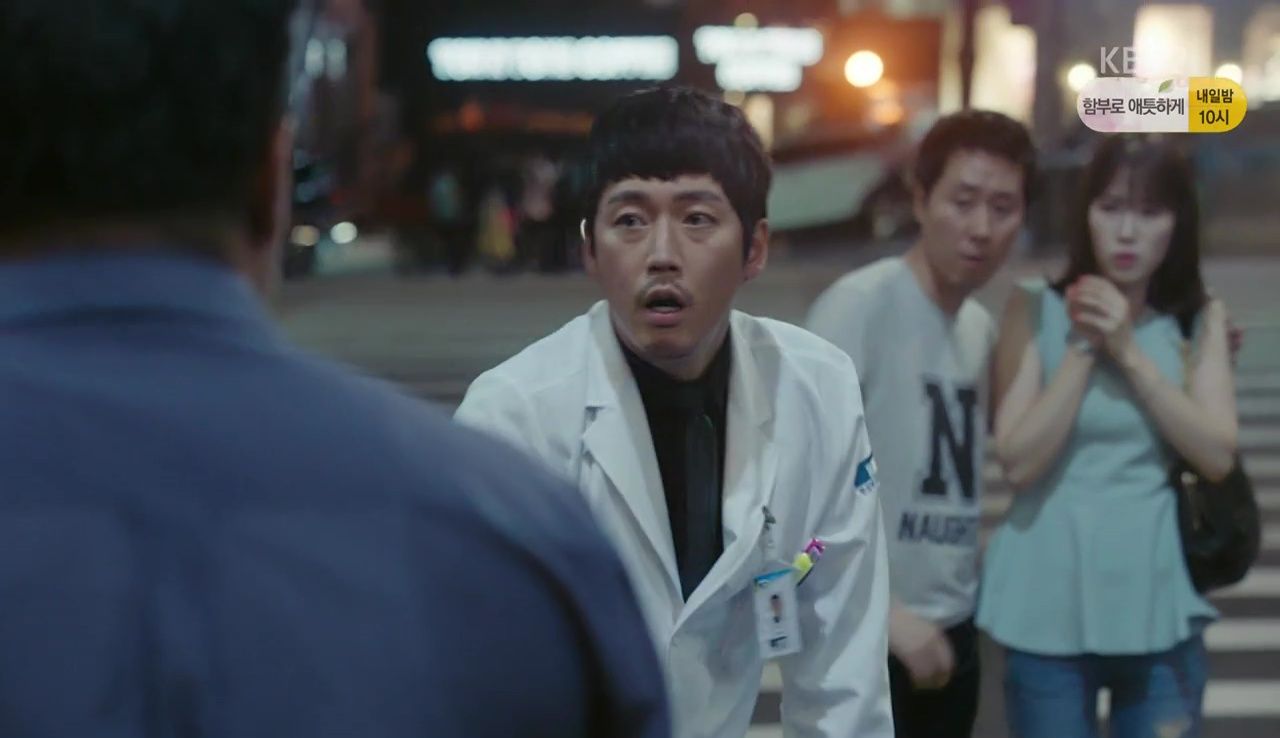 Young-oh nearly wanders into traffic, and when a kind pedestrian tries to pull Young-oh back, Young-oh just punches him in the face. Young-oh repeatedly beats him, flashing back to the ruined birthday party of his teenage days. Just as he did back then, he comes to the realization that he's doing something wrong, and staggers away from the crowd.
He walks into oncoming traffic, when Jin-sung comes up behind him and asks if he's okay. She reassures him that it's all right, that it was nothing, and grabs his hand to go. Young-oh pulls her back, and leaning heavily on her, begs her to help him before collapsing onto her.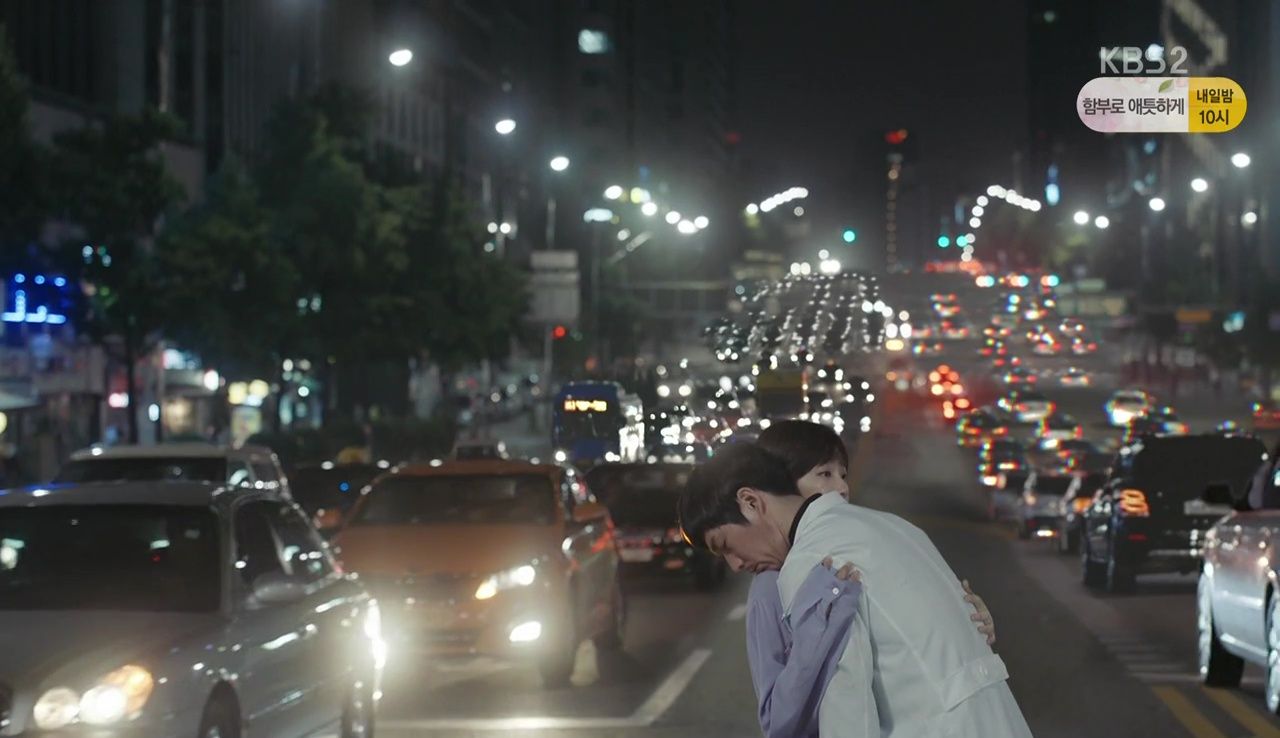 COMMENTS
Jang Hyuk is doing an incredible job as Young-oh, but I'm getting the feeling that the show wants me to accept his violent moments as just another quirk that's part of his antisocial disorder, even though they're starting to become rather disturbing. While I feel sorry for him because he's not only been wrongfully accused of murder, but also betrayed by all his loved ones (all two of them, I guess), I can't help thinking that everyone's not wrong to distrust him if he has a tendency to react violently when things are going downhill.
It's completely unfair to accuse Young-oh of being a murderer based on nothing but his disorder; however, choking people when he's angry or hitting people because he instinctively imagines them to be dangerous even when they're just trying to be helpful — those are not hallmarks of a good doctor. For the most part, the other doctors and Director Kang haven't seen these violent tendencies yet, so their assumption that Young-oh is unfit to be a doctor is baseless (he hasn't even been fully investigated for being a murderer and most of them are still jumping to conclusions), but if they do witness these violent moments, then I actually think that their assumption that he deserves to be fired becomes a little more valid.
Nevertheless, Young-oh is surely at his most pitiful state in this episode, which began with Min-jae's betrayal and ended with Dr. Lee calling him a monster (again). This time around, the insult hits a lot harder because it seems that all Young-oh ever really wanted was his father's approval, but now that he's lost his job as a doctor, he'll never be acknowledged by his father as a successful, "normal" person.
I'm sure there must be something more with the glioblastoma patient and his wife, and there has to be a reason that Young-oh read fear in his eyes. It would be an interesting twist if the only person who lacks empathy also ended up being the one who most accurately understood someone's feelings. I want Young-oh to bounce back and to have been right all along, to overcome the hospital politics and his violent tendencies, but he's not going to do it without Jin-sung.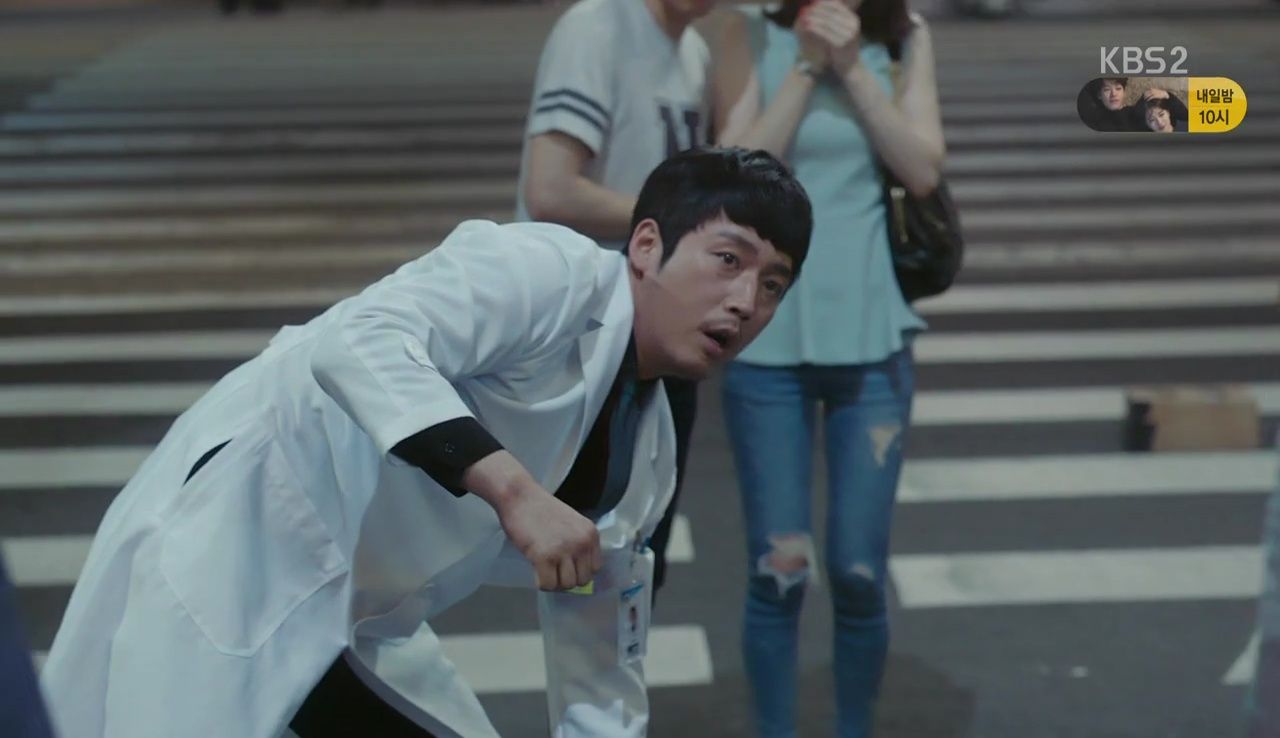 My opinion of Jin-sung softened a bit this week, and I'm glad that she's repented for her impulsive actions. She definitely got off easy for the scale of the mistakes she made, but because she jumped to the wrong conclusion about Young-oh's personality first, before everyone else did, she also gets to realize that Young-oh's not that terrible of a guy before everyone else (hopefully) realizes the same. Jin-sung didn't really have a major role in this episode, but now that she's the only one left on Young-oh's side, I can't wait for her to step it up and help him restore his reputation.
On a side note, I'm also wondering how accurate this drama's depiction of antisocial personality disorder is. According to the drama, it seems that the major symptom is just an inability to empathize, but people in real life with antisocial personality disorder lack morals, and actively exploit and manipulate others to get their way. To me, Young-oh doesn't seem to really fit the other symptoms of someone with antisocial personality disorder. In fact, he seems a lot more morally principled than most of the other doctors at Hyunsung Medical Center, which just strikes me as rather ironic.
Speaking of doctors and morals though, I really hope Suk-joo doesn't fall prey to Assistant Manager Chae's threats. Like Dr. Kim said, Suk-joo has always been principled and righteous, so it'll be interesting to see how (or if) he tries to fight the hospital conspiracy. Jin-sung has been wrong about many things, but I'm hoping that her steadfast belief in the goodness of Suk-joo is not one of them.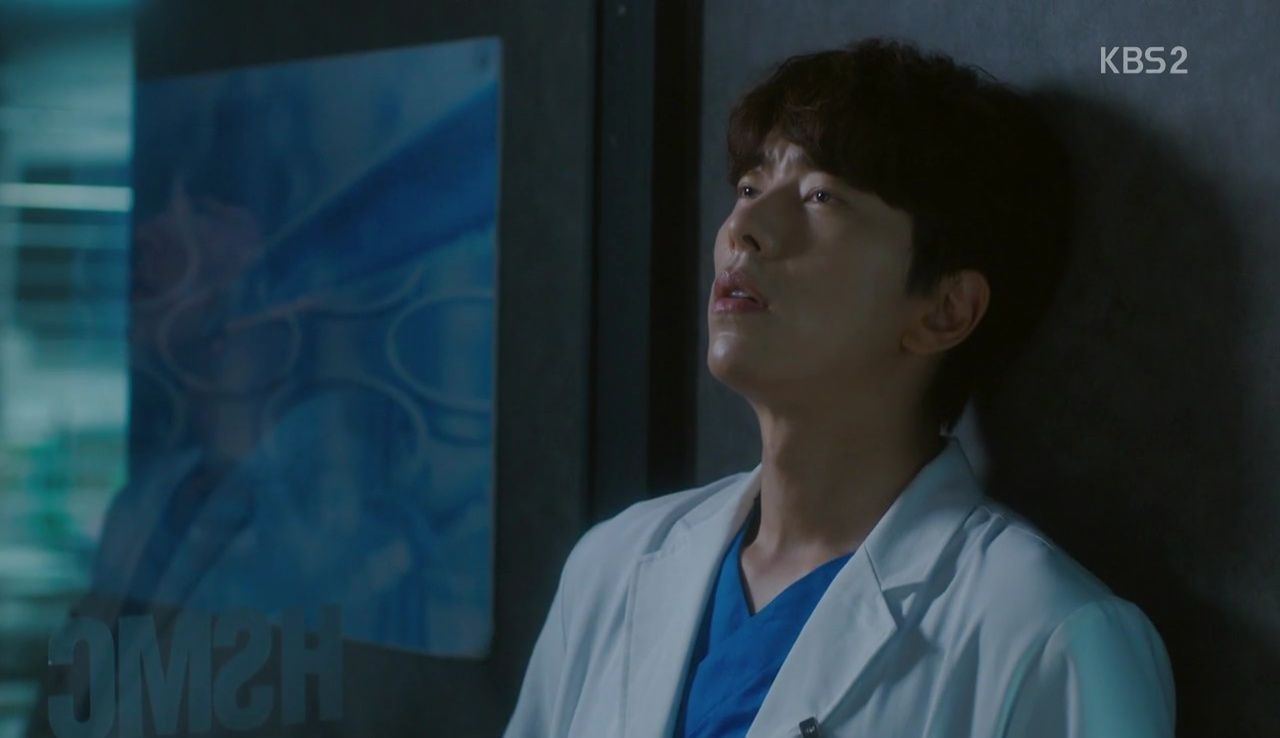 RELATED POSTS
Tags: Beautiful Mind, Episode 6, featured, Jang Hyuk, Park Se-young, Park So-dam, Yoon Hyun-min