Doctors: Episode 10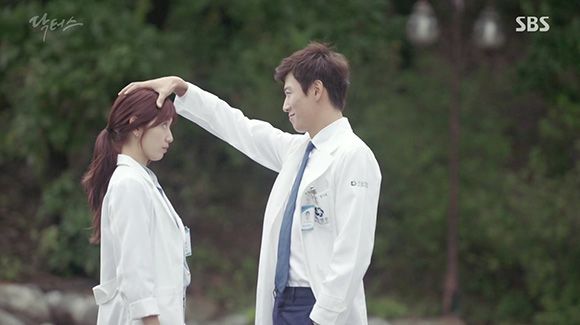 Hye-jung continues to attract attention, both positive and negative. While it must be nice to have eligible bachelors pining after you, the jealousy it can cause in others might not be worth it. However, Hye-jung is strong, and doesn't care for a knight in shining armor to come and save her. She has other priorities, so she won't be heedlessly falling into a romantic relationship, much to her suitors' dismay.

EPISODE 10 RECAP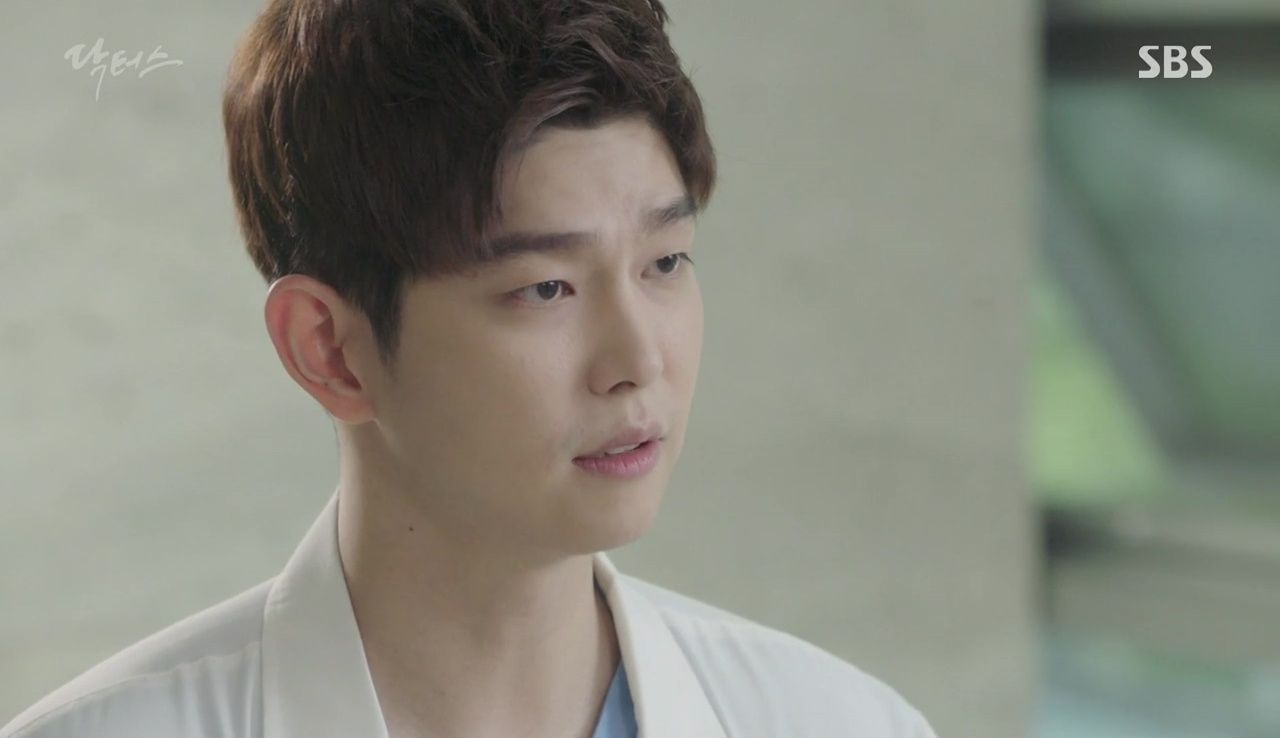 A series of past events—from Hye-jung's high school days to the recent attack at the hospital—play onscreen, and Hye-jung narrates, "A genuine meeting can change a person. The person I am with right now could change my life. That's why a person can be both hope and despair."
Hye-jung spots Yoon-do and Ji-hong talking together, and watches from afar. Ji-hong tells Yoon-do that he trusts him as a doctor but not as a guardian. If something happens during his father's surgery, he says he'll kill Yoon-do, but Yoon-do laughs since his fortune says he'll live a long life.
Yoon-do is starting to like Ji-hong, and declares that they're rivals. However, Ji-hong doesn't consider Yoon-do a rival since he hasn't even eaten at the cafeteria with Hye-jung. Yoon-do mumbles that he's touched a sore spot.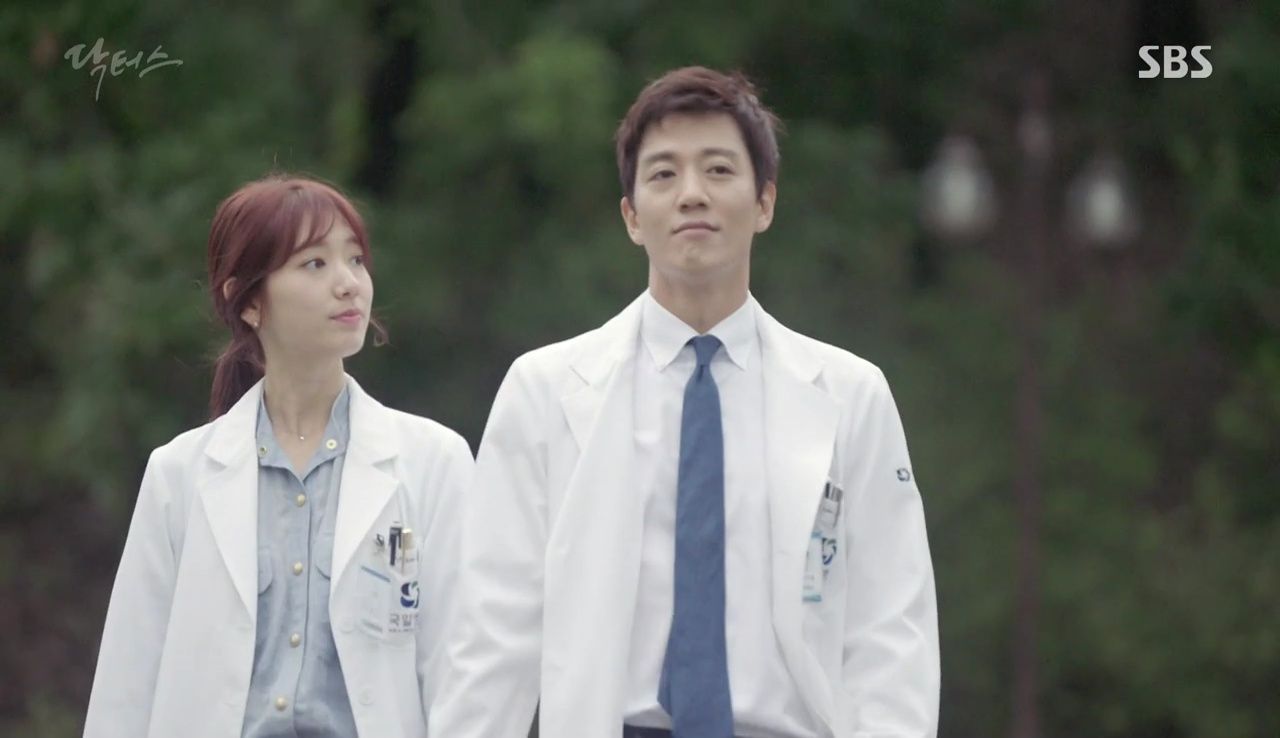 Hye-jung follows Ji-hong, and grabs his hand once they're outside. Hye-jung comments on his large hands, and Ji-hong playfully places his hand on her head, agreeing that his hands are quite big. Smiling, they walk together holding hands.
It's a new day, and Soon-hee makes packaged chicken soup at home. Hye-jung joins her at their dining table, and Soon-hee says that she made food with the "heart of a mother-in-law" for Hye-jung to bring to Ji-hong. The food isn't for free, though, since Soon-hee wants Hye-jung to bring Young-kook to the café in exchange.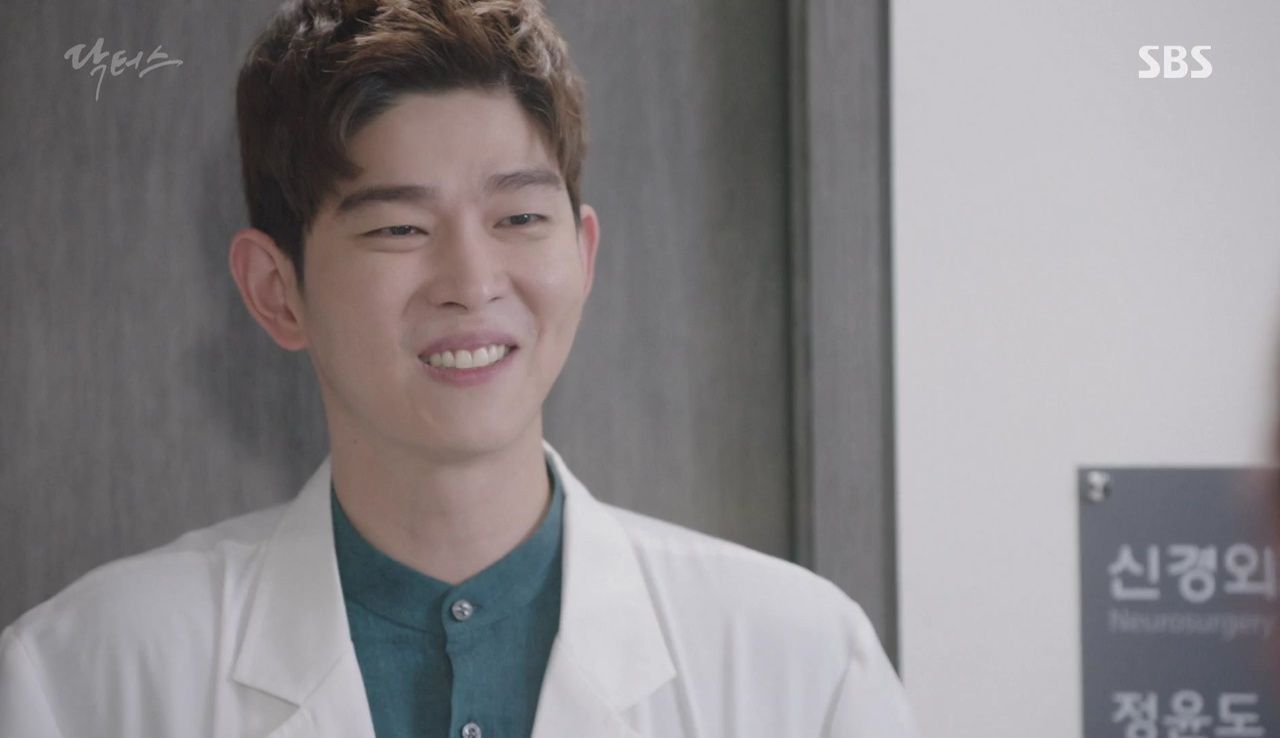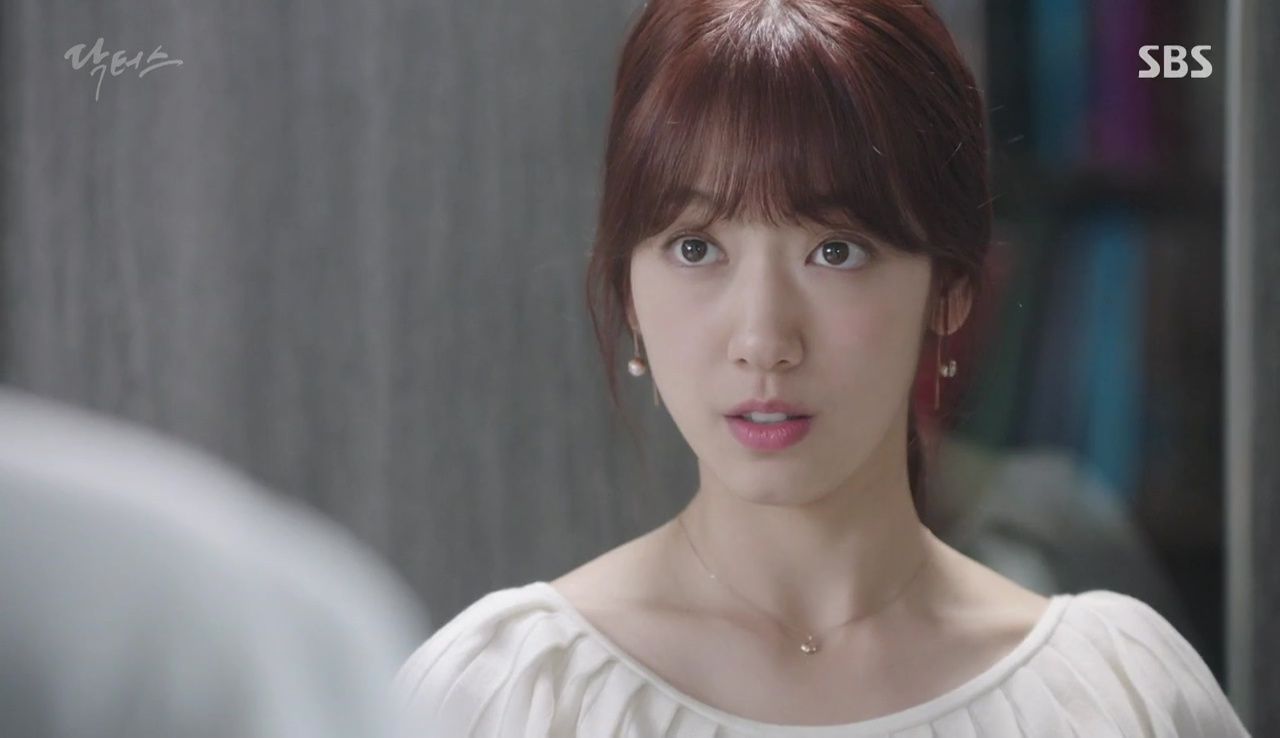 Ji-hong is running on a treadmill when he gets a call from Hye-jung, and he tells her the passcode to his office. Before Hye-jung can get inside, Yoon-do appears, and he notices the bag she's carrying. He whines about when they can eat together, and Hye-jung proposes that they have lunch today. Immediately, Yoon-do smiles, and Hye-jung laughs at his simplicity. Once she leaves, Yoon-do places a hand over his racing heart and tells it to stop overreacting.
Hye-jung instinctively starts to tidy Ji-hong's messy desk, but puts everything back when she remembers the last time she tried to clean his messy pile of books, which he'd insisted were in some kind of purposeful order. Ji-hong arrives, and is charmed by her thoughtfulness in bringing him food. He asks about Grandma's anesthesia records, and Hye-jung wonders to herself how he can still be taking care of her despite his situation.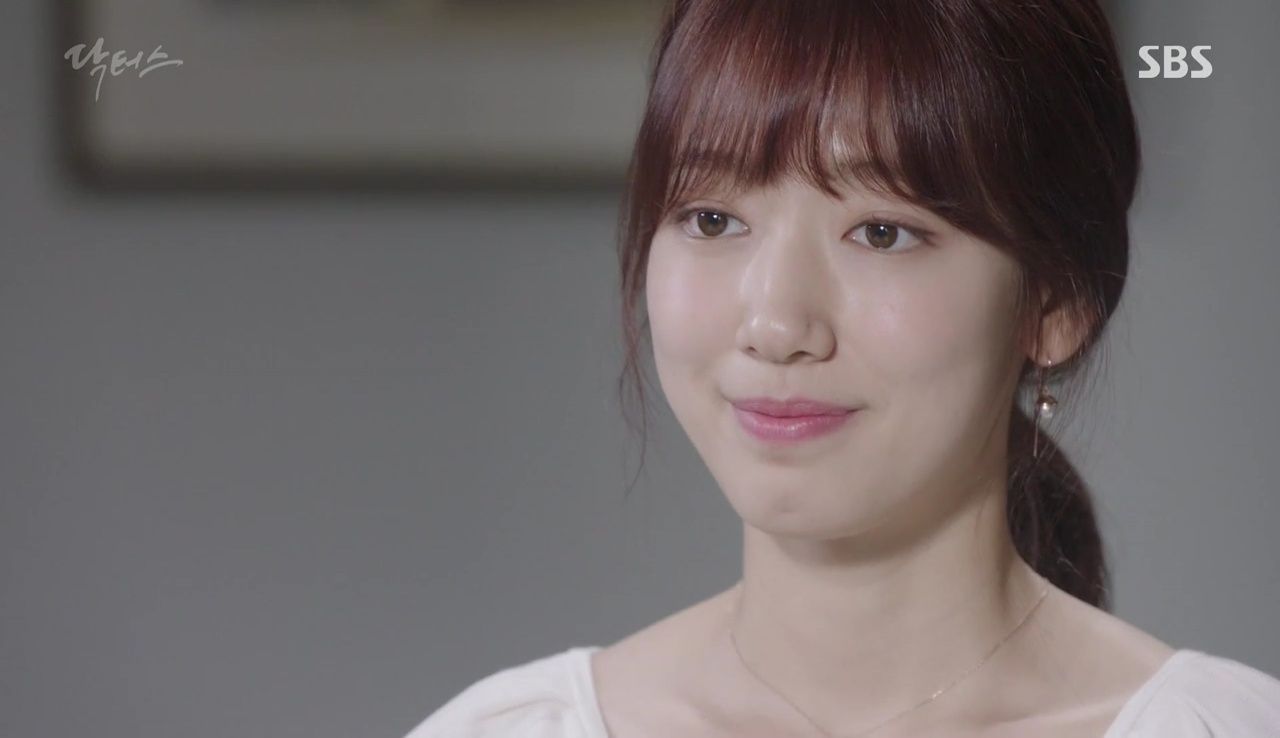 At his prodding, she informs him that the records were deleted. Ji-hong asks her how she's so confident that Grandma's death was due to medical malpractice, and Hye-jung tells him her reasons, like the low-risk surgery that Grandma had and the fact that it was so quickly covered up, clearly having thought this through. Ji-hong stares at her, and then asks if he can help.
Thinking to herself that he should take care of himself, Hye-jung says that he can't help. She asks Ji-hong if he's happy, and when he says that he is, she asks how he knows. Smiling, Ji-hong tells her that he's alive and enjoying a meal with the woman he loves.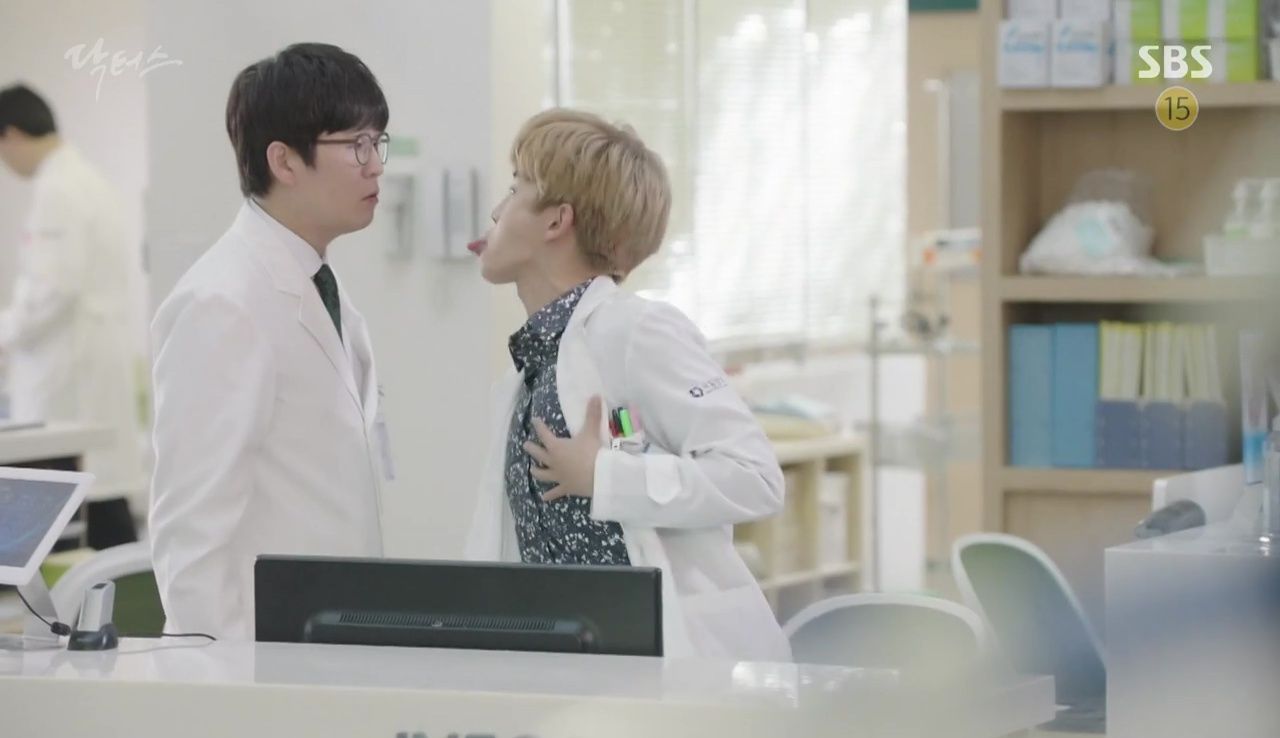 Myung-hoon gets a report from his secretary that Director Hong was the one who accessed Grandma's file. However, Director Hong's whereabouts are currently unknown. Meanwhile, Ji-hong examines Grandma's files, and then makes a call to meet Chief Kim at Namyangju Hospital.
Hye-jung takes a handful of equipment from the ICU, which doesn't go unnoticed by Kyung-joon. He asks Kang-soo if they recently admitted a VIP patient, but Kang-soo tells him that they don't have access to such information. Kyung-joon pretends to hit Kang-soo, and Kang-soo sticks out his tongue before running away.
Ji-hong meets with Director Hong in his private room, and they share a tender moment together. Director Hong says that it's nice to have his child by his side in times like these.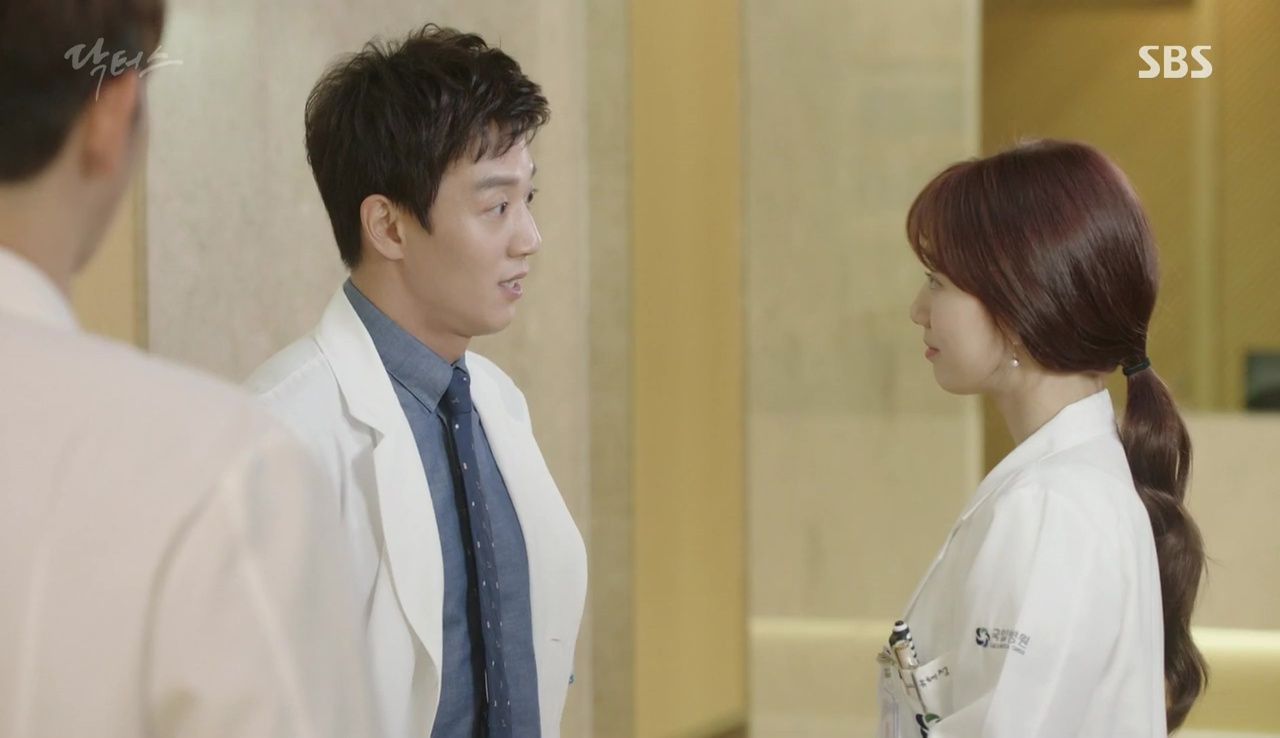 Hye-jung runs up to Yoon-do, who's waiting for her. When he tries to help her carry the supplies, she fumbles and drops them since his sudden friendly attitude makes her feel uncomfortable. Ji-hong watches their exchange from down the hall, clearly jealous.
Hye-jung notices him, and Ji-hong asks her if she wants to have lunch together. Yoon-do interjects that Hye-jung promised to eat with him, so Ji-hong tries to make dinner plans. Unwilling to let them be together, Yoon-do interrupts again, this time saying that Ji-hong should buy him dinner since he's the one performing surgery on his dad. Ji-hong half-heartedly agrees, aware of Yoon-do's ploy to stop his plans.
Hye-jung and Yoon-do check on Director Hong, and Hye-jung says that they should go fishing again. Director Hong is delighted to hear that, and happily declares that he likes Hye-jung. He notes that Ji-hong doesn't like fishing but seems to tolerate it better when Hye-jung is around.
Director Jin tells Myung-hoon that Director Hong is in the hospital, getting ready for a secret surgery. Ji-hong discusses the same topic while walking with Tae-ho, and tells Tae-ho that he's against the idea of keeping the surgery a secret. Tae-ho agrees with Ji-hong, and they decide to forgo the secrecy, willing to fight the battle themselves rather than hide behind Director Hong.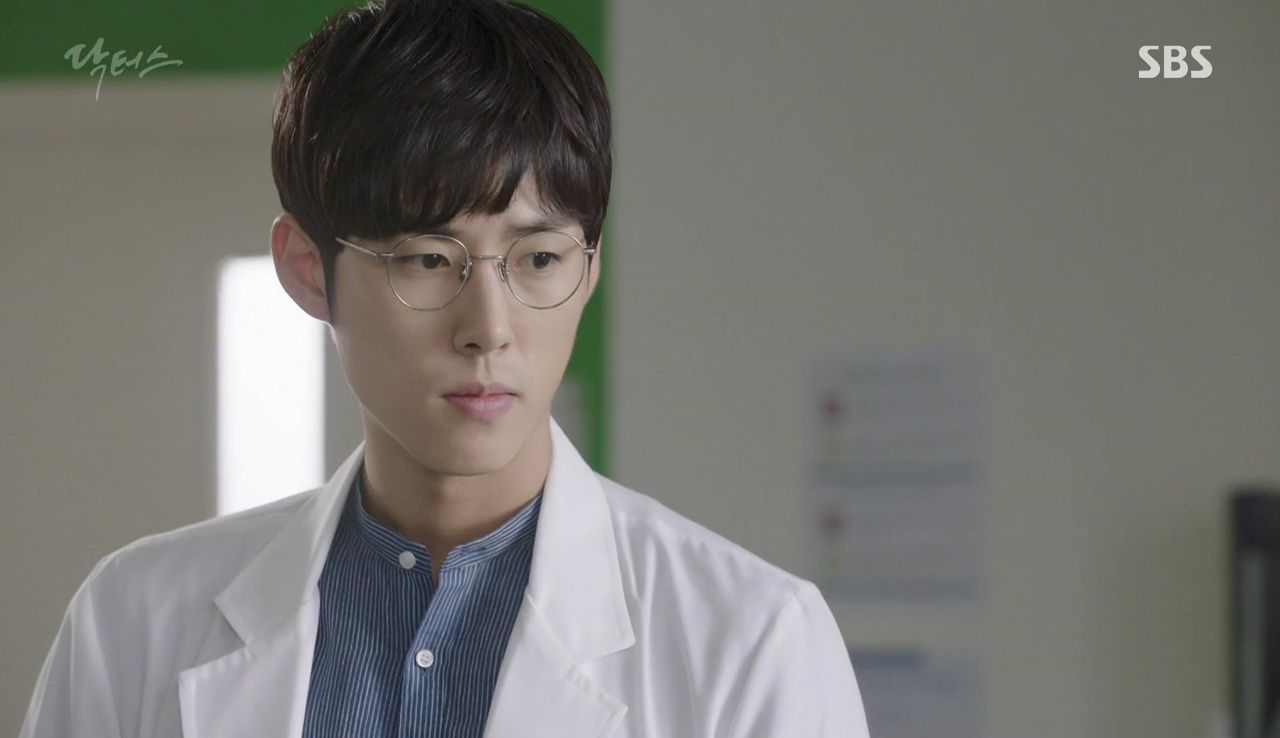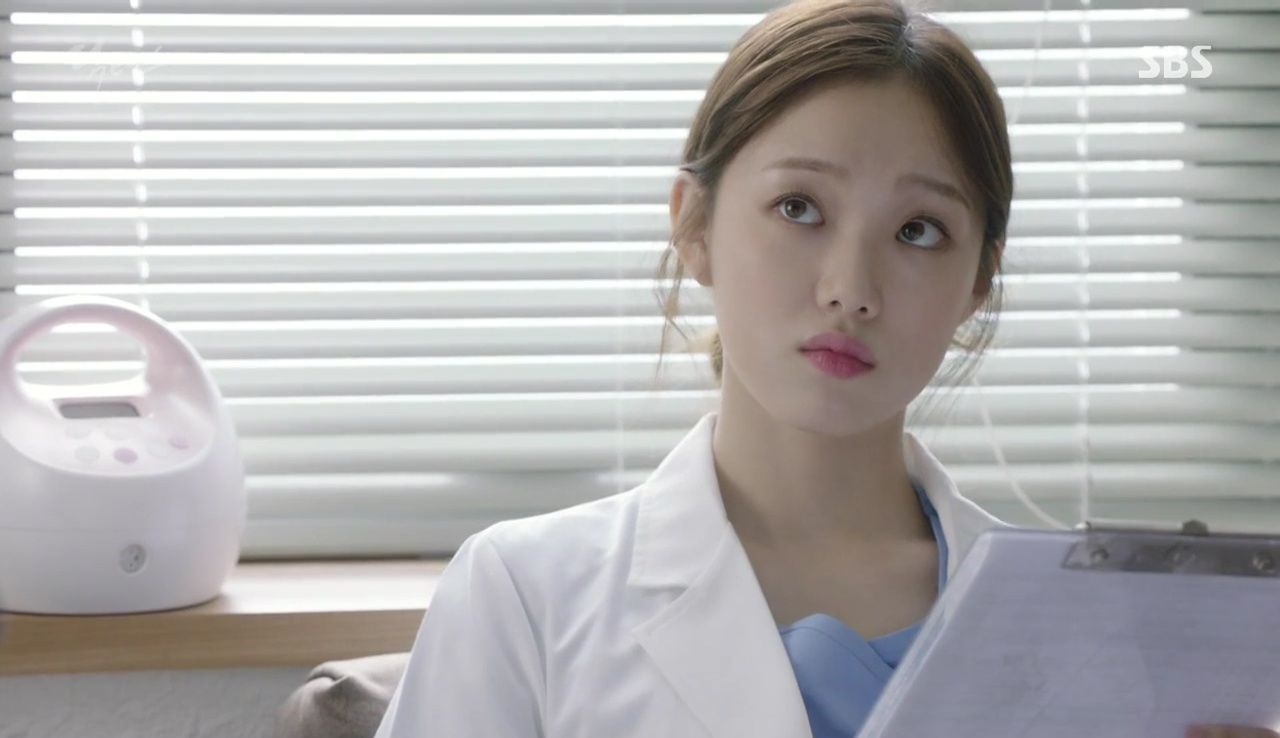 Young-kook comes up to Ji-hong to inform him about one of his patient's condition, and Ji-hong orders Young-kook to tell Seo-woo to prepare to assist in his surgery. Ji-hong gets a call from Hye-jung telling him that the lab results for Director Hong are in, and he tells her that the surgery is no longer a secret.
Young-kook tells Seo-woo that she's assisting Ji-hong in his upcoming surgery, which surprises her. She asks about Hye-jung, and Young-kook informs her of Director Hong's surgery. She mumbles that Hye-jung was given such an important task, but Young-kook corrects her: Hye-jung was given the surgery because it suited her. Seo-woo looks up at Young-kook, and asks if she was mean just now. Young-kook says she was, and Seo-woo calls it a success.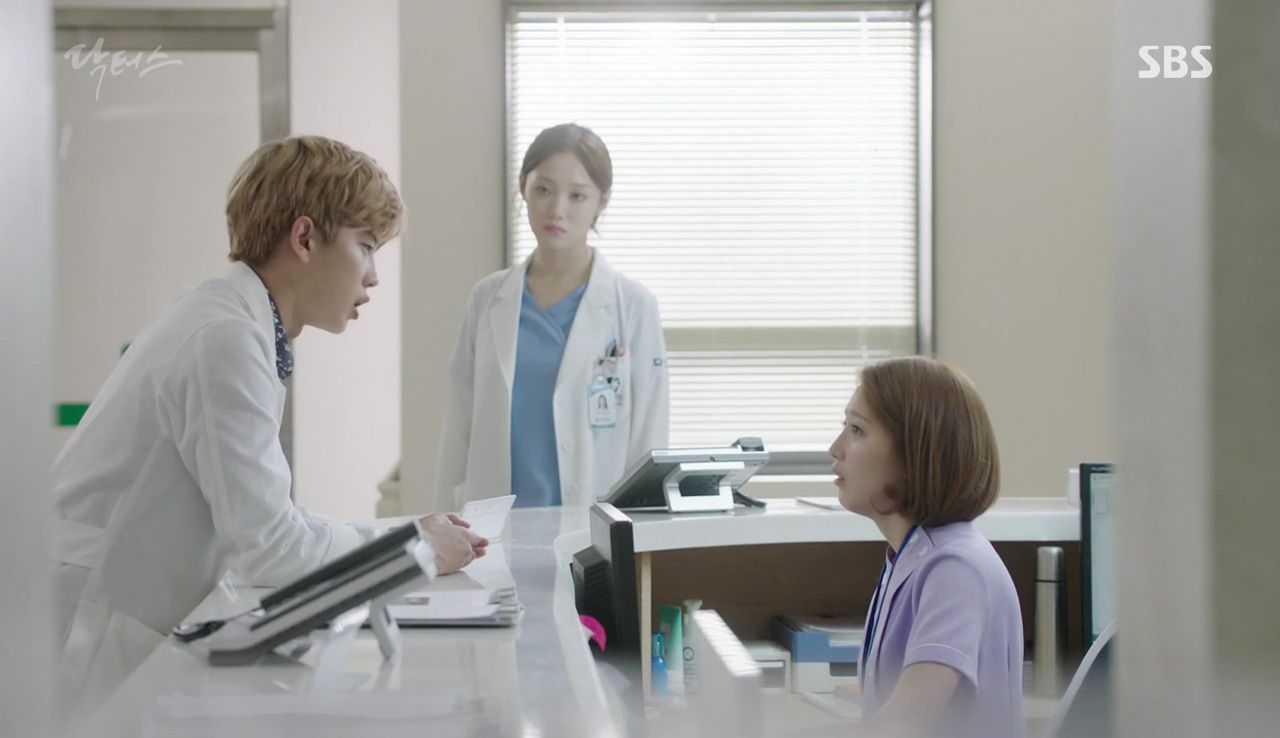 Kang-soo confronts Nurse Su-jin, and tells her to pay half of the repair cost for Hye-jung's sports car. She refuses since he was the one driving, and Seo-woo overhears their conversation. The nurse complains to Seo-woo about the situation, and Kang-soo also whines about losing his paycheck for months. Seo-woo offers to handle the matter for him.
She reports over the phone that Hye-jung took a bribe, and then runs into Myung-hoon in the hall. He's happy to hear that Seo-woo was chosen to attend an upcoming conference, appreciative that Tae-ho takes care of Seo-woo. On cue, Tae-ho comes walking down the hallway towards them.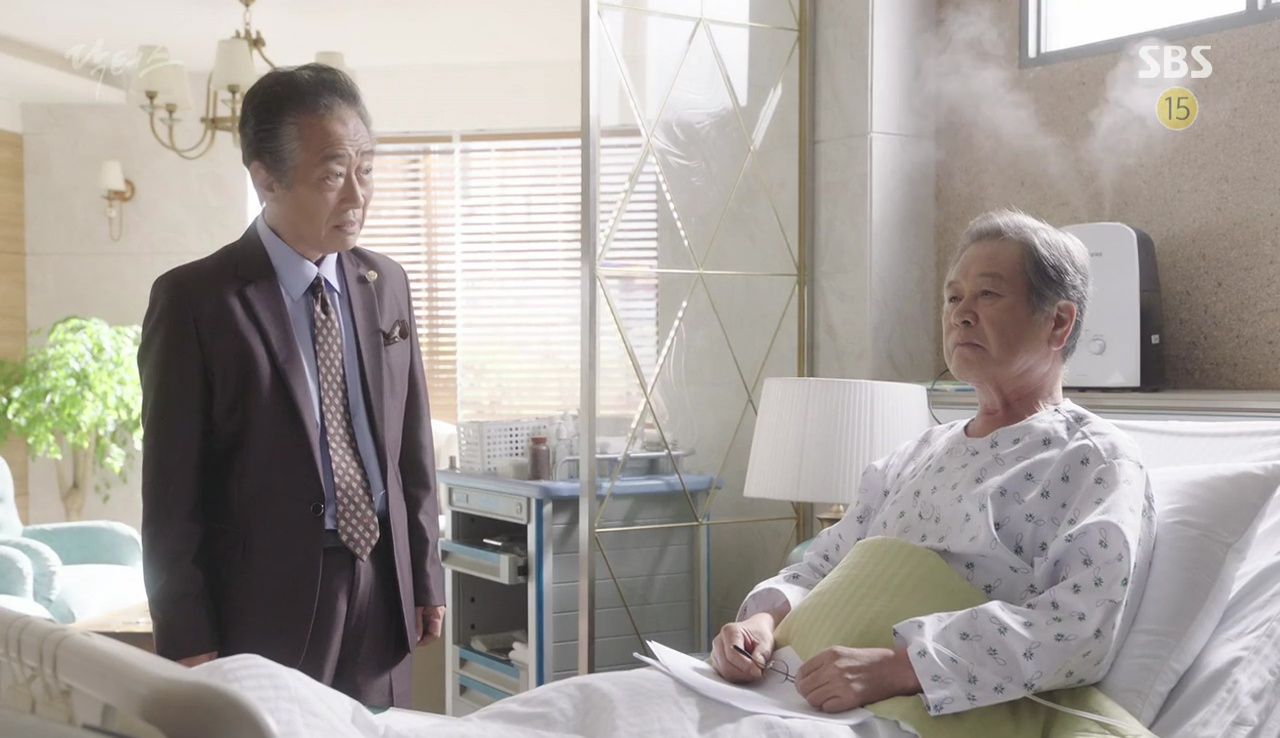 In Myung-hoon's office, Tae-ho tells him of Director Hong's surgery, and Myung-hoon exaggerates his concern. Tae-ho thinks to himself that Myung-hoon's pretenses are boldfaced, but keeps the meeting civil.
Director Jin visits Director Hong, bearing his old friend's favorite cookies as a gift. Director Hong tells Director Jin that he's known about his slush funds for a long time, but he waited for Myung-hoon to resign himself. Director Jin asks him to hand over the slush fund files for the sake of their friendship, and tells Director Hong to start the succession process with Ji-hong instead of Myung-hoon.
Seo-woo meets with Ji-hong as he's washing his hands for surgery. She doesn't greet him first, so Ji-hong initiates the conversation. He asks if she's reflected, and Seo-woo promises to not let this happen again. He reminds her that he was her teacher, so he sincerely wants her to succeed.
Yoon-do talks to his reflection, anxious and happy that he's finally having cafeteria food with Hye-jung. He practices his smile, and then sends himself winks and finger guns in the mirror. He's such an adorable, giant dork.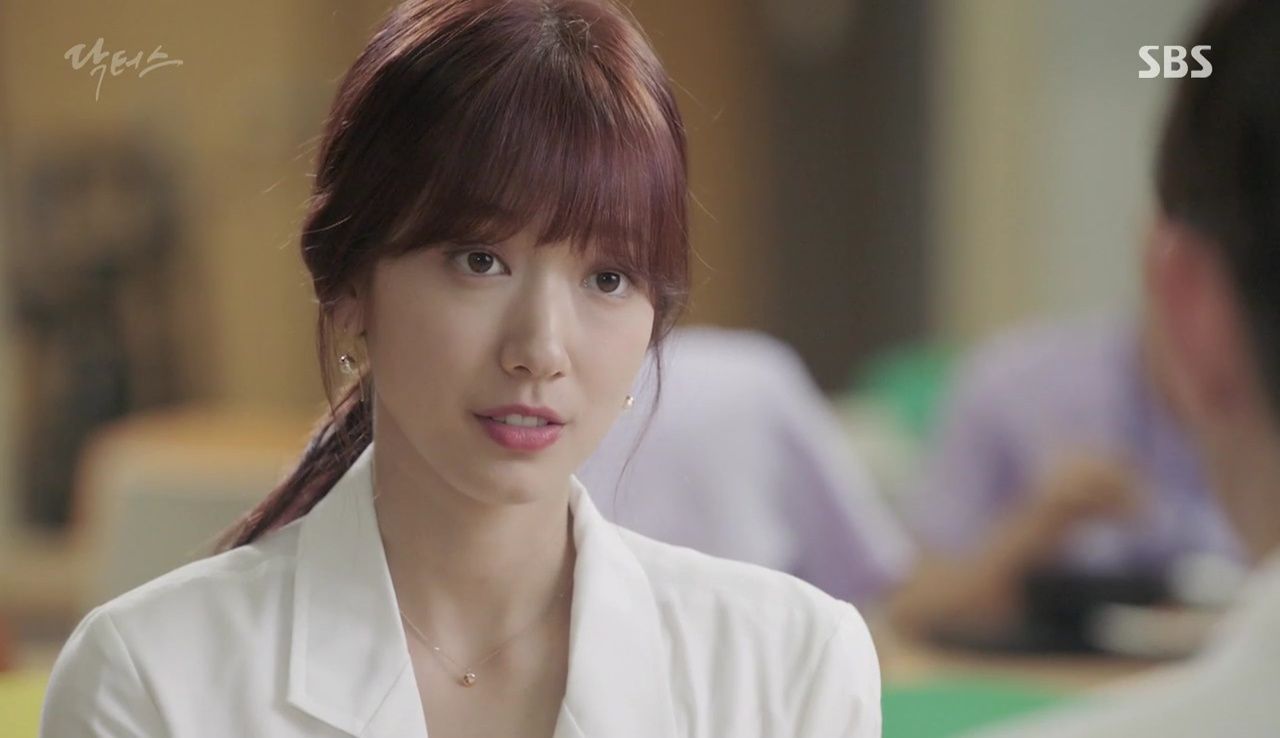 Hye-jung and Yoon-do sit down in the hospital cafeteria, and Yoon-do asks if she didn't understand his confession. Hye-jung wants to change subjects, but Yoon-do doesn't see why they can't talk about love. Sighing, Hye-jung tells him that she doesn't believe in love between a man and a woman, but if she ever started that kind of love, then it would be with Ji-hong. Yoon-do's heartbreak momentarily flashes across his face, and Hye-jung apologizes.
Yoon-do takes the rejection graciously, and says that she has nothing to apologize for—though he appreciates the sentiment since it means she at least likes him. Hye-jung tries to leave, but Yoon-do stops her since they can still eat together. He realizes that the atmosphere is awkward, and quickly changes his mind. He stays in the cafeteria watching Hye-jung leave, and sits by himself at the table, looking dejected.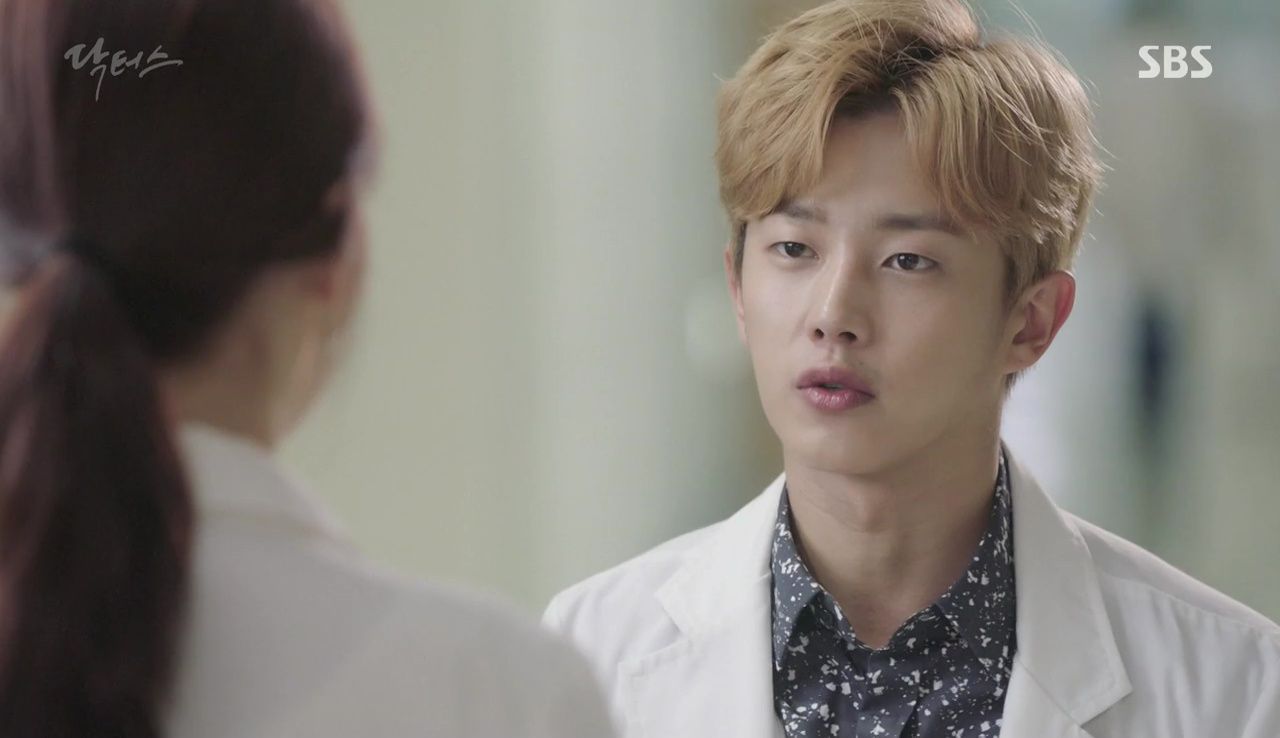 Nurse Su-jin answers a call from the audit and investigation team, looking for Hye-jung. She's worried that it might have something to do with the car from Boss, and Kyung-joon orders Kang-soo to tell Hye-jung in person. Begrudgingly, Kang-soo runs through the halls until he finds Hye-jung, and tells her about her summons. From across the room, Seo-woo watches the scene unfold.
Hye-jung meets with the auditor who asks about the car she recently received. She explains that the patient left it, and she was planning to return it. Unfortunately, the car is damaged; making it look like Hye-jung drove it. She shows him a picture of her actual car, and explains that she doesn't need to covet the other car.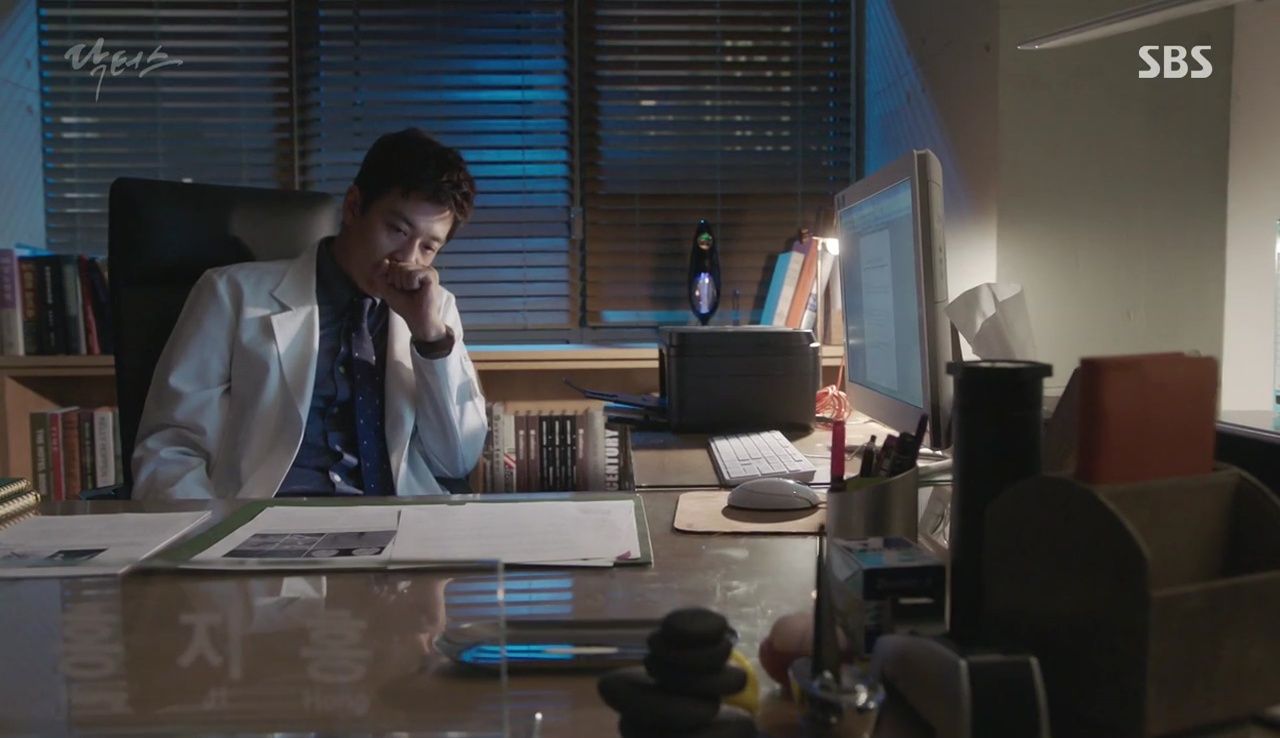 Ji-hong prints out a "do not resuscitate" (DNR) form, and in voiceover, Director Hong says that he's old and doesn't want to forcibly prolong his life. Ji-hong stares at a photo of him and Director Hong, a mix of emotions on his face.
In Myung-hoon's office, Director Jin hands him a flash drive containing his slush funds. He tells Myung-hoon that he had to bargain Myung-hoon in order to buy them more time. Myung-hoon lets his true feelings (wanting Director Hong's surgery to fail) slip out, and Director Jin scolds his son.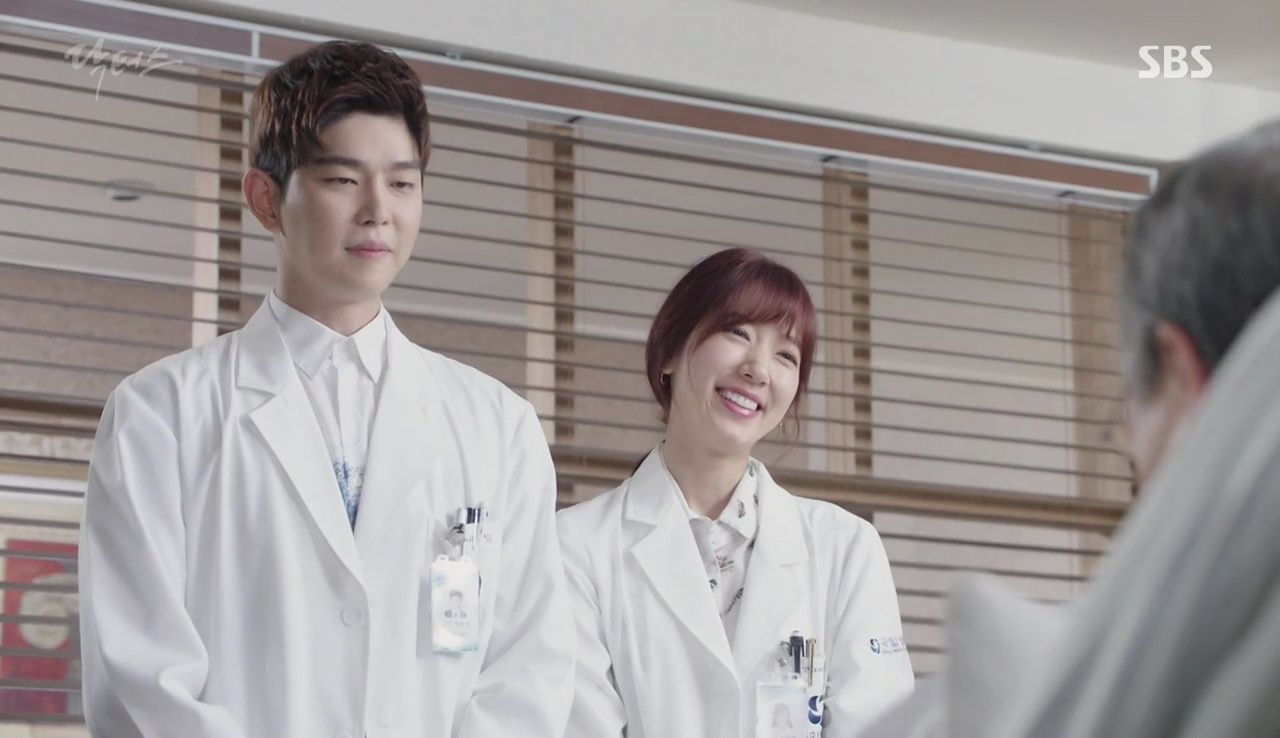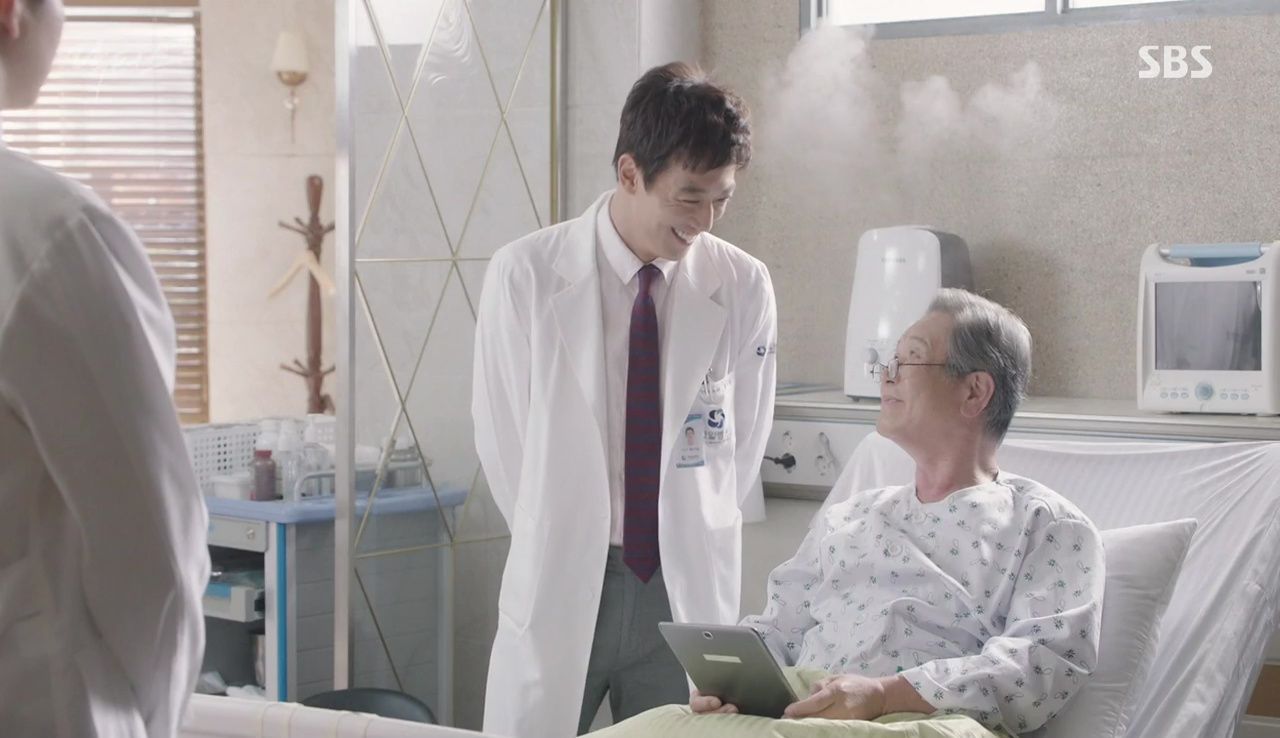 Ji-hong hands his father the DNR form, and wonders if he has to go this far. Director Hong wants to prepare for the worst-case scenario, and tells him not to think too hard about it.
The day of the surgery arrives, and Ji-hong and Director Hong take turns lecturing Yoon-do. Hye-jung can't help but laugh, and says that they match so well. Tae-ho comes in to check on Director Hong before his surgery, and offers to lift the director's spirits. Director Hong asks for a song, and Tae-ho initially says that it would be too embarrassing in front of his juniors… but then starts to clap and sing.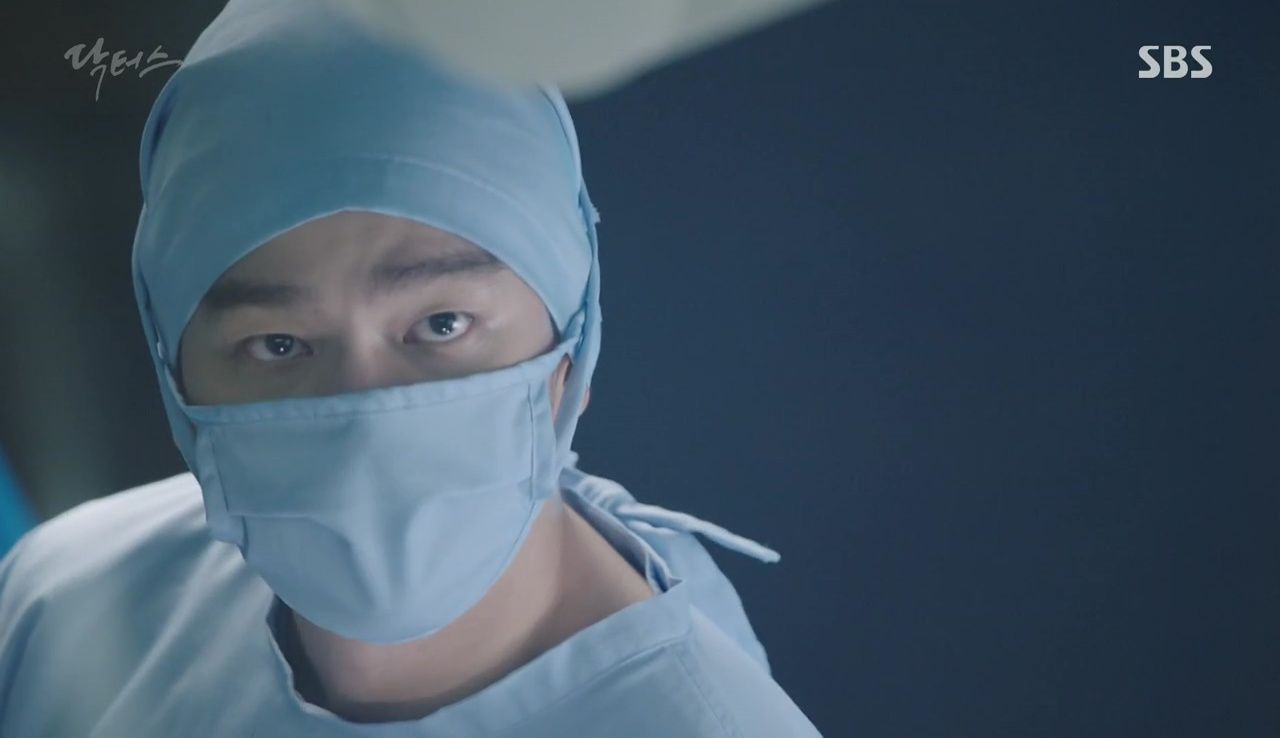 Yoon-do and Hye-jung prepare for the surgery, while Ji-hong waits outside like a regular guardian, and Tae-ho watches from the viewing balcony. Once the surgery starts, Tae-ho turns on the microphone and starts micromanaging, giving them directions on every move. Even Hye-jung notices his interference, and finally, Yoon-do snaps, throwing aside his surgical tools.
Tae-ho yells at Yoon-do for suddenly stopping, but Tae-ho tells him to do it himself if he's going to continue shouting commands from above. After a pause, Tae-ho apologizes, and the surgery resumes. In the meantime, Ji-hong nervously waits outside, wringing his hands.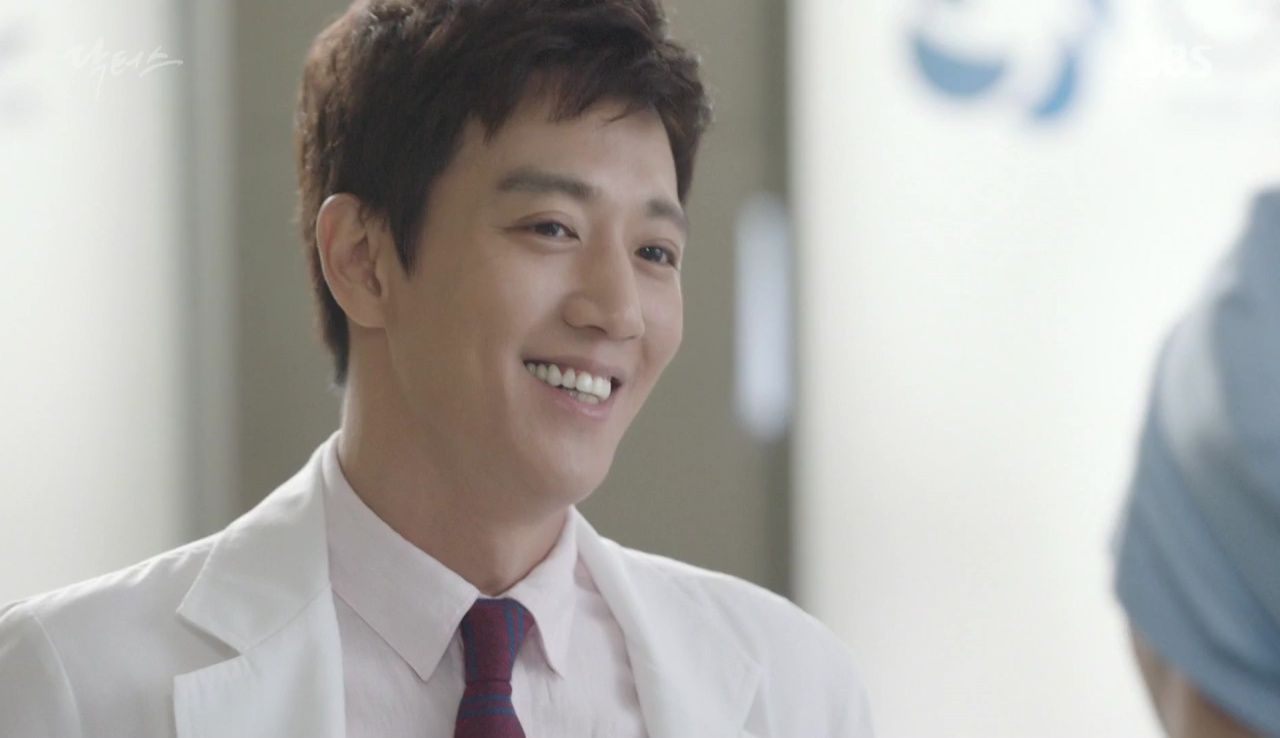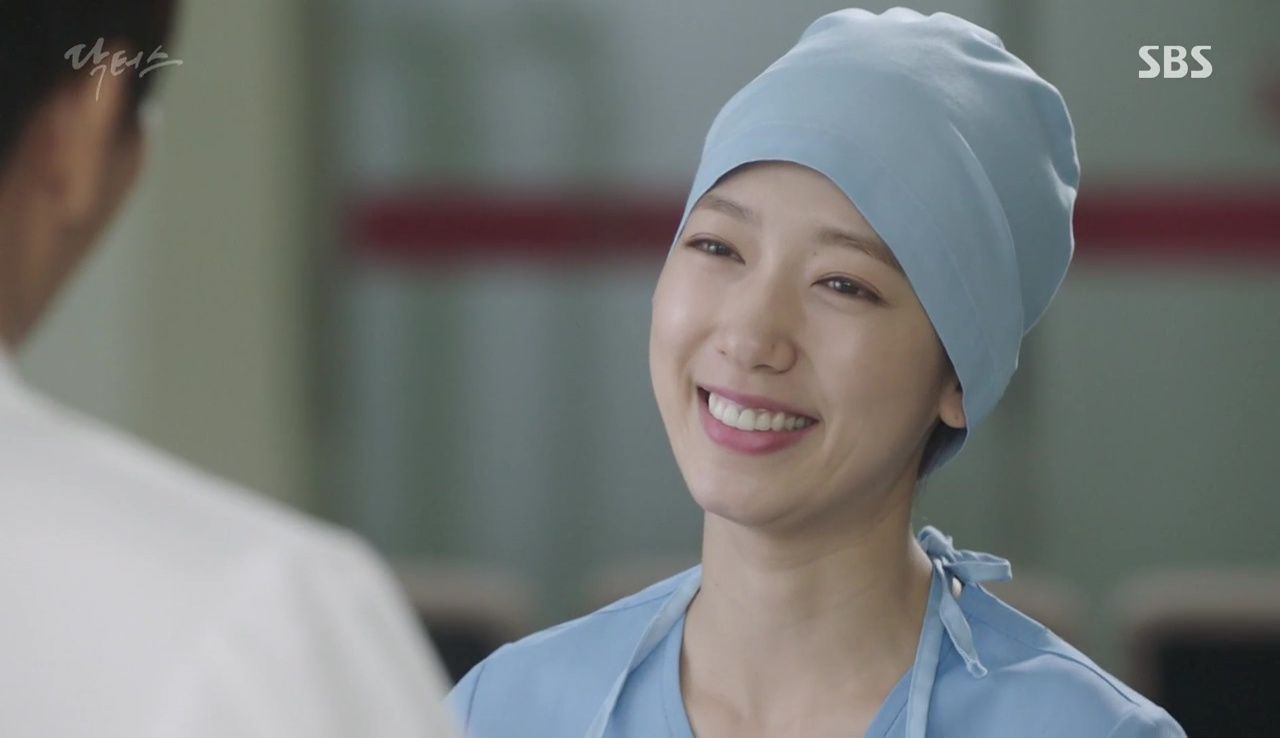 Back in the surgery room, Yoon-do's first attempt yields no results, but in his second try, the procedure works. Soon, Hye-jung comes out to tell Ji-hong about the results, but he doesn't need to hear it since it's written on her face: The surgery was a success.
Tae-ho comes out with Yoon-do right behind him, and Ji-hong shakes Yoon-do's hand. He offers to buy dinner, since he promised, but glancing at Hye-jung, Yoon-do says that he doesn't need it. Tae-ho interrupts, asking if he's included in the offer, and Ji-hong jokes that he isn't.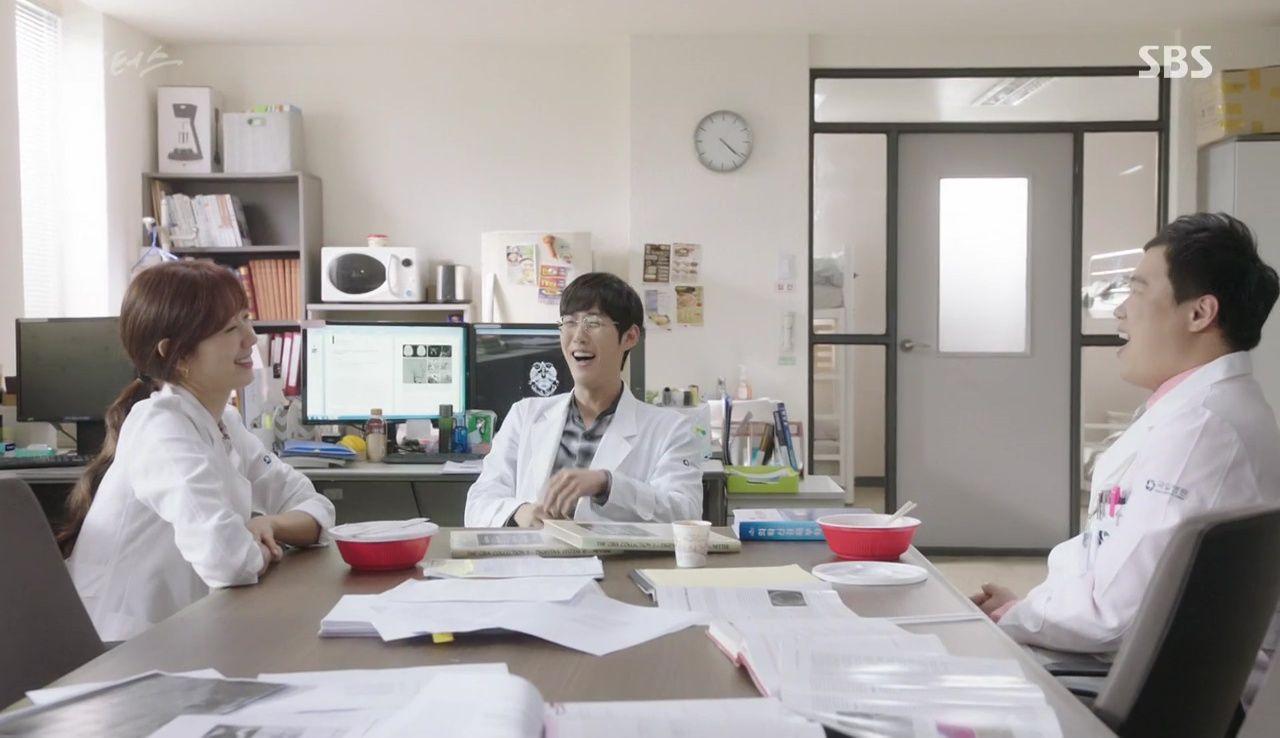 Young-kook calls Hye-jung to update her on a patient, and Hye-jung asks where he is. She enters the residents' office, and sends Joong-dae on menial tasks which he finishes quickly, much to her disgruntlement. Unlike Joong-dae, Young-kook is quick on the uptake, and tells her to come out with it.
Hye-jung asks Young-kook to visit Soon-hee's café frequently, acting like she's doing this to promote her friend's business and that she's making the suggestion to all the residents. She knows that this is an absurd request, but Soon-hee's her best friend. Hye-jung quickly excuses herself, completely mortified. On the other hand, Young-kook and Joong-dae find this new side of her charming.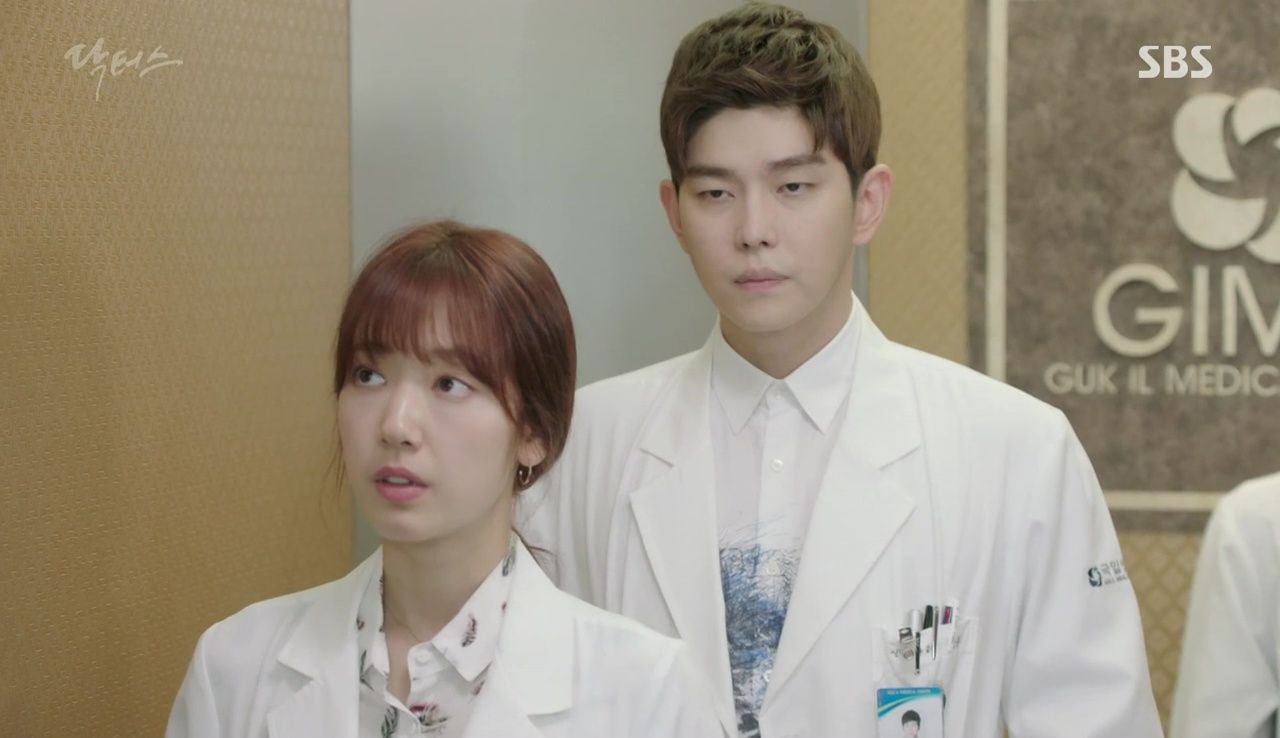 After checking on Director Hong, Yoon-do and Hye-jung wait for the elevator together, and the doors open to reveal Seo-woo and Young-kook. After an uncomfortable silence in the elevator together, Seo-woo asks if Yoon-do is all right. He doesn't know what she's asking, but replies in the affirmative.
Seo-woo says that he's fine after stabbing someone in the heart, and tells Hye-jung that this is the level of the person who likes her. The elevator finally reaches Hye-jung's floor, but Yoon-do also gets off with her. Hye-jung reprimands him for following her, but Yoon-do says his actions were in self-defense.
Hye-jung doesn't understand why he rejected someone like Seo-woo, but Yoon-do turns the question back to her: Why did she reject someone like him, then? He understands that she's in a complicated position because of Seo-woo, but says she shouldn't push him on Seo-woo just to save herself.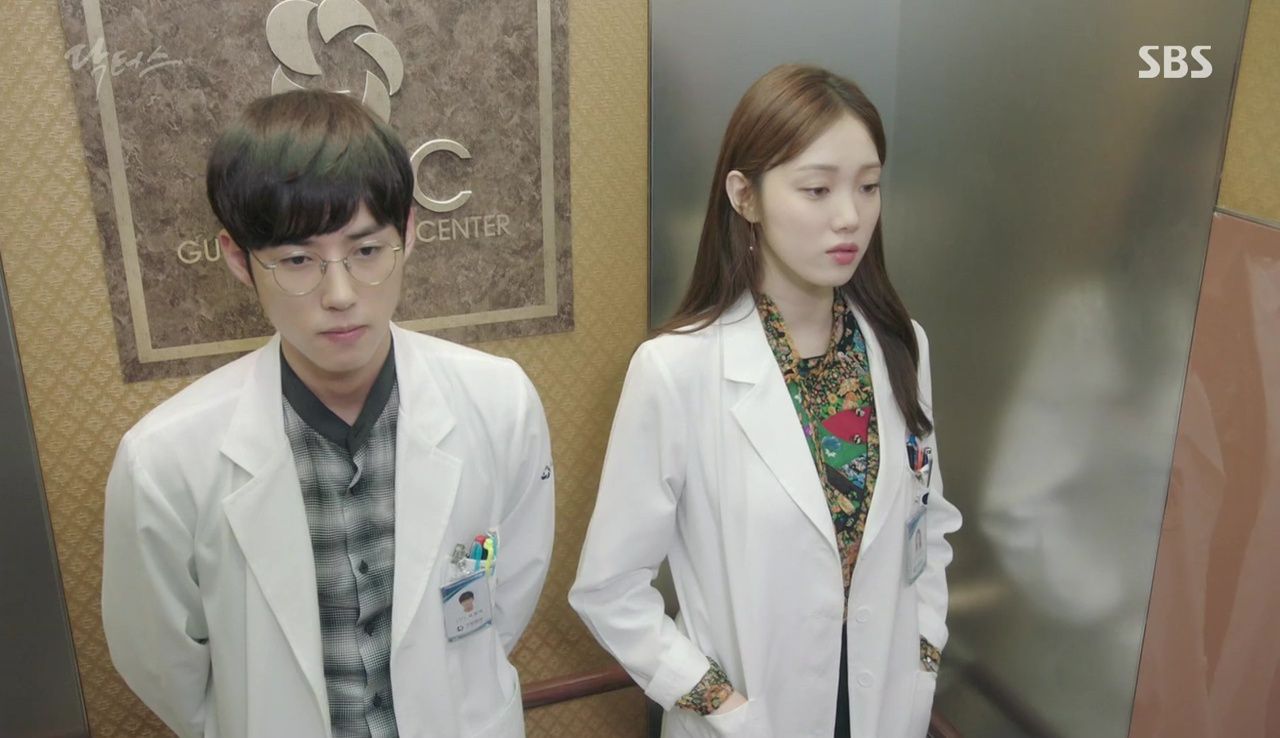 Back in the elevator, Seo-woo tells Young-kook that she's done living her life for other people: She's going to seduce men and become a femme fatale. Young-kook doesn't believe she can do it because those kinds of people don't make announcements; they just do it. Seo-woo says that Young-kook doesn't know her very well because she's already done it.
Ji-hong visits Director Hong, who's sleeping, and he exits with Tae-ho to let his father rest. They joke with each other outside, but the mood turns somber when Tae-ho takes a phone call concerning Hye-jung. After hanging up, Tae-ho tells Ji-hong that Hye-jung was reported to the disciplinary committee.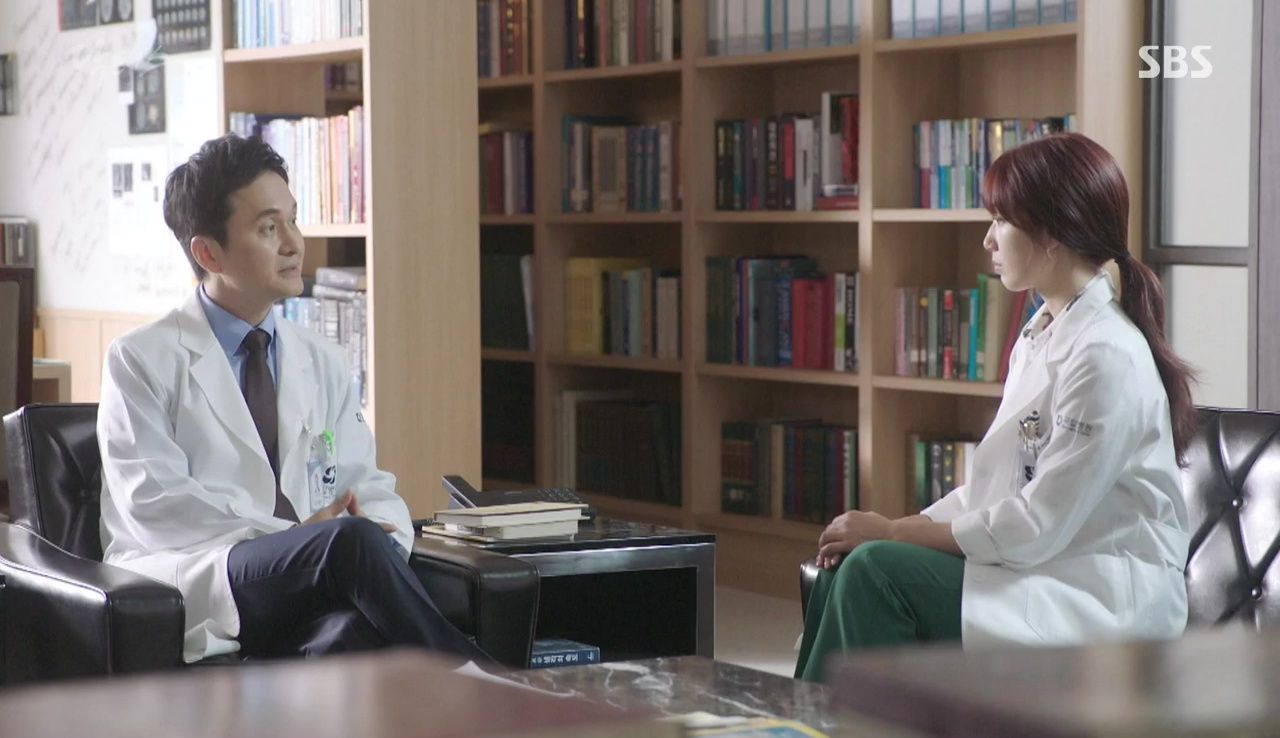 Ji-hong meets with the auditor from before, and wonders why the situation was overblown. The auditor wanted to make things easy, too, but the informant was too powerful. Ji-hong asks if the informant was more powerful than him, and he tells Ji-hong that it's Seo-woo.
Hye-jung meets with Tae-ho in his office, and he asks about the bribery charges against her. She explains the situation, and Tae-ho believes her, though he doubts others on the disciplinary committee will be as understanding as him. He tells Hye-jung that it's better to avoid actions that can incite misunderstanding, and warns her that, in the worst-case scenario, she'll be fired.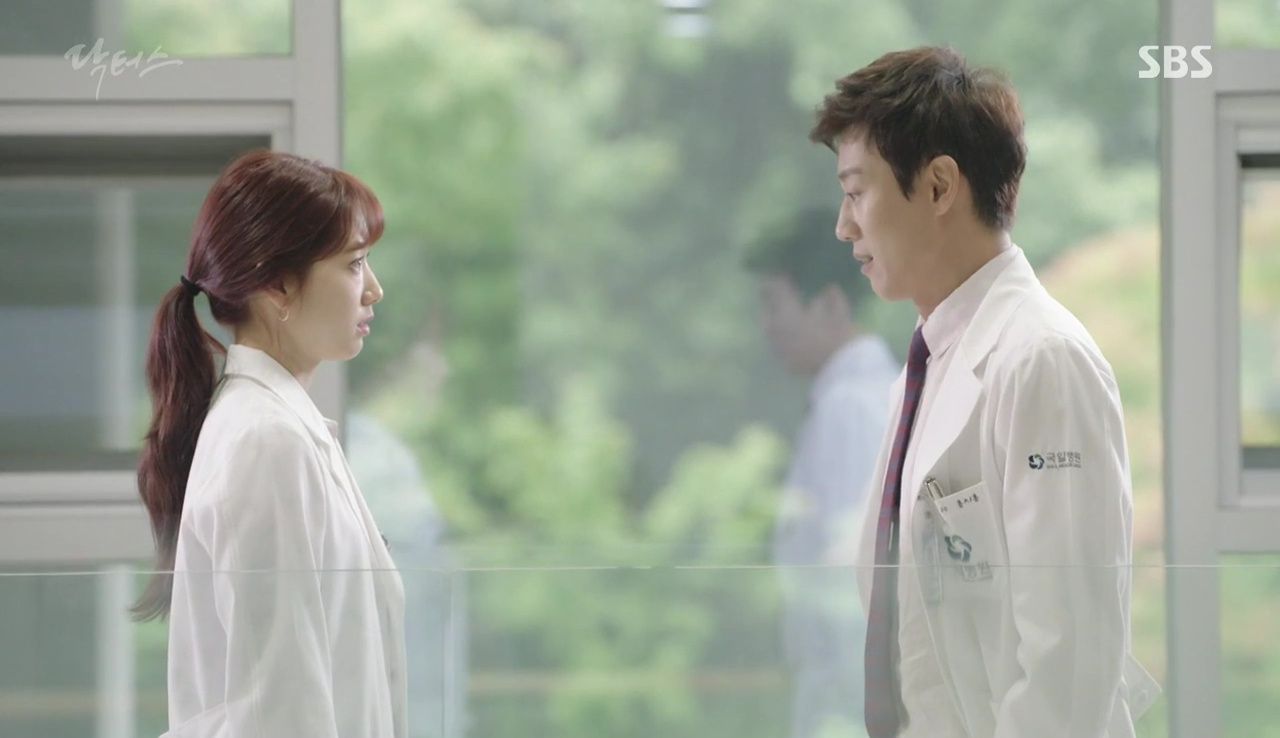 Hye-jung walks down the hallway and notices Ji-hong staring out into space. When he sees her, he tells her not to worry too much over the hearing, but she's not worried since staying at this hospital was never her end goal.
She asks him if everything about her is okay for him, and he says that it is. She calls that a fantasy, and Ji-hong wonders why she's acting prickly towards him all of a sudden. She says, "Just because," and leaves Ji-hong looking troubled.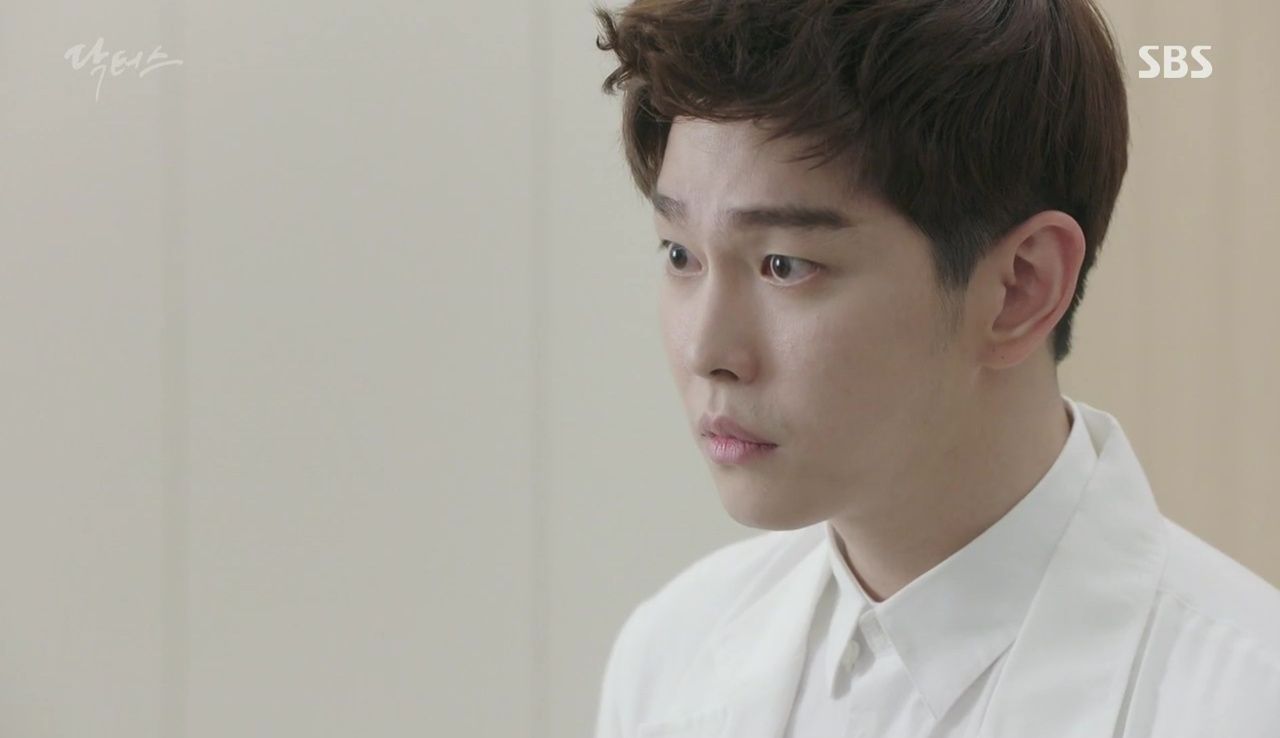 Nurse Su-jin runs up to Kang-soo to let him know about Hye-jung and the trouble she's in because of the car. Kyung-joon thinks that Hye-jung is reaping what she sowed, but Young-kook warns that Kyung-joon might be hit with a boomerang.
Yoon-do arrives just then, and yells at everyone for gossiping at work. Yoon-do catches Kyung-joon mumbling to himself, and asks him about a patient. When Kyung-joon can't answer, Yoon-do rebukes him, and orders Kyung-joon to follow him.
Once around the corner, Yoon-do asks what's so important, and Kyung-joon explains Hye-jung's situation, which surprises Yoon-do. Walking to his office, Yoon-do meets Ji-hong and asks if he knows. Ji-hong says that he does, knowing that Yoon-do is talking about Hye-jung.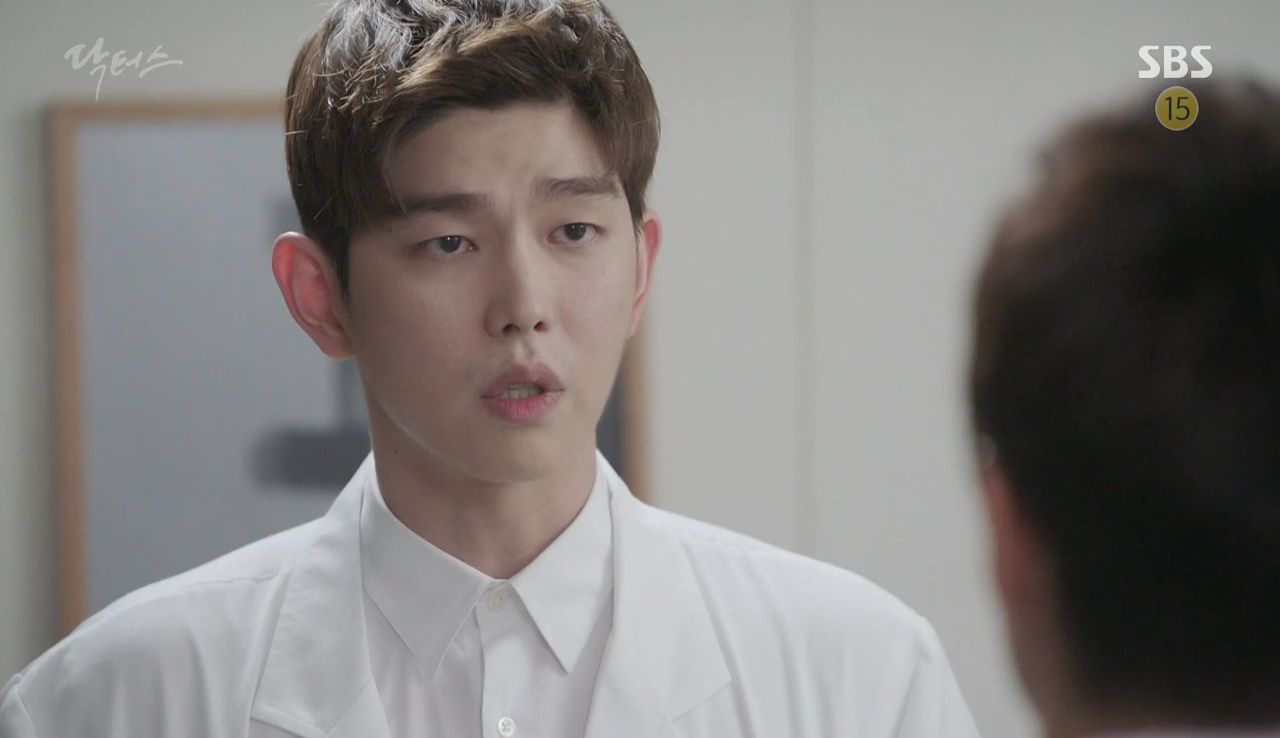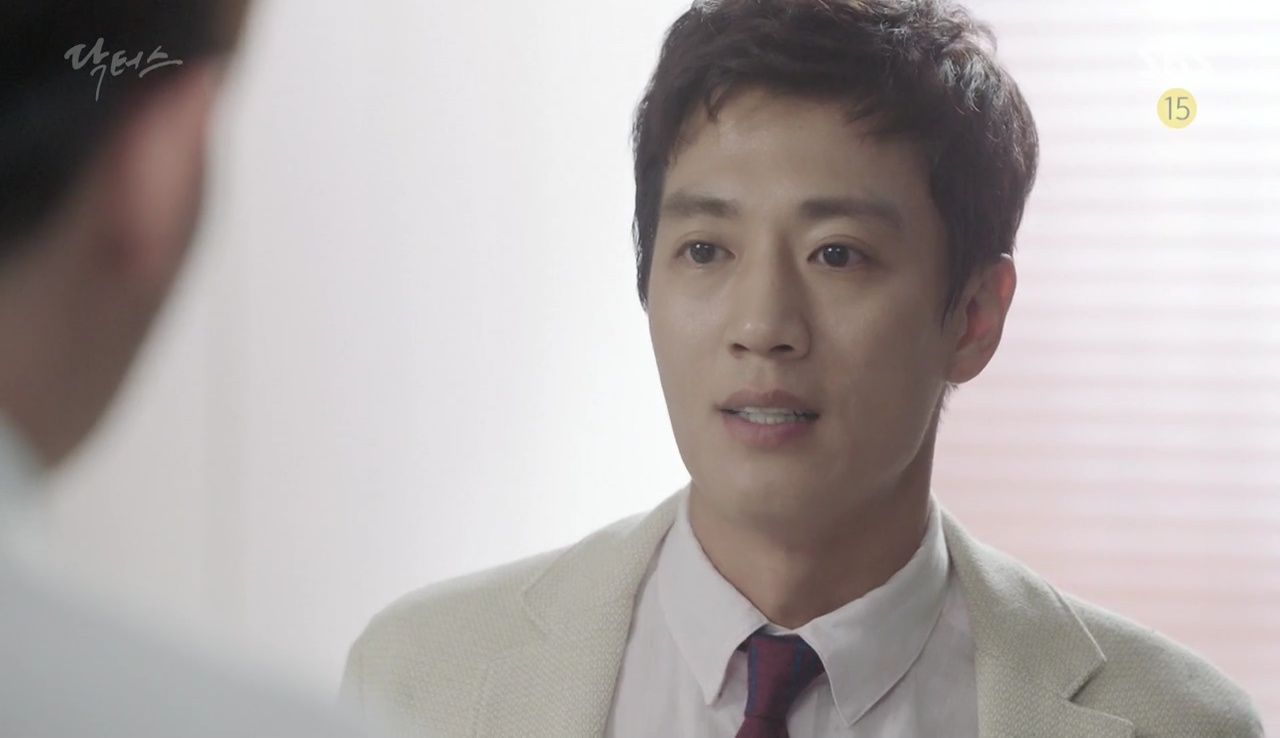 Yoon-do also admits that he was rejected today, and after seeing Ji-hong's lack of surprise, asks if he knew that was going to happen. Ji-hong explains that he's known Hye-jung for a long time but he's still in a "some" (flirting and not yet dating) phase with her. Yoon-do murmurs that Ji-hong is at a high level, and they both agree that it's amazing that Ji-hong is at least in the "some" stage. Yoon-do asks Ji-hong to buy him dinner as consolation, but Ji-hong ditches him because he's busy today.
Ji-hong meets with Chief Kim, who quickly panders to him. Meanwhile, Kang-soo updates his blog, which contains photos from their department celebration and his ongoing webtoon titled "Gangster Female Doctor." His webtoon is popular, much to Joong-dae's surprise.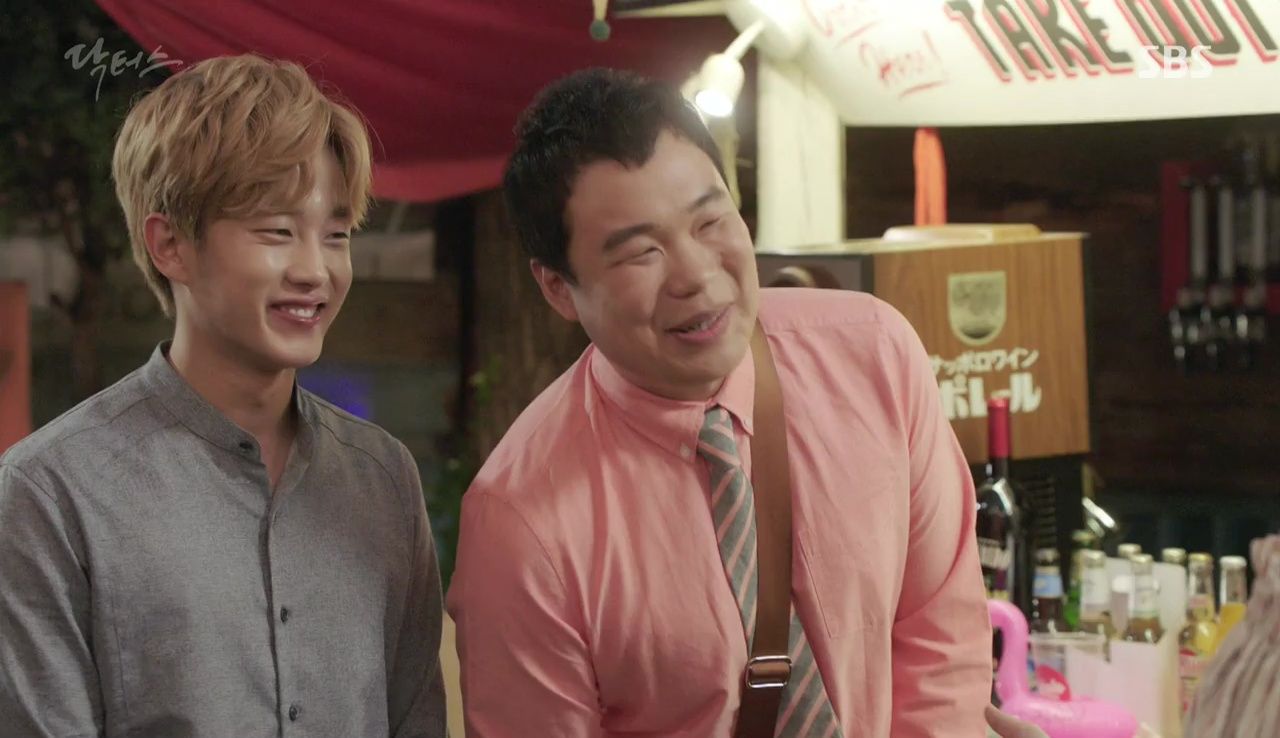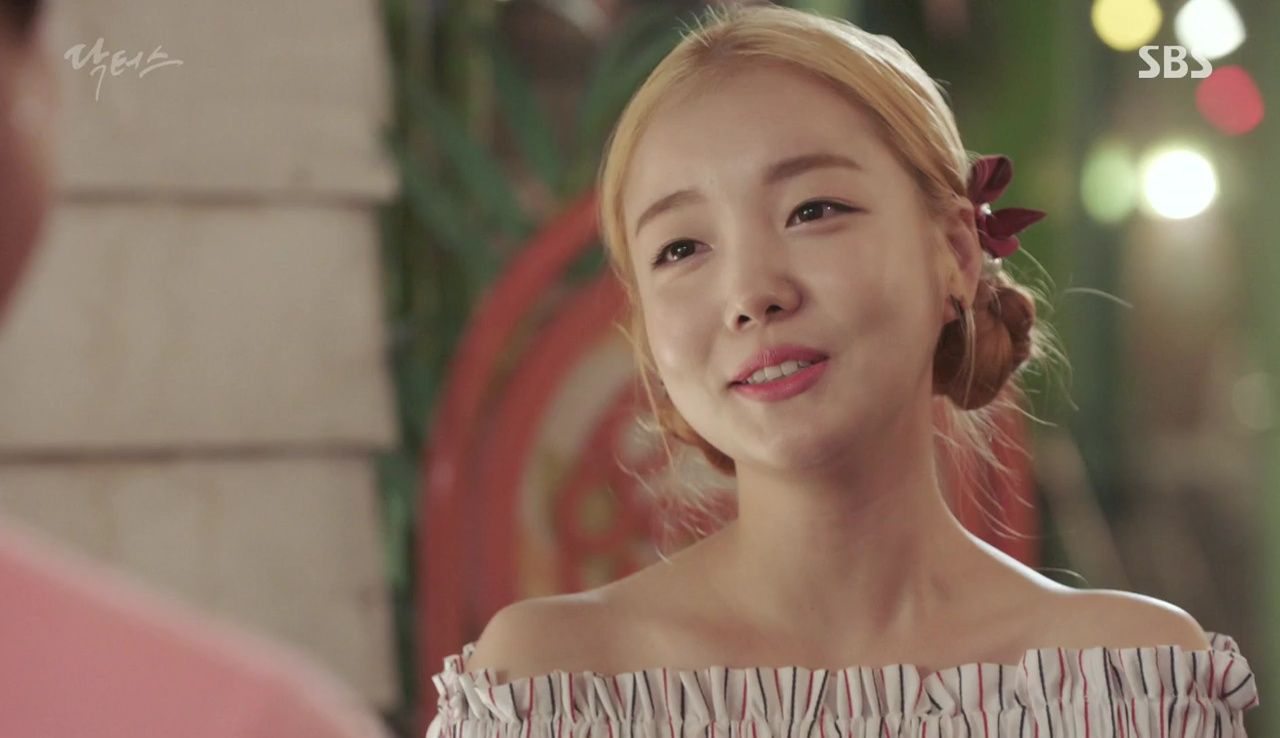 Joong-dae and Kang-soo visit Soon-hee's café, and Soon-hee greets Kang-soo as the "cute doctor." She's disappointed that Young-kook is absent, and leads them to a table. Being his normal, awkward self, Joong-dae tries to help Soon-hee by coming up from behind, but she's only startled by his proximity. She tells him he can help by putting his face away. Kang-soo chuckles as he tries to pat Joong-dae, but he doesn't want Kang-soo's sympathy.
Ji-hong asks Chief Kim about Grandma's surgery, and Chief Kim lies that he doesn't remember. Ji-hong calmly states that it was an unusual case, so Chief Kim should surely remember it. His face falls, and he asks Ji-hong if he knows the guardian who barged into his office. Ji-hong lies that he doesn't, and explains that he was close to the deceased, and Chief Kim makes an excuse that he's suddenly very tired.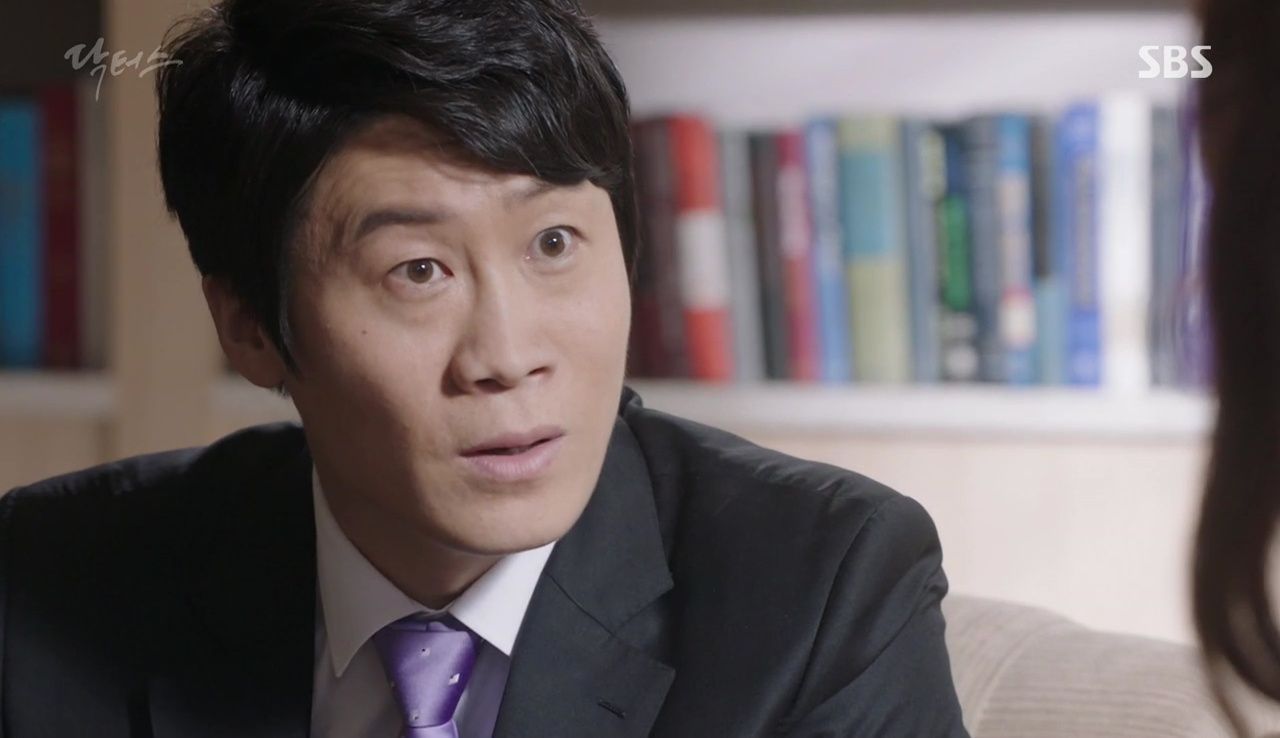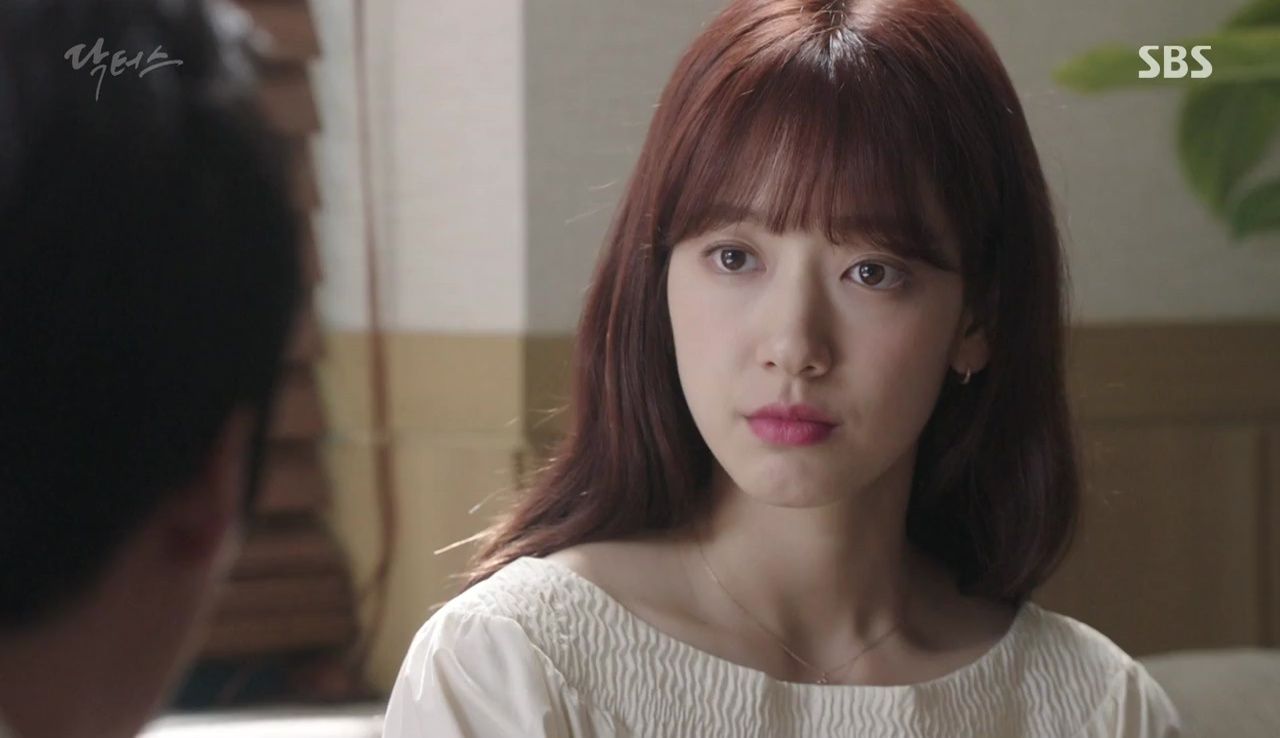 The next morning, Hye-jung visits Chief Kim, who's upset to see her. He asks her about her relationship to Ji-hong, and she says that he has nothing to do with this case. Chief Kim scoffs that her answer differs from his, and tells her to leave because he finds her methods, of threatening him through Ji-hong, unpleasant. Incensed by this news, Hye-jung confronts Ji-hong at the hospital, asking why he interfered when she asked him not to.
Chief Kim reports to Myung-hoon and tells him that he can't continue if this case involves Director Hong. Myung-hoon tells him to just listen to him, but Chief Kim only cares for his own livelihood. After hanging up, Myung-hoon wonders why Ji-hong is now involved in this.
On the roof, Ji-hong asks Hye-jung if she's mad about him meeting Chief Kim. He thinks working together would be better, but Hye-jung asks why he doesn't share his troubles with her, then. He says he doesn't want to worry her, but Hye-jung argues that she feels the same way.
Ji-hong tries to reason with her that it's his habit to solve his problems by himself, and tries to brush it off as an unimportant issue for their relationship. However, Hye-jung thinks this is crucial if they're to start as a man and woman. She asks why she has to change while he's allowed to continue his habits.
Hye-jung calls that a "nuisance love," and she refuses to be a nuisance to someone else. She walks away from Ji-hong, and thinks to herself that in the past, he instilled an ambition in her to become a good person. However, a good person is different from a good man or woman.

COMMENTS
I'm so relieved that Director Hong survived, because his character seemed to have "death" written all over him. Granted, the show has only completed half its run, so he still has "death" written all over him. I hope that if the writer chooses to have him die, his death won't be used as a plot point to further the hospital politics. Rather, I'd much prefer it to be a moment of character growth for Ji-hong, and a reflection about death and loss. Speaking of hospital politics, they continue to be a weak point compared to the overall story, but hopefully, if Tae-ho enters the fray and starts to be more active in that plotline, my interest will go up, too.
I felt like one of Episode 10's weaknesses was the overly dramatic and manufactured tension. For me, it was most prominent during Director Hong's surgery scene. I thought the conflict between Tae-ho and Yoon-do was interesting because I could relate to both, and have seen (in other medical dramas, so correct me if I'm wrong) things like that happening before. Thus, I think it's the director—not the writer or actors—who's responsible for the poor execution of that scene. It was portrayed as this tension-filled event where Yoon-do and Tae-ho are butting heads while a patient lies on the operating table, metaphorically, between them.
However, given the nature of Tae-ho's character, it's obvious that he'd quickly realize his mistake and apologize. Thus, the tension feels forced because this situation isn't about Yoon-do and Tae-ho fighting with each other, but rather, Yoon-do confronting Tae-ho about his internal strife. It seems that Tae-ho was, almost subconsciously, dictating the surgery because he wants to do it himself, but emotionally couldn't because the patient is someone he deeply admires. As a result, Yoon-do's outburst helped Tae-ho relinquish his need to intervene as a surgeon and put his faith in another doctor like every other guardian.
I appreciated the conflict between Hye-jung and Ji-hong in the ending scene, and thought Hye-jung's concerns were valid. Ji-hong always tells her to change and learn how to rely on others, but he continues to keep his own troubles bottled up. Ji-hong might think this is a non-issue, but I agree with Hye-jung that this needs to be addressed if they're to start dating. The underlying problem Hye-jung is hinting at is the power imbalance in their relationship, which Ji-hong probably notices less than Hye-jung because he's always the one in power. While their power dynamic might have been appropriate in their past relationship as teacher and student, it becomes problematic (especially to Hye-jung) if they want to shift to a romantic relationship. Despite Ji-hong's many gallant actions, his interactions with Hye-jung are tinged with a teacher-like quality.
I think Hye-jung's final statement about a good person not necessarily meaning a good man or woman applies to both of them. Just because Hye-jung has tried to become a good person, it doesn't mean she thinks she's a good woman. Vice versa, just because Ji-hong is a good person, that doesn't mean that he's a good man for her. Hence, it seems like a natural break in their courtship to confront this issue and get to know each other better. I see this temporary conflict and break as a healthy step in their relationship, and through communication and understanding, they'll come out a stronger couple after this, both together and individually.
I also enjoyed Yoon-do's response to rejection in this episode. I think that part of the appeal of good second-lead characters is their ability to accept defeat. While Hye-jung's confession that she'd probably only start a relationship with Ji-hong clearly broke Yoon-do's heart, he didn't lash out at her or act clingy. He was understanding and didn't force his feelings onto her. As a result, we got to see an inkling of a bromance forming between Yoon-do and Ji-hong. Now that Yoon-do has learned that he can't rival Ji-hong for Hye-jung's affection, he's starting to feel a mutual bond with him over the hardships of falling in love with someone as amazing, and amazingly hardheaded, as Hye-jung. I also thought it was adorable how Yoon-do said that Ji-hong was at a much higher level than him. If this were Pokémon GO, Hye-jung would be Gyarados, and Yoon-do has only just started catching Magikarps while Ji-hong has at least 200 of the 400 required. Sorry, I had to slip at least one reference in here; it's my inner nerd showing.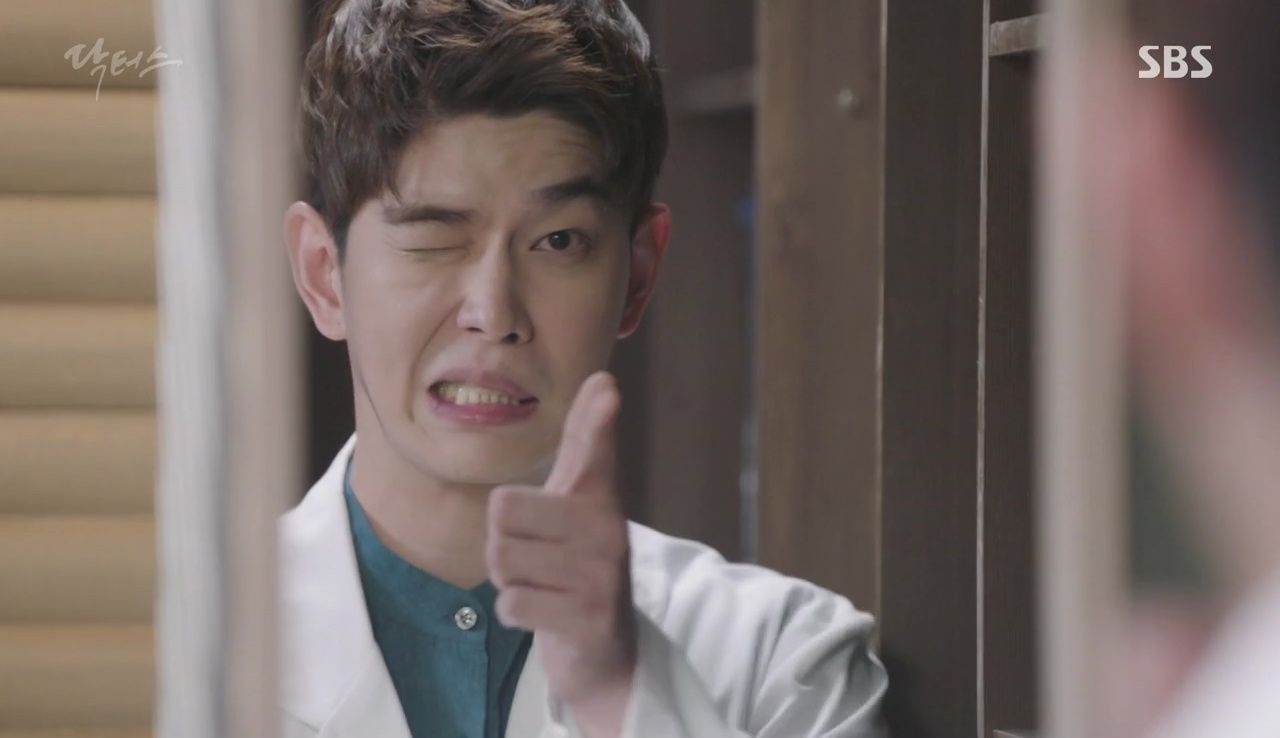 RELATED POSTS
Tags: Doctors, Episode 10, featured, Kim Rae-won, Lee Sung-kyung, Park Shin-hye, Yoon Kyun-sang