Odds and Ends: Uncontrollably delayed
javabeans: Howdy beanfolk! Mostly we're writing this Odds and Ends as a heads-up that our posting schedule will be a little wonky later this week, particularly in regards to Uncontrollably Fond — we'll have recaps for sure, but they'll be on a tiny delay.
girlfriday: Do you wanna tell them why?
javabeans: Not really, but I suppose when I show up to KCON LA in a wheelchair, it'll be obvious enough. (No worries, I'll be fine! Just a bit ambulatorily compromised. I'll be totally lucid and making lots of sense, I promise.)
girlfriday: That's assuming you make sense on a normal day.
javabeans: Badum-ching.
girlfriday: We were hoping it wouldn't come to this, but javabeans is due to get surgery this week and it coincides with the drama airdates. Fate can be so cruel.
javabeans: I won't lie, my recapping schedule was my main concern when I scheduled the surgery, and I alllllmost delayed it so I wouldn't have to miss any episodes of Fond. But common sense won out in a rare come-from-behind victory.
girlfriday: That would be a first. Rimshot!
javabeans: Speaking of KCON…
girlfriday: We weren't, but go ahead.
javabeans: WE HAD BEEN, AT ONE POINT, THE SEGUE IS VALID.
girlfriday: Are you already on drugs? Your operation hasn't happened yet!
javabeans: I'm preparing to be grumpy and demanding. AS I WAS SAYING. We will be at KCON LA next weekend, and are doing two panels this year — they'll be the same topics that we did at KCON NY, but we'll have guests for one of them so it won't be the same exact material.
girlfriday: Our panels are called "Meta Dramaland: How dramas shape fandoms, and fandoms shape dramas" and "Boy Meets Girl Meets Fate: Romance in K-Dramas," and they'll both be on Saturday, July 30. Meta Dramaland is at 11:30am, and Boy Meets Girl Meets Fate is at 2:30pm.
javabeans: We're excited to have Sean Dulake on our Meta Dramaland panel, along with producer Sebastian Lee, talking about drama production and where fandom fits into the drama experience. Our very first KCON panel was with Sean, so it'll be like old times. And Sebastian Lee has worked on some of our favorite titles (City Hunter!) as well as developing the American remake projects for Good Doctor and You From Another Star.
girlfriday: They'll have lots of insights on the industry, so prepare to ask them lots of questions!
javabeans: KCON was nice enough to schedule both our panels for the same day (see: ambulatory concerns)… although… *gasp!* Does that mean we won't get to hear the Signal and Misaeng director speak?! Aie! I feel like it's a sacrilege for us to talk about dramas while he's talking about dramas in the next room.
girlfriday: I'll just be in our panel room, holding a glass up to the wall.
javabeans: Honestly, if you all skip our panel to hear him instead of us, we can't hold it against you. Come talk to us afterward and tell us what he said!
girlfriday: Let's not give up! Just because we're the underdogs doesn't mean we can't have an awesome panel! Heck, maybe we'll just skip the talking and do lightning rounds and fun drinking games (sans drinking) the whole time!
javabeans: Ooh, let's do interactive variety show games and Q&A's and fantasy drama-making time!
girlfriday: OOH, OOH! We could create our own fantasy cast, invent our own premise, and throw in our own twists of fate! THIS WILL BE FUN.
javabeans: One of our games should be Invent a Drama Kiss for Every Occasion, where you can only make up creative excuses to kiss.
girlfriday: Do we have time to make a spinny wheel of fate, with Truck of Doom, Faux Sibling Birth Secret, Bad Daddy Revenge, and Mother-in-Law From Hell on it?
javabeans: K-drama Mad Libs! K-drama Bingo! K-drama Laser Tag!
girlfriday: Okay, let's not get crazy here. We're not made of money!
javabeans: You know what, we should really just do all this. Who needs to hear us jabber about dramaland romance when you can jabber with us? I bet you PD Kim won't pin a tail on a dramaland donkey!
girlfriday: We won't either. But you should still come to our panel! We're really going to have fun with this idea and incorporate games and get fun and interactive!
javabeans: Ooh now I'm excited. Just no running games, said the girl in the wheelchair.
girlfriday: You're really milking the sympathy here.
javabeans: It's all I have.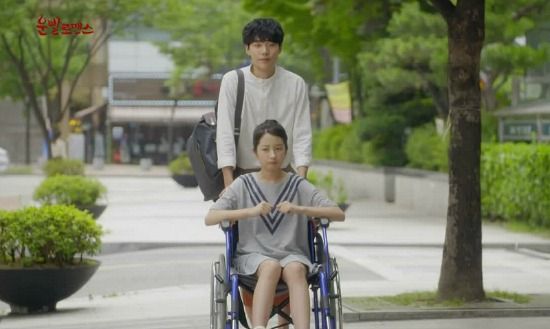 RELATED POSTS
Tags: conversation post, Odds and Ends