Team Dramabeans: What we're watching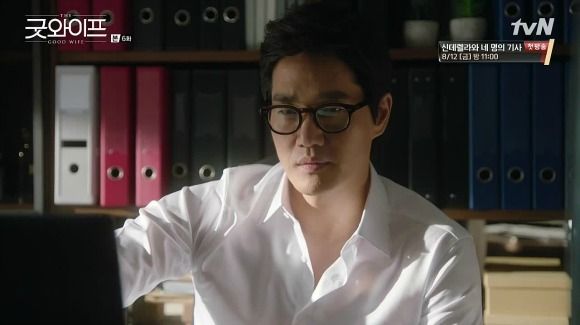 Hey, what's everybody watching? Hope the Olympics pre-emptions haven't put a damper on anyone's drama-watching this past week. Time off from crack shows can be hazardous to your health, but I'm sure you used your time wisely and caught up on your backlog of episodes, or even started new shows. Or, I guess you could've gone outside. I hear that's a thing. –girlfriday

Age of Youth: I was holding this show at arm's length because of the slow pace and terrible background music (what is this, an educational special on exploring the cosmos?), but Episodes 5 and 6 turned on the charm — funny, sweet, and adorable. I do think Park Eun-bin is pulling half the cast's weight on the screen charisma front, though.
The Good Wife: I got into a whole thing with my mother about Jeon Do-yeon and how great she is — but not, say, amazing-great, I mean she's good, but is she even really doing much?, I know she's repressed but it's not coming out like that, and you can't compare her to Go Hyun-jung who is just so disgustingly good I can't even bear to watch her, I don't know maybe I never really liked Jeon Do-yeon, who might be good but not a god or anything. Lesson of the day: Just let mom feel what she feels.
After the Show Ends: I live for the tiny moments of realness, even when the entertainment has a cringey element to it. For instance, Bo-hyun is so into Yura it's a little embarrassing to watch onscreen, especially since her reaction to the embarrassment of real feelings is to laugh and play things off as a joke. Aie! I'm pretty sure So-hee's into Suk-jin for real, too; otherwise she'd never be as flirty or aware of him, such as when she said it was cold on the boat, he asked if she wanted him to hold her, and she replied right away, "Yeah." Aie!
Doctors: What is even going on in this show. It's the thinnest stuff, evaporating almost before it has a chance to land.
W–Two Worlds: I love this show and find it inventive and addicting, but the plot actually feels like it moves pretty slowly (which is a little odd considering how quickly things happen) — I keep glancing at the clock wanting the plot to speed up so I find out what happens next, and feeling the stress as the hour winds down and I still don't have my answers and I realize, "They're not gonna give it to us today, are they? ARE THEY?"
Uncontrollably Fond: Oh. My. God. Last week I felt the angst was frustrating in an enjoyable way, and then this week happened and was just too freaking much. I was so angry at everybody that I stopped giving a shit. Fine, characters! If you don't want to be happy, YOU DON'T HAVE TO BE HAPPY. Just be miserable then, and suffer non-silently about the decisions you've brought upon yourselves, boo hoo. Run, Eul, run far away and listen to Jik, who is the only one in this drama who would never hurt you!
Currently recapping: W–Two Worlds
Uncontrollably Fond: I was SO going to catch up on this show, I swears it! But then I overheard javabeans and LollyPip talking to each other about how extra, extra angsty it got this week. Like hellfire angst. And then I chose to watch other things.
Doctors: Sometimes when the show remembers its overarching plot, it makes me laugh to realize we're still doing that (like are we still digging into Grandma's surgery, for real?), because more than anything, Doctors just feels like a collection of cute moments with no connecting narrative. Yunno, other than the characters being the same people. They've really gotten a lot out of these star cameos, but now that our resident puppy is ill, maybe the final arc might actually move me?
Police Unit 38: Truthfully, I think the last con was utterly dull and went on waaaay too long. But back when this show was firing on all cylinders, it was so fun, and my world is better for having witnessed Seo In-gook and Ma Dong-seok's bromance. Overall Police Unit 38 was a little drier than I wanted, but it did do as advertised: I felt a sense of catharsis whenever our con artists stole from the rich and gave back to the people. You can never go wrong with a roguish Robin Hood, I say.
Bring It On, Ghost: There are feelings! But she's a ghost! And he's alive! It's so obvious given the premise, but I like that we're finally in the part of the story where we're addressing this, because the setup was cute and all, but I was waiting a while for romance to complicate this ghost-exorcist partnership. I just love Kim So-hyun and want her to get everything she wants. Even if that's Taecyeon.

Age of Youth: This isn't the only thing I'm watching, but it's a masterpiece. I did a marathon session to catch up to the show, and am completely floored by it. It's a celebration of life, love, relationships, and friendships, all with an eerie twist. The ensemble cast is one of the best I've ever seen, and the writing is top notch. A++.
Currently recapping: Doctors

Dear My Friends: I played catch-up this week and faced my fear of finishing this show. I was bracing myself for all the sad tears, but I was relieved and pleasantly surprised at the beauty of the ending. The show stayed true to its grim humor and made me look forward to the day that I can live life with such longing and joy.
Age of Youth: Missed out again! After my realization with Police Unit 38, I decided to pick up another show I dropped early on, and I was not disappointed. I love how our housemates are so different, each with their own charm, yet compatible. The first episode honestly dragged a bit, but I really got into the format and our girls' stories soon after. I credit Park Eun-bin for bringing me back to this show — that girl is something special.

The Good Wife: W is all the rage these days (for good reason), but The Good Wife is the show that truly hits the spot for me. It's my favorite drama at the moment, and I'm constantly impressed by the top-notch performances (naturally) and intriguing story developments. I just love it! Tae-joon is a big fat (hot) liar, and Hye-kyung deserves someone waaay better, perhaps Joong-won. Or maybe she doesn't need a man because she's so awesome. I now have the sudden urge to go get my bangs trimmed and search high and low for a perfect pair of hot pink stilettos.
Age of Youth: A pleasant surprise and an enjoyable watch. Maybe I shouldn't be so surprised since I'm in their age range, but I'm liking this show a lot. I can see bits of myself in each of the girls. It's refreshing to see young women being their complex, imperfect selves. Our twenties are a messy, uncertain, and unpredictable period of growth and self-discovery, but that's why it makes for such good television!
W–Two Worlds: I get the hype, and the hype is well-deserved, but I'm not at the ZOMG/mind-blown-level just yet. It's an immensely compelling show because it's high concept and the trajectory is unpredictable, but I'd like for the pace to speed up just a bit.

Age of Youth: This show is the sweetest, realest thing ever. Anyone who's had an annoying sister, an exasperating girlfriend, a scary roommate, or a "cool" senior can relate to this show. Plus, five main girls means a minimum of five ships. So at only 12 episodes, you're basically launching ships left and right every hour. Won't you beanies watch this too and help us sail them all safely?
Police Unit 38: Police Unit 38, you had your ups. And by the time I noticed your downs, I was too far into your con to escape. Thanks for always keeping us on the edge of our seats. For that, consider the 1.6 episodes of fun and 14.4 episodes of mindfuck you owe us: paid in full.
W–Two Worlds: My heart hurts.
W–Two Worlds: I'm absolutely hooked. This show switches between its genres so well — the comedic parts have me chuckling along, the romantic parts make me squeal like there's no tomorrow, and the thriller parts legitimately scare me. Kang Chul's identity crisis is also a fairly interesting one, but something tells me he's more real than we think; after all, how much of a fictional character can he be when he controls his own emotions and will?

RELATED POSTS
Tags: 1 show to rule them all, After the Show Ends, Age of Youth, Bring It On Ghost, Dear My Friends, Doctors, Police Unit 38, The Good Wife, Uncontrollably Fond, What We're Watching, W–Two Worlds