Beans of Wisdom: Now with better titles!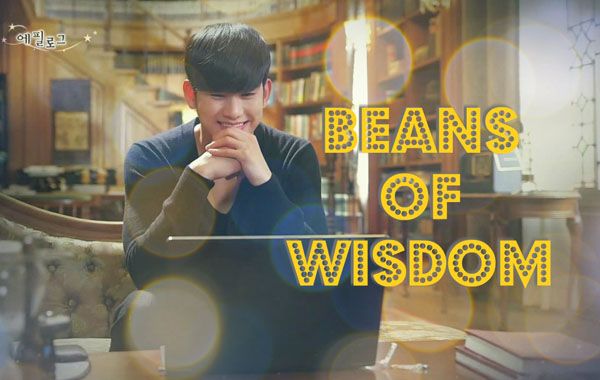 This week in Beans of Wisdom…
While in "Tomorrow With You: Episode 5," Jamie shares in comment #22:
I watched a youtube video of Shin Min Ah and Lee Je Hoon promoting this drama and was quite confused to see them talking about it as if it were a romantic comedy, when really it is so twisty and fairly dark, with a strong undercurrent of dread and apprehension.
Jazz:
Lee Je-Hoon said that this was a healing drama? Where is the healing? I am not healed! Instead, I have soo many questions.
Jamie:
First they give us the stress-related illnesses, then they heal us? (There had better be healing. We were promised healing!)
Joy M:
The healing must come after. When we're all wrecked and drowning in tears and in agony
Callie writes a beautiful analysis of our hero in "Tomorrow With You: Episode 6" comment #13:
I think the main thing is that So Joon has never used going to the future to figure out the "why" before. He's just always gone there for the answers and didn't question it. What land will be successful for developing? This one. What clothes will be the top trend next year? These ones. For the first time in his time-traveling life he's gotten an answer he doesn't like: "You disappear"…"You run away"…"You leave Ma Rin behind." And he needs to figure out WHY but he doesn't know that the future can't give him that answer, only the present can. I do believe that he truly wants that long lifetime of happiness with Ma Rin, and finding out that doesn't happen scares the hell out of him. But by fighting a problem that doesn't even exist yet he's creating a multitude of new ones that are happening now, that need to be addressed now. If I can give So Joon any credit this episode it's that even before Ki Doong tells him that disappearing was supposedly his decision, he wonders why he would ever leave Ma Rin behind. Because he doesn't want that to happen. I found his "All I think about is our future!" line both heartbreaking and endearing because, god, isn't that both your hubris and achilles heel.

His main worry seems to have shifted from him dying, to them dying together, to "Oh god, I abandoned her." However I don't think he realizes that he's making her feel just as alone right now by constantly ducking in and out of timelines and evading questions that may make her realize that marrying him may not give her the happy ending she's been dreaming of.

I think instead of counting his chickens before they've hatched, So Joon's problem is trying to glue the shells back together before they're even broken.
And riarallahssi replies further down in the thread:
"He needs to know that their future is secure before he can fully love her in the present."

It's amazing how that very line applies to all wary lovers out there. So many people tend to never get into relationships unless it's secure and So Joon is a bonafide symbol of that. The very irony of So Joon's story is that despite knowing that there might not be a happy ending, he is throwing himself into the relationship anyway in hopes of giving it an alternative happy ending —–which is exactly what ALL people who dive into relationships anyway do: they hope for happier endings, so they give it their best shot. The irony gets more ironic because despite So Joon's time travelling skills, he's actually in the dark about what his future with Ma Rin will be anyway, because his fate was changed. So, in essence, he's just a regular lover who doesn't know what needs to be done to make things right.

So I guess, the point of the story would be that there's simply no knowing about the future. Regardless of time travelling skills, uncertainty will still brood over the horizon. There's just that choice of whether to love or not to love.
Kafiyah points out in #33:
I don't know if anyone has mentioned how brilliant the writer is for making Ma rin a photographer. Photographers capture moments in time. You are required to hold still and be in the moment while the photo is taken, which is what both Ma rin and So Joon need to do. So Joon needs to forget the future and live in the present/moment and Ma rin needs to forget the past and live in the moment. Much like a photograph that captures the ugly and beautiful, in order to live or have a photo taken you must be present. Brilliant and kudos to the writer
Azka challenges girlfriday in comment #7 of "Team Dramabeans: What we're watching":
To Girlfriday on Tomorrow With You: "I have the biggest crush on Lee Je-hoon right now."

Sorry GF but fight me on this. Two days ago I miss Lee Je Hoon so much and no new ep yet so I decided to re-watch Bleak Night. YEP. That Bleak Night. Crying for the whole night and not regretting any seconds of it.

Lee Je Hoon infects me too deep it seems dangerous now.
gabobobobo:
LOL, maybe all of us should rewatch Fashion King to see who the winner is?
Azka:
SPOT ON LOL
When it comes to FK I'll definitely let others win. Apparently my love isn't that great after all
In "Rebel: The Thief Who Stole the People: Episode 8," UmbrellaMan comments about Nok-soo's character at #3.1.1:
Yeah, she is definitely not a woman to sit idly by. I can totally see how she will end up where she does at the end. She wants real power to make changes and I have a feeling she will sacrifice a lot in order to get it.

It's sad but understandable that she wasn't willing to wait around for a man who may or may not return to her. Poor Gil-dong, you were too late buddy – she went off to make her fortunes elsewhere.
A bit further down at #14, Pandadoo says:
The scene where Gong-hwa chastised all the other girls for their helpless snivelling. And her breaking down in private thereafter.

It feels to me that her anger/pity/frustration weren't just directed at the girls but also a self-flagellation and wake-up call for herself. Following the prior conversation with Wolhamae that we saw, Gong-hwa appears to have put her revenge on hold and was indeed waiting for Gil-dong's promised return. Was she not in a way waiting for someone to "save" her from the monster that she has pegged herself to be? (And the bigger monster she can become once she begins her journey to the throne?)

As much as Gil-dong "forgot" about his quest during the period they spent together, it also felt like a prelude to a new chapter for Gong-hwa. When they first met, Gong-hwa was pretty determined in her goal of gaining power through the king. Then during their fated reunion, Gil-dong managed to melt her defenses with his affection and acceptance. Perhaps she dared to dream of a new chapter in her life where she can start to heal and weave new rhythms to replace the vengeful tune she is stuck on.

But alas, shit hit the fan and the stark reality hit her even harder. She is no damsel after all. Oh my heart hurts.
Kiara makes a connection to Six Flying Dragons at #4.2:
Speaking of Six FLying Dragons, I vaguely remember something that Jung Do-jeon said about the 3 types of people who exist during chaotic times/turbulent times, which pretty much apply to the current state of this drama.
1. the victim
2. the rider
3. the fighter
PakalanaPikake:
A very good point. Having just watched 6FD, I recall that as well. The rider is the opportunist who has his/her own vested interests and agenda, while making hay off the status quo as well as the chaos. These are the types (like arms dealers and munitions makers) who make a killing, literally and figuratively, while playing all sides against the middle.

One of the dangers to the rider is intoxication with power. The mirage-like power Amogae enjoyed in Ikhwari rested on the inequities of the social order. He and his colleagues were outside the law; they did nothing to change it. The law and its corrupters still stand.

As you pointed out in 3.1.1.1, Gong Hwa / Nok Soo may become a rider herself in order to take revenge, but doing so could well eat her alive and turn her into a monster. Which really twists the knife as I think back on Gil-dong assuring her that she was not a monster with regard to her cold-hearted treatment of her son — because she still had the capacity to cry. From the look in her eyes, she's now beyond tears, and turning into her own version of Madam Jo.
ellie answers a question in comment #8 of "Name That Drama: Bringing a knife to the gunfight":
#2 – Sad Movie
Which leads to this whole discussion on movie titles started by Blueribbon:
Wow the director didn't have to think too hard to come up with a title, now did he? lol
JC:
Just wait for the sequel that ups the ante: Tragic Movie! ;-P
Blueribbon:
and the trilogy "We have run out of perspicuous titles movie"
julius:
Or even less creative,

Sad Movie ->
Sad Movie 2: Sad Harder
Sad Movie with a Vengeance
JC:
To borrow from a favorite silly franchise:

Sad Movie
2 Sad 2 Movie
Sad Movie: Tokyo Tears
Sad
Sad Five
Sad 6
Movie 7
Fate of the Sad
Bubbles writes in comment #16 of "MBC lines up fall rom-com No Sex and the City":
I literally rolled off my bed laughing when I read the beginning of this article. That title what?
Look at all the other possible shows they could make following this principle:
No Scandal – we are for transparency in politics
No Suits – naked all the way
This is not us
Not Lost – knowing the way
No Law & Order, just Law OR Order
Orange is not the New black
Nothing Supernatural, just normal
Not an American Horror story
taml:
Sassy No No – Just stop right there.
I Can't Hear Your Voice – Speak up!
This Week, My Wife Will Have No Affair – This week, at least.
Noping King Louie – Nope, I'm outta here.

And for the unhappy singles, I recommend these rom-coms:
No Cheese in the Trap – You'd catch more flies with honey, honey!
No Flower Boy Next Door – What to do?!
I Don't Need Romance – Oh yes, you do!
Visit the comment thread to read more funny alternative titles.
In comment #10 of "Go So-young, Jo Yeo-jung show striking chemistry in Perfect Wife poster," Sooyi shares a wish for the show:
I do hope that their apparent friendship doesn't result to bitchfighting over Sung Joon's character
Flightey Gazelles replies:
Maybe they'll fight about who gets to fix his hair and be the heroine to save the day.
Hwarang beanies continue to poke fun at their own show. redfox writes in comment #14 of "Hwarang: Episode 19":
you know, when our visitors complain about unfulfilled expectations and lament hard at the front desk our marketing assistant gets them gift certificates and mugs and stickers and stuff. Shouldn´t the drama get us something for the uncategorized agony it caused us? I want some Ban Ryu smiling stickers, a set of wigs and a vacation in Phuket (though with the actors, cause the poor guys have deserved a compensation, too).
Lord Cobol:
Be careful or your complaints might just get you a sequel instead
Kendi:
Hwarang 2 : The Girl Who Just Doesn't Die

The story revolved around a girl named Ah Ro and several attempts to assassinate her by incompetent minions of even more incompetent evil villains. And we're still keeping the Hwarang title because we can.
yhang:
– Or you can say, "We can keep the Hwarang title because we need to falsely advertise this with pretty boys just like they did in Hwarang 1. That'll work. "
Kendi:
@yhang Haha, I'm sure somewhere in KBS building is whispering these very words.

"Bet they will fall again for this one."
ar writes a mixed goodbye for the show in "Hwarang: Episode 20 (Final)" comment #56:
A drama of contradictions. Fun, but frustrating. Ran me through the gamut of low expectations to high expectations to low again. A drama about Hwarang without much Hwarang. A drama about the future but focused solely on the past wrongs. A drama about youth but so many scenes focused on the greed and past angst of middle-aged characters. A drama with flowery posters and clothing and boys, but sucked at showcasing romance and excelled in showcasing violence and fight scenes. A drama where I despaired in the final weeks and then cheered and felt my heart soar in the final episode. A drama where both too much and not enough happened.
While JessA's goodbye is much shorter in #16:
I had so much to say but I'm going to be like the writer and just leave this comment unfinished.
Let's hope the next batch of dramas are more satisfying. See you next week!
RELATED POSTS
Tags: Beans of Wisdom