Beans of Wisdom: The perks of being a villain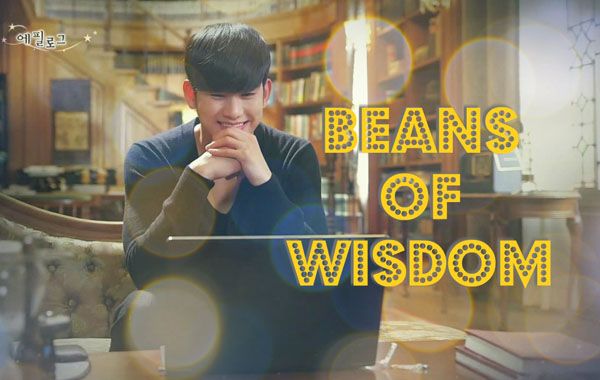 This week in Beans of Wisdom…
silentbeluga speaks up about a common struggle in "Man to Man teases James Bond cat and mouse games" comment #28:
Oh Park Hae-Jin… I JUST got back to a normal sleeping schedule after working the graveyard shift for over a year and you're going to mess that all up aren't you?

I feel like I'm gonna go back to my rookie kdrama addict days, constantly looping the two major questions that rule over my existence: do I love sleep more or do I love watching that beautiful man more? It's like the worst "Would you rather" game of all times, ha!
Amilia writes in "Chief Kim: Episode 10" comment #12:
What struck me the most about this show is how important the way we treat other people is. The first time Yul pulled Chief Kim into his office, I was shocked that he was treating him as if Kim was a criminal and Yul was still a prosecutor. This is how you treat the person you want to cook your books??? And he treats him that way throughout all their interactions. And then is surprised when Chief Kim doesn't want to work with him. I kept wondering if the plot would have been completely different if Yul had just said, "Look, we hired you to cook our books. Don't skim too much. Have at it."

Then we have the accidental heroism. Which started as just a slip on the ice, but then everyone started treating Chief Kim like a hero. So he started acting like a hero. Surprise! It is more fun to be treated like a hero than a criminal. Shocking, I know.
Sera The Ms Temper has similar sentiments in comment #1.2.1 of "Chief Kim: Episode 11":
Yul basically digging his own grave because of his greediness. Chief Kim even when he has committed the bad things in the past, he was good with ppl and even now. He knows how to respect people. Basically respect is something we need to earn. Yul is the one who made ppl avoid and hate him, not the other way around. He thinks that by making ppl afraid of him and make everyone his enemies, he is above them. Hence he is the one made himself miserable and lonely.

Yul, like what CK said is thug in a suits. I hope he will save himself from being totally destroyed by his own hand, before it is too late. He should use his knowledge and intelligence for good things.
panshel notes in "Tomorrow With You: Episode 7" comment #1:
One thing I appreciate is how Ma Rin never carelessly throws around the word "divorce." I wished the roles were reversed and So Joon had come running into her room when she screamed awake from her nightmare. Ki Doong's beard misunderstanding had me rolling with laughter. Thanks a bunch for the recap, gummimochi!
Divyrus:
All you said. Especially the 'divorce' part. Despite the fact that they dont know much about each other and have rushed into marriage, I love the fact that they dont talk about separation or divorce. How they do not jump to end things immediately.

Too many long term relationships even do that. Jump to argue about ending things at the slightest mishap.
panshel:
Yes, one of my pet peeves is when every petty argument ends in "Let's get a divorce." Like, don't say things you can't take back so easily.
adeenalin continues in #13:
This drama shows us that marriage is not all about rainbow and sunshine but it also shows us how .. as a husband and wife to overcome that.

This what I love about this drama despite the low ratings.
While we wish someone would show Chandler's words to our hero in #14.1:
Honestly, after that phone call, I really needed someone to tell So-Joon how wrong he was about his parents in their last moments. All this time he thought he contributed to their despair towards the end, but that immaturity from his youth saved them so much grief because they at least knew their son was safe in their last moments. I hope he'll be able to realize that. In fact, considering they were forcing him to come along, they may have even felt some irrational guilt themselves in their last moments had things unfolded differently. Not only that, they would be so proud of him now. Especially since he found a wife that finally got him to help Happiness with his own two hands.
Sim shares a great tip for shows that have us guessing. In "Tomorrow With You: Episode 8," comment #2.1.1, she writes:
I cast a VERY wide web of theories early on so basically i had no chance in being wrong. You can't be wrong if you propose all of them
In #4.1.1.1, Divyrus talks about the difficulty of letting So-joon go (for Se-young, that is.)
I saw that scene in different way.

To her, time didn't stop. Things did not change much in her life. She grew up with him and even in their adult lives, they continue being friends. So she sees him as 30 years worth of a person.

Whereas for So Joon, his life became upside down after accident. He literally can see future. His past became one of guilt on disappointing his parents. He became a completely new person. And unfortunately, Se Young never noticed that until he married. Her fault was being stuck in the bubble of her love for him with the past she had. Life and time changes differently for everyone and suddenly you realize your best friend is far away from you than you ever could have guessed.

Both the soju scene with Ki Doong and her meal with Seyoung – I see it as her finally seeing who So Joon is today. I see it her as getting over him. I see it as her understanding, her old friend has been gone for many many years.
Miranda writes about our favorite quirky CEO in #2.1.1 of "Strong Woman Do Bong-soon: Episode 1":
I kind of wonder if Min Hyuk doesn't have any friends and part of his eagerness to attach himself to Bong Soon is that her physical power balances his financial and social position in his brain – like maybe he truly thinks of personalities like inventory in a video game and she just happens to be strong in charisma and power, but he's got wealth and intelligence, so together they make a perfect team.
azleenaa in #76:
I love the moment when Minhyuk said Bong Soon is sexy outside the police station. I actually think the same way. A woman being cool & confidence is OK. Only man think that when a woman is cool, she will step his ego. So I find Minhyuk is really different from other men. He finds Bong Soon cool. As far as I watched Kdramas, men find this type of woman will crushed his ego & pride. Woman empowerment comes a long way & I delighted that this drama came at that time.
Not so foreign attempts to follow our weird CEO's thought process in #60:
I kinda relate to Ahn Minhyuk

As someone who wants to be a villain in the past, these are my childish thinking :

1. Villains are generally more free than the good guy. Good guys are boring. Villain ain't gonna submit that request for approval for jewelry burglary to her damn boss. Good guy needs to do administrative job and be good to other people. Too much work.. to be a good guy.
2. Villains are often glamorized in cinema. Like kaito kid, ocean eleven, the thieves. They seem to be smarter than the good guys, more resourceful and always 1 step ahead of authorities. They made the puzzle, police or good guy only solve em.
3. Villains are mysterious and fascinating. They have layers and layers of stories and there are usually good reason why they become bad.
4. This is trivial but villains have strong songs in cartoons. Scar's Be prepared, Ursula's Poor Unfortunate soul for example, they are strong song and they know what they want.
5. Villains are misunderstood often but free to do whatever they want and people won't bring em down, since people hate them from the first time. So no expectation.

I personally think, writers tend to create way better villain characterization than hero characterization.
Filler dumb villains a la home alone are fun to watch but not exactly exciting to be against. Maybe it's cause to measure a hero or a good guy is to pit him against the cruelest guy, in so the hero can be defined as "hero". So hero can be cheered and love, the villain can be forgotten. What a romantic life to be villain.

But after i grow up though, the burden of becoming a villain is much larger. Gotta do that drugs, kill people, planning to change the world and make an army just to be a regular villain. Prison is no good and generally they hang out in dungeon. Nope, let's just be a good person.
Mindy attempts to be positive in "Battling for survival at the workplace in Radiant Office" comment #10:
It's billed as a comedy. Not a dramedy or a melodrama. I highly doubt she will actually die.
But meowingme voices our fears:
Lately some shows billed as rom-com has dead bodies in them, am kinda loosing faith in this billing now…
redfox writes in #12:
"she wants to take this last chance to test fate and prove that she's a useful human being".

been there. "Why am I even doing this? Will anybody ever say "Thank you!"? Am I just wasting my time, what if it is meaningless? Does anyone even know I exist?" I have been at that point, creatively though, but it is the same, when art is the meaning of your life, but seems like nobody needs it. No matter how cheerful this drama looks, I don´t think looking for justification to your existence is a very funny business.

that said, positive attitude is still necessary. Not to fret over meager human achievements. That´s just sand. Who knows if world would end tomorrow. Human problems are so minor. Even when facing death, to not think "I didn´t achieve much!" or "I wasted too much time!!", but to think you did your best in any circumstance. I like the saying "No snowflakew ever falls into the wrong place!" So none of our deeds might not be meaningless, even if it feels like that at the moment. Every loose end will be tied at some point.
Niyati tries to make sense of "Voice: Episode 11." In comment #6, she writes:
Forget getting the body into his apartment, how did he kill her, remove an eye, set up the crime scene, and get her body out of the Club without being seen by anyone or getting any blood on himself. Seriously this show sometimes borrows from Harry freaking Potter!
Yanca94:
shhhh… you can't ask that lest you become self aware like kang chul, you wouldn't want your whole world to freeze now would you? Tht would be bad, just accept it nd move on, besides you can't handle the truth obviously hence the omitting of major plot points its for your own good nd definitely not lazy writting
Niyati:
But but but…
Wait do you think that's what happened to Tae Gu? Did he become self aware, freeze his universe, and use the window to get the body out? Eeekkss! Does that mean maybe he's even read these comments? Yeow! I'm sorry your chiseled hotness! I swear, I won't tell anyone about you. You can even date me so you can keep an eye on me. #noulterriormotives

P.S. don't judge me for hitting on a serial killer okay, he's not evil in our universe #convenientexploitationofplotholes
Yanca94:
No judgment here, his chiseled hotness is hot and he won't mind. maybe he' ll tell you how to remove blood stains so efficiently, think of all the cash you' ll make as a dry cleaner. I pray for your sake tht he leaves your eyeballs were they belong though . It will be tough dating a guy with an affinity fr body parts not attached to said body. Goodluck
PakalanaPikake:
@6.1.1.1.1 Niyati,

I know right! Things we do for the greater good *cough* eye candy*cough*

*shudders at use of "eye candy" in relation to Mr. Cheekbones of Doom*

Was this a missed opportunity for a PPL for OxiClean? My friend the EMT told me it was terrific for removing bloodstains from her uniforms.

PS: It's probably not a good idea to "make eyes" at this guy. Ever.
Visit the original thread for more ideas on keeping this relationship (and yourself) intact.
Lord Cobol also has questions in "Voice: Episode 12" comment #4:
he used to own a large clothing factory but it went bankrupt, and in order to keep from burdening his wife and daughter with his debts, he left them to live on the streets.

Uh, did he borrow from polite loan-sharks or something? In every other kdrama, collectors would go after the wife and kids and 2nd cousin once removed as soon as the borrower took off.
While prettysup has a good guess about the ending in comment #5:
Only 4 eps left to go, my guess is they will end the show with Tae-gu laughing sinisterly, and the viewers asking for part 2 as per typical OCN style haha…
And didi shares her opinion on balancing how we ship onscreen couples in "Joy enchants Lee Hyun-woo with her voice in the Liar and His Lover" comment #7.2.1:
"I ship them casually"
Hear hear.

Shipping is nice and fun, until people take it much too seriously and can't tell wishful thinking apart from reality. I ship them in that I would be happy for them because I think it's a suitable match, but I would be fine if nothing happened. I'm seeing some people become too emotional just because of their ship, and that's a no-no to me. It's disturbing. Imposing the will of shippers on the two is selfish, neither owes shippers for anything. And it goes for the opposite point. I don't like it when people use the "too many cameras around" or visible editing of clips as a reason for it to be fake. People can develop bonds in front of cameras too, especially when those people are used to cameras, what's with reality shows for idols being filmed constantly. If there's chemistry, there's chemistry. Friendships have been formed in variety shows, and reality shows before. And it's possible to have feelings but not pursue it further. I just think of the show as celebrities playing make-believe and indulging in flirting. Ooops. Didn't intend to rant on WGM here.
Kiara writes about the awesomeness of Honey Lee in "Rebel: Thief Who Stole the People: Episode 9" comment #3.2.1.3:
I love her in this. I never thought that rap and gayageum would go together but I ended up liking it a lot. She is also very beautiful in it.
DarcyLove asks in "Missing 9: Episode 13" comment #2:
Well… This is one hell of a ride…..

Who else is still hoping for Yeol to come back??..
oosiee:
As I always say…err comment..the show's name should've been 'Missing Yeol'!
In comment #7, Lord Cobol asks about the food poisoning in "Introverted Boss: Episode 11":
Did the sushi industry just get a warning about what happens if you don't put up enough ppl money? Especially if you compete with Subway?
Flightey Gazelles:
Poor Sushi, pay up next time okay or else its gonna be worse and sushi will be the food used in the initiation ritual of that upcoming Cult drama on OCN. Warning strike!!
hani shares a story and a beautiful reminder to all of us in comment #14:
Hwan ki remind me to one of my friend. People told me dat shes bad and his father takin drugs and all the nasty stuff.But when I get to know her, wat a positive girl, she love to smile and optimist. And I saw (cus she never told me) how hard she struggle to help her poor family and take care of her sick sibling and at the same time maintain her academic performance.shes quiet, she always listen to me.how the hell everyone told me dats shes bad?

We always have a hwanki around us.please dont take them for granted
Thanks for the lessons and the laughs. Please stay awesome, beanies!
RELATED POSTS
Tags: Beans of Wisdom