Yoon Eun-hye for High Cut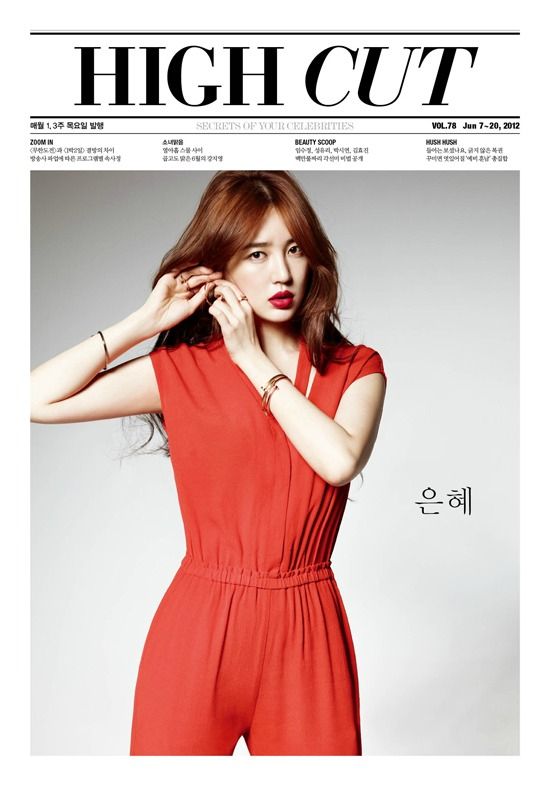 This shoot is both hit and miss all in one, which is interesting, but I do really love two of the looks on Yoon Eun-hye, featured in the current issue of High Cut. The jumpsuit is something almost no one can pull off in actual life — you want to look like a 60s goddess but look more like you're in a pajama onesie, and going to the bathroom becomes an unnecessarily gymnastic effort. But man am I always jealous when someone looks good in one.
The middle shots I'm just going to title "Want a Piece o' That?" and "I Don't Share My Ice Cream." Perhaps she found the onesie frustrating after all and decided it was best to be pantsless. As is the case with most days in life. The last look I love, because I want me to have that dress. It's possibly my new favorite thing. I will call that one: "Don't Cry Over Spilt Shirley Temples."
Despite my disappointment with pretty much all of her more recent projects, I do always hold out hope that her next will be the one to strike gold. Because while she can ride the love from Goong and Coffee Prince for as long as she wants, she shouldn't. I want to love her in a new project, and I want her to do something challenging. No more safe. Here's to hoping.
Via Sports Chosun
RELATED POSTS
Tags: photo shoots, Yoon Eun-hye