Ghost: Episode 11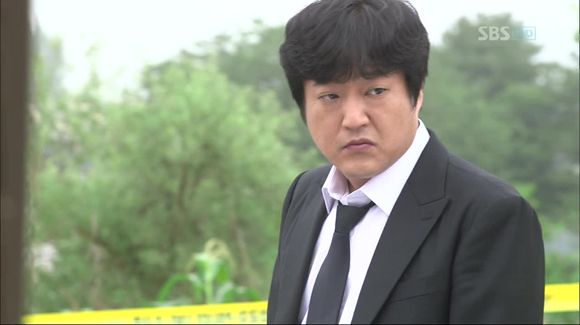 Oh my goodness! The twists and the turns, plus a very much needed backstory to help clarify everything. I have to admit that after a while, dates and years were all swimming in my head, but thank goodness for flashbacks! I even got my wish granted of seeing a younger Hyun Min with his dad. Though it's tinged with bitterness, at least we see that Hyun Min wasn't always the evil Phantom he is now. That week of resting my mind from this twisted series? Yeah, it's officially ended with this episode.
Woo Hyun speeds down the highway, completely missing the Gangbyun rest stop where Young Suk and Hyun Min are meeting. Kang Mi refuses to believe that Young Suk could possibly be involved, but Woo Hyun reminds her that there are a lot of sympathizers within the agency – including old-Woo Hyun. Trust no one. I'm already tempted to not trust Kang Mi, although that would make me lose all hope in this drama.
A quick call to the bureau verifies that Young Suk is not at the office either, so Woo Hyun pulls over and starts hacking into Young Suk's phone. And here I scream, "You should have done this twenty minutes earlier!" He tracks Young Suk's location to the rest stop, and calls up Kang Mi to meet there. Meanwhile Hyuk Joo is back at the office, waiting for Young Suk's call.
Young Suk's car is not around, but they check the perimeters anyways. At the back of the building, Woo Hyun finds Young Suk's notebook by a park bench. Inside are three names: "Kim Suk Joon -> Kim Woo Hyun -> Nam Sang Won," and three locations.
A car speeds down a deserted road and scrapes against the steel guard rails. The driver is either drunk or drugged. The car veers off course and ends up crashing completely through one of those makeshift buildings seen at construction sites. A close up into the car… and the driver is none other than Young Suk.
You. Have. Got. To. Be. Kidding. Me. Are you seriously going to kill him off?!
Sang Woo picks up the call and hears the news first. As depressing as the news is, it's an amazingly emotional scene as he stares at all of his coworkers and Hyuk Joo, the tears welling up in his eyes as he's unable to voice out the specifics of the accident. Even Kang Mi is dumbed into silence when she hears the news.
Sang Woo, Hyuk Joo, Eung Jin, Tae Gyun, and Hye Ram all pile into a car, riding in silence towards the scene of the accident. As soon as they arrive, a police officer at the scene announces that Young Suk was declared dead on the scene. He adds that it might be a case of drunk driving, as Young Suk reeked of alcohol. Hyuk Joo yells at that officer for his condescending attitude and orders the door to be opened. He bangs on the window, crying out Young Suk's name over and over again. His attachment to the detective only made the scene ten times more sad to endure.
The next day, articles about the case come out thanks to Yeon Joo, who paints Young Suk in a bad light. Because of a drunk driving incident involving a police officer, the public's trust in the bureau has gone down. The only people really happy about this is Hyun Min and Director Moon.
Flashback to that night. Young Suk was actually never working for Hyun Min! Rather, Hyun Min had called him out for a meeting. He outright informs Young Suk that Jae Min is not the real killer, but that it's someone else and they have the evidence. Young Suk is more curious to know why Hyun Min called him, to which the reply is "Because you were looking for something you shouldn't have." Jae Hee appears from the shadows, and Young Suk realizes that this night is not going to end well. That's why he drops his notebook to the floor.
Hyun Min now has the notebook in his possession, where six confidential documents are stored. Now he is free to get rid of it.
The cyber crime team gather at Young Suk's funeral, where they are the only guests. Hyuk Joo is wracked with guilt and anger as he thinks back on when he gave Young Suk the Nam Sang Won case, and how Woo Hyun is tied to it. He asks why Woo Hyun called the night before about where Young Suk was. Woo Hyun replies back, "Then why were you in contact with him? You were the last person he called." If anything, Woo Hyun believes that Hyuk Joo should have known Young Suk's last activities better than anyone else.
Hyuk Joo's ready to pick a fight, but Sang Woo reminds him that they're in a place of mourning. (Thank God.) Hyuk Joo has one last threat for Woo Hyun: he's going to investigate Young Suk's death, and if he finds Woo Hyun is involved somehow, he will kill Woo Hyun himself.
But Woo Hyun has one more thing to say: "The person who wants to catch this criminal the most is me." It gives everyone a pause to think about that, and they can interpret it in different ways – vengeance for Young Suk, getting the truth of Woo Hyun's death, finding Phantom. But for me, Woo Hyun says this so much that it's lacking the punch it's supposed to give now…
Anyways – Director Jun is angry with Yeon Joo for her damning articles on Young Suk. She points out that she can't write favorable articles all the time on the police, and that if Young Suk did something wrong, he needs to be punished for it. Hyuk Joo and Sang Woo enter the office, and Yeon Joo is dismissed. Hyuk Joo has something for her though, something she left at his office. He takes out her business card, crumples it before her very eyes, and then drops it on the floor. Oh yeah – he hates you.
Hyuk Joo insists to Director Jun that Young Suk was not drunk. On his last call to Hyuk Joo before the accident, he sounded completely fine. That's not enough evidence to prove that Young Suk was not drinking, especially when blood tests showed his high alcohol level. So Hyuk Joo swears he will find evidence proving that Young Suk was not drunk – whether Director Jun approves of it or not.
Sang Woo thinks Hyuk Joo is too emotional for this case, but Hyuk Joo assures him he's quite lucid. When Seung Yoon had come to his office telling him about the laptop bit she overheard in the bug, Young Suk had called him too saying that he found a laptop that could be used as evidence. He called again later to say that he was bringing it to the office. There's no way that Young Suk would have had a DUI while bringing evidence back to the bureau.
Hyuk Joo orders Sang Woo to check Young Suk's phone and credit card records. Meanwhile he'll go back and check the scene of the crime. Because one of his detectives died under his orders, he'll stop at nothing to get to the truth.
The only ones left at Young Suk's funeral, Kang Mi tells Woo Hyun about her good memories of the detective. How he had guided her and told her that despite her mistakes when she was a newbie, it was more important on how she ended things. She refuses to believe that he could be an accomplice to Phantom, and Woo Hyun doesn't think so too anymore. Since the laptop was not found at the scene of the crime, it's likely the criminal/Phantom took the laptop and then killed Young Suk.
Back at Hyun Min's office, he locates a file regarding the Se Kang political slush fund case in 1999. He takes out the hard drive of the laptop, and connects it to his fancy devices to delete the disk thoroughly. Seriously – with his knowledge of hard drives and hacking, I wonder if Hyun Min had special cyber crime training as well back in the day…
Woo Hyun and Kang Mi head out to start tracking the truth behind Young Suk's death. Of the three locations listed in his notebook, two are places they know about: the golf club, and the Yangpyung bus terminal nearest to Woo Hyun's home. Clearly Young Suk was able to connect Yangpyung terminal to Woo Hyun's father's home, but the question is how? The third location is Luna Bar, and so they head out to find out what they can there.
But Kang Mi notices some more writing in the back – it's the phrase "Se Kang Political Slush Fund Case." It's a case Woo Hyun is all too familiar with, because it was the top secret file he had downloaded from Kim Suk Joon's emails when he was still Ki Young, and the file that got him kicked out from the police academy. In 1999, the police found evidence that former CEO Jo Kyung Moon (Hyun Min's dad) had given $100 million illegal to the former president during the elections. When the trials first began, Kyung Moon just admitted he was guilty and committed suicide. After that, nothing happened.
Woo Hyun had done everything he could to investigate that case, but everywhere he hacked led to nothing. He now needs that case file to figure out the relationship between Kim Suk Joon, the old-Kim Woo Hyun, and Nam Sang Won. Perhaps Young Suk was onto something. He asks Kang Mi to check the records room to see if there are any hard copy files of the case, as he couldn't find anything in the computer databases.
Kang Mi checks, but can't locate the file. She's not alone either – someone is watching her search through the records room.
Meanwhile Hyuk Joo is checking out the crime scene. Sang Woo had already found that the last purchase Young Suk made was a pack of cigarettes at 10:30pm. The car was found at 12 midnight, so somewhere in the 1.5 hours in between, the murder was set up to look like an accident. In his mind's eye, he sees that someone must have injected tons of alcohol to raise the level of alcohol in his blood while he was unconscious. Then by remote control, he made the car run, and it drove wildly into the guard rail and into the makeshift office until it was finally stopped. The car went at at least 70 km/hr for it to kill Young Suk, so Hyuk Joo believes that there must have been something on the gas pedal.
The question is what? Nothing was found in the car that could have been used on the gas pedal.
Sang Woo calls in with more information. He found that Young Suk was investigating Nam Sang Won's credit card files, and one transaction that he marked off was a payment to Luna Bar.
Woo Hyun is also making his way to Luna Bar, but he finds the place to be closed. The building's landlord says it closed about a year ago. He recognizes a picture of Young Suk, as Young Suk had come around asking who the owner of the bar was. It was run by a wife whose husband borrowed money against the bar to launch his own business. The wife hadn't paid the rent, so the landlord had the husband's business card to contact him for the money. However, another detective had come by earlier asking for that business card.
It was Hyuk Joo. Wow – Hyuk Joo got there faster than Woo Hyun!
Woo Hyun gets the address anyways from the landlord and rushes over to the husband's office. Just as he turns the corner in the hallway, he sees Hyuk Joo entering, and quickly doubles back. Can't be seen! Hyuk Joo finds the husband busy eating his lunch but has a few questions for him.
They are momentarily interrupted by the delivery man, asking for the plates back. Since the husband isn't done yet, the delivery man just leaves his delivery box by them, telling the husband to put it back when he's done, and he'll come back to pick it up. That delivery man was paid off by Woo Hyun – as he had stuck a listening device on it. Now he can hear the entire conversation from his car!
The husband initially pretends that he's never heard of or seen Young Suk, but after Hyuk Joo's threats of beating him up, and getting his legs jammed by a table, he opens up. Young Suk had come by asking about why Nam Sang Won had come by the year before. Nam Sang Won had apparently paid off the bar's down payment, and in return he wanted the husband to investigate Kim Woo Hyun and Kim Suk Joon for two weeks. Once the husband had completed the job though, Nam Sang Won was already dead.
As Woo Hyun listens to this in the car, he's freaking out. It's this key information that allowed Young Suk to link up Woo Hyun, Suk Joon, and Nam Sang Won together – but it also puts Woo Hyun in a very messy situation now…
The task was to take pictures and see if Suk Joon and Woo Hyun had met up with any Se Kang people. Of course, the husband didn't know who "Se Kang people" were, so he just randomly took pictures. Young Suk had taken them all away in a yellow envelope when he visited, so the husband doesn't have it anymore. Hyuk Joo quickly gets out of there, and phones in Sang Woo to see if the envelope is on Young Suk's desk.
It's not, and it's not at the crime scene either. However, Sang Woo did discover that when Young Suk called Hyuk Joo about finding the laptop, he was at – of all places – Kim Woo Hyun's home.
Woo Hyun immediately goes right up to the husband's office. The husband had just discovered the bug, finding it a strange button on the delivery box. He freaks out when he sees Woo Hyun, and immediately defends himself by saying that he didn't mean any harm, but was just paid to follow him. Woo Hyun shows him a picture of Hyun Min – did the husband take a picture of him with Hyun Min? Husband: "I think so." Woo Hyun: "Don't say 'I think so.' You took the pictures!!" Haha – I have never seen Woo Hyun this comically angry. The husband affirms that he saw him with Hyun Min, as well as with another man. Who that other man is, he's not sure, but the photo is definitely in the envelope.
Prosecutor Im holds a press conference to announce the police's conclusions on Nam Sang Won's case. The autopsy has revealed that Nam Sang Won died from poisoning, and after evaluating the evidence and the witness's testimony, he has decided to arrest Jae Min for the murder. Kyung Shin, who is watching the conference from his private office, seethes in anger and demands to meet with him immediately. Of course, the prosecutor's schedule just so happens to have changed, and he's quite busy.
Hyun Min is practically cackling in his office, happy that his uncle is finally getting a taste of his father's medicine. What happens when everyone you trust betrays you?
Flashback! And this time we're brought back to 13 years ago, when Hyun Min looks like a fresh faced college student returning home after studying abroad. So innocent, so honest, and happy to see a familiar face at the airport leading him away from the hordes of reporters – Nam Sang Won. Hyun Min is worried about his father, whom he believes is being wrongfully accused for the crime of giving illegal funding to a presidential candidate. Nam Sang Won says that either way, the best move for Kyung Moon would be to admit guilt, and hopefully get away with probation or a lighter sentence.
Of course, Kyung Moon will only listen to his son, and that's where Hyun Min comes in.
Hyun Min greets his father happily and finds his father not as healthy as he'd like. He tells his father to plead guilty so that Kyung Moon can get a lighter sentence, and then they can go on a trip together for Hyun Min's birthday. As a result, Kyung Moon turns himself in.
In the courtroom, Hyun Min watches the trial unfold as Prosecutor Im brings forth witnesses that condemn Kyung Moon. He questions Kyung Moon's loyal men – including Nam Sang Won – and they all claim that the person who ordered them to give the money to the presidential candidate was Kyung Moon. Hyun Min and his father's eyes widen in shock with each betrayal, as they had hoped that pleading guilty would not lead to all this. It was supposed to set him free – not have so much damning evidence stacked against him! Kim Suk Joon even takes the stand, and he testifies that Kyung Moon did confess to the crime. But with Kyung Moon's expression, it's clear that he didn't do such thing.
Hyun Min looks away bitterly, and he sees his uncle Kyung Shin smirking. That's not an appropriate expression with how the case is unfolding, and so Hyun Min realizes his uncle is the one behind everything. Everyone is under Kyung Shin's payroll. So now, Hyun Min is exacting vengeance – just like how everyone under Kyung Moon had left his side, Kyung Shin will suffer the same fate.
Kang Mi enters the office to find Tae Gyun mourning at one white flower from the funeral. He regrets having been so mean to Young Suk, whom he found annoyingly technologically-challenged, and for having always made fun of him. Apparently, before he died, he had called up Tae Gyun about the laptop.
Young Suk: How do you turn on a laptop?

Tae Gyun: With your finger, push the power button. *rolls eyes*

Young Suk: Hey! Look, it seems to be about a year old and there's no power left. So how do I turn it on?

Tae Gyun: Can't you do this later?

Young Suk: I need to know now. Tell me.

Tae Gyun: I'm really busy. You do realize you lack knowledge in basic things.

Young Suk: I'll buy you iced coffee…?

Tae Gyun: Look in the road master (their on-the-road cyber kit) and you'll find a car adapter. Connect it to the laptop, and you'll be able to turn it on.
Aww – that just sounded like a conversation I'd have with certain members of my family! Food always gets to me…
Anyways – Tae Gyun's advice had worked, and on top of that, Young Suk remembered to make a copy of the hard drive too with the road master. Thankfully, the road master was returned to the cyber crime department by the police. Kang Mi rushes to open it and access the files in it. There's a log of the activity made on the computer, such as Young Suk accessing it. There's also evidence that there was a copy made – presumably on a USB.
Woo Hyun goes to the local precinct where Young Suk's items were collected and stored after the accident. There's no yellow envelope part of his belongings, so Woo Hyun heads towards the junkyard where the car was sent to. Luckily for him, it hadn't been scrapped yet, so he finds the car mostly intact – or, as intact as a crashed car can be.
He burrows through the seat and compartments, but finds nothing. "Are you looking for this?" Woo Hyun looks up to see Hyuk Joo, waving the yellow envelope. Doggone it – he's got it!
Hyuk Joo smugly says that whenever Young Suk finds crucial evidence, he hides it in the spare tire compartment. He even hands the photos to Woo Hyun to look; after all, photos of him meeting with Hyun Min are too damning and impossible to deny now. He bets that Woo Hyun never really knew or understood Young Suk, and that's why he was so late to getting the evidence.
And then THWACK! Hyuk Joo punches Woo Hyun right in the jaw. Young Suk must have really trusted Woo Hyun before because he didn't even report the photos to Hyuk Joo; he probably wanted to confront Woo Hyun about it first. Hyuk Joo believes that Woo Hyun killed Nam Sang Won and Young Suk now, and he wants to know why.
Woo Hyun: It wasn't Woo Hyun. Kim Woo Hyun is dead, so it couldn't be him.

Kaedejun: WHOA WHAT? WAIT – WAIT A MINUTE HERE!

Hyuk Joo: What nonsense are you saying right now?

Woo Hyun: Shin Hyo Jung, Nam Sang Won, and Detective Han Young Suk were all killed by the same person. This person also killed one more person: Kim Woo Hyun. He died in the blast.

Kaedejun: *ripping hair out*

Woo Hyun (continued): I… am Park Ki Young.
Comments:
AHHHHHH! WHAT ARE YOU DOING!? Why are you confessing!? Don't you realize that you're screwed? Now Hyuk Joo is going to eat you alive, if not for impersonating Woo Hyun, but for being the hated Ki Young he's been wanting to catch since forever! He even believes you're the true killer of Shin Hyo Jung – and with your last line, you could easily be that "same person" who killed all four victims! How are you getting out of this one?!
Hyuk Joo suspected Woo Hyun was off from the beginning, and he didn't like Ki Young either. Now that he's got Ki Young with Woo Hyun's face, it's like he gets to vent out double the hatred.
Honestly though – I am loving this twist, because now it just changed the whole game. It can end well or badly for Ki Young – he could either have made his one enemy his new ally, or he could have someone right next to him with the torch and pitchfork ready. I'm betting his enemy will become his ally (since it is only episode 11), but I look forward to the new obstacles that come in their way. I don't blame Ki Young for telling the truth, since the noose was closing in ever tighter around his neck. After a while, there's no way out except to say you're not the person everyone thinks you are, just so you can escape the trumped-up charges. This does bring a question on whether I should continue calling him "Woo Hyun" or "Ki Young" though; I've been calling the two "Woo Hyun" and "old-Woo Hyun," but what do you think? Continue calling him "Woo Hyun," or call him "Ki Young" now?
As for the case 13 years ago, I'm thankful for the flashbacks. It looks like Kyung Shin framed his elder brother with the illegal slush fund and had all his men testify against Kyung Moon, including Kim Suk Joon. That's what Ki Young had found – he realized that Kim Suk Joon was making up rules on how the investigation would go; it's not an investigation based on truth, but rather on what the wealthy want. By the time he found it, the case was long over, and that's why Suk Joon didn't mind resigning for it. I'm sure he felt guilty as well. As for the prosecutor, it looks like Prosecutor Im was setting up the case to look bad for Kyung Moon. That's why when Hyun Min asked him to "investigate thoroughly" on Jae Min's case, he really meant, "make the case look bad for Jo Jae Min."
The revelation of this case also makes me wonder who the real bad guy is now. Though Hyun Min did all the killings – and he should in no way be exempted for them – he's also exacting revenge against the people who framed his father. We've seen more shades to Hyun Min than is usual for a Big Bad that we're supposed to hate. Whether the truth comes out or not doesn't matter; all Hyun Min wants is what's rightfully his. Kyung Shin is being painted as the baddie of thirteen years ago, trying to oust his older brother with money and power.
As for Woo Hyun and his father, perhaps they're involved because they want to right the wrongs made against Jo Kyung Moon. Perhaps that is why Nam Sang Won was investigating Woo Hyun and his father – he was wary of what they might be plotting against him. In a way, it makes Woo Hyun a good guy again – sort of.
And finally – Young Suk's death. I'm surprised they killed him off, though it certainly was an impetus for this case against Phantom. It's a sobering reminder that there will be casualties. I'm sad I won't see that actor again for the series, so I'm hoping for flashbacks!
RELATED POSTS
Tags: Eom Ki-joon, featured, Ghost, Lee Yeon-hee, So Ji-sub