Jung Jin-young cameos as Jeon Woo-chi's teacher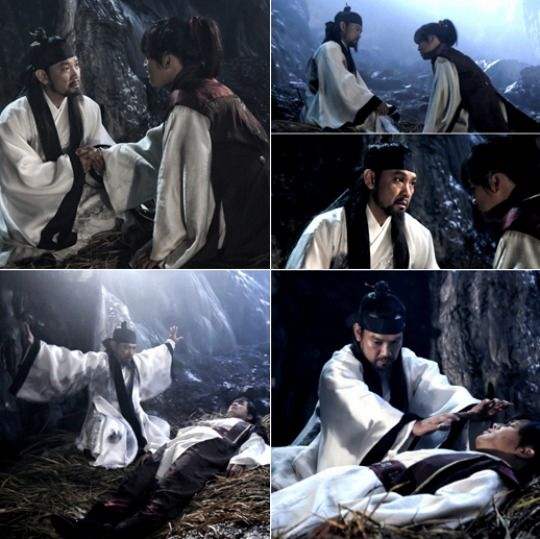 Action fusion sageuk Jeon Woo-chi already has a star-studded cast, but they've also added a big headliner cameo for the premiere episode: Jung Jin-young (Love Rain, Brain) will play a crucial role in the opener as Jeon Woo-chi (Cha Tae-hyun)'s teacher, who sets him on his fateful course for the rest of the drama. Hm, isn't Jeon Woo-chi's teacher Hong Gil-dong? They're not naming names as far as his character goes, so I won't be officially excited until the show premieres, but what great casting if it's true.
The casting coup is due to Jung Jin-young's relationship with the director, who helmed his 2008 sageuk Kingdom of the Wind. I always love a good loyalty cameo. He'll show up in Episode 1 in a "short but impactful appearance" as Jeon Woo-chi's teacher. He sacrifices himself to save Woo-chi's life, though the specifics remain vague of course. He also becomes the catalyst for Woo-chi leaving the only home he knows to travel to Joseon. Jung said, "I'm really happy and excited for my first opportunity to act with Cha Tae-hyun, a hoobae I hold dear."
More production stills show Cha Tae-hyun in action mode against nemesis Lee Hee-jun, as well as shots of veteran actors and Kim Gab-soo and Sung Dong-il on their first days on set. Kim Gab-soo reportedly stayed in character all day, creeping everyone out (So cool), while Sung Dong-il showed up on set in false teeth and crazy hair, and slayed the crew with his ad-libbing. They'll play old rivals who influence the next generation's wizard war. On the upside, Cha Tae-hyun and Sung Dong-il are hilarious together; on the the downside, why does the good guy get the crazy mentor, while the bad guy gets Evil Genius Extraordinaire? No fair.
Woohoo, Jeon Woo-chi premieres next Wednesday on KBS.
RELATED POSTS
Tags: Jeon Woo-chi, Jung Jin-young