1 Night 2 Days: Episode 442
EPISODE 442. Broadcast on June 9, 2013.
javabeans: So this is Part 2 of the Yoona-Kimchi-Eel-Fishing-Taste-Matching special, and our two teams have both gotten a chance to sample their main ingredient. Now it's time to figure out what foods best complement them.
girlfriday: Each team has sent a member out to sea, and Tae-hyun lands on a tiny island after a short boat ride.
javabeans: Tae-hyun takes a trip to meet the mayor, who shows him around and says that this area is known for its leeks, which is a good tip for a potential taste pairing. As the mayor leads, he comments that Tae-hyun "has a face like someone who doesn't obey very well" and also makes a pointed comment about how when Running Man was here, Yoo Jae-suk ran away without giving an autograph. Why are these village mayors such characters? They crack me up.
girlfriday: Gotta have some personality to be voted the leader.
javabeans: He's all, "When you get back tell him I said…" but Tae-hyun tells him to just rant into the camera, ha.
girlfriday: Meanwhile, his teammates head to a new location to make soup stock out of eels. I'm both impressed and a little grossed out at how the eels all have heads and spines… and nothing else. Hae-jin catches fish on his boat, and I swear, this guy seems happy to do anything. Maybe he's still new enough to the show that nothing seems like punishment yet.
javabeans: He oohs and ahhs over some of the more unusual catches, like this transparent thing that looks like a clear worm (a fish called a gunnel) and baby octopuses.
girlfriday: Wut. It's totally clear and it only has eyes!
javabeans: And then they slurp it up raw. This is why Korea has so much stomach cancer!
girlfriday: Team Kimchi just eats and eats and eats. By now the crew wants to try the food too, and the tables have turned. Su-geun snipes at them: "Only one bite!"
javabeans: Tae-hyun is in the field harvesting leeks, which his farmer ajumma informs him is particularly good for stamina. You know, for the mens. Tae-hyun is on Team Eel, which is a food often associated with stamina, which is one of those things I find curious about Koreans because they're so plain-spoken about sexual innuendo in this kind of context.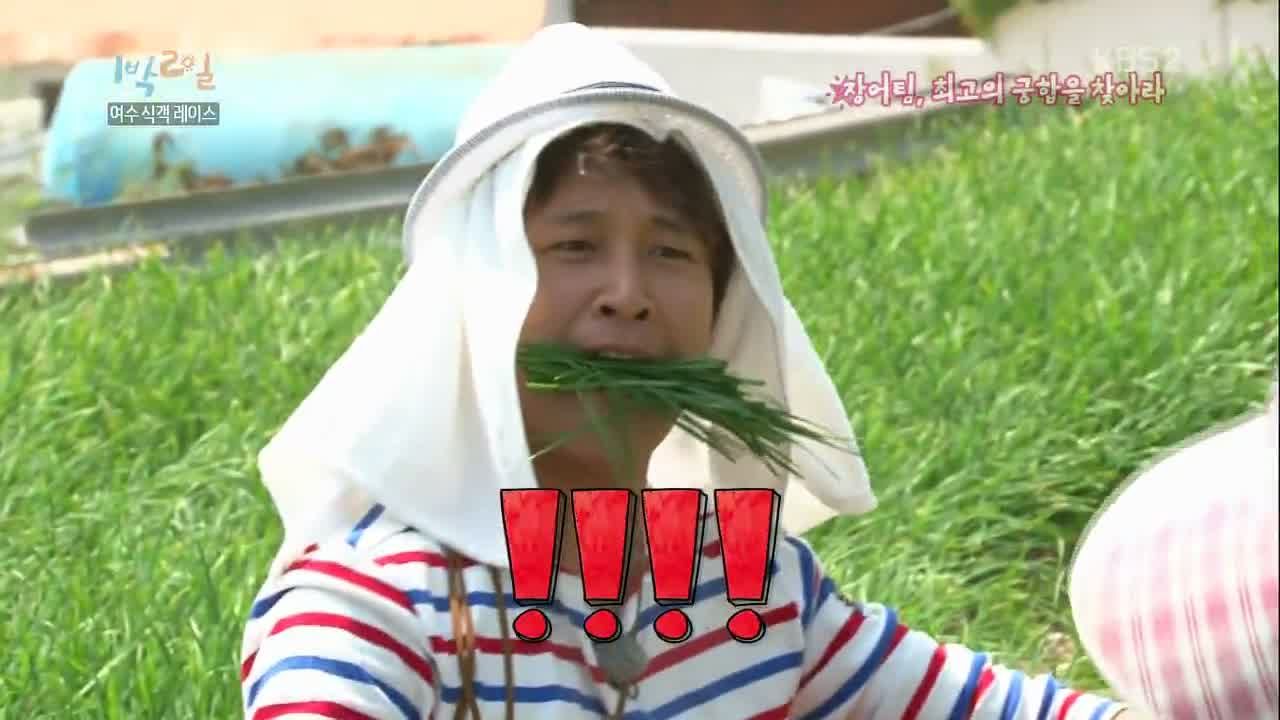 girlfriday: Yes. Why are ALL FOODS for stamina?
javabeans: But then there's also the social strictures on acting demure and proper and all that. But you talk about sexual endurance without batting an eye. Tae-hyun jokes that with eel and leek in the same dish, how are men to cope with all that energy?
girlfriday: And then he gets the ajumma to do a mini commercial with him, where he does push-ups with a mouthful of leeks, just to expend his man-energy.
javabeans: "Send me to Seoul!" and "Marry me off!" On to Team Eel, who heads to another restaurant to try a different type of eel in shabu-shabu, which I contend is a waste of good meat. I have never understood why anybody would waste meat to eat shabu-shabu.
girlfriday: When it's made well, it's delicious. If it's just watery soup that tastes like nothing but boiled meat, it's gross.
javabeans: Why would you cook your meat in water and then just eat it plain? It's worst of both worlds.
girlfriday: Remind me to take you to my mom's house for shabu shabu someday.
javabeans: Noooo, it's a waste of stomach space! We could be eating sushi instead!
girlfriday: Oh I don't eat fish that way. Just beef.
javabeans: Beef that could be FRIED. Or grilled. Or barbecued.. As the team waits for the ajumma to slice up their eel, she requests a song from Shi-kyung, ha. Ajumma's got variety sense. For a professional singer, he's awfully awkward about it. Now the fresh sashimi spread Hae-jin lays out on the boat deck… that makes me drool.
girlfriday: That makes the fishing part worth it. The rest of Team Kimchi meets Heo Young-man, who hands them all rain ponchos, saying that when you shake anchovy nets you get them all over you. Su-geun: "Who's shaking anchovies?" Heh, what a way to get introduced to your next task.
javabeans: At least the hard work of shaking isn't left to them—they just have to collect their portion from the nets, and then they return to shore, where they reunite with Hae-jin. After tasting, he has narrowed down his selection to one of the fish, which he brings back to the team.
girlfriday: Tae-hyun reunites with his team, and then they eat some more. There's just a lot of eating in this episode.
javabeans: I had to take a break just now to eat. Mind you, I had dinner before this episode started.
girlfriday: Me TOO.
javabeans: Even when the thing they are eating doesn't seem particularly great to me, they eat with such enthusiasm that it just makes me hungry anyway. Like the FIVE-year-old kimchi that ajumma feeds the boys. Yeeech, that does not float my boat, but they rave about it. Their ajumma is hilarious though, calling them all oppa. When asked if her 33-year-old daughter is single, she barks that she ain't marrying her daughter off to any of these old fogeys, the girl has to marry a younger man. HA.
girlfriday: Heehee, all while swearing too. Half her words are bleeped out.
javabeans: Everyone heads back to basecamp, where the boys wash up at the outdoor fountain/well. This leads to the suggestion of a game involving soaking someone, and Yoona gets to play musical chairs with her dripping bucket of water. Jong-min gets the dousing, and then they take it a step further by doing a spin-the-bottle type game. Su-geun loses, and basically this just ends in a free-for-all water fight.
girlfriday: This is the world's longest water fight. It just won't end.
javabeans: I was just thinking that. There are, like, ROUNDS. It's kind of cute and whatnot, but it's ultimately just LONG. You know how comedy is all editing? New PD should learn some comedy.
girlfriday: Or hell, even just plain editing.
javabeans: These interstitials are super long too. It's like Iron Chef bombast, but without the fun.
girlfriday: Not to mention the repeaty, since we've just seen all of this unfold in this very episode.
javabeans: And I never though I'd say this about 1N2D, but I'm sort of getting tired of watching them eat. And we haven't even gotten to dinner.
girlfriday: What, more eating? How is that even possible?
javabeans: The two teams each set up their tables, first needing to prep and cook the ingredients they brought back.
girlfriday: There's a pretty funny moment when Yoona gets close to slicing her finger off and Joo-won grabs the knife out of her hands with this totally dramaesque delivery: "Dummy."
javabeans: They're all, "Whoa, what drama am I watching?"
girlfriday: I wonder if saying those cheesy rom-com lines all the time changes the way you talk.
javabeans: Plus I think in Korea, more than in a lot of other places, life imitates drama imitates life imitates drama, till you don't know which came first. People pick up drama-speak in real life, but ostensibly that came from real life first. Merry-go-round.
girlfriday: It's just funny because Joo-won's variety self is SO so different from the leading man he plays in dramas that it sounds weird. Lol, and then Jong-min says he wrote Yoona a love poem, which consists of lyrics from SNSD songs, except he got them all wrong.
javabeans: Time for the taste-off. Team Kimchi has decided on their cold buckwheat noodle soup dish, which did look delicious and refreshing. Team Eel trash talks and mocks, but the noodles get a pretty good reception from their guest/taster Heo Young-man. The eel team serves soup, and then it's time for the judgment.
girlfriday: This takes a really long time too. Is there something riding on this decision? Because they're all intense about it, but I don't remember there being any stakes. Team Eel wins it, and then Team Kimchi does the dishes, which must've been their punishment.
javabeans: I do wish those rules were explained.
girlfriday: Yes, because otherwise we don't know why we're rooting for anyone (if we even are at this point).
javabeans: Uh, then they move on to more bokbulbok. Are they skipping dinner entirely? Did I miss something? Not that I want to watch them eat more but I'm confused.
girlfriday: I guess they just ate as they cooked?
javabeans: So then they play games for sleeping rights, half in a tent and half outside in sleeping bags. They have to eat a watermelon wedge and spit out a seed, which has to land on their faces.
girlfriday: Heo Young-man draws a face and gets to randomly decide how many points you get for landing a seed on different parts of your face, which makes it more interesting.
javabeans: Everything is very long this episode, isn't it? They spit, some guys win 1 or 2 points, a few win 0 points, and then we move on to elephant dizziness game. I have always thought that the 1N2D games were simplistic almost to the point of tedium, and that the genius of the show was in framing the games so we cared about the outcome. Because otherwise why am I watching grown men play rock-scissors-paper?
girlfriday: Yeah… so this is what happens when you fail to frame it with any stakes. We stop caring. The games feel long because there's no one sleeping in an igloo if he loses. For instance.
javabeans: Or dancing in a public intersection while dousing himself in water until 100 spectators gather to watch him. I also half-expect the PDs to tell them they all get to sleep inside anyway, so there's also that.
girlfriday: Yunno, the other thing I'm feeling is that the members themselves don't feel any stakes. It used to be cutthroat competition around here, but they don't care either.
javabeans: Yes, they seem to be playing for giggles, not for any competitive reasons.
girlfriday: I get wanting to go for a laugh, but the TRUE laughs come out of crazy competitive moments and the foibles of doing anything to win. Case in point: the group of remaining boys decide to just spin and jump for cookies all at once, and Tae-woong and Joo-won nearly french kiss trying to get the same cookie.
javabeans: I feel like we spend all this time on the games to win a certain result (like sleeping in a tent), then we barely do anything with it and all of a sudden we're introducing the morning game already. It's just game, game, game. For instance we go through the eating game (where someone eats a food behind a screen and you guess it) to determine the rest of the outdoor sleepers, and then right away they introduce the morning game. I'm just tired of listening to game rules and explanations.
girlfriday: Especially when I don't care anymore who wins or loses.
javabeans: There's a lot of giggling in the tent, either from Yoona or about Yoona, who names Tae-hyun as having been a former ideal type of hers. They eventually settle down to sleep, but Joo-won gets up in the middle of the night, kept up by all the mosquito bites. Then he heads over toward the tent and asks with a gleam in his eye, "Should I do something fun?"
girlfriday: And then we cut to morning. Please tell me he did something fun and we're going to get a flashback. I could use a laugh.
javabeans: Then Yoona gets up early to make breakfast for the oppas. Tell me this isn't going to become a thing, where women are just expected to cook breakfast now.
girlfriday: SIGH. Don't be like that, Show.
javabeans: The morning song goes off and the boys fumble their way out of the tent. HA, they can't find their shoes. That's exactly what Joo-won did on his first morning, wasn't it? To win the morning race?
girlfriday: Was it? I totally don't remember.
javabeans: Remember how he was all quiet and boy scouty in the early days? One morning he was the first one awake and tore out of there to win food while his hyungs were stuck in the tent, looking for missing footwear. He was like, "I hid their shoes. Muahaha."
girlfriday: Haha, he ties the laces together and hides them on the roof of the tent. I do like it when he's playing pranks and sassing the hyungs. So the morning mission consists of dragging your manager out of bed to do sit-ups. After that you have to do a bunch of arm crunches and then hand-squeeze a glass of OJ. In a tall glass too.
javabeans: I do enjoy how Tae-hyun's manager is dragged out in his shorts, still asleep, and he stumbles to the mat and starts doing sit-ups sleepily before finding out he's supposed to be holding Tae-hyun's feet.
girlfriday: Hee.
javabeans: All this work for chapaghetti first thing in the morning?
girlfriday: Yeah that's a weird thing to have for breakfast. I think I'd rather drink the fresh-squeezed orange juice.
javabeans: I have totally eaten this meal, many times, but it's sort of making me queasy to watch them eat it.
girlfriday: Wait, why is there rice going into the chapaghetti? Separate yes, together no.
javabeans: And fried egg on top. Yeah. It's a bowl of grease. And then they all head out after breakfast and attract some fans along the boardwalk, and then Heo Young-man draws caricatures of the guys, and then we get a thirty-second glimpse of Shi-kyung's concert. End episode.
girlfriday: Let's hope the next one's better?
RELATED POSTS
Tags: 1N2D, Cha Tae-hyun, featured, Joo-won, Kim Jong-min, Lee Su-geun, Sung Shi-kyung, Uhm Tae-woong, Yoo Hae-jin