I Hear Your Voice: Episode 9
This one's a nail-biter if there ever was one. And that's saying a lot for this show, where basically every episode sends me on a spiral of emotions so twisty I don't know which way is up. Everything goes down in this episode: the verdict, the face-off between hero and killer, and the fallout… the fallout…

SONG OF THE DAY
Narae – "The Days When We Were In Love" from the OST [ Download ]
Audio clip: Adobe Flash Player (version 9 or above) is required to play this audio clip. Download the latest version here. You also need to have JavaScript enabled in your browser.

EPISODE 9: "If in difficult days even you go away"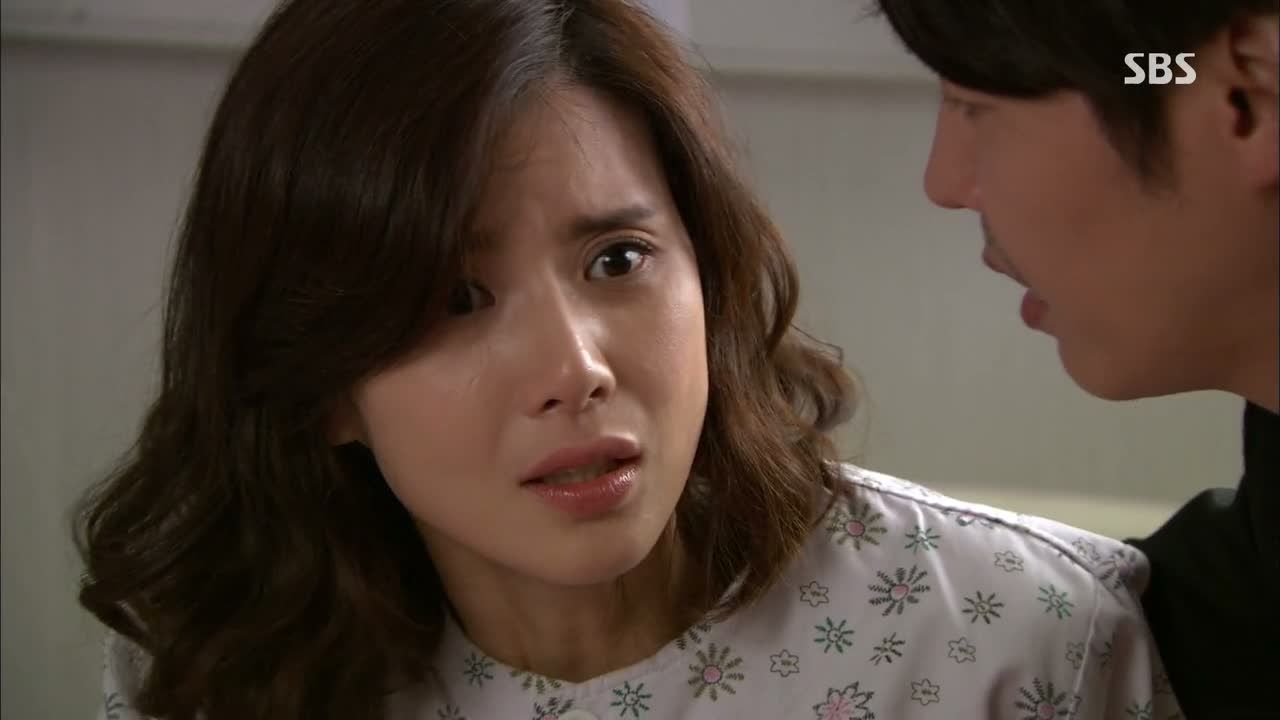 Hye-sung wakes up in a hospital bed. Ohgodohgod. We don't know how much time as passed, but the doctor tells Kwan-woo that the surgery went well and no major organs were damaged… But they're going to have to call the police, because it was a stab wound. What.
She opens her eyes slowly and only sees Kwan-woo next to her, and the first thing she does is ask frantically for Su-ha, trying to get out of bed to go find him. Kwan-woo hugs her and begs her to stop moving before she hurts herself again, and aw, your concern is touching, but WHERE IS SU-HA.
Hye-sung says in voiceover: "I might have been able to stop him. What Su-ha was thinking… If I had just picked up on the scattered hints along the way, today might not have happened. Su-ha always listened to my voice, but in the moment he needed me, I didn't hear his voice."
And then we go back to three days ago. Dude, I don't know if I'm emotionally prepared to find out how we got here…
Hye-sung starts her day by outing a blind grandpa for not really being blind, and her co-workers hear their shouting match as he says she's a public defender who's supposed to take his side no matter what, and she says that whole 'innocent until proven guilty' thing is what's wrong with the world. Eep. Obviously she means Min Joon-gook, and the arrow pointed at Kwan-woo doesn't go unnoticed. Lawyer Shin assures him that he did the best he could, but Kwan-woo doesn't seem very reassured.
At school, one of Sung-bin's classmates—the nearsighted kid—runs up to grab her legs when it looks like she's about to jump out a window. She just asks him to hold on so she can get a better look, and he peers over the ledge to find that she's spying on Su-ha. Heh.
She's about two floors above him, and trying to read what Su-ha is writing in his journal. What, you can read that from there? That's exactly what Squinty asks, and now I'm beginning to think that it's not him who's nearsighted, but her who's super-powered. In any case she reads: "Even if I disappear…" and wonders what it means.
Choong-ki comes by and sees Su-ha about to ditch school, and says he's going to tattle. Su-ha says he can do whatever he wants, and then turns back around to add that since this might be the last time (waaaaah) he's going to offer a piece of advice: "If you like Sung-bin just tell her so, instead of picking fights with me." She watches him go with a worried expression, feeling that something's not right.
That night Su-ha waits outside until Kwan-woo comes out of work, and starts to follow him home. He suddenly ducks out of sight and Su-ha thinks he's lost him, but Kwan-woo just circles around to get the jump on him, and says he used to be a cop after all. Su-ha asks if he knows how to fight, and Kwan-woo hilariously sticks his fists up, thinking Su-ha came here to fight him. Pfffft. Su-ha laughs and says he's here to ask him for a favor.
Min Joon-gook lies in his holding cell on his last night before the verdict, smiling in anticipation of his freedom. He wonders to himself what kind of welcome the kid has planned for him.
The morning of the verdict, Su-ha puts on a baseball cap and takes one last look at his apartment before heading out. What he didn't expect was Sung-bin waiting for him outside, wanting to go to school together. I love that she followed through on her niggling intuition.
She grabs his bag to try and convince him to go to school, and he can hear her thinking in alarm that she feels something like a knife in the bag. He hurriedly grabs it out of her hands and tells her not to think anything weird or say anything to anyone, and stalks off.
Thankfully that speech just made her more suspicious, right? Please do something to stop him. Please do something…
It's time for the verdict, and Hye-sung is in the courtroom, but Su-ha is nowhere to be found. As the judge reads the circumstances of the case, it's inter-cut with scenes from Mom's brutal murder and the staging of the fire.
The verdict: not guilty. Damn. Min Joon-gook casts a glance back at Hye-sung, and then smiles to himself quietly.
Hye-sung storms out and Kwan-woo chases after her, pleading with her to tell him what to do. He says that he won't lose her over this, and promises to do anything, if she'll just tell him what. Hye-sung: "Nothing. Don't do anything. I need someone to hate right now—someone else, otherwise it'll be me. So don't do anything, and just let me hate you."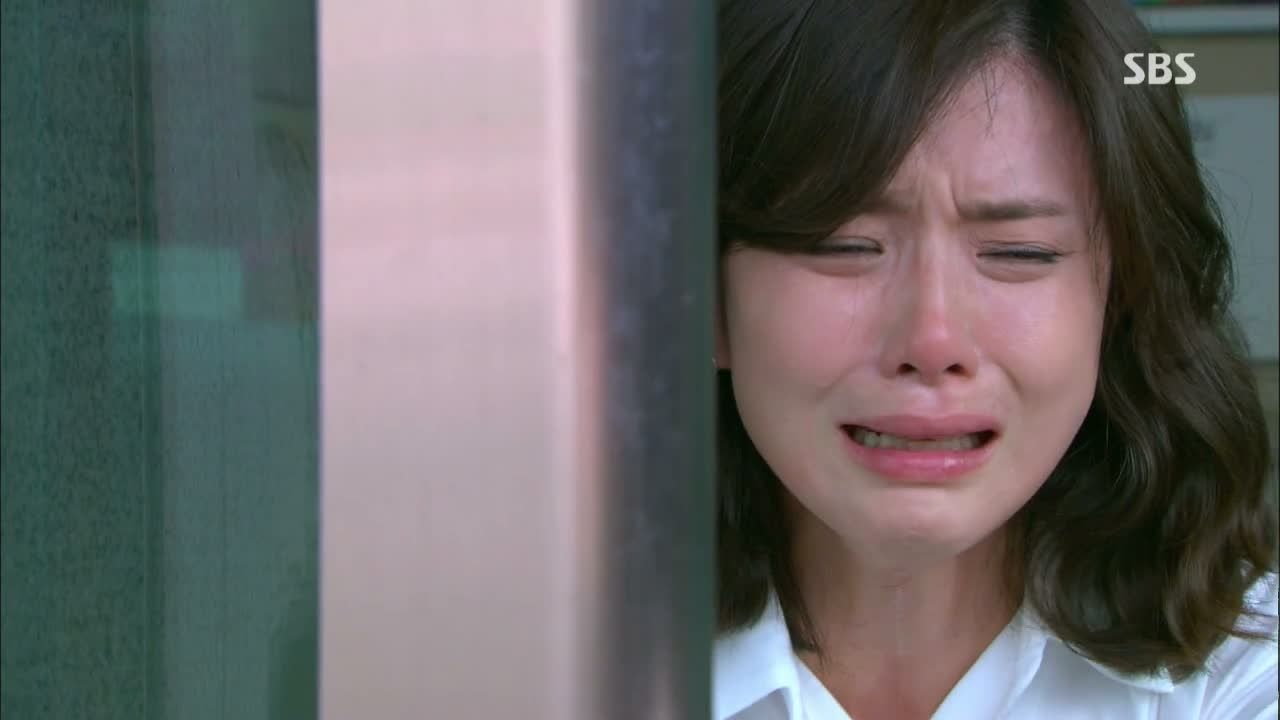 She walks away, leaving him speechless. She takes one step into her revolving door, and that's when she breaks down.
The tears come rushing out and she just crouches there in the middle of the revolving door, crying out to Mom in uncontrollable sobs. Judge Kim sees her there and pauses, feeling terrible about having to acquit for lack of evidence.
Joon-gook gets released, and Su-ha is outside waiting for him. But a group of church people show up to pick Joon-gook up, so he just smiles over at Su-ha and hops in a van before he can confront him.
Lawyer Shin goes to visit his prisoner friend Hwang Dal-joong, who says that Do-yeon asked him to testify again in the appeal. But Lawyer Shin warns him to stay out of it, and tells him now that she's Judge Seo's daughter.
That's the judge that put him away, and knowing what we know about Judge Seo, I'm guessing it wasn't all on the up and up. Dal-joong breaks the crayon in his hand at the mention of that man's name.
At the Seo Family breakfast table, Do-yeon tells her parents about planning for an appeal, and says that she's going to get Hwang Dal-joong to testify again.
Suddenly Dad freezes at the mention of that name, and immediately tells her to let go of this case. Okay, before it was a maybe, but now you're pretty much flashing neon lights at me—that's her biological father, yeah?
Do-yeon doesn't understand Dad's sudden change of heart, especially when he was the one who told her to do all this for Hye-sung.
Kwan-woo gets a delivery, and it's the old case files from Su-ha's father's murder trial. He sighs that they came too late, but stays late to read them anyway. And it's only then that he reads the transcripts of that trial, describing in detail how Hye-sung showed up to testify, and how Min Joon-gook lit up in a rage and attacked her right there, screaming that he'd kill her and never stop until he found her.
It only NOW dawns on him that she might've been right about Min Joon-gook after all (BAH), and he thinks back to Su-ha's request of him last night: he asked Kwan-woo to stick to Hye-sung's side if Min Joon-gook went free.
Kwan-woo said that he doesn't believe Min Joon-gook is the killer they think he is, but Su-ha catches a tiny seed of doubt in his head and says he can't be completely sure. If Min Joon-gook goes free, and if they're right, Hye-sung will be his first target. Back in his office, Kwan-woo grabs his jacket and runs out.
Hye-sung trudges home that night and grabs a bottle of water from the fridge. Suddenly Su-ha is standing right next to her and nagging her to use a cup. Aw, are you imagining him already?
So she goes to reach for a cup and sees him standing behind her to get the cup for her on the top shelf, nagging that someone with such short arms ought to put the cups on the bottom shelf.
She sighs and just drinks out of the bottle anyway and goes to bed, telling herself that this is awesome because he was such a nag anyway. "I feel great. …Jerk. Why at a time like this…"
Suddenly there's a loud crash in her apartment, and she rushes outside. Not even with a bat or anything? She finds her living room covered in smoke. Or gas? She hurriedly grabs her phone to call the police.
Kwan-woo arrives just behind a patrol car, and rushes up when he sees smoke coming from her apartment. The cops come out with a can of bug fogger they found, and say that there was nothing else. But Nice Cop wonders right away if this was Min Joon-gook's doing. Turns out Su-ha went to go see them too, to request that they keep an eye on Hye-sung.
Kwan-woo says they have to search for Min Joon-gook's whereabouts and barks orders at them like a cop, and they fall in line. He suggests that Hye-sung leave her apartment and go to the office for now, and tells her that Su-ha came to see him too, to request that he watch over Hye-sung. She gets a bad feeling…
And then as the cops drive away, we see Su-ha hiding on her street, with cans of bug fogger in his Bag O' Trouble. What, you terrorized her on purpose? If the idea was to get her out of the house, there could've been less frightening ways about it, no?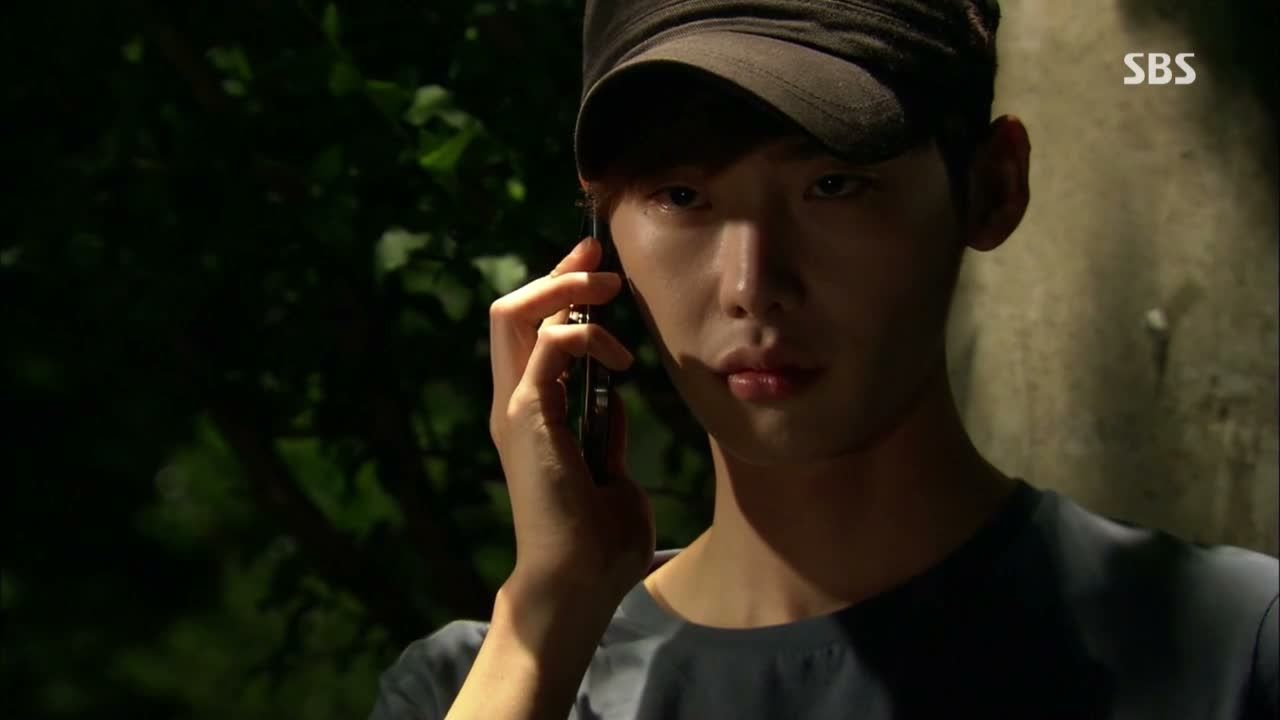 He then calls Min Joon-gook and asks to meet, having already read his mind when they locked eyes earlier today: Su-ha is his first target, not Hye-sung. Min Joon-gook waits for him, holding a giant pipe.
At the office, Hye-sung calls Su-ha over and over, but there's no answer. She starts to panic, wondering what he's thinking, and then Sung-bin calls. They each ask the other if they've seen Su-ha, and Sung-bin tells her about this morning—when she felt a knife in his bag.
Hye-sung immediately tells her not to say a word to anyone and runs out. Kwan-woo chases after her, wondering how she's going to find him. He takes out his phone to call the police, but she stops him and says they can't involve the cops. He wonders what's going on that she won't let him call the police.
It's then that she remembers Su-ha set their phones to track each other, and she finds his location. Hurry!
Su-ha arrives at an underground garage. He drops his bag and takes out his knife all while marching ahead towards the killer like a badass freight train, and right now he's terrifying me more than Min Joon-gook is.
He sees the broken cameras on the ground and calls out to Joon-gook, who notes that the kid is pretty brave to come all alone. He asks where the girl is, and Su-ha says he can't go near her because she's with the police right now.
Joon-gook wonders if he isn't afraid to die, and Su-ha says it's all the same—either he wins and Min Joon-gook dies, or he dies and Joon-gook goes down for murder. Joon-gook laughs that it's all the same to him too—either Su-ha dies and Hye-sung is heartbroken, or Su-ha becomes a murderer and Hye-sung is still heartbroken.
YES, see how the murderer wins either way, Su-ha? I can't believe I'm saying this, but listen to the killer!
He yells at Joon-gook to come out and show his face, and Joon-gook says he thought it over, and decided that Su-ha has too much of an advantage in a fight, with his superpower and all.
He's curiously been closing his eyes the entire time they've been shouting at each other, and then we find out why: Joon-gook shuts off the power and the whole place goes dark. Now Su-ha can't see his eyes to read his thoughts, and on top of it all, Joon-gook has been sitting with his eyes closed the whole time, so he's already accustomed to the darkness. Crap.
Su-ha raises his knife, but it's only too easy for Joon-gook to sneak up behind him and knock him down with blow after blow using the giant pipe. Augh, he's getting beaten to a pulp. I can't watch.
Hye-sung and Kwan-woo follow the phone tracker to the building and split up to look for Su-ha. Kwan-woo worries that it's too dangerous for her to go alone, but she screams that finding Su-ha is more important, and runs off.
Su-ha struggles to fight back in the dark, and then finally finds an opening when he manages to kick Joon-gook off his feet. He runs toward the electrical switch, and flips the lights back on. Phew.
The tables turn the other way, and Su-ha beats Min Joon-gook bare-fisted with ease now that he can read his thoughts. When Joon-gook is bloodied and barely standing, Su-ha reaches for the knife. Aaaaaack.
Joon-gook asks if he's really going to stab him, when it'll make him a murderer. Su-ha: "It doesn't matter. You have to die so she can live." Joon-gook laughs, "This is fun." He screams at Su-ha to come at him and live his life in exactly the same way he did, asking to die just to push him over the edge.
Su-ha grips the knife tightly and approaches…
Just then, Hye-sung arrives and sees what's happening. And with only a second to spare, she dives in between them, just as Su-ha reaches out to stab Min Joon-gook. Ohmygod. He stabs her right in the gut.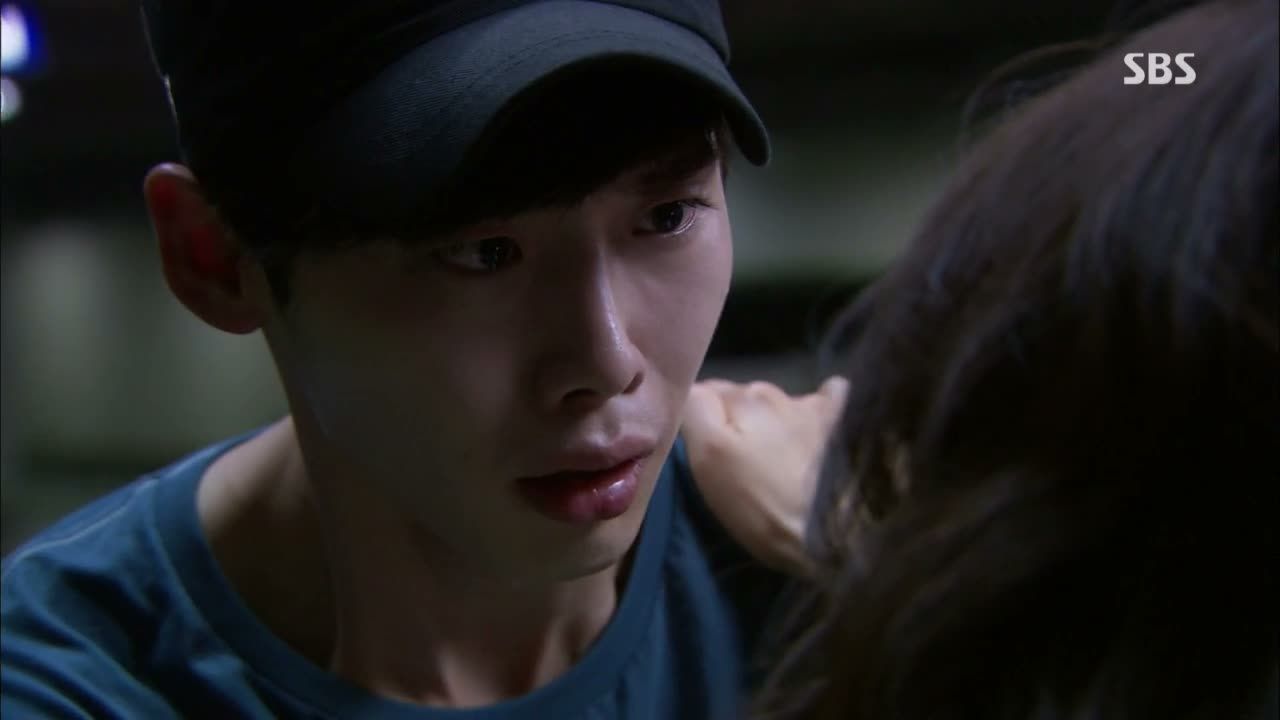 Blood drips down, and Min Joon-gook looks up in shock. And Su-ha… Su-ha lets out this noise that breaks my heart, like he's suddenly back to being a tiny child. He shakes as he holds her, just letting out whimpering noises, not knowing what to do.
She looks up at him: "Hey dummy, didn't I tell you? If you kill that man, you stop being a victim and become a murderer. You don't ever listen to me." I love the tone in her voice, like they're arguing over morning coffee, not a gaping stab wound.
She collapses in his arms and he asks with tears streaming down his face why—why did she do this?
But Min Joon-gook sees his chance, and picks up Su-ha's knife. He comes at Hye-sung, but Su-ha sees him in time and blocks her, taking the knife in the back. AAAAAUGH.
Joon-gook raises the knife to strike again, but Su-ha kicks him down and fights back. He gets the upper hand and starts to strangle Joon-gook, with that terrifying rage bubbling back up to the surface: "DIE!"
It's only when Hye-sung cries out to him to stop that he comes to his senses and lets go. He stumbles back to her. But… what about the knife?
Joon-gook picks it back up to finish the job, when Kwan-woo's voice rings out, looking for Hye-sung. Joon-gook decides to flee before anyone else comes. Thank goodness for that. My heart can't take much more of this.
Su-ha cradles Hye-sung in his arms, and with her last few seconds of consciousness, she thinks at him not to say a word to anyone—Min Joon-gook stabbed her, and if he ever says differently, she'll never see him again.
Her eyes close, and he cries for her to wake up.
Kwan-woo is still running through the building when he spots Min Joon-gook fleeing the scene. They lock eyes, and Kwan-woo stops cold to see his true face—covered in blood and smirking back at him. On the one hand, I'm glad you finally know; on the other, now we've just added you to the killer's hit list.
He finally finds them, and Su-ha pleads for help. Ambulances arrive and she gets rushed into surgery, and Kwan-woo breaks down in tears outside the emergency room.
Su-ha finds him there after getting his shoulder bandaged up, and the two boys stand outside the door, just crying and waiting.
Once the surgery is successful, Su-ha stands at her bedside while she sleeps, holding her hand tightly. She leans down to whisper something in her ear, which we don't hear. Arrrrgh, it's not goodbye again, is it? Say it ain't so.
And then when she opens her eyes, we're back to the scene that opened the episode. She demands to know where Su-ha is, and Kwan-woo holds her back, pleading with her to stay in bed.
In voiceover she says: "From that day on, Su-ha disappeared." Aw, no.
She narrates as we watch the days following, as she calls Su-ha's uncle who's in another country and obviously couldn't care less about finding him. We do find out where Su-ha's money came from—Uncle took the bulk of Dad's life insurance and doled out allowances to Su-ha.
"He didn't have family that acted like family, and he hardly had friends that acted like friends." In school, we see that the only person who cares about his empty seat is Sung-bin.
Min Joon-gook's picture gets plastered on a wanted notice for attempted murder, and Kwan-woo quits the public defender's office. Lawyer Shin doesn't think this is the way to fix things, but Kwan-woo says it was his fault that Joon-gook went free and hurt Hye-sung, and he can't live with that.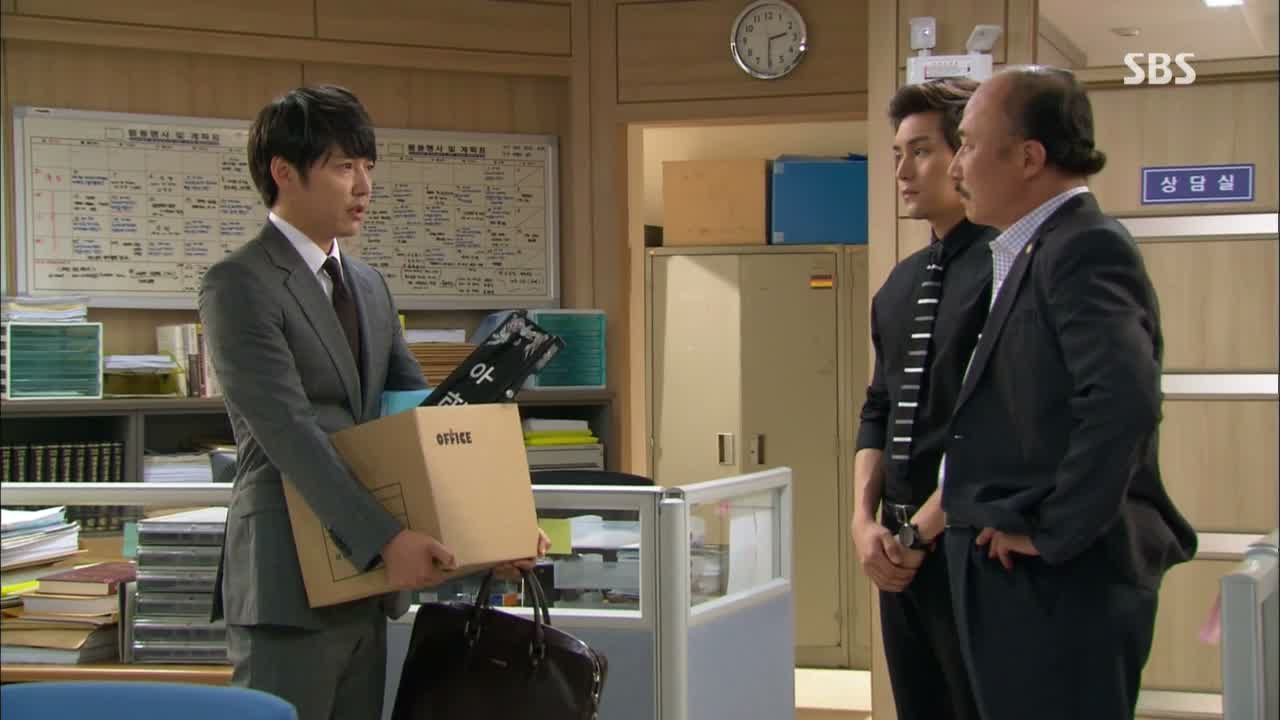 Patrol cars swing by Hye-sung's house nightly and she gets new doors installed, and then one day, news breaks: a severed hand is discovered, and it's been identified as belonging to Min Joon-gook.
The assumption is that he's been murdered, and the search is on for the rest of his body. Among the evidence found is Su-ha's knife with his fingerprints, and Joon-gook's cell phone, with multiple calls from Su-ha. Balls.
Hye-sung gasps in front of the tv and then rushes down to the police station. She introduces herself as a public defender and immediately starts arguing with the detective about assuming that Su-ha is a killer.
He shows her all the evidence found at the scene, and urges her to convince him to turn himself in if he contacts her. She walks out murmuring to herself, "It's not a dream. It definitely wasn't a dream."
Flashback to what Su-ha whispered to her that day in the hospital: "I won't ever do what you're worried about. I'll keep my promise, so trust me." She tells herself with a smile that Su-ha will keep his promise no matter what.
The detectives show up at school to search Su-ha's locker, and Choong-ki points it out to them before walking out with a bag slung over his shoulder. Sung-bin tries to intercept the search, but they find it empty anyway, to her relief.
She tackles Choong-ki in the hallway for ratting out a classmate like that, but then we see the contents spill out of Choong-ki's bag and it's all of Su-ha's stuff, like his headphones and his journal. Aw, Choong-ki.
Sung-bin comes by to do Hye-sung's nails like always, and Hye-sung asks if she doesn't miss Su-ha, knowing that Sung-bin likes him. She admits that she half wishes Su-ha would come back but half hopes he stays in hiding forever. Hye-sung says that there's no way Su-ha is a killer, and Sung-bin smiles at the reassurance, saying that Hye-sung is smarter than her, so she knows best.
It's then that she gives Hye-sung the Good Job Bear, saying that Su-ha meant to give it to her but didn't get a chance to. Hye-sung has her doubts that it was meant for her, but Sung-bin says it's definitely hers.
She heads home that night and plops down on her bag in exhaustion, and Su-ha's voice comes out of nowhere. She takes the bear out and realizes it's talking at her, and squeezes the belly to hear Su-ha say, "Good job, jjang-byun."
She wonders what it means, and then remembers asking him to tell her that she did a good job when she was feeling down. She squeezes the bear over and over again, muttering, "Jerk. Banmal till the end."
A year passes that way.
Hye-sung returns to her old self, plus one scar on her stomach, and her apartment is back to its former trash trough glory. At the bus stop, a group of high school boys makes her pause and she thinks about Su-ha.
Kwan-woo is back to his dorky hair and glasses (hee) and has been working at his parents' jjimjilbang, running the snack counter and giving random grandpas legal advice.
Pretty the Paralegal comes for a visit and says that it's been a year since Lawyer Shin and Hye-sung have spoken a word to each other while working in the same office, and says she's returned to her old self.
Kwan-woo think he means she's gotten younger-looking, ha, but he meant her other former self. We see her in court, and she's back to her canned recitations, tone dull and lifeless.
"The defendant's wife…" Judge Kim: "Your defendant is a woman!" Without skipping a beat: "The defendant's husband…" LOL. Lawyer Shin overhears the judges wondering if she's not just acting out because of Min Joon-gook's case a year ago.
Do-yeon holds the elevator for her and asks her out to lunch sometime, thanking her for handing her a year's worth of wins in court. Hye-sung asks if she likes winning like that, and Do-yeon says in all seriousness that it's no fun, so she should get it together and fight for real. Dude, if Seo Do-yeon is telling you to get your shit together, you know there's something wrong here.
On the bus ride home, she types a text message to Mom about her crappy day and her run-in with Do-yeon, wondering if she really should keep doing this job. And then we see that she's been doing this every day for a year—sending Mom texts about the drama that she was watching and how it ended, wondering what she should eat today, whining that she got a cold. Great, now I'm crying.
Suddenly she sees a guy walking down the street wearing headphones, and yells at the bus driver to stop. She runs after him, but it's not Su-ha of course, and she pitches a fit at him for wearing headphones like that's a crime.
She goes home and bandages up the cut on her heel from chasing the guy down, and takes out her frustrations on Good Job Bear.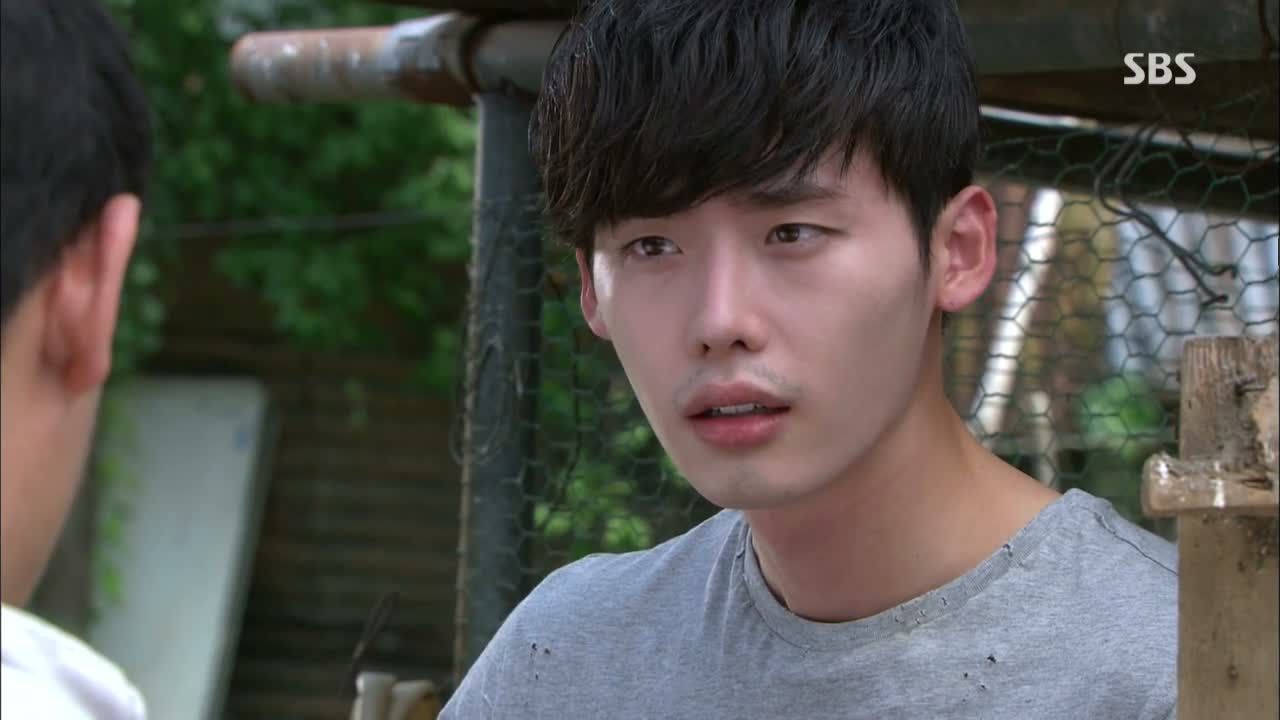 The detectives make their way to the countryside on a tip, where they ask a grandpa if Park Su-ha lives here. He says no, but then whey they show him a picture, he freezes in shock. He takes them to the chicken coop, and there's Su-ha. And he's going by a different name.
Hye-sung gets a call from the detective that they found Su-ha, and she comes running to the station. He tells her that Su-ha is either really smart or really stupid, but doesn't explain why. She goes tearing inside to find him for herself.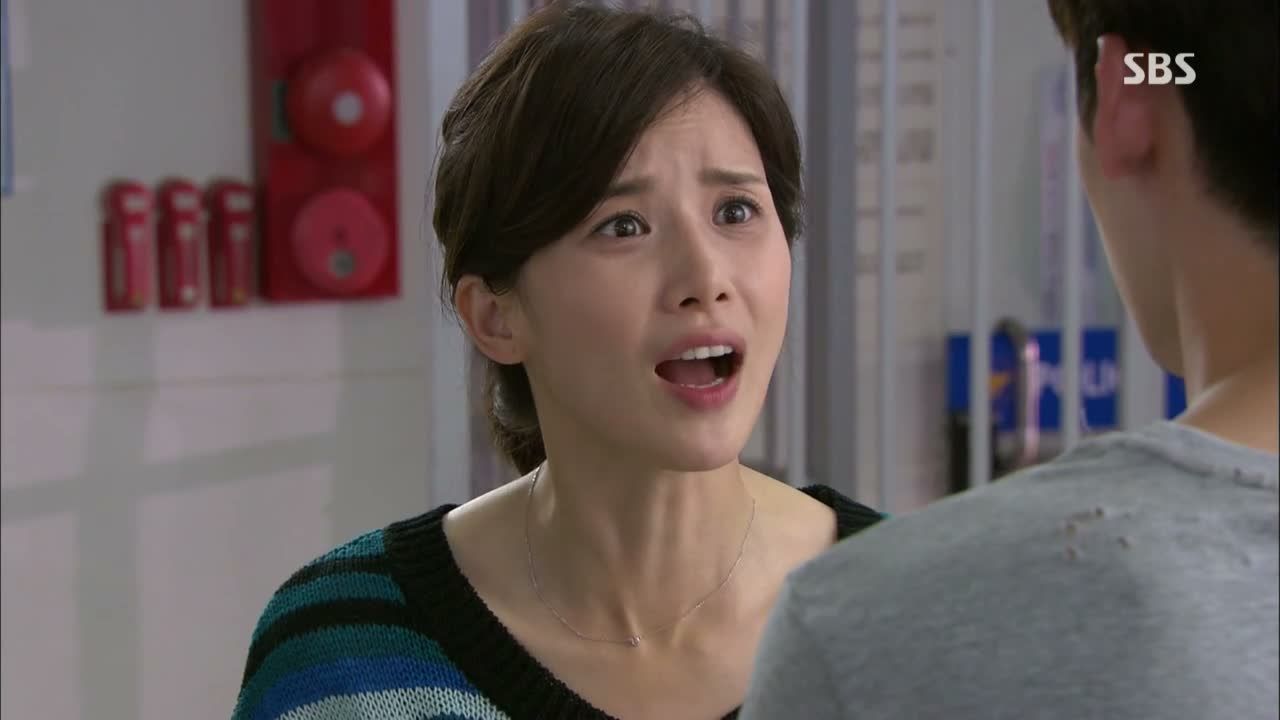 He's being interrogated in handcuffs, and she calls his name, trembling. He turns to face her, and she erupts in a wave of questions—where has he been, why hasn't he answered her calls, is he hurt, is he okay?
He stares at her for a while, and then asks in jondae, "Is Park Su-ha my name?" WHAT.
He says that's what everyone here is calling him. "Do you know me?"
Oh. My. God.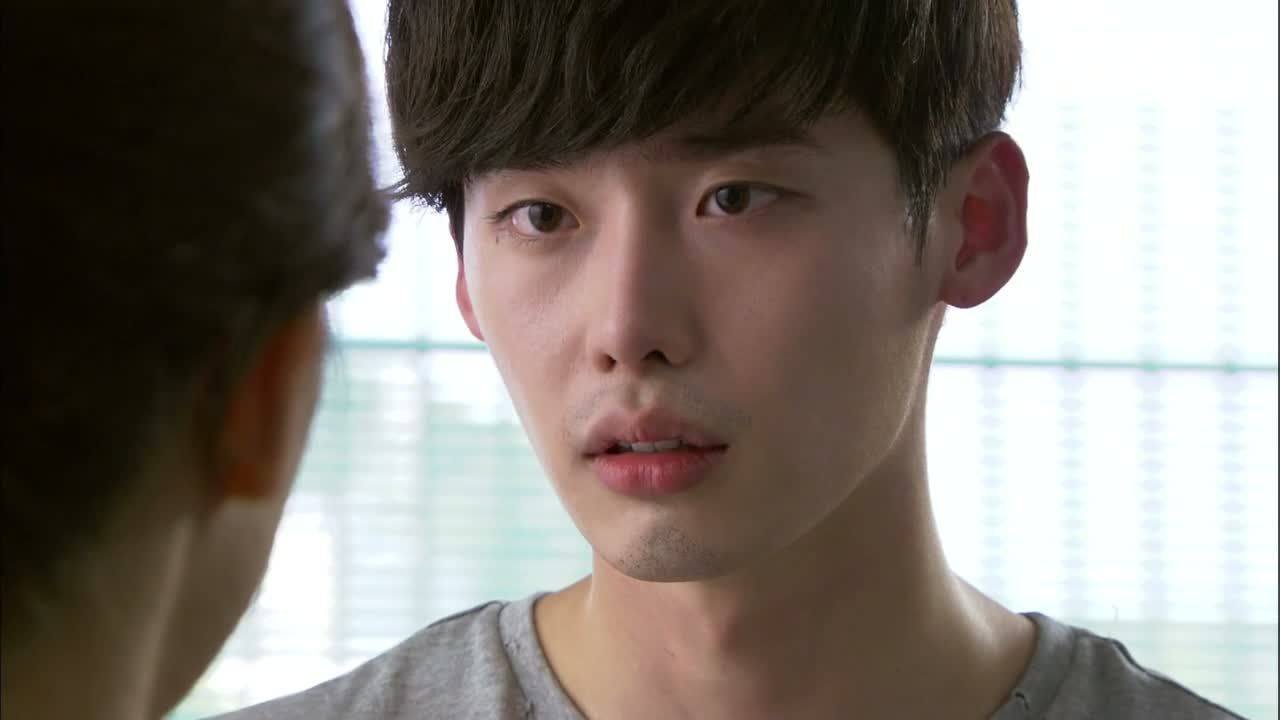 COMMENTS
Amnesia?! Of all the ever-loving… WHY?!
Okay, calming down now. It's not the end of the world, given that there's a murder investigation and this definitely throws a gigantic wrench in the works. It's just, I was waiting and waiting for the big reunion, and he doesn't even remember her! ARG. Why. I hate amnesia! It's not that I think this show will use the trope lazily, but I hate that device to begin with, and now I have to watch episodes where Su-ha isn't Su-ha? Nooooo. Just noooooo.
I'll give you this though—I was totally surprised. We knew a time jump was going to come, and I did expect it around the halfway mark, given the build-up to the goodbye and the big showdown. I just didn't expect the reunion to come with a side of What's My Name. I do think that of all the gajillion uses of amnesia, this is a pretty good one, not that I'm going to stop crying about the fact that he CAME BACK WRONG. *grumble grumble*
Crying aside, plotwise this does open up the possibility for a whole host of interesting questions: Did Su-ha lose his mind-reading ability? Is the amnesia connected to that loss? And what, if anything, does it have to do with Min Joon-gook presumed dead, and the events leading up to the disappearance? He clearly contacted Joon-gook even after Hye-sung's stabbing, so what happened in those days after he left the hospital and before he lost his memory?
Thank ye drama gods that Hye-sung stopped Su-ha in time before he could kill Joon-gook—I love that she saves him time and again, and that even though he's the gallant knight, she's actually the one who always comes to his rescue. And because we saw that play out, and saw his horrified reaction to Hye-sung taking a knife in the gut just to save him from becoming a killer, I trust his promise too. As much as I believe he was going to kill Min Joon-gook the first time, I trust that he didn't the second time. Right? (Besides which, I'll be a skeptic about the dead part until the next severed thing that shows up is his head.)
The drama's premise was destined to get us to this place—where Hye-sung is defending Su-ha in court. I'm just sighing in relief that it's not after he actually kills Min Joon-gook (onscreen, and not just presumably), because there's just no coming back from that. But this—a murky case where they're the underdogs fighting against a brilliant sociopath and going by faith in each other alone—that's great stuff. And the hope is, of course, that their faith in the system is restored through this fight.
My favorite thing is that she spent a year running around chasing after all the Su-ha look-alikes in the world, just like he did for ten years with her. All of the touches like imagining him there, thinking about him at the bus stop, sleeping with Good Job Bear by her pillow every night—so little says so much. It's a case where a year's separation has evened out their playing field, not just in age (because he's now officially a card-carrying adult) but in heart, because now she knows a little of what it's like to think about him day and night and long for what she can't have. It's not the same, but they're no longer playing in different leagues. It lets me dare to hope for a future… just yunno, after we clear him for murder, get his memory back, and catch a killer. All in a day's work, right? *goes back to biting nails*

RELATED POSTS
Tags: featured, I Hear Your Voice, Lee Bo-young, Lee Jong-seok, Yoon Sang-hyun