Lee Jong-hyuk drops by Master's Sun to play So Ji-sub's rival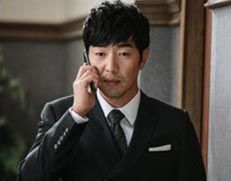 javabeans: We've had quite a number of cameo appearances already in Master's Sun, and for the most part they've been fine. Well-used, mostly, though I wouldn't say they were anything to get excited about. Just familiar faces to have fun recognizing as day players, like Seo Hyo-rim (Scent of a Woman) as the fiancée-for-a-day, or Infinite's L in the recurring flashbacks to So Ji-sub's youth.
girlfriday: I think the only really funny one so far was the cameo from City Hunter's Bad Daddy Kim Sang-joong, playing a thinly veiled version of himself.
javabeans: The Seo Hyo-rim one was funny in a meta sense, in that the scene was a parody of Empire of Gold, where she propositions So Ji-sub with a marriage to escape her own family. But mostly they've been played for emotion, like with Jung Chan (Yellow Boots) as the bereaved (lazy) pianist or Shut Up's bassist Casanova Yoo Min-kyu as a rich brat ghost. And Jin Yi-han (Dr. Jin) as the soccer player, who was great as always.
girlfriday: But it turns out the best cameo is still to come, because Lee Jong-hyuk (Dating Agency Cyrano) is swinging by for a guest appearance. Yay!
javabeans: At first I figured, hey cool. And then I read the description and burst into a giggle fit: He's playing the president of Giant Mall! Bwahaha. You know, that rival shopping center that's building bigger and ostensibly better buildings than Kingdom, whose property So Ji-sub jealously regards every day through his gold telescope.
girlfriday: I freaking love that gold telescope. I totally thought we'd never meet Giant Mall's CEO, because it seemed like a funnier running gag that way, or that he'd be appropriately tiny, yunno, because the giantness of Giant Mall would be compensating for something.
javabeans: Absent that admittedly awesome image, I love that the rival actually IS totally a rival. Who better to play an ego as big as Joong-won's? Will they both fit into the same room? And whose turf do they meet on — Your place or mine?
girlfriday: It's going to be so petty, and so so great.
javabeans: It's icing on the cake to have the Kingdom chairman-president relationship mirrored over at Giant, with Lee Jong-hyuk as the prez and his father the chairman played by veteran actor Lee Jae-yong (Chun Bong in Mandate of Heaven, the shrewd eunuch of Jeon Woo-chi, and a bunch of other dramas like Tree with Deep Roots and Sungkyunkwan Scandal). Charisma overload.
girlfriday: And apparently our hero will have more to be jealous of than just the size (ahem) of the other guy's building, because Gong-shil finds him dashing and charming, because uh, who wouldn't?
javabeans: Muahahahaha. Joong-won's jealousy was hilarious even when he was actively denying his feelings. Now that it's all out in the open, this oughtta be fun.
girlfriday: That telescope's gonna be working overtime this week.
Via Sports Chosun
RELATED POSTS