Our princess' future with her eternally loving bodyguard is at stake, but you'd hardly know it by the way everyone moseys around this hour. A literal war happens off-screen in the time it takes for Mu-young to not make a decision, which gives the Slim Bad of the show all the time he needs to cook up one of the most harebrained schemes seen this side of dramaland. Now I don't know if we should be ready for wedding bells or a funeral march. Knowing Nam-saeng, it could be both.
Ratings for this episode actually dipped from last week, with 5.0% being a number all too familiar for this show. Can't say I blame the viewing public, though I do wish things had turned out differently. Ah well. See y'all on the other side (of the finale)!

EPISODE 19 RECAP
As Choong faces Mu-young with the whip, her old roomie remarks to Bear Teacher that Choong has to do it—if Nam-saeng gets a turn, she'll be maimed and/or killed.
Choong gives Mu-young her charges and asks that she beg for mercy from the king and his father, but of course she refuses as she insists that she's not the traitor among them.
Nam-saeng thinks it's taking too long and goes to get his own whip, leaving Choong with no other choice but to start whipping her in order to save her from his brother. Better the devil you know.
The necklace of his mother's portrait is broken in the process, coming to rest near General Yeon's feet as he recognizes the face. Perhaps that's why he grants Mu-young mercy when he orders Choong to stop torturing her, all while Nam-saeng whines that she's not being tortured enough.
General Yeon slowly shuffles away from the platform weak from his wound and seemingly deaf to Nam-saeng's high-pitched demands that her fate be decided yesterday, until he finally (and almost reluctantly) orders that Mu-young be publicly beheaded in three days.
Later, Bear Teacher tells General Yeon that enough is enough—he should be able to trust Choong now. Yeon asks him to speak honestly as his friend, prompting Bear Teacher to ask honestly: "Aren't you regretting something?" We see the image of Mu-young's broken necklace flash through Yeon's mind.
"I hope you won't allow Choong to make the same mistake," Bear Teacher advises.
Choong is wallowing in his own helplessness when Bear Teacher finds him, remarking how he wanted to become powerful so that he wouldn't lose anyone precious to him again.
Yet he wasn't able to protect the two people most precious to him today—Mu-young and his mother. He sighs, "What am I doing here?"
Jang gets to wallow in his own self-pity later that night as he laughs at the joke that is Bojang, the great puppet king of Goguryeo.
…While Mu-young cries in her prison cell as she thinks of all those who've died, including Choong's mother, while Choong takes out his frustration through swordsmanship.
Nam-saeng arrives in time to do some wheedling, but Choong tells him to drop their official titles as he drops his sword: "Now, I will face you as my brother."
This gets a giggle out of Nam-saeng, since he never once considered someone from such low birth as his brother. "Low birth?" Choong asks, all but shaking. "Is what why you were able to kill my mother so easily?"
Nam-saeng smiles all, Well I didn't mean to, but y'know, she just died so easily. Which isn't the best thing to say to your bigger and stronger brother, especially when Choong clocks him for the remark.
But Nam-saeng doesn't stop there, and even says how much he wanted to kill Choong's precious princess… which I guess means Nam-saeng has a death wish? Either way, Choong starts punching him and doesn't stop. And I honestly wouldn't mind if he didn't.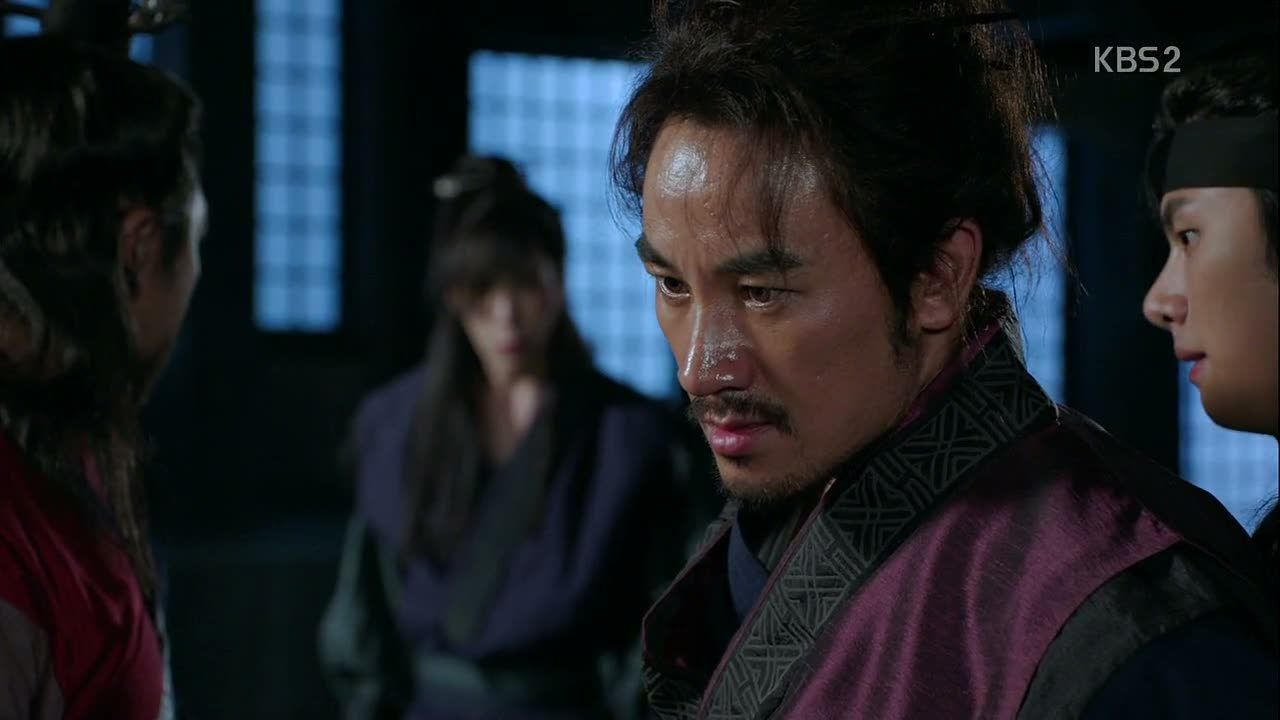 Alas, Bear Teacher arrives to break up the fight. Nam-saeng laughs through a bloody mouth and taunts Choong that if that's the best he had for the man who murdered his mother, then he really doesn't amount to anything. Nam-saeng, please… just shut up.
Choong tries telling his father he wants to resign from his post, but is swiftly denied.
When he takes flowers to his mother's portrait later, he thinks to himself (about his father), "Now I understand the reason you sent Mother away. You sent her away to protect her. I finally understand."
Mu-young has nightmares of her father and brother burning on the pyre, and wakes to find the man responsible standing outside of her cell. General Yeon tells her that he never once considered her father his enemy, it's only because the two of them were destined to kill each other.
She scoffs at his attempt to justify his actions, causing him to tell her the inevitable: "You will be executed." But after a pause he asks, "If I release you, can you promise to leave this place and never return?" Doth my ears deceive me, or did he just offer mercy?
When she says no, he tells her that he'd heard of how she wept when Choong was being hanged and how he doesn't want to bring that sadness upon his son. Wow. I like this believable change in him.
Gloomhwadan wonders what to do about Mu-young's impending execution, which is when Extra #27 offers his help—the agency still trusts him as a spy, so he can find out vital details to help them. Mu-young saved his life when Chi-woon wanted to kill him, so he's compelled to return the favor.
Leader So doesn't trust him after everything, and ignores Shi-woo's dissent. It's sad that Extra #27 gets more lines than Shi-woo.
Choong visits Mu-young after he's buried his mother, and admits with tired eyes that he now understands the pain she felt when she lost her father. He asks for her forgiveness.
"All this is because of me," Mu-young says. "How could you ask me to forgive you? If I wasn't there, your mother would still be alive."
Choong kneels at the sight of her hand on the bars, and it's purposefully reminiscent of the time when Mu-young visited Choong in prison when he was about to die. He holds her hand like she held his, his own eyes filled with tears.
He reaches through the bars to cup her cheek: "I'm the one who's sorry. Please… let me protect you. I will find a way to release you."
She knows he'll put himself in danger for her and asks why, and through tears he asks, "Do you really not know why I'm doing this?" I'm beginning to wonder too.
He promises to get her released, but that she can't ever come back if he does. She shakes her head—she can't do that.
"I'm begging you," Choong says, with eyes that break my heart. "I'm begging you. You have to live. Please allow me to protect you. You're all I have left."
Choong asks Extra #27 to help him help the princess, so he takes Choong to the Tombhwadan hideout so that he can ask for their help in his plan to save Mu-young.
There's a somber celebration that night for the intelligence agents, with Nam-saeng's mood ranging from dour to giggly when he mentions how Choong whipped the princess. Bear Teacher seeks to lighten the mood and calls in gisaengs to entertain the men.
The last gisaeng to enter is Dal-ki. Her and Bear Teacher share a coded nod… Oooh, is Bear Teacher in on Choong's plan? He's helping him? That'd be awesome.
When all the men are passed out and every girl is on Bear Teacher's lap, Dal-ki innocently asks if she could see the princess just once since they've heard rumors about her beauty.
Bear Teacher obliges, acting like he's just trying to win favor with the gisaengs by taking them to the prison. While the men are occupied by pretty women, Bear Teacher locks eyes with Mu-young.
We then see him leaving the prison with the girls, only they've got a new gisaeng accompanying them with half her face covered—it's Mu-young. Ha. I can't even. This show fell from the stupid tree and hit every branch on the way down.
And that's the story of how Mu-young escaped from prison. Choong meets her outside, and the two take a silent walk before Mu-young collapses in tears.
Choong holds her shoulders and pulls her to her feet to tell her that Geumhwadan is waiting to take her far away.
She finally breaks down. "Why did you save me? What do you want me to do? If I give up, what will happen then?"
He says he's returning to the agency in order to protect her. She asks again what would happen if she gave up her revenge.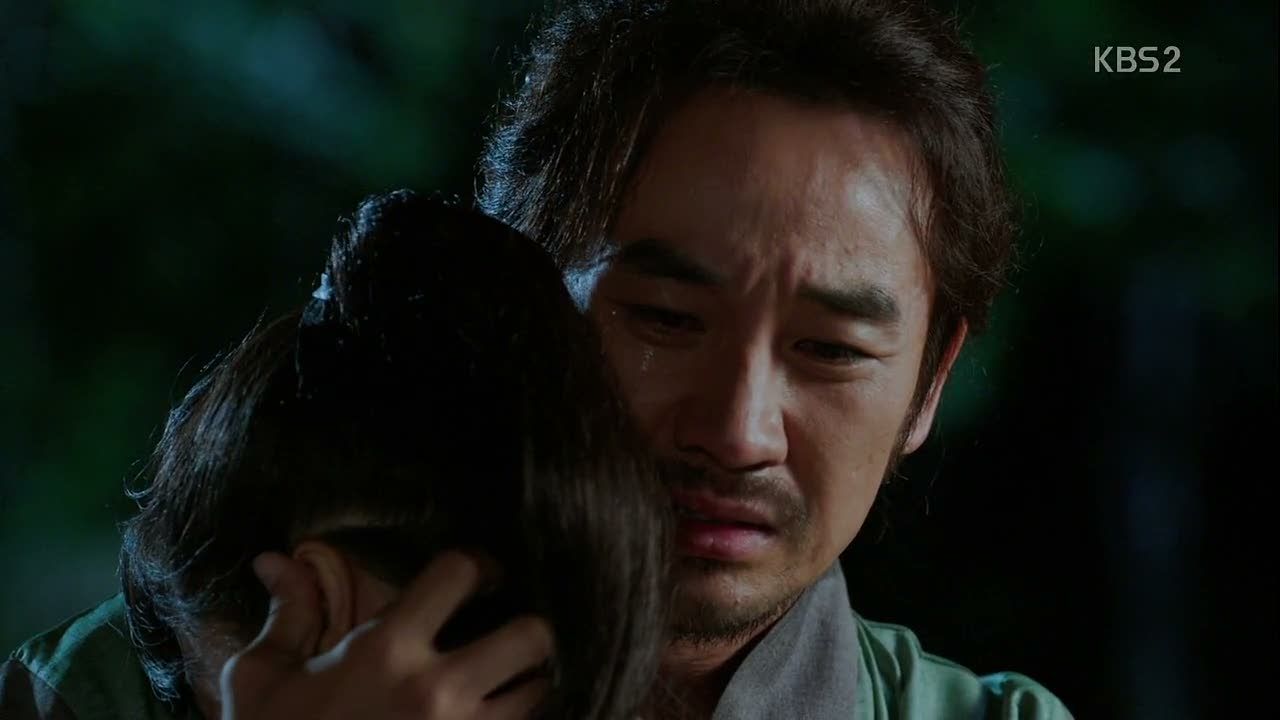 Choong: "Then I won't go back. I will stay with you. As long as you can stop, I can stop everything as well. Can you do that?" Tears fall as he cups her face in his hand, the heavy weight of the decision she must make hanging between them.
He brushes away her tears with his thumbs before he pulls her in for an embrace so she can cry into his shoulder. The prison break was almost worth it just for this.
They sit together later, and Mu-young cutely rests her head on his shoulder, like she's finally laying down a great burden. Choong carries her to a nearby shed so she can lie down, and in her sleep, she smiles.
Their memories together flash through Choong's mind as he watches her sleep.
In the morning, Mu-young wakes up smiling, but alone. Choong didn't go back, did he? He didn't even hear her answer!
But it's Shi-woo who's waiting for her outside, not Choong. He's too busy returning to the agency as numbly as Mu-young returns to Geumhwadan. Whyyyy?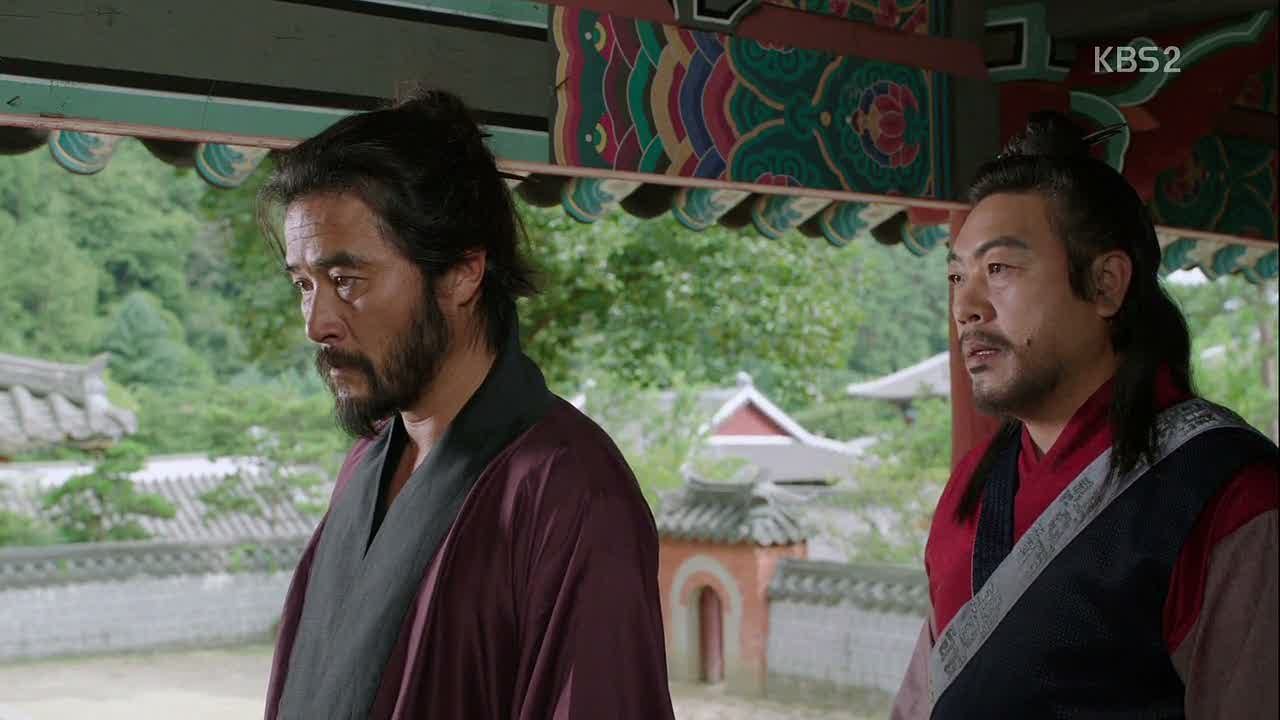 Bear Teacher is the one to inform General Yeon that Mu-young broke out of prison the night before. But the nod they share is almost… could Yeon have been okay with this plan?
Nam-saeng is the only one outraged that Mu-young broke out, but everyone else pretty much ignores him. They've got bigger problems, like an impending war with Tang.
A council meeting is called to discuss the war now that Tang has already invaded. They're not that worried since the great General Yeon will lead the troops into battle, even though no one seems to notice Yeon's pervasive cough.
General Yeon set Choong to the task of organizing the troops, but Nam-saeng cuts in in a fit of jealousy to ask that he be allowed to assist his father. Yeon shuts him down quickly by telling him to stay home and take care of the agency, citing that his son has no war experience and is therefore unfit to go.
Nam-saeng complains to Mo-seol about how his father humiliated him, but she mostly shrugs it off—it's no secret that General Yeon favors Choong. They both trade barbs, with Nam-saeng bringing up how Choong dumped her and her telling him that he'll never be reinstated as chief of the agency over his brother.
She goes on to say that she respects General Yeon because of his level-headed decision-making and that he's doing the same thing when it comes to choosing his Choong as his successor.
This makes Nam-saeng angry enough to all but throw the table, but Mo-seol isn't fazed as she all but spells out to him that he's not good enough to be General Yeon's successor. "Be humble and learn. That's my sincere advice to you as a childhood friend."
He stops her only to say that while he once dreamed of taking his father's position as Dae Mangniji, now he's set his sights higher. "I want to become something else. Something higher." This crazy kid wants to be king? Ha.
We next see him drinking with the king as he offers his services to protect him for the rest of his life. The condition is that Jang give him a secret document appointing him as Dae Mangniji when his father steps down.
Jang guesses that this means Nam-saeng plans on betraying his father, and that's exactly what Nam-saeng has planned.
Mu-young prays to her father and brother's ancestral tablets before she leaves flowers at Choong's mother's grave.
Choong and his father walk through the gates in battle armor, making me thing they're ready to leave for war. But Bear Teacher is there to congratulate them for their grand victory over Tang… so they already went to war and came back. Alrighty then.
The council talks about a war we barely heard about before it was won, but things seem suspicious now that Nam-saeng's been in control during his family's absence. Are they even going to tell us how long they were gone? No?
Choong notes the change, so his father asks him to look into it. He tells him that he's got something to do first and General Yeon nods without asking any questions. Methinks he knows where Choong is going.
Choong heads to the temple and sees the flowers Mu-young left for her family as well as his mother, remembering the one meal they shared fondly.
We find Mu-young in the market with Dal-ki, unaware that she's being followed by one of the intelligence agents who sees where she lives and leaves a letter.
It's from Choong, who writes that he'll quit his job as chief and leave his father in order to be with her. However, she's suspicious of the letter since it doesn't seem like something Choong would write.
Dal-ki disagrees, since Choong even included his mother's necklace portrait in the letter. Mu-young decides not to tell anyone else her suspicions.
So she waits for Choong later that night as she grips the necklace, but a shadowy figure is waiting to abduct her instead. The necklace falls to the ground where she stood.
Dal-ki and Choong grow concerned when she asks him if he sent the letter, only for him to reply that he didn't. Now that they know something is amiss, they go looking for Mu-young.
Meanwhile, Mu-young wakes up in a shed with her hands and feet bound.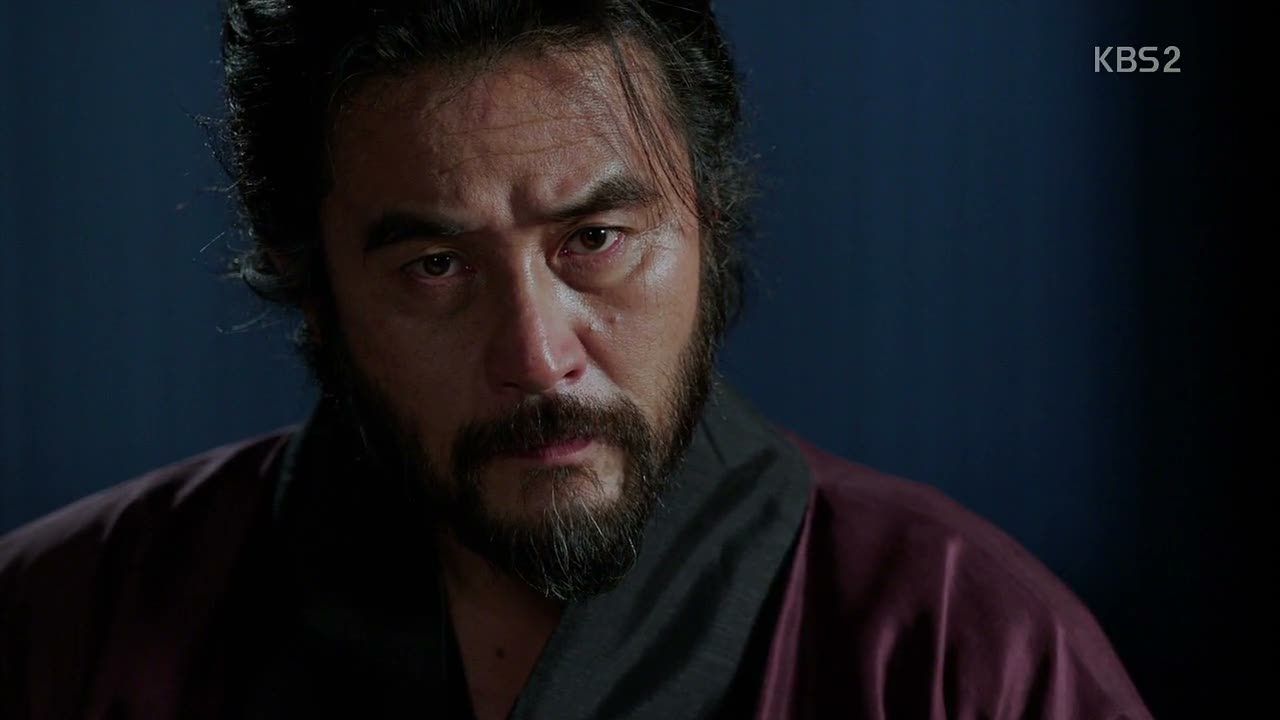 General Yeon still has that cough (he made it through a war like that?) as he meets with Jang, who tells him a story of how he got bitten by a snake when he was young and almost died.
Then he asks Yeon if he's ever heard of the kind of snake that eats their mother, adding, "How much do you trust your son?"
He's asking because it's Nam-saeng who's behind Mu-young's kidnapping as we see him kneel down to meet her at eye-level like a kid who's just opened his christmas present.
He notes how Mu-young was so ready to run away with Choong with his fake letter, and teases her that her vengeance must mean nothing to her now. "Are you still trying to kill the Dae Mangniji?" he asks. "If so, you're not my enemy."
Nam-saeng adds that he's different from his brother in that he'd like to grant her wish in giving her a golden opportunity to kill General Yeon. Will she take it?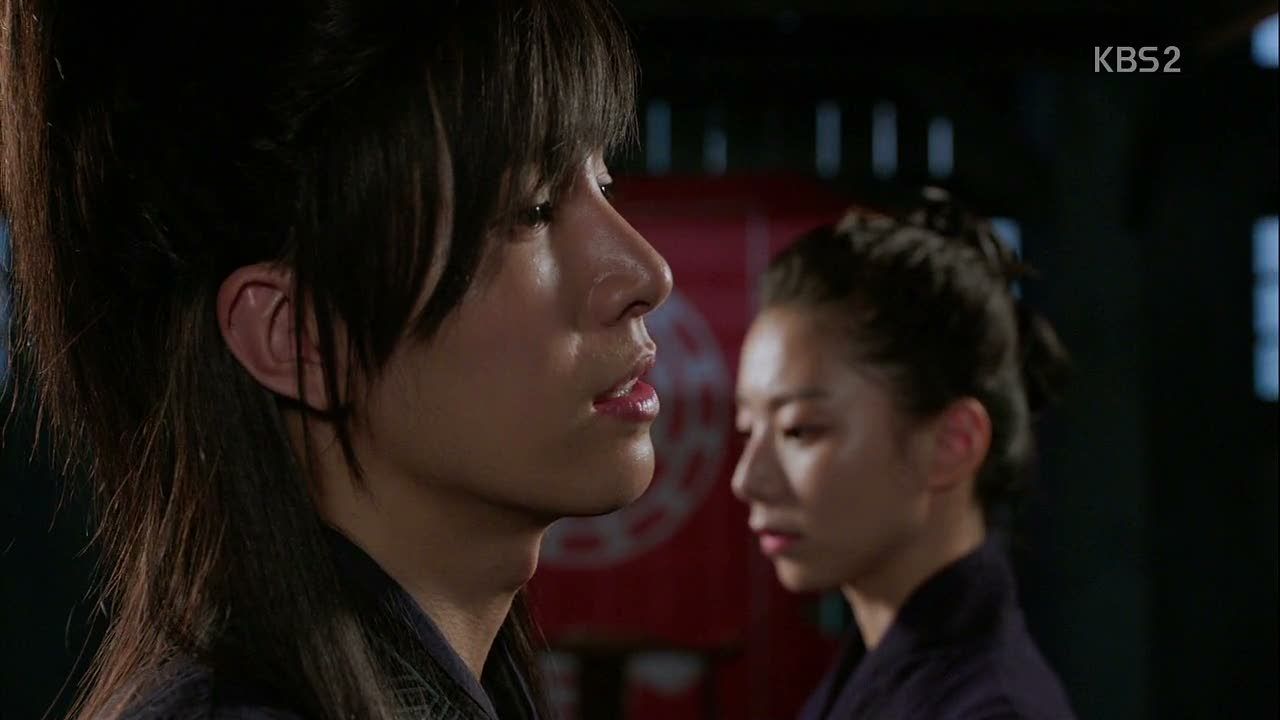 Mo-seol's jaw drops when Nam-saeng tells her that he abducted the princess. He knows his father isn't swayed by emotion or blood ties, which is why he doesn't care that Choong is the illegitimate son if he's the better of the two. (Okay, the editing here is pretty funny. It's like he has to keep catching up to the camera to say his lines because it keeps cutting away.)
So Nam-saeng's plan to show his true potential to his father is (wait for it) to become king. "I will turn this world upside down. I'll defeat the man who dethroned the previous king and take the throne of Goguryeo for myself."
Mo-seol justifiably asks if he's lost his mind, until he adds that her father's already pledged his allegiance to this plan. She scoffs that he wouldn't become king even if he were to pull off a successful coup, which Nam-saeng acknowledges.
Nam-saeng: "That's why I need her. Princess So-hee, the former king's daughter. Your rival, So Mu-young. I'm thinking of putting her in power and becoming husband to the queen. She may be against the idea, but even if I have to pluck out her eyes or break her legs, I'll tie her down by my side."

COMMENTS
Y'know, this maybe would have been an interesting plot had it been introduced any earlier when this show was floundering for ways to fill air time. Instead of trimming the fat and focusing the story where it matters for the finale, we're getting brand new conflict that has only one hour to solve itself. Or not. Who knows anymore.
If Nam-saeng had curried favor with the court during his father's off-screen absence, wouldn't it have made more sense to try his ludicrous plan to seize power before his father returned with Goguryeo's armies? I also love that Nam-saeng dug his own grave with Mu-young—first he wanted her to be his friend, then he wanted her tortured and executed, and now he wants to marry her even if he has to lead a blind and paralyzed bride to the altar. It's insane, but at least it's the kind of insane that could make for an interesting couple of episodes. But there can be only one.
I liked Choong and Mu-young's moments this episode (to be fair, I always like their moments), even if I didn't fully understand the reason they parted. I'm guessing Choong was waiting to hear Mu-young say that she was definitely going to give up on her revenge, so her not saying it meant that he had to return to the agency as a roundabout way of protecting her even though he was away at war for who-knows-how-long. We weren't given an indication that Mu-young was planning revenge in the interim, so to be completely honest, I'm not really sure what's going on with them or why.
The only character development that's come along somewhat smoothly is General Yeon's, who's become more aware of his own ticking clock since Mu-young's assassination attempt. He's got the son he favors but can't trust versus the certifiably crazy son, and I'd like to think that he finally realized that giving Choong an ultimatum between him or the princess would only mean that he'd lose him in the end. It came as a shock to see him offer Mu-young her freedom, not because he suddenly cared about her, but because he knew how much killing her would hurt Choong. And even if he wasn't behind her prison break (which could have only been planned by the geniuses over at Geumhwadan), he let it go for Choong's sake. Character development, how I missed thee.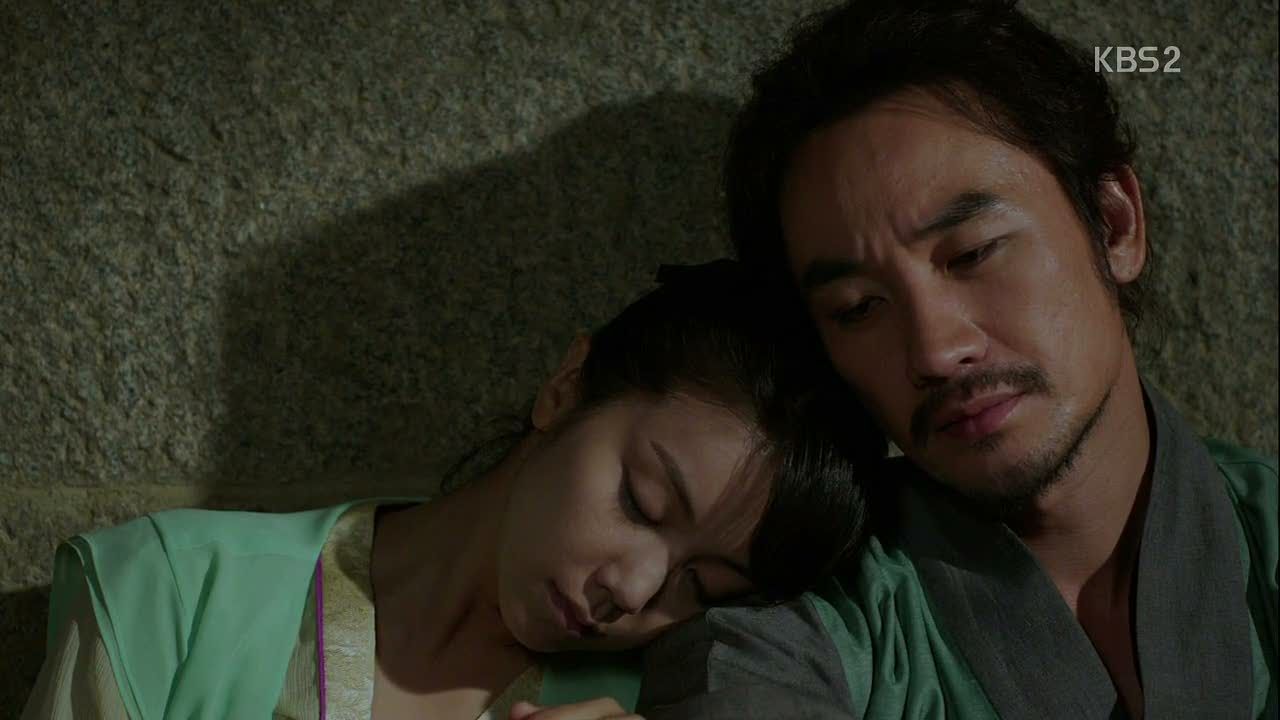 RELATED POSTS
featured
,
Kim Ok-bin
,
Sword and Flower
,
Uhm Tae-woong