The World They Live In: Episode 5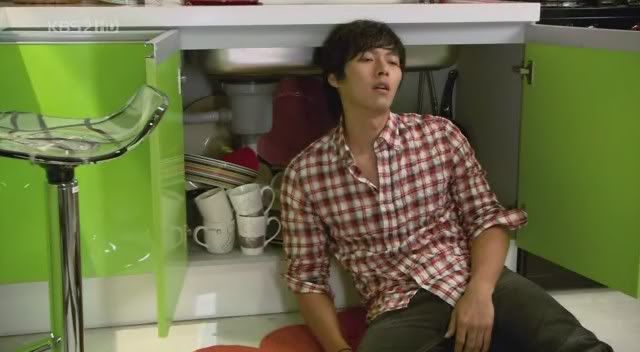 Since The World They Live In is all about the behind-the-scenes activity of drama-making, a few meta points sneak in to the storytelling, which should be amusing for those of us who like to bemoan the evils of some kdrama tropes. Today's episode is all about one of those clichés, the "pure romance."
SONG OF THE DAY
EZ Hyoung – "산책" (A stroll) [ Download ]
Audio clip: Adobe Flash Player (version 9 or above) is required to play this audio clip. Download the latest version here. You also need to have JavaScript enabled in your browser.

EPISODE 5: "The innocence that is beyond me"
The theme for this episode is innocence, which refers to a purity of romantic love that often gets hyped in Korean dramas, and which is a concept Joon-young doesn't identify with.
We start off as CP Park relates the story of Chief Kim's relationship with Yoon Young fifteen years ago. It is dramatized to us as a stage play with Joon-young and Ji-oh in the lead roles.
The gist is: They fell in love, kept it a secret to everyone at the station, and Chief Kim had planned to leave his wife and kid to be with Young. When he arrived at the airport for their rendezvous, she never showed. Instead, he saw her on TV announcing her engagement to someone else. Numb at the shock, he watched as she smiled for the cameras and said they'd been dating for a year. The kicker came when she said, "He's the first man to love me." That was a blow — because what did that make him?
Back in the present, the staff members offer their takes on the situation — CP Park calls Chief Kim crazed, but Min-hee thinks all love makes people like that. Ji-oh says this could be Chief Kim's revenge, as though to say, "You trampled over my youth and left me. Fine, I'll die of heartbreak," and evokes Heathcliff from Wuthering Heights.
CP Park smiles at Ji-oh's youthful innocence (and again, "innocence" in this episode's context refers to a pure ideal of love, akin to naivety). This sparks a discussion of purity. Soo-kyung, the bumbleheaded dolt that he is, grins that men don't need it, but women do.
When Joon-young asks Kyu-ho for his opinion, being the guy who espouses casual sex, his answer is somewhat surprising. He thinks Young is the sadder case: "We can forget those who treat us well, but never those we hurt. Although that may have a correlation to naivety."
In the bathroom, Ji-oh mentions that he heard Soo-kyung doesn't read the scripts, about to scold him. Soo-kyung's reply is that he hardly needs to, and in an example of the meta elements I mentioned, he gives us an amusing monologue on the Cliched State of the Korean Drama:
"The story's obvious. There are two guys named Young-woo and Ho-geol who are friends. They have a teacher who's like a father to them. The teacher has a daughter, Mi-rae. Both guys like the girl, but she only likes Young-woo… Enter another girl, Bong-boon. Anyway, so the four of them cry and wail and that's the story. You wanna know why I know this story so well when I don't read the synopsis? This story's just changed time periods, but it's exactly the same as Sohn Kyu-ho's previous drama. In that one, the warrior teacher was a businessman and the two lead males have just changed their names, everything else is the same."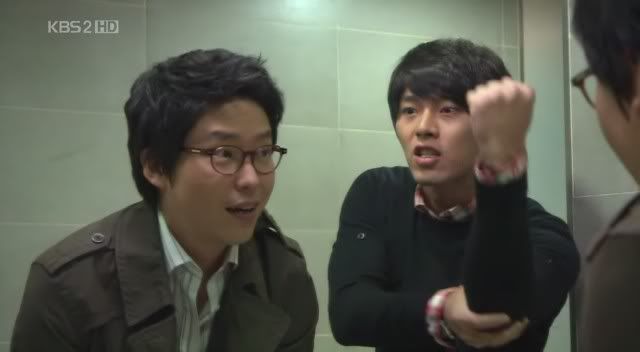 Soo-kyung leaves, and out steps Kyu-ho, who heard the whole thing. But he's not upset, and tells Ji-oh, "Your dramas are too difficult."
This is probably true, but Ji-oh represents the pure (and purist) ideal in this series, while Kyu-ho takes the opposite (worldly and pragmatic) extreme, with Joon-young in the middle. Joon-young's got the purist ideals, but a coolly businesslike mind when executing things; her problem is that she wants to be both without admitting it. She hasn't owned either stance so she seems like a hypocrite sometimes, and I suppose this is what she's learning along the way.
Joon-young sends Ji-oh away with a kiss, then turns to her editing while Soo-kyung babbles behind her. He tells her to steer clear of all those infamous kdrama clichés in her series, because those dramas have no sense of realism: "If the main character just raises his hand, a taxi arrives. There's always an empty spot in the parking lot. Nobody goes to the bathroom, nobody dies when receiving a deadly injury, and wherever you are on the planet, the two leads always meet."
Joon-young answers sarcastically that he can make a drama chock-full of reality, then: "The main character is injured in a fight and dies. The hero has to meet the heroine but can't get a taxi so they never meet. The hero goes to the bathroom every hour." Touché.
Remembering that she hasn't told Ji-oh about the house he picked that she wants to use, she looks outside to call him back. She sees Ji-oh on the sidewalk encountering Yeon-hee, who's waiting to talk to him. He ignores her, but Yeon-hee follows. This ruins Joon-young's good mood.
Outside, Ji-oh ignores Yeon-hee and gets in his car to leave. As he drives (to pick up a drunk Chief Kim), he answers his phone and yells at Yeon-hee to stop acting like this and angrily hangs up.
Young visits her ailing mother at the hospital, and as she leaves the building, she sees Chief Kim outside, drunk. He asks, "Why don't you say you're sorry? Is it because you aren't sorry? Then let me ask, why aren't you sorry?"
She answers that she felt sorry for about six months after the breakup, but that faded: "Was I supposed to be sorry all this time, for fifteen years straight?"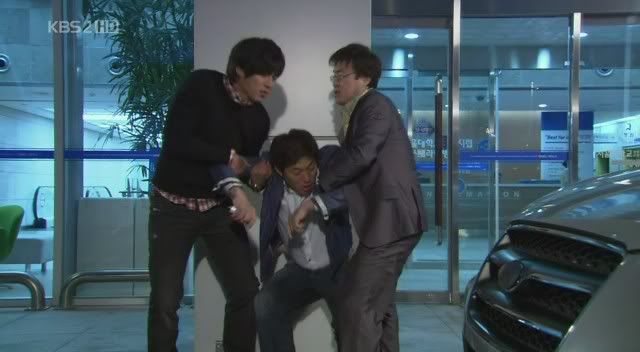 She walks off, leaving Chief Kim staggering around in his liquor-induced haze, just as Seo-woo walks up (she lives in the same building as him) and Ji-oh arrives with CP Park.
The guys take him home, and stick around for breakfast.
Seeing the bulletin board of Yoon Young photos on the wall, Seo-woo comments that Chief Kim ought to get back with her instead of pining. The guys jump in to say no way, but Chief Kim surprises them all by saying calmly, "I'm going to get back with her."
Ji-oh looks at him in disappointment, because Chief Kim's situation mirrors his own (and Ji-oh wants a different ending for his own life). Ji-oh reminds Chief Kim of something he'd previously said about life differing from dramas, where all loves are wrapped in the context of "fateful" and "pure," and how that's BS in real life. At Ji-oh's volatile reaction, Chief Kim guesses, "Did you talk to Yeon-hee again?"
Ji-oh responds, "Meet someone new! Let's live new lives with new people, all right?!"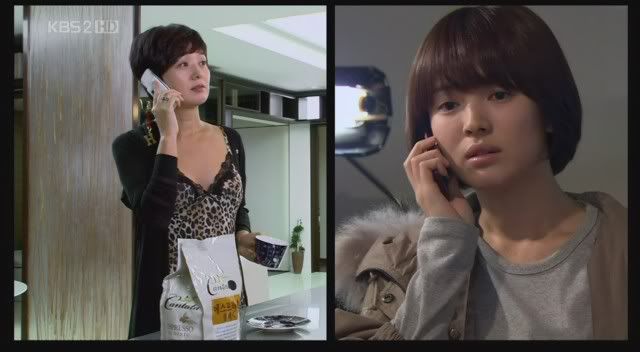 Joon-young and Young clash when the actress refuses to come in for a 6am call. She chides Joon-young, who should know better than to schedule lead actresses so early — a 6am call means they have to be up at 3am for makeup, and her face has to look good onscreen. Frustrated, Joon-young starts to issue an ultimatum (come now or today's shoot is canceled) but everyone signals for her to calm down, so Joon-young bites her tongue and asks if Young can make it by 11am.
Joon-young takes out her anger on Min-hee (the trickle-down effect) for scheduling the shoot at a bad time, but Young calls back and agrees to come.
After the shoot, Joon-young asks why she changed her mind, and Young answers that she didn't want to make it seem like she was being difficult just to make a point. (Upon reading the script, she saw that it was a morning shoot with the character in bed, which doesn't require lots of makeup or hair prep.)
Seo-woo mentions Chief Kim during a break, wondering if she'd ever get back with him again, which sets Young off in a fit of laughter. It's so absurd, she can't stop laughing.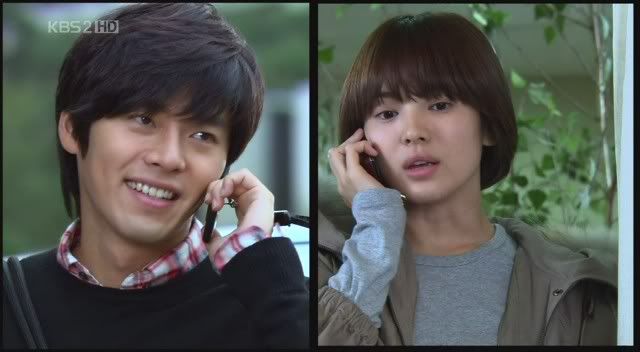 On the phone, Joon-young asks leading questions about what Ji-oh did last night, wanting him to mention his run-in with Yeon-hee. He says he was out all night, and she half-jokes, "Did you go behind my back to meet your ex-girlfriend?" He jokes back, "What would you do if I did?"
Joon-young asks a few more times where he went last night, but he brings up other topics, suggesting that she might want a change of clothes since she's been out working. (He's fishing for an invite to her home, I think, but doesn't want to push, so he's happy when Joon-young tells him her passkey combination.) She asks for a change of clothes, but tells him not to mess around her place.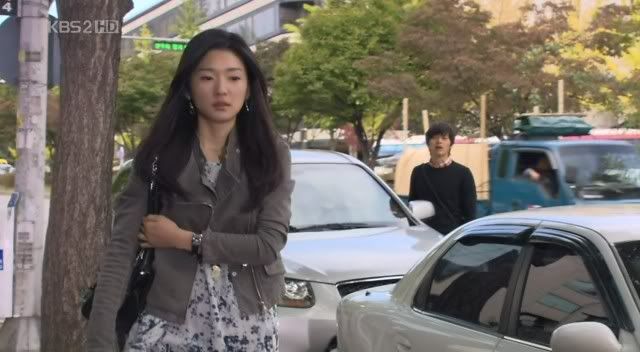 Ji-oh runs into Yeon-hee, who's sought him out again. She thanks him for helping her with a sister-related problem, and he tries to dismiss her coolly, but she tells him, "I was never pregnant." Things were so bad between them that she lied to end it for good. Ji-oh tells her he's dating Joon-young now:
"I'm dating her and I'm happy and feel excited around her. Because I want to look good to her, I can't even sleep. But you keep messing it up. It makes me mad as hell. Right now, I only have one thought in my head, and that's how much crueler I have to be for—"
Yeon-hee walks away. He shouts after her, "Tell me you wish me happy. Be happy, okay?"
Joon-young and Seo-woo wonder at Young's reaction regarding Chief Kim. Seo-woo: "A life-and-death love to one person is a source of laughter for another."
Joon-young counters, "What's wrong with it? For the first time, I thought Yoon Young was cool." Isn't the free, mature thing to do to live like her, rather than pining? Joon-young tells the writer it's annoying that all her stories are about the Grand Love between one man and woman. She wants to do a story "about a cool type of love," and denounces dramas that put too much importance on "the innocence of first love."
Seo-woo points out that Carrie from Sex and the City and Meredith in Grey's Anatomy returned to their initial loves (ha — like those are such bastions of literary significance). Seo-woo thinks it's instinctual for people to want that kind of simple, pure love.
Kyu-ho's drama goes outside for a location shoot, and Soo-kyung grumbles over his latest impossible task: to make a plain, empty field full of flowers. Soo-kyung gripes over his thankless job, but a fellow crewmember says this is nothing. Back when Kyu-ho was an assistant director, he was tasked with an impossible order from the PD, to make the terrain in the dead of winter look like summer — and he pulled it off, staying up all night painting reeds green.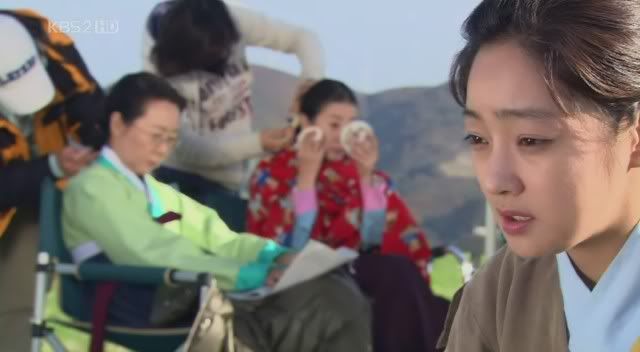 Meanwhile, Hae-jin practices her lines, during which the elder actresses give her acting advice about putting more feeling into her dialogue. They push her to immerse herself deeper into her character's predicament until she breaks down in tears (for the scene).
Afterward, the Cheerful Older Actress smiles in satisfaction, saying that Hae-jin will make a decent actress. Grumpy Older Actress isn't so sure, but Cheerful tells her, "Kids are like that. They're young and pretty, but if they were good actors too, where would we be?"
Ji-oh drops by Joon-young's place to pick up a change of clothes, but he's entirely grossed out to discover that she's a slob. Clothing has been thrown in a heap inside her closet and he tries to leave things as is, but gives in to the impulse to fold her clothes properly. The dirty floor disgusts him, so he cleans that, too. And then, when he's about to leave, he looks for a cup to drink some water, and nearly has a fit to see how she's carelessly dumped all her plateware under the sink.
Chief Kim drops by Young's home, and she's not too thrilled to see him. When he tells her he'll call, she returns, "Don't." He forges on with his suggestion that they date again, and lest he sound pushy, he tries to act cool, saying they can always break up if it doesn't work.
It looks like she's going to reject him, but when he turns to go, she tells him, "Don't call before 11. You know I get up at 12, right?" He leaves with a big ol' grin.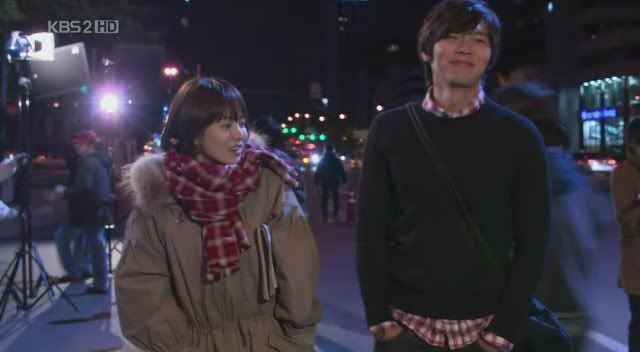 When Ji-oh drops by Joon-young's set, she asks him, "Do you have something you want to tell me?" She brushes it off as casual interest, but she's fishing again for him to tell her about Yeon-hee. Ji-oh doesn't get what she's getting at, so he leaves her feeling dissatisfied again for not volunteering the information.
The next morning, Ji-oh scopes out his special house (which he doesn't know Joon-young has chosen to use), and pictures the scene he'll shoot there. In the drama enactment, they play against type, with Ji-oh in the bad boy role and Joon-young playing the demure, pure girl.
(Once again they're opposites, because Ji-oh's drama uses the cliché of pure love, while Joon-young wants kdramas to evolve into "cool love" — although I don't think Joon-young really wants a relationship like that. Again, I feel that they're both pushing too far in extreme directions. Really, Kyu-ho's got the right attitude to be successful — but then, that could just be that I identify with Kyu-ho's outlook more than the other two.)
Joon-young arrives in the distance and shouts to get his attention. Wanting to see him, she had left the crew bus and now has exactly forty minutes to spend together before she has to get back to work. With time ticking, Ji-oh races to meet her, as Joon-young thinks:
"Thinking about it, it's not that I was angry with Korean dramas that emphasize innocence, it was myself I disliked for never having felt that. Why did it hurt my pride for me to love the other person more than he loved me? It's enough that he runs to me like this. I can just believe in him. What was I afraid of?"
Ji-oh arrives gasping for breath, and says, "If you tell me to come to you, I will."
Joon-young thinks, "That day, I pledged myself to feel that innocence with him. Even if he can't keep that promise, isn't it enough if I do?"'
Ji-oh starts to tell her something, prefacing it by saying he'd intended not to tell her for fear she'd misunderstand. He admits that Yeon-hee came looking for him, and she reveals that she saw them.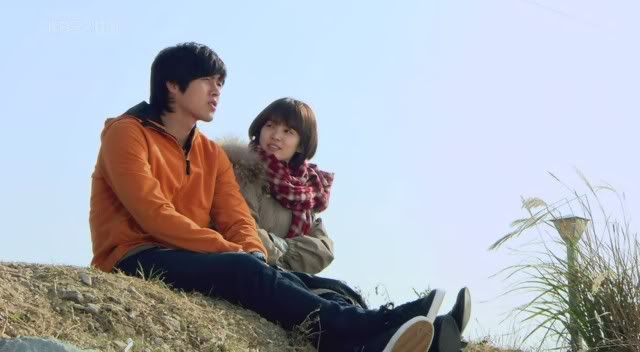 Ji-oh tries to work out his frustration with the situation, saying he's not sure what kinds of things he's supposed to tell his current girlfriend when he runs into the ex-girlfriend. But he didn't want to keep the little things from her, because that might lead to them drifting apart. Joon-young contradicts her earlier reaction by telling him he doesn't have to tell her little things like this.
Then she starts getting upset, remembering back to when he was dating Yeon-hee and found out she'd been drinking with an ex and went to a motel with him. He'd told Joon-young that he wasn't bothered because he trusted Yeon-hee.
She wants to know what that means for their relationship: "You had an unshaking faith in Yeon-hee even when she went to a motel with another guy, but you have to tell me even the littlest thing in case I'd misunderstand?"
Ji-oh tells her he was just saying that back then to look cool, but Joon-young's still irritated, so he kisses her. She's still upset, but the more he prods her, the more her anger falls away, finally giving into laughter.

COMMENTS
First, the writing is definitely one of the things I like best about The World They Live In, but there's also a tendency for the dialogue to veer into TOO writerly. We all know this is a writer's drama, but when it gets too studied, too precious… well, it loses some punch for me. It's like every line is being delivered as part of some eloquent speech. I hope Noh Hee-kyung pulls back on that.
I keep trying to figure out why The World They Live In isn't more engaging for me, because I recognize that the writing is good, the directing competent, and the acting (Song included) is generally fine. And I think it's that the series lacks a certain… passion.
It's like we're viewing the characters through a lens that adds distance, with this air of cool detachment. I don't know how to explain it fully, it's just that other shows — lesser-quality shows, even — are often able to convey their emotions beyond/through/transcending the screen, to move their viewers. The World They Live In is so analytical and calm, however — and the voiceovers, which are starting to get gratuitous, do not help — that I don't feel anything beyond mild emotion.
I'm not saying the characters are passionless, but it's this lack of dramatic passion that leaves me not really caring what happens to them. I don't care if Ji-oh and Joon-young get together, I don't care what kind of trouble Yeon-hee causes, I don't care if Joon-young's drama succeeds or fails. (The only story I do care about is Kyu-ho's team, and that's because it's entertaining, he's an interesting character, and the people in that storyline are a mix of odd and contradictory.) Everyone's so nicely reflective of their lives, but I want to move beyond reflection and feel some actual emotional energy.
In short, the drama doesn't move me. I wish it did, but it doesn't.

RELATED POSTS