A day behind the scenes of Boys Before Flowers
Two articles are out today that take a look around the filming location and behind the scenes of the ever-popular Boys Before Flowers.
I admit that I'm not that interested in which actor dated whom five years ago, or who was almost-maybe-barely-but-not-ultimately cast in whichever role — it's fun trivia, good for a news bite or two. But I do like taking a look at stuff behind the scenes and seeing people talk about how things are made, so I've translated the articles below. There are a few minor spoilers, but nothing really big that you probably haven't already heard.
The first article is from Now News:
Eye of the "Boys Before Flowers" storm — this is how it's made!

On the afternoon of February 8 in Yangpyeong, I went to the filming location of KBS 2TV's Monday-Tuesday drama Boys Before Flowers. Although the weather was chilly, a crowd of bystanders had flocked to watch them shooting. It's Sunday, so there are families and groups of friends gathered in twos and threes.
SONG OF THE DAY
Boys Before Flowers OST – "내 머리가 나뻐서" (Because I'm Dumb) by SS501 [ Download ]
Audio clip: Adobe Flash Player (version 9 or above) is required to play this audio clip. Download the latest version here. You also need to have JavaScript enabled in your browser.
Today, they're filming a three-way conflict between the characters of Gu Jun-pyo (actor Lee Min-ho), Geum Jan-di (Gu Hye-sun), and Lee Jae-ha (Jung Eui-chul).

Lee Min-ho and Jung Eui-chul put in their best efforts even as they film their action scene repeatedly, giving a lively atmosphere to the set. Notably, Jung Eui-chul is cast in two roles, having made an appearance in Episode 1 as Lee Min-ha [F4's rooftop victim], and now appears as his younger brother Lee Jae-ha.

Before filming a fierce action sequence, Lee Min-ho's enthusiasm is apparent as he adjusts to match Jung Eui-chul. When the PD [Jeon Ki-sang] orders Lee Min-ho to make his action scene harsher, he tells Jung Eui-chul, "I'm sorry. I'm going to step on you," apologizing in advance with a laugh.

As the scene is shot repeatedly, and Lee Min-ho is pushed further, his intensity and charisma remain strong. In between takes, he chats with Gu Hye-sun and they joke around together, conveying a close, friendly vibe.

Gu Hye-sun cries in the scene in this cold weather, her nose reddened. The visitors watching the filming look toward Gu Hye-sun, dressed in her school uniform, remarking, "She really does look like a high schooler."

Then the second article, from Asia Economy, takes a more detailed look at the day on set:
Reporting from the set of "Boys Before Flowers"… Even F4 is surprised at the crowd of spectators

These days, when women aged anywhere from their teens through fifties gather, mention of a particular drama always crops up: KBS2's Monday-Tuesday series, Boys Before Flowers. What could be the reason for its popularity? To find out, I visited the filming location.

February 8, Yangpyeong English Village in Kyeonggi Province. Despite the cold, a swarm of spectators has formed, surprising even F4. Amid the dozens of fans here to watch the filming and the actors, a few tourists can be spotted. The following is a general look at the day on the film set, grouped by periods of time.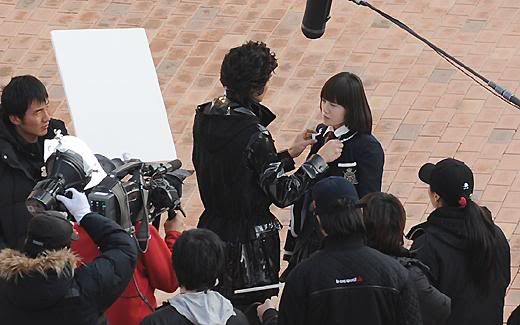 4:30 PM: "Is Ga-eul is important to you, or am I"

At the scene being shot at 4:30 pm, Gu Jun-pyo has come to school to meet Jan-di, where they bicker back and forth.

After only two takes, the director sounds the OK, demonstrating how well these two work together. In particular, when Jun-pyo says the line, "Is Ga-eul is important to you, or am I," we can see from his expression how much Jun-pyo truly likes her even as he grumbles at her.

Not letting the cold weather keep them from laughing, Gu Hye-sun and Lee Min-ho's attitudes bring smiles to the faces of the tired crew.
5:30 PM: F4 films inside the school

As soon as outdoor shots are completed, the crew moves busily, because the scenes for the episode to air this week (February 10) have not yet been completed.

In the drama, a building in the English Village is used as part of Shinhwa High School. Lee Min-ho enters the building, and, before he even has time to warm his frozen hands, F4 members Kim Hyun-joong, Kim Bum, and Kim Joon commence filming.

In contrast to the bright, upbeat drama, the mood on set is solemn, as though not even footfalls are allowed to sound without permission. Actors, crew, and the reporters allowed on set — all are quiet. But PD Jeon Ki-sang, giving instructions in English in his clear, easily understood accent, dispels everyone's anxiety.
6:10 PM: Inside the waiting room

Sweet rest time for the F4 members.

What do each of these F4 guys look like while they rest?

In short, these guys don't have time for breaks. They may have "break" time in name, but they're busy signing autographs, hands busily working. They sign scores of posters and OSTs, with barely a minute for their own rest.

But the actors don't let their tiredness show, saying with bright smiles, "I'm just thankful that there's so much interest."
6:30 PM: Last scene, then more movement

I can see Kim Hyun-joong on the stairs with Kim Bum and Kim Joon, while above are Lee Min-ho with Jung Eui-chul.

This scene shows Kim Hyun-joong, Kim Bum, and Kim Joon ascending the staircase slowly, while Jung Eui-chul apologizes to Lee Min-ho, telling him, "I'm sorry."

The actors are worn out and many NGs are shot [outtakes], but they stick together and give it their best shot. Maybe he's read their faces, because the PD shouts, "Great!," marking the end of their English Village shooting.

However, filming is not over for them. Their faces change when the staff informs them they'll have to spend all night shooting, but at the words "Let's go eat," they head off with simple laughter like young children.
Via Now News, Asia Economy
RELATED POSTS
Tags: Boys Before Flowers, drama production, Gu Hye-sun, Kim Bum, Kim Hyun-joong, Kim Joon, Lee Min-ho