Kim Seok-hoon hospitalized following car accident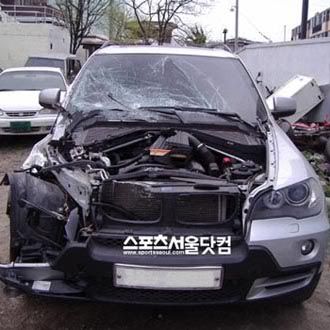 Over the weekend, actor Kim Seok-hoon of the current weekend sageuk series Iron Empress [천추태후, or Empress Cheon-chu] was in a car accident, and apparently the injuries are more serious than first guessed.
The accident occurred late on Saturday night, when Kim had been traveling back to Seoul after filming. According to one source, at the time of the accident, Kim had no external injuries, and they were relieved that it appeared he was not severely hurt. However, as with many car accidents, pain grew steadily worse afterward, and he was hospitalized. Kim's management explained that he cannot move his hip or neck, and therefore has to remain lying down. He cannot walk, and finds it difficult to sit upright. It's very possible that he will not be able to return to filming soon.
Kim plays a main role opposite the lead character, played by Chae Shi-ra, and his next scheduled shoot for the drama series is on April 14. If he's unable to make the shoot this week, Iron Empress will not be able to air its upcoming episodes (to broadcast on the 18th and 19th) as scheduled. A rep from Kim's side said, "Kim Seok-hoon keeps worrying about the drama's filming schedule from the hospital room. He keeps repeating, 'I'm so sorry to the staff.'"
Best wishes for a full recovery. 🙁
Via Hankook Ilbo
RELATED POSTS
Tags: Iron Empress, Kim Seok-hoon, star accidents