Woman Who Still Wants To Marry to premiere mid-month
The cast has been filled out for MBC's upcoming The Woman Who Still Wants To Marry, and the drama recently held its prayer ceremony as the drama team readies for its mid-January premiere.
The drama features three thirtysomething women and their love lives and careers, centering around Park Jin-hee, Eom Ji-won, and Wang Bit-na. Originally, I had thought Eom Ji-won was the lead role, but instead it will be Park Jin-hee, who takes over the character played by Myung Se-bin in the original 2004 drama The Woman Who Wants to Marry (which also starred Lee Tae-ran and Byun Jung-soo).
Meanwhile, the lead's friends and love interests are all new characters. The three lead men will be played by Choi Chul-ho (Partner, Queen of Housewives), Lee Pil-mo (Sons of Sol Pharmacy), and Kim Bum (Dream).
Park Jin-hee's character is a reporter who starts dating a man twelve years her junior (Kim Bum). In order to prepare for her role, she underwent training with real MBC reporters, whom she shadowed and studied.
Eom Ji-won plays an interpreter who, in the below-pictured scene, shouts up at a second-story window drunkenly, feeling hurt and wronged by the boyfriend who dumped her. (The catch? The man has already moved to a new place and the new tenant is hardly pleased at the inconvenience, dousing her with water.) To shoot the scene, Eom had to suffer through the water-dousing in freezing-cold weather with snow still on the ground, and the PD expressed his sorriness at putting his actress through such discomfort (apparently the writer had imaged it being summer when writing this particular moment).
The Woman Who Still Wants to Marry replaces MBC's current drama Hero on Wednesdays and Thursdays later this month.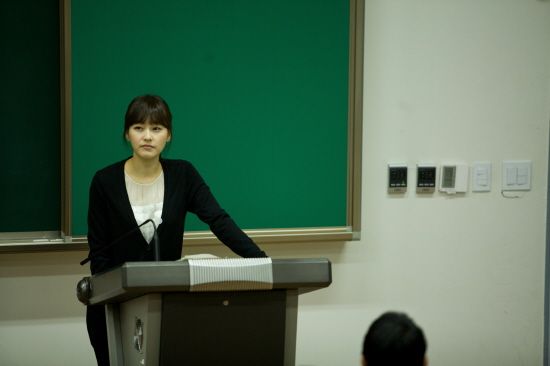 Via OSEN, Herald Biz, Asia Economy
RELATED POSTS
Tags: Choi Chul-ho, Eom Ji-won, Kim Bum, Lee Pil-mo, Park Jin-hee, The Woman Who Still Wants to Marry, Wang Bit-na