Personal Taste: Episode 16 (Final)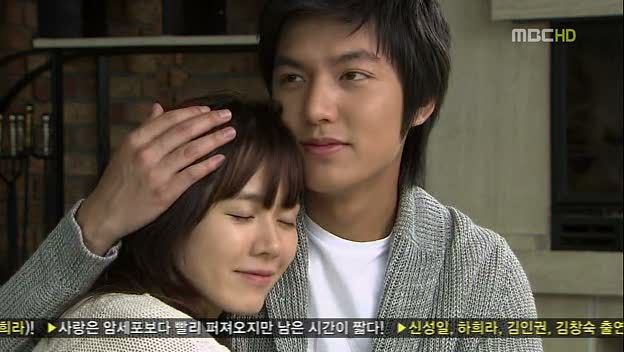 Dear Show,
I really, really wanted to love this finale. So much. But sadly, you ended up being all foreplay, no finish. It was sweet, and fun while it lasted, but I'm not going to call you in the morning. I want to say "It's not you, it's me"…but I can't. 'Cause it was you. Sigh. We had a flawed beginning, to be sure, but the honeymoon stage was so good, that I overlooked the things you were lacking. Because love is blind. But in the end you couldn't satisfy me, and you and I both know I have too much self-respect to fake it. So fare thee well, dear Show. And in case you're going to try and beg for me to reconsider, I've written you this letter so you know the reasons why I'm breaking up with you…

FINAL EPISODE RECAP
We pick up after Jin-ho's been bitch-slapped by the good professor. Very manly, followed by an even manlier scream. Jin-ho retaliates by telling Kae-in's daddy outright that his flawed design for Sang-go-jae is the reason it all went south, and worse yet, Kae-in is bearing the brunt of his mistakes as a father. Whoa. You're probably going to regret that later. [Also, where does all that courage go in, like, two minutes? Did you use it all up here and forget to restock? –javabeans]
Kae-in stops him: "What are you? What are you to me?" He shouts at her, asking how long she's going to live put down by her father, and as a sinner who killed her mother. Yes, thank you for pointing out her issues, but that's no way to HELP her deal with them, buddy. She asks again who he is to her, to say those things. That stops him right in his tracks, since he's the one so dead-set on being the noble bad guy. Idiot. Being noble's for losers.
She tells him to go, saying she doesn't want to see his face again. Daddy reiterates the sentiment, and Jin-ho is left alone in the courtyard. He looks sad, but all I can say is: You Did It To Yourself. The final episode is entitled: "Today's Weather Forecast." (Kae-in's previous diary entries were all weather-centric—in Korean the word for "diary" and "weather" are the same, and as a story device they can be seen as both.)
A few days later, Young-sun and Ascot come by (That's right. Still not calling you by name.) to help Kae-in put the finishing touches on the children's playroom. They try to suggest she ask for Jin-ho's help, but she ignores them. Later she comes upon a private conversation, where Ascot relays how dire the situation is at their firm. Young-sun is surprised to know how serious it is, and they both wonder why on earth Jin-ho is being so stubborn when he clearly misses Kae-in and is depressed about the breakup.
Later that night Kae-in falls asleep while working, and Jin-ho comes by to be wistful and sad in her vicinity, but do nothing. Well, he covers her with a sweater, looks at her regretfully, and then leaves. [Funny how "being noble" basically equals passivity in our kdrama heroes, huh? Talk about succumbing to your "destiny" and letting Fate tromp all over your heart like a tap dancer wearing golf cleats. –javabeans]
Here's what I find so troubling about this very clichéd plot device of the forced separation. Normally I'm okay with it, because it's a necessary evil. I get that. But in this story, with these characters, it rings false. Why? Because at every other stage in the relationship, they have steadily chosen each other, over everything else. I don't even think that Kae-in believes that Jin-ho was using her or doesn't love her. Not for a second. So that leaves Jin-ho, who is choosing not to forgive himself, all of a sudden, for being caught in the lie. Let's be real. If it was the lie, and not the being-caught-red-handed part, he'd have done this angsty pouty thing weeks ago!
She wakes up to find Chang-ryul there, and asks if he put the sweater on her. He didn't, but insists on driving her home. Jin-ho, now officially a card-carrying member of Stalkers Anonymous, watches as Kae-in leaves in Chang-ryul's car. [I find this particularly problematic because this makes Jin-ho into a coward. He loves her, everyone knows he loves her, and he can't stay away… but then he just lurks like a Peeping Tom needing his next fix. Just keep him away from trench coats and schoolchildren… –jb]
Do-bin asks Professor Park to look over one of the design entries. The professor smiles as he looks it over, then asks whose design it is. It's Jin-ho's, of course, which makes the professor not so happy anymore. Meanwhile, Scarface Han meets with MS Group President Choi (Do-bin's daddy, as you'll recall), and he announces that Jin-ho's company is in such dire straits financially that he shouldn't be allowed to go further in the competition.
Do-bin and the professor overhear this as they wait for President Choi, and when the professor asks what Do-bin wants in regards to showing him Jin-ho's designs, Do-bin replies that he simply wants the professor to judge him fairly, equal to the other contestants. He adds that if Jin-ho had intended to rip off Sang-go-jae, he wouldn't have submitted a design like that, and that he never gave the professor any excuses for his actions, even while preparing a new design. While some people would find that noble, personally I think it's idiotic. Why not explain yourself? [Kdrama Hero Nobility Clause, Article 1.a, I'm guessing –jb] Anyway, Do-bin's sincere plea gives the professor pause to think.
Jin-ho and Ascot are running out of options as they get turned down for loans from bank after bank. Ascot suggests swallowing their pride and borrowing from Tae-hoon's dad, but Jin-ho doesn't seem too keen on the idea. [Because pride > desperation. I think that's Kdrama Hero Nobility Clause, Article 1.b. –jb] He gets a call from Do-bin, and meets him at the bank. Do-bin offers a loan/investment, which Jin-ho refuses, of course. But Do-bin tells him that without it he won't get to participate in the final round, since he passed the first round of judging. He convinces him to take the money and not let him down, and Jin-ho finds himself even more indebted to Do-bin.
Do-bin non-sequiturs an offer for Jin-ho to stay at his country villa (convenient plot device), then makes the classic mistake of telling In-hee about it. Really? Are you new? [I mean, I'm sure she came with a tracking device and locator software anyway, but there's no reason to just hand over the info. Let the robot earn her narrative keep, I say! –jb]
Kae-in's playroom project is finally complete and it's time for opening day. Do-bin, Ascot, and even In-hee congratulate her on a job well done. Dad shows up, flowers in hand. They have their first heart-to-heart in well, EVER. Dad realizes that's he's been selfish all this time, never considering her feelings over his own. You're just realizing this now? I know you're not exactly father of the year, but wowzers, you take indifference to a whole new level.
Kae-in says she understands, since he loved Mom very much. Dad turns to her and says, "I loved you as much as I loved your mother." [Anyone else find this comment wildly hysterical? That monstrous snort of incredulity sure cleared up my sinuses. –jb] He says that he destroyed the pictures and boarded up the basement so that she wouldn't remember (yeah, that works so well, usually), and that he got angry at her for taking on her mother's profession, hurting her hands the same way her mother used to. That implies you had some semblance of a relationship with the adult Kae-in, which has pretty much been proven false up till now, so I think that's baloney, Dad, but whatever.
She calls him, "Father," and he takes her hand, musing that her hand used to be so small and it's gotten so big now. See, that jives better with the absentee father seeking for redemption. Yes, you missed that whole middle where she went from a little girl to a woman. He says, full of meaning, "You've worked hard." It's as high a sentiment of praise you're ever going to get from a Korean dad, to whom hard work is tantamount to being a good human being. Kae-in, tears in her eyes, calls him "Appa (Daddy)," and hugs him.
From afar, Jin-ho watches as Kae-in finally reconciles with her father. And honestly, if the father had been introduced earlier in the series or had more depth as a character, I'd probably care a lot more. I know it's been an important feature of Kae-in's character to be acknowledged by her father from day one, but because it's always been a one-way street until the last episode, I'm not as moved as I would like to be. He still has yet to be redeemed from his absenteeism, in my book.
When they get up, Kae-in sees Jin-ho walking away, so she runs after him, calling his phone. She catches up and sees him ignore her call, so she asks why he keeps circling around her and hiding. Good question. Perhaps he's skipped ahead to the part where you get a restraining order and he has to stay at a certain distance. [And… uh-oh… is that a trench coat he's sporting? –jb] He denies the accusation, but she knows he did the sweater thing. (Was that really so big a gesture it's being cited here?)
She calls him a liar, who's done nothing but lie since the moment he stepped into her life. Can't argue there. He says as much, agreeing that she's right: "It's all a lie. So the fact that I'm here right now…consider that a lie too." Are you getting metaphysical on us? 'Cause I'm pretty sure you're standing right there. [It's a little late for Cartesian philosophy, no? –jb] Or maybe you're the Ghost of Jin-ho? That would make a lot more sense, actually, since you are nothing like the Jin-ho of episodes past.
He says that things will be easier if they don't run into each other anymore. That is NEVER true—don't you watch tv? He says he'll go pack up his stuff while she's here, and then they won't have cause to see each other anymore. Kae-in just watches him go, instead of tearing him a new one for being a giant asshat.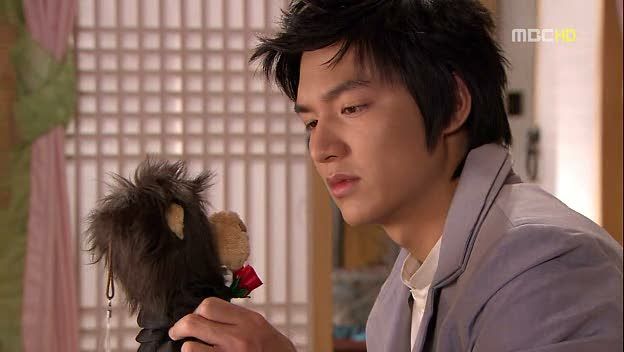 He returns to Sang-go-jae to pack, and takes a peek inside Kae-in's workroom. The one thing that makes him nostalgic? The chainsaw! Aw, I love their chainsaw memories! I'm glad it made a comeback in the finale, as it was my favorite Object of Meaning between them. Wouldn't it be funny if this drama, instead of a necklace or a doll, tried to market the chainsaw as Personal Taste memorabilia? That would totally trump some moon-shaped necklace. He spends some quality time with Jin-ho the lion doll, then walks out of Sang-go-jae with heavy steps and tear-filled eyes.
Do-bin congratulates Kae-in on a job well done, and offers one last bit of help—he tells her that Jin-ho is staying at his villa. Kae-in says it doesn't matter since they broke up, prompting Do-bin to say he's disappointed in her, since the only reason he gave up Jin-ho so easily was because Kae-in was the one who loved him. Um, wouldn't Not Gay be, like a little more important than that reason? Okay, to each his own. I won't tell you not to love Lee Min-ho from afar, as that's pretty much what most lay people do to get by, gay or straight. [Although, come to think of it, I'd kinda love to see Do-bin pull an In-hee and get all clingy. And then compete with In-hee for the attention of an uninterested Jin-ho. Lulz all around! –jb]
Kae-in and her dad eat apples at home, and while Dad eats them the Korean way (peeled and sliced [courtesy of the woman of the house, natch! –jb]), Kae-in cuts hers down the middle and takes a bite. Dad notes she always ate her apples that way (Really? How come we're only seeing that now, Show?), and Kae-in says they taste better that way. He asks for the other half, putting down his own boring slice, and gets ready to take a bite…
And then it dawns on him, as he stares at the half apple in his hand. Jin-ho's Dahm design…that's why it felt familiar…it was this, half an apple, sliced just like this. Kae-in stares at him, wide-eyed. "Jin-ho's design concept…wasn't Sang-go-jae? It was an apple?"
We get flashes of Kae-in presenting Jin-ho with his apology apple, and his new concept based on her gift. Okay, I'll give you this one, Show. The apple thing is cute. You're depriving me of my victory lap with "Eye of the Tiger," which is just a shame for everyone involved, but the apple design is clever and cute, without being saccharine. It's also a surprise, since who would ever design a building after fruit?
Needless to say, this is The Thing that jolts Kae-in out of her seat and into a cab. She calls Do-bin for the villa address, and heads over, ready to forgive. Go get your man! Even though he should be the one begging you to take him back! But whatever, I'm tired of the noble angst!
Jin-ho stands by the lake in the pouring rain. Are we really going to use EVERY cliché in the book? Don't answer that. We're barely halfway through. [Actually, I think we've run out and have circled back for a second pass on most of these cliches. –jb] An umbrella shows up behind him, and when he turns around he's surprised to see In-hee. We're not.
Inside, Jin-ho is running a fever, which In-hee tries to use as an excuse to stick around, but Jin-ho's always been consistent when it comes to her—he's NOT interested, ya hear? He pushes her hand away, saying he'll go sleep in the car then, if she insists on staying. She looks for medicine, but he tells her it's not that kind of sickness…it's heartbreak. And I'm fairly certain that even YOU know that it's not about you, dear queen of the undead.
But she's not asking for his heart right away. She's good with clinging to him even if it's unwelcome, and she hopes that his annoyance will turn into…some reluctant love/hate. Dude, are you unfamiliar, with like, the meaning of words? How many ways can a man tell you he's not interested? You used to be hateful but now you're just really pathetic, and I really didn't want to end up pitying you. It's much more fun if you stay heartless.
In-hee finally decides to leave, and Kae-in walks up to the house just as In-hee comes out. She tries to posture that she has a right to take Kae-in's place, but Kae-in shuts her down cold: "There's no space for you between Jin-ho and me." NICE. Hello, Spine. Where have you been? In-hee launches into the heart of the matter…
In-hee: "I absolutely despise you. I hated your nicey nice act from the start. Tell me the truth…you acted like my friend because you felt sorry for me; that's why you took me in."
Kae-in: "You were family to me. And I was to you."
In-hee: "No. I was living off of you, so I pretended to be like family."
Kae-in: "Every time I got in trouble with Dad, you were there for me. You turned over every trashcan in the house looking for a picture of my mother. That was you."
In-hee: "It was unbearable pretending to be your family."
Kae-in: "Don't lie."
In-hee: "I'm not lying. I hate you. I hate you to death. I can never have anything. Even if I want it to death, I can never have it. But why do you…get to have everything?"
Kae-in: "I never tried to take anything. You're really stupid. You're the only one who doesn't know…how much you have."
I know deep down In-hee's a damaged girl with parental issues and really, really, really low self-esteem. But would it be too much to ask to just let me go on hating her, and her continuing to be a psychotic evil-bot? That would be way more satisfying. That said, the actress is knocking it out of the park, with her hateful words belying an undercurrent of injured pride and weakness.
Kae-in searches for Jin-ho inside, but he's nowhere to be found. She comes back outside and In-hee is still standing there, perhaps stunned by Kae-in's unfailing trust that she indeed has a soul… somewhere…deep, deep, way deep down. She tells her that Jin-ho is sick: "Even though I'm right in front of him, he doesn't see me. He can't see anything else, and he's hurting a lot…your Jin-ho-sshi." Thankfully this is as heartwarming a moment as these two will get. No big reconciliation. This is just her concession that Kae-in has won, and perhaps she never had a place here after all. Epically slow on the uptake, that girl.
Kae-in runs out to the car to get Jin-ho, and sits by his bedside as he stirs awake. Like the giant idiot he is, he turns her away, insisting that he's fine. This is ridiculous. Now you're just feeling sorry for yourself. Kae-in says she's not going to live here; she just wants to make sure he's okay. But he tells her to leave, unable to bear his guilt and her closeness. She gives up, and stands to go…and Jin-ho grabs her arm. "Don't go." Ha. Go! Don't go! Make up your friggin mind!
Kae-in tells him to let go. Oh not you too! But this time he's not letting go. He pulls her down onto the bed and hugs her from behind, but it's totally awkward and passionless. Weird. I think it just feels really staged to me, like the director posed them rather than let them do what people would actually do in that circumstance. [On the upside — how hot is Lee Min-ho in this frame? –jb]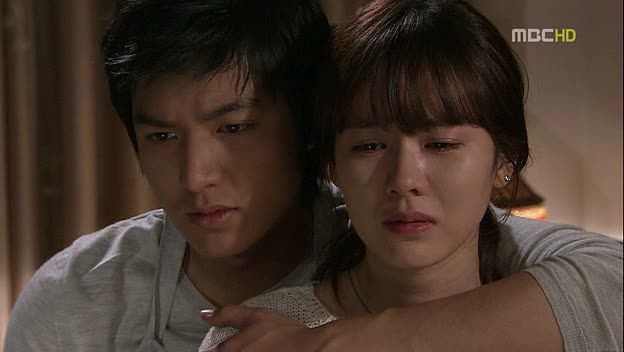 Jin-ho tells her again not to go. Kae-in: "I'm just going to trust you. Even if I get used a hundred, a thousand times, I'm just going to trust you. Even if it's foolish. That's the advantage of being Park Kae-in. Even if you use me again, even if I'm sad again, I'm just going to trust you. Because I can't say goodbye like this."
The performances in that moment are really quite touching, even Jin-ho's silent reaction to Kae-in's monumental forgiveness.
He turns her around for some kissing, of the hot but slow variety. He starts to undress her, but she has a momentary freakout, stopping him. He holds back, letting her make the next move. (Yay.) She gathers her courage, and takes his hand, placing it over her heart.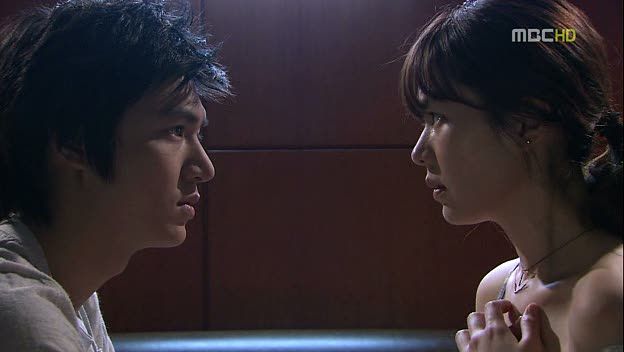 They make out, (Rawr!) and then the lights go out. (Double Rawr!)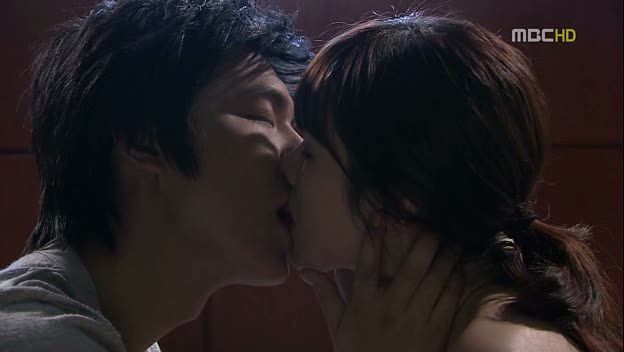 Yes, that was pretty hot, although it would've been much hotter if it wasn't paced so damn slowly. And even if this is being inordinately picky, I really wanted their first time to be in keeping with the tone of the rest of the series. Is it too much to ask for sexy fun times, with meaning, but without the heaviness? [Like with a comic bloody nose or some hilarious flailing of limbs? That would've been awesome, as Kim Sam-soon showed us. –jb] I think the heavy sapped some of the fire out of the moment, because to me, it felt like they were making out on a different show. There was so much cute sexual tension built up, and you could've capitalized on that, instead of making it all about the break-up/make-up. Not that I'm complaining about any lack of chemistry here. But the way in which it was written into this point in the story, leaves something to be desired.
In the morning they're back to being their cute selves. You mean if they had slept together sooner, we could've been spared the Ghost of Jin-ho in the last two episodes? That just makes me angrier.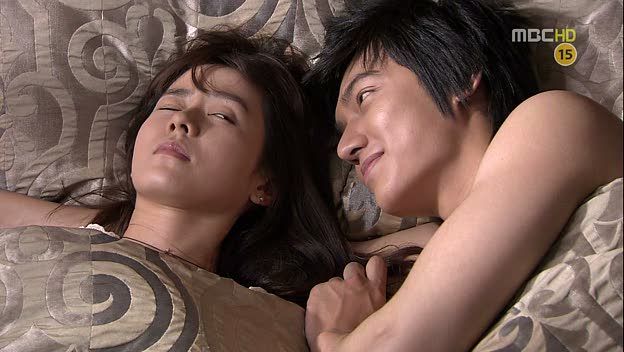 Needless to say, when they're cute, they're CUTE.
He brings her coffee. Sex AND coffee? Okay, I might be coming back around in the eleventh hour.
Jin-ho tells her he has a wish—to take a time machine ride back to meet five-year old Kae-in, and tell her: "It was just an accident. It's not your fault. And don't think that stupid thought of hating yourself." She tells him she doesn't need a time machine; she's got Jin-ho telling her these things now, and that's enough. Back before you became a noble idiot, I did love that your most fervent wish for Kae-in was always to love herself and think more of who she is and what she's worth.
They stand outside Sang-go-jae, Kae-in wanting to tell her father everything, while Jin-ho says it isn't time yet. But Dad comes right up behind them holding hands, so oops…I guess now's the time after all. Dad sits them down and asks for a proper explanation. Did Jin-ho steal the Sang-go-jae blueprints? Yes, he answers, since his employee did it, it's the same as doing it himself. What, now? Must you insist on touting your misplaced honor till the very last moment?
Dad softens at the truth that Jin-ho may have come to Sang-go-jae to learn its secrets, but ended up doing his own design in order to become an upright man in Kae-in's eyes. She smiles to hear him say so. Dad congratulates him on passing the first round of judging, which is news to Kae-in. She and Jin-ho have a couple moment in front of Dad, bickering about why he doesn't tell her things. She whispers a cute little, "I hate you," making Dad uncomfortable with their level of closeness. [Okay, that grumpy "I hate you" totally won me over. It's that kind of adorableness that I've been missing! –jb]
He asks Jin-ho, "What do you like about my daughter?" That's cute, but oddly inconsistent with his character. Why on earth did we have to go through all the histrionics, if you were just going to end up being a big ol softy and asking questions like that? Jin-ho replies that he's never thought of specific reasons…he just followed his heart and ended up here. You're leaving out the detour where you followed your noble intentions and subjected us to torture. Don't think I've already forgotten because you're back to being cute!
Dad asks sternly, "Are you prepared?" Prepared for what? "To drink all night with me?" Aw, dads and alcohol. Korean rituals are sometimes sweet. My dad has had his elaborate drink-interrogation planned for my future so-and-so since I was like, five. [Which totally sounds way more fun than the teetotaling version in my family. See, I think liquor has a way of bringing out more hidden aspects of your personality that you wouldn't get in a stiff, trying-to-impress-you conversation, so it's actually got a helpful purpose, and I'm totally not just fumbling for an excuse to justify the drinky, for reals. –jb] Kae-in says Jin-ho can't because he has to work, prompting Dad to whine that she's already taking sides. Jin-ho springs right up to go buy some liquor, making Dad break into a smile.
Now that one parent is out of the way, we have to deal with the other. Are we really going to just go down the checklist like this, with no sense of momentum? I guess we are.
Jin-ho's mom has softened a little now too, since Kae-in is no longer the one indirectly causing Jin-ho's financial troubles. That's a superficial reason if there ever was one. What happened to "over my dead body"? Mom still doesn't like her very much, but Kae-in tells her how envious she was of Jin-ho's close relationship with his mother, being the kind she had always wished she could have with her own…if she hadn't died. That's enough to melt Jin-ho's mom right then and there. Kae-in says she hopes to be close to her like Jin-ho is, and then Mom invites her over for dinner.
It's time for the Dahm design competition to pick a winner. Jin-ho and Chang-ryul are the last two standing, of course, Chang-ryul having gone with a han-ok fusion style a la Sang-go-jae. And the winner is…Jin-ho, of course. Not that the outcome was anything but predictable, but they really missed an opportunity to build some tension here. Couldn't you have borrowed a scene from a workplace drama to make it a nail-biter of a victory? [Nope. No time. Finale's on a tight schedule here! More loose ends to wrap up. Outta my way, narrative flow and pacing. –jb]
Chang-ryul comes out first, and tells Kae-in that he wanted to fight fairly this time, and lose fairly too, if it came to that. He puts out his hand, saying that it's a congratulatory handshake, so it's okay to take. He tells her that Jin-ho won cleanly this time, and Kae-in breaks into a smile. She catches herself and stops, but Chang-ryul says it's okay to be happy. He says he's really letting go for good this time, since before he must not have meant it, wanting to believe so badly that Jin-ho was the bad guy.
Jin-ho sees Chang-ryul walk away, and for the first time he's not in a snit about Kae-in speaking to Chang-ryul. She congratulates him. He thanks her, saying, "You know, right? This project is my apology (apple pun) for all the times I made you cry." She accepts. I like that the apology apple is given, and then returned, in different forms and on vastly different scales, since Jin-ho's apology needs to be way bigger than hers.
The crew celebrates their victory with friends and drink, leading to Jin-ho having to carry Kae-in home in his arms. Dad's been waiting up, and when they arrive, he's quick to insist that Jin-ho hand Kae-in over to him. Jin-ho's like, uh…I can handle it…but Dad insists, so he passes her over, which of course breaks Dad's back. Heh. Dad has to concede and let Jin-ho take her into her room. It's a sweet way to signify she's too big for her father's arms and now it's Jin-ho's place to carry her. But it would have had more meaning if Dad were actually one who had been around, and legitimately the carrier of the torch that he's passing on to Jin-ho. Personally, I think that torch belongs to Young-sun, or Kae-in herself, but whatever.
Jin-ho tucks her into bed ever so sweetly. Dad watches, and asks to have a word with Jin-ho. He says that he's grateful, and tells him the story behind Sang-go-jae. Thirty years ago, he had been given the Dahm project, and so built Sang-go-jae as a trial, a piece of that larger scale building he had in mind. His wife wanted to be able to watch Kae-in while working, and he wanted a home where his family was always together. (Which still pretty much confirms my theory…maybe I'll do half a victory lap…)
He says that it was all for naught though, because of his mistake. He admits that maybe that's why he couldn't face Kae-in (Finally! Some truth!) He asks Jin-ho to take care of Kae-in, and heads back to the land of absentee fathers, from whence he came. I thought we just established that your daughter was perfectly capable of taking care of herself. But I suppose this is your way of approving of Jin-ho. He even throws in a threat for good measure. Seriously, was it absolutely necessary to bring this guy in for two episodes, just to muck things up in predictable and not even very dramatic ways, only to have him leave again? Gah. Cheerio, old chap! Don't let the door-that-doesn't-lock hit you on the way out!
Jin-ho says he'll guard Kae-in well, and with that, we get a happy couple montage. They buy couple tees (A custom I find strange and off-putting, but I guess that's what they're designed to do—put off people who aren't in your couple.) and go for a tandem bike ride. (Okay, the bike ride looks like a good time.) Kae-in sits on a park bench, and kids come running up to her, one, two, then a whole gaggle of them, each handing her a colorful balloon. If this is going where I think it is, it's pretty darn adorable, as far as these things go. Jin-ho shows up with the last balloon, saying: "I'm proposing right now." Um…that's like saying you're going to apologize, and then not actually doing it.
Kae-in is so surprised that she lets go of all the balloons, the last of which holds her engagement ring. Cut to Kae-in on Jin-ho's shoulders, as they argue back and forth about the merits of proposing this way, while trying to retrieve the ring. Aw, cute! See, this is what I love about these two—they're the cutest when the sweetness is undercut by bumbling comedy and banter. Oh how I've missed you! But it's too late, Show. This last ditch effort just reminds me of the good times, and how long it's been since we've had them.
Jin-ho goes to meet Do-bin, where the latter congratulates him on the engagement. Jin-ho thanks him for all his help. Short of naming your firstborn after him, I'm not sure there's a way to thank this guy for saving your ass a thousand and one times. Do-bin is sad that if he and Kae-in get married he'll be lonely with no one to hang out with. Aw, sad. Jin-ho assures him they'll visit. What are they, moving to the moon? They're just getting married. It is sad, though, that this does seal the deal in excluding Do-bin from his peripheral position in the love-pentagon.
Do-bin says that he learned a lot from Jin-ho and Kae-in—they inspired him to live his life courageously. What a compliment. They wish each other well and Jin-ho leaves. Do-bin stands in front of the Kandinsky, tears welling in his eyes for just a brief moment. You break my freezer-burned heart, Do-bin. You are the best kind of human being. I will miss your awkward sense of humor and bad jokes, and your sad hopeful eyes. [I receive a teeeeeny bit of consolation in the thought that at least Do-bin is less lonely now than he was before meeting these two, even if he had to suffer a disappointed love in the process. And if he's saying he's going to be "courageous," that suggests he'll put himself out there in looking for love, rather than consign himself to eternal celibacy, which is a hopeful thought. –jb]
Jin-ho then goes down the checklist to meet with Chang-ryul. That pink jacket…it's so crazy, it's awesome. Chang-ryul is getting ready to go to China, of his own volition and not because he's being exiled. He thanks Jin-ho for giving the building contract to his company. Well, that makes sense since Jin-ho wouldn't have the funds to actually construct the giant apple himself, what with all the debt. They essentially bury the hatchet [and thankfully not in each other's backs –jb], which is nice since they had the potential to be friends, even amidst the Kae-in drama.
We then catch up with Ascot and Young-sun, who is pregnant with her second. We get a fakeout, presenting them like a couple, but then Young-sun's husband finally makes an appearance. Ha! He's this giant thug guy, who gets all jealous of her friendship with Ascot. I like that they didn't go there with Young-sun, pairing the friends at the end…it would've been too predictable, and I much prefer the dynamic this way. Her husband being that giant goon makes it even funnier. Apparently they're carrying on the gay lie with her husband, and really, shouldn't the series have ended with an Ascot/Do-bin pairing? I would totally take you back if you did that. [Except that he totally doesn't deserve Do-bin, gay or no gay. –jb]
Alas, that's not where we're going, as Ascot goes on a blind date, only to run into In-hee, who's also on a blind date. Aw, really? In-hee? Seriously, Show? See, this is why we can't even be friends after. Because you're doing stuff like this. It's unnecessary, and embarrassing. You should just quit while you're ahead. But no, they end up getting a drink together, and decide drunkenly to date each other. [Which is like finding two loose threads and deciding to tie them together, not caring that one is a silk thread from a designer bag and the other is poking out from the shag carpet. They totally have no business being linked together, but hey! No more loose string ends! –jb]
After wasting all that precious finale time on peripheral characters, we finally get back to our couple, sitting at home in Sang-go-jae, looking out at the night sky. Kae-in tells Jin-ho that her mom named Sang-go-jae, to mean a place where they looked after and loved one another. "Let's live here happily for a long, long time." Jin-ho says of course they will.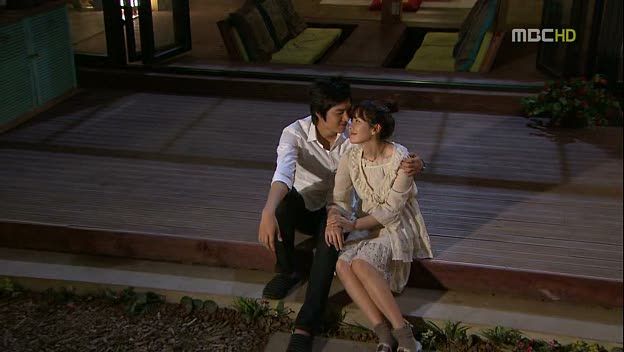 We end with each of their weather forecasts. Kae-in: "It's not always going to be a life of clear skies. But even if I encounter darkness, if I go with this man I can muster the courage to walk through." Jin-ho: "I ran without stopping, but I was always a child running in circles. But I met this woman, and learned that stopping to breathe…could take me farther than I ever knew."
The End.
So there you have it, Show. We had some good times, some really steamy chemistry, and some fantastic characters. But in the end you sabotaged yourself and I couldn't rationalize my love for you anymore. My friends were worried I was settling, and threatened an intervention. When I think about why I loved you in the first place, it amounts to the parts rather than the whole…and your POTENTIAL. It almost kills me how much potential you had, still have, and never tapped into. You had all the components to be amazing, but you never really figured out how to put them together properly. Perhaps it's my fault for setting my expectations too high. Or maybe we were just never meant to be. That's okay. Don't cry. You'll hate yourself for it in the morning. Thanks for the kisses, and The Cute.
Love,
girlfriday
JAVABEANS' COMMENTS
This drama made me feel like Kae-in, who after being burned by many a subpar drama that initially looked great, decided to take the leap of faith and dive in again, only to find myself woefully deceived by a hottie with a sincere gaze and adoring smile. But Sohn Ye-jin and Lee Min-ho were so wonderful and happy together that for a stretch there in the middle (say, episodes 6 through 13), things looked sunny. For those episodes alone, the drama was worth watching — or at least, I still harbor fond memories even despite all the rough patches in there. Her heartfelt acting and vulnerability made Kae-in someone to root for, and his portrayal of Jin-ho's conflicted conscience and doting love made Jin-ho positively dreamy. (Let's exclude the last episode from this, which I am rewriting and re-editing in my mind as I type.)
Sure, the spotty later episodes can somewhat be blamed on the will-they-or-won't-they dilemma of whether to extend the series or not, plus the MBC strike that hindered the production process. But even so, that doesn't excuse the last two episodes, which were more of a letdown than I was bracing myself for. Oh, I knew way ahead of time that this drama would never be the drama I wished it could be — which, based on its cast and material, was not an unreasonable hope, in my humble opinion — so I wasn't crushed by the weak resolution and denouement. But I, like the ever-optimistic Kae-in, was always hoping for better anyway.
Too bad it didn't materialize, but at the end of the day, Personal Taste doesn't shake my faith in dramas. I may get burned again and again but I'd rather keep my faith, even if that makes me silly and gullible, because I still believe in True Love, Kdrama-Style. We'll just call this one a brief fling that ended with an amicable split, and move on to better things.
RELATED POSTS
Tags: Kim Ji-suk, Lee Min-ho, Personal Taste, Ryu Seung-ryong, Sohn Ye-jin, Wang Ji-hye