Sungkyunkwan Scandal: Episode 3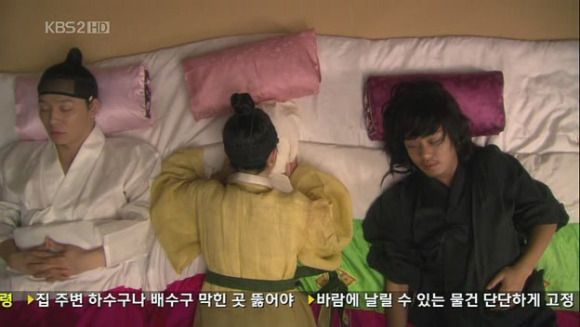 [Hi folks, I know you've been waiting for this recap, so I hope you'll give a warm welcome to the two Sungkyunkwan recappers, cassie.opeia and red pill! Some of you have been very patient, and I thank you for that. Some of you have not, and we will speak of it no further. Both recappers are working very hard, and I know you will love having their thoughts on this little gem of a series. Enjoy. –javabeans]
Greetings, readers!! Cassie here, reporting for duty! I'll be one of the guest recappers for this series along with Red Pill, who will be alternating episodes with me. I know what you're thinking…Cassie.Opeia…really? Really. However, I just wanted to let you guys know that I'm not in this just because I'm a DBSK fan but because I've been intrigued by this drama since day one. Besides, Micky Yoochun is my least favorite member and I'm sure many of you will agree with me when I say that Song Joong Ki has stolen the spotlight for "Most Beautiful Man" in the show. Anyhow, enough with the introductions and onto the recap!

EPISODE 3 RECAP
Picking up where we left off, Yoon-hee avoids making eye contact with Minister Ha who seems to recognize her. Just as he points his finger at her and begins to speak, a gisaeng apologizes for the disturbance, explaining that this was all a part of the Sungkyunkwan initiation and he(she) is a Sungkyunkwan scholar. Remembering his anger, Minister Ha threatens that he will have Yoon-hee expelled for disorderly conduct to which Yoon-hee respectfully bows and offers her most sincere apologies.
Just as Yoon-hee turns to leave, the whispering of the peeking noblemen catches her attention and she realizes that they're staring at the bare-shouldered Cho-sun. The woman in Yoon-hee can't stand to see another woman being so embarrassed and so, to Cho-sun and everyone's surprise, she gives her outer garment to Cho-sun. Yoon-hee then asks Minister Ha's permission to take Cho-sun with her, explaining(slightly mocking) that the president of Sungkyunkwan was the one to make such demands in the name of initiation. Despite his anger, the Minister is forced to let Yoon-hee go because it is his son she speaks about—and of course he cannot protest unless he was to undermine his son's authority. Even after Yoon-hee has left, however, Minister Ha can't shake the inkling that her face was a familiar one.
Yoon-hee leads Cho-sun out of the room, venting that it's because jerks like the Minister are in positions of power that Joseon is in such bad shape. Guys like him should all be thrown into the Han river. Giggling, a gisaeng asks her if she's going to spend all night ranting when she's finally met the gisaeng she's been looking for all along—Cho-sun. By the surprise on Yoon-hee's face, it's clear that she only brought Cho-sun out to save her from an unpleasant night with the Minister.
Meanwhile, Sun-joon is still pondering over his own mission: "The flower of all flowers is the lotus, thus pluck the lotus of all lotuses, the Bu-yong flower." Being the puritan that he is, Sun-joon is thinking flowers and lotuses in literal terms. It's only when his man-servant comes to the rescue(knowing Sun-joon and his puritan ways) that Sun-joon grasps the figurative undertones of "pluck" and "flower". Tehe. (Did anyone else find Sun-joon's man-servant's laugh absolutely contagious? Ha, Loved it!)
The "lotus" in question is none other than In-soo's sister Hyo-Eun (Seo Hyo Rim). Of course the mission itself is a setup for Sun-joon to fail, thus as she and her brother's minions await his arrival, she rehearses her lines of rejection to the praise and adoration of Byung-choon. Outside the estate walls, Sun-joon is bickering with his man-servant—he deems it impossible that In-soo would set up his own sister for 'plucking' and that he must be missing something.
Little do they know that away from others' eyes, Hyo-eun does a 180 on her image. Tired of waiting, an annoyed Hyo-eun storms off to her room and begins stripping off her outer garments in annoyance. When her hand-maid reminds her of her brother's friends outside, Hyo-eun retorts, "They can just stand punishment outside! All of them have such pathetic looks… where in the world are the people like these novel characters?" As Hyo-eun giggles over her story book, she pokes her maid with her feet and tells her to let Byung-choon and Go-bong know that she wants to rest for 1 shigak(1 shigak/gak=15 minutes) threatening that if the maid doesn't, she'll go outside in her under-garments. That's enough to alarm the maid and she hurries out to let them know.
Byung-choon decides to take this time to use the restroom (and of course Go-bong & co. follow) and as soon as they leave Sun-joon stealthily enters the estate(without losing his noble air, of course), still contemplating the words Bu-Yong-Hwa(flower)—and what do you know, he spots the Bu-Yong-Dang sign above Hyo-eun's room.
Inside, Hyo-eun mistakes Sun-joon's approaching shadow as her maid's and she throws open her doors to yell at her—only to find Sun-joon's startled face staring back at her. Sun-joon hurriedly closes her doors but Hyo-eun reopens them and as he begins to protest, she shushes him with her finger…her eyes of adoration fixated on him.
Back at Sungkyunkwan, Yong-ha and In-soo share drinks. Yong-ha tells In-soo that he need not worry if it's Cho-sun that he's worried about, pointing out that In-soo has been constantly checking for news from the Gisaeng house. In-soo denies it, reassuring Yong-ha(and perhaps himself) that Cho-sun will not so easily be moved—she wouldn't even blink if a man were to lay down his life for her. Yong-ha explains that is the precise reason he sent Yoon-hee…he wants to see her be stripped of her guise.
At the gisaeng house, Cho-sun asks Yoon-hee what it is she can do for her—is it not her undergarments marked with proof of her affections? (I think we all know the undertones of that mission). Yoon-hee admits that she's right. Cho-sun then says, "All that is left for you to do is ask me then." She moves closer to Yoon-hee and blows flour from her face. This is enough to unsettle Yoon-hee and she hurriedly gets up to leave, claiming that she is no different from Minister Ha—they've both come to beg for one night with her. Impressed by his(her) chivalry, Cho-sun suggests that Yoon-hee just take her undergarment—it is a gift to the one she's given her heart to. (Painter of the wind, anyone?).
Yoon-hee unfolds the undergarment and begins painting on it to show that this is not a shameful undergarment but a beautiful memory. A smiling Cho-sun says, "Then I must write a poem in reply."
Meanwhile, an awkward Sun-joon stands with his back to the still underdressed Hyo-eun(who has reverted back to being Miss Proper). He begins to excuse himself when Hyo-eun stops him—she can't let him leave like this. Why? It's because Byung-choon&co. just realized that Sun-joon might've slipped in to the estate while they were taking care of "business." Byung-choon arrives just in time to see Sun-joon's shadow inside but when he swings open the doors, there is only an underdressed Hyo-eun getting ready for bed.
Startled, Hyo-eun kicks an even more startled Byung-choon out and as soon as the coast is clear, she helps Sun-joon escape. Not before they share her fairy-tale moment—guy tells her he won't forget this night, flustered girl trips, guy catches, girl is hit hard by cupid's arrow. Of course.
On the road, Minister Ha still can't shake his inkling and decides to turn back to the gisaeng house when his attention is turned to scarlet notes floating in the sky. He becomes alarmed and hurries home while a mysterious masked man sends exploding arrows all around the city. The arrows explode into scarlet pieces of paper declaring the secrets and scandals of the nation—and one of them fall into the hands of Yoon-hee.
The masked man is Hong-Byuk-Seo(we'll be calling him the Red Messenger) and his next target is Minister Ha's home. Just as the minister arrives home, he sends an arrow flying towards the minister. The arrow hits the main gate and a chase ensues. As Yoon-hee walks the streets while reading the scarlet note, the Red Messenger appears in front of her and unconsciously helps him escape by telling the guards she hasn't seen anyone suspicious.
The chase ends when the Red Messenger hides behind Ban-chon territory, which the guards are prohibited from entering after hours.
Minister Ha is furious that an army of guards failed to catch one man but becomes intrigued when hearing that the Red Messenger disappeared into Ban-chon. The news reaches the King's ears and he considers the possibility of the Red Messenger being related to Sungkyunkwan. He smiles as he muses that things are getting interesting…the Red Messenger is looking for the Geum-dong-ji-sa(kind of a Book of Kings, if you will).
Sun-joon's father is alarmed at the mention of the Geum-dong-ji-sa. How did you take care of things, he accuses Minister Ha. The minister assures him that the book is long gone, but Sun-joon's father warns that he must get rid of the Red Messenger. If he fails to do so, the Noron party will be endangered as a whole.
Outside the Sungkyunkwan gates, Yoon-hee is startled when Sun-joon grabs her shoulder. He reminds her that time is almost up and that she should hurry and Yoon-hee notices that he's coming from Buk-chon.
The seniors of Sungkyunkwan begin checking the fruits of the freshmen's missions and when they finally reach Yoon-hee, Yong-ha is sure of her failure. To his and everyone's surprise, however, she offers up Cho-sun's undergarment. Failing to hide his shock, Yong-ha asks if this really belongs to Cho-sun—the others suspicious that it belongs to another gisaeng—but when he unfolds and counts the flowers on the undergarment, he is assured that it truly is Cho-sun's undergarment.
Byung-choon grabs it and begins to read Cho-sun's poem: "Who would say that a short night is lesser than a long night? Such an enrapturing short night…I would not trade for any longer night."
A stiff faced Insoo asks, "I'll ask you again. Is it true? Did you see Cho-sun? And did she give this to you directly?" When she answers yes, In-soo clenches his fist silently in anger. Yong-ha on the other hand is thoroughly amused and lets out an adorable chuckle.
Yong-ha declares that the greatest prize is undisputedly Yoon-hee, who made possible the impossible. Yoon-hee receives her uniform, officially(or…unofficially) admitted to the university.
Next is Sun-joon. He announces that he was unable to fulfill his mission, saying that he did not even go to Minister Ha's house in Buk-chon. Yoon-hee quietly protests that she saw him coming from Buk-chon but Sun-joon clears his throat to keep her quiet.
After preparations are complete, In-soo gives the ok for the punishment to begin(after a smug little speech) and several scholars come out to push him in.
Along the side of the creek, the school chancellor is waiting for Sun-joon to fall in with a custom made lifesaver. He grumbles that this is the problem with rich kids—they can't do anything for themselves, forcing him to take matters into his own hands. "Why should an oldie like me have to run into save him at this time of night? This lifesaver is NOT for that inflexible prick Lee Sun-joon. It's for me! The one you save is me! So you have to do it well!" And just as he swings to throw the lifesaver in, Yoon-hee cries, "Wait!"…resulting in a hilarious moan from the chancellor as the rope wraps around his neck.
Yoon-hee decides that she wants to use her one wish(the grand prize) on saving Sun-joon. Despite In-soo's threats that if she uses this wish, he has the power to expel her, she insists that she wants to use it on Sun-joon.
When they return to campus, Sun-joon stops Yoon-hee. Yoon-hee says, "If you're going to thank me, there's no need to. I was just trying to 'stick to my principles'," she smirks at her own Sun-joon reference and goes on, "I don't like being indebted to someone." Sun-joon tells her that it might have been better if she didn't get involved, "Since I wanted to change this tradition of 'mission impossible' initiation. I also can't stand being indebted to someone, so if you ever have a request, let me know. If it's something within my powers, then I will do my best to do it." Ah, the budding of a friendship.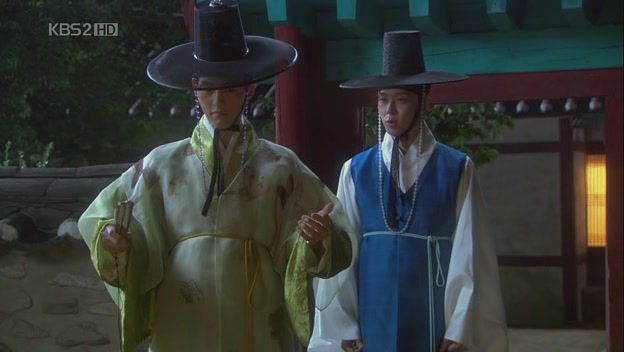 As Sun-joon returns to the dormitories, Yong-ha is waiting for him to have a word.
Yong-ha, who seems to have heard Sun-joon talking to Yoon-hee asks:
"Is that why? 'There's no need to keep the rules of something as meaningless as this initiation'…Is that why even though you went to Minister Ha's estate, you claimed you didn't? 'I'd rather be thrown into the urine-filled creek than fall for your immature tricks,' is that it? Is it pride? Competitiveness? Defiance? It's for guys like you…the initiation. Guys like you who were born into rich families with stiff necks because you've never had to bow your head to anyone. It's to humble guys like you. Why? Because this is Sungkyunkwan. It doesn't matter who your father is, here, all of you are just fresh meat…So get off your high horse—this is the precious lesson that your seniors are teaching you," finally smiling after his uncharacteristic serious talk. "So don't take it all too seriously."
He leaves as he pats Sun-joon on the back, but Sun-joon retorts, "Then you must not have passed your initiation. Because there is no other scholar who wears such flamboyant clothes as you do. Is this not a display of the wealth and power of your father?" Touché!
Sun-joon continues by saying that it was because Buyong-hwa was a chaste young lady and he did not see it fit to embarrass her in front of men—that is all. Yong-ha breaks out into a smile and congratulates Sun-joon on his entrance into Sungkyunkwan.
In-soo is being pampered by his minions while they complain that they could've gotten Sun-joon good if it weren't for Kim Yoon-shik. Go-bong lets slip that Sun-joon specifically asked to be sent to the East Wing dormitory. Why is this a big deal? It has been Sungkyunkwan tradition for people of the Noron faction to stay in the West Wing, while the Soron stay in the East wing—even the school is divided by politics. Who does Sun-joon think he is, going against tradition? Does he think lightly of the Soron faction? Even the school chancellor refuses to allow it but Professor Jung suggests that it will be hard to do change Sun-joon's self-righteous mind.
Yong-ha doesn't seem too worried though. Despite his past failures in getting Sun-joon into trouble, Yong-ha is sure that Sun-joon won't be able to stay in the East Wing for long because they have a secret weapon: the crazy horse, Guh-roo. He never shares a room with anyone, ESPECIALLY not a Noron.
Meanwhile, Yoon-hee is sitting, looking like a deer caught in headlights as Sun-joon undresses into his sleeping robes.
Sun-joon tells her to take off her clothes to sleep, but of course she has her own secret to keep and thus refuses. A cute round of bickering follows, and as Yoon-hee opens the door to leave the room, she runs into Jae-shin (aka Guh-roo). Jae-shin stares down the two of his roommates while In-soo and his minions bet that Sun-joon will pack his bags. Yong-ha's the only one vote that he won't…or at least, not immediately.
Jae-shin looks around the room, "What is all this?" Throwing their belongings on the floor he yells, "Get lost!" Yong-ha is pleased. Recognizing that Jae-shin must be the famed Guh-roo, but just as he's about to introduce himself, Guh-roo tells him there's no need. He won't be seeing his face again. Sun-joon introduces himself anyway.
Yoon-hee suddenly remembers that Jae-shin was the one who saved her from the Minister's henchmen and slowly tries to creep her way out when Jae-shin says, "Hey, you there…why are you here." Yoon-hee freezes. "You must be crazy. Where do you think this is?"
She begins making excuses but Jae-shin moves past her towards Sun-joon. "Hey Noron. Why are you here?" Sun-joon doesn't answer and moves to pick up his clothes. "I'm asking you. Why is a Noron bastard in this room…stinking up the place."
Sun-joon explains that he was assigned here and he's simply following the rules against segregation. Jae-shin accuses him, a Noron, of ripping apart the country but Sun-joon replies that right now, it is Jae-shin who is segregating this room. Does that make Jae-shin a Noron? With that, Sun-joon says that he will now comply with the rules and go to sleep.
Jae-shin is left speechless, so instead throws off his clothes and lays to sleep, laughing hysterically at Sun-joon's insult. He's never heard a worse insult than being called a Noron. Yoon-hee tries to sneak away quietly but Jae-shin kicks her down between him and Sun-joon.
Jae-shin looks at her and says, "Are you telling me to sleep next to a Noron bastard? From now on, this is your spot… forever." Can that be my spot please? Thanks.
The minions outside are disappointed that no one packed their bags, and Yong-ha collects his winnings. In-soo on the other hand has another power tripping episode, threatened by Sun-joon's refusal to comply with Sungkyunkwan tradition.
Yoon-hee spends a restless night between Sun-joon and Jae-shin, the dagger from her mom tightly gripped in her hands—her mother and brother at home praying for her well-being.
Sun-joon is up reading even before the morning call. As he's about to leave the room to get ready, he sees Yoon-hee sleeping in an uncomfortable position and after a little hesitation, he begins to move her. Yoon-hee opens her eyes to the sudden movement, only to stare up into Sun-joon's face. Fairytale moment! Kind of…
Startled, she hurries to get up, butting head with Sun-joon. He lands on top of Jae-shin… yeah I don't think I have to explain what happens next.
It's a beautiful morning at Sungkyunkwan as all the scholars wash up for the new day…but not without some whispering over Sun-joon's staying in the East wing.
As the scholars walk to their classes, they are given instructions and offences that must be avoided by a professor…er… I mean, a student posing as a professor. He's a student who's had to repeat his years, "To more deeply understand the teachings."
Everything is very ceremonial in Sungkyunkwan—eating meals must be first permitted by In-soo, and Yong-ha explains to Yoon-hee that even finishing your meals is based on a point system. Yoon-hee considers this as she eats, only to spit it all out into Yong-ha's face when he calls her Dae-mul(Big One). She's just earned herself a new nickname. Her peers make fun of her new Dae-mul status…even Sun-joon.
Meanwhile, the plot to force Sun-joon out of the East wing continues…almost. A few Soron scholars hoped to discuss plot details with Jae-shin, until they got too chicken to even speak to him.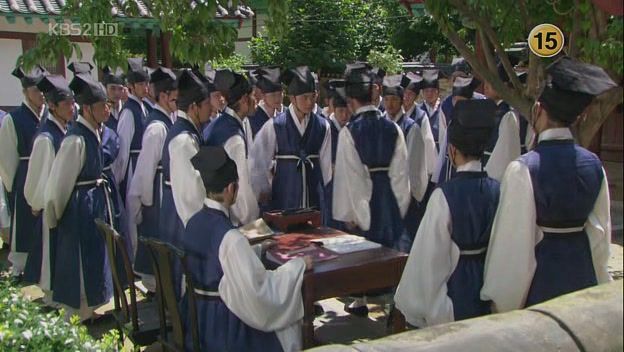 Next plan, In-soo takes the reins. In-soo first warns Sun-joon that although he might think that he's made an impression on the Soron for his non-segregating ways, the Noron are very unhappy with him. When Sun-joon replies that he didn't do it to win anyone's heart, In-soo tells him that he won't last much longer before he comes crawling begging for mercy. "Lucky for you, I am very merciful to anyone repentant."
Sun-joon replies that foolish hopes are bad for your health.
However, In-soo doesn't back down. When his minions corner Yoon-hee to terrorize her for her friend-choice. They tell her she's picked the line to climb because In-soo is the one with all the power. Or is she relying on her Dae-mul? They want to see this great package and as they begin to strip her, In-soo swoops in to the rescue. Or so she thinks…at first. He apologizes for the rudeness of his followers but warns that she should think and decide carefully using that great brain of hers to pick sides. She should keep in mind that he has the power to make her life in Sungkyunkwan a living hell.
Scared out of her wits, she finds Sun-joon in the library.
Yoon-hee asks, "Is my wish still valid? The debt you owe me from initiation." Sun-joon replies that he will keep his promise, whatever it is.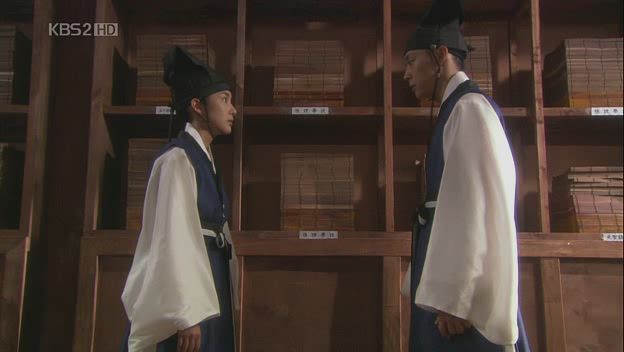 "Will you go to the West wing? I trust that you will keep your promise. Lee Sun-joon, go to the West wing."
COMMENTS
I think with every episode, the series and characters are growing on me. The first couple episodes, Song Joon Ki had me smitten with his portrayal of Yong-ha and I found that Micky Yoochun's performance was mediocre if not barely sufficient. But I think Micky Yoochun's performance is gradually getting better and more relatable. He's not just that stiff neck snot all the time, or at least when he's with Yoon-hee. You can see that Yoon-hee gets to him whether it sin a good or bad way. I can see that Micky Yoochun is loosening up with his acting, so I'm looking forward to seeing his improvement in future episodes.
Park Min Young is surprisingly endearing in this series, and also pretty convincing as a cross-dresser. I'm so thankful that they haven't tried to pretty her up like they did for Park Shin Hye in the beginning of 'You're Beautiful'. Her voice is also low enough to be convincing but not disturbing.
As for the Red Messenger, I think we all know who is behind all that, but I don't want to mention any names just in case some people haven't caught on yet. Let me just say, I'm glad for this subplot because it makes this series so much more than just a bubbly romantic comedy but also a drama with political struggle, which I love. The Red Messenger kind of has an Iljimae feel, doesn't he?
I enjoy watching this drama for its cute moments, hilarious sub-characters, and of course the pretty boys that give my eyes joy. Let's just hope it keeps doing what it's doing and not drag out to turn into a disappointment!
Also, if you've read this far, thanks for reading my first ever recap! I know it wasn't perfect, but I'll do my best to summarize better without cutting out important details!
ADDED: Just a short explanation about the Geum-dong-ji-sa. It's a document written by King Yeong-jo that chronicles the pressures from the Noron faction to kill his son, Sado. It is said that Sado would often go on killing sprees in the Palace, thus with the pressures from the very powerful Noron faction, Yeong-jo was left with no choice but to lock up his son into a large rice chest… and Sado died 8 days later. This document, however, has been lost… which seems to be the doing of the Noron faction (hinted by the panic of Minister Lee, who is the leader of the Noron faction) according to this drama.
Jeong-jo, who is the king portrayed in SKKU is the son of Sado and the grandson of Yeong-jo. So it seems natural that the Soron Red Messenger, (Soron being the less powerful rival of Noron) would be looking for the document that would prove Noron's malicious guilt.
I'm not sure how the drama will portray it, but historically it's said to be written by Yeong-jo.
I think the definition of Geum-dong-ji-sa is "a document that chronicles the secrets and scandals of injustice to be passed onto their descendants."
In real life we can't say what the document really says and if it was really written by Yeong-jo because it's never been found, but scholars believe it to be Yeong-jo's confessions to let his descendants know of the pressures he faced in killing his son.
RELATED POSTS
Tags: featured, Micky Yoochun, Park Min-young, Song Joong-ki, Sungkyunkwan Scandal, Yoo Ah-in