Romance Town: Episode 18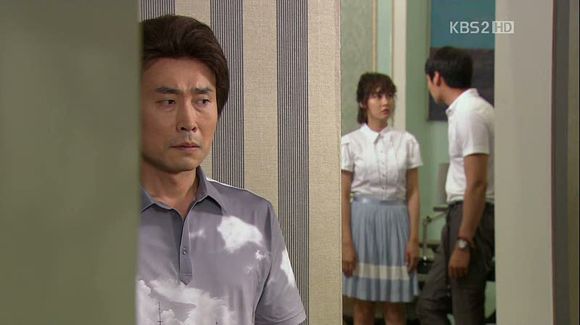 We're nearing the end! There may be a lot of threads to close, but I think this drama has been chugging along nicely to the end. We're going to get some closure, and some satisfaction. I'm most amazed at the fact that we get one more twist our way so late in the series. It's really amazing how the writer keeps changing people's fates every week.
We're back to Hwang Yong, getting questioned by the prosecutor. In his mind's eye, he sees himself taking his black book of transactions from his work safe and putting it in his home office safe. The key code? 2011-5-28. That date is also on the painting hanging in front of the safe, the one he purchased on that day. He keeps his mouth shut in front of the prosecutor.
On the other hand, Tae Won wants a private talk with Gun Woo. He wants to know if his son knew about Soon Geum's wealth the entire time, and how much she won. Gun Woo says she got $10 billion, which makes Tae Won burst out into gleeful laughter. So his son knew the entire time! So his son pursued Soon Geum because he knew she was rich!? So his son is really just like him!
Soon Geum walks her father out, and she quietly hugs him. He's surprised by her kind gesture, but she adds, "If you play Go Stop again, I'll kill you." Heh. Their happy "reunion" is cut short when Gun Woo comes out telling Soon Geum that his father wants to see her. She tells her father she'll be right back, and to wait for her, and the look on his face is pure happiness that he's on good terms with his daughter again.
Tae Won has a plan; frankly speaking, he informs the family that he'll accept Soon Geum because – and only because – of her money. She's now in a position where she's richer than them, and they see that as desirable since they would have been embarrassed to be associated with her otherwise. With her money, she can even get rid of the fact that she was ever a maid.
Gun Woo can't stand this injustice and mistreatment and yells for Soon Geum to get up and leave with him. However she has her own retort ready: Honestly, if they're going to take her in like this, then she would rather give all the money to her gambling father than allow them to have a single cent. She finds them worse than her father, because they're so willing to "sell off" their son just for a rich daughter-in-law. Their greed is the reason why she refused to tell a single one of them about having money.
Gun Woo supports her, saying that he'll leave this house as well, but Soon Geum says she'll never leave this house. She will become a family member, rather than a maid, and they can just try to get their hands on her money.
Tae Won and Hyun Joo agonize over this, unable to believe that they have been so disrespected, thinking that they're sooo high and mighty.
Soon Geum goes out to see her father again, but she can't stop crying. Gun Woo follows her out and wipes her tears. He offers to take Sang Hoon home, but Soon Geum wants to do it; besides, her father is so perceptive that he might figure it out sooner or later.
Sang Hoon is pleased to hear that Gun Woo's parents are OK in accepting her. Soon Geum offers to give him money – not a lot! – but Sang Hoon is a man of his word and refuses to take a single cent. Tears escape her eyes again, but she brushes it off to her feeling so happy that she's been accepted into the Kang residence, and her father has quit gambling. But Sang Hoon doesn't seem completely convinced of Soon Geum's lie.
Meanwhile, Soon Ok is seething at the sight of Hyun Joo actually looking around the house as a potential buyer. She's even more angered when Soo Jung arrives, also interested in buying the house. She doesn't know where their money suddenly came from, but so prejudiced she is against maids that she bristles at the idea of having a former maid purchase her house, even if she needs the money desperately.
The doorbell rings, and it's Da Kyum and Zar Lin calling for Soo Jung and Hyun Joo. They just received word that Hwang Yong was arrested for buying their ticket!
Meanwhile, Yoon Joo goes to give Soon Geum her pay, but wasn't expecting Soon Geum to actually take it. After all, Soon Geum is richer than all of them. But she has a point – until the family accepts her as a daugher-in-law, she's going to continue as a maid and receive her pay. Before they can argue any further, the doorbell rings.
All the maids plus Young Hee and Gun Woo gather at Hwang Yong's home to discuss. They find out that Soon Geum knew he was a gangster, which makes them even more scared of him. Soon Geum points out that Hwang Yong never did anything wrong to them so he's not someone to fear (except for Young Hee, who deservedly got beaten). They're all worried about the money, but they'll only be safe for as long as Hwang Yong keeps his mouth shut. The entire time, Hyun Joo keeps her mouth shut, thinking and perhaps not wanting to believe Hwang Yong is a bad man.
Back at home, Soon Geum regrets ever going to Hwang Yong to sell the ticket. Gun Woo relieves her by telling her the truth – the whole truth. That Tae Won purchased the ticket; that the robbery led to a lottery ticket swap; that Hwang Yong gave the real one back to Gun Woo so that he could give it back to his father; and that Gun Woo never gave the ticket to his father.
All they have to do now is for Gun Woo to give the maids the real ticket, present it to the bank and redeem it (thus proving that they have the ticket and lessen Hwang Yong's sentence), and then give Gun Woo the money that they receive from the bank. The ticket is also in the company, so he'll get it tomorrow.
Little do they know, Tae Won just overheard the whole thing outside Gun Woo's open door.
Hwang Yong gets a visitor in jail – Yoon Joo. Since he's being watched, he has a simple – but odd – request for her. He has a painting that he recently bought, but hasn't been able to enjoy it. He wants Yoon Joo to clean out his room, and throw away all his dirty things. It's clearly code for "Throw away the painting and look at the safe!" but only us smart viewers would know that.
Yoon Joo says she'll do it, but later outside she scoffs – she's no maid! She does see Young Hee driving Hyun Joo and the Three Maids up to the jail though.
Hwang Yong had wanted to see Hyun Joo as well, and he repeats the same request to her. What – so now he wants everyone to discover his safe?! Hyun Joo misunderstands and tells him that she's going to quit her job soon, and no longer clean the house for him. Hwang Yong is left alone again, with no one who can understand his request and help him.
In the offices, Gun Woo checks to make sure the coast is clear, and then withdraws the lottery ticket from his locked drawer. Suddenly someone says, "Let me see that." It's Tae Won – he's caught! Tae Won comments that a college graduate shouldn't be buying the lotto, but he sneakily lets his hand slide from Gun Woo's arm to his hand, and they start wrestling the ticket from each other's hands.
And then – IT RIPS INTO HALF!
Tae Won dashes to the nearby convenience store to purchase another ticket and then calls up the bank – can he redeem a ticket that's ripped in half? He is told that he must bring in both halves of the ticket for it it qualify. Time to find Gun Woo again!
His son is in his office, and of course, Gun Woo refuses to hand over his half. Frankly, Gun Woo's half is considered more important as he has the lottery ticket ID number (#334). Once again, he tells his father that until he accepts Soon Geum, he'll get nothing. They're never on the same side. With that, Tae Won calls for a house party.
As Soon Geum is tasked with cooking a feast, Yoon Joo goes around all the houses, inviting everyone over. She even tells Soon Ok to not sell her house to Hyun Joo, as she will purchase it at a higher price. (Even though they have no money.) Gun Woo arrives home, shocked to see that this "house party" is for all the maids and Young Hee, and still not understanding his father's motivation.
On a side note – Granny Choon Jak is very feeble now but still insists on going out and doing some chores. She falls, dropping a bunch of fresh seafood, and a neighbor comes by to help her, taking her to task for being active when she should be resting. She writes up her will and bequeaths her small meager savings and her house to Gun Woo.
Back at the house, everyone silently eats the food Soon Geum's set out. Hyun Joo urges Yoon Joo and Tae Won to quickly say what it is they have to say, and that's when Tae Won brings in his lawyer Mr. Lee.
The purpose of this little get-together is for Tae Won and Yoon Joo to congratulate all the maids in winning the lottery. They mockingly clap at everyone else, and then Tae Won holds up his half of the ticket. Yes – he bought the ticket from Hwang Yong, and since he got ensnared by Hwang Yong's misdeeds, he wants to give back the ticket. But – he wants his money first before he hands over the ticket.
No one has any more money to spare, as all of them have spent it in some way or are preparing to purchase a house. But they promise to hand over the winnings from the lottery ticket straight over to him. Yoon Joo points out that Hyun Joo hasn't bought the house yet, and so that can be used to pay them off.
Hyun Joo rises angrily – how many times does she have to say that Yoon Joo will never be able to purchase that house?! She blurts out that she should never have kept her affair with Hwang Yong a secret (YEAH!) and suddenly Yoon Joo looks fearful. Tae Won thinks it's all utter nonsense and, just like his wife before, throws a glass of wine over Hyun Joo. Soo Jung stands up too – she was there, preventing Tae Won to go up the elevator because she was helping Yoon Joo not get caught!
Tae Won is an utter dolt when it comes to his own wife. I mean come on, you're rich. She doesn't really love you. She wants your money. How could you not entertain the possibility that she could be cheating on you!? Why so defensive over her!? Moving on…
Tae Won has investigated the maids already, so he knows everything about their petty infighting and their greed. No way in hell would he entrust his lottery ticket to these maids without money upfront as a guarantee.
Soon Geum speaks up: how about he give the ticket to her. She would never backstab the parents of the person she loves. Yoon Joo, ever the pessimist, thinks that Soon Geum is just using her love as an excuse, and would take the ticket and run, giving it to her shabby-looking father instead.
That insult is a little too close to home, stunning everyone to silence. Soo Jung rises, incensed, and grabs a wine glass. Is she gonna throw it in Yoon Joo's face!?!?!? She brings it to her lips…and then spills the wine on herself. "Insult me! Make fun of me instead!" she yells angrily. Soo Jung rails against the rich people for looking down at them so contemptuously. The maids already are ashamed of their status and position, and they don't need this "dinner party" to help reinforce it. What crime have they done to deserve all this embarrassment?
Her speech is an impassioned one, and it moves the other maids to tears except Hyun Joo. She yells for all of them to stop crying. They are all rich, and have every right to live on the street as well, so they must preserve their pride. Zar Lin bursts, "If we're so untrustworthy, why'd you leave your houses to us? Have you ever had to check if we touched your seals? We know where you hide your keys! How did you trust us with not poisoning your food?"
Young Hee reassures Tae Won that they will give the money to him, but Tae Won is a step ahead. He knows that Young Hee handles their money in the stock markets, so he wants Young Hee to take that money and drop it in his account. He even has the lawyer present a tablet, all ready for Young Hee to do it. Meanwhile, the prosecutors and police are making their way to 1st Street…
The party is moved outside, and Soon Geum brings out a bowl of fruits. Another tomato drops on the ground, so she picks it up and cleans it on her apron. Before she can put it in her mouth, Gun Woo grabs it and eats it – this is not the time for her to act so frugal in front of everyone. The lawyer confirms that Tae Won has 4 billion Won in his account, and Tae Won goads Hyun Joo into hand him the remaining 1 billion that is her share by pointing out her own selfishness.
As Hyun Joo hurries to her home, the police arrive, and everyone nervously watches as the prosecutor makes his way to Tae Won. He snickers at the sight that Tae Won is neighbors with Hwang Yong. Soon Geum sends an urgent text telling Hyun Joo to be careful. Suddenly Hyun Joo remembers the painting in Hwang Yong's office. She knows that he was telling her about this, and notices the date, but she didn't quite figure it all out yet when the cops come ringing at her doorbell.
She has no choice but to let the police in, as they have a warrant. The police overturn the place, searching for every possible clue, and they find the safe. They crack it open and start confiscating all the gold and cash. But something is missing…
The prosecutor spots Hyun Joo inching closer to the steamer that's cooking on the stove. Thinking she's hiding something, he goes over and uncovers it. It's just stacks of dumplings, and Hyun Joo quickly says that she cooked some knowing that Hwang Yong liked it. He orders her to stop making them, and walks off, leaving Hyun Joo shivering in fright.
Outside, Tae Won now wants to go with all the maids to redeem the ticket, as he no longer trusts any of them and is scared with the police around. Gun Woo grabs his father aside and tells him to tread carefully – he still needs his son for the other half of the ticket, and it will do no good to look down on the maids. Tae Won is all, "Sure!" and tells his son to not expect a single cent from him, as his beloved Soon Geum is so much richer.
After the dinner party and the police have left, Gun Woo assists Soon Geum in cleaning the dishes. She tries to be optimistic and think that everything will be resolved by tomorrow, and then realizes that Gun Woo hasn't been angry at all ever since finding out that she was actually rich. (M'dear – he knew you were rich the whole time – you just couldn't pick up on his clues!!) Gun Woo explains it as him feeling sorry towards her and therefore never able to muster enough anger towards her. It's because of his parents that she must suffer so. They plan out tomorrow – after they redeem the ticket, she wants to eat some jjajangmyun (her treat!) and then go on a trip, just with him.
Back at the Hwang Residence, Soo Jung helps Hyun Joo with the dumpling steamer, and uncovers the last tier. All the way at the bottom lies the black book of names in a ziploc bag. (So Hyun Joo had taken it out way earlier! She knew!) They look through it and notice Soon Geum's name as one of the transactions. Soo Jung gets the bright idea of blackmailing Hwang Yong with this for more money, but Hyun Joo will have none of it. She burns the book, claiming to do it for Soon Geum's sake. Pfft. We all know it's for Hwang Yong.
Tears in her eyes, Hyun Joo suggests they leave 1st Street tomorrow. Soo Jung cries out – but what if all this helps Hwang Yong get out of prison? What if he's so thankful that his heart turns towards Hyun Joo, and she can end up with a better fate? Hyun Joo knows that Hwang Yong never loved her, but simply used her for his own gain. She was the fool, and yet when the prosecutor was so close in discovering the book, she couldn't help but feel frightened for him. "Aren't I laughable?" she notes tearfully, but Soo Jung has no response.
The next morning everyone splits up into two cars – Tae Won, Yoon Joo, Soo Jung, and Hyun Joo in Young Hee's sports car; I'll call them the Oldies. The Young 'Uns (Soon Geum, Zar Lin, Da Kyum) are all in Gun Woo's car. Gun Woo reassures his girl that everything will be all right, since he dreamed of Granny Choon Jak the night before. Granny Choon Jak had cooked for him, and told him she'd make him happy. (Heh…I think I know how this drama will end now…)
Yoon Joo looks over the ticket and notes the phone number in the back. She asks out loud whose number it is, but no one is really paying attention to her. Hyun Joo grabs it, wanting to look at the number, but of course Yoon Joo won't let go. Young Hee is so lost in thought that he catches the red light just in time and slams the breaks. The force of the stop make the Two Joo's let go of the ticket – and off it goes flying…
Everyone scrambles out of the car, trying to chase after it. The Young 'Uns scramble out too, and Gun Woo looks at his half of the ticket; it's now useless without the numbers. Everyone chases after the Flying Ticket as it soars ever higher above the pedestrians' heads.
Flying Ticket: La-LA-la-la-la-la~! Whee!

Everyone Else: NOOOOOOO!
Comments:
Ha! The last image had me cracking up, because it made the drama feel as whimsical as Harvest Villa – a comedy/melodrama of sorts that took a suspenseful moment and made it look comical.
Well, well, well – I do have to say that I'm enjoying Tae Won as the uber-baddie rather than watching the maids fight among each other. His insults are demeaning, but creative. Somehow I get a kick out of watching how he will insult or embarrass Soon Geum next with words or the people who are close to her. It makes my chest tighten with anticipation, but that's what helps make these past two episodes gripping.
Tae Won's superior attitude has brought everyone together, united against a common enemy. And yet, the group has been coming together organically without Tae Won. Looking back, it was nice to see how friendships were forged and strengthened, how Gun Woo and Young Hee were slowly enveloped into the group, and how those bonds were then broken. But at the end of the day, we still have Soo Jung supporting Hyun Joo beside her, the maids all sticking up for Soon Geum, and Gun Woo washing dishes with his girl. No matter what differences threatened to tear them apart, they got over it, and then banded together even more quickly in the face of Tae Won. Thank God to Tae Won for that!
I can tell that there's going to be plenty of loose ends, and perhaps a rushed montage-like ending. But I actually would be OK with not knowing how everyone's lives worked out, because in the end, this series is all about the maids. They've all gone through so much already – them being happy would just be enough for me.
Although – I predict the ending will be of Gun Woo and Soon Geum, cooking fresh seafood in Granny Choon Jak's seaside house. Extra point if both are wearing granny's clothing.
RELATED POSTS
Tags: featured, Jung Kyeo-woon, Kim Min-joon, Min Hyo-rin, Romance Town, Sung Yuri