My Name Is Kim Sam Soon: Episode 11
Hold onto your knickers boys and girls. This one moves like a roller coaster.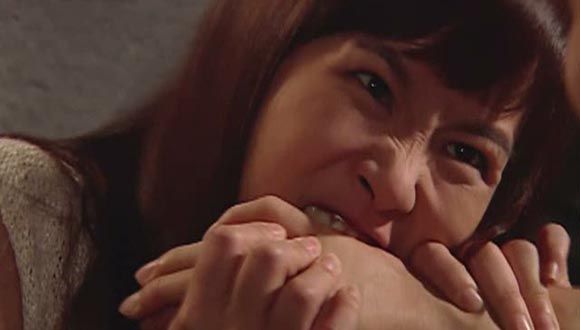 SONG OF THE DAY
Noise – "오래된 만남" [ Download ]
Audio clip: Adobe Flash Player (version 9 or above) is required to play this audio clip. Download the latest version here. You also need to have JavaScript enabled in your browser.
Episode 11 – Don't Say It Was A Mistake. This Is The Second Kiss.
In what I thought would be a nice romantic moment for Sam Soon and Jin Heon has turned in a different direction. After telling Sam Soon that she has charm, after telling her that she can find better guys than the Good Looking Blind Date Guy anytime she wants, after telling her not to see anyone, Jin Heon ruins the moment. Jin Heon adds "…until you pay me back my $50,000." WHY. WHY? Why would you be mean like that for no reason? And now, it's gonna get worse. Apparently, Hyun Woo was standing nearby waiting for Sam Soon to come home and overheard the whole exchange.
In his own mind, Hyun Woo feels he has a right to be pissed. Hyun Woo might be a cheater boy but at least he admits that he still has feelings for Sam Soon. Huge difference from a non-cheater boy who doesn't admit he has feelings? Hyun Woo punches Jin Heon (who deserved it), who returns the favor by smacking Hyun Woo (who deserved it). Street fight? No, Sam Soon stops it, facing Hyun Woo first. Isn't that interesting? If you are the woman being fought over by two guys, isn't the guy you like MORE the guy you look to FIRST to ask to stop fighting?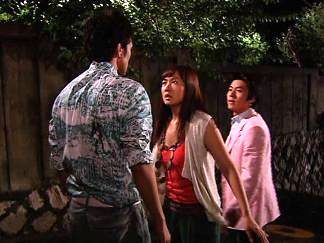 Then Sam Soon turns around, and she tells Jin Heon to go. And when he doesn't move, Sam Soon tells it to him again. Even Hyun Woo is surprised by Sam Soon, who seems to be taking sides against Jin Heon. Sam Soon even shoves Jin Heon, who really looks upset. What is he upset about?
Hyun Woo is overjoyed and doesn't even mind that Sam Soon tells him to go as well. Who cares! With Jin Heon out of the picture, Hyun Woo now has all the time in the world to try to get Sam Soon to sleep with him again from time to time. Sam Soon doesn't have to like Hyun Woo, or even respect Hyun Woo, for this to work out perfectly from Hyun Woo's perspective. Hyun Woo leans in to try to kiss Sam Soon but Sam Soon yells "MOM! PERVERT!" and Hyun Woo flees with Sam Soon's mom giving chase.
Sam Soon can't sleep that night. She wonders how it came to be to have Jin Heon and Hyun Woo chasing after her. Her efforts to improve herself has only attracted the kind of flies that hover around rotting meat.
Jin Heon can't sleep that night. He tries to throw Samsooki away but can't. He ends up just using the stuffed pig as a punching and kicking bag. I'm not the least bit offended (*sniff* what did I ever do to you). Three words: Stop. Kicking. Me!
Finally back in bed, Jin Heon stares at the pig who won't go away. He repeats to Samsooki Pig what Sam Soon said to Jin Heon earlier that night:
Jin Heon: What do I care if you stare at me.
Since Jin Heon is talking to me, I'll answer his question with a question. If you don't care, then why are you talking to a stuffed pig?
Step One in Sam Soon's Master Plan is to get that metabolism going. Yi Young takes her out jogging and tries to talk some sense. Yi Young tells her younger sister to get off of the Jin Heon Dream Train because it's never going to stop at the Sam Soon station. Instead, focus on a different goal: when Yi Young's condo sells, they can take the money and open a bakery shop together! It's a good plan – Sam Soon does the baking and Yi Young handles the business end. Woo-hoo!
On the other side of town, Hee Jin has taken business steps of her own: Step 3 in the Jin Heon Reclamation Project – "Public Appearance To Put All Rumors To Rest" (Step 1 being "Tell Current Girlfriend To Scram" and Step 2 being "Innocently Bump Into Jin Heon On Jeju").
Hee Jin heads over to Bon Appetit to have lunch, dragging along Henry as well. Well played, well played. See, Hee Jin COULD have showed up at Bon Appetit during the staff break to see Jin Heon, but that would put her on the same level as the rest of the female staff. But by coming as a paying customer, the staff has to treat her well, and they can't ask her questions or even talk to her.
When Jin Heon joins the table, Henry asks if "Sophie" is at Bon Appetit, not knowing that Sam Soon had quit. Jin Heon wonders why Henry wants to know, which makes Hee Jin want to know why Jin Heon wants to know why Henry wants to know. Henry needs a birthday cake, and Jin Heon tells him to look elsewhere since Sam Soon isn't just any cake maker.
Hee Jin perks up at that. Why does Jin Heon care about whether Henry asks Sam Soon anything? Jin Heon plays it off, but a penguin named Awk-ward comes for a visit and sits with the three of them for the rest of the meal.
So the Bon Appetit staff want to know: how can Heej get all the guys! Well, no doubt part of it is that Hee Jin is a slim and tasty like a Pepero pretzel stick. And it isn't like Sam Soon hasn't noticed.
In an effort to lose weight, Sam Soon goes on an all-beef-all-the-time diet. But with her mom and Yi Young going nyam-nyam-nyam over what looks to be mouth-watering bi-bim-bap with plenty of hot-sauce, Sam Soon is suffering. Dying for a taste, Sam Soon asks if the bi-bim-bap is any good. Her mom and Yi Young can barely look up to answer, so focused they are on shoveling the spicy mixture of rice, spicy sauce, meat and veggies into their mouth.
Sam Soon lasts about a half-day after watching her mom and sister eat the bi-bim-bap. Not even a full day on the all-beef-all-the-time diet. Hey, I'm not throwing stones but she won't get no choco-abs that way.
Sam Soon gets a call from Jin Heon, who orders her to pick up her bike that night or it's going to be tossed. Sam Soon heads over and notices that the front tire is flat. She asks Jin Heon to drive her home.
On the drive over to Sam Soon's, Jin Heon asks the question he's carried with him all day: what did Sam Soon do with Hyun Woo that night? Sam Soon replies, never you mind. That's right, keep him guessing!
After a silence filled with "Say something!", Jin Heon asks another personal question but less intrusive. Whither the name "Sam Soon"? Sam Soon reveals she was named by her disappointed grandpa, who had expected a boy to be born but instead, got a third girl. Trying to keep the conversation going, Jin Heon asks about why Sam Soon needed the $50,000, but all these questions raise more questions, like, why all these questions?
Just then, Jin Heon's phone rings out, but Jin Heon tries to let it go to voicemail but Sam Soon insists on having him take it. It's Heej, the Smile Queen!
Since neither of them are doing anything wrong, why not take the call? Afraid Smile Queen might turn into Frownie Franny? Not taking the call means you're up to no good. So Jin Heon takes the call, but then lies about what he's doing. That works fine until he nearly blows through a red light and Sam Soon yells at him to stop. Whoopsie! Jin Heon quickly hangs up. Now he's in trouble. Smile Queen is now Nervous Nellie.
A pissed Jin Heon pulls over to the side of the road and orders Sam Soon out of the car. Sam Soon won't leave but then Jin Heon starts taking out the bike.
Dude, what's WITH you and leaving Sam Soon at the side of the road! Sam Soon gets out of the car but faces up Jin Heon. She asks the question. Does he like her or something?
Jin Heon answers with a question of his own, using his Fake British Haughty Korean accent:
Jin Heon: Didn't I say this to you before? Who would like to hold a person like yourself? You… are just not my type. You wanna know why? Because you have ugly hands. Are these pig's feet?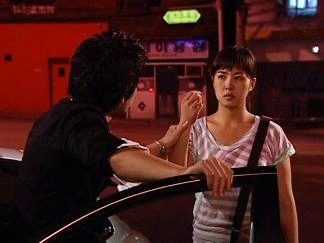 Sam Soon: You're not my type also. You wanna know why? Because you can't be honest. Speak honestly. Was there even two minutes, one minute even, when you liked me? Yes or no?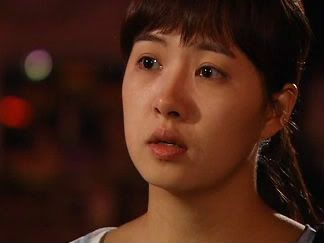 Jin Heon: …No.
Sam Soon: Then, let me teach you one more thing. Don't pull stunts like this. Calling out a person in the middle of the night for no good reason, asking her questions like it's a census, and snapping back answers like this… do you know how this is interpreted? "I'm… interested in you." If you're not interested in someone, don't do meaningless things like this. Don't confuse women like this for no good reason.
Jin Heon: And so, were you confused?
Sam Soon: I was. For about 59 seconds.
Jin Heon: My bad. For confusing you.
And with that Jin Heon turns to leave, but kicks over her bike first before driving away. I would have believed Jin Heon, but kicking the bike? That says, "I'm… interested in you." Actually, EVERYTHING screams "I'm interested in you." And it isn't like Sam Soon doesn't know. She knows. And she knows that Jin Heon is acting this way because he's an immature person.
And Hee Jin knows too. Well, Hee Jin doesn't know. Hee Jin suspects, but can't know for sure. She can't know because Jin Heon doesn't know. Still, Jin Heon apologizes to Hee Jin for everything but without defining what "everything" is. Hee Jin has no choice but to let Jin Heon off the hook. What can she do? Hee Jin has no leverage anymore. She can either dump him or she can forgive him. But she didn't survive advanced gastric cancer and three years of recovery so that some pastry chef can confuse her boyfriend with some late night hijinks.
Ding dong, calls out Sam Soon's door bell!
Who is it NOW? Jeez!
Sam Soon gets called out, this time by Hyun Woo. He wants to have a date, sort of like a finale for their relationship before he gets married. As unbelievable as this sounds, it sort of makes sense for both Hyun Woo and Sam Soon (assuming that both were good friends after the break-up). It would be a time for celebratory remembrance, a time for toasting good fortune and health to each other as they move on with their lives, never again to be so close. Culturally, the staying-close-friends-with-exes after one gets married… it's just not done.
Sam Soon is actually amenable to the idea, probably because in her mind, if a cool send-off will get rid of Hyun Woo for good, then it would be good for both of them. And more importantly, Sam Soon would be doing this for herself, because maybe there would be at least some recognition of the three years that they spent together. Three years is a long time, and a lifetime can be lived in those years. She would celebrate her memories, because those memories are a part of her.
So Sam Soon goes with Hyun Woo, who drives them to the same hotel where he dumped her (nice) and where Jin Heon had broken up her date with Good Looking Blind Date Guy. Sam Soon wants to go elsewhere, but Hyun Woo doesn't know anywhere else. They go inside but meet Jin Heon by the elevators. It is Jin Heon's mother's hotel after all.
Jin Heon stares at Sam Soon but gets in the elevator anyway. Hyun Woo brings out a little needling, but Jin Heon doesn't bother with Hyun Woo, focusing his words on Sam Soon, calling her an unfaithful and irresponsible person. Which isn't true, obviously, but he's upset and he STILL can't figure it out other than he's upset.
Alone at last with Sam Soon at the hotel club bar, Hyun Woo presents Sam Soon with an engagement ring, asking her to marry him. Hyun Woo magnaminously says that he'll break it off with Chae Ri if Sam Soon says yes. But Sam Soon reverses the order, saying she'll accept the ring if Hyun Woo breaks off the engagement first.
Hyun Woo, in a slightly surprising reply, agrees to break it off with Chae Ri. Sam Soon offers to call Chae Ri to tell her the news. Oh, you mean right NOW now? But it's too late to call… Not too late for Sam Soon though. Sam Soon picks up her phone and calls Chae Ri, telling the latter to break his legs and do whatever it takes to turn him into an honest person. She hands the phone to Hyun Woo, who hangs up on Chae Ri. Bluff called!
At that moment, Jin Heon appears from behind and yanks Sam Soon's phone from Hyun Woo. Get your mitts of my woman's phone! Jin Heon and Hyun Woo each take a Sam Soon wrist like two kids grabbing the ends of a wish-bone. Standoff!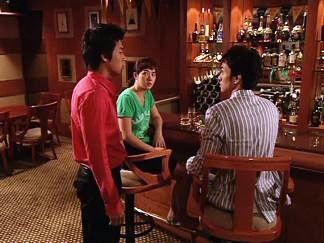 But the standoff ends rather anticlimatically as Jin Heon merely kicks Hyun Woo over and drags Sam Soon out of the bar. To the men's room. To smooch her. Because… that's romantic. Forget OST mixtapes, poems and flowers. This is the way to woo Sam Soon. And it's not like there's bad memories of Sam Soon here, right.
During the smooch, Sam Soon's eyes are wide open. She's not swayed. Sam Soon is mad. She asks if Jin Heon's high. No. Drunk? No. Another one of those mistake-y kind of things that happen every now and then? No. Then what IS it this time?
Jin Heon yells, "I've started to like you! I like you! I can't stop thinking of you! Why do you flutter inside my head so and fluster me! Why not just get out of my life!"
Sam Soon has just about had it. She agrees to stop bothering Jin Heon and starts to leave. Jin Heon softens dramatically and asks to take back his last words.
Sam Soon's emotional guard is crumbling and she finally starts to yell. NONE of this has been fair to her. What right does Jin Heon have to treat her this way? And after everything that has happened, it's not that she ever expected Jin Heon to be romantic to her, but couldn't he have picked a place that wouldn't have had such terrible memories for her? In what amounts to a summary of her life, Sam Soon cries out.
Sam Soon: What makes this so hard? If you like me, then you like me and if you don't then you don't. What makes this so difficult and complicated? This is really hard for me. It's so hard, it's killing me!
Jin Heon hugs Sam Soon, and slowly, Sam Soon hugs back.
Maybe she didn't want to believe it, as she's been burnt so many times before.
But here again, she opens up her heart and hugs away!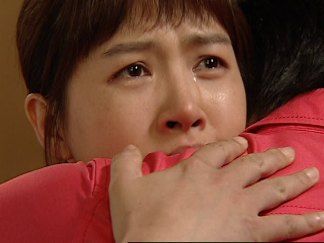 Comments:
After rooting for Sam Soon – Jin Heon for like 10 episodes, I am sort of ambivalent here. For or against Jin Heon?
Anti Jin Heon. Jin Heon has always thought of himself first. And he's never considered the possibility that maybe he's not right for Sam Soon. Shouldn't that be part of his consideration? Jin Heon has never stopped to think how his actions have affected Sam Soon. How immature can you get? And if you really love someone, shouldn't you consider what would happen if you actually started dating that person? Why should Sam Soon have to spend the next 10 years waiting for him to grow up, or worse, baby-sitting him?
Pro Jin Heon. That's a pretty arrogant argument, isn't it? What makes anyone think that they can know what's best for another person? And so what if Jin Heon thinks about himself first? EVERYBODY thinks of themselves first. What do you think Sam Soon has been doing, saving the world – one pastry at a time? These are grown people! Let Sam Soon decide what's best for herself! The question isn't whether Jin Heon is or isn't "best" for Sam Soon, because who knows that anyway. The REAL question is this: Does Sam Soon want Jin Heon? If the answer is yes, then what is so hard to understand? Let them hug and cheer them on!
RELATED POSTS
Tags: Daniel Henney, featured, Hyun Bin, Jung Ryeo-won, Kim Sun-ah, My Name Is Kim Sam-soon