My Name Is Kim Sam Soon: Episode 14
I asked what is it about Sam Soon and this series that makes it so charming, and I think I figured it out. What sets this particular drama series (and the main character) apart is how real it feels. The hint of fantasy that comes with "yet another chaebol romance story" is literally trampled upon by the combined might of Sam Soon, Sam Soon's sister and Sam Soon's mom. And if restaurant owner / heir to a hotel fortune Hyun Jin Heon is fantasy, then "In-Between Jobs And Love" Kim Sam Soon is reality. And somewhere along the line, fantasy is beguiled.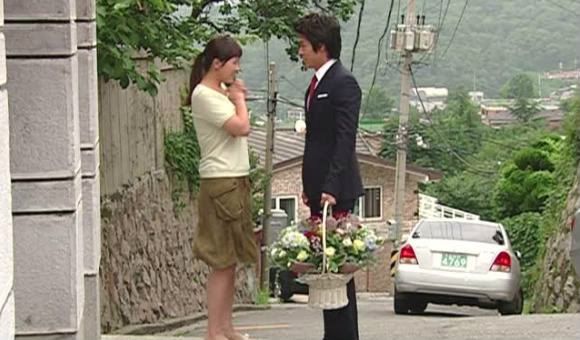 SONG OF THE DAY
Byul – "I Love You" [ Download ]
Audio clip: Adobe Flash Player (version 9 or above) is required to play this audio clip. Download the latest version here. You also need to have JavaScript enabled in your browser.
Episode 14 – The Elements Of A Romance.
The thing about people is that you just never know. Will someone wait, will someone change, will someone's heart always be there for you. Hee Jin did everything that she thought she was the right thing to do. When Jin Heon got into his accident, causing the deaths of three people including his older brother and his brother's wife, he had nearly destroyed his family. Jin Heon's mom had just then learned of Hee Jin's stomach cancer and asked Hee Jin to not further deepen Jin Heon's depression by revealing her illness. Jin Heon's mom also asked Hee Jin to go to America for treatment and recovery. Hee Jin agreed, on the promise that if she survived the chemo and surgery, that she could return to be once again, part of the Hyun family. What nobody could have known was the degree to which Jin Heon would take that personally, and, that in the end, Jin Heon's heart would change in Hee Jin's absence.
And now, Hee Jin is left with nothing but memories, and not even a shred of her pride is left. After all, Hee Jin had resorted to begging – first to Jin Heon, then to Jin Heon's mom, and even to Sam Soon, but she ultimately failed on all accounts. Not that Hee Jin's begging wasn't the right strategy, but that it is generally an all-or-nothing strategy.
Jin Heon is also in wretched state, having just shredded the heart of his girlfriend by ending it. But there still are unsettled matters that must be dealt with. For one, Jin Heon's mom is still tremendously upset about the fake-contract thing that made Jin Heon and his family look like pimps. Jin Heon's mom orders him home and when he arrives, she starts slapping him around, hard. But in a twist, Jin Heon doesn't argue or defend himself. He just stands there, taking the beating. Jin Heon's mom screams and hits with some serious emotion and anger, as Jin Heon crossed a line that shamed the family with his love-contract hi-jinks.
Jin Heon's mom has every right to be upset, but she immediately stops when she realizes that something is very wrong. Jin Heon probably has the same dead look on his face as he did when his brother died, and his mom undoubtedly recognizes the possibility that Jin Heon could slip back into his depressed state. Her anger fled, Jin Heon's mom's eyes widen in fear and recognition.
It's another sleepless night for Sam Soon, as Jin Heon had left his cell in his car and so there's just no contacting him. The next morning, he's not even at work, and Sam Soon learns that Jin Heon may be ill. But it's not a total loss – Sam Soon runs into Ki Bang, the youngest of cooking staff, who had been Jin Heon's mom's spy. Jin Heon's mom had promised him a chef position at her Seoul Hotel restaurant, and so Ki Bang had spied on Jin Heon and Sam Soon. Sam Soon chases Ki Bang around the restaurant and finally corners him in the bathroom, where Ki Bang had locked himself in.
Sam Soon promises not to hurt Ki Bang, swearing an oath that she won't touch him. She just needs to use the bathroom. Ki Bang, trusting Sam Soon, opens the door, and immediately Sam Soon starts beating on him. LOL! Look, I gotta take Ki Bang's side on this one. He's the bottom rung chef's assistant. The owner of the whole shebang promises him a bump-up in salary, better working conditions, a promotion and a slot in a fancy hotel kitchen. He took his shot, and lost. But hey, can't fault a man for trying. He never told Sam Soon that he WASN'T going to spy on her. On the other hand, Sam Soon deliberately lied to Ki Bang so that she could start beating on him, hard. My sympathy is totally with Ki Bang.
After getting her fill of revenge beating, Sam Soon heads to Jin Heon's apartment to check up on the apparently ill Jin Heon. The last time Sam Soon was here, she was also checking on Jin Heon being ill, and she was humiliated when Hee Jin popped up under Jin Heon's arm. Sam Soon takes a deep breath, and cautiously rings the doorbell. This time, though, Jin Heon opens the door, alone. He doesn't look well, so Sam Soon starts preparing jook (rice porridge) for her sick heonnie.
And, she's not the only one doing the jook thing. Henry is over Hee Jin's place, and has seen fit to bring porridge. Henry comes with top-notch medical care, good advice, sincere warmth and a personal story about how when he got sick his mom made him jook. Hee Jin grudgingly eats but HOW does she not see what a total catch she has in front of her? Seriously. The story Henry tells makes no sense but when I heard it I was all like, "gimme some jook!" I guess it is what it is. Hee Jin has eyes for only one, and until her heart changes, she can't see Henry.
Back at Jin Heon's place, Sam Soon asks Jin Heon if it really was that hard to break up with Hee Jin. Jin Heon just looks at Sam Soon, but doesn't answer. Sam Soon says something interesting, which is that she feels sorry/guilty about the whole thing (i.e., Sam Soon being the reason why Jin Heon and Hee Jin are no longer together). Sam Soon does feel bad because Jin Heon feels bad, but the timing and the way she says it just come out wrong.
And in any case, it's kind of a courtesy thing to say. It's also a very Korean (but not only Korean) thing to say, to be all apologetic even if there's nothing to be apologetic about. Or like if you brought over a gift-basket of chocolate chip cookies to Cookie Monster's house, and Cookie Monster says, "Oh, you shouldn't have! I thought we agreed no gifts… OM NOM NOM NOM." Jin Heon just stares at Sam Soon and Sam Soon apologizes for being a little tactless.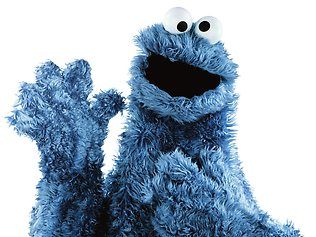 Still, Sam Soon is able to cheer up Jin Heon and they decide to spend the following day doing the things that Sam Soon always wanted to do with a stand-up boyfriend. The alternative is to stay in, but Sam Soon knows that they might lead to them struggling underneath the covers, and she's only lost a quarter pound so far (that's a beef patty, Jin Heon says). Sam Soon declares she has a list of 7 Things To Do With A Stand Up Boyfriend, and she's determined to knock them off one by one. In reverse order, David Letterman style:
7. Travel around in public, hand in hand. They look good together!
6. Take a selca with boyfriend, for her cell. Jin Heon doesn't want to do it at first, but Sam Soon does a pout wiggle (note that since Sam Soon is older, the "O" part of the OPW would be inapposite) and gets Jin Heon to do it.
5. Take a trip by an old style train, riding the club car and drinking beer with her honey. This is pretty specific, but I have to admit, that's a pretty neat idea.
4. Get her boyfriend to yell, "I love Kim Hee Jin!" in public. Sam Soon may still want to be called Hee Jin, but Jin Heon is pretty adamant about not doing it. On the train ride back to Seoul, Sam Soon offers to cut the waiting time before the sex by a whole month, and Jin Heon leaps to his feet. Hehe! But instead of shouting, "I Love Kim Hee Jin!", he announces to the train that his girlfriend's name is not Il Soon, not Yi Soon, but Sam Soon – which causes giggling. But he asks if she should change her name, and people encourage her to keep it, and then Jin Heon thanks his audience and says that he'll live happily with Sam Soon. Awww!
3. Do an erotic scene while watching a horror movie. (WHAT?) I'm not vibing being all sexy during a horror movie. Is this a girl thing? Is this a Korean thing? I don't know what it is. You got people screaming and dying, but you are smooching? But look who else is in the theatre. Sam Soon's sister Yi Young and Chef Lee! Caught! Yi Young is tickled by the whole idea, and actually, so is Chef Lee.
2. Get Couple Rings! I like the idea, but are couple rings supposed to go on the same 4th finger of the left hand like a wedding ring? I guess the meaning is the same, but I always thought couple rings were worn on the right hand…
1. And finally, there is the last part. I totally knew what it was before she said it too. Jin Heon has to come over and formally meet her mom. Jin Heon doesn't want to, since the last such meeting had drums of war going on in the background and the Rolling Stones singing 'Paint It Blank.' But there's just no way around it. Since this is a serious relationship (Sam Soon wouldn't have it any other way), even as immediate as it is, Jin Heon has to get parental permission.
Of course, Sam Soon has to prepare her own mom for the event. Sam Soon tells her mom that she has had a secret boyfriend, and of course Sam Soon's mom asks all the basic questions. Sam Soon evades the questions by noting that those questions can be answered when he comes over. And so that makes Sam Soon's mom run out to the grocery story to be a proper host, but before she goes, she drops a small bomb by saying Sam Soon's mystery boyfriend better not be that good-for-nothing Sam Shik. Ruh roh.
Jin Heon dresses to the nines and does a little internet research on how to make a good impression on a future mother-in-law to be. He appears at Sam Soon's house bringing flowers and a dog. Sam Soon is so excited to see her beau all classy and earnest about making a good impression. Heonnie fighting!
Sam Soon's mom immediately starts hitting and spouting off about this and that, and of course Jin Heon takes it. Then Jin Heon gets on his knees and does the same kind of bow that he did at the Buddhist temple. It's the first step of showing respect and honor due to one's elder in a formalized and ritualized greeting. Sam Soon's mom grumbles but doesn't get up and leave, which she would do if she wasn't going to accept the bow. Sam Soon's mom doesn't go anywhere, so Jin Heon kneels.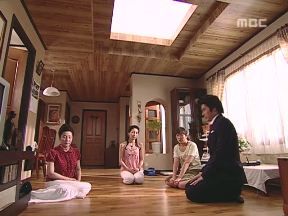 Sam Soon's mom starts up with the grumbling and the criticizing, and since she's not making too much headway, she stands and walks out of the room. Jin Heon overreacts and repeats his line of desperation that he said when Sam Soon was sitting with Good Looking Blind Date Guy:
Jin Heon: But what about the little baby growing inside Sam Soon!?
OING!?!?!!! Sam Soon's mom looks to Sam Soon for confirmation and Sam Soon has two bad choices: (1) she could say that's not true, and make Jin Heon out to be a liar, or (2) she could agree it is true and suffer Sam Soon's mom's wrath. Sam Soon chooses the path with the greater chance in not having Jin Heon booted from the home. Bedlam! When Sam Soon's mom grabs a hand broom and starts swatting Sam Soon, Jin Heon sweetly blocks the blows (aww) but gets hit with the hard part of broom. And Jin Heon is down! Jin Heon is down! 1..2…3…
Aww, fortuitous this is. Leads to happy cute snuggling time in Sam Soon's bed it does. Yay! Until they get caught by Yi Young who barges in on purpose to see what they are doing. Sam Soon asks if it would break her wrist to knock. Of course, Yi Young's answer is yes, yes it would. Sam Soon sighs. It is time for the part of the "get to know you" session that her two older sisters' significant others both had to endure.
The Test Part II. Koreans love dramas almost as much as they love liquor, and so it is only natural that drinking and dramas go together. For instance, the following phrase, "don't drink and drama," is not a phrase heard in Korea often. So Sam Soon's mom pulls out a giant container of moonshine. Looks like old kim-chi container filled to the top with gin and olives. Sam Soon's mom tells Jin Heon to drink and answer questions simultaneously.
Sam Soon's mom pours Jin Heon's drink and Jin Heon takes it with both hands. Jin Heon tries to then serve Sam Soon's mom, but she won't let him. Yi Young then takes the alcohol and pours it for her mom. Sam Soon is left to watch. Sam Soon's mom asks him why he's not drinking but of course that's not a real question. Jin Heon can't touch his glass until given permission and he's not been given permission. Sam Soon's mom tells him to drink but doesn't wait for a clink of the glasses. It's rude for sure, but Sam Soon's mom has earned that right.
The questions begin. Name. Age. College. As the questions drag on, Sam Soon and Yi Young sit quietly just munching on the food at the table. Jin Heon hasn't really been given leave to eat, so he's just drinking on an empty stomach. Sam Soon's mom asks if Jin Heon is an only child, and the answer is yes. Sam Soon's mom notes sharply that that means that Sam Soon will have to live with Jin Heon's mom.
Explanation: the literal translation for one of the Korean phrases for "to get married," is "to go to the husband's home." Since the wife kinda-sorta joins the husband's family, getting married is equivalent to losing your freedom and finding yourself under your husband's mom's control. In the olden days, the oldest male of the family would keep the family's ancestral home (which would also be populated by husband's parents). And so, "going to the husband's home" would put a tremendous amount of stress and aggravation on the new wife, because she has to obey her new mother-in-law, who would be genetically pre-disposed to criticizing daughter-in-laws. Since Jin Heon's mom has already implied that her family is too good for Sam Soon, that makes Sam Soon's mom feel bad about sending Sam Soon to live with and be ruled by, such a bitchy mother-in-law.
Sam Soon's mom asks a very important question, which is whether Jin Heon's mom will accept such an arrangement. Jin Heon answers that he will take care of that if Sam Soon's mom gives her blessing. So far, so good! Sam Soon starts feeding her Jin Heonnie some vittles to help with the alcohol, and Sam Soon's mom is a bit surprised at the tenderness shown by each half of the Sam Soon Sam Shik couple. Sam Sam merely shrugs. You can't help (or hurry) love, I guess!
Oh right! I forgot. There's ONE more thing that Koreans love besides drinking and drama-ing. They love drunken singing! Sam Soon and family head to a noh-reh-bang (karaoke place) and Sam Shik is totally smashed. He has a tie wrapped around his head like a bandana and he's rollicking. Sam Soon is concentrating on keeping the maracas beat and Yi Young has the tambourine. When Sam Shik starts his tune, Sam Soon's mom starts shaking everything she has and then some. She even those the shampoo dance. HEE LARIOUS. Go Mommy! Go Mommy!
That night, Sam Soon's mom comes out of her room to set out something for Jin Heon, who is sleeping on the family room floor. She totally adores the sleeping Jin Heon, stroking his face in a slightly creepy fashion. When Sam Soon's mom goes back in her room, Jin Heon opens and his eyes and smiles. Btw, I TOTALLY knew he was awake. I swear I called it.
The next day, Hee Jin and Henry are out and about. They watch a movie and get ice cream, but Hee Jin overdoes it and her stomach can't take the food. She is rushed to the hospital by Henry and Jin Heon gets the call from a doctor that he knows at the hospital. He immediately heads out to the hospital without telling Sam Soon where he's going.
Apparently, Hee Jin's recovery has been drastically slowed, and Jin Heon cannot help but feel responsibility. Not just because he was the one who broke it off, but because as Hee Jin's boyfriend for so long, he had always been the one to take responsibility for Hee Jin. While Hee Jin is getting a CAT scan to rule out the return of cancer, Henry tries to reassure Jin Heon by telling him that the likely diagnosis is anorexia nervosa, but that just makes Jin Heon feel worse. Anorexia nervosa would mean that this is his fault.
In another part of Seoul, Sam Soon is heading to the City Clerk's office to file the name change approval notice. She's accosted in front of the office by a goon who goes through her stuff and rips up the notice. Sam Soon starts beating on the goon until the goon takes out a business card with Jin Heon's name on it. Sam Soon starts cursing and tries to ring Jin Heon but there's no answer. Jin Heon is still at the hospital.
Jin Heon takes Hee Jin out of the hospital, and says that he'll take her home to his apartment for the night. Hee Jin protests, saying that she's none of his business now, but Jin Heon notes that if their positions were reversed, wouldn't Hee Jin try to take care of him? And, Jin Heon says, Hee Jin is and will always be etched into his heart. Sam Soon will understand.
That remains to be seen. Of course, there is a HUGE flaw in Jin Heon's logic. How can Sam Soon understand something when she hasn't been told anything? When Jin Heon arrives on his floor of his building, he finds Sam Soon already there. And what do you know, but Hee Jin is in the elevator too…
Perhaps Jin Heon has overestimated Sam Soon's level of understanding and sympathy.
Comments:
Jin Heon finds out this episode that his attempt at a clean break with Hee Jin (1) isn't so clean after all and (2) doesn't really result in a break as he might have intended. It is part of life, that we end up tearing into each others' lives as we struggle to balance our own interests versus the interests of others. Unlike many k-drama rom coms where the protagonist (usually male) spends half the drama trying to please the woman he no longer loves because she won't let go, Jin Heon here does what most people would advise him to do: tell Hee Jin the truth and move on. The flaw, if there is one, with that advice is that it is strictly from Jin Heon's perspective. Nobody considers what such a move will do to Hee Jin.
Hee Jin doesn't stop eating because she's trying to get Jin Heon back (very unlikely). I think she stopped eating because she doesn't feel like it, because she's extremely upset at how her life has turned to shit for no good reason (her stomach cancer and then getting dumped). She no longer cares so much what happens to her body because she really only recovered in order to find her way back to Jin Heon. And it is nothing but cruel fate that has turned even her courageous and victorious fight against cancer into an ironic tragedy.
RELATED POSTS
Tags: Daniel Henney, featured, Hyun Bin, Jung Ryeo-won, Kim Sun-ah, My Name Is Kim Sam-soon