My Name Is Kim Sam Soon: Episode 15
This is it! The last two episodes. Like most twice-a-week dramas, this is a pairing that should be looked at as a two-part finale. This being part 1, you just know there's going to be something big that happens at end of this episode, something so big that it makes you die just a little bit, inside. Last episode, Jin Heon and Sam Soon finally started dating for real and there was this feeling that everything now would be okay. But Hee Jin's collapse/hospitalization has seriously changed the dynamic, so much so that Jin Heon decided against telling Sam Soon what he was doing. And this was a huge mistake.
SONG OF THE DAY
My Name Is Kim Sam Soon OST – "Inside My Heart" (Piano version) [ Download ]
Audio clip: Adobe Flash Player (version 9 or above) is required to play this audio clip. Download the latest version here. You also need to have JavaScript enabled in your browser.
Episode 15 – The Rules of Romance
The elevators open, and Sam Soon finds Jin Heon bringing a very pale (nearly gray!) Hee Jin up to his apartment. He has his arm wrapped around Hee Jin. Sam Soon looks at Jin Heon, who looks at Hee Jin, who looks at Jin Heon. Sam Soon doesn't know what to do except back up and let them out of the elevator. Finally, Jin Heon opens his mouth:
Jin Heon: A moment, just give me a moment.
Sam Soon starts controlled heavy breathing as she only now begins to process what she has seen. Jin Heon brings Hee Jin into the apartment, but his ex-girlfriend doesn't want to stay. Then the doorbell rings (who could it be?) and Jin Heon then has to go explain things to his current girlfriend. Jin Heon tells Sam Soon not to misunderstand, as there's a reason – Hee Jin is "a little sick." Sam Soon feels slighted and says that she's sick too. Jin Heon tries to explain how Hee Jin has anorexia but Sam Soon isn't having it. Why does Jin Heon have to be involved? Doesn't she have Dr. Henry Kim? Sam Soon wants her to leave now.
Jin Heon: What, you don't trust me?
Sam Soon: It's not that I don't trust you. It's that I don't trust the moments that you and she will be spending together.
With that, she walks into the apartment, pushing her way past a protesting Jin Heon. You know you are supposed to feel sympathy for (1) a sick Hee Jin (who doesn't want to be there), (2) a super-cautious Sam Soon (who also doesn't want Hee Jin to be there) and (3) Jin Heon, who is caught in the middle. With all of the tension and negativity going on, it will be mighty hard for Hee Jin to just sit there in Jin Heon's apartment, and it's a good bet that Sam Soon's intent is to chase Hee Jin away.
Sam Soon (with only a tinge of condescension) offers to cook whatever Hee Jin wants, to get her to eat. Hee Jin agrees, but cleverly asks for the food to be delivered tomorrow. An equally wily Sam Soon replies, sure, but since I have to start cooking so early in the morning, I might as well sleep here too. Sam Soon goes over to the sofa and asks for a blanket. Hee Jin gives a silent plea to Jin Heon, who then walks over to Sam Soon.
Here's the thing. I think Sam Soon is way out of line. Yeah, you have to protect what's yours, but my sensibilities say this is not the right way to do it. Hee Jin gets up to leave, as any sane person would in this situation. But then Sam Soon asks whether it is really that hard for Hee Jin to accept being in the same room as her, and Hee Jin answers truthfully, "yes, it is." Then Sam Soon does a 180 and says that she'll be the one to go. And with that, Sam Soon just walks out.
A resigned Sam Soon goes home and sits down next to her dog. Sam Soon tells her dog not to fall in love, because it's just a huge hassle. The dog doesn't say anything in return, and Sam Soon just sighs. But then Sam Soon's phone rings, and it's Jin Heon. He thanks Sam Soon (from his bathroom – the only private room in his apartment, LOL) and then smooches his phone. Sam Soon, finally, smiles happily and smooches her phone in return.
Sam Soon (looking at her dog): Ya. I changed my mind. You should fall in love. Sometimes, it might be exhausting and difficult, and sometimes it might hurt your heart, but this is true, falling in love is a very good thing.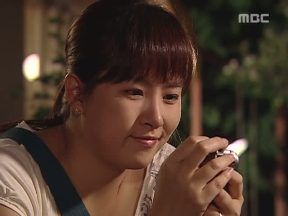 With that, Sam Soon heads inside her house, her heavy spirit lifted.
Late that night, with Jin Heon sleeping on the couch, Hee Jin rises from the bed and is standing but a few meters away. Hee Jin doesn't wake him but just stares in wordless grief, perhaps hoping he'd wake on his own accord and rescue her from heartbreak.
The camera angle changes and now we see that she's got her bag with her – she's not staying. Perhaps this was Hee Jin's last attempt to win back Jin Heon – a silent plea for him to wake from his Sam Soon dream, and when Jin Heon doesn't awake, Hee Jin leaves. Romance can be such a zero-sum game. Since Sam Soon has gained a boyfriend, balance dictates that Hee Jin loses one.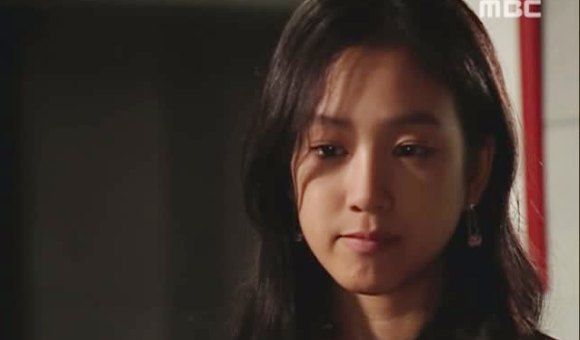 While romance can be zero-sum, a mother's love for her daughter is not. Even when a daughter lies about being pregnant or sneaks around behind her back, the mother either pretends not to notice (why do children always underestimate their moms' intelligence, sheesh!) or just accepts the lie for what it is. Sam Soon is up at the break of dawn cooking more jook, and is startled by her mom who wonders who's up. Sam Soon's mom is totally on Jin Heon's side now, but still worries about sending Sam Soon to Jin Heon's family, since Jin Heon's mom seems mighty uppity about it all. Sam Soon hugs her mom from behind, basking in her mom's unconditional love.
Sam Soon heads over to Jin Heon's apartment but Hee Jin has left in the night. So Sam Soon heads over to Hee Jin's apartment. She drops off the food, but… but what, Hee Jin wants to know. But Sam Soon wants to watch Hee Jin eat the jook before Sam Soon leaves. Hee Jin cannot believe the sheer audacity of Sam Soon, and tells her to get the heck out. An irked Hee Jin counts to three and when Sam Soon doesn't leave, Hee Jin grabs her hair and tries to pull Sam Soon to the door. Sam Soon lets Hee Jin get about 3 steps before she also starts up with the wrassling. Luckily, Henry appears and stops the fight.
Henry calms the situation down and puts in what looks to be a parenteral IV drip bag for Hee Jin. If Hee Jin won't (or can't) eat, then she'll have to be fed intravenously. Henry and Sam Soon keep an annoyed Hee Jin company, and are playing an addictive gambling card game called Go-Stop. The object is to match one's hole cards with the cards on the table, but certain cards and combinations are worth more than others. It looks like Sam Soon has taught Henry how to match the correct cards but not the point combinations. Might as well make some money to defray the costs of the jook…
Sam Soon is up huge in the first game. Hee Jin notices that Sam Soon is encouraging Henry but not teaching him everything (the analogy would be if Sam Soon were teaching poker hands to Henry but not telling him in advance which hand beats which hand). Hee Jin rips out her IV and joins in the game on Henry's side over Sam Soon's objections. Hee Jin is a whiz at Go Stop and by the time Sam Soon leaves, she's got only a few bills left to her name.
After Sam Soon leaves, Henry is playing with the cards by himself and Hee Jin is hooked back up to her IV. Henry asks Hee Jin if she's hiding something from him – like maybe that she feels something for him but isn't showing it. Hee Jin denies it but a thoughtful look passes over her face. Henry horses around for a bit, trying to get a laugh out of Hee Jin. But Hee Jin suddenly gets serious and tells him that she wants to go back to America. While this doubles as an admission that she's lost the battle to reclaim her spot next to Jin Heon, the question remains whether Hee Jin is telling Henry that maybe she's open to seeing other people now.
So, Chef Lee has been having a great deal of trouble trying to get Sam Soon's sister, Yi Young, to go steady with him. While they have held "friends with benefits" status with each other, Chef Lee isn't satisfied with the occasional drinking night or the hops into the sack. He wants a real relationship. So Chef Lee begs Jin Heon to reveal his secret to winning the heart to a Kim sister. Jin Heon won't reveal the secret without compensation, so Chef Lee buys him an expensive bottle of brandy and Jin Heon in turn buys him a giant Samsooki stuffed animal.
Chef Lee is totally nonplussed, but Jin Heon notes that the ways of the Samsooki are mysterious and once Samsooki bites you, it won't let go. It'll worm its way into the target's heart. Chef Lee is mistrusting, but Jin Heon says not to worry, Samsooki will do what it does. Hehe! The pressure is on! I'll do my best!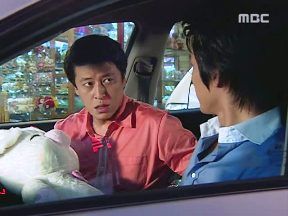 Jin Heon gets a call from Hee Jin, surprisingly, asking him to come over. He drives over but doesn't go up, which makes Hee Jin have to come down. Hee Jin tells Jin Heon that she's decided to go back to America, to be with her parents. Jin Heon immediately understands, but then Hee Jin asks him for a favor: would he be willing to take her back to America? Jin Heon is silent for a moment, but when prompted by Hee Jin, he agrees. But how to tell Sam Soon?
Jin Heon takes Sam Soon and Mi Joo out to the aquarium and dinner, and then back to his place. Sam Soon reads more of the Momo book to Mi Joo, who then falls asleep dreaming about her day at the aquarium and the Professor Hora character in the book. While Mi Joo is sleeping, Jin Heon tells Sam Soon about going to America for a week. The trip is so out-of-the-blue that Sam Soon asks why, and Jin Heon reveals the whole story. Sam Soon is not only resistant, she is angry.
Sam Soon: If you want to do this, then why did you end it with her? Why not just continue on with her?!
Jin Heon: That's not what we are talking about right now!
Sam Soon: I have endured everything I can endure. How much more shall I have to put up with?
Jin Heon: This is really disappointing. I thought that you would understand!
There are no answers here, and no resolution. Perhaps fortuitously, Mi Joo is awoken from her Momo dream by the argument, and comes out of the bedroom. Mi Joo is crying. But to the shock of Jin Heon and Sam Soon, Mi Joo cries that she hates her uncle Jin Heon, and begs him to stop yelling and fighting. She is mute no longer!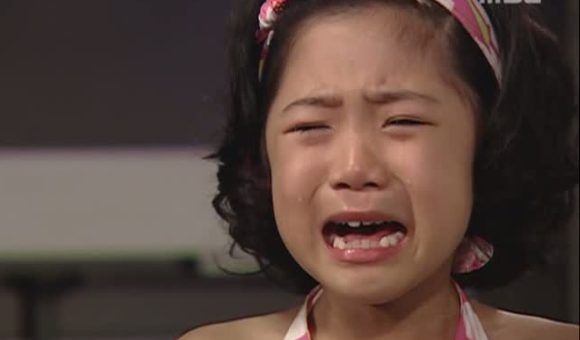 Immediately, the anger in Jin Heon fades and he looks with wondrous eyes at his niece, who had been silent since the car accident. With infinite care and tenderness, Jin Heon softly kneels before Mi Joo and tells her that he was wrong, that he is sorry. Witness to the miracle of Little Mi Joo who finds her voice, Sam Soon's face softens and she wipes away her own tears. This man who is kneeling before this crying child, he is the one who can touch her heart so. Is her resistence weakening?
Jin Heon drives Sam Soon back to her place, with Mi Joo asleep in the back seat. Jin Heon finally says that he won't go. Since Sam Soon doesn't want him to go, he won't. But Sam Soon isn't satisfied with that answer. She wanted Jin Heon to have refused to go without Sam Soon saying anything. In other words, from Sam Soon's perspective, there is still a part of him that still belongs to Hee Jin.
Still, life must go on for everyone. And in the days that follow, Yi Young and Sam Soon are hard at work setting up their online pastry selling business. Yi Young has the knack to figure out how to do the internet thing by herself. Sam Soon wonders how come all the brains went to Yi Young and how come Sam Soon doesn't have any. Yi Young gives a snarky response (because she's Sam Soon), and so Sam Soon decides to flake out the rest of the day, ditching Yi Young.
Actually, Sam Soon isn't flaking out. She's heading over to Hee Jin's place. Hee Jin opens the door and Sam Soon gets right to the point. You are heading back to America, and you asked MY boyfriend to bring you back? (Wow. That's serious gumption, to just straight up ask an brazen question like that.) Hee Jin starts talking in parables but Sam Soon doesn't beat around the bush at all, asking why Jin Heon has to go. Hee Jin finally says, "it's a farewell trip."
Now, this is similar to the farewell toast that Hyun Woo asked Sam Soon to accompany him with, when he brought Sam Soon to the hotel club bar. The idea is that the farewell trip is a time of celebration for the memories and the love that Hee Jin and Jin Heon used to have for each other, and without the hovering presence of the current girlfriend getting in the way. Sam Soon concludes that she can't let Jin Heon go on this trip. She won't let him go.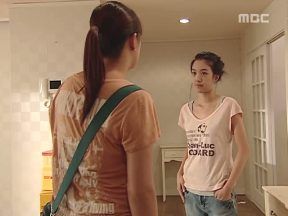 Brief moment of comedy. So Chef Lee has taken Yi Young out to dinner, and he's dressed to impress. He's also brought with him a present: the Samsooki pig! He gives her Samsooki, and then asks her to marry him. Yi Young says no. A chastened Chef Lee then asks if she will just live with him then. Yi Young says no. A frustrated Chef Lee then starts beating on Samsooki – you were supposed to do something, why you are just sitting there, do something! Hey Chep! This isn't like flipping crêpes! Love takes time!
Sam Soon is trudging back up the hill to her house, and Jin Heon is there waiting. She had turned off her phone, and so Jin Heon hadn't been able to reach her. Sam Soon admits that she's been at Hee Jin's place. And as to the farewell trip thing, Jin Heon mustn't go. Jin Heon agrees, saying that he's not going to go. But then Sam Soon says something really interesting.
Sam Soon: If I said that you could go, would you still want to go?
Jin Heon: Eo. I want to do this for her.
Sam Soon: And you only need a week to do this?
Jin Heon: …
Sam Soon: Seriously, a week is all that you will need?
Jin Heon: …
Sam Soon: Then go.
Sam Soon has changed her mind! I had a feeling that she would change her mind, ever since she realized, with Mi Joo finally speaking after so long, that a person's time is too precious to spend arguing and exchanging heated words. Still, is it the right decision? Jin Heon gives her a long hug for a thank you, and Sam Soon hugs him back.
Then Jin Heon tells Sam Soon that he won't fight her on her name change anymore. Sam Soon is surprised, but Jin Heon tells her that he likes the name Sam Soon, but that if she really wants to change her name, then there's nothing he can do to stop her.
A few days later, Sam Soon heads to the City Clerk's office, to register the name-change authorization. Sam Soon wears Audrey Hepburn glasses to go incognito, but there are no gangsters this time to stop her. But just as Jin Heon promised, there is no one there to stop her. Not her mom or dad, and not Jin Heon or his goons. Sam Soon reaches the counter and obtains the registration paper to fill out. But as she is completing the very last step to changing her name, she starts to think about to what Jin Heon had said to her, after her Mt. Halla climb.
Jin Heon had taken a red-eye flight down to Jeju and then raced to beat Sam Soon up the mountain on a bad leg, so that he could be there when she arrived at the top. And he wouldn't have done it for any common Kim Hee Jin, but for the one and only Kim Sam Soon. And in that moment, Sam Soon realizes that perhaps her name did set her apart as not just being different, but being special. Maybe her dad wasn't the only guy who thought she was truly special. She pauses over her registration papers.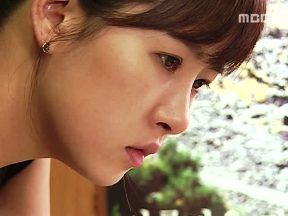 Sam Soon (VOICE-OVER): They finally left for America yesterday. And my unni told me how crazy of an idea it all was. And that there was likely to be no bigger babo (fool) in all the world than me. And I feel the same way. But people who fall hopelessly in love, they do foolish things. And he who said how much he liked my name Sam Soon, there is no doubt that he's been turned into a fool too.
Sam Soon reaches the clerk's counter and hands in her registration papers. But in one fateful moment, she asks for her papers back to look at them one last time. And after a long pause, she tears them up. The moment she has been waiting for most of her life – to finally be a new person, and she spurns this final chance to change! Is it because she has realized that she already is a new person, one who has been made even stronger by her name?
Sam Soon walks out of the City Clerk's office, strong and confident. She doesn't look back at what might have been if she had changed her name. And as she walks up the street, smiling and looking toward her future, she has one last voice-over.
Sam Soon (VOICE-OVER): Love really is a foolish kind of thing.

And a week has passed, each day taking as long as a whole year. And that person, he did not return.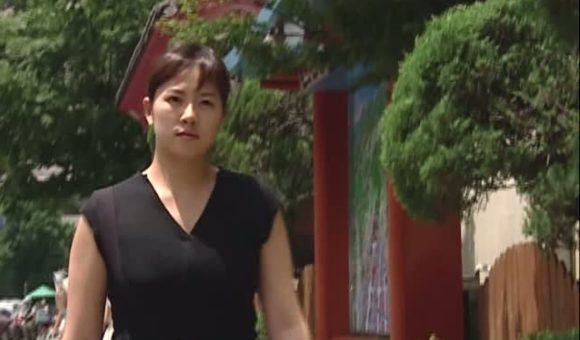 Comments:
When we watched this drama for the first time, we were just filled with optimism and positive feelings when Sam Soon tears up her name change application and strides out of the government center. But my visit to a warm and fuzzy place only lasted about 10 seconds, as I was just beside myself when Sam Soon said that Jin Heon didn't return. And of course, YA Entertainment put the last episode on a separate DVD, so we had to switch out DVDs. It was pure torture as I couldn't get the last DVD into the tray properly. Can you just imagine what it must have been like for the millions of fans who watched this when it first aired, having to go to sleep all bothered, going to work on Thursday all bothered, and waiting 23+ hours for Part 2 of the finale?
That said, I think it best to have my substantive comments follow the end of part 2 of this recap finale. 🙂
RELATED POSTS
Tags: Daniel Henney, featured, Hyun Bin, Jung Ryeo-won, Kim Sun-ah, My Name Is Kim Sam-soon