Running Man: Episode 64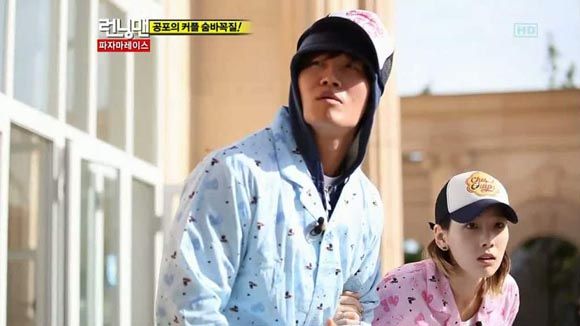 EPISODE 64. Broadcast October 9, 2011.
The clock rolls back to the previous night after the Couples Race and it's dinnertime, Running Man style. For this mission, each team must buy ingredients and cook up their dishes within a one-hour time limit. Sigh, nothing is ever easy in Running Man Land.
Jae-suk asks their guests if they know how to cook and their answers are reasonably impressive, from Tae-yeon's omurice (omelet over rice) to Yoon-ah's spicy chicken stew. But Jessica's answer of kimchi tuna fried rice sets off their suspicion radar. They press her about how to make it, and she says, "You add in kimchi, tuna, and…" and does a mixing action with her hand. Uh-oh.
Each team gets to choose one member from the opposing team and Team SNSD picks Haha, much to his own and everyone else's genuine surprise. Their reason: they saw a previous episode recorded at Haha's house and were impressed with his cooking skills. And Team Running Man chooses Jessica ? Huh? Didn't you just hear her 30 seconds ago? About the mixing?
It looks like the pairing off between the members and guests is still a line the RM staff will continue to tug at. It's getting pretty excessive because even the act of buying ingredients at the market is fluffed into a date. Haha picks Tae-yeon (his face turns a fierce scarlet, mind you) and bright-eyed Jessica calls out Gary without hesitation.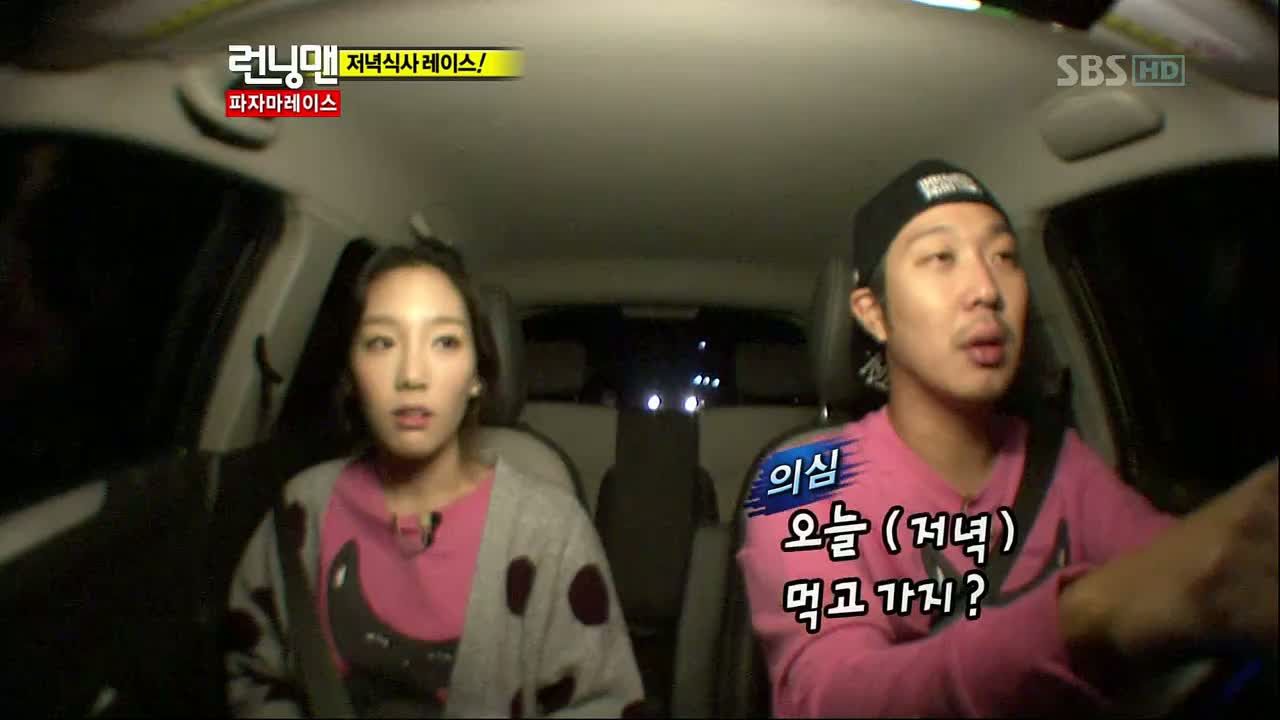 In the car, Haha asks in serious tone if the girls are scheduled to stay until the next day, wary from the last time they had girl idols as guests. Tae-yeon tells him not to worry and he can check if they're still Girls Generation or Grandmas Generation in the morning. Heh.
Food shopping for both of our dates! Jessica is uncertain about what to goes into fried rice and she looks to Gary for help, but no luck – he's clueless too. So she thinks for a moment and pipes, "Sugar?" And I love Gary's WTH face. He's no connoisseur, but he knows enough that fried rice does not equate sugar.
Haha relishes in his shopping date with Tae-yeon, calling her, "honey," and making up cute nicknames for each other (his is 'Ppoong Ppoong,' a sound of flatulence, to which Tae-yeon responds, 'Then I'm 'Ppoong Ppoong girl?'"). In any case, they look far more confident wandering the store than the other team.
Soon after, they meet a third couple and what do you know – it's Kwang-soo and Yu-ri, who came just for kicks, with two kids in stow. It's cute how all the couples role-play as if they live in the same apartment building and serendipitously ran into each other at the mart. Gary claims that they're moving out, and when Haha comments that Yu-ri looks a little under the weather, Kwang-soo hints, "Our third…but don't tell anyone!!" Hahaha!
Back at base camp, the others joke around and pretend like they're on an MT (an overnight camping trip, usually co-ed and fairly common for students/young adults). Jae-suk offers that they should cook together and Seo-hyun, the sensible one, argues, "It'll be more efficient if we cook separately."
The pairs return with just 30 minutes remaining, and it's time to get to work! On Team Running Man, Jessica works on cutting the spam in any which way and Jae-suk plops the seafood into cold water. I recall a time he "cooked" on Family Outing, and his techniques haven't changed one bit. When Suk-jin starts to argue, he shouts, "We don't have enough time!"
Can I have Haha come to my house to cook for me? His jaeyook bok-gum (spicy pork stir fry) looks absolutely delicious despite worried looks from the SNSD girls. I've seen a whole new side of Haroro – there is always something about a man who can cook that captures my heart.
Team Running Man's seafood soup isn't faring too well and Chef Jae-suk intervenes, putting in whole unpeeled radish slices for 'stock' and red pepper flakes to make it look more like soup, which it does several minutes later. How does this happen? It's like he has a magic touch to make even the most inedible things appear yummy.
The dishes from each team are put to a blind taste test from the RM staff members which include our favorite maknae FD and Jae-suk's doppelganger. They ask after his name and he says, "It's Grasshopper." And when they ask him how long he's had that name, he says since the first grade. Keh, this guy was made for variety.
How adorable is Gary's manager who eats with his chopsticks trembling and can't even turn his back to face Yoon-ah? He gets so flustered that he tries to run away and gets berated by the cast for not finishing.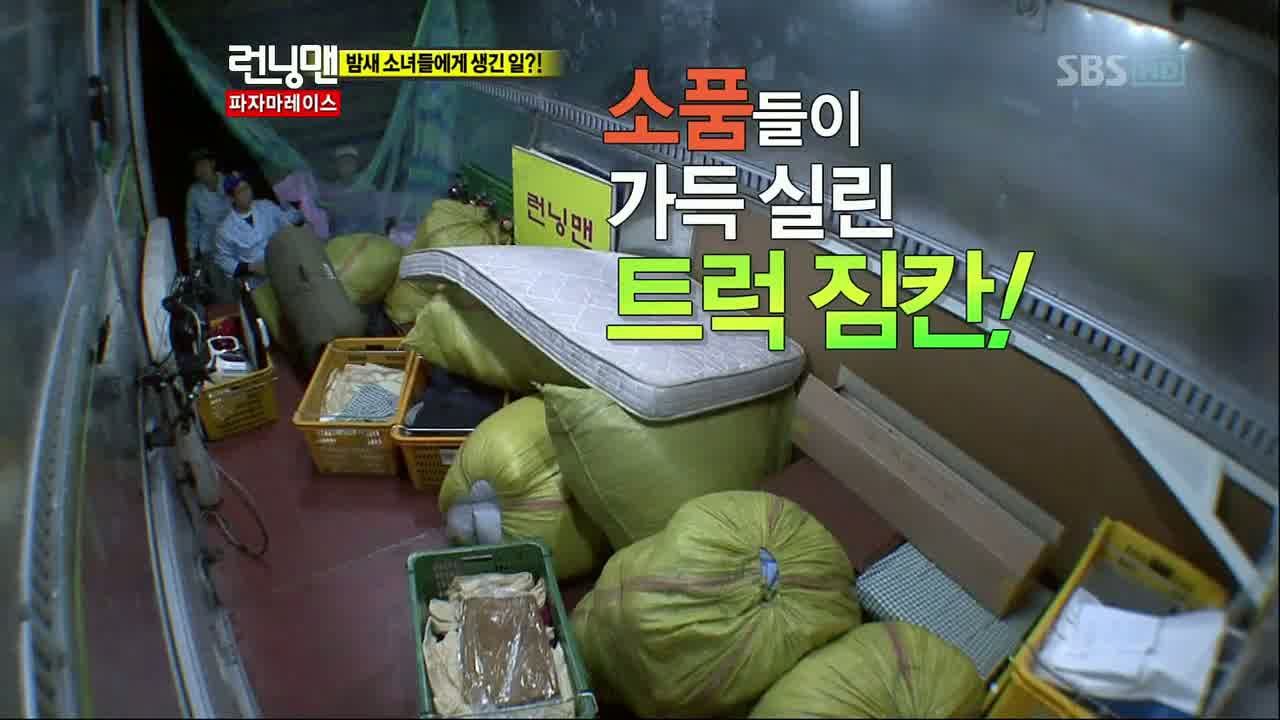 The 10 votes are revealed one by one and the teams are tied 3:3. Then, the next three votes are for Team SNSD. They win a night in the camping car versus the boys who get stuck sleeping in the storage truck. What's worse is that the RM staff didn't even bother to clear the storage out earlier. Aww.
So the ladies fall asleep right away whilst the boys are left to clean out the truck so it looks reasonably comfortable. Now it's a matter of deciding who gets to sleep furthest inside where it's warm. Suk-jin attempts to pull rank and argues that the mat-hyungs should sleep at ease, but the rest of the boys won't have it.
Ever the main MC, Jae-suk proposes a round of rock-paper-scissors and if karma would twist her own story, it boils down between Jae-suk and Suk-jin. The latter loses out to sleep by the door and they climb in, settling in for the night.
The next morning, Mr. PD knocks on the back door to wake up the Running Man cast. Jae-suk is the first to stir awake to find out that the camping car has disappeared. The boys are clearly upset – wasn't it enough to switch out their female guests the first time around? Oho, but this is Running Man! They don't ever pull the same trick twice.
We see the camping car pull out of the base camp and drive off to another location. The girls are so worn out that they remain in dream land during the entire car ride. So it's a rude awakening when Mr. PD blows his whistle and tells the girls to get going. You know, except for Tae-yeon and Jessica who require a few more sharp whistles to get their butts out of the car.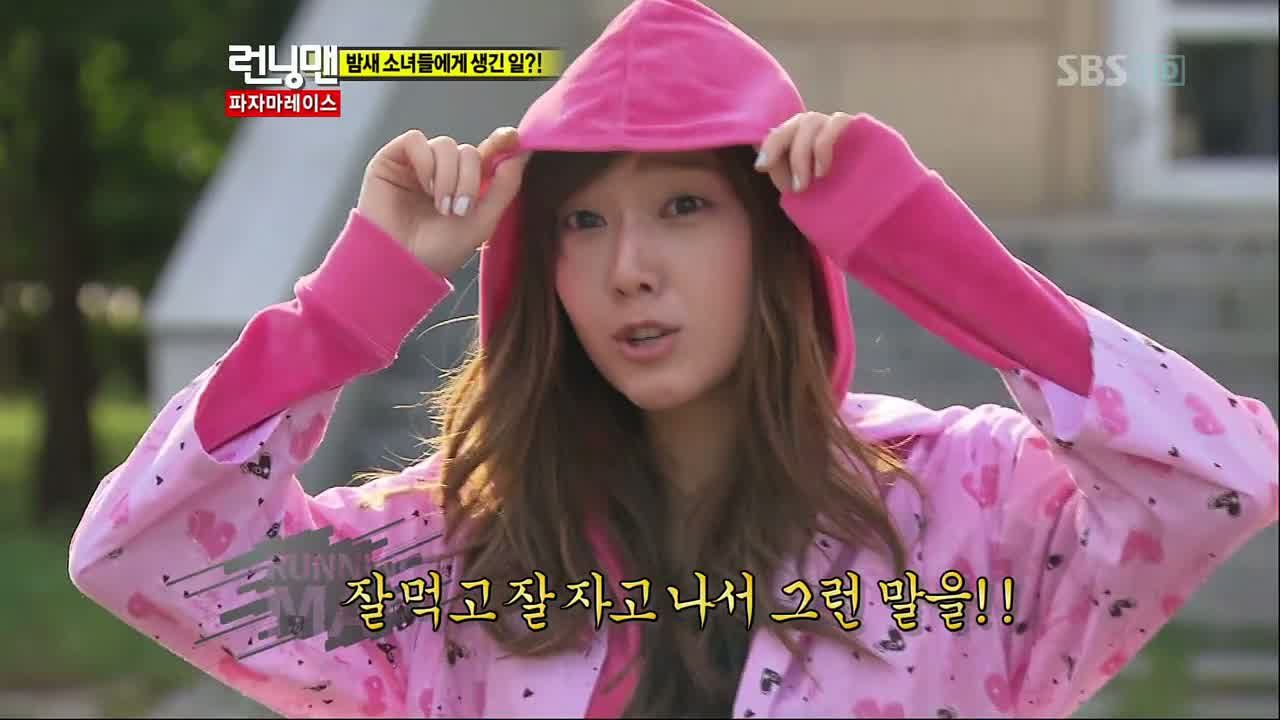 Jessica whines that what kind of program treats them in this manner: feeding them and housing them up. Hyo-yeon adds, "It's pretty good!" The captions read that they took care of her pretty well. Aww, is little Ms. Princess missing her diamond-encrusted pillow? Here, let me get that for you.
The ladies line up to be paired off with a Running Man cast member in the order they woke up. Seo-hyeon gets paired with Jae-suk and Yoon-ah with Gary still in his slippers. The boys are relieved that the girls haven't been switched or replaced during the night and happily head on inside to receive their missions.
Yu-ri nervously waits for her partner, hoping for Jong-kook, but it's Kwang-soo who hops out of the car, ecstatic to be paired with Yu-ri again. She's not too disappointed, that is until Kwang-soo starts spraying cologne all over himself. He further digs his grave when he mentions he didn't recognize her morning bloated face. Yea, you've pretty much blown all your chances with her now.
The last three girls, Hyo-yeon, Jessica, and Tae-yeon get paired with Suk-jin, Haha, and Jong-kook respectively. Tae-yeon worries that the others will have a head start, but never fear – you've got confident Spartakooks: "Don't worry. I'll catc–just get rid of them." Now with everyone paired off – time to hear the mission!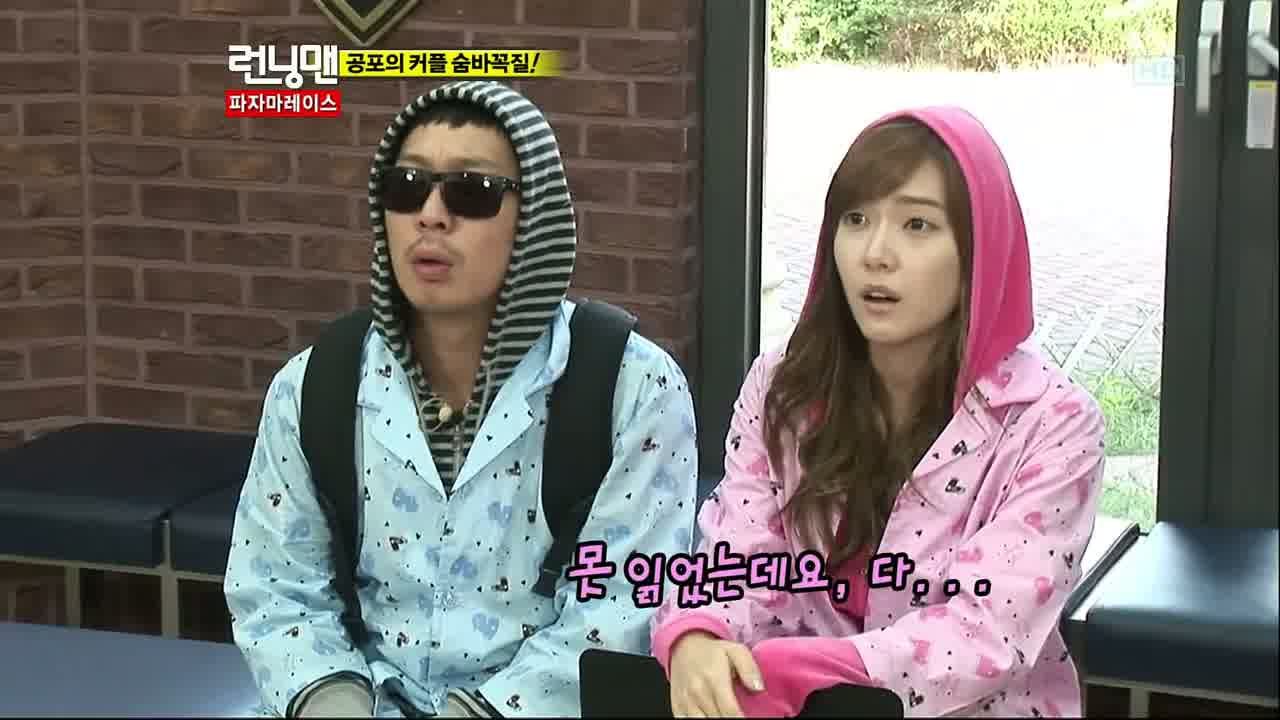 It's a Hide-and-Seek race and the last couple standing is the winner. The catch? One couple is the seeker so let the Pajama Race begin!
Jae-suk and Seo-hyun run into Haha and Jessica, teasing them about holding hands to keep their paper chain bracelets intact. He adds that they should be careful about zombies running amok and Haha walks away with Jessica. And then, Jae-suk and Seo-hyun zombie walk behind him…in jest of course.
But Jae-suk and Seo-hyun are lead away to meet Mr. PD, and it's exactly what I suspected – they are the Seekers for today's race. Jae-suk's face falls at the news as Seo-hyun cheerily replies, "Sounds fun!" Jae-suk reminds her that it's extremely burdensome and tiring task: having to betray your teammates without revealing your identity.
To top it all off, they're forced to hang a bell on their shoes (to which they hide underneath their laces) and they head out with a strategy to act just as scared as the others. Jae-suk asks if the other unnis can tell when Seo-hyun lies and she confirms it, but vows to do her best anyway.
Meanwhile, eagle-eyed Jong-kook and Tae-yeon scan the location from an aerial viewpoint for any suspicious behavior. The Capable One strikes again as he correctly deduces today's plot: the Seekers are two of them. He also spots Jae-suk and Seo-hyun and clocks their awkward behavior and follows behind them. So the Yoo Hyuk Couple grab the chance to lure the Spartakooks team toward their doom…
…Which is when Suk-jin hisses at them in a whisper, warning Jae-suk and Seo-hyun that Jong-kook is hot on their trail. The diversion marks Suk-jin and Hyo-yeon as their new targets and they're easily eliminated. Hyo-yeon: "So this is what [betrayal] feels like…" Yes, welcome to Running Man.
The Kwangvatar Couple run into the Spartakooks Couple and are teased about being paired together again, "Did you text each other the night before so you'd wake up simultaneously?" Both couples conclude that neither pair is the Seeker and Kwang-soo mutters that he'd like to eliminate Jong-kook anyway, Seeker or not.
Yu-ri steps in after seeing Kwang-soo get ordered around by Jong-kook, and with a burst of courage he stands up to him. The very next moment, he backs away, his tail between his legs. She continues to give him words of support, but Kwang-soo, you've got to be the man to step it up! Be bold!
They're soon joined by the Yoo Hyuk Couple and the others don't see any bells, which leads them to suspect Haha instead. But Yoon-ah pinpoints their strange gait and immediately runs away with Gary who says, "They can walk without making a sound? That's incredible!"
The Yoo Hyuk Couple follow Gary and Yoon-ah, intending to eliminate them when they run into all the other couples, even Haha and Jessica for the first time since the start of the mission. Jessica asks them to shake their shoes and she bluntly calls out that they've got bells on them. Which means one thing as shock spreads across Haha's face…and their bracelet is torn, eliminating Haha and Jessica from the race.
The other couples dash inside to hide from the Seekers who pull out their hidden bells from their shoes. They wait until it seems safe enough to venture outside and Kwang-soo calls out to check to see if Jae-suk is still there. What the? Do you expect him to answer you with "Polo" if you cry, "Marco?"
Gary and Yoon-ah take a courage leap downstairs but they're quickly taken out and head to jail. This time it actually looks like a jail.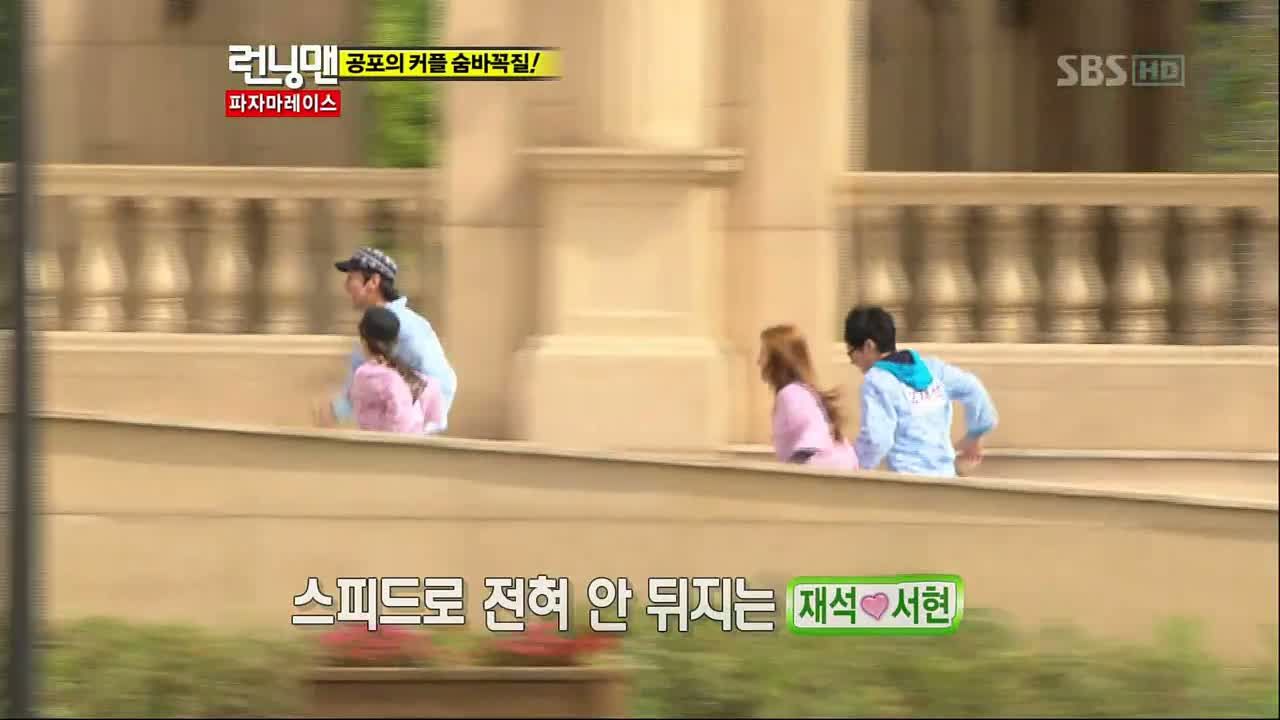 With just about 15 minutes left, the Yoo Hyuk Couple gives chase to catch the Kwangvatar Couple and soon enough, they're caught. And then there was only one team remaining…
Jae-suk and Seo-hyun corner the Spartakooks Couple in a building, feigning innocence. Jong-kook suggests that they should eliminate the others before coming for them. But it sums up the present situation – everyone else is out. Um, time to panic! So they circle inside the building again and again until they're out the door, with just five minutes left.
Jae-suk and Seo-hyun catch up to the retreating team and it's a hussle of tickling Jong-kook, and attempts to tear off the paper bracelet. Seo-hyun resorts to brute force and she wins for the Yoo Hyuk Couple, a mere 48 seconds left on the timer.
Woah, did the maknae just take on her leader…and win?!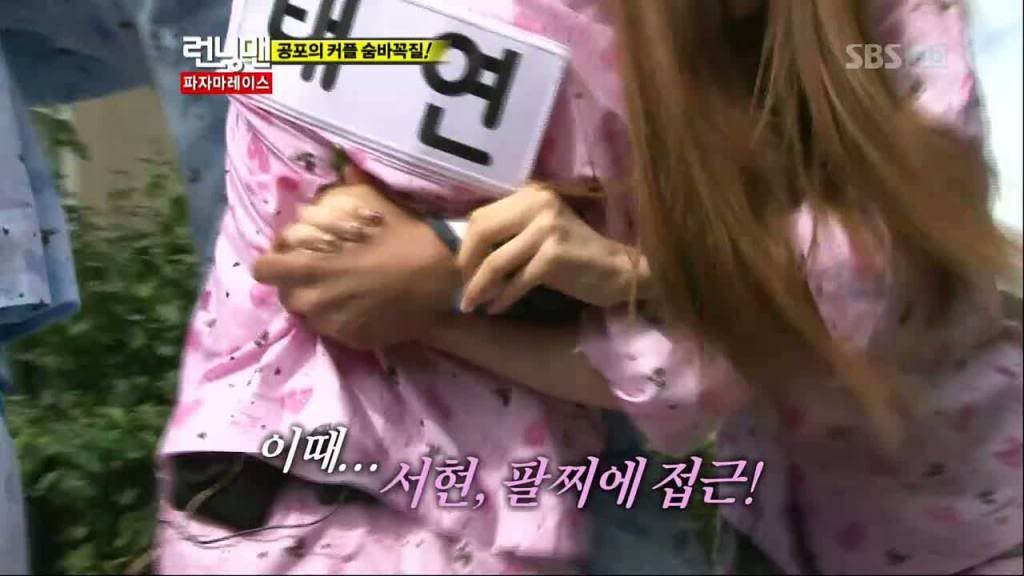 RELATED POSTS
Tags: featured, Haha, Ji Suk-jin, Kang Gary, Kim Jong-kook, Kim Joo-hyuk, Lee Kwang-soo, Running Man, Song Ji-hyo, Yoo Jae-suk