Gaksital: Episode 15
Woo, the pace just keeps clipping along, and major connections are made, throwing our hero into a whole new level of danger. He's already treading on thin ice, but this is the trouble with not being an actual superhuman able to leap tall buildings in a single bound, or, yunno, zoom from the scene of a crime to an alibi-making one to cover his ass. That's the tricky part of being a hero in the real world: you've gotta keep both sides covered. 'Cause a hero who's lost his cover… can't stay a hero for long. It's out of the frying pan and into the fire.
SONG OF THE DAY
Handsome People – "고장난 소년" (Broken boy) [ Download ]
Audio clip: Adobe Flash Player (version 9 or above) is required to play this audio clip. Download the latest version here. You also need to have JavaScript enabled in your browser.

EPISODE 15 RECAP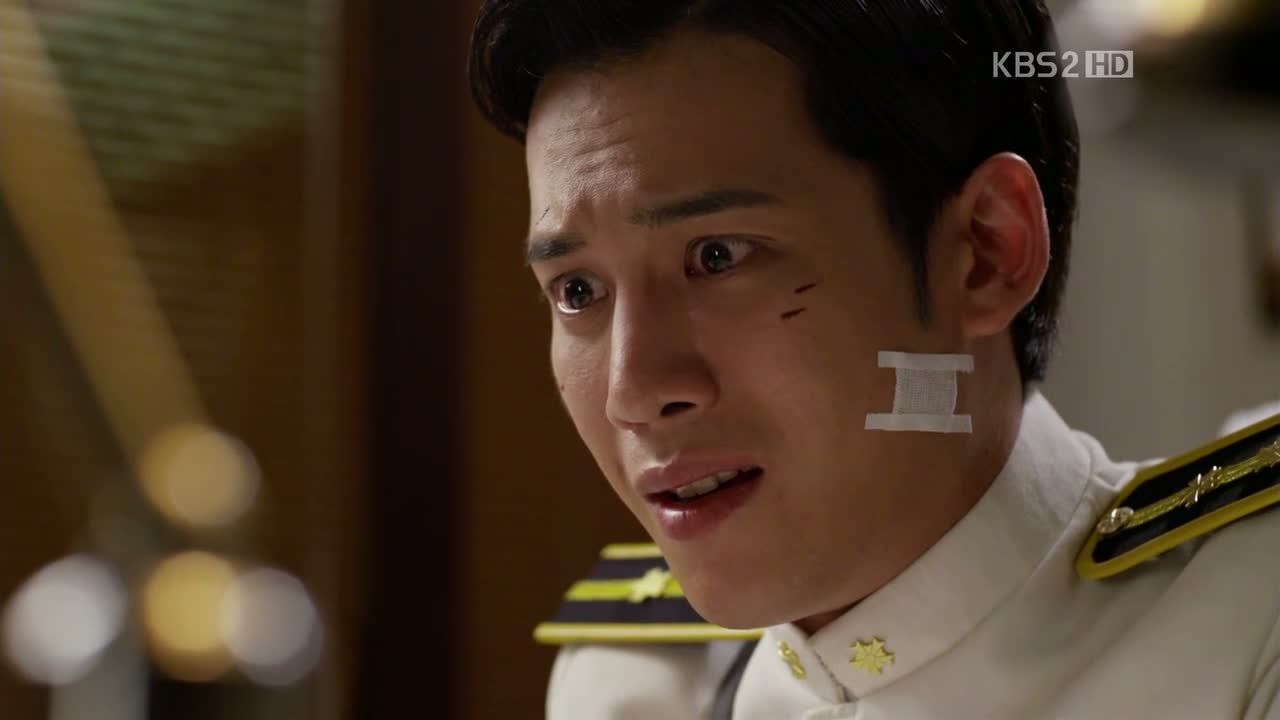 Kang-to uses Boon-yi's name to beg Damsari to help, insisting that she's in danger. And Shunji overhears, gulp. He wonders incredulously, "Kang-to knows Boon-yi? Kang-to wants to save Boon-yi—Mok Dan."
He takes it a step further and guesses, "Then could Kang-to be… the one who gave her that knife? Kang-to is… Gaksital?"
Ooh. I feared Shunji wouldn't connect all the dots, but his brain keeps making the links. He first shakes his head in disbelief, "Kang-to killed my brother? No way. That can't be." But then he recalls how Gaksital had an uncanny understanding of the station layout and suspicion returns.
Shunji asks his staff if any of them was with Kang-to several days ago with the Gaksital-hospital incident, and confirms that nobody was. He pulls Koiso aside and puts him on 24-hour Kang-to surveillance. Uh-oh.
He drops in to see circus boss Jo, who's laid up in bed recovering from his session in the nail box. Sun-hwa averts her disillusioned eyes, and possibly notices Kye-soon's oddly cheery reaction to his arrival. Oh, I'd love it if she caught on to the mole situation and gave that girl what-for.
Shunji dismisses the circus crew. Boss Jo says he already told him everything (Did he really, I wonder, or did he feed false info?). Shunji informs him that Kang-to will drop by later, and gives Jo an acting assignment: Pretend like he didn't tell Shunji anything, and that he's giving the rendezvous information only to Kang-to.
Boss Jo is confused since they're fellow officers, and refuses to cooperate—kill him if he wants. But he's met with a chilling smile and the threat that if Kang-to catches wind of this conversation, the circus troupe will meet their ends, one by one. Shunji follows that chilling threat by giving Boss Jo antibiotics—can't have him contracting tetanus from all those nails. Damn, Shunji. You're really embracing this walk on the dark side, aren't you?
Kang-to storms into the inn while Shunji's still there, and to keep out of sight he hides in Kye-soon's room.
Kang-to sits down with a bitter Boss Jo and earnestly appeals to him. He explains how Damsari is locked up for the anniversary terrorism, and the police are on the hunt to track down Mok Dan to extract Damsari's confession. Then, the torture meted out will be much worse.
Kang-to speaks of his brother, brain-damaged from his activities with the independence movement. It's another example of him reaching out to the freedom fighters in a way that's poignant and bittersweet; I love that he finally gets to be honest about his fears and doubts, but because they see him as the enemy it's almost like it's a one-sided connection Kang-to's making.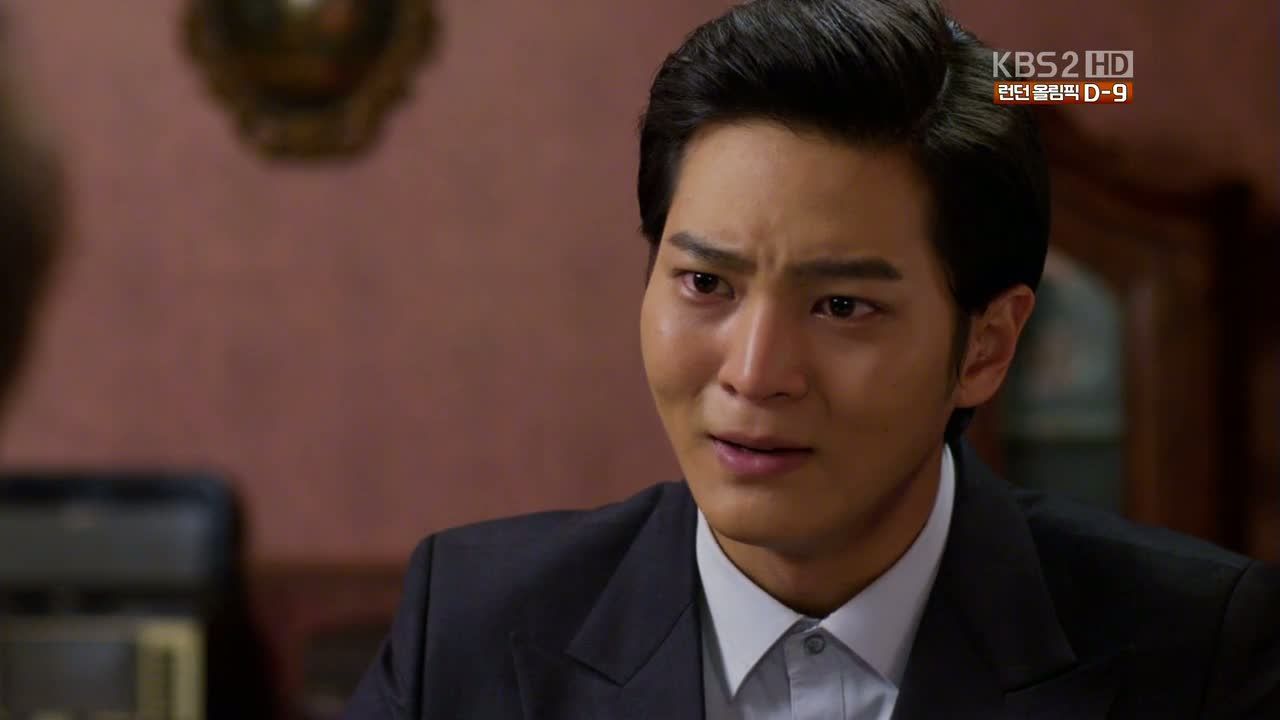 Kang-to: "I'm well aware that I've been condemned by the Joseon people, and I've done enough bad things deserving the names I'm called. I'm the person who captured Damsari and led to his death sentence. That's why I want to help. At the very least I want to prevent Leader Damsari from seeing his child torn to pieces in front of his eyes. Please help me."
Boss Jo gives him the time and date of the planned rendezvous with Damsari's people—tomorrow at 6 at a particular restaurant. Kang-to confirms that Shunji doesn't know this; Boss Jo looks away and lies, afraid for the lives of his troupe. Kye-soon listens at the door as and collects more cash for her spying. Gah, hate you. Hope all your fancy new clothes and cosmetics make your face shrivel and hair fall out.
Kang-to leaves feeling hopeful, not aware of the tail he's picked up.
Shunji arrives for a meeting with his father, surprised to see Rie and bodyguard Katsuyama in the room. As far as he knows she's the singer Kang-to's cozying up to, but today he's apprised of her real identity. His reaction to her verges on impolite (he asks how she can be on such intimate terms with Kang-to), and Rie is snippy in return. She says that in order to get rid of Director Kono, they'll have to start with eliminating his limbs.
Ex-Chief Kimura explains that Shunji's just asking because Kang-to's being secretly investigated. Rie keeps her surprise to herself.
She explains calling the meeting to reveal her identity to Shunji: "Seeing Gaksital challenge dozens of imperial policemen with nothing more than an iron flute shows he has astonishing fighting spirit. Officer Kimura, the only person who can cut down that spirit of Gaksital's is you." Her reasoning? He shot at Gaksital even though his father was held as human shield. She applauds that drive. (Though not, I'm thinking, his aim.)
Rie informs them that her father will be coming to Korea soon, and when he does, Kono will be eliminated and Chief Kimura given his job. How's that for a dangling carrot? She tells Kimura, "You know what happens next, don't you?"
A flashback fills us in on the grand scheme as Chairman Ueno addresses his Kishokai followers, which includes a younger Chief Kimura. Reminding them that Kishokai was responsible for killing the Joseon king and queen, he declares that their goal is to move the empire's capitol to Kyungsung, from which point they'll be in position to claim Asian/Pacific dominance.
Rie declares her faith in Shunji to help them achieve this goal, and raises a toast to Kishokai and the expanding Japanese empire.
The governor general meets with his cronies—Kono, the count, and newspaperman Park—to discuss how to handle the situation. Rumors are flying among the Joseon people about the explosion at the anniversary gala, which threatens to set off more rebellions.
In light of his recent humiliation, the governor opts to come down hard on the populace. It's a totalitarian regime he proposes in to keep them under tight control: outdoor gatherings outlawed, indoor meetings requiring police presence, all loans are to be denied. Furthermore, all Koreans are forbidden to wear all-white clothing, like Gaksital. Yeesh. And yet, placing so much significance into a mere color just emphasizes your fear and weakness, doesn't it?
The police paper the town with Wanted signs for Damsari's crew and set up ID checkpoints. Kang-to has a hidden-in-plain-sight meeting with shoe-shiner Baek Gun, advising him to lie low. He informs him of his hopes to meet with Damsari's people today; they'll have to figure out a way to break him out of jail.
Koiso presents Shunji with in a special interrogator, Ishida, called in specifically to handle the Damsari case. He's smart and quick and has been following Kang-to undetected.
In town, the cops are on a power trip, pouring black ink over anybody wearing white and beating those who protest. Does this mean they'll start beating themselves up too, since it's, you know, the law and everything? Sheesh.
Kang-to drives by as one unlucky grandpa is being beaten, and even the village hothead knows it's a pointless fight—his piece of wood against a bevy of guns.
Then someone yells, "It's Gaksital!"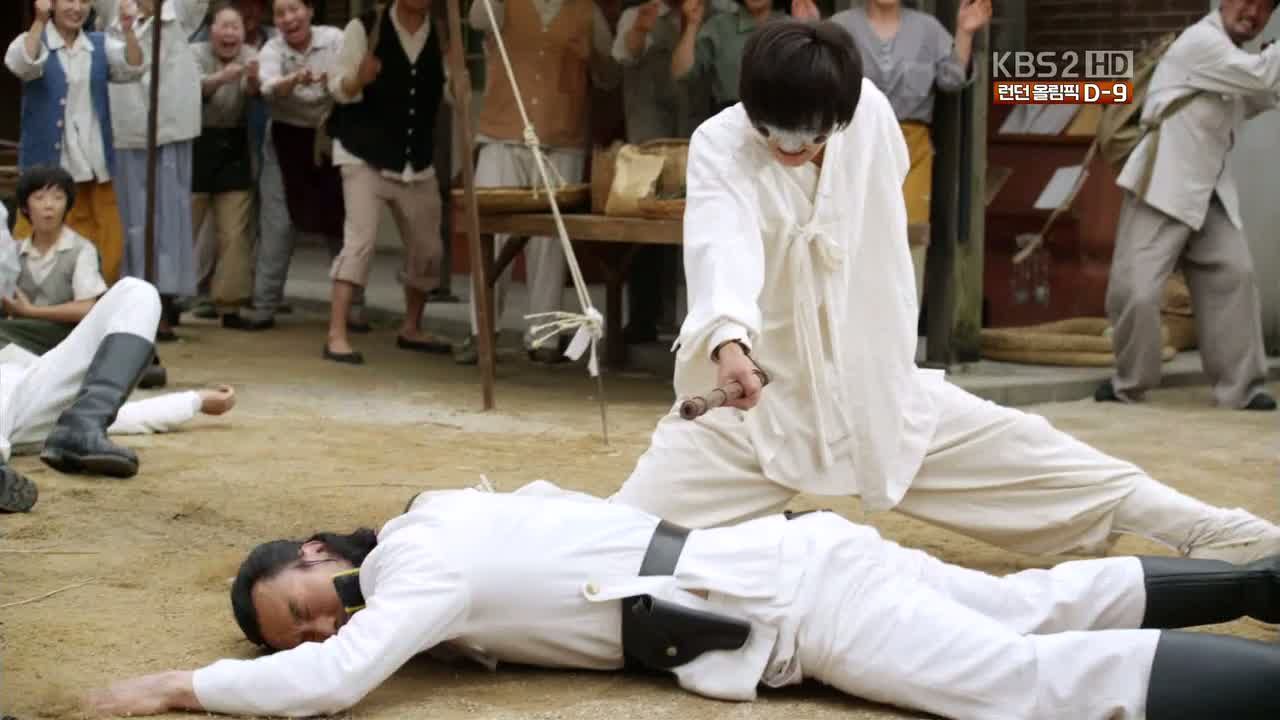 Dude, fastest costume change ever. He leaps into the fray and beats every officer down with such easy efficiency that it's almost disappointing… if it weren't so satisfying watching them get their asses handed to them, that is.
After the short fight ends, he helps the fallen grandpa up while the people cheer him on. Village Hothead decides to add some insult to injury by taking the bucket of ink and dumping it over Koiso's head. The other villagers pitch in, and the officers limp away in shame.
Kang-to takes in the sight, and allows himself a smile.
The humiliated policemen trudge back into the station, where they tell Shunji that Gaksital showed up. Shunji immediately heads for the torture room where Kang-to is stationed, only to find Abe watching Damsari solo. Abe explains that Kang-to spent the night here and left to change his clothes. Which isn't wrong.
So what happened to Kang-to's tail? Koiso assumed Kang-to was still in the torture room, while special investigator Ishida… joins them, nowhere near Kang-to.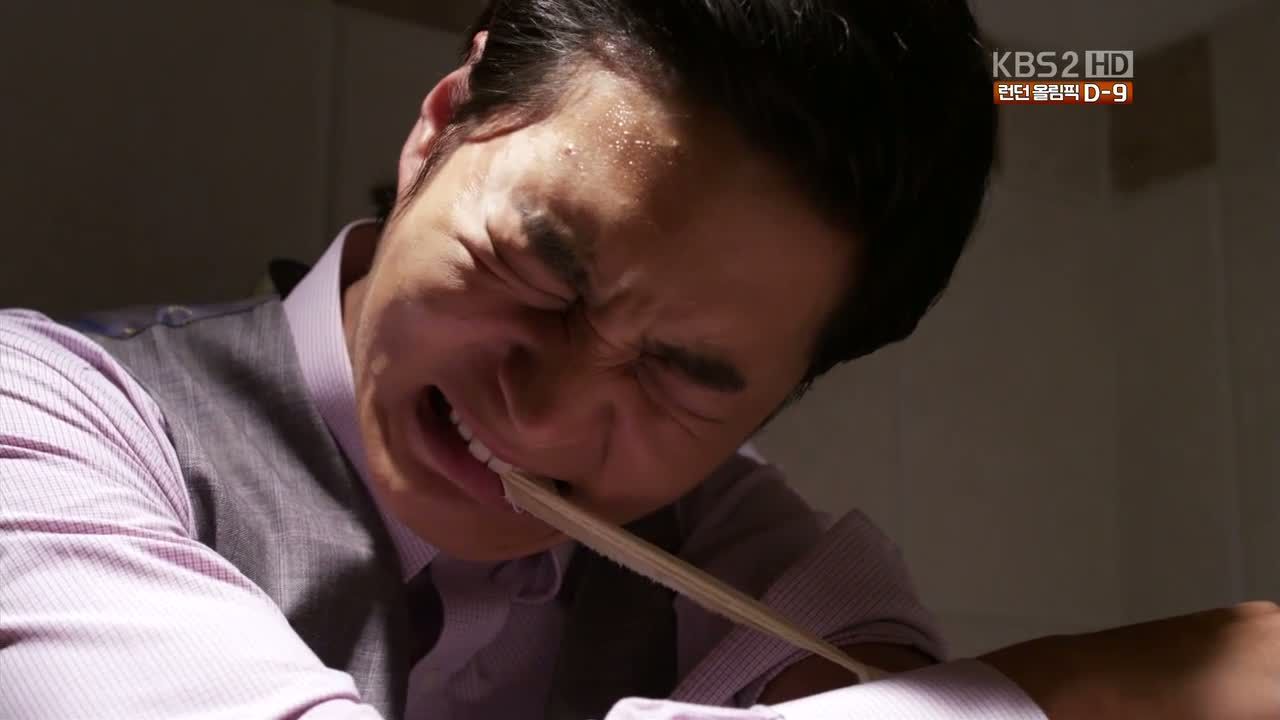 Kang-to changes back into his suit in a hotel bathroom stall, taking care to redress his still-bloody arm wound. God, I have a terrible fear about that bloody bandage—it's going to give him away, isn't it?
Kang-to washes his hands and one next sink over, Katsuyama clocks the redness washing down the drain. Too late, Kang-to recognizes the swordsman who attacked him and tries to cover, muttering about a nosebleed. Kang-to says conversationally that Katsuyama seems familiar, but silent hottie remains silent and walks away. Kang-to trails him down the hall, though his stalking doesn't go unnoticed.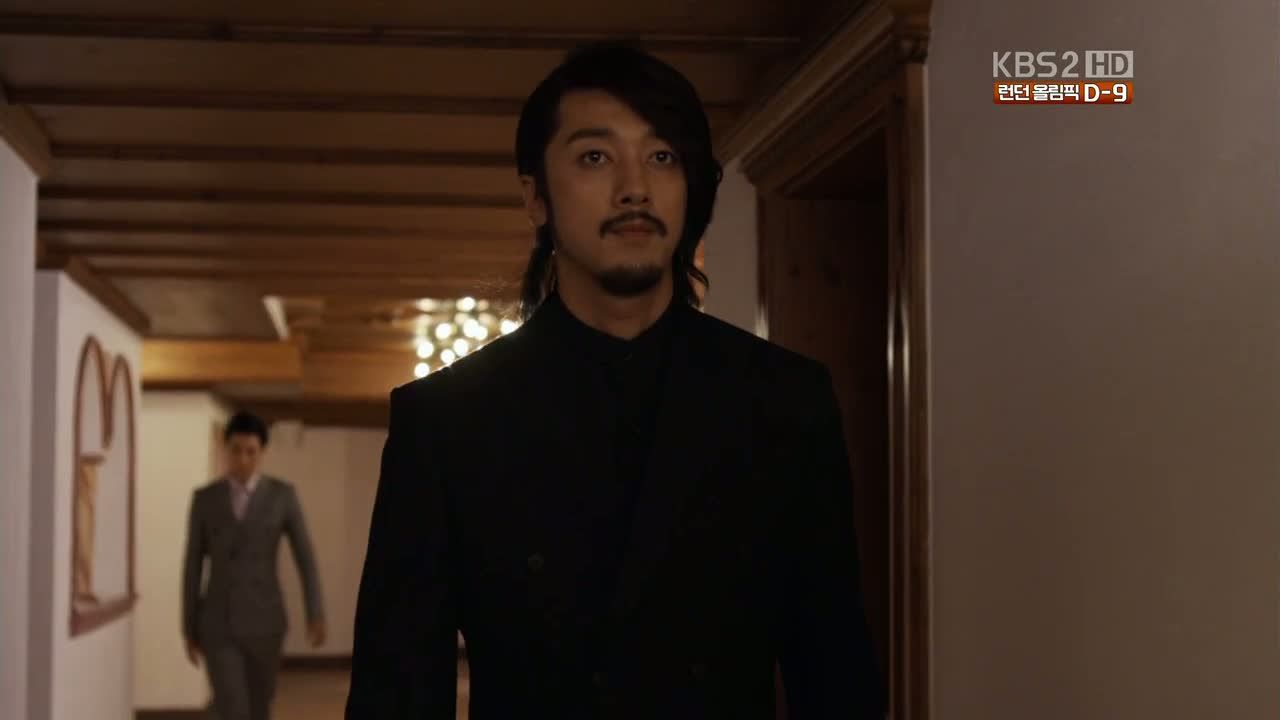 Kang-to takes note of the hotel room Katsuyama enters—Room 501—and quickly leaves.
Shunji calls Kang-to in, keeping his tone friendly and turning his Kishokai signet ring around to keep the insignia hidden. Uh, that's the best you can do? You belong to a mysterious, powerful organization being investigated by Kang-to and you wear that sucker to work? You could learn a few things about secret identities from Gaksital, 's all I'm sayin'.
Kang-to's been using the night watch room at the station since his house got burned down, so Shunji hands him a key to his rented room. He's not using it, so Kang-to should.
Hearing that Damsari still isn't talking, Shunji suggests using Mok Dan as bait, which I am now making a drinking game. Suggestions to use her as bait: one drink. Actual incidents of using her as bait: two drinks!
Kang-to goes for the nonchalant route, saying that she probably skipped town along with Damsari's cover wife. That just makes Shunji more suspicious, and he counters that Mok Dan isn't the type to ditch Dad. Something about Shunji's easy attitude has Kang-to's brow furrowing (well, even more). Please tell me you're suspicious!
Shunji leads Kang-to to the torture room and once again demands to know who Gaksital is. Damsari returns, "Want me to tell you how to get him? Return Joseon to us. Then Gaksital will take off that mask himself."
Shunji chuckles, which frankly freaks me out, then slams a foot into Damsari's gut. He holds up the police grenade stolen out of the armory—without an insider, there's no way the freedom fighters could have gotten their hands on it. Who helped them?
Kang-to tenses. But now it's Damsari's turn to laugh: "Are you saying there's an independence fighter within the police? Ha."
Shunji goes for the whip and punishes Damsari for mocking him. He orders Kang-to to capture Mok Dan: "Let's see if he still has no reaction to watching his daughter's breath choked out of her." (Drink up.)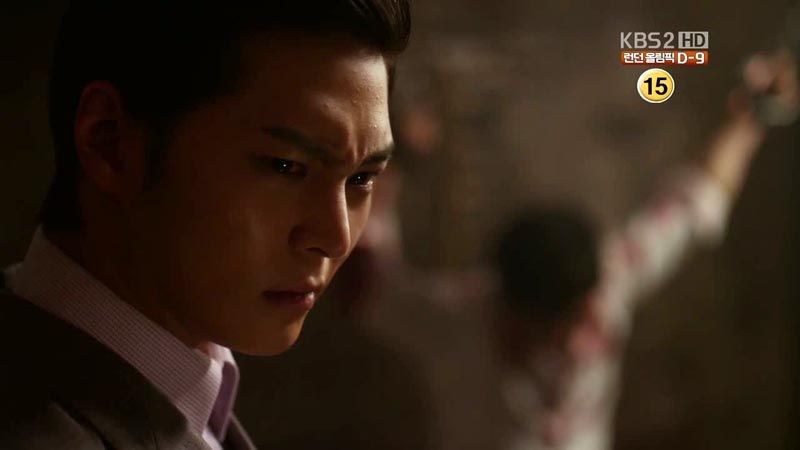 Villagers read the Wanted/Reward signs for Damsari's crew, and the prize is big enough that one ajumma comments that with that money, they can enjoy an easy life.
Village Hothead loudly protests, just as Mok Dan comes strolling by. What, no disguise for you either? You're just asking to be captured, aren't you?
Sure enough, one officer tells her to present her ID, and she takes off running. That's not suspicious or anything. The officers chase after her, sending her down an alley and out into the marketplace… right into Kang-to's path.
She runs the other way. He orders the officers not to shoot and takes off after her. Thinking to get rid of his tagalongs, he scatters the other cops in other directions, leaving him alone to confront her face to face.
She finds his face less than comforting, though, and makes a break for it. As they run, he thinks to himself, "You have to get caught by me to remain safe. Please…"
Pouring on the speed, he catches her. And gets whacked in the back of the head. Eek!
It's Village Hothead playing hero with his wooden stick. Kang-to blearily watches Mok Dan escaping and passes out.
He reports the failed capture to a frustrated Shunji, who tells him I told you so about Mok Dan sticking around. Shunji slaps down the message Boon-yi left for Gaksital, saying that the two of them have been exchanging messages. Kang-to's eyes widen as he reads, wondering to himself how Shunji came across it.
Shunji tells Kang-to of how the girl pulled a gun on him and ran away with Gaksital. He gets more and more heated, so much that it seems like he's sending Kang-to his own message: "To save Gaksital, she held a gun to my face! They held hands in front of my own eyes! Kang-to-ya! In front of my own eyes!" Aw, is this really about venting his hurt at Kang-to?
Shunji deduces that Boon-yi is Mok Dan's childhood name, and Gaksital the boy who gave her that knife. Kang-to looks alarmed to have so much of the truth figured out, while Shunji rages on, "I will find that girl and kill her. I'll kill her and hang her in Gwanghwamun Square, so that bastard can see! So his heart can rip apart!"
Yup, definitely a message. Shunji leaves the office scoffing at the idea that Kang-to legitimately tried and failed to capture her.
Mok Dan returns to the hideaway and reports to her comrades on her recon trip outside. Comrade-wife finds something odd; one comrade's identity is only known by Boss Jo, so hearing that he's been tortured can only mean that Boss Jo talked. Mok Dan protests that he wouldn't and offers to go to the rendezvous tonight alone. But comrade-wife says no—if Boss Jo talked, they'll be captured tonight.
Mok Dan argues that they have to make the meeting; they're in dire need of funds. In this climate, rescuing Damsari is impossible and their identities have already been uncovered. She promises to meet Boss Jo and get them the money.
Mok Dan heads to town for her meeting—again in plain sight, arrrgh. You couldn't fake some kind of face disfigurement, or maybe wear a hat? Seriously, people.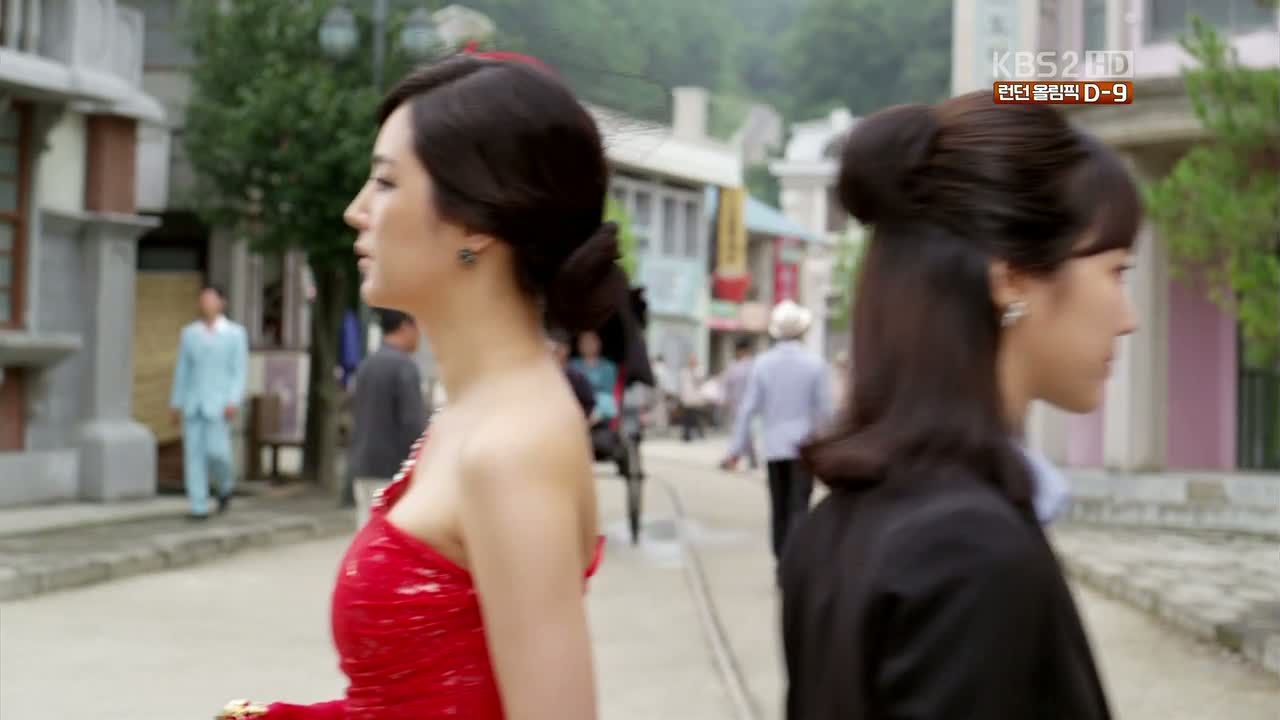 She passes by a woman emerging from the hotel—Rie, who stops in her tracks, recognizing her. Gah!
Rie turns right back around and follows Mok Dan upstairs, where Mok Dan uses the hotel phone to call Boss Jo, who answers with a guilt-stricken face. As she asks after his safety, Rie hovers in the background while Mok Dan makes plans to drop by to see him later.
Boss Jo hands up the phone near tears, and turns around… toward his circus troupe, who huddle on the ground with policemen leveling rifles at them.
Mok Dan ends her call happily, only to find Rie waiting with a pleasant, "Do you know how much I wanted to see you, Sister?" Ack, and here I thought Mok Dan had the upper hand for realizing the nun was a fraud.
Rie grabs Mok Dan and starts to drag her off. Mok Dan swings, but her fist misses Rie's face. She gets kicked in return, but breaks free and runs.
Rie hooks back her long skirt, Bond Girl style, and does a flying leap to take Mok Dan down. Mok Dan gets a few blows in, but it's a pretty uneven fight and Rie punches, kicks, and shoves her to the ground.
Kono calls Kang-to in to ream him for failing to recognize Damsari at the party.
With an hour till rendezvous time, Shunji gets his officers ready and waiting, then calls Kang-to into his office. Cheerily, he tells Kang-to they're going to catch Mok Dan tonight, and gives them the same meeting details that Boss Jo provided.
Kang-to compliments him on his skills, asking how he found out. Shunji answers that he's got informants everywhere, which seems like another pointed thing to say that Kang-to isn't suspicious enough to pick up on. Be suspicious! Ack, this is not doing good things to my blood pressure.
Shunji calls his team to order to begin the "rabbit hunt." He gives them the all-clear to shoot everyone but Mok Dan, who must be kept alive. He watches Kang-to particularly as he adds that her capture is also needed to capture Gaksital. With that, he leaves Kang-to in charge of watching Damsari back at the station. Oh no, you're giving him a clear chance to show up as Gaksital, aren't you? Don't do it, Kang-to! Be suspicious!
Shunji's banking on Gaksital crashing the meeting, and orders Koiso to confirm whether Kang-to leaves the station.
Except… Shunji gets a call from Rie, who's in Lala mode as she asks about the prize for turning in one of the fugitives. She tells him smugly that she caught Mok Dan, only to get Shunji ordering, "Let her go immediately!" Fuming at the thought of his careful plan going awry, he warns her not to interfere with his job, whether she's the chairman's daughter or not.
Rie takes exception: "You say I'm interfering?" Shunji lays it out: He's on a Gaksital hunt and needs her as bait. So Rie had better let her go, but in a way that she doesn't realize she's been let go intentionally.
Rie agrees, but says she hopes his trap is ironclad and perfect to justify the release: "But if you fail this time, you'll have to give up your neck." Shunji fires back, "If my plan fails because of you, you'll have to give up yours too." Ooh. Them's fighting words. Now I want them both to fail, just to watch the fallout.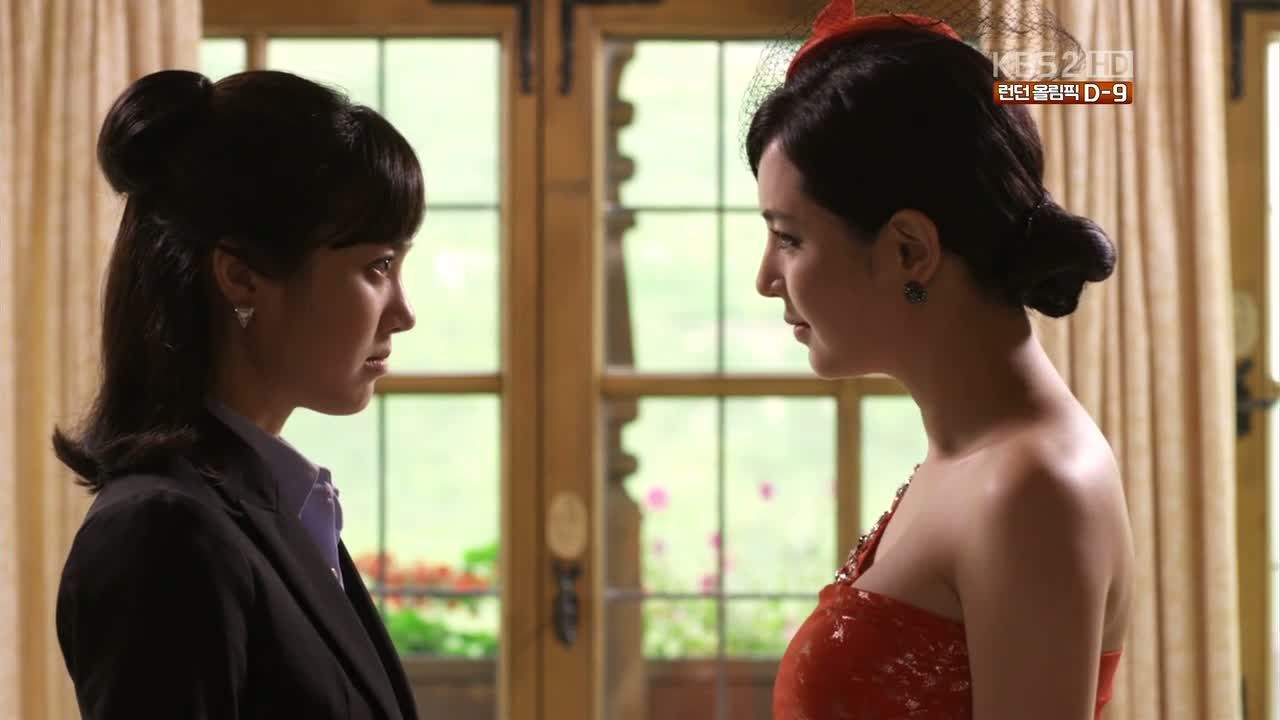 Rie faces a sputtering Mok Dan, who demands to know who she is and why she's holding her hostage. Rie gives her a slap, then tells her man to let her go. She coos, "Take care. Let's meet again."
Shunji moves out with his team. Kang-to paces in Damsari's interrogation room, looking around at all the implements of torture, imagining the agony in store for Mok Dan. That's enough to make up his mind, and he goes on the move… which is noted by Ishida, who follows.
Mok Dan arrives at the private room at the restaurant. The server gives her a peculiar look that she doesn't notice (arg, why don't our good guys notice anything?). As time ticks on, she grows uneasier, wondering why nobody's here.
Kang-to speeds to the restaurant and bursts in, still dressed as his normal self. He grabs her hand and starts to drag her toward the door, which she naturally protests.
It's this sight that Shunji walks in on—Mok Dan and Kang-to, hand in hand—and this time he's the one with the gun. Ooh, nice reversal.
Shunji: "It was you after all. Nice to see you again, Gaksital."
And Mok Dan goes, Whaaaaaa?

COMMENTS
Ooh, great ending. Yes, I've sort of had my fill of episodes ending with Shunji wielding a gun at Kang-to/Gaksital, especially given his apparent inability to do anything with that gun other than said wielding. However, the narrative progress that accompanies each instance makes up for it. Somewhat.
We're moving along briskly, and I'm super excited about how quickly Shunji is connecting the dots. So many times we get characters handed vital clues, only to just barely figure out what to do with 2 and 2. Add? Subtract? Do a little dance with? (It's worse when they're pulse-pumping cliffhangers where the following episode pulls a "Never mind, the character totally misunderstands, revelation averted!" That's a cop-out and a fake-out, and I hate hate hate.)
So I love that in the episode following Shunji overhearing that incriminating conversation has him arriving at the natural conclusion, culminating in a direct confrontation. This show doesn't pull punches, for the most part, and I'm thankful for it.
Except where Mok Dan's concerned, that is, which is too bad because… bleh. Just don't get. I love her character and what it means, but I just find her so bland. She's such a classic damsel in distress that she becomes a pawn more than anything. She's a tool, a plot point, a non-person. She's already a pretty one-dimensional character by virtue of her place in the story, which would be fine if she were at least a little more kickass, or did more than be dragged around by men. Most of the time literally as well as figuratively.
And it's not that I don't think she has that capacity. One of my favorite Mok Dan moments (I know, that I have any at all is amazing!) was when she refused Shunji's help after being tortured and walked out of his car, telling him that his actions meant he was no longer her friend. I just want to care about her as more than the object of Kang-to's affections.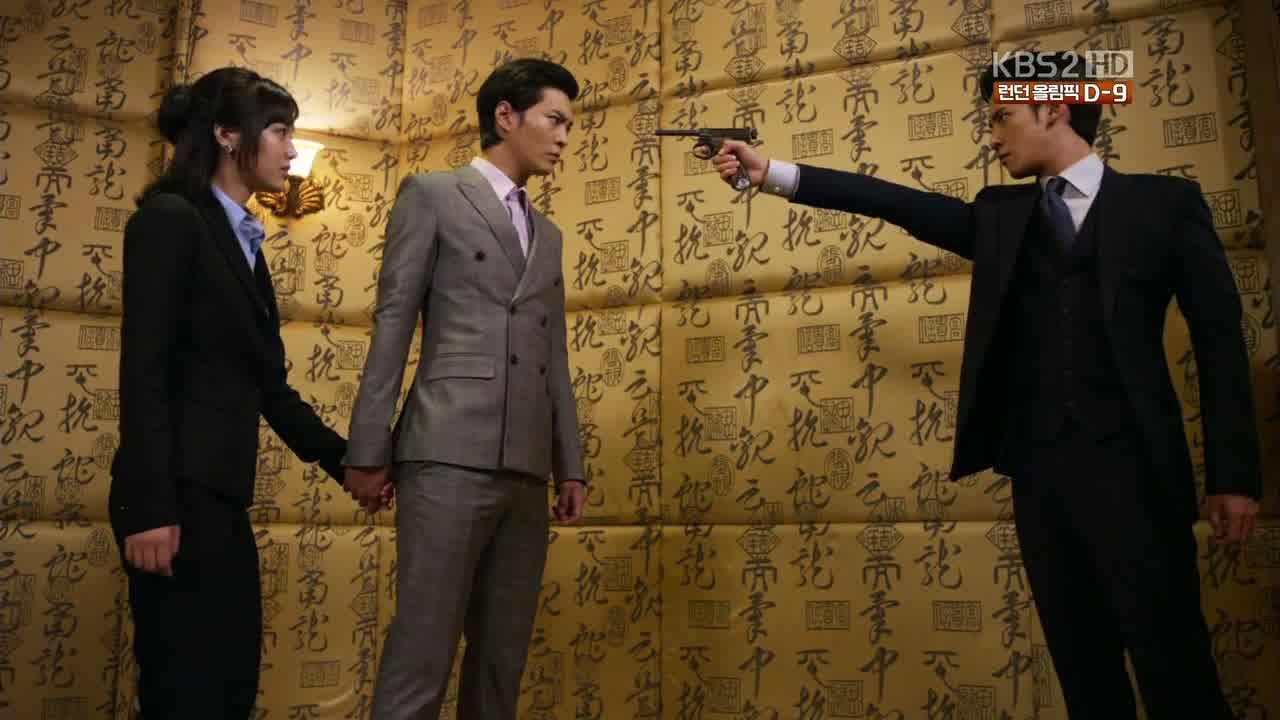 I find it intriguing that Shunji's rage over the Gaksital connection seemingly stems more from Mok Dan than any of the numerous other gripes he can legitimately claim. Like Gaksital running him in circles, messing with his career, losing his father his reputation and job, killing his brother. Yet it's the scene in the woods that he flashes to, and it's that betrayal that fuels his veiled outburst at Kang-to. At first it was just Mok Dan turning her back on him, but now that he realizes it was Kang-to as well, it cuts twice as deep. I loved how he shouted at Kang-to as though wanting to accuse, How could YOU do that to me? Such a nicely played moment, and I hope that we'll have more chances to hash that out. Especially now that Kang-to knows that Shunji knows.
I'm thrilled that we have smart people in this story, people who pose real threats and can even stay one step ahead of our protagonists. That's awesome. Unfortunately, a niggling concern that's starting to grow is the wish that our good guys were smart people, too. I know Shunji was operating on crucial secret information so it's not like Kang-to was an idiot for not knowing he'd been made… but he seemed just a little TOO willing to fall into Shunji's trap. There was a flicker of unease on his face for a brief moment, but I kept thinking that the ragey, hotshot cop of yore would have been all over Shunji's incongruently chipper attitude.
It's like Kang-to used to be shrewder when he was evil. (Not evil-evil, but… you know. Misguided evil, which is still kind of evil. 'Cause I'm not about to rationalize rage-fits and sadistic beatings, no matter how much pain oppa harbors inside.) I understand that his hands are tied now, and one could certainly argue that being the hunter forces a very different mindset than being the prey… But I want suspicious, wary, always-on-his-toes Kang-to back.
I do really love watching his gradual transformation, though, and his scene with Boss Jo was another example of that. A fine follow-up to his previous exchange with Damsari. The wording in Kang-to's appeal to Boss Jo is telling; notably, he speaks of the police as a third party, rather than including himself—it's they rather than we. He also refers to Damsari with his title as Leader, like he acknowledges that role and maybe even respects it, whereas before this point the man's always been just Damsari, or maybe a curse word. Language is revealing, and it makes me want others to start picking up on those cues; I look forward to other characters—those on the good side—being clued in to Kang-to's change of heart.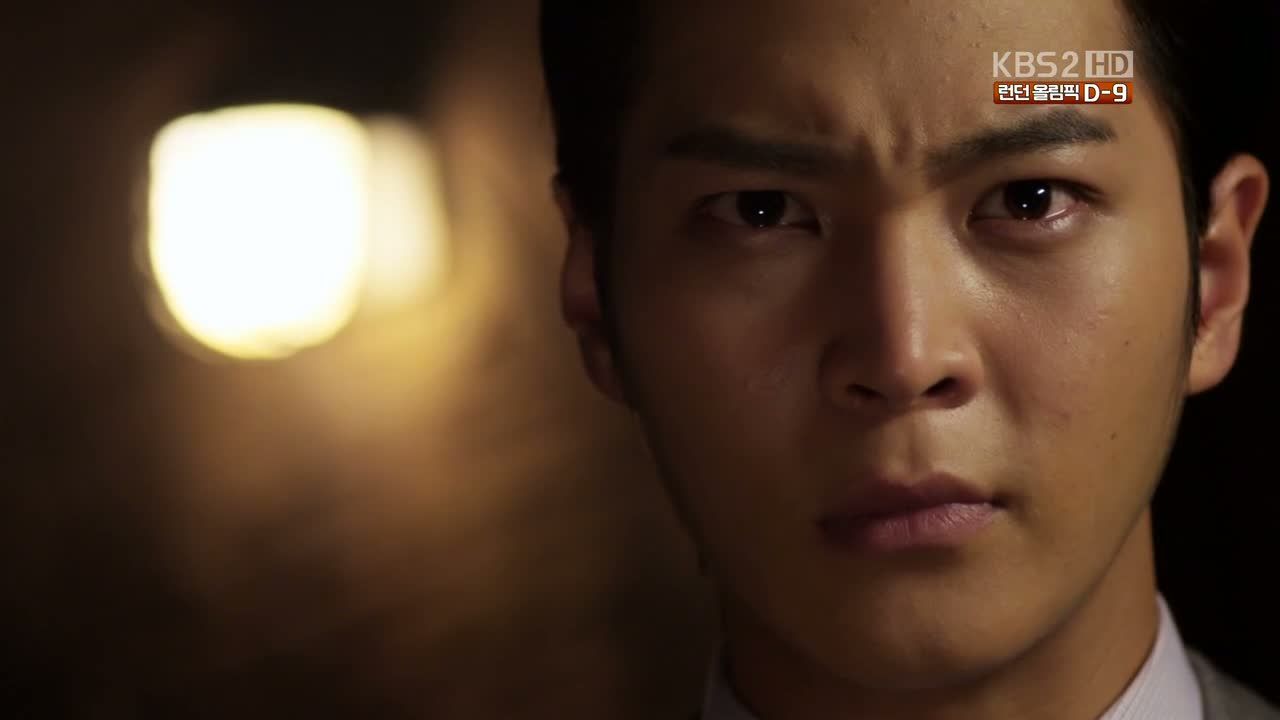 RELATED POSTS
Tags: featured, Gaksital, Han Chae-ah, Jin Sae-yeon, Joo-won, Park Ki-woong