Third Ward's first poster and teaser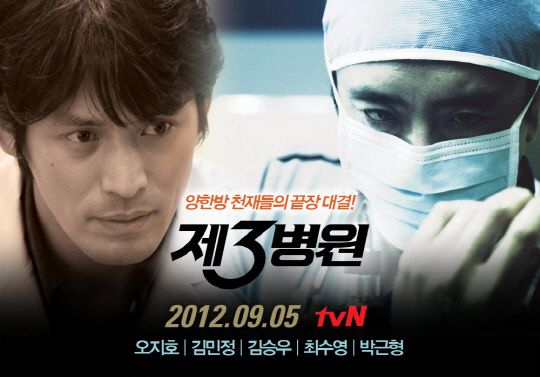 Finally, some movement on Third Ward, the medical drama that's been lingering in productionland for months. Okay, maybe it hasn't been forever, but the show has gone through a lot of changes—it courted two actors for heroes (Cha Seung-won, then Uhm Tae-woong) and two broadcasters (SBS, then KBS). Then it settled down with a new lead in Kim Seung-woo and a new broadcaster with cable channel tvN.
So now we've got the drama's first poster and teaser, pictured above and below, featuring Kim alongside his co-star Oh Ji-ho. The show is set in the neurology department of a hospital that houses both Western and Eastern medicine traditions. Our two leads are the representative "genius doctors" (of course) from their respective camps; Kim is the Western doc, and Oh the Oriental medicine specialist.
Oh, and they're also brothers. Do they have the same first love too? And fight for the affection of one stingy-hearted parent with only enough love for one child? Alas, I do think there's a good chance of a romantic showdown, since their "fateful rivalry" centers around "both work and love." The heroine will be played by Kim Min-jung (Thorn Birds).
I poke fun at the premise a bit, but the show has some solid credentials, being directed by Kim Sol-mae of IRIS and Bad Guy. Both of those dramas had serious writing flaws, but from a directorial and cinematographic standpoint they were gorgeous. Kim PD has a nice sense of mood and pacing, and his shows have a lovely visual flair. Writer Sung Jin-mi is a bigger question mark, being a new name, though I've read some quotes about the script being strong and tightly written. We'll have to see about that.
The thing is, this rivalry seems… erm. Oh Ji-ho seems like such a simple nice guy that I don't want to just dump on him… but when you put his talents right next to Kim Seung-woo's talents in a two-top drama, one can't help but think the balance is terribly tilted. Sort of like Lee Beom-soo and Song Seung-heon in Dr. Jin. And we know how well that's working out.
Third Ward will be a Wednesday-Thursday drama premiering on September 5.
Via Star News
RELATED POSTS
Tags: cable programs, Kim Min-jung, Kim Seung-woo, Oh Ji-ho