Jung Ryeo-won begins shoots for King of Dramas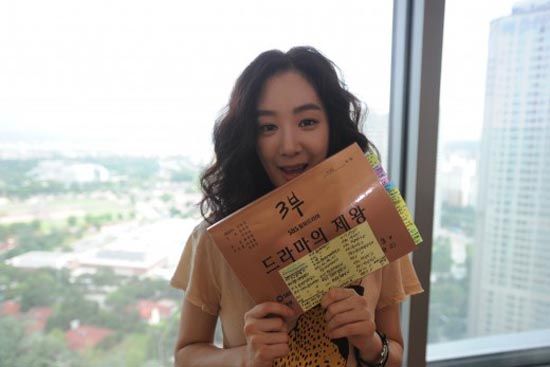 SBS is prepping their drama-about-dramas—titled, appropriately enough, King of Dramas—and has begun shoots, as we see with these latest shots featuring Jung Ryeo-won as the heroine, aspiring scriptwriter Lee Go-eun.
The character of Go-eun is described as idealistic and frank, and sees things in a black-or-white way that bespeaks both her values and naivety: "If it's not right, it's not right. If she loves, she loves. If she hates, she hates. You can see whether she likes or hates something written plainly on her face."
Go-eun has spent five years as an assistant writer to her mentor, Writer Jung, and dreams of being a drama writer herself. But it's after meeting production company CEO Anthony (Kim Myung-min) that her life starts to take a turn; he somehow manages to get her to betray her mentor, and she vows never to deal with him again. Clearly these two were meant to fall in love.
So he's brought back into her orbit (or she into his, if we consider that he's the King of Dramas with the grand career and probably also grand ego) thanks to a script she showed him three years ago. And in the scenes pictured here, Go-eun receives an offer to contract with a production company that we can only assume is Anthony's. Ooh. It's an irresistible scenario: Get the career kickstart she needs, or cling to pride and refuse?
Anthony is described as money-minded to the extreme: Who cares about the "humanity" of a project when the bottom line is what matters? Right off the bat, he's set up to clash with our heroine, and that's not even accounting for the past run-in where she hates his guts.
Further complicating matters is the "top star" leg of the love triangle, to be played by Choi Siwon. Which, HA! Is perfect. He's played the famous actor before (Oh My Lady), he's got the celeb charm, and he's also got the real-life experience as a Hallyu star. I don't know how he'll hold up against powerhouse Kim Myung-min (who, by the way, I just mistyped as King Myung-min), but I look forward to it.
I'm a little iffy on dramas about showbiz in general, because the subject lends itself to indsidery indulgence, which is what I felt of The World They Live In (which was also slooow). On the other hand, there's always that sense of cheeky fun in seeing the contrast between on-camera and offscreen, and this show purports to be a "character comedy." And so far, the characters seem layered and interesting.
The show isn't set to air till November, which means they're getting a bit of a jump. Will this drama actually manage to evade the live-shoot madness? Or is that too much to hope for, given that the show's all about the craziness of dramaland behind the scenes?
Writing the show is Jang Hang-joon of Sign and Harvest Villa (although not with the wife, who co-wrote on those dramas), along with Lee Ji-hyo, who appears to be the junior scriptwriter. PD Hong Sung-chang directed dramas Take Care of Us, Captain and You're Beautiful. King of Dramas will replace Faith on Mondays and Tuesdays, beginning in November.
Via SBS
RELATED POSTS
Tags: Jung Ryeo-won, Kim Myung-min