Running Man: Episode 113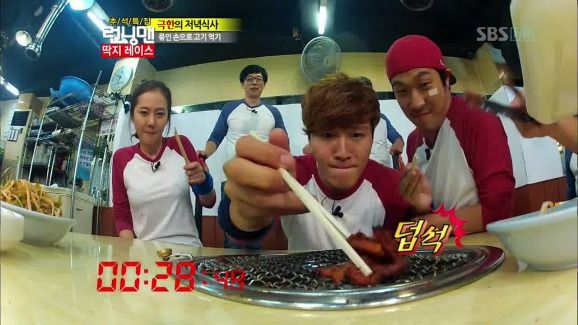 Who knew that Running Man makjang would be so entertaining? Old wounds are cut open again and new fresh scars are sure to stay. It's a Chuseok special on Running Man and this year, get ready to flip the Ultimate Ddakji. Will yours be good enough?
EPISODE 113. Broadcast on September 30, 2012.
It's a rainy day and Kwang-soo is the first to arrive at the hotel. He tries his best to wrap his head around the set up for Madame Maknae FD's family reunion, taking his seat as 'the third son.'
The others trickle in as Mr. PD directs them to take their seats (Gary: "Second son? I'm not the maknae?") and Jong-kook speaks in banmal as the first son, only to apologize when he learns Jae-suk is his older cousin. Boy, this is gonna get confusing innit?
This means that Gary, Jong-kook, and Kwang-soo are brothers (Jong-kook: "Where's Mom!") and they light up at the fact they all have wives in this make believe reunion – which means female guests. And Jae-suk brings them back to Earth: "Ji-hyo's one of them."
Fingers start pointing to Gary who balks, "When was it that we ended things!" which is just when Ji-hyo arrives.
And when Mr. PD does confirm that they're a couple, they both yell in protest: "We're divorced!" I can't hear you, la la la la!
And just like every happy family reunion, things start to escalate as Jong-kook points out that Jae-suk is voicing his frustration that he doesn't have female guest on his team. Soon they're bickering about how this dysfunctional family is straight out of a makjang drama and Kwang-soo shouts, "That's why we all have different last names!"
Jong-kook looks to Ji-hyo: "I'm your ahjubuhni [older brother-in-law]!" Ji-hyo's like, So? Jae-suk: "You're just an ajumuhni!" Oh the puns!
I love how this entire family reunion keeps going on without Madame Maknae FD and their bickering comes to a temporary standstill at the mention of their first guest aka Jong-kook's wife. She comes waltzing in and their jaws drop to the floor.
Say hello to Yeom Jung-ah (My Love, Madame Butterfly, Royal Family). Are we going to see her caught with ramyun again? In any case, her commanding presence overshadows Jong-kook, who meekly stands next to her. She tells him that he's not scary but I don't think he believes her. Keh.
It's time to meet our second guest (and Kwang-soo's 'wife'), actress Jeon Mi-seon (Five Fingers). I think rendered speechless isn't enough to fully describe their reaction to one another.
Kwang-soo, who had originally anticipated a younger guest, comments that he doesn't understand how they met. The others tease him about how Kwang-soo pleaded to marry her despite their age gap.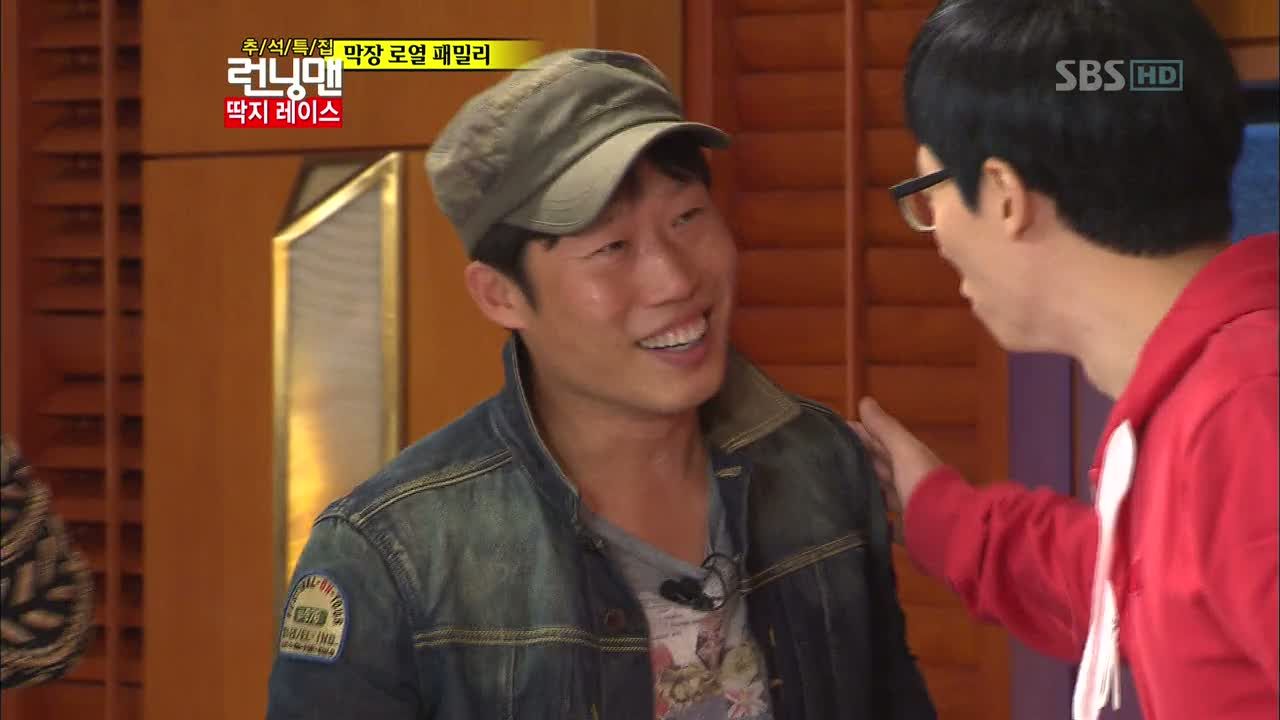 Now there's one family member left to be introduced: actor Yoo Hae-jin (Jeon Woochi, Tazza). Woah – this man is a force to be reckoned with, even without his famous ex. And to everyone's surprise, the boys flock to greet him in reverence.
Mr. PD informs them that the family is gathered regarding Madame Maknae FD's will. The cast immediately jump to grieve and Jae-suk says, "How could we not have known as her children?" Mr. PD clarifies that it's been prepared in case of her death. Ah, okay then.
Her lawyer reads out her will and testament which tells her 'sons' about how she built this corporation making ddakjis (folded paper squares) and about how she crafted the 'ultimate ddakji'.
The mission: The son (and their family) who can flip over this ddakji will be declared the winner. The cast's reaction at the rest of the legal jargon? ". . ." AHAHAHA.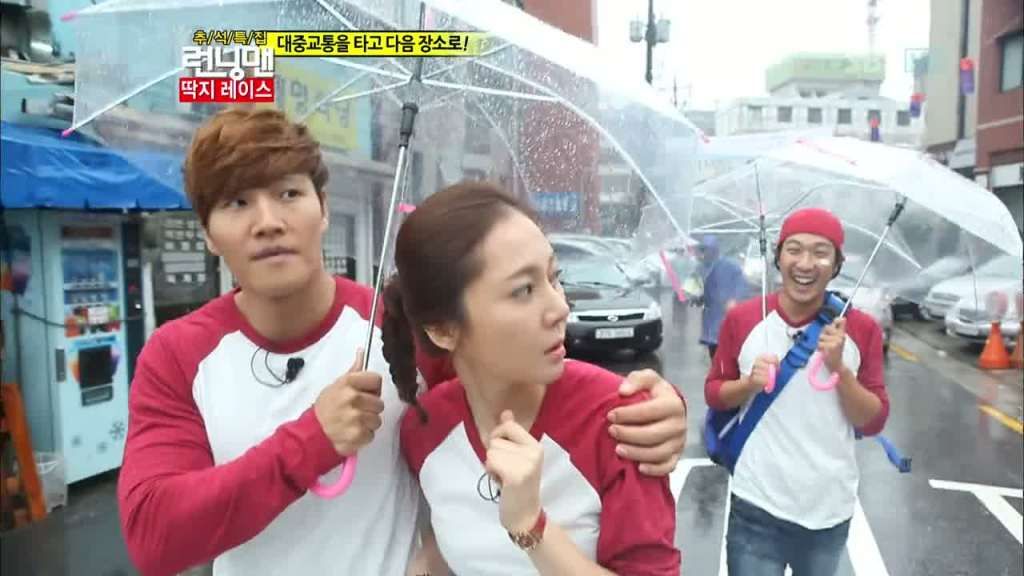 Jung-ah's competitive spirit shines through and despite the rain, she says, "Aren't we supposed to run because it's Running Man?" She assures them that her other guests aren't competitive at all.
Cut to: Hae-jin and crew who are enjoying the rain. Hae-jin even gets in a pun, pointing to the ginkgo beans, "There are a lot of banks that have fallen!" (ginkgo = eunhaeng = bank)
Kwang-soo's family overshoots their mission location and if battling the rain wasn't enough, his umbrella turns inside out and Mi-seon covers him under hers. Jong-kook and Jung-ah share one too but I love how she yells out, "You want to hold hands?" first before doing so.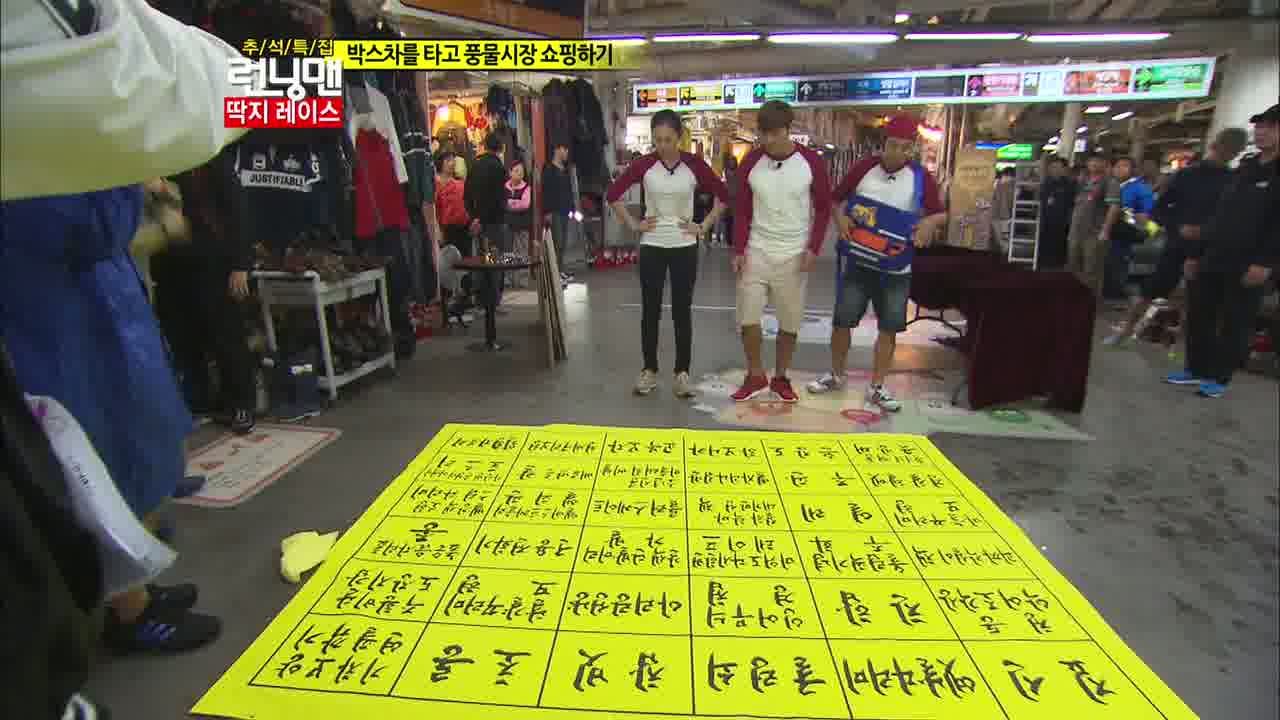 Their first mission location brings them to a vintage market where they'll have to buy some items (in a cardboard box, no less) to move on. As to what items, they have to turn while holding their nose 10 times and kick a hackysack.
Though the dizzying part will be a problem, they've definitely got a bigger one on their hands because Jung-ah has a tough time kicking the hackysack as is. It's both adorable and hilarious.
And then when she actually spins around 10 times, she just collapses on the ground, too dizzy to kick anything.
It's a snug fit inside their cardboard box but there's a time limit so they better run. Not only does Kwang-soo's family have a large age gap but there's a considerable height difference as well. So Kwang-soo sweetly cuts a hole in their box so that she can see. Aw.
Gary's family is still trying to kick a hackysack and when Ji-hyo kicks it into Gary's arms, he sadly cries if she's going to be like this. 'Cause they're divorced. *cries*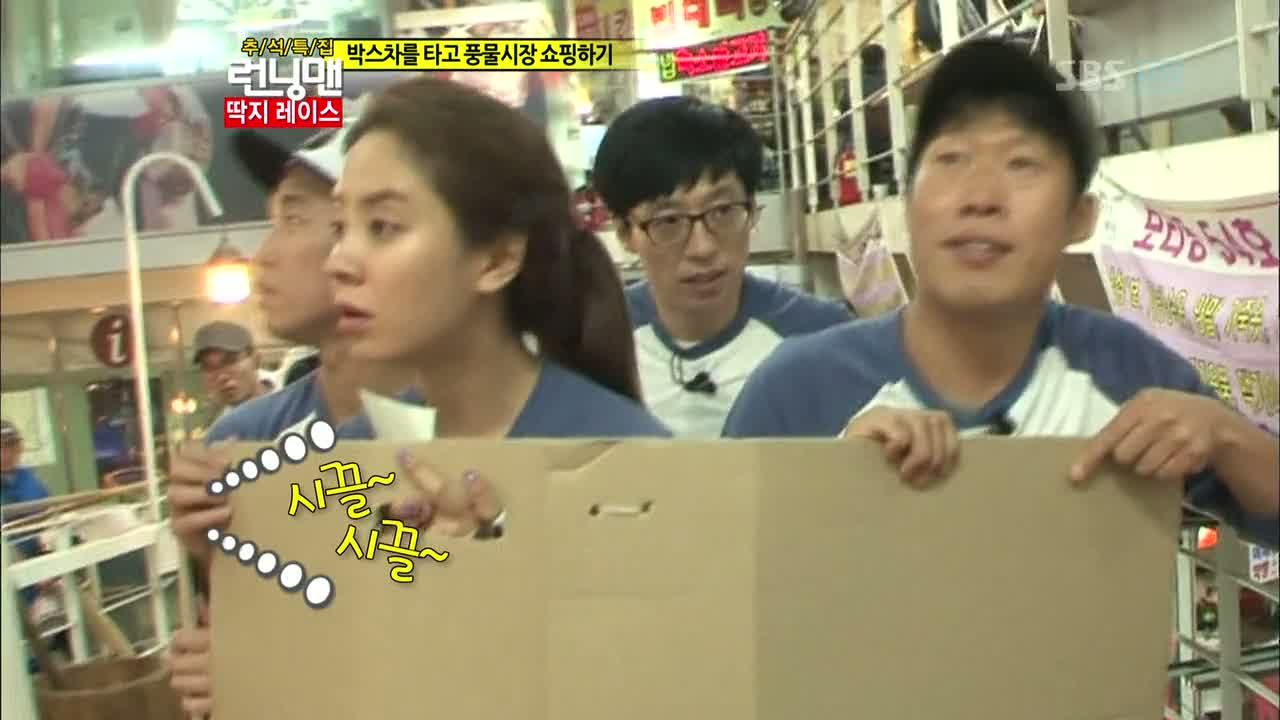 Their kicks keep falling short of the board and the captions tell us that they've been at this for 30 minutes now. Seeing as that this is going to keep them here all day, Mr. PD tweaks the rules for the ladies, bringing the spin count from 10 to 7.
Kwang-soo's family inadvertently stumbles upon the book Gary's family needs to find. Then a nearby ajumma notes that Kwang-soo really does look like a Kwang-soo. When Suk-jin is like, "He doesn't look like a Dong-gun or a ~bin right?" She nods.
So Kwang-soo's family attempts to buy the book to stall the other team and Jae-suk uses tickling as retaliation. Gary's family ends up buying the book off of them and then chug along back to make it within time.
Myuk PD shows them an array of paperlike materials they'll need to flip the ultimate ddakji – everything from cardboard to paper towels. They choose cardboard and fashion an impressive ddakji out of it.
Jong-kook's family choose newspaper but they stumble over the instructions at which Jung-ah eyes, "You must not have made any when you were young." Out of all three – right now, the cardboard sounds the most promising.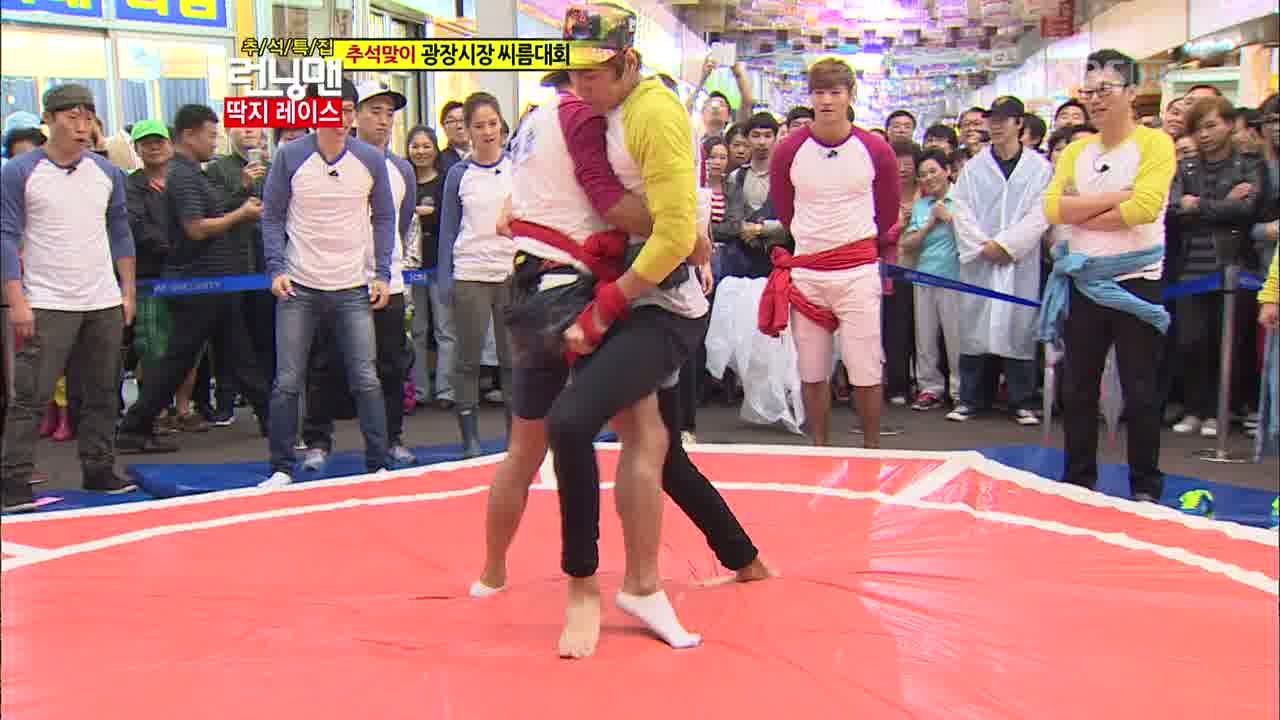 Their next mission location is another market but here they'll be having a wrestling match. Hey, haven't we done this before? Thinking of Spartakooks, Haha rallies: "We've won!"
The first match is between Haha and Kwang-soo and now I'm positive that we've seen this before. Kwang-soo gets flagged a warning for trying to get the crowd to cheer for him but it looks like he won't need it because he pins Haroro to the ground in 5 seconds flat.
Oho, he might have taken down the Penguin but what about the Tiger? He crumples to the ground just trying to get a good grasp. As for the match, he utilizes his long legs to evade attack and then charges at Jong-kook… who whirls around and flips him to the ground.
Suk-jin goes down too and the rules are altered so that the loser of the match wins. Which means Jong-kook can't overpower her so she just swings and tries to throw her strength around so that she'll hit the mat.
Not if Spartakooks can help it. He keeps a firm hold to make sure she doesn't fall which is oddly endearing and hilarious. He lifts her up (Can we trade places?) and sits on the mat himself, ensuring that his team moves on.
The Ace vs. Jung-ah? Now this is a match of the ages. Jung-ah comments that Ji-hyo's really strong and that she won't budge. Then Ji-hyo wraps her leg around Jung-ah's for an easy win.
She feels kinda bad about it and apologizes to Jung-ah, who just flashes her a thumbs-up.
Haha: "I think I'm gonna lose [against Ji-hyo]." Then as soon as the whistle blows, Ji-hyo jumps up and lies flat on the ground. AHAHA. Rewind, replay!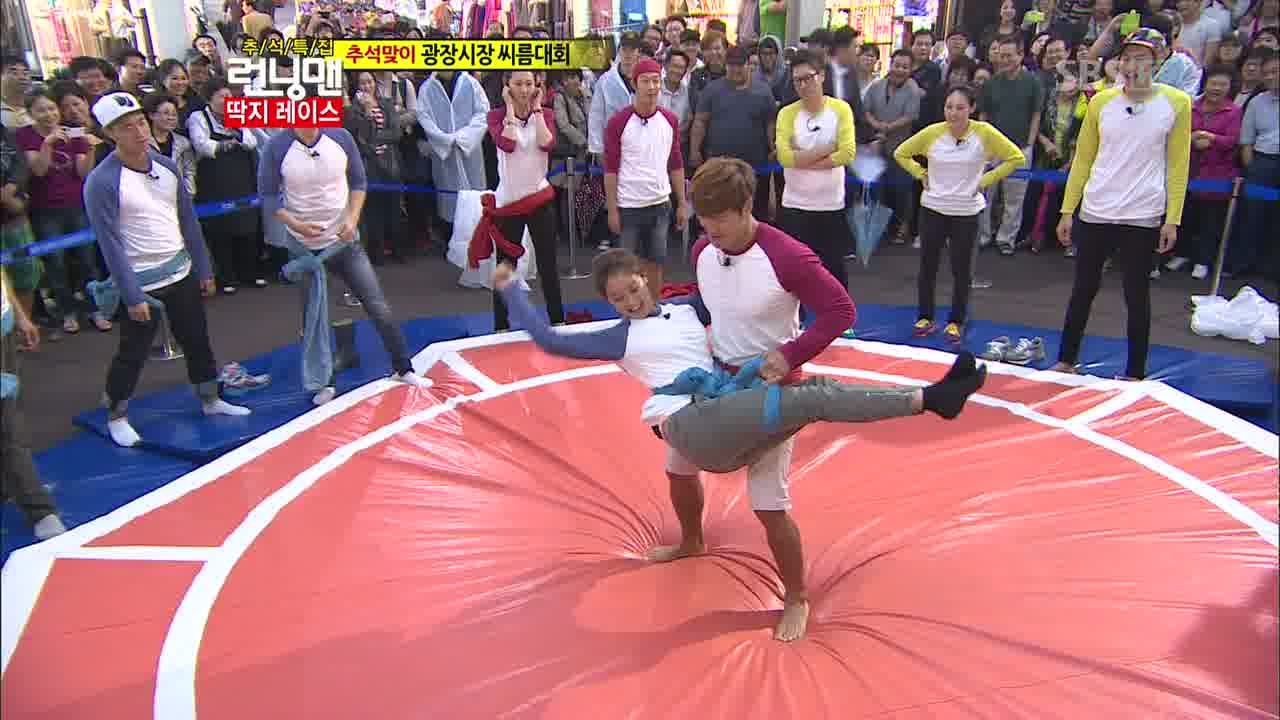 Now it's time for SpartAce to face off. The whistle blows and Ji-hyo lifts herself into the air, ready to fall on her bottom… only that Jong-kook just carries her with ease. He whirls her around like before and she thumps at his chest. When that doesn't work, she grabs his hair but Jong-kook sits down and wins it for his team.
It's Jae-suk's turn against the Tiger and just in case we forgot, the staff rolls a replay of what happened last year. Are you… rubbing your body against Spartakooks. I mean, I wouldn't pass on that opportunity but how is that gonna help you win?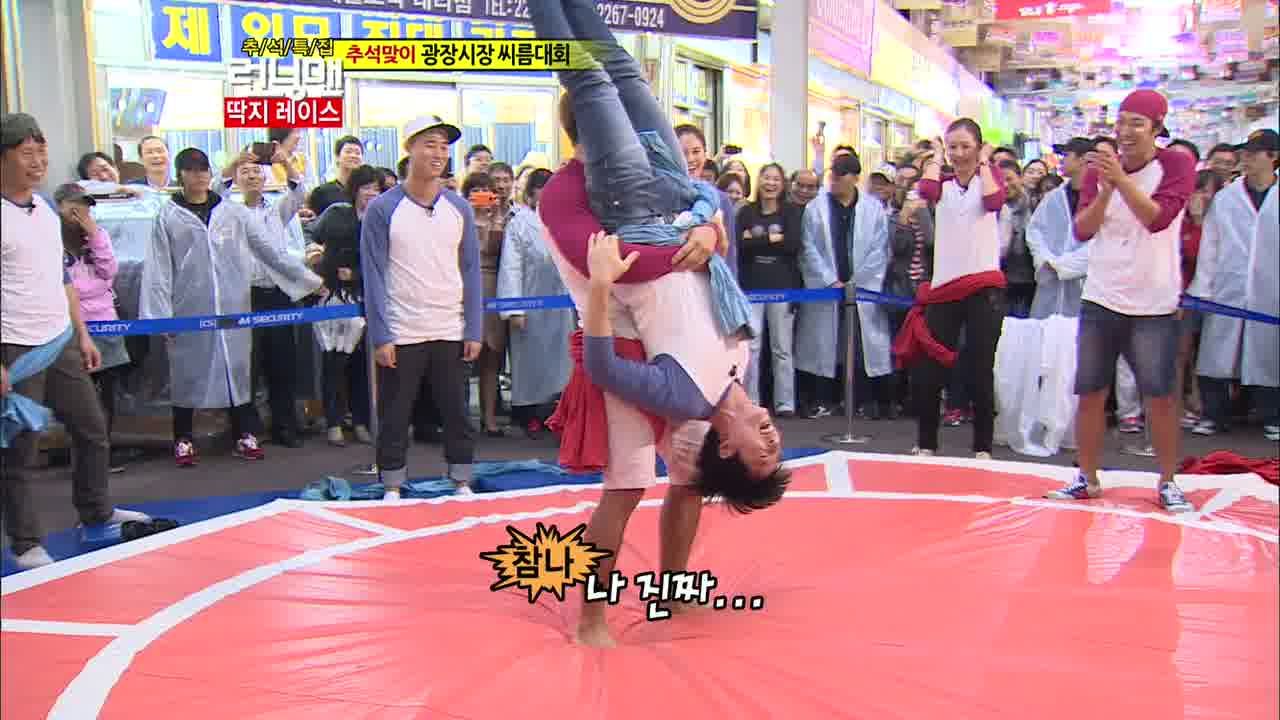 As expected, Jae-suk is no match against Jong-kook and eventually has to call for a time-out because of Jong-kook's death grip. Which is a perfect opportunity for Jae-suk to wrap his leg around Jong-kook's… but then falls and hits his hand against the mat.
The match continues as Jae-suk threatens to flips Jong-kook over (errr) but he ends up being the one flipped. PUAHAHA – I think this position is way more embarrassing than last year.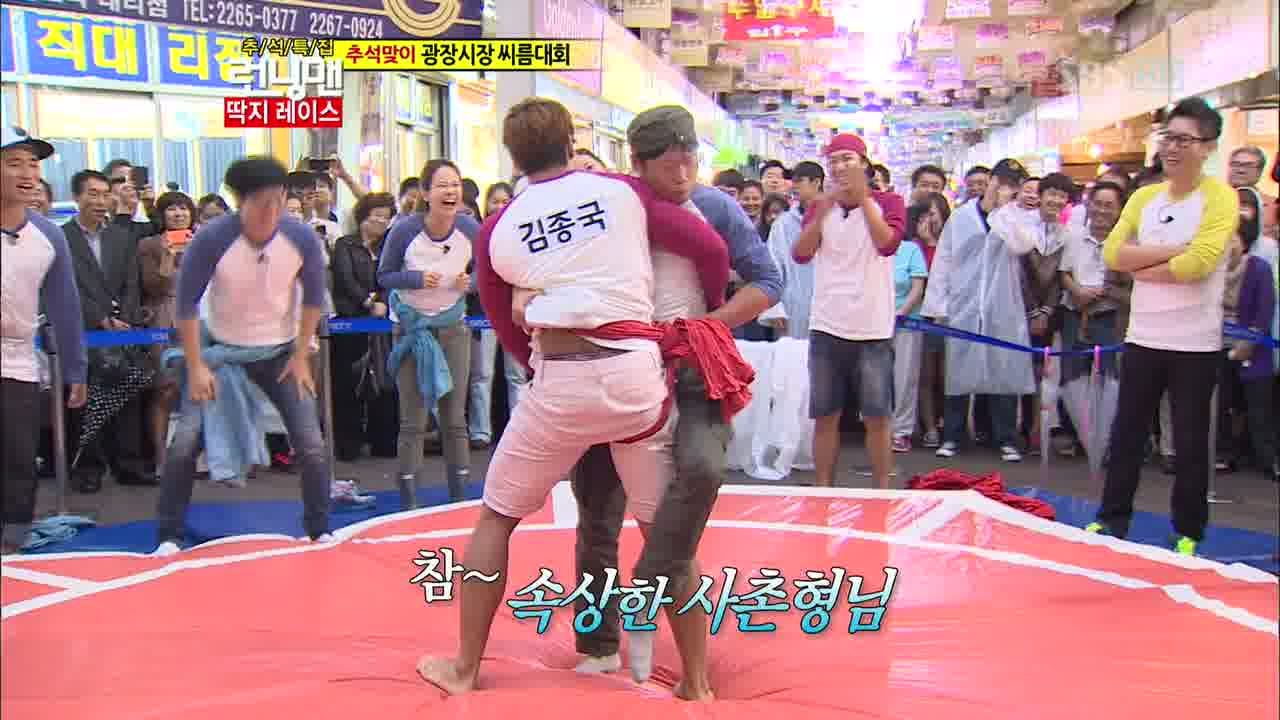 Everything now rests on Hae-jin's shoulders, ("I'm scared!") and the thing is that he can wrap his leg around Jong-kook but it's no use. Oof and then a leg straight between the legs gets Jong-kook wincing in pain.
Hae-jin uses one last burst of strength to no avail and Jong-kook gently sets him down.
Each team choose another material for their second ddakji and move on to their next mission location.
Here at the restaurant their mission is to eat all the meat on the grill within 30 seconds. Catch is, they're restricted by resistance bands. But nothing is gonna get in the middle of a man and his meat!
Gary as the most trouble so Jae-suk tries to feed him but ends up burning him. HA. They fail and Hae-jin muses, "If only I worked this hard at acting…" And then Jung-ah jokes that it'd be great if the meat was paired with a bottle of soju.
As for Jong-kook's family, the Tiger has no problem grabbing at the meat as it pops into his mouth. It looks like Jung-ah's extension is working against her as well. They fail too and Hae-jin complains that all of their missions involve strength aka an advantage to Jong-kook.
But at least they have the chance to eat some meat whereas Kwang-soo's family is left to just stare at the meat and salivate. And if the sound wasn't bad enough, the staff start wafting the smell towards them. Now that's just plain mean.
Back at the other grill, Gary's team fails again thanks to Jong-kook's antics and Hae-jin enjoys the rest of the leftover meat. As they set up for the other team, Jae-suk notices the ex-Monday Couple and jokes, "Are you having a housewarming party?"
Now they're using their brains as Jong-kook grabs multiple pieces at a time and feeding them to his teammates. They finish with less than two tenths of a second to spare.
Gary's family finishes well under the time limit and high-five their victory. (Hae-jin eats.)
All the teams gather at another restaurant and Jong-kook's family has the option of taking another's team ddakji or handing over one of theirs. Annoyed, Jung-ah snaps, "Then we shouldn't have placed first!"
They allow the other team to choose first and Jae-suk asks if that means that their decision gets locked in. Jung-ah: "Why can't we [take it]?"
Poor Mi-seon and the Easy Brothers arrive last and she's like, "I just wanna come in second!"
The teams are given a chance to test out their ddakjis and that newspaper one won't. budge. whatsoever. It's as if that thing can survive Armageddon.
Here, they have an opportunity to "upgrade" their ddakjis by flipping a coin in a frying pan. Jae-suk's the first to slip, giving an apologetic look to Hae-jin. And then it's Hae-jin who messes up the next time.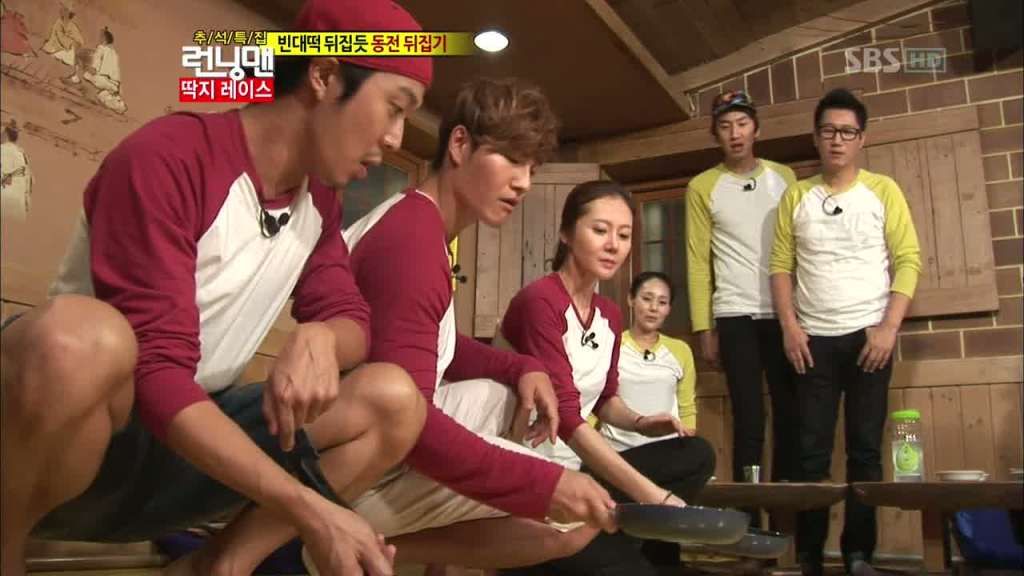 It's sadly ironic that Coach Kookie trains his teammates only to mess up himself. Then when Jung-ah fails to flip her coin, she silently fumes as Haha playfully jokes that she has a competitive spirit… it's just that she not very good at games.
Jae-suk calls out to Mi-seon the moment she flips her coin. She sends death glares, "Who was it?" LOL.
One by one, Gary's family flips their coins and now it's down to Ji-hyo… who succeeds. That's why she's the Ace. Gary: "Our wife's the best!"
If you can't beat Spartakooks in strength, you can try making fun of him instead. Hae-jin teases him as to why Jong-kook hasn't succeeded yet. When Jong-kook drops the ball, Hae-jin keeps it up, much to Jung-ah's annoyance.
Haha tells him to remember the wrestling match and Hae-jin retorts, "What? Me? I gave it my all!"
The teams choose their 'upgrade' items (tape, glue, a stapler) and Jae-suk complains that there's not that much left on the roll. Mr. PD: "Of course we can't give you a lot." Jong-kook's team patches up their monster of a newspaper ddakji. Caption: Is that a ddakji or a land mine?
Jong-kook's team is the first to arrive at the final mission location. The doors open and an ominous Madame Maknae FD who lies down, waiting for them. Jong-kook calls out, "Mom!" Oh that's right, I forgot. Heh.
Madame Maknae FD unveils the prize (a gold plaque that reads, "Don't Walk, but Run!") Will Jong-kook's newspaper ddakji hold up against the ultimate ddakji?
Jong-kook revs up… and slams the monster onto the ground. The Ultimate Ddakji flips over. Daebak.
Game Over. Just like that.
Everyone, including Mr. PD and the rest of the staff, is in utter shock at this turn of events.
So… not so Ultimate after all.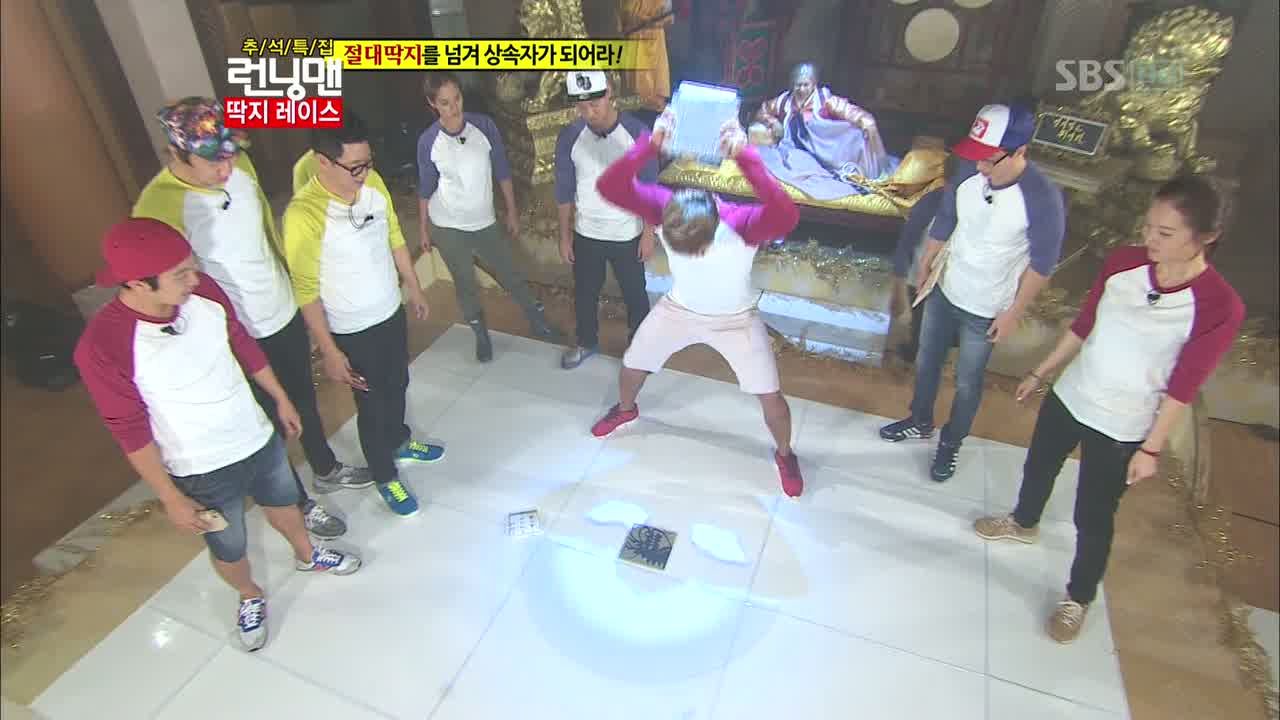 RELATED POSTS
Tags: featured, Haha, Ji Suk-jin, Kang Gary, Kim Jong-kook, Lee Kwang-soo, Running Man, Song Ji-hyo, Yoo Jae-suk