UEE, the action star
This drama keeps looking more and more fun. Don't let me down, Jeon Woo-chi, don't you dare!
These stills for the KBS fusion sageuk drama focus on lead actress UEE, shown flying around and in action for her role as "ice princess" Hong Mu-yeon, the expressionless and emotionless young woman who gets wrangled over to the Dark Side. She's bewitched by a spell that robs her of her feelings and forced into evil-doing, including a murder… which should muddy the waters when her heartbroken sweetheart Jeon Woo-chi (Cha Tae-hyun) finds out what she's been up to. Especially since he's the hero fighting the evil forces of Joseon. Eep. Talk about star-crossed.
I'm intrigued at the description of Mu-yeon as expressionless, in that UEE will have to depict her as feeling nothing—and yet that does not equal empty acting, or overall blandness. Sometimes you hear the argument that so-and-so actor is supposed to be a stoic character, but there's a difference between stiff, bad acting and good acting that portrays an interesting character dilemma. We've all seen UEE being the bubbly, expressive sort (Ojakkyo Brothers) and the bratty, bitchy sort (You're Beautiful), so I don't doubt her acting skills. I'm interested in how she'll make the character connect, though.
These stills were filmed at Naju Image Theme Park in Jeollanam-do in the south, which has played host to a number of sageuk dramas in the past, like Jumong. In this scene, spell-possessed Mu-yeon attacks her grandfather Hong Gil-dong and his protegé Jeon Woo-chi. OH NO. She's not the reason gramps dies, is she? That would be so tragic. (We've been given a number of disjointed bits about the plot, and I've been trying to piece them together without jumping to conclusions. It's hard. So far we know grandpa dies, which spurs Jeon Woo-chi to vow revenge for losing both Teacher Hong Gil-dong and sweetie Mu-yeon. "Losing" suggests death, but in her case it could refer to the loss of her soul/identity.)
Jeon Woo-chi follows Nice Guy on Wednesdays and Thursdays, and will premiere in November.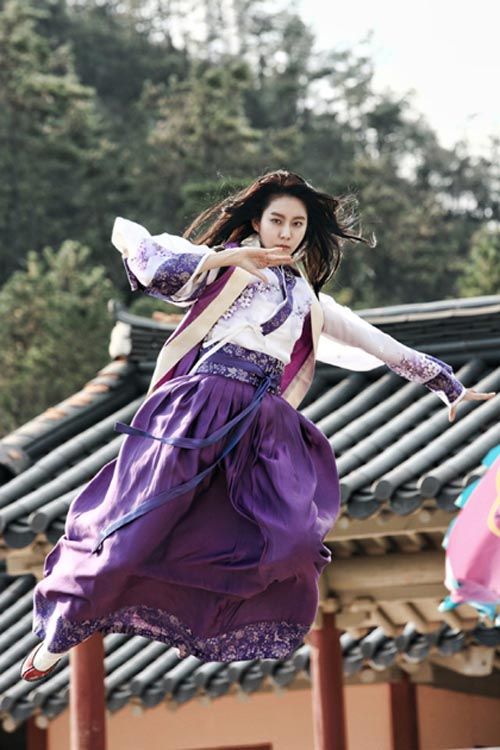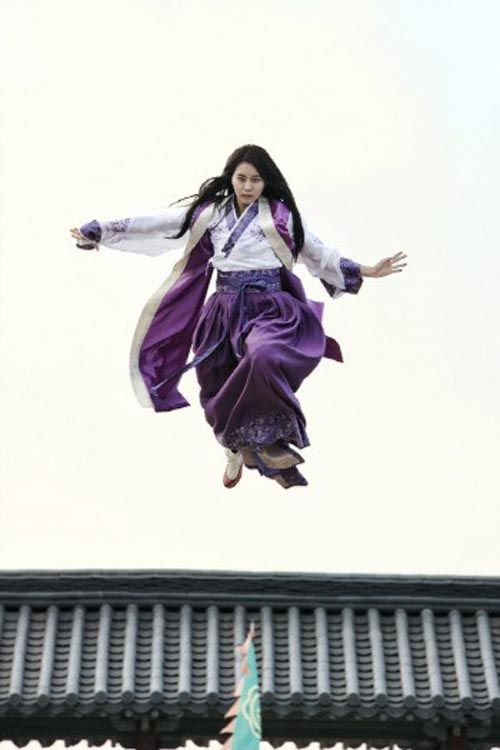 Via TV Report
RELATED POSTS
Tags: Jeon Woo-chi, UEE