Yoochun's fans demand firing of his co-star
File this one under the What The Fuck Files of Dramaland.
There's a tempest brewing in the teapot of I Miss You, the upcoming MBC melodrama starring Yoochun and Yoon Eun-hye. You may have heard of the show? Perhaps once or twice, or okay, practically daily as the drama gears up for its launch next week. The controversy? Netizens are demanding that the production fire one of the actresses, Jang Mi-in-ae. The reason? "She doesn't suit the drama."
Suuuuure. Says the netizens who haven't seen a single episode, to the people making the show. According to the news reports, the uproar stems from the JYJ fandom, as in the supporters of Yoochun's pop group with Jaejoong and Junsu. Essentially they don't like her and want her out, and have been exceedingly vocal about it.
Jang Mi-in-ae plays a webtoon writer harboring a one-sided love for Yoochun's character, and she gets entangled in the love triangle with Yoon Eun-hye. Aw, that means she's not even a real contender for the hero's affections — Oppa is safe from her clutches, but the fandom is reportedly adamant against having Jang Mi-in-ae sullying the drama with her "sexy image."
Yes, Jang has had some sexy photo shoots, but nothing really scandalous; it's the standard stuff of your Star Hwabo variety. You know, bikinis and cleavage. (It's Maxim lite, not Playboy.) And she's played sultry characters before — you may recall her seductive Min-ae in 2006's Soulmate (which is on my all-time favorite dramas list). But what should that matter? No sluts allowed in dramaland, is that what you're saying? No sexiness except for the kind that's kid-tested, mother-approved?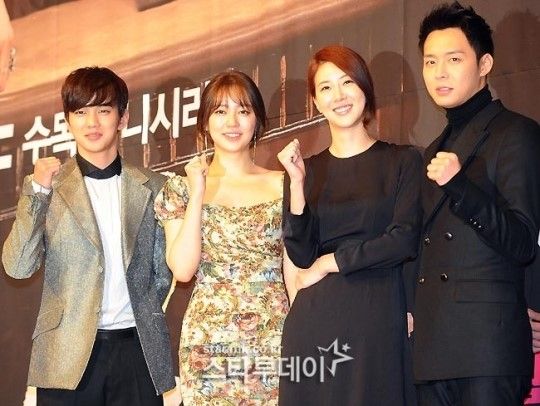 Poor girl. What a crap reaction to your casting, and when you're just a supporting role. Aside from her image concerns, the Jang Mi-in-ae opposition has accused JYJ's agency, C-JeS Entertainment, of casting Jang as a coattail-rider. Basically, they think the agency has bought the casting using Yoochun's starpower. To which I say: Do you even know how entertainment works? There is a term for this, and it is packaging. It's hardly shady. It's the whole point of being with a large agency that has the weight to package a project, to leverage a bigger name to get its lesser-knowns attached and working in projects. This is standard in Hollywood.
I thought this hullaballoo would blow over quickly because the controversy is so stupid, but it's lingered and even picked up steam. I suppose it shouldn't be too surprising given how large and fervent the JYJ fanbase is — they're super organized and passionate, sometimes to a frightening degree. This is the group battling all those sasaeng fan problems (as in, the intrusive kind of uber-fan who crosses the line into stalking and harassing the object of their affection). And you know, I totally understand having a strong negative reaction to a casting and wishing for an undo pill. If we love a drama, or a star, or an idea, the possibility of something ruining that can lead to a lot of frustration.
But there's reasonable disappointment, and there's inappropriate. It's saddening that they're jumping all over this actress so fiercely. The production has even come out to state that Jang Mi-in-ae will not be ousted (phew), and that she got the role after going through the full audition process. "When you watch the drama, you will understand why we chose Jang Mi-in-ae," said one rep.
The more I think about it, it just makes me sad and mad. It's just dumb.
Via Osen
RELATED POSTS
Tags: anti-fans, controversies, I Miss You, Jang Mi-in-ae, Micky Yoochun, netizens