Kang Ho-dong goes head-to-head with Strong Heart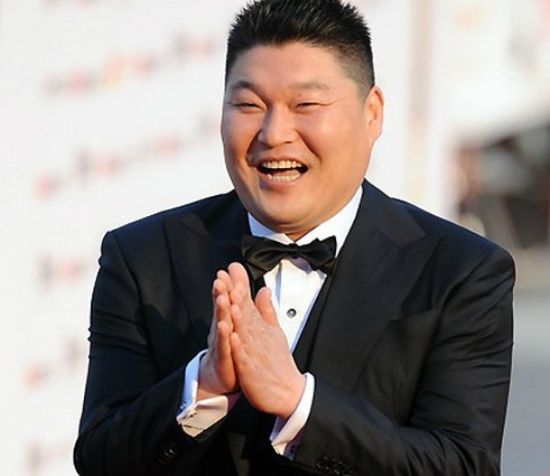 Oooh, this is an interesting development in varietyland. As Kim Seung-woo's talk show Win-Win gets ready to go off the air, Kang Ho-dong's new KBS variety show has secured Win-Win's time slot… which is in direct competition with his old SBS show Strong Heart. (One of the many programs he left behind when he took a temporary leave from showbiz.)
What a way to circle back around and give Shin Dong-yup (his Strong Heart replacement) a run for his money. Not that the Daesang-winning Shin Dong-yup couldn't handle it, of course. (In fact the two are even at the same agency now.) It's just a small primetime playing field when you're one of a few headlining MCs, and this kind of match-up was bound to happen at some point. The fact that it's Kang Ho-dong's big flagship new show at KBS competing with his last new show at SBS is just icing on the showbiz cake of Fate.
The program has yet to pick a title, but it has an air date (Priorities!) and will launch on January 22. Until then I guess we'll just call it the Kang Ho-dong Show. It'll be a talk show and a variety show, which is pretty much the vaguest description ever. So… there's talking, and laughs. Got it.
He does have a peanut gallery in place though: idol star Changmin, singer/producer Brave Brother, and singer/songwriter Jung Jae-hyung (pictured below) will be his co-hosts. Other than the fact that all three are singers, there's almost nothing else they have in common. It's a weird collection of co-hosts, but I'm sure there's a concept there somewhere. Jung Jae-hyung never fails to make me laugh, because he's possibly the biggest nerd on the planet. I'll leave it to Kang Ho-dong to work his magic and make it all sensical in the end.
The Show That Will Not Be Named But Will Deliver Laughs airs Tuesdays on KBS.
Via Star News
RELATED POSTS
Tags: Choi Kang Changmin, Kang Ho-dong