Poster and teaser for Ha Ji-won's new action comedy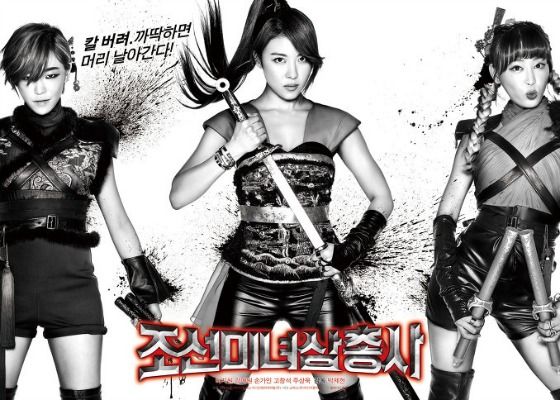 The first teaser and stills are out for the new action comedy sageuk starring Ha Ji-won called Joseon Trio of Beauties, which is literal title, but in my head I call it Joseon's Angels because it's the same wording they use in translating Charlie's Angels. The movie doesn't seem to be any different in concept either — I think it's just Charlie's Angels in the Joseon era, with zero pretense that it's trying to be anything else. Well, I'm all for ladies kickin' ass, no matter what the era. Bring on the popcorn and nonsensical plot hijinks!
The trio led by Ha Ji-won includes Kang Ye-won (Fortunetellers, Quick) and Brown Eyed Girls' Ga-in, and they're Joseon's most legendary bounty hunters, who never fail to capture a target, no matter the criminal or the crime. Ha Ji-won plays the fearless leader with unstoppable drive and charisma, who is the brains of the operation… so what doesn't she have? Kang Ye-won is the married member, who brings home the bacon AND plays the dutiful wife. She's swift with a sword and thinks money is the best thing on earth. Ga-in's character has fists faster than brains — she acts (or rather hits) first and asks questions later.
There isn't much plotular info, but basically: Joseon is in trouble, ladies save the day. The teaser is action-packed, and it looks like they're really using Ha Ji-won's action star skills through and through, but I also like that the actresses are playing up the comedy. It could be another fun and silly fusion romp, like Cha Tae-hyun's hit last year, Gone With the Wind. That movie made no sense either, but it was a good time.
Directing is Park Je-hyun, of How to Keep My Love and Oohlala Sisters. Joseon Trio of Beauties premieres this May.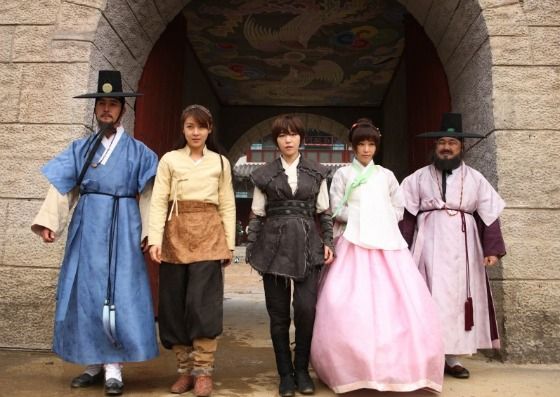 Via TV Report
RELATED POSTS
Tags: Ha Ji-won, Kang Ye-won