Seung-gi vs. Yoochun vs. Hair (This post is totally relevant.)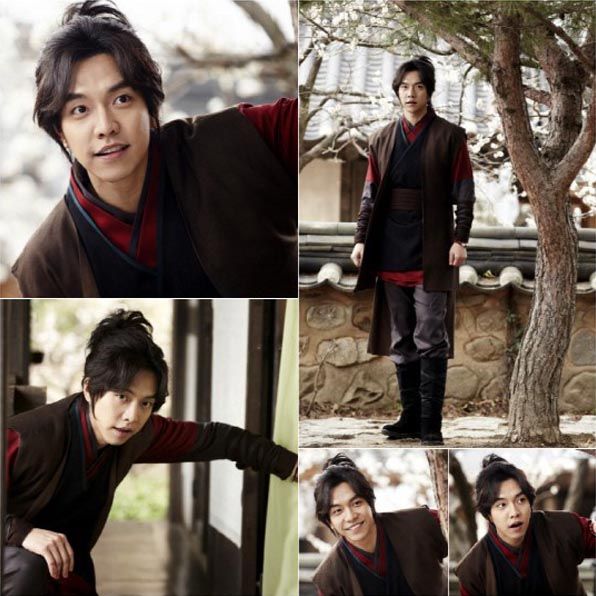 javabeans: Finally, the moment we've been waiting for: Our first glimpse at the hero of Gu Family Book! (That's Lee Seung-gi, like you didn't know.) And he's wearing his sageuk wig!
girlfriday: It's Puppy! In a pony! Okay, that sounds wrong.
javabeans: Take that back! That's a mental image I really wish I could unthink.
girlfriday: *too busy cooing*
javabeans: I actually think that's the best hair he's ever had in a drama. Maybe in real life too.
girlfriday: I KNOW! Who knew??
javabeans: Well, the bar was kind of low. He's adorable, but I don't know why he has had such dorky/oddball/messy/bowl-cut hairdos.
girlfriday: Maybe it's on purpose, like to make you grateful when he does clean up nice. Banjun hair.
javabeans: Also on that list: Yoochun. Those boys just need the right stylist. (Example: Yoochun's latest Singles spread. Although the hair isn't really the highlight.) I'd really like to tell both of them: It's okay to look hot 100 percent of the time. Really really.
girlfriday: Hey, why are you inserting YOUR puppy in news about MY puppy?
javabeans: Okay, I'll let YOU explain to the DB crowd why you vetoed pretty pictures.
girlfriday: *has no defense*
javabeans: *wins yet again* *keeps tally*
girlfriday: I'm just breathing a huge sigh of relief. Was honestly really nervous about Seung-gi and his first mane o' glory.
javabeans: I'm not sure it quite qualifies as mane of glory though… maybe ponytail of cuteness. Like a Bichon. Which is fitting.
girlfriday: Clearly we need better hair vocabulary. Pony of Power?
javabeans: *groaaaans*
girlfriday: YOU come up with a better one then!
javabeans: Yoochun's buzzcut of….? I got nuthin'. This is an unwinnable game.
girlfriday: Either that or we haven't had enough to drink. Beanies, help us out!
javabeans: With the naming, we mean, not the drinking. We've got that one covered.
Via SBS E!
RELATED POSTS
Tags: conversation post, Gu Family Book, Lee Seung-gi, Micky Yoochun