Kang Ho-dong's new SBS show gets name, finalizes cast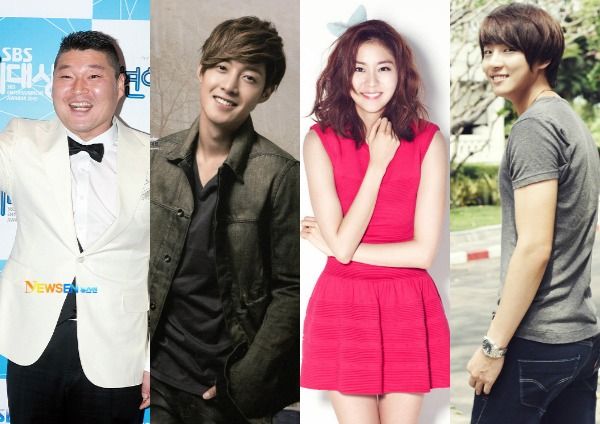 Kang Ho-dong, Kim Hyun-joong, UEE, Yoon Shi-yoon
Throw a stone and hit a new variety show these days, and no one's busier in that arena than star MC Kang Ho-dong, who's finally got a title and a cast confirmed for his new SBS show, set to be part of the I Like Sunday lineup in the timeslot after Running Man (someone over at KBS's Happy Sunday is crying into his cornflakes). It's called Barefoot Friends, and has confirmed an eight-member cast that's a pretty bizarre if interesting mix: MCs Kang Ho-dong, Yoon Jong-shin (Hwashin), and Yoo Se-yoon (Knee Drop Guru); singers/idols Eunhyuk (Strong Heart), Kim Hyun-joong (Playful Kiss), UEE (Jeon Woo-chi), Kim Bum-soo, and actor Yoon Shi-yoon (Flower Boy Next Door).
It has a younger-skewing cast than I would've expected and a pretty random feel to the mix, but the concept is the thing that has to stick, no matter who you throw onscreen. The more exciting team-up is that it's being helmed by the PD of bygone hit variety show Family Outing. Now THAT's something worth getting excited about. Maybe there's a gem of a family just waiting to come out of this. They're keeping mum about the show's concept, but it'll involve trips overseas apparently, because the cast is heading to Vietnam. All we know so far is that there will be "missions and laughs." Oh good, because I thought you'd just sit around and take turns reading from the dictionary.
Yoon Jong-shin, Yoo Se-yoon, and even Eunhyuk are variety mainstays, so they'll be fine no matter the show. I don't love Yoo Se-yoon, but every cast needs a troublemaker character. Kim Hyun-joong seems like the big celebrity get for the show, and though I'm not on that particular star bandwagon, I do know that he's MUCH better at variety than in dramas. He's weird, and it works.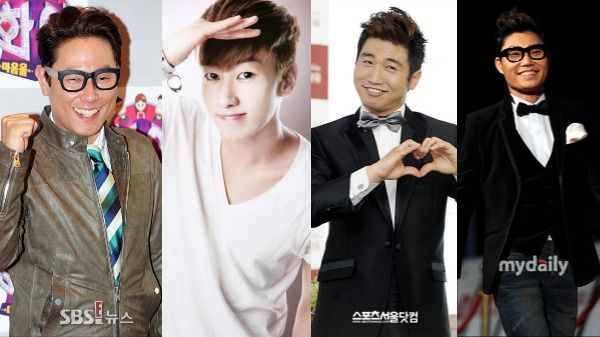 Yoon Jong-shin, Eunhyuk, Yoo Se-yoon, Kim Bum-soo
Ballad singer Kim Bum-soo, I've only seen as a guest on other people's shows, but he's got goofy charm. UEE and Yoon Shi-yoon have had hosting gigs and such, but are by far the rookies. I'm interested to see how they'll fare. UEE's guest stints on Running Man haven't been especially memorable, but she's just so darn likable. I just keep thinking of her Ojakkyo character, camping out on the front lawn because she was a fan of 1 Night 2 Days.
Kang Ho-dong also has a new Tuesday KBS show (Our Neighborhood Variety Sports, with Lee Su-geun, Kim Byung-man, Park Sung-ho, Jo Dal-hwan, Changmin, and Minho) that's getting ready to premiere April 9. The concept there is going to different neighborhoods and getting the town's residents to play various sports against the cast. I'm less interested in that one, but I do think it's a much better fit for Kang Ho-dong than the dismally-rated (and since cancelled) Moonlight Prince. In any case, it would be nice to have a new show to get excited about, so let's hope there's a winning combo here somewhere.
Barefoot Friends premieres April 21 on SBS.
Via Star News
RELATED POSTS
Tags: Eunhyuk, Kang Ho-dong, Kim Hyun-joong, UEE, Yoon Shi-yoon