49th Baeksang Arts Awards
The Baeksang Arts Awards really snuck up on me this year. This awards ceremony is the lone wolf being held in the springtime rather than toward the end of the year (as is the case with the broadcaster events and film awards like the Grand Bells and Blue Dragons), and is also unusual in that it awards both film and television.
Because of the timing, the Baeksangs sometimes feels a little out of sync with the "cycle" of awards being handed out, because some of these films are new hits while others feel like they've already done the circuit, collected trophies, and should have already moved on. I guess that's the price you pay for being different, though.
As always, there are a few awards that make me wonder, "Really? Them?" but it's nice to see a wide spread of movies and dramas represented on the whole. No particular domination occurred, though a couple titles took home multiple awards in the big categories: movies Gift of Room No. 7 and Gwanghae, the Man Who Became King and drama The Chaser.
(Warning: Massive photo overload ahead!)
WINNERS LIST
FILM SECTION
Daesang: Ryu Seung-ryong (Gift of Room No. 7)
Best Picture: Gwanghae, the Man Who Became King
Director: Chu Chang-min (Gwanghae, the Man Who Became King)
Top Excellence, Actor: Ha Jung-woo (Berlin Files)
Top Excellence, Actress: Kim Min-hee (Temperature of Love)
Supporting Actor: Ma Dong-seok (My Neighbor)
Supporting Actress: Jo Eun-ji (Concubine)
New Actor: Jo Dae-han (My Little Hero)
New Actress: Han Ye-ri (Korea / As One)
New Director: Jo Sung-hee (Werewolf Boy)
Screenplay: Jang Byung-gil (I Am a Murderer)
Popularity Award, Actor: Kim Dong-wan (Deranged)
Popularity Award, Actress: Park Shin-hye (Gift of Room No. 7)
TV SECTION
Daesang: Yoo Jae-suk
Best Drama: The Chaser
Variety Program: Dad! Where Are We Going?
Educational Program: Korean Dinner Table
Directing: Kim Kyu-tae (That Winter, The Wind Blows)
Top Excellence, Actor: Sohn Hyun-joo (The Chaser)
Top Excellence, Actress: Kim Hee-ae (A Wife's Credentials)
New Actor: Lee Hee-joon (You Who Rolled In Unexpectedly)
New Actress: Jung Eun-ji (Answer Me, 1997)
Variety, Male Performer: Kim Byung-man (Kim Byung-man's Laws of the Jungle)
Variety, Female Performer: Shin Bo-ra (Gag Concert)
Scriptwriting: Park Kyung-soo (The Chaser)
Popularity Award, Actor: Park Yoochun (I Miss You)
Popularity Award, Actress: Kwon Yuri (Fashion King)
Social Contribution Award: Ahn Sung-ki
Adorable. Ryu Seung-ryong (Gift of Room No. 7), who took home the grand prize in the film category, arrived with his tiny co-star Gal So-won, who at one point stopped on the red carpet to tie Ryu's shoe for him. Not that it's hard to coordinate with black, but I'm sure these two planned to match, which makes it cuter. I love Ryu Seung-ryong—sexy mofo ajusshi extraordinaire—in all-black, and she makes a crazy dress work. (Opera gloves, a stiff ruff, and metallic bodice with princess skirt? Sounds a lot worse than it actually is.)
At first glance I wasn't sure about Han Hyo-joo's edgy new look, but the longer I look, the more it grows on me. She started out playing a lot of typical pure, sweet ingenue types, so I like that she's growing up and trying new things now that she's hitting her mid-twenties. Han's movie Gwanghae took a few awards, but she was here for her other movie, Bandage, for which she was nominated in the leading actress category.
But it was Kim Min-hee who took home that award for Temperature of Love. And thus begins the predominant fashion trend of the night: black gowns. Normally I'd get tired of the overwhelming wave of black, but in the case of this year's Baeksang's practically everybody rocked it (and in different ways), so I'm not complaining.
Kim Min-hee's gown manages to be both structured and flowy, romantic and edgy, and she wears it (as she wears most things) with utter confidence. It's one of my favorite looks of the night.
Kim Hee-ae also chose a long black gown and took home an acting award for her cable television hit A Wife's Credentials.
Kim Go-eun was a hot name on the awards circuit last year with Eungyo, which is also the film that earned her a New Actor nomination here. (See what I mean about feeling behind the schedule? She already made her splash and won her trophies at the Blue Dragons and Grand Bells in the fall.)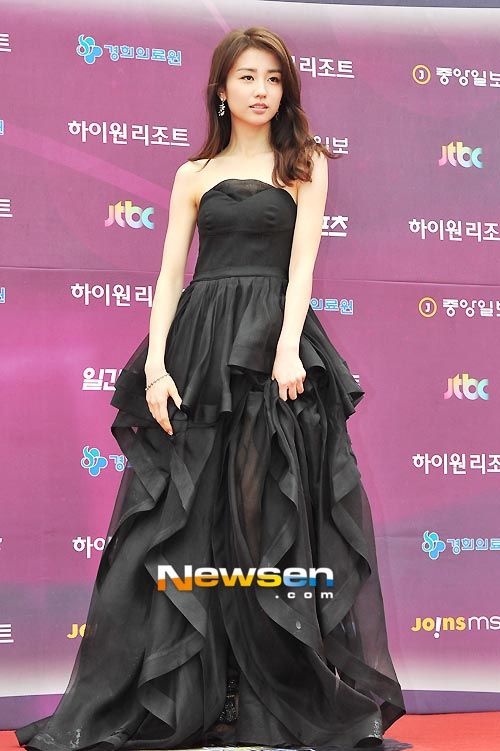 Another black dress, another favorite look of the night. It's partly the way Park Ha-sun (Tone Deaf Clinic) is styled—casual, romantic—but mostly the way she carries herself like a queen.
I like this look on Park Shin-hye, Popularity Award winner and Supporting Actress nominee for Gift of Room No. 7, and might even prefer her gown to the one above, though overall I give the edge to Park Ha-sun. They're both gorgeous.
Park Se-young was up for a New Actress award on the television side for Faith, and goes modern for her look. I like it and the sharp angles and structured silhouette.
Tired of all the black dresses yet? Hope not, 'cause there are still some more to come. Nam Bo-ra has another one, and had two nominations, both on the film side: New Actress was for Scary Story, and Popularity Award for Don't Cry Mommy.
I'm fascinated by the sleeves on Uhm Jung-hwa's (Dancing Queen) dress; I can't stop staring at them. They look like she merely slit them down the sides and wore them as a jacket/cape, but not in a bad way. I don't know how it works, but it kind of really does. I also love the gold cuffs on both wrists, but maybe that's because it reminds me of my childhood running around the house pretending I was Wonder Woman. What? Like you didn't do that.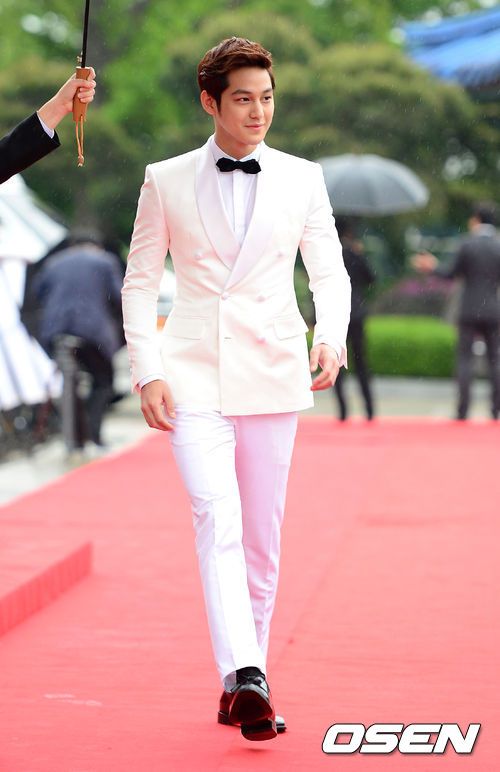 Okay, enough with the black! Time to break it up with a nice healthy dose of whiteness. And really, the most appropriate words that come to mind upon seeing Kim Bum (Psychometry) here are OH. MY.
I love everything about this. I don't even care that when you break it down into parts, it looks weird and questionable and maybe even flat-out wrong—'cause when you put it all together and wear it with Kim Bum's confidence and 'tude (it says both, "I'm a boy, pinch my cheeks" and "Boy? Psh, I'm a MAN!") it turns into something magical. Even if I can't quite reconcile the black shoes and socks and matching bowtie against all that white. And even though his pants appear not to be the same white as his tux, though the red carpet's partly to blame; against the white backdrop it looks much better.
And here's his That Winter, The Wind Blows co-star Jung Eun-ji, although they were here for different projects. She picked up a New Actress award for her breakout performance in Answer Me, 1997, which was definitely her stronger showing. The drama was also nominated for New Actor (Seo In-gook), Scriptwriting, and Popularity awards, though Jung was the sole winner.
I love this. Yay for Suzy, whose red dress and smoky makeup are rockin'. Now that she's done her year of sweet-white-ingenue-princess dresses, I'm so glad to see her branching out. Her Popularity Award nomination was inexplicably for Big, which seems odd since that drama was not in the least bit popular. Perhaps she'll be back in a year for Gu Family Book, which seems a more likely nomination.
Sadly, I hate this. I hate everything about it. This is unfortunate, because UEE (nominated in the Popularity category for Jeon Woo-chi) has such a strong track record for awesome red-carpet appearances. Taken part by part, it's not horrible, I suppose… but together everything feels out of proportion and strange. I hate the chunky necklace with the long sleeves, and the sleek bun off-set against that poofy skirt which makes her head look unnervingly small. It's reverse-bobblehead effect. Maybe also the reverse-Kim-Bum effect. UEE is adorable, but I pretty much want to forget this ever happened.
Song Joong-ki! Why must you mar your beautiful pinchy-cheeked adorableness with that gigolo jacket? You're not in Nice Guy anymore! (His nomination came for his movie Werewolf Boy.)
Lee Sang-yoon, looking crisp and handsome, was nominated for his weekend drama hit My Daughter Seo-young…
…though he couldn't compete with Sohn Hyun-joo, who won for The Chaser. The drama started out a sleeper, premiering with little fanfare, but quickly picked up strong buzz and became a hit, so it's good to see it recognized with a number of nods.
Here's another cast member from The Chaser, Kim Sung-ryung, who was nominated (but didn't win) in the Popularity category. Love her look from the waist-up, but then you pull back and wonder why it looks clunky. Is the dress too long, or too short? It makes me want to pull that Bond Girl move when you go to the fancy formal affair in one look, then tear off the skirt so you can go kick some ass mid-party. Or maybe I'm thinking Buffy. Either way, I'm thinking some ripping would be an improvement.
Aw, congratulations to TV Daesang winner Yoo Jae-suk, here with comedian Heo Kyung-hwan (Qualifications of Man). I love Yoo Jae-suk and his brilliant style of emceeing, which manages to be humorous, insightful, and good-natured all at once. His award doesn't specify a show, but maybe it's because he's got a bunch of them going on at the same time (Running Man, Infinity Challenge, Happy Together).
Ma Dong-seok was another winner, taking his prize in the Supporting Actor category for My Neighbor.
Kim Sung-kyun was also in My Neighbor, and despite his relatively late debut (he's 33 and his resumé begins in 2011) he has won several awards right off the bat with Nameless Gangster and My Neighbor. Keep an eye out for him in the upcoming spy comedy Covertly, Grandly.
I like Lee Hee-joon much better smiling than glowering as a magic-wielding uber-villain. The decent haircut helps, since Jeon Woo-chi put him in a bad wig throughout (even if he sorta almost made it work). He won his New Actor award for the weekend drama You Who Rolled In Unexpectedly.
Television host and actress Park Eun-ji (Standby, The Genius) may not have picked the classiest dress to begin with… though she doesn't help by pulling open that big slit in every picture to bare even more leg. I want to tell her that that's what the slit is there for; you kinda don't have to help it along. I can't tell if I hate that silvery cutout or find it interesting, but I do love the color.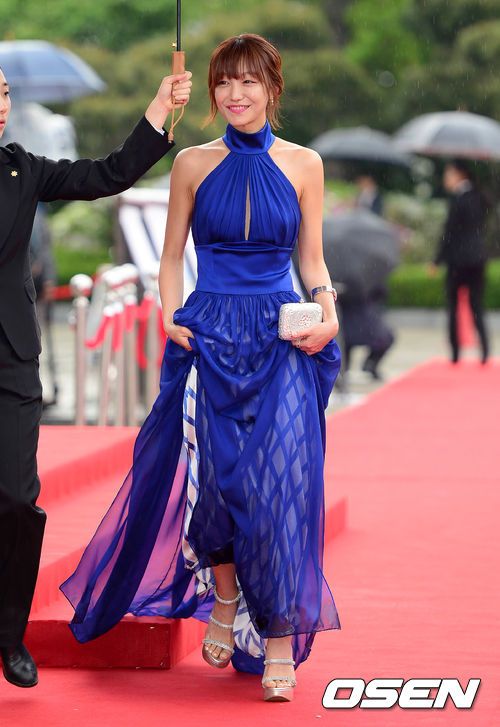 Even so, I'll argue that the electric blue is used to better effect with Shin So-yool's gown, which is gorgeous. I swoon at that underlay of patterned white underneath, paired with those strappy heels. Everything's in perfect proportion and styled just right—she looks fresh and bright. (You may know her as the best friend in Answer Me, 1997, but her nomination for Supporting Actress came for her movie My P.S. Partner.)
Acting as MCs for the night were the trio of Oh Sang-jin, Kim Ah-joong (My P.S. Partner), and Joo-won (Gaksital). They look good—pressed and polished, as hosts ought—with Kim sticking close to her wheelhouse of chic, structured gowns.
I can't say I'm a huge fan of Chae Jung-ahn's acting (When A Man Loves), but she is one of those people who manages to wear clothes with a casual flair that I really envy (Jung Ryeo-won is another).
Hello Yoochun, you again? He won the Popularity Award two years ago for Sungkyunkwan Scandal, again last year for Miss Ripley, and then again this year for I Miss You. He may as well just park his butt in this category for the foreseeable future. The latter two dramas weren't exactly projects you'd peg for popularity awards (both were heavy and melodramatic, and not exactly hits), but all hail the power of Yoochun('s fandom).
One of the cutest things about child star Kim So-hyun was her admitted crush on Yoochun oppa; give her a couple years and who knows, she just might get a chance to romance him for real. A thirteen-year-old girl can hope. She was in both I Miss You and Rooftop Prince with him, but this girl's always on the move playing childhood parts for a number of lead actresses. Currently she's doing Birth Secret, and she'll be in I Can Hear Your Voice. One more cute thing about Kim So-hyun: her adorable floofy trapeze dress and matching sparkly headband.
Lee Jung-hyun was nominated for Juvenile Offender, playing an absentee mother who ditched the son she bore as a teenager. I am not a fan of this dress, which looks too frumpy and shapeless for her 33 years.
Moon Jung-hee shows what a fantastic fit can do; she rocks this silvery-gray number, here as a nominee for her thriller movie Deranged.
Yoon Jin-yi looks so fresh and pretty here in this perfectly snug pink gown, and it's a pretty big turnaround from her current turn acting in a ratty wig and shapeless woolen bandit's clothing for Mandate of Heaven, that it feels unsporting to have a complaint. BUT. She wears the same thing at every award show. Every! Time! Here's her sweet pink gown from the SBS Drama Awards, and her sparkly pink gown from last year's Blue Dragons. I'll give her this one, but she's really due for a change once the new awards cycle hits.
When I see Park Sung-woong, I think sexy bastard. I can't help it; he's got that swagger about him. His Supporting Actor nomination was for New World, but you may recognize him better from Gaksital, playing independence militia leader Dong-jin.
Another actor nominated in that category: Oh Dal-soo of Gift of Room No. 7.
Former model Gu Eun-ae wears a sleek sheath dress, saved from being boring by the colorblocked waist.
Twenty-one-year-old Do Ji-han was in My Neighbor, a film nominated in several categories, but his particular nomination for New Actor came for Tower; he also had a role in recently wrapped drama Incarnation of Money.
Congrats to gagman and MC Kim Byung-man, who won an award for his variety show Laws of the Jungle. Kim Byung-man just exudes so much hard work and sincerity that I can't help but pull for him to do well, and it's great when that pays off for him.
Shinhwa member Kim Dong-wan won a Popularity Award for the disaster thriller Deranged (and recently wrapped the drama Cheer Up Mr. Kim), beating out a lot of names like Song Joong-ki, Cha Tae-hyun, Joo-won, Jo Jung-seok, Ryu Seung-ryong, Lee Jong-seok, Jaejoong, and Lee Seon-kyun, just to name a few.
Im Seul-ong is another one he beat out, whose nomination was for the movie 26 Years. As an idol-turned-actor, I didn't have a lot of expectations for Seul-ong, but I'm actually really liking his role in Mandate of Heaven, which is helped by the plight of his character—the guy just wants his bromance, only to be thwarted by misunderstanding and politics and, okay, maybe some wrongful deaths.
Shin Bo-ra was another winner for Gag Concert, and continued the trend of black dresses…
…which was just ahead of the trend of white dresses. Hong Su-ah (King's Dream) sure likes her bridal gowns, I've noticed. Also, I find it interesting how she and Han Hyo-joo started out at the same time and on the same level; I caught them in campus sitcom Nonstop 5, which was the television debut for both of them—and there, Han was arguably the worse actor. How their paths have diverged.
This isn't the first acting award Han Ye-ri has picked up for the sports movie As One. I like the draping on her gown, which appears to be flowy but also seems well fitted through the bodice. Here's a case where a tangerine lip actually works.
Choi Yoon-young (My Daughter Seo-young) does white as well…
…and so does gagman Kim Jun-ho (Qualifications of Man), who isn't gonna be left out of the trend. I think his black-and-white jacket is pretty spiffy, actually.
Ahn Sung-ki (Broken Arrow), always classy, always honored at one ceremony or another.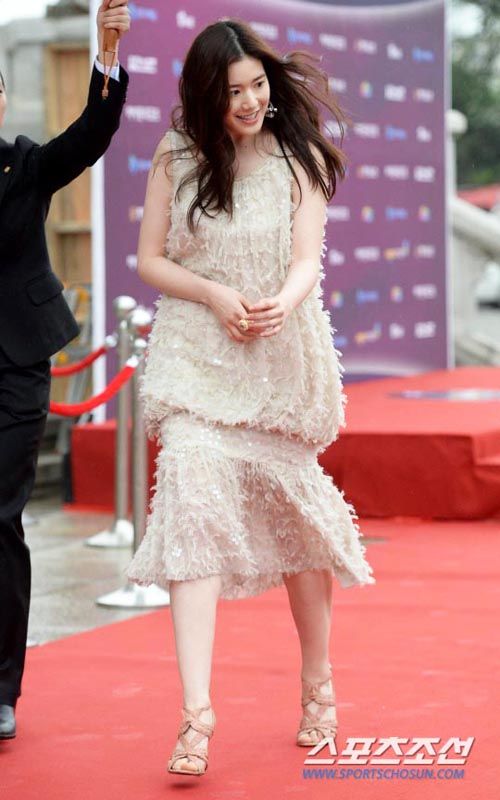 Here's a case where I really want to like the look, and I almost actually do, even though there's a lot about this that looks like hot mess. Okay, it's not that bad; maybe lukewarm mess. There's something very sloppy about Jung Eun-chae (nominated for New Actress for the movie Nobody's Daughter Hae-won), even though I think a few tweaks could really pull this together. And to think, these are the best photos of the bunch, where she's at least not cross-eyed or slouching (that much).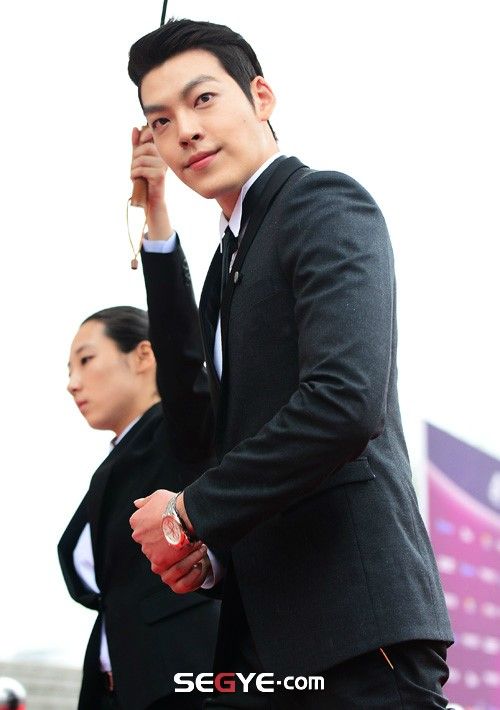 But let's leave on an up note, shall we? I swear, I had to search a good long while to find photos of Kim Woo-bin (School 2013) where he didn't look like an alien rock star, and even then he still kind of looks like one. And yet, alienish features and strangling skinny tie aside, he looks smokin'.
Via JoinsMSN
RELATED POSTS
Tags: Ahn Sung-ki, awards, Chae Jung-ahn, Han Hyo-joo, Hong Su-ah, Im Seul-ong, Jo Eun-ji, Joo-won, Jung Eun-ji, Kim Ah-joong, Kim Bum, Kim Dong-wan, Kim Go-eun, Kim Hee-ae, Kim Min-hee, Kim Woo-bin, Lee Sang-yoon, Nam Bora, Park Eun-ji, Park Ha-sun, Park Se-young, Park Shin-hye, Ryu Seung-ryong, Shin So-yool, Sohn Hyun-joo, Song Joong-ki, Suzy, UEE, Uhm Jung-hwa, Yoo Jae-suk, Yoon Jin-yi