Good Doctor: Episode 13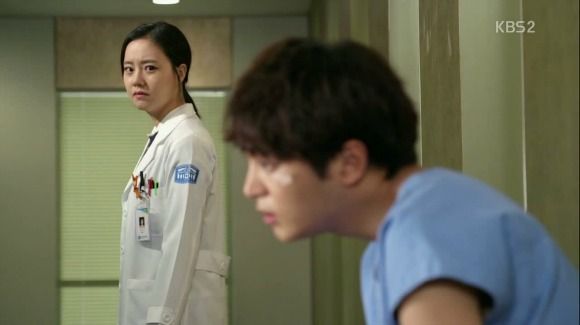 Our hero is hit with the past head-on and the resulting whiplash comes with some pretty significant drawbacks. In a hospital that never sleeps, there just isn't enough time to deal with the matters of the heart, mind, and the soul. Not when you have a boss constantly reminding you to overcome your struggles to be the best, even when you're not at your best.
EPISODE 13 RECAP
When Dad suddenly turns up at the hospital, Shi-on is overwhelmed by the memories of his abusive childhood. Just the sound of his voice triggers Shi-on's underlying fears, and he collapses, unconscious.
Shi-on comes to some time later and insists that he's fine, though, the way that he nervously picks at his fingernails suggests otherwise. Thus Do-han denies Dad permission to see his son, which stirs his temper.
That's when Mom shrills at him to do as he's told, but her appearance launches Dad into another fit, and he has to be forcibly dragged away. His rage-filled screams can be heard from where Shi-on sits inside, and Shi-on slips away, unnoticed.
Both Do-han and Yoon-seo acknowledge that Shi-on's emotional trauma must be more severe than they thought. Although Do-han is upset over how he's been kept in the dark about Shi-on's mother, he notes that they cannot keep that secret from Shi-on forever.
Meanwhile, Dad tears into Mom outside, calling her a liar and spewing threats at her as she pleads in a shaky voice to leave them alone. Enraged, he raises a hand to strike her when he suddenly doubles over in a coughing fit and hacks up blood. Is cancer on the horizon?
The assistant chief agrees to leave when he's confronted by Doctor Choi about the for-profit hospital scheme. However, he gives the warning that he'll soon return more powerful than before, and asks Doctor Choi to reconsider one last time.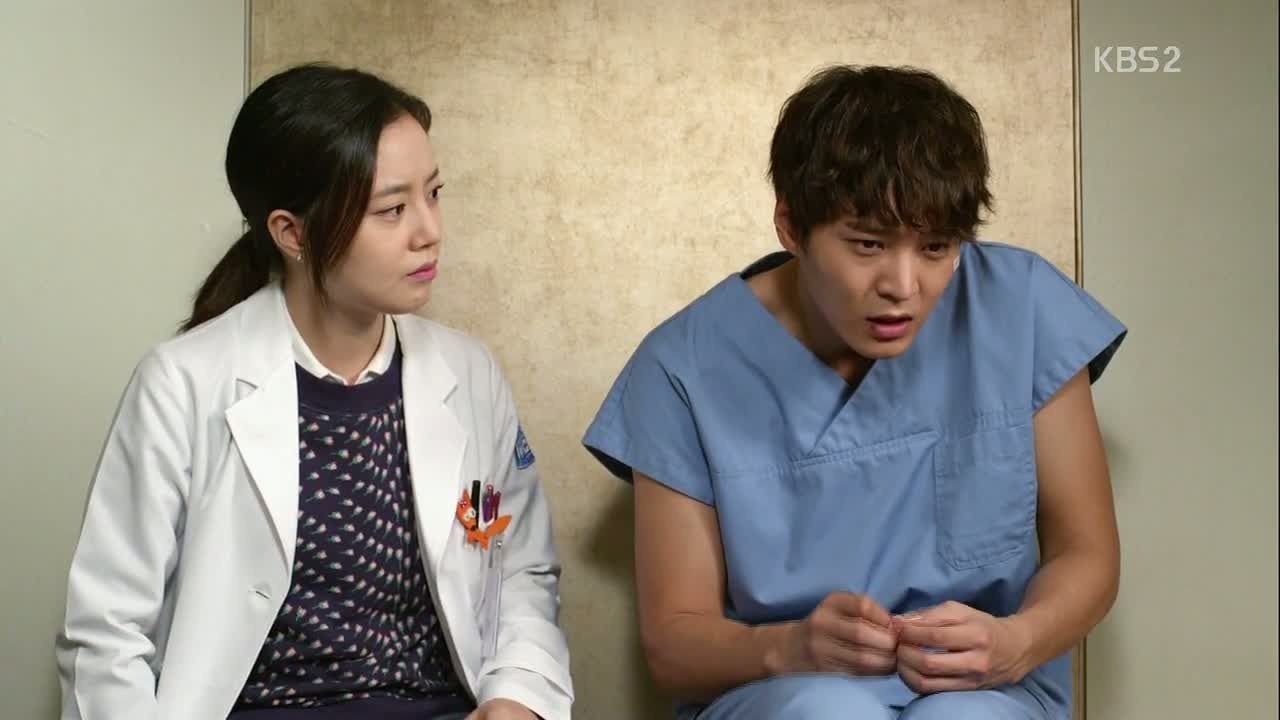 Yoon-seo finds Shi-on sitting alone, his knee shaking anxiously. She assures him that they can temporarily keep Dad away, but Shi-on says he wasn't afraid to see Dad earlier.
He says it felt like he traveled back in time to his younger self, which prompts Yoon-seo to ask if that means Shi-on remembers his mother's face now. Shi-on shakes his head—he only saw a glimpse of her and she too was getting beaten. He hopes he doesn't remember what Mom looks like because that piece of information will only upset him.
Then Yoon-seo softly pats him on the shoulder, and his knee stops shaking. Shi-on slides away at her touch and asks for some time alone. She looks back at him with a worried expression.
Yoon-seo informs the other residents to act normal around Shi-on to help him establish a sense of routine. But it seems the recent fainting spell also carries some side effects as Shi-on draws a blank at a question and is unable to envision the case in his head during their team meeting.
Both Yoon-seo and Do-han worry about the implications of the loss of Shi-on's exceptional abilities on his clinical skills, wondering if the effect is temporary. Do-han says there's nothing they can do to help him retrieve those skills.
Doctor Pomade suggests that they have a departmental dinner that night, only to hear that they're all swamped with work. He turns to them individually, and he turns away from Shi-on without asking him. Aw.
Chae-kyung runs into Assistant Chief Kang on his way out of the hospital. She doesn't hesitate to rub in his failed attempt to lure Doctor Choi and Do-han over to his side. He in turn points out her involvement behind the evil board administrator's dismissal.
She coolly asks if he heard that fact from Creepy Chairman, and the assistant chief replies that he never mentioned that name to her before. Whoops, way to reveal your hand there.
President Lee is a ball of nerves about the hospital's mounting financial issues. Chae-kyung basically tells her stepmother I told you so, which does little to calm her already stressed state.
Do-han consults a fellow doctor (a psychiatrist, presumably) about Shi-on's present condition. He's told that repressed memories are usually a consequence of severe trauma. There isn't a quick-fix to bring Shi-on's exceptional abilities back, but providing a safe and caring environment could help it along.
At the same time, Yoon-seo relays to Doctor Choi all that she knows and asks for his help with Shi-on's parents.
Do-han calls Shi-on up to the roof and asks him if his father is whom he fears most in this world. Shi-on says no: "A patient's death." Do-han agrees with this and asks what they need to do to prevent that. Shi-on: "To correctly diagnose and treat the patient."
To that, Do-han points out that Shi-on's fear of his father currently inhibits him from tapping into his abilities. He admits that he thought Shi-on's skills were just a side effect when Shi-on first arrived, but he then realized they could prove useful for their patients.
Plus, Shi-on still has to keep his promise to surpass him, Do-han notes. He tells Shi-on to overcome his struggles quickly and not to dwell on the issue for too long. "The more you think about that, the less patients you can save."
During one of In-hye's checkups, Yoon-seo shows her some updated photos of Opera Boy and Eun-ok on her phone. Adorbs. Then In-hye asks about the rose photo and breaks into a knowing smile when she hears it's from Shi-on.
The senior nurses are adorably awkward around Shi-on after they hear the news from Jin-wook. It's sweet how they shower him with endless compliments, even giving him a thumbs-up. Then Do-han orders him to take the night off, telling Yoon-seo to drag him out when he refuses.
In his office, Doctor Choi recalls a time when he dropped Shi-on at home and heard someone crying—Mom. She had closed the door on him, but the sight had troubled him as it still does at present.
At home, Dad continues to yell at Mom, goading her to run away like last time. She says she won't and instead, tries to persuade him to stay away from their son. He won't hear a word of it of course, convinced that his doctor son will bring him a steady flow of income.
He gets riled up again when he's told that he's done nothing as a father. But Doctor Choi drops by just then, and suffice it to say, Dad isn't happy to see him.
He grabs Doctor Choi by the lapels and accuses him of stealing his wife from him. But then Dad crumples to the ground, coughing up blood again. Doctor Choi reads his pulse, and his wide-eyed expression tells us that It Is Serious.
On their way out, Yoon-seo brings up the topic of Shi-on's confession, to which he asks that she pretend she never heard it. He tells her that it was a mistake, and says he felt the same way towards a childhood teacher who was pretty and kind to him.
Yoon-seo isn't convinced on that explanation and asks him if he's lying. Shi-on reminds her that he's unable to lie, but she points out all of his excuses, like when he brought her a rose or bought a hammer which says otherwise.
In a gentle voice, she tells him not to feel sorry about what he said because she felt the sincerity behind his words. If she didn't, then she would have laughed at him.
They relocate to a café, and Yoon-seo is the first to speak, asking if she's his first love. She takes his silence to mean yes, and tells him about her own first love story with a church oppa. Thinking about him made her heart race and she couldn't sleep at night, but it was one-sided, and she feels that she learned from that painful experience.
"I love you, too," Yoon-seo tells him. "As a hoobae and as a cherished dongsaeng. This is love, too." Oof. She tells him that he may be upset that she doesn't see him as a man, but as time passes, she's certain that they'll be as close as real siblings.
Now Shi-on finally breaks his silence, and he asks what he should do if that doesn't happen in the future. "If it's still the same [then], what should I do?"
Shi-on says he feels even more frustrated now than when he was stuck in the mines. Although he's disappointed, he feels at ease now that he's confessed his feelings. He apologizes for putting Yoon-seo through the trouble and rises to leave.
Shi-on walks down the street, disheartened. He greets Doctor Pomade, who's having a one-man pity party at a pojangmacha, and the department head invites Shi-on for a drink.
Six bottles of soju later, Shi-on yawns after Doctor Pomade regales him with the same tale about how he's constantly ignored by his hoobaes for the umpteenth time. Doctor Pomade accidentally spits food at Shi-on's face when he cries that he's a surgeon too but nobody respects him.
Shi-on says that he respects his sunbae, and although Doctor Pomade waves off those words, the compliment still surprises him. Shi-on ends up with an utterly plastered Doctor Pomade on his hands, whose drunken muttering basically equates to nonsense.
HA, Doctor Pomade wakes up discombobulated in Shi-on's bed the next morning. Shi-on already has breakfast ready (triangular kimbap and banana milk, natch) and though Doctor Pomade sniffs at the menu at first, he digs in anyway. D'aww, I sorta like the building bromance between them.
Do-han's quizzes continue at the hospital, and this time, Shi-on trips up on the answers. It keeps happening over and over again, a bit of his confidence ebbing away every time.
It frustrates them both, and Do-han lets him off the hook. He thinks to how Shi-on's current performance vastly differs from when he used to rattle off the answers without hesitation.
Shi-on slumps in his usual corner, his head hanging. That's where In-hye finds him, and he says he's worried that his crush will hate him because he's been getting more annoyed lately and lying more often.
In-hye answers that Yoon-seo is too nice for that. It takes a few seconds before Shi-on realizes that she knows, and he suddenly rises in a panic. Hee. In-hye takes back her spiteful comment from last time, admitting defeat to the nice unni with a sigh. Lol.
In-hye admits that Yoon-seo is a tough case, since she already regards Shi-on as a dongsaeng. So In-hye advises that he press on with his sincerity, since it's the only pull he's got.
Doctor Choi collects Shi-on just then to take him towards another patient's room. It's Dad and the sight causes Shi-on to cower and triggers his motor tics.
Turns out Dad has a late stage of laryngeal cancer (bah, terminal illnesses), and all Doctor Choi asks is that Shi-on start to see him as he would any other patient, and not as the cause of so much pain. Shi-on runs off to catch his breath.
Then Shi-on treats a young girl who sustained some cuts in an effort to prevent her blind father from getting hurt. Shi-on notes the fatherly concern for his daughter, who takes it like a champ.
Shi-on runs into the girl afterward, and he learns that she takes care of her father after school. She regards it as another part of her daughterly duties to her parents, driven by the thought of how sad life would be without him. She cheerily thanks Shi-on for fixing her up and collects her father.
Jin-wook waits outside the bar for In-young, who isn't happy to see him. He advises that In-young find a different line of work for her sister's sake and her own health. But she answers that she has to do whatever it takes to pay for her sister's surgery.
So Jin-wook offers to loan her the money instead. Ooh, not what you wanted to say right then. In-young misconstrues his good intentions for flaunting his money, and before he can explain himself, she tells him to find another girl who's better suited for him. Aww.
Both Jin-wook and Shi-on are unable to sleep that night, their minds filled with countless thoughts. Jin-wook asks if Shi-on has ever liked anyone, and then figures he must have. "You are a man, after all." He admits that he does like someone, and laughs to hear that is not-so-secret crush is known to everyone.
Shi-on says that Jin-wook possesses the qualifications to love someone: he's cool, confident, and lacks nothing. And above all: "You're mature."
But there are no such things as qualifications when it comes to love, Jin-wook tells him. "But if you love that person unconditionally, then you come to possess the right to love them. The right that I only have."
He admits to Shi-on that he hasn't worked up the courage to confess his feelings yet, calling it the hardest thing in the world to do. He's impressed to hear that Shi-on has already done so.
President Lee and Doctor Choi plan to meet the assistant chief that evening. They're both surprised to be greeted by Creepy Chairman, and from their greetings, their relationship seems to go way back.
Shi-on works up the courage to walk by Dad's hospital room, but he crouches down before his rowdy father can spot him.
We're introduced to our latest medical case when a school bus accident floods the hospital with injured children. With about twenty children in the emergency room, the pediatric team gets to work to assess the children's injuries.
Thankfully, the team is able to procure enough operating room, but the problem is that there aren't enough surgeons to go around, even with the help of another department. They're one surgeon short, and unwilling to transfer the patient to a different hospital.
Do-han thinks fast and puts Jin-wook on the job, but they soon run into another issue when another student comes through the trauma room. Shi-on rushes over to assess their newest patient… and gapes to see the blind man's daughter.
The patient is suffering from internal bleeding, which means they must operate immediately. When asked about who will perform the surgery, Shi-on says that Do-han can do it—he's done simultaneous surgeries before. Eek, I don't get a good feeling about this…
Our various surgical teams get to work on their patients. Do-han orders Shi-on to prepare the adjacent operating room. Once everything's set up, Shi-on runs back, which is when the patient starts to crash.
Shi-on grows increasingly nervous as the seconds pass and Do-han says he cannot leave this surgery. Then, the girl in the other room starts to crash.
So Do-han looks up at Shi-on and tells him to perform the girl's surgery. WHAT.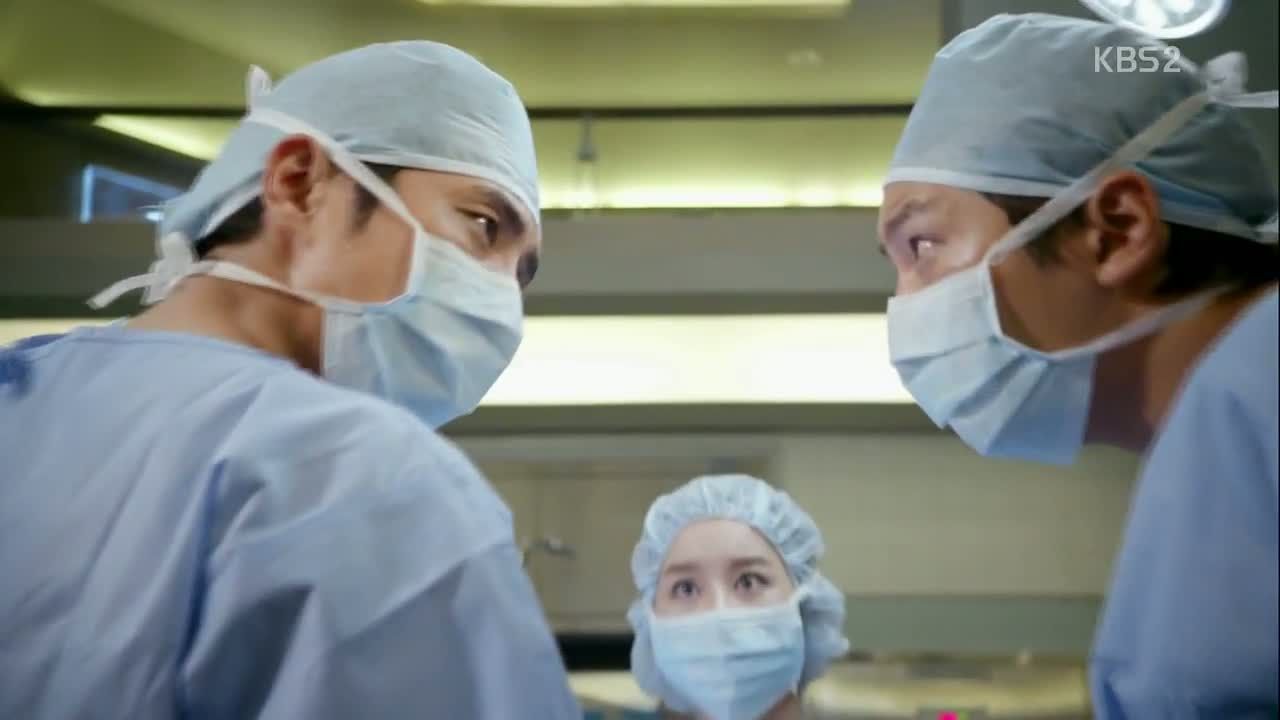 COMMENTS
Again, WHAT. I had a feeling that we would eventually encounter a situation where Shi-on would have to take the reins on surgery (which is yes, unlikely as a first-year surgical resident, but it's always a possibility in dramaland), but I didn't anticipate that today would be the day. At present, Shi-on can barely tap into his extensive medical knowledge bank, let alone hold a scalpel in his hand. This isn't to say that Shi-on isn't capable—because we know that he is—but ack, there's so much at stake!
At first, I thought to myself that Do-han should have chosen another senior resident to do the procedure (although I wouldn't trust Il-kyu to cut me open) when it occurred to me that Do-han could be referring to his challenge for Shi-on to surpass him, literally placing the scalpel in his hand. It's a risky, dramatic move, and the current situation calls for desperate measures that I'm still trying to wrap my head around. Stripped of his ability to envision the surgical area and unable to retain large amounts of information like he usually can, Shi-on is left with the nerve-wracking anxiety with a life in his hands, relying on his own skills and abilities to avoid what he fears most: the patient's death. I admit that I can't help but wonder what would happen if that did occur, but the show seems to point towards another developing relationship with another life lesson with our latest medical case, so I can hope for the best… until the next episode airs.
Before we move on, I'm going to say: Dad sucks. There, I feel a little better now. It's no surprise that Dad hasn't changed and he's still the same deadbeat dad (we've yet to see if his bunny-killing days are behind him) as before. If anything, I am proud of Mom to stand her ground against him, refusing to run away from him and trying to protect her son. And then, Dad has a terminal illness. Many of us have seen the trope before, but more than the cancer cliché itself, I'm more annoyed by how the show seems to hint at sympathy points for Dad by introducing to us a filial daughter and Doctor Choi's suggestion to look past the abuser who is the main source of Shi-on's childhood trauma. Have we forgotten about the bunny, Show?!
To the show's credit, I do appreciate the pediatric team's effort to keep the aggressor away from the victim, and acknowledge the horrors of abuse. But the show seems to nudge towards a possible father-son reconciliation—something that I'm totally for in principle—if only Dad didn't return as the same awful person that he is. If that's where the show intends to go, I don't know if I'm prepared for it or will ever be.
With Shi-on's confession of his feelings towards Yoon-seo out in the open, I appreciate that Yoon-seo explains her platonic feelings towards him, and how that still is a form of love. Though I still find it hard to imagine a romantic relationship between the two since their noona-dongsaeng relationship amuses me to no end, I like how Shi-on is the one to say his feelings towards her may remain steadfast in the future. Yoon-seo is starting to search her own heart as to how she feels towards him, romantic or not. On a slightly different note, I do like how our bromances continue to progress in this episode as Doctor Pomade is slowly coming around to Shi-on. If Shi-on can manage to reach out to a once-evil man like him, then maybe there's hope for Dad yet.
RELATED POSTS
Tags: featured, Good Doctor, Joo Sang-wook, Joo-won, Kim Min-seo, Moon Chae-won