Good Doctor: Episode 18
A dream can be a wonderful thing that drives your motivation, fulfill your greatest desires, and let you imagine your greatest fantasies. But sometimes it can also make you yearn for the unattainable, warn you for the future, and remind you of something already lost. That's the incredible thing about dreams, though: even if you don't get the outcome you expected, you can always dream up a new one.
If you can believe it, this show gets even funnier, which is something I didn't expect this late in the game. In terms of numbers, Good Doctor holds the top spot with a 20.6%, setting us up for (hopefully) a good position in finale week.
SONG OF THE DAY
Joo-won – "내가 만일 (If I)" for the OST [ Download ]
Audio clip: Adobe Flash Player (version 9 or above) is required to play this audio clip. Download the latest version here. You also need to have JavaScript enabled in your browser.
EPISODE 18 RECAP
Thanks to the untreated stab wound, Do-han reels in pain in the operating room. He stubbornly insists that he's fine, but the pain becomes too much to bear. At least he has enough sense to hand off the surgery to Yoon-seo and oversee the procedure from the sidelines.
So the team proceeds, tapping into Shi-on's visual ability and knowledge at each step. The surgery is a success, and in a strained voice, Do-han praises his team on a job well done.
Do-han finally rests afterwards, and given Do-han's dangerous episode at the start, Assistant Chief Kang isn't happy with him. But Do-han takes out the baseball in his pocket, saying this was the reason why he couldn't leave the operating room.
"The reason I step into that operating room is for my team's and that child's future, ten, twenty years from now. If I don't give up on that child's future, then there's no reason for me to give up on the surgery." Do-han explains.
Do-han finally gets his wound treated, and Yoon-seo scowls at him when he yelps in pain. She clucks disapprovingly at his workaholic nature: "Do you think you're Iron Man?! He gets wounded, too!"
She nags at him to go and rest, jabbing her tweezers at his wound when he doesn't listen. Heh.
Having heard of Dad's fainting spell, Shi-on rushes over to his hospital room in a panic. Doctor Choi tells him that Dad doesn't have much time left.
Mom confides in Shi-on outside, telling him her intention to move with Dad back to their hometown in the countryside to spend his final days. But Shi-on shakes his head and says they can't leave, afraid that Mom will be subject to more abuse. Mom says it's unlikely, but Shi-on doesn't like the idea at all.
Yoon-seo sides with Shi-on on his decision to keep Dad at the hospital, calling his behavior thoughtful and mature. Shi-on says he pities both of his parents and that feeling makes him angry.
She gently asks why, and Shi-on answers that if they both abandoned him for twenty years, they should have at least lived a comfortable life without him. But Yoon-seo is proud that Shi-on has finally acknowledged and embraced his anger because it finally gives him the confidence to be strong for his parents.
President Lee appeals to one of the hospital's financial investors for more time, but gets promptly shut down. Chae-kyung gets upset on her stepmother's behalf once they're alone, and president Lee thanks her for staying by her side.
Yoon-seo speaks with Doctor Pomade in his office, and the sudden shower of praise and concern takes her by surprise. At one point he asks, "Since when have you been so pretty? Since you were three? Ten? Or since you were born?"
She suppresses a laugh before answering, "Since I was born," and then walks away with this hilarious WTF expression on her face. HA.
It's good news for In-hye, who has finally recovered from her intestinal shock episode. She wonders if she'll be able to grow up to be a pretty adult like her sister, and Shi-on tells her that she's pretty now, too.
She immediately asks who's prettier—her or Yoon-seo? Without hesitation, he answers: "Yoon-seo." Heh. It's nice to see In-hye back to her usual cheery and playful self, but she does momentarily wonder why Shi-on keeps staring at her.
Shi-on paces back and forth in the staff room with worry, to which Yoon-seo asks what's on his mind. He describes it as the uneasy feeling when you think you've left the stove on or forgotten to log out of a computer. Basically he means that he feels they need to run more tests on both participants before surgery.
Their most recent test results came up clean, but Yoon-seo admits that she too feels uneasy. Shi-on says that he has a favor to ask, and Yoon-seo really really has to grant it.
That takes them to Doctor Kim's office, and they launch into an explanation of the risks in surgery. Doctor Kim cuts them off and curtly puts Yoon-seo in her place for her arrogance. Shi-on pipes up in her defense, and demands the senior doctor to apologize.
That goes over as well as you might expect, and Yoon-seo leads Shi-on out before the tense situation escalates any further. Although she's amused and pleased by Shi-on's furious reaction, she literally has to pull him back from storming back into the office.
It looks like we're not completely rid of the Evil Board Administrator, who is enlisted to take over the hospital board presidency on Creepy Chairman's recommendation. Assistant Chief Kang isn't happy to hear it, but he's told that it's only temporary and to continue to keep an eye out.
Nurse Jo is in the middle of another lecture from Nurse Nam about his duties when a group of gangster thugs approach them, holding up a news article and calling him "hyungnim." Ha, was Nurse Jo part of the mob? That's hilarious and also explains things.
Nurse Nam eavesdrops from the corner as Nurse Jo tells the thugs that he's put his fighting days past him and warns them never to come looking for him again. Then I love how all the nurses are skittish around him when he returns, frightened that their jolly nurse could still be a mobster.
Yoon-seo informs the assistant chief's son that the surgery was a success. But there's a caveat: he won't be able to play baseball again. She's surprised to hear he already knows.
Then we see in flashback that Do-han had prepared him for the outcome: "But you know what's great about dreams? That you can always have a different dream. So you're not throwing your dream away, but you dream again."
Placing the baseball back in his hands, Do-han tells him he can make another "first," and though he doesn't know what it is yet, he has the boy promise him to tell him when it does happen.
His new dream is to study hard and grow up to become a baseball reporter, the boy says. He turns to his father and apologizes for not telling him sooner for fear he might worry, but Assistant Chief Kang just squeezes his son's hand.
The introduction to our next medical case is so brief that it's almost fleeting, but the mother picks up on Shi-on's unique mannerisms, finding them slightly odd.
Meanwhile, Yoon-seo comes up with a list of excuses to get out of another date with her Voldemort seon. She jumps when she sees Shi-on standing behind her, and he asks if she's going to see him again.
When Yoon-seo says no, he asks why she didn't tell the guy directly then, saying that she should have cut ties right away if she's not interested. Pfft, I love that she's the one being lectured at this time.
She in turn asks why he was eavesdropping then, to which he says he could hear her voice from out in the hallway. Yoon-seo: "You should have plugged your ears then!" Hahaha, their childish bickering also cracks me up. Then she asks if Shi-on heard Do-han's lesson for the little boy about dreams.
At home, Do-han finally solves that 12-sided Rubik's cube with a smile. The doorbell rings just then—it's Shi-on with food in hand. He says that he knows it's hard to take care of yourself when you're living alone, and reassures his boss that he's heading back to work soon.
Then he starts to praise Do-han for getting through to the assistant chief's son, and just when he's about to throw up his trademark thumbs-up, Do-han points back at him warningly: "Don't do it!" Cue awkward silence. Ha.
Shi-on admits that Do-han feels like a hyung to him ever since he saved him from those street thugs. He's eternally grateful for Do-han, and then runs out.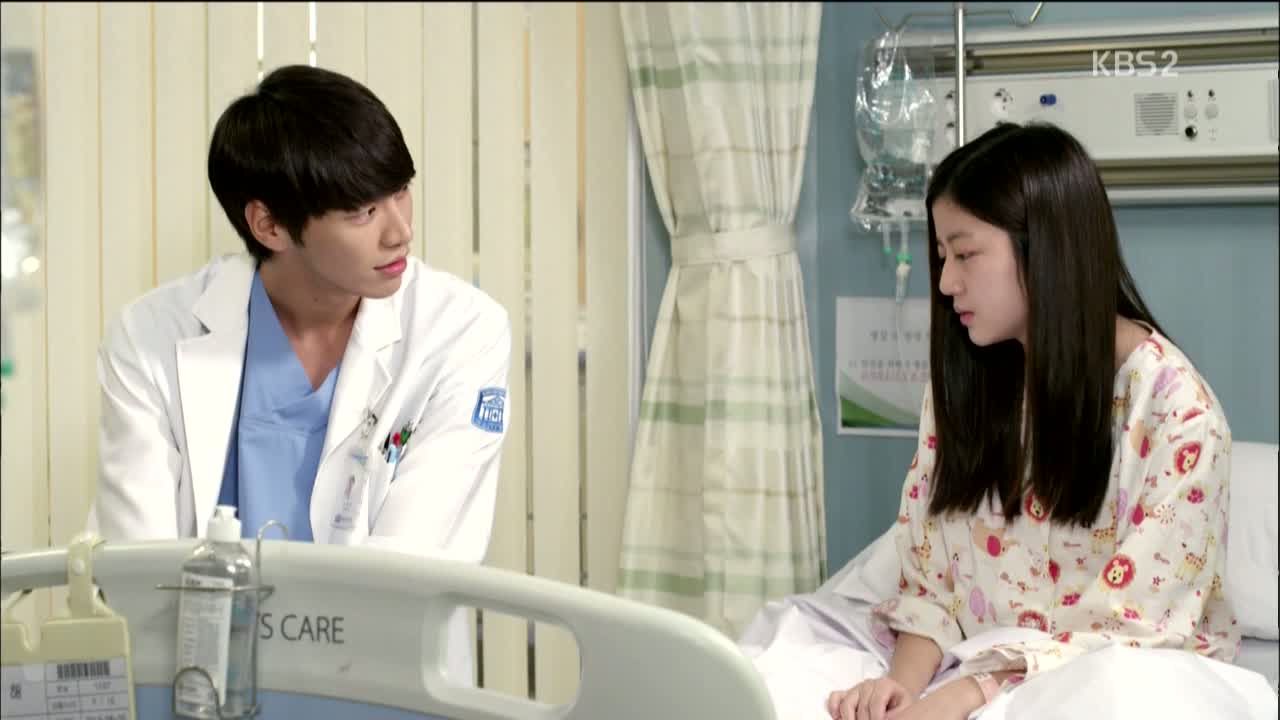 Jin-wook informs In-hye that her transplant surgery will proceed as scheduled. He notes her downcast expression, and she confesses that she's grown afraid at the idea of death lately.
Her near-death experience drove that fear into her heart, and Jin-wook tells her not to worry. He keeps a smile on his face, but I don't know—the serious tone in her voice worries me.
Jin-wook makes sure to put In-young at ease as well, saying that it's common for children to grow anxious prior to surgery. He remains professional per her request, but she does ask him once more if he's getting enough sleep.
In-hye finds Shi-on with his head hanging in their usual corner. It looks like he's been having a tough time dealing with his one-sided crush, and she assures him that's all part of being in love.
Il-kyu lets out a deep sigh as he recalls Doctor Pomade's explanation as to why he was chosen for this hospital. Shi-on comes in yawning, and makes up an excuse to leave, but Il-kyu doesn't kick him out and tells him to get some rest.
The residents aren't all that excited about this year's staff production of Peter Pan (only Shi-on claps, heh) since it means they'll have to wear costumes. Then they're reminded of how Yoon-seo twisted her ankle playing Cinderella last year, much to the group's amusement.
They wonder if they'll manage to wrangle Do-han into participating this year, which is when Do-han calls out: "I won't do it!" Challenge Accepted.
Then we see Shi-on rush over to the assistant chief son's room to ask him for a favor.
The ethics committee meets in regards to privatize the hospital for-profit. Do-han argues that they cannot pick and choose their patients based upon their income level, and Doctor Kim counters that it's inevitable.
Doctor Choi steps to suggest they appeal to the board as a collective voice as doctors, but Doctor Kim believes it will hardly make a scratch, and they're unable to reach an agreement as a result.
Doctor Pomade offers his help to Do-han after the meeting, in hopes to put his seniority to use. He then points towards Assistant Chief Kang and Doctor Kim, who are deep in conversation.
Assistant Chief Kang runs into Shi-on in the hall, and asks if he still thinks him a bad person. Shi-on says that the assistant chief is half-bad and half-good. He figures the bad part is the takeover and asks about the good. Shi-on: "That you believed in Do-han and our team."
"I'm always grateful to those people who believes in others," Shi-on explains. "If you believe in him, they become stronger and feel 'full' inside. Trust is like a bike's air pump, and if the tires are full of air, they end up running like the wind."
Yoon-seo asks Do-han if he can appeal to Doctor Kim about In-hye's surgery, only to be told that he's waiting for a reason to justify going up against the senior doctor.
Last time, the rumor that he wouldn't take responsibility for his patient drove him to accept the surgery last time. But he needs clear evidence before taking action, so he's waiting for the same in In-hye's case.
Yoon-seo gives him a thumbs up, and Do-han tells her to stop that, too. Ha, but he laughs anyway.
Doctor Pomade talks to his brother-in-law evil board administrator outside, who tells him this is his last chance to stay focused because he can soon become this hospital's chief-of-staff. Doctor Pomade is alarmed to hear it. Don't be tempted! You've just gone good!
Shi-on visits Dad while he's asleep, and thinks to himself: "I don't wish for anything else. You don't have to tell me you're sorry. Just… don't hit Mom. Then I'll be thankful to you, Dad."
Then Shi-on invites Mom out to eat lunch at a beef restaurant. He says today's his payday (aw), and then places bulgogi over Mom's spoon just like she did for him last time (double aw). Mom is touched by the gesture, and he tells her they can go out to eat whenever she likes (triple aw).
He does, however, have one question: "Why didn't you come looking for me after you ran away [from Dad]?"
We hear Mom's answer in voiceover as Shi-on sits alone in the dark locker room. She'd wanted to come find him, but she soon found out Dad was doggedly chasing after her, and she didn't want to endanger her son or Doctor Choi. All she could do was trust the notion that he'd be well taken care of by the good doctor.
The little boy's mother takes up her irritation with Yoon-seo, saying she can't have someone with a disability take care of her son. To which, really? Are we back to this again? The other mothers say that Shi-on is a fine doctor, but she won't hear a word of it.
But Shi-on interrupts to say that they will grant her request, and Yoon-seo pulls him aside to ask if he's really okay with it. Shi-on says that he is because he knows that he's different from other people, and that it's understandable that not everyone will accept him.
He rests assured in the fact that there are still people who will choose him based on his skills, but there is one thing that still upsets him: the fact that he is different from everyone else. Shi-on then shrugs it off like it's no big deal and shuffles away.
Yoon-seo worries that Shi-on may be more upset about the brush-off than he appears, but Do-han disagrees. Shi-on has gained more self-confidence, and his extraordinary abilities doesn't necessarily set him apart from the pack anymore.
Now Shi-on has gained an essential skillset that complements his genius; to the point that even without his savant condition, he'd still be a good doctor. She notes that Shi-on now falls into the second option: an average doctor who has common sense.
Shi-on runs into Il-kyu in the on-call room again, and this time Il-kyu asks if he can bring some more of that yookgyejang (spicy beef soup) Shi-on made for them for breakfast. D'aww, ya big softie.
As Shi-on swings by the house, his eyes fall upon his bed, and he recalls how pretty Yoon-seo looked as she slept, her face bathed in the moonlight. At the same time, Yoon-seo steps out on to her balcony when she suddenly hears Shi-on's voice from his own porch.
Shi-on speaks to the moon as if it were Yoon-seo herself, saying that he didn't say why the fact that he's different upsets him. "It's because of you," he answers, "I'm really okay with being different… but whenever I think of you, I get sad."
He'd be able to make her happy if he was much more impressive and sing to her often. He says he's no good (lies, hiss), but it's a song he's always wanted to sing to her.
If I were the sky
I would want to color your face

A red-colored evening like the sunset
I would want to color your cheeks

In the world, no matter what it is
I want to become everything for you
Like today
Because we are together
You don't know how happy that makes me
Do you know, the one I love
My heart
As he sings, we see an imaginary idyllic date where they spend a sunny afternoon in the park playing basketball, and end with a sweet kiss over ice cream. The thought brings tears to Yoon-seo's eyes.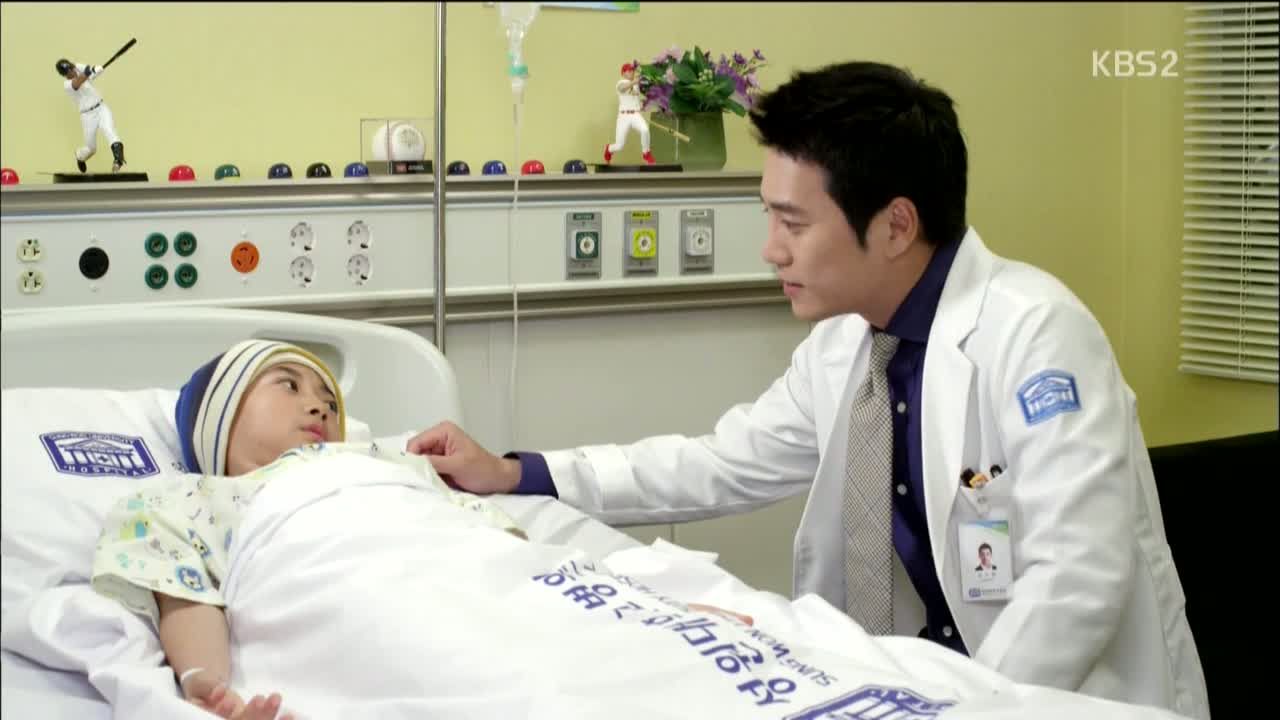 The pediatric ward is abuzz about the Peter Pan production, and it turns out that Shi-on is casted in the lead role. They note that Captain Hook hasn't been cast yet, and are told that it's to be determined.
Then we see the assistant chief's son plead with Do-han that it's his wish to see Do-han participate the play. Puhahaha. And he totally pulls the "I think I'll get better if you do it" guilt card.
Next thing we know, Do-han rehearses with the others, riding on his office chair ship and using a hanger as a hook. HAHAHAHAHA. Oh, this is brilliant, and his stone-faced expression sells the moment.
The fact that Do-han is a terrible actor is just icing on the cake. I'm so amused right now, I don't know how to handle myself. The residents pin him as the black hole, to which Do-han snaps back defensively, "Then were you guys great from Day 1?"
They go for another take, and this time, Shi-on takes Yoon-seo's hand, interlocking fingers. It clearly affects her, and she struggles to make sure not to let it show. She puts a hand to her racing heart afterward, wondering, "What's wrong with me?"
Yoon-seo finds In-hye sitting in the hall, and In-hye invites her to take a seat. She then tells Yoon-seo that Shi-on is really sick, and he's worse off than the kids in the ward.
We backtrack to In-hye and Shi-on's earlier conversation where he confessed that although his emotional expression has gotten better lately, he's still relatively bad at it. To a certain extent he's relieved since that means he won't have to worry about Yoon-seo noticing it.
There are times he wants to show her how he feels, but he's unable to work up the nerve in the moment. It'd be nice if there was a display over his heart so it would be easier to show his feelings.
Yoon-seo finds Shi-on in the staff room, and she asks that he escort her home tonight. He agrees.
As they walk, he asks if something's the matter, and she answers that there's an idiot who causing her a great deal of frustration. He asks who it is, saying that it's unacceptable because Yoon-seo should always feel at ease.
"But I'm not." Yoon-seo replies. "Shi-on ah, why do you always pretend that everything's okay and suffer on your own?"
He asks if he's the one who's made her frustrated. She nods. "Then who else would it be?"
Shi-on reminds her that he'd promised to make her feel comfortable. Pointing to his heart, she encourages to tell him to come right out with it and say what's in his heart. Shi-on: "Then you and I would…" Yoon-seo: "We'd what? We wouldn't be able to see each other again?"
She says they can because: "I… miss you as much as you do."
Yoon-seo: "I bet you don't know who makes me laugh and cry these days, right? You don't know who makes my heart ache, do you?" Shi-on says it's probably him, because he lacked in so many ways ever since he arrived, and she worried over him like a dongsaeng.
But that's not it, Yoon-seo tells him. She says she's been feeling strange lately and something has changed. Taking his arm, she says, "I don't like the idea of you getting close to other women or when you ask me to set you up on blind dates. I don't like… you depending on me anymore."
"Now I… I…" Yoon-seo starts, and then steps forward to hug him.
COMMENTS
Now I… I… what?! WHAT?! You're the one who just told Shi-on to be all truthy to his feelings! I suppose this is a good sign if I'm chomping at the bit for just a little more with one week left to go. I'm almost certain her next words are "I want to depend on you," and yet, I'm just as satisfied with Yoon-seo's hug. Just as long as we get an actual confession of some sort next week, just sayin'.
Even though Yoon-seo has seen the changes in Shi-on's affect, behavior, and words both in and out of the hospital, and has told him how proud she is of said changes, the truth of how far Shi-on has come has finally hit her. Like Do-han told her, Shi-on has reached a point where even with his unique abilities, he's complemented them with other skills that make him an equally competent doctor as anyone else in his field. He can stand on his own two feet without her help, as evidenced with the patient's mother. He's well-aware of the discrimination he faces every day, and has come to terms with it because he has rooted himself in his medical skills.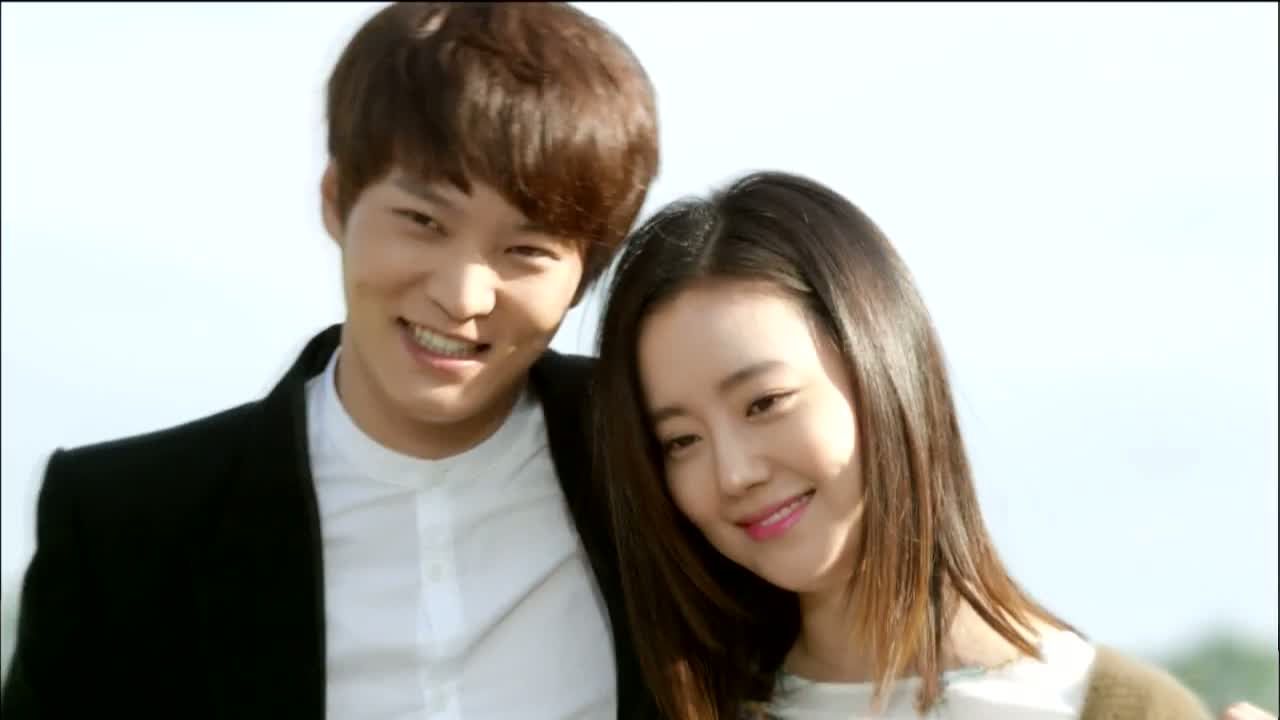 That brings us to the "Then what?" question that Yoon-seo currently wrestles with, along with the realization of her romantic feelings towards Shi-on. To that, Shi-on already knows the societal burden the other person will endure for being involved with a social outcast. Those worries are realistic and practical, which makes that dream sequence as sad as it is wonderful and sweet. But what I love about Shi-on's perspective on love is how simple it is, where happiness stems from the thought of having someone by your side every day.
On the topic of dreams, I'm so relieved that we got to touch upon In-hye in this episode as well, since I found Monday's drive-by to be lacking. I'll admit that Shi-on's dream still haunts me every time she talks about death because there's a note of fear and dreaded anticipation that this One Surgery is going to go terribly wrong. I can't shake off the feeling that we're going to lose someone before the end of this show. Somebody tell me I'm crazy or something; I still have a week to prepare for the worst, don't I?
I do want to stay optimistic while we still have the cute and endearing moments to carry us through each episode. Because this is one dream that I don't want to forsake for a different one. Some dreams come true, right?
RELATED POSTS
Tags: featured, Good Doctor, Joo Sang-wook, Joo-won, Kim Min-seo, Moon Chae-won