Noonas Over Flowers: Episode 8 (Final)
EPISODE 8. Broadcast on January 17, 2014.
girlfriday: Aw, it's already time for the epilogue. We begin at the wrap party twenty days after the trip, and it's still before the show has actually aired.
javabeans: It's funny because Grandpas premiered earlier so that they could watch part of the show while on their trip, but we won't get to see how Noonas react to their show being a hit because they don't even know that it will be one.
girlfriday: Yeah I remember that one segment where the halbaes actually watched themselves and got mad at Na PD. Too bad we can't see that here.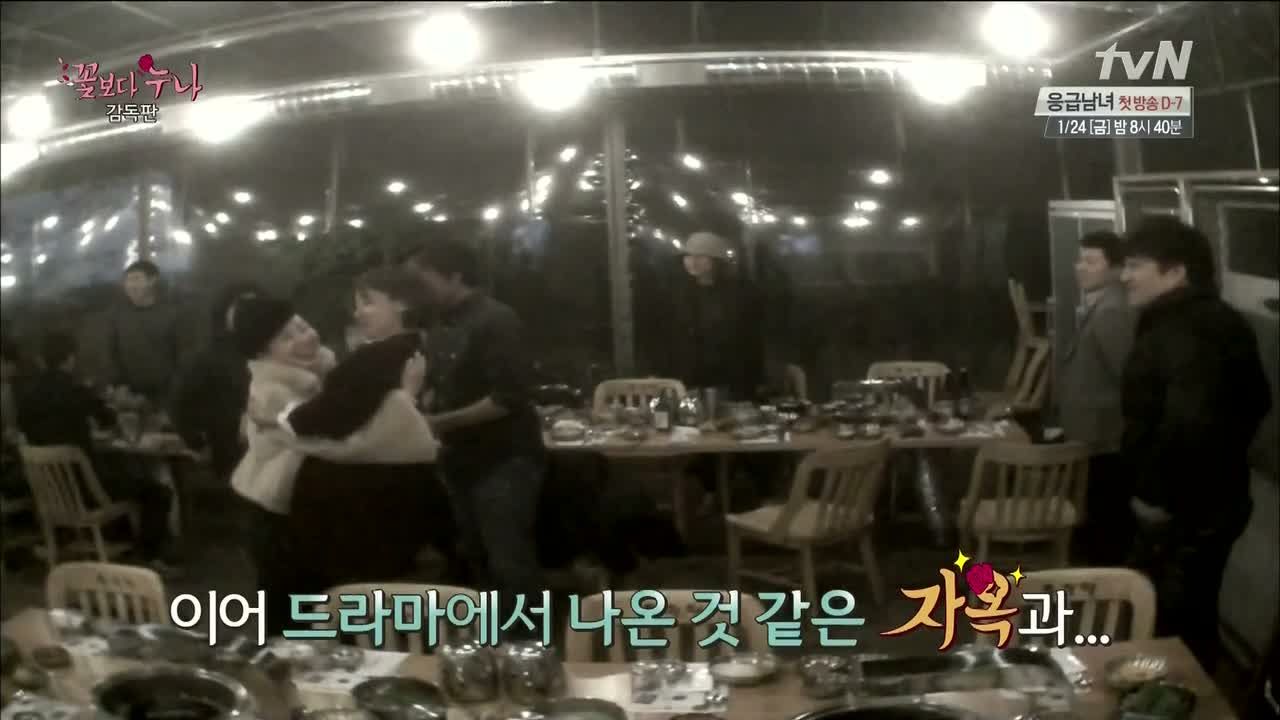 javabeans: Hee-ae seems surprised at the buzz surrounding the show, and says that people aren't asking her about her upcoming movie or drama projects, but rather, "When does Noonas premiere?"
girlfriday: I always love variety first-timers' reactions to the sudden fame from being on a popular show. It's so different from the movie/drama fame, because random ajummas will probably now stop Hee-ae in the street. Both Mi-yeon and Hee-ae greet their personal VJs (the ones that took their solo shots throughout the trip) like meeting an old friend, which is really cute. Mi-yeon: "I've grown attached. I think I should marry him."
javabeans: Seung-gi laughs that he recently went on Running Man and was so stuck in Noonas mode that he kept trying to usher Kwang-soo, all, "Please stay here a moment" and "Let me ask first and I'll be right back."
girlfriday: Aw, Na PD hands everyone a photo album from their trip, and Mi-yeon gets all teary-eyed while flipping through it.
javabeans: That's such a cool gift. I always want to take photos on trips, but it becomes such work! These are like fancy yearbooks.
girlfriday: Apparently the next time we go on a trip, we should hire a camera crew. It's the only way to have pictures at the end.
javabeans: Clearly we can't rely on ourselves. Then we back up a to unseen footage from before the trip, starting with the first meeting between Na PD and Hee-ae, who bypasses the suggestion to order coffee and heads straight for the alcohol. Everyone cracks up and she asks in her sweet, wide-eyed way, "Wh-why?… is that bad?" Then she hesitantly brings up Mi-yeon's name (calling her Lee Mi-yeon-sshi) and the producers pick up that she's more worried about traveling with Mi-yeon than the others.
girlfriday: It's interesting that they're more concerned about each other than the teachers (Mi-yeon does the same and asks about Hee-ae), but I guess it makes sense in that your relationship to a much older sunbae is simple and clearly defined, while Hee-ae and Mi-yeon are close in age but not close friends. In her first meeting, Mi-yeon asks if Na PD is going to keep "Hollywood hours," and shoot only a set number of hours per day, and he actually just laughs out loud. Ha.
javabeans: It's so the opposite of his system, which is 24-hour cameras, keep 'em rolling, that I guess he doesn't even have a response other than to laugh. The actresses wonder about food, and Hee-ae has noted the staff's plentiful stores from watching Grandpas. Na PD makes sure to say that while the staff takes a ton of food, "We won't give it to you." They admit that Seo-jin managed to steal a bit because they were so startled, and we cut to Hee-ae later ransacking their stash. Aha, so she started out the trip with the inkling to steal, did she?
girlfriday: That's some serious pre-meditation if she's asking about it during the first meeting. Then we switch over to Seung-gi, who's supposed to be packing for the trip but is instead obsessed with choosing candles. Why are you even packing candles?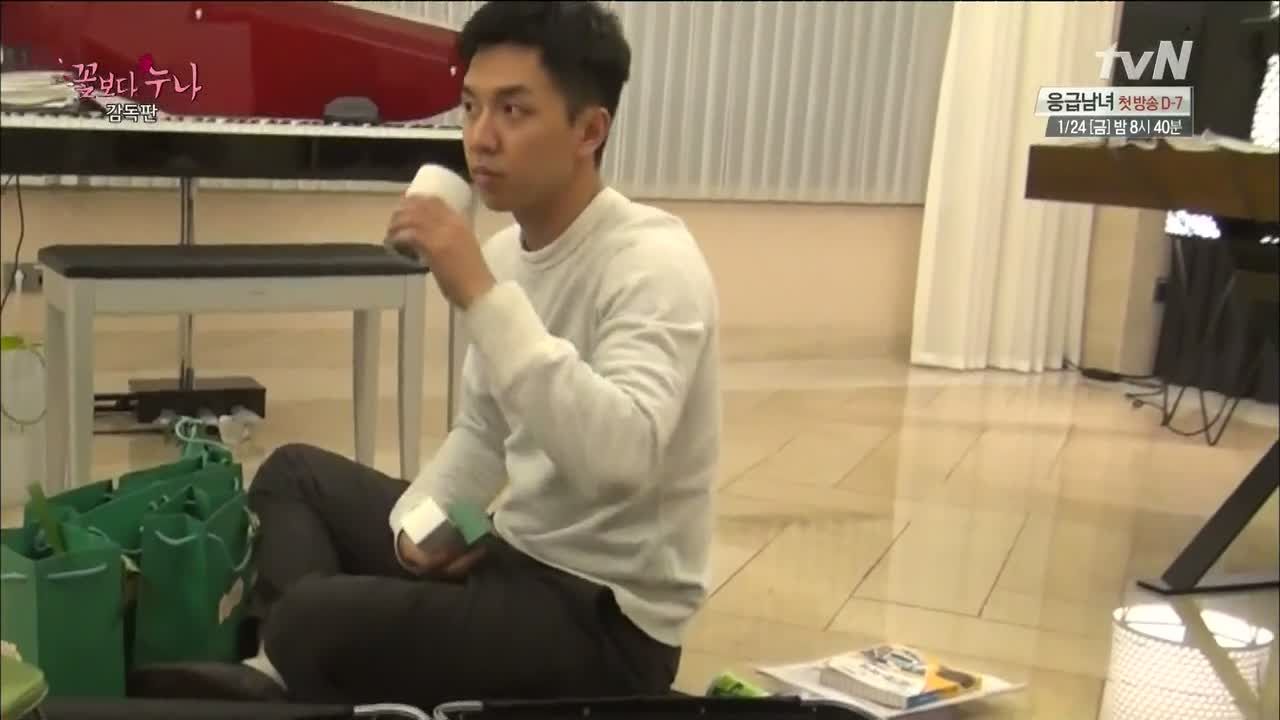 javabeans: I know, right? At least the scented candles turn out to be presents (and not, say, his idea of essential traveling gear) and he gives each noona a kit of travel-friendly cosmetic items. Dude, that's a lot of forethought for a twentysomething bachelor, I'm impressed. Then we jump forward to two months after the trip, after the show has aired, and Seung-gi interviews that he didn't want to watch the premiere, "Because I knew how I was."
girlfriday: Haha, I wouldn't want to either.
javabeans: Na PD prods Seung-gi to recall the day they were leaving, and how Seung-gi ran around asking for information at the last minute. Seung-gi asks, "Did you not wonder why I did that, all of a sudden?" Apparently he'd looked around and been jolted to see Na PD looking sooooooo happy that it made him paranoid.
girlfriday: LOL. This is the stuff I wish we had gotten more running commentary on at the time, because clearly Seung-gi is judging this from his very long working relationship with the writer and director. I want the reaction shots, dammit! It's really funny that you can see him searching his brain for clues, because all he knows is, Na PD smiling = I'm doing something wrong. The second Na PD chuckles, Seung-gi looks over at them warily: "What is that laugh?"
javabeans: Seung-gi had assured the noonas that they could use dollars in Turkey and Euros in Croatia. So when Na PD gigglingly mentions dollars, Seung-gi gets this LOOK in his eyes, like, "Wait! Dollars are wrong? Dollars are wrong!" *mad internet searching* He hits the wall with the internet, but gets the idea to just ask the people in their lounge, because some of them are bound to be Turkish and know how to exchange money. Which leads to another episode of Seung-gi busting out his panicked English as he tries to ask them to swap dollars for lira.
girlfriday: The laughter behind the camera is audible at this point.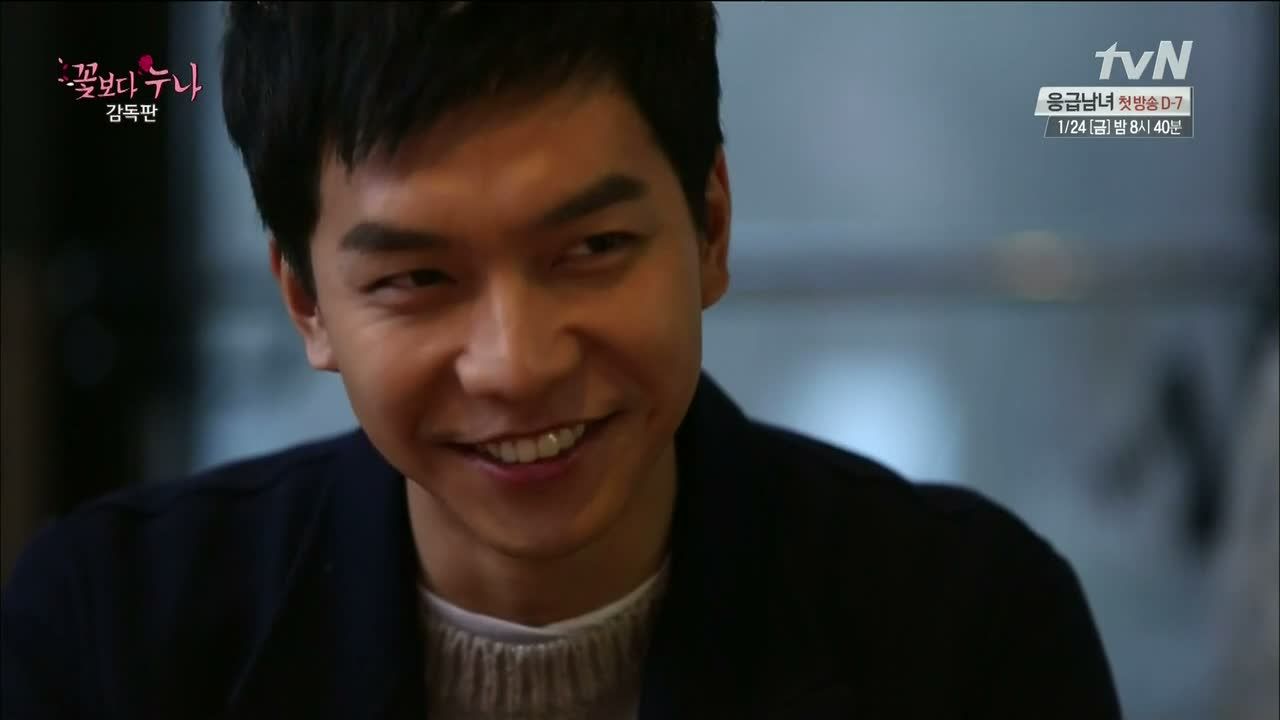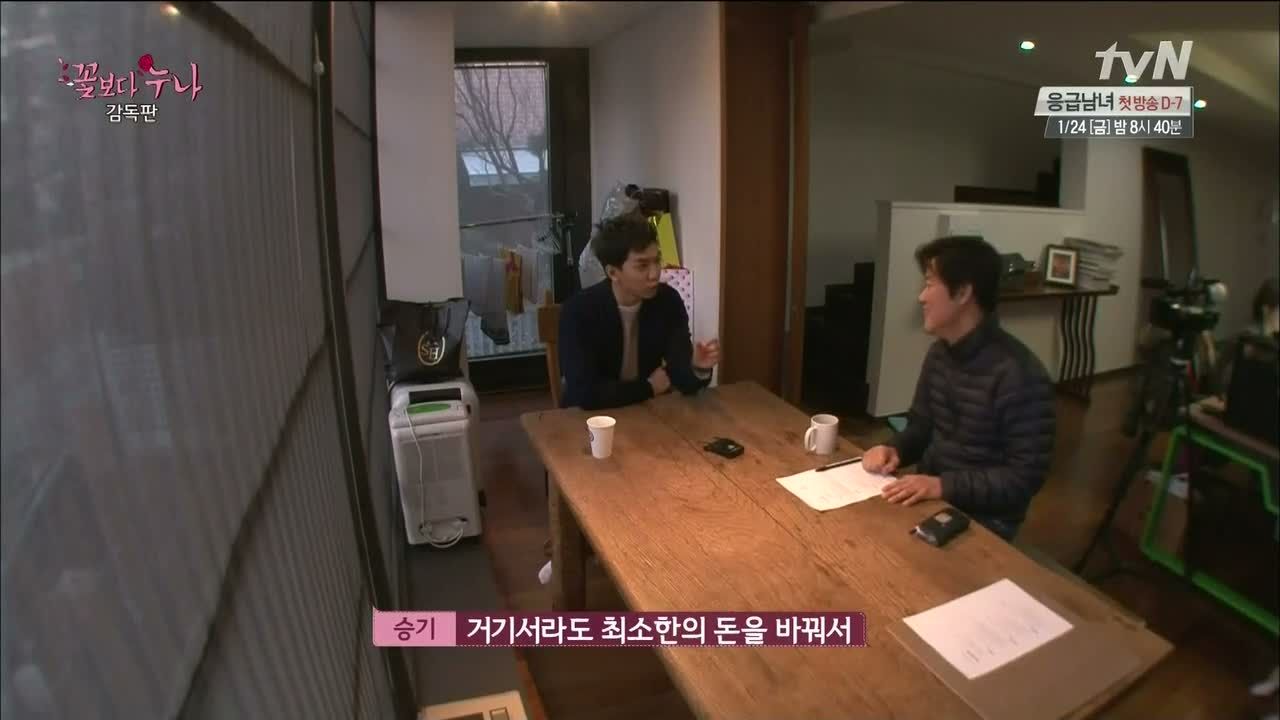 javabeans: He actually meets a man who opens up his wallet and exchanges his cash for Seung-gi's. Talk about lucky! Then the man goes the extra mile and tells him, "If you run into trouble, call me at this number." The producer actually gasps, "Omo omo!" Which was also my response.
girlfriday: Wow, so he actually had a worse first day than we saw initially.
javabeans: Asked about his hardest time on the trip, Seung-gi says unequivocally that it was Turkey, though apparently there was a trip to a tower that he actually managed well, only to find it got cut from broadcast. Na PD concedes that Seung-gi very briefly got his act together to pull off that visit, and Seung-gi laughs, "It's like how a dying person comes back to life that one last time." LOL.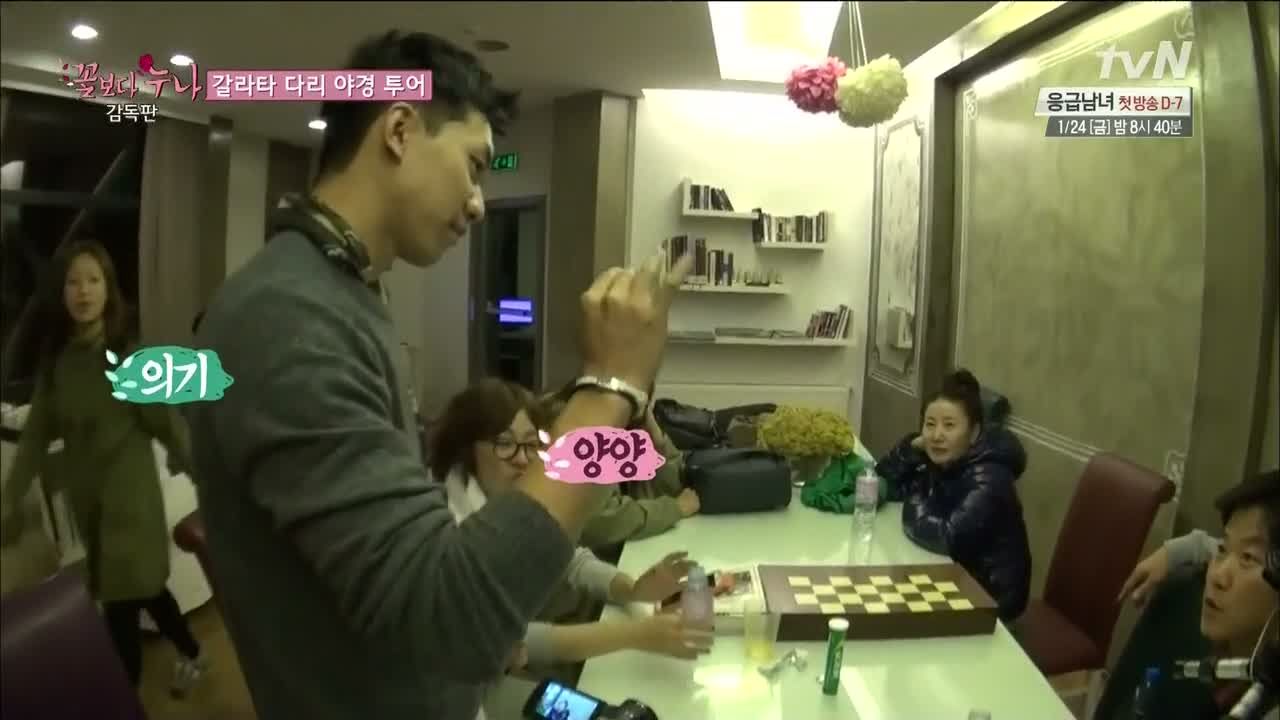 girlfriday: We go back to the day he was cursed by the spinny top of doom. He asks the hotel for a good spot that overlooks the city and then they head toward the tram. First obstacle: getting tram tokens out of the automated ticket machine, which proves to be harder than it looks. It cracks me up that it doesn't occur to him to add up the total number of tokens he needs and how much that costs; he just dispenses them one at a time in the slowest manner possible.
javabeans: I feel like I'd be scared to mess up the process; just go with what I know works. Even if it took him forever.
girlfriday: HEE, he runs back all proud and immediately shows them off to Na PD: "Do you know what these are? They're tokens!"
javabeans: He leads the group to the tram to take them to the tower, and because it's rush hour it's absolutely packed and they're smooshed together with barely enough room for one poor VJ to tag along.
girlfriday: They decide to walk the rest of the way and enjoy the view from a bridge, and then we go back to the interview, where Na PD says Seung-gi had another incident the next day that got edited out. Seung-gi looks at him warily: "The Sunglasses Incident?"
javabeans: When something has its own nickname, it should be shown! I do love his reaction of being so stressed that he genuinely wondered, "Why are they looking at me and laughing?"
girlfriday: Which must be a reaction he's used to by now. So at lunch that day, Seung-gi steps away from the table and leaves his sunglasses behind. Yeo-jung tells Mi-yeon to take them for him, and instead Ja-ok gets all giggly and suggests they hide them on purpose, and just puts them on. Haha.
javabeans: He even looks right at Ja-ok and doesn't notice that she's wearing his glasses, or that he left behind his bag, which they take from them. Every so often you see Ja-ok peeking over at him, and Seung-gi registering nothing as they walk along. The noonas realize that Seung-gi has gone off somewhere and feel bad momentarily, thinking he went to get his glasses without saying anything because he didn't want to annoy them… and cut to Seung-gi off buying Turkish delight for them. So sweet of him, and yet so clueless.
girlfriday: Once they get back to the hotel Hee-ae starts to say something, but then Ja-ok stops her, still enjoying the prank too much.
javabeans: They say, "I bet he'll go home and still not realize it," and Seung-gi looks over from about two feet away, wondering who they're talking about. Then Hee-ae takes Mi-yeon's sunglasses to wear, and Mi-yeon runs around in the background pointedly saying, "My sunglasses!" And only now do they find out that Seung-gi knew the whole time, but he didn't know what to say about it. HAHA. "I just thought she wanted to wear them."
girlfriday: That's so adorable. Both Na PD and Seung-gi agree that things started to turn around for him when they rented a car and got to travel at their own pace. When asked what the hardest part about road-tripping was, Seung-gi says each of the noonas has a very different idea of what good driving is, and so if he drove slow to please Ja-ok, it would frustrate Mi-yeon, and vice versa.
javabeans: Seung-gi even has this travel playlist all ready to go, which earns him a bunch of praise. Aw, Seung-gi has this tendency to think of everything to the tiniest detail, and then leave out something big, which cracks me up.
girlfriday: Yes, like packing candles but no pants.
javabeans: Can't you just imagine how he'd prepare the world's most elaborate romantic proposal, but then forget the ring or something? While listening to Kim Dong-ryul songs, the noonas get excited to find out that Seung-gi's close to him and ask for a lunch together or something. Seung-gi asks Na PD to include that footage in the show, because his song selection lifted the mood quite favorably: "It was the one thing I got the most praise over." Ha, then Hee-ae prods Seung-gi to sing for them, and he picks his debut song, which is awkward in this really funny way since it's all about loving your noona. Everyone bursts out laughing at the same time.
girlfriday: I was wondering how we got through so many episodes of Noonas Over Flowers without Seung-gi singing that song.
javabeans: Then it's on to the topic of money, and it turns out Mi-yeon was the right person to entrust as their accountant, because boy does she keep a tight rein on that cash. When Hee-ae spends a lot at the market, Mi-yeon remembers to go after the change and nags about the overspending. It also explains why she was always stealing food from the staff whenever she got a chance, ha. Mi-yeon to castmates: "Eat a lot, I can just go steal from the team over there."
girlfriday: Oh so that explains how they managed to get through the trip without the kind of argument that Seo-jin had repeatedly with Na PD. That was probably the smartest thing Seung-gi did the whole trip, just handing over the responsibility to her. On one of the days, Seung-gi, Yeo-jung, and Hee-ae take a cable car up to a vantage point that looks over Dubrovnik, and Seung-gi actually falls asleep at the table in the middle of conversation. Ha.
javabeans: It's cute how he thought he could get away with it, when everybody knew he was dozing. We have an extended segment that mentions the Croatian War of Independence in the early 1990s, when the area they're in was bombed and destroyed. Then we transition back to the post-trip interview, where Seung-gi says the trip taught him a lot of life lessons and helped him get stronger mentally. Ha. Well it was either that or cave in.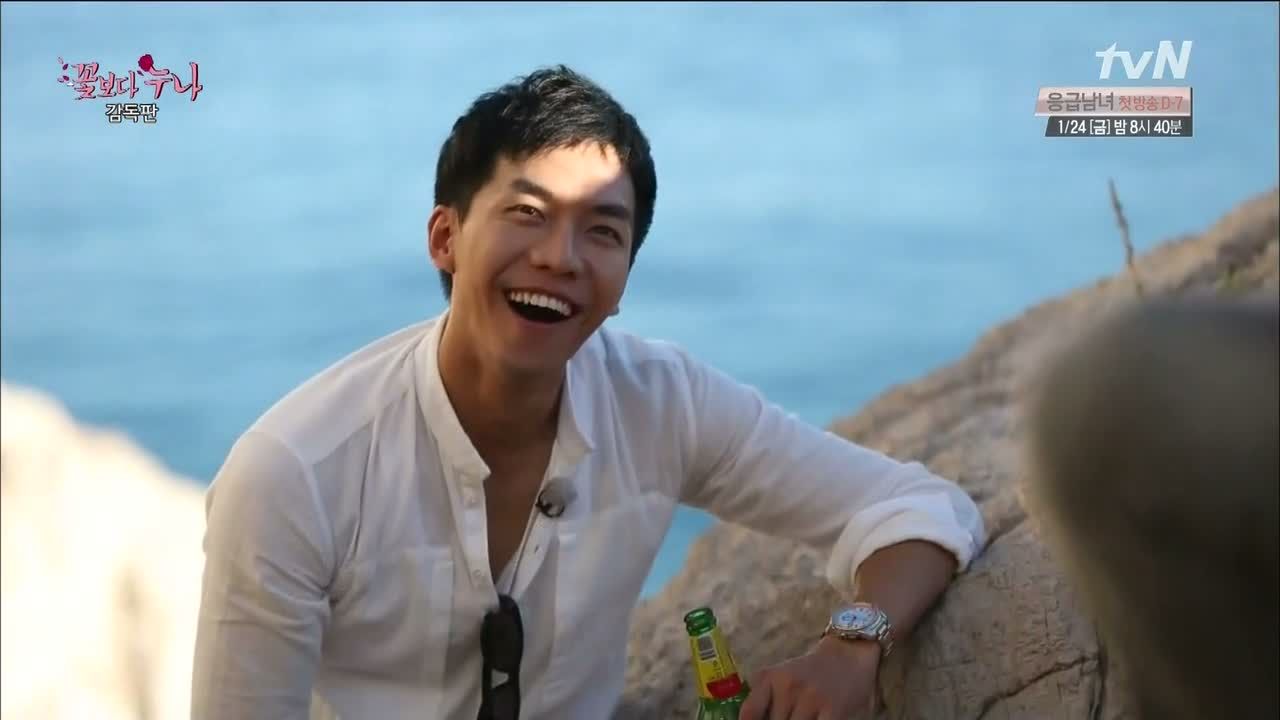 girlfriday: He realized that he's just like the noonas to his managers, and felt what it was like to be on the receiving end of so many questions and demands. It's good that he got some perspective on that.
javabeans: In a separate interview with Seo-jin, he says the show was his life's turning point and he needs to stand on his own two feet now, and Seo-jin ribs that all he wants to do these days is go traveling solo. On the other hand, the noonas get a different question, about returning to Seung-gi's age to re-experience youth.
girlfriday: I really love that both Yeo-jung and Hee-ae answer the same way, with horror at the thought of returning to their twenties, and no desire to be young again. They each say separately that they're perfectly happy now and wouldn't go back.
javabeans: I love the way Yeo-jung says it: "I want to live once." And Hee-ae half-jokes, "You mean all those movies I shot, I'd have to shoot again from the start? No way." It's also heartwarming to see the noonas talking about themselves in really self-deprecating ways before the trip, and having the trip prove them false. Like Hee-ae saying she has a complex about her bad English, then busting it out freely to get around on her own in the city.
girlfriday: They're all apprehensive about meeting and traveling with each other, but of course we already know how close they become. Seung-gi gets all teary-eyed as he talks about sending Yeo-jung off at the end of the trip.
javabeans: Then, post-interview Seung-gi offers Na PD and the producers a tip for Grandpas 3, because the halbaes will be full of strong ideas and desires. Na PD asks why, and Seung-gi says that Lee Soon-jae halbae has been calling him a lot, and seems to have high expectations for the trip. Seo-jin had commented earlier that they would need to go to a place where they wouldn't be so recognized, and suddenly Soon-jae halbae is hoppin' to go to Africa or South America, "For six months!"
girlfriday: Omo. Na PD doesn't show the camera, but slides something over to Seung-gi: "This is where we're going." Seung-gi gasps. Na PD: "And we're gonna do stuff like this." Seung-gi: "Is there such a thing in this country?" WHAT IS IT?
javabeans: Seung-gi says he doesn't think Seo-jin will be able to handle it, after which we get a bunch of footage hammering in how very much the show requires Seo-jin to go. Man, this third trip has got to be a doozy if they're already reminding him that he can't back out.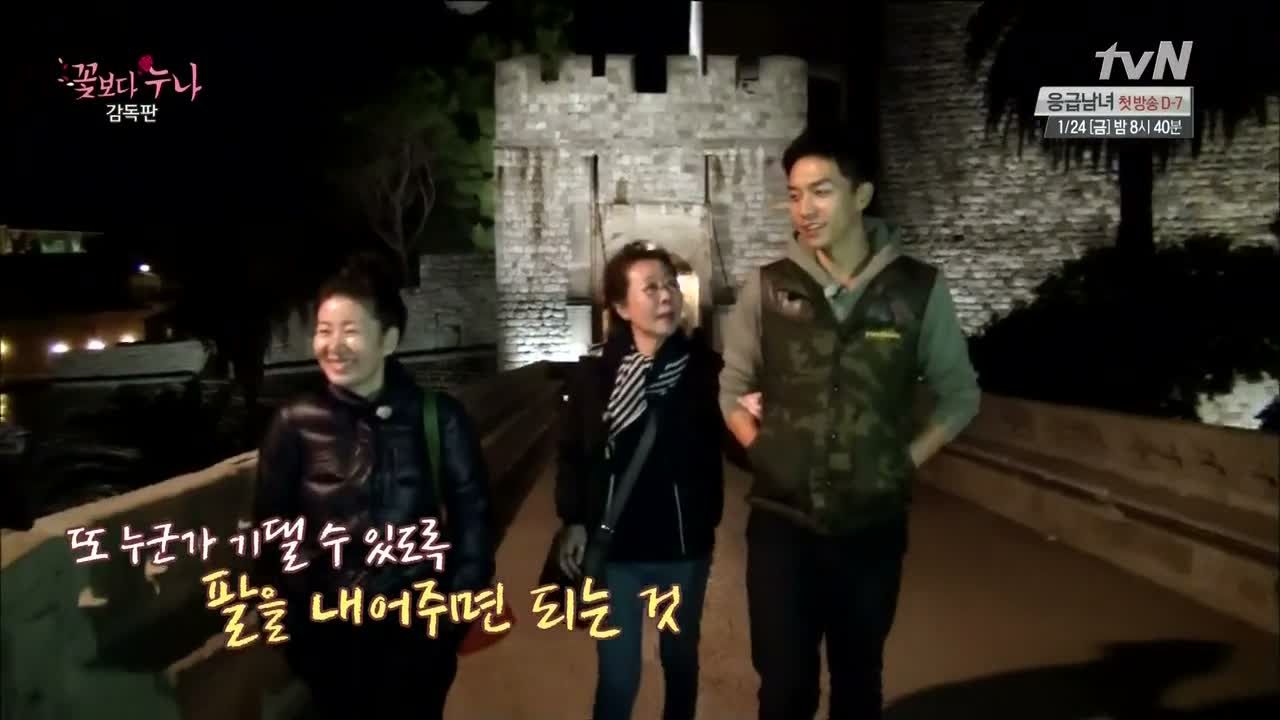 RELATED POSTS
Tags: featured, Kim Hee-ae, Kim Ja-ok, Lee Mi-yeon, Lee Seung-gi, Noonas Over Flowers, Yoon Yeo-jung