Full Sun: Episode 14
Just when you thought that things might get easier for our couple because the truth is quickly unraveling at Daddy Han's feet, then let me tell you that they don't. Instead, our hero makes a questionable choice that leads to a growing list of concerns, but then you'd be surprised at how one smart plan can set him back on course again.
At least he can rest assured that the love of his life loves him back. Surely that ought to dull the pain for one more week, right?
What love can't do is save the ratings because I'm not kidding when I say that these numbers made my heart drop: this week's episodes clocked in at 2.3% and 2.2%, respectively. Where is the silver lining in all this?!
SONG OF THE DAY
Lee Seung-hwan – "내게만 일어나는 일 (What Only Happens to Me)" [ Download ]
Audio clip: Adobe Flash Player (version 9 or above) is required to play this audio clip. Download the latest version here. You also need to have JavaScript enabled in your browser.
EPISODE 14 RECAP
After Young-won blows on the whistle as her response to accept Se-ro just the way he is, they agree to run away together. Se-ro accelerates, but Kang-jae still hot on their tail. So Se-ro suddenly swerves the car and crashes into the other side of the road. Ack, so when you meant "run away" did you also mean "to your death"?
Kang-jae jumps out in alarm but the horrific sight reminds him of Dad's accidental death, making it too much for him to bear. He can barely keep it together long enough to instruct Third Wheel Lackey to fetch the USB drive and call it in.
He turns away to bellow in frustration. Inside the car, a bloody Se-ro momentarily opens his eyes to see the whistle fall out of Young-won's unconscious hand.
Young-joon's rescue and escape mission is rewarded with a hard slap from his father. He says that noona is safer with Se-ro than their father, words that earn him another slap. You gotta give Young-joon points for standing up to his father, calling Daddy Han out on his fear of the truth being made known.
That prompts Daddy Han to ask whether Young-won knows, and Young-won deflects, saying that noona knows nothing since she wouldn't be able to bear the truth if she did. But now isn't the time for lectures because they're told that Young-won is in the hospital.
The Han family arrives just as Team Scammers does too, and Young-joon advises that they move Se-ro to a different hospital if they want to save him from Daddy Han's wrath.
Se-ro comes to and his first thought is of Young-won, who still lies unconscious on an adjacent bed. Young-won's family is relieved to hear that she isn't greatly injured, but the sound of Se-ro's voice stirs Daddy Han's rage, and the chairman breaks his IV bottle in fury.
But Se-ro's vision is still blurry, and all he can do is ask guiltily if Young-won isn't that hurt because of him.
Now that Kang-jae has the One USB Drive in his hands, he vows that no one must find out that he has it. He knows that he's a disposable pawn in Daddy Han and President Shin's eyes, but neither of them can mess with him as long as he has this USB in his possession. "Let's take this to the end," Kang-jae promises.
Once he's alone, Kang-jae opens the case containing the revolver, which makes me wonder if it's the same one that we saw end up in Se-ro's hands in the beginning of the series. He holds it in his hand for a few moments with this expression I can't read before tucking it back in the drawer.
President Shin comes by just then, upset that Daddy Han's woes weren't reported to him right away. Kang-jae assures him that he has a plan in place.
Meanwhile at the hospital, Daddy Han wonders why his daughter is still unconscious despite sustaining minor injuries. He's told that it can either be due to shock or having dealt with an enormous amount of stress.
Thus Daddy Han storms out of Young-won's hospital room biting out Se-ro's name, only to find him already gone. Geez, were you planning on yanking that needle out of him yourself? Then we see Hong & Hama struggling to carry a still-groggy Se-ro out of the hospital.
President Shin is filled in on Daddy Han's plan (and how Kang-jae will carry it out) to frame Se-ro for jewelry theft and money laundering. President Shin looks rather unconvinced about this plan and raises a suspicious eyebrow at Kang-jae's request for a temporary loan of 1 billion Won (~$1 million USD).
Despite Se-ro's protests that he can handle himself, the scammers insist on staying with him. Aw. However, Se-ro requests that Jae-in stay out of this war because he can't trust her and knows that she could never betray Kang-jae.
Daddy Han agrees to Kang-jae's plans to deal with Se-ro and Belle la Fair, and then sits by his daughter's bedside. He wonders why Young-won always takes the hard route when he worked so hard to make sure that she would have a comfortable life, missing the days when she said Daddy was best.
As Se-ro gets treated by Hama, he thinks to himself whether Young-won will find out that he's Jung Se-ro if he's framed once more. Huh? Didn't that whistle also partly mean that she knew? Well, let's focus on you getting better first.
And it looks like those plans to frame Se-ro are already in motion as we see two detectives come knocking inquiring about Lee Eun-soo at Belle la Fair the next day. Wait, didn't Se-ro already quit or was fired? Er, let's just roll with it, shall we?
As for Grandma, she doesn't comprehend why Se-ro would instruct her to hide away someplace remote when he told her that everything was settled now. She's simply wrought with worry and won't believe it unless Se-ro tells her himself.
We see Se-ro sitting by a nearby table and he calls to confirm that yes, he's chosen the rugged, narrow path of a conman like his father. Hearing that breaks Grandma's frail heart and his impassive voice makes her question whether Se-ro actually did kill someone. Aw Grandma, you know your grandson better than that.
He tells her to go and wait for him and seeing them both hold back their tears is utterly heartbreaking.
Seeing the police rummaging through Se-ro's office is a small victory for Team Leader Kang, who's always questioned Se-ro's credibility. It's Young-joon who steps in to tell the detectives to reinvestigate. He argues that someone could be trying to frame Se-ro, but the deposited sum has already been withdrawn by Se-ro himself, which already draws more suspicion to the alleged theft and forgery charges made against him.
That last tidbit is news to Kang-jae's ears, as he's told that Se-ro withdrew the large sum within hours of its deposit. Third Wheel Lackey wonders if Se-ro intends to take that money and run, a consequence Kang-jae would truthfully be glad to accept.
But the problem is making sure this news doesn't reach President Shin's ears, and he orders his lackey to track down Se-ro.
Moreover, today is the day when Daddy Han intends to sell Belle la Fair to President Shin and FL Gemstones. Both businessmen agree over the exchange of sale and stocks, and the deal is over within a short span of time.
Daddy Han isn't in the mood to celebrate, however, what with his daughter still in the hospital. Kang-jae keeps a close eye on President Shin's reactions, the lost one billion Won still fresh on his mind.
As Se-ro and his fellow scammers carry around the hefty sum of cash in the car, it begs the question of how Se-ro found out so quickly. A flashback teaches us that Se-ro had anticipated the deposit to be used as evidence against him and had instructed Hong & Hama to keep watch on Grandma as well.
So when the deposit had come online, Se-ro had realized this was the moment that would make him into a real burglar. Leaving the money to sit in its account wouldn't make clearing his name any easier, thus taking it and exposing their enemies for running a scam was their better choice.
When they take time to rest, Hong wonders if it would have been easier to prevent Daddy Han and President Shin's deal rather than going through all this trouble now. But Se-ro replies that it was inevitable and the corrupt businessmen would have found another way to frame him. He has no intention to run away, which only leaves him the option to fight back.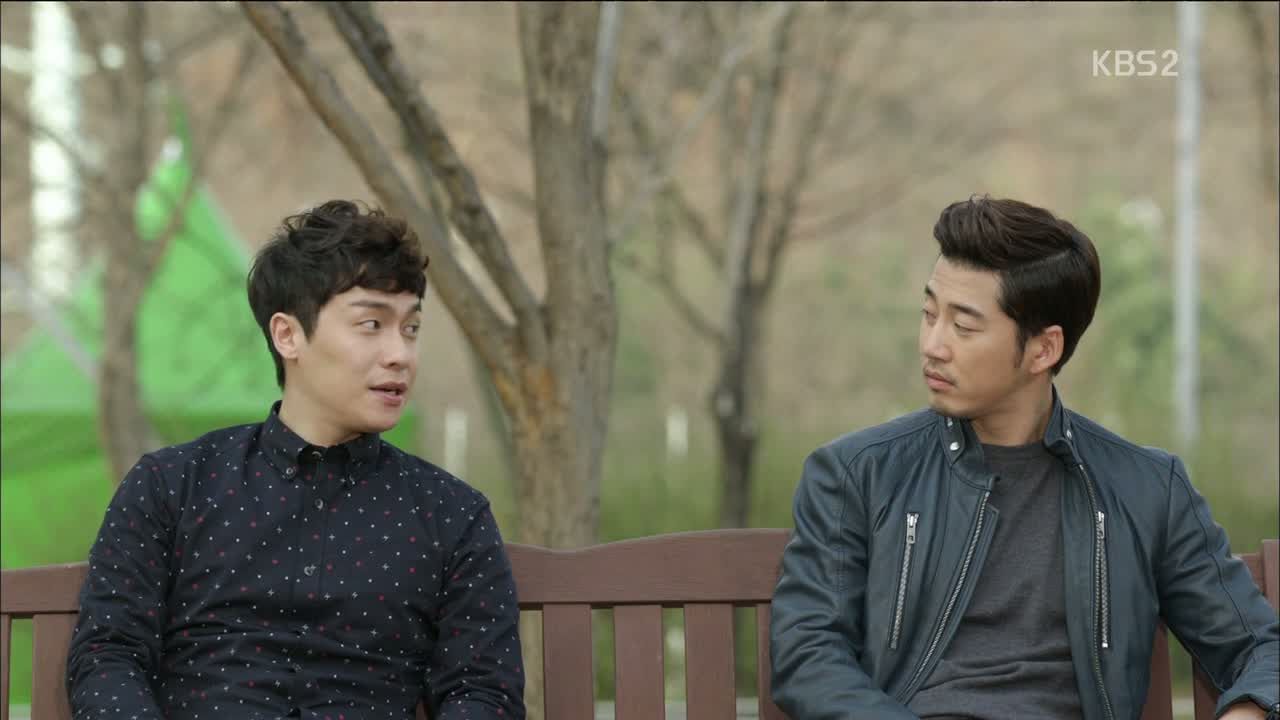 Se-ro apologizes for putting maknae Hong through so much trouble, but Hong lets it roll off of his shoulders. Then Hong shares his own painful past about how his own family was once rich too, but he lost both of his parents a few years after their business crumbled due to people like Daddy Han.
He doesn't have the guts to exact revenge against his enemies, but he would love to punch them at least once. Seeing them laugh together moments later brings a smile to my face, and Hong apologizes for spilling the beans about the USB drive.
Hong says he always wants stay by Se-ro's side (aw) and wonders if things with Young-won will be okay now that she knows that he's Jung Se-ro. Se-ro answers that there's nothing they can do about it now.
Young-won is finally awake (and doesn't suffer from amnesia! Yay! I know what you're thinking, but this is a small win in a melo universe), perplexed over why all of her means of contact to Se-ro has been cut off.
Her concern for Se-ro's health and whether he hates her trumps any worry for Belle la Fair being bought over at present, and Manager Min says that she'll get over her feelings for Se-ro soon enough. Young-won whispers, "I miss him."
Manager Min tells Young-won that she needs to move on along with the assurance that a bit of fresh air will do her good. But when Young-won steps outside, there's a bouquet of flowers waiting outside her door.
It dawns on her that Se-ro has dropped by and immediately sets off in search, but then Young-won stops in the hallway, having realized that she wouldn't know what to say if she saw Se-ro now.
Speaking of, we see Se-ro appear from inside an empty room, just within earshot for him to hear her say, "Should I just tell him that I love him?"
Young-won worries what will happen if he turns her away, and that she tried to push him away too. "Would he stay by my side if I told him that I love him?" Those words brings tears to his eyes.
Unfortunately Young-won doesn't find him, and Manager Min bends down to gently say that the Lee Eun-soo that they knew is in fact, a con artist who stole a blue diamond and that the police are looking for him.
Young-won can hardly believe it, but she immediately recognizes that her father is trying to frame Se-ro again.
As Se-ro takes some alone time by the river that evening, Daddy Han drunkenly schools Secretary Ahn in learning a few things from Kang-jae, whose drive and confidence reminds him much of himself.
Daddy Han lies down on the couch, but that never-empty glass that Secretary Ahn makes sure to refill makes me a wee bit nervous. He keeps a close eye on the chairman until he passes out drunk, and then takes out the remote to the secret vault from Daddy Han's jacket, chuckling, "Did you think your empire would last forever?"
And then we see Secretary Ahn meet Se-ro by the river, and the latter remarks that he's late. Aha, a whiff of hard cold cash was all it took for Secretary Ahn to strike a deal with Se-ro: retrieve ten documents that can implicate Daddy Han's business contacts for a price, and he'll return the contact details from Secretary Ahn's phone.
Surely Secretary Ahn didn't plan on working as Daddy Han's lapdog forever, Se-ro had told him, especially when he helped the chairman commit murder. Isn't it better for him to expose Daddy Han and keep his own hands clean?
Then Se-ro had walked away at that, but he was still recovering from his injuries and he had felt a bout of vertigo while crossing the street. Uh oh, that's going to bite him in the ass later, isn't it?
Back in the present, both men make their exchange, and not too far off, Hong & Hama capture the deal on camera.
Young-won charges into her father's office to see him passed out on the couch. She shakes him awake, and then asks, "Why did you kill him? Why did you do that to Woo-jin?" Eep, must we talk about the whole Woo-jin thing now when Daddy Han is still inebriated?
But Daddy Han sobers up quickly enough when Young-won yells in a shrill voice asking why she framed Se-ro for murder. Daddy Han asks if she really believes the word of a swindler, and she asks her father to clear his name: "He isn't a murderer! He isn't a thief!"
Young-won is nearly hysterical by this point as she cries that Se-ro is completely innocent and begs her father to clear the crimes made against Se-ro. She knocks the intercom from her father's desk and levels that she won't fall for her father's lies anymore.
Now Daddy Han has no reason to lie either, as he concedes that Woo-jin held evidence of his paper companies in Hong Kong and threatened him with them. Was he supposed to let them get married and see his entire company fall in exchange?
That confession is a literal eye-opener for Young-won, who recalls receiving those documents from Se-ro himself. She's struck with amazement now as the reality slowly sinks in that Woo-jin had died because of the existence of those files.
"Then you should have stopped [your misdeeds] when Woo-jin showed them to you!" Young-won shrills. But Daddy Han replies that he's long past the point of no return and he'll lose everything if he stops now.
Young-won says she'll expose him for his corruption, and Daddy Han says quietly, "You cannot forgive me, can you? You cannot understand why either. Will you never see me again?" Young-won nods.
She says she wants to vomit everything she ever received from her father, who offers one more word of consolation before she leaves: "This is all my doing. It isn't your fault." That, and she must remember that she'll never be happy with Se-ro, and he'll do whatever it takes as her father to keep them apart.
"I love Jung Se-ro," Young-won admits. "If you dare mess with a hair on his head, I'll kill myself."
As Se-ro prepares to send the files on Daddy Han, he thinks back to his memories with Young-won from her last text message to the kiss to when she blew on the whistle. He sends the e-mail (to an unknown recipient) and then proceeds to brood in his car.
The media is having a field day with Daddy Han's exposé following morning, it's just that Daddy Han is the only one not to have heard anything yet. Madam Baek uses the excuse that her husband needs someone by his side, and Young-joon dutifully relays the news instead.
Daddy Han won't be able to attend work today because there are reporters camping outside their home and of course, Secretary Ahn is unreachable. Which also means that Daddy Han has no choice but to be absent for the signing ceremony between Belle la Fair and FL Gemstones today.
Jae-in informs Kang-jae that she can't get in contact with the others either and that she's seen the papers. Needless to say President Shin is enraged at this turn of events because now this attempt to takeover Belle la Fair has cost him half of his wealth.
As for Se-ro, he sits nearby as Hong meets with a congressman for his help on revealing Daddy Han to the public.
At the same time, Young-joon signs the deal on Daddy Han's behalf and Kang-jae firmly declines any questions on Daddy Han's corruption case. As Kang-jae makes a speech about the future of the union of their two companies, Young-won suddenly bursts into the room and announces herself to the crowd.
She confirms that everything the media reported on her father is true, and the crowd gasps in surprise. As she gets dragged away, she screams that FL Gemstones and Kang-jae are a fraud and vows to tell the whole world the crimes they committed.
Kang-jae holds a smug air of confidence as Young-won yells at him to come clean and apologize for his actions and "not to do this against Eun-soo."
Elsewhere, Se-ro reads up on the news about Daddy Han and the hard sound of a whistle grabs his attention. It's coming from the nearby traffic officer and he manages to walk a few steps before he stops again, his head throbbing.
Back at Belle la Fair, Kang-jae saunters up to Young-won to say that she's also at fault if her claims that the rumors about Daddy Han are true—it involves Belle la Fair, after all. He asks if she's trying to shift the blame or if she's disappointed in this merger.
His subsequent jab that she should be ashamed riles her up, and Young-won chases after Kang-jae angrily, agreeing to be the ashamed one in this deal as long as Kang-jae clears Se-ro's name.
Having had enough, Kang-jae whips back to shout that Young-won knows that her precious Eun-soo is none other than Jung Se-ro, adding that she's to report him to the police if she knows his whereabouts.
Young-won knows that Kang-jae is doing all of this under her father's orders and warns him that he'll be punished for his crimes. Kang-jae orders to have Young-won removed from the premises.
When Young-joon insists that Young-won's name will be dragged into this too because it was her seal on those incriminating ledgers, Young-won protests that it wasn't her fault because she wasn't the one to sign them. Oh, what a naive thought (I say that because a seal [or thumbprint] acts as a legally binding signature).
Young-joon says no one will believe her and ultimately, it's Se-ro's fault that Young-won's name is dragged in the mud. Se-ro considers their family as his sworn enemies, so why should it matter if he is or isn't able to return to his former identity? But Young-won swears that Se-ro is innocent.
Daddy Han literally suits up for battle and tells the press that he'll get to the bottom of these allegations. But then he's floored when one reporter says that Young-won had claimed that those claims were true.
He's utterly confused to find his secret vault drawers empty and is further shocked to learn that Secretary Ahn had broken into the vault and has since left the country. Daddy Han lets out one frustrated yell and collapses into his chair with a delusional smile.
Se-ro follows Young-won at a distance and makes himself known when she sits down. They hold each other's gazes for a few moments until Se-ro admits that he was the one who made the incriminating files public. Young-won says she knows.
He tells her that she can't stop the inevitable investigation that will question Young-won's involvement, but her consequences won't be harsh since she's innocent. Young-won: "It's okay, Eun-soo."
Se-ro says that she must know who he really is by now, and then continues: "I'm Jung Se-ro, and I'm the one who killed Gong Woo-jin." But… you didn't!
As Young-won looks up at him, Se-ro thinks in his head that Young-won is better off thinking that he killed Woo-jin rather than her father. "I'm a murderer… a thief… and your family's enemy."
"It's all right," Young-won answers, "No matter who you are."
At the sight of a pair of detectives approaching, Se-ro says he has to go. And then Young-won pulls him in for a kiss.
She draws back, only to kiss him again… and Se-ro kisses her back.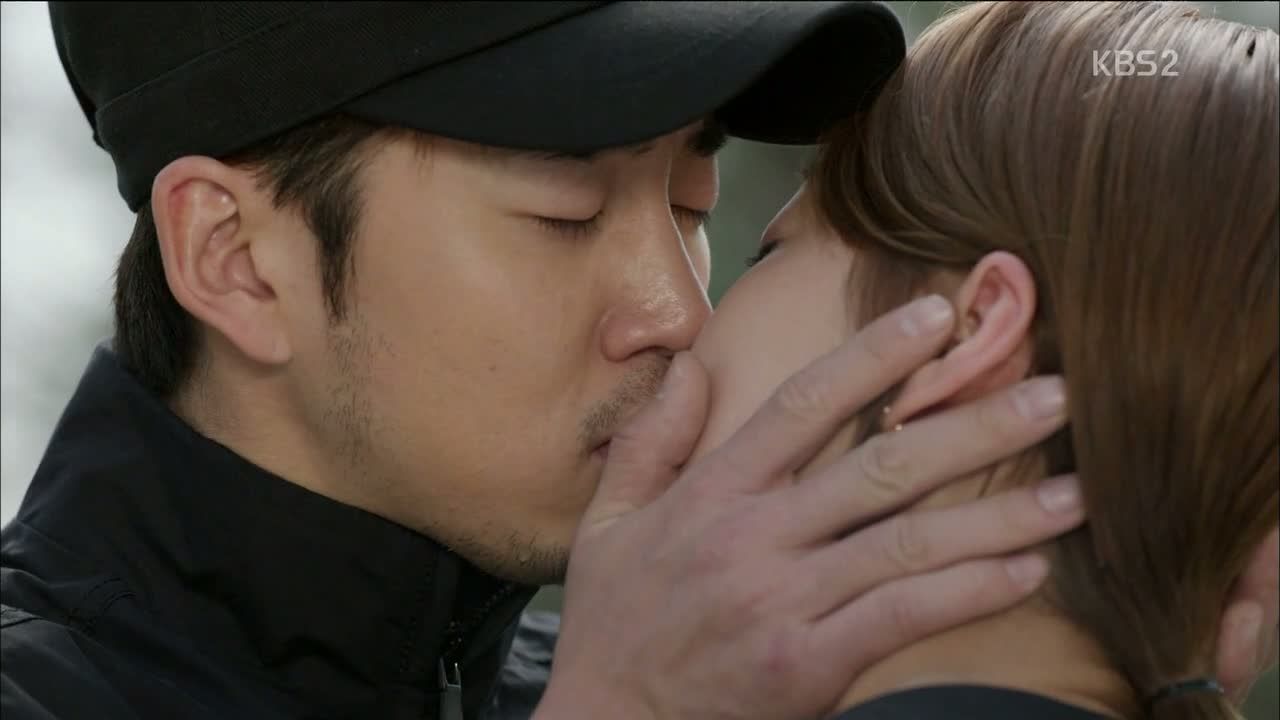 COMMENTS
Nothing like an "I'm about to be apprehended" kiss to set flame to our hearts as we approach the finale week of this melodramatic rollercoaster. Starting from the literal whistle-blowing, what better way is there for Young-won to express and confirm her feelings for Se-ro? Then I was completely prepared for them to speed off into the distance and spend the hour in hiding while pulling the strings for bringing Daddy Han several miles or continents away rather than risk their own lives moments after deciding to run away together.
So you could say the whole car accident, landing in the hospital, and its consequences left a bitter aftertaste for the rest of the hour. Don't get me wrong—I understand that Kang-jae needed to have that USB drive to be used as leverage later or else he'd be stuck between a rock and hard place forever. And how Se-ro's vertigo adds another obstacle and growing concern in the mix, as if we didn't have enough to worry for our hero already without the new fear that he might faint at any second because of an untreated concussion (or worse). Rather it's the momentary decision on Se-ro's part to get into a car accident that leaves me confused because he did risk both of their lives doing so, without so much as a reason apart from the conclusion that death might look like a better option at the time. Or at least that's how it came across.
Regardless, I do keep tuning in to watch Se-ro and Young-won's relationship in this show, especially when they were initially using the truth as weapons to hurt one another, and now lies to protect one another. Makes you really question your moral barometer when your hero would rather let the love of his life believe that he's a horrible person just so she can preserve her relationship with her father. What makes it even more painful from here is that they both know that they know the truth but refuse to acknowledge it because right now, it would put Se-ro in greater danger. This is what makes me love Young-won more in this third act as she grows a steel spine against her family because now she simply refuses to be lied to anymore and stand up for herself and for her love for Se-ro.
And now that that damned USB drive was out of the picture, I had wondered how Se-ro would get himself out of this pickle of getting framed. Thus I loved it when we found out that he had anticipated Kang-jae's actions and thought two steps ahead of him to gain the upper hand. I found it pretty brilliant for the writing to use Secretary Ahn against Daddy Han and that a whiff of cash was all it took for the man to betray his employer. It was a twist that I didn't expect, and I considered it just a smart way of using Se-ro's threat of getting framed and Secretary Ahn's deteriorating professional relationship with Daddy Han against him.
As for the whole getting out of the arrest just over the hill, I hope that Young-won can distract Se-ro with enough kisses that will make the detectives think that it was just a trick of the eye. Hey, that tactic worked plenty of other times in dramaland—why should it ever fail us now?
RELATED POSTS
Tags: featured, Full Sun, Han Ji-hye, Jo Jin-woong, Kim Yuri, Song Jong-ho, Yoon Kye-sang