50th Baeksang Arts Awards
Spread the love around must've been this year's mantra at the 50th annual Baeksang Awards, where the (somewhat) best of both film and television come to pick up shiny trophies. Once you get past the initial Huh, what, why? of the nominee list, the winners list is no surprise.
There wasn't a big sweep by any one project this year, though The Attorney and You From Another Star were arguably the big winners for bringing home daesangs for Song Kang-ho and Jeon Ji-hyun. Song Kang-ho is always amazing in everything and should probably have been triple-nominated in the same category this year if they did that sort of thing; it was certainly his year in Chungmuro. And Jeon Ji-hyun, well she just wins at life. I'd give her a daesang for coming back to TV too, in the hopes that she'll do it more often. Dramaland is always waiting for you!
I'm extra happy about Shim Eun-kyung's win for Miss Granny, and her tear-filled acceptance made it all the more endearing. She is just so ridiculously talented for someone so young, and she was pitch-perfect in that role. I can't wait to see what else she does with her long and soon-to-be illustrious career. And numbers-wise, Kim Soo-hyun was the big winner of the night, since he took home more trophies than he could hold in both hands. When you're hot, you're hot.

WINNERS LIST
FILM SECTION
Daesang: Song Kang-ho (The Attorney)
Best Picture: The Attorney
Director: Bong Joon-ho (Snowpiercer)
Top Excellence, Actor: Sol Kyung-gu (Hope)
Top Excellence, Actress: Shim Eun-kyung (Miss Granny)
Supporting Actor: Lee Jung-jae (Face Reader)
Supporting Actress: Jin Kyung (Cold Eyes)
New Actor: Kim Soo-hyun (Covertly, Grandly)
New Actress: Kim Hyang-gi (Elegant Lie)
New Director: Yang Woo-seok (The Attorney)
Screenplay: Kim Ji-hye, Jo Joong-hoon (Hope)
Popularity Award, Actor: Kim Soo-hyun (Covertly, Grandly)
Popularity Award, Actress: Kwon Yuri (No Breathing)
TV SECTION
Daesang: Jeon Ji-hyun (You From Another Star)
Best Drama: Good Doctor
Variety Program: Grandpas Over Flowers
Educational Program: I Want to Know That
Directing: Ahn Pan-seok (Secret Love Affair)
Top Excellence, Actor: Jo Jae-hyun (Jeong Do-jeon)
Top Excellence, Actress: Lee Bo-young (I Hear Your Voice)
New Actor: Jung Woo (Answer Me 1994)
New Actress: Baek Jin-hee (Empress Ki)
Variety, Male Performer: Shin Dong-yub (Witch Hunt)
Variety, Female Performer: Kim Young-hee (Gag Concert)
Scriptwriting: Jung Sung-joo (Secret Love Affair)
Popularity Award, Actor: Kim Soo-hyun (You From Another Star)
Popularity Award, Actress: Park Shin-hye (Heirs)
OST Award: Lyn ("My Destiny," You From Another Star)
Jeon Ji-hyun never strays too far from classic pretty (see: her hair that remains unchanged for decades), but then, when you're the industry standard for classically pretty, why mess with the formula? I would've loved to see her wear something daring, but the embroidery keeps the pale pink dress from being boring. The train is really the thing that makes the whole look worth it–she looks absolutely regal when she's walking down the red carpet with it billowing behind her. She makes it look so effortless to glide around in an evening gown, though I suppose winning a daesang helps with that whole confidence thing.
Gah, that smile! Kim Soo-hyun took home three trophies, two for popularity (duh) and one for new actor in the film section for his spy movie Covertly, Grandly. I'd hardly consider him a new actor but these awards shows like to stretch the definition of words whenever it pleases them. He might not be new, but he's certainly award-winning in that tux. I think I'll tape that smiley one to my fridge.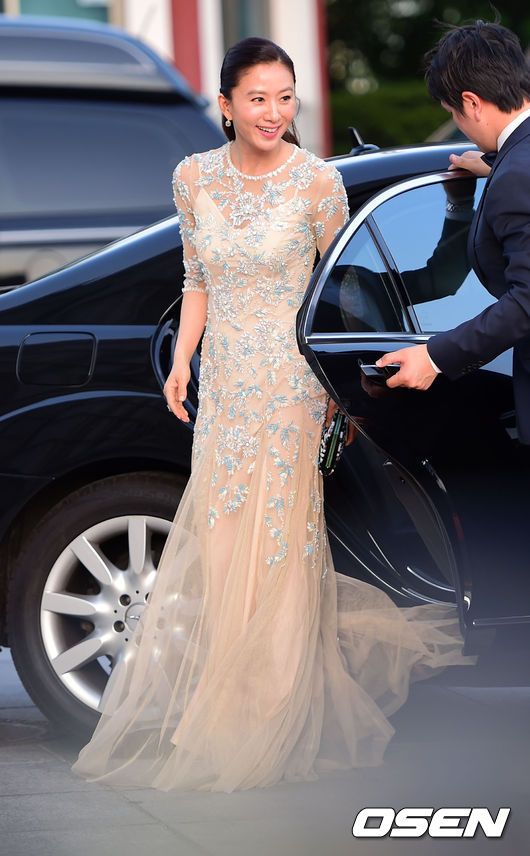 Kim Hee-ae (Elegant Lie, Secret Love Affair) looks AMAZING. I'm pretty sure if I looked like that, I would just live in that dress. I'd go grocery shopping in it, get my nails done in it, and twirl every five minutes, just to feel the swishy train. The blue beading is what takes it from predictable to dazzling, but mostly it's because Kim Hee-ae wears it like second skin. God, I want to grow up to be her.
This isn't nearly as fabulous a look for Lee Bo-young as I would've liked, since I've seen her wear some of the red carpet's prettiest dresses. It's rather matronly and starkly white, but then she just has this born-to-strut aura that turns anything into a goddess gown. I like the belt detail and she's styled perfectly, of course, because she's Lee Bo-young. She took home a leading actress award for I Hear Your Voice, which makes my day. Hands down my favorite character of 2013.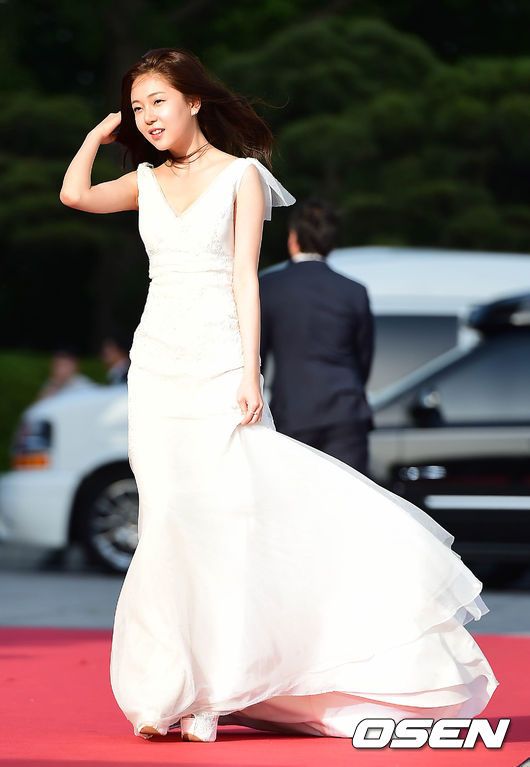 Baek Jin-hee also wore white, though her dress is actually less interesting just because it looks so bridal. She's too young to be playing it so safe. Still, she looks bright-eyed and beautiful taking home her newcomer award for Empress Ki. I'm happy to see her coming up in the ranks and getting some recognition.
Go Ara didn't take home a trophy for Answer Me 1994, but she wins for best white dress–it's structurally interesting, fluttery, and flirty, plus it makes her petite frame look positively statuesque. It's like an optical illusion. I really love that she's playing such rough-and-tumble tomboyish characters on TV now–besides showcasing some acting chops, it makes seeing her all dolled up for the red carpet all the more fun.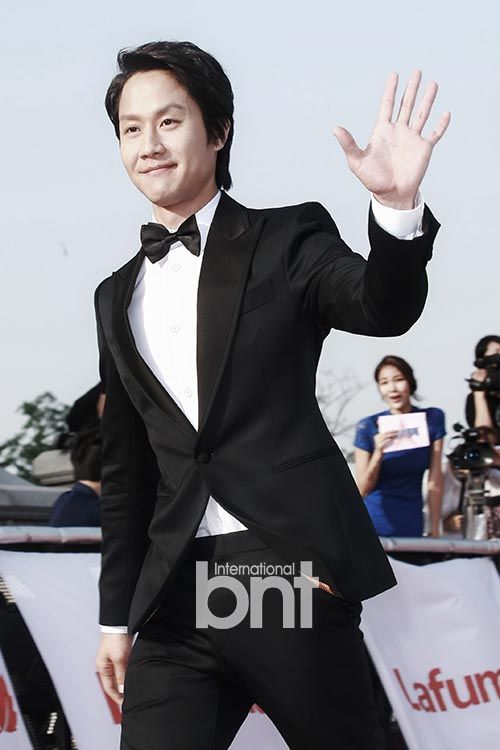 OPPA-ya! Her Answer Me 1994 co-star Jung Woo scored a new actor award (though again, technically he ain't new). I don't much care which category they stick him in, just as long as he gets a trophy for making me cry like a little baby. I think I like him better in sweats and a T-shirt than in a tux, and I miss his super short hair, but I guess he can't be Oppa forever. *cries*

It was Song Kang-ho's year by a long shot–he starred in no less than three films that topped box office charts, earned critical acclaim, and were nominated in various categories for Baeksangs (The Face Reader, Snowpiercer, and The Attorney). He looks put together, yunno, for Song Kang-ho. He's probably the least movie-star-esque movie star ever, but therein lies the gruff ajusshi appeal.

His Face Reader co-star Lee Jung-jae took home a supporting actor award for his turn as Grand Prince Suyang. There were some great performances in that ensemble film, but Lee Jung-jae really did steal the show. How much do I love that he got some specially made black leather sling for his injured arm, just to match the ensemble? Only Lee Jung-jae could make it look badass to be injured on the red carpet.

Jo Jae-hyun is currently rocking the weekend sageuk Jung Do-jeon, for which he won a top excellence acting award.

Oh, Lee Byung-heon. Swooooooooooooooooon. The end.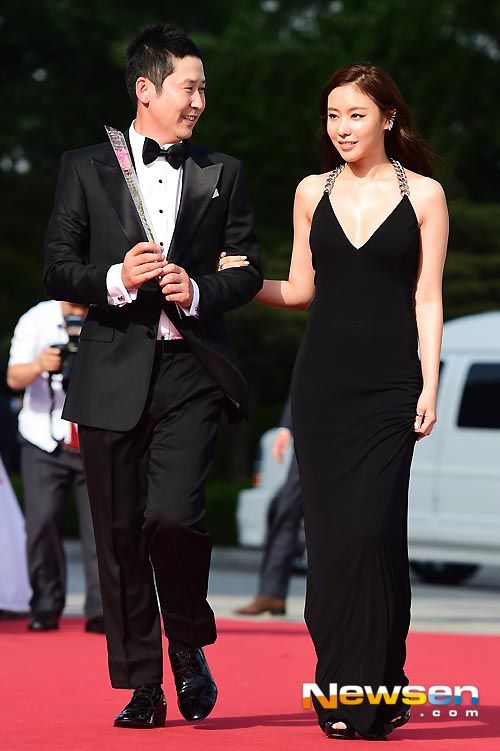 Kim Ah-joong and Shin Dong-yub were co-MCs for the evening. I can't say that Kim Ah-joong's dress is anything to write home about, but she certainly knows how to play up her assets. It's sexy and slinky, and she looks great, but sometimes I'd like for her to make the less obvious choice.

Mr. President! Sohn Hyun-joo was nominated for a popularity award for Empire of Gold, which just confuses me since he should've been nominated for a top excellence acting award for that show (not to mention Go Soo! GAH). But it's okay–he was nominated in the film category for Hide and Seek. Seeing him just makes me smile, though I'm trying to un-see what looks like boy-band highlights in his hair in some shots. That's just the light hitting him weirdly, right? Yeah, let's stick with that story.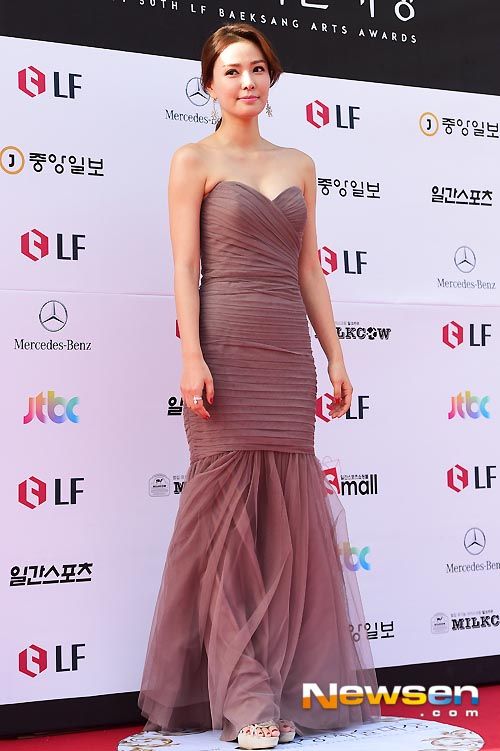 Sohn Tae-young (You're the Best, Lee Soon-shin) really needs to try a new look. She's gorgeous but she looks bored with her dress. Oh wait, that's me.
So. Damn. Cute. Choi Jin-hyuk was nominated as a new actor for Gu Family Book, and I totally wish he'd won something for that role (even though I'd never in a million years take away Jung Woo's win in that category). He was just so good as Papa Gumiho and it was his career-making breakthrough. Perhaps that's more important than the recognition anyway. He looks so snazzy in black and blue.

Shim Eun-kyung is the actress I was rooting for (seriously, go watch Miss Granny). The young starlet accepted her leading actress award in a flood of tears, and even remembered to thank her mommy. I dislike her dress–the cut isn't particularly flattering and I wish she'd look her age, but I've never known Shim Eun-kyung to follow the mold, and quirky is just her natural charm. Maybe next time we can do it with some color?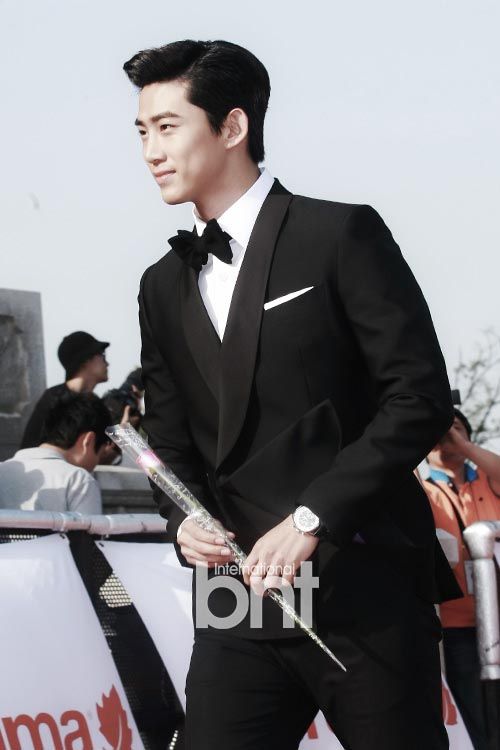 Taecyeon (Wonderful Season) looks more and more like a walking talking Ken doll every time I see him. It's almost comical how perfect he looks. I can't tell if it's funnier that he knows this, or that it's tragic in that it may be the very source of his shortcomings as an actor. Still, isn't he pretty?

I can't take Im Shi-wan's idol outfit seriously, but I'm super happy for him as a rising young actor. I think for him, being nominated in the new actor category for The Attorney was enough of a win. That movie launched him onto a different playing field, and he's someone who has a real shot at being something more than just another idol-actor.

Baro looks great, but part of that might be the shock effect since I've only ever seen him sporting bowl cuts in dramaland. He was nominated as a new actor for God's Gift–14 Days, even though he was probably better in Answer Me 1994. In any case, he looks great on the red carpet.

I can't say the same for his Answer Me 1994 co-star Dohee, whose look is all wrong. It's proportionally off, with the hairstyle that mimics the shape of the skirt. Separately, I love the hair; the dress, not so much. I know she's tiny, but does the dress have to be THAT tiny?
Mmmm, Lee Chun-hee. What can I say, Chunderella was made for going to the big ball.

Young actress Han Groo scored a nomination for A Warm Word, and she'll be headlining her first prime time drama with Yeon Woo-jin this summer. I don't particularly like her colorblocked dress–it's a little simple for the occasion and she looks forgettably casual, though the pop of blue looks nice. I kid you not–it's the brightest patch of color on the entire red carpet this year.

Jin Kyung won an award for her supporting role in Cold Eyes, and she looks fantastic and and elegant in navy blue. I like the lace and gold detailing and all the layers of her dress.

Kim Ji-soo was nominated for A Warm Word, and I love her for wearing royal blue and a bright pink lip. The embroidery plus all the ruffles is a bit much, but that color goes such a long way and she wears it so well.

Kyung Su-jin had a new actress nom for Eun-hee, and has been having a great year (Secret Love Affair, Shark). I don't like the cut of this dress on her at all. I want to style her so, so differently, and I'd like to donate her dress to someone twice her age.

Han Ye-ri (Commitment) takes the hi-low dress to new hemlines. It's not the dress I'd reach for off the rack, but she makes it work with a confident walk.

Moon Jung-hee was nominated for Hide and Seek, and this look is rather disappointing. I've seen her look better a zillion other times. Her dress is dull and safe, and her hair is all wrong.

More black from Park Jung-ah (Noblewoman).

And Park Ji-soo (Mai Ratima). Snoresville.

At least Kim Hyang-gi knows how to go all out if you're gonna go with black. She took home the new actress award for Elegant Lie, and came dressed in black lace from head to toe. I think it's the bow in her hair that makes it just that perfect amount of little girl fun, even in black.

Shin Bo-ra (Gag Concert) will be in Trot Lovers this summer. She looks good and the layers are fine in concept, but the dress loses its appeal in motion. This is very important for the red carpet–you have to test the strutting! Every picture of the dress in motion or windblown makes it look misshapen and wrong.

Sun Joo-ah (Pluto, King's Dream), please get a new stylist. You look like you ran out of the spa this morning and forgot to change out of your romper.

Future Trot Lovers co-stars Jung Eun-ji and Shin Sung-rok came together looking adorable. Shin Sung-rok's hair is doing weird things, but it's nice to see him shedding the severe scary look he had in You From Another Star. Jung Eun-ji looks fresh-faced and happy, and I actually dig her black-and-white ensemble even though it's pretty casual for the affair. The see-through skirt with the sky-high slits kinda sells it, since it makes her legs look crazy long.

Kim Sung-kyun (Answer Me 1994, Hwa-yi) is having a dorky-is-sexy Clark Kent moment and I love it. I used to think he was scary (because he's a good actor and he always played scary mofos), but now all I see is sweet cuddly Samcheonpo. His jacket and tie are checkered! I mean, come on!

Sol Kyung-gu came with Hope cast members Ra Mi-ran and Lee Rye, and director Lee Jun-ik to pick up his trophy for lead actor. The heartwrenching movie was among the most critically lauded all year, and also won for best screenplay.

Sigh, Yeo Jin-gu, always walking that line between dashing leading man and adorable child actor. When will you not be jailbait? He was nominated in the new actor category for Hwa-yi, and someday he'll be sweeping up all the awards here. But first: Can we maybe discuss getting you a haircut?

Heo Kyung-hwan (Gag Concert) always looks like an MC going to host a show when he dresses up, but that's probably just because he's a comedian.

Ma Dong-seok (I Am a Murderer), on the other hand, always looks like a gangster on the red carpet. I guess some images are just permanently ingrained.

Kwak Do-won (Good Doctor) cleans up nicely.

And here's variety everyman Jeon Hyun-moo, who never fails to look like a mischievous chipmunk no matter what he's wearing.

Announcer Park Ji-yoon wore her grandmother's dress, apparently, because she couldn't find a single thing in her own closet. The sequins actually make it worse, like there was effort behind trying to make the dress look fancy, yunno, for Grandma's eightieth birthday gala.

Lyn picked up an award for her song "My Destiny" on the You From Another Star soundtrack. Why she chose to top a cascade of fluttery white ruffles with a white button-down confuses and irks me. She looks like she's trying to hide her figure instead of flaunt what she has, which saddens me more. Points for looking different, but next time don't hold back.

I… I don't even know where to start with Jo Eun-ji's …dress? Straitjacket-meets-choir-leader ensemble? I don't even know what to call it. It sure does make her shoulders look broad, which is up there on the list of red carpet dream dress traits, right under "Reminds people of schoolmarm," and "So stiff it doesn't need ironing."
Oh, Yuri, I want to like your dress, but it is the definition of a scrolldown fug. Top half? So pretty! Wait for it… whaa happened? The floofy feathery-ness of the dress on its own is cute, but combined with the cut, it makes the whole thing look like she's dragging a giant bird tail behind her. I just want to take a pair of scissors and snip off the train altogether, because then how cute would the dress be? Sigh.
And because I can't leave you with that image freshly hatched in your brain, here's one for the road. Park Seo-joon (A Warm Word, Witch's Romance), aka the newest noona-killer on the block, looking so good in a fitted three-piece suit that it reminds me of all that is good in the world. Don't say I never gave you nuthin'.
Via IS Plus
RELATED POSTS
Tags: awards, Baek Jin-hee, Baro, Choi Jin-hyuk, Do-hee, Go Ara, Han Groo, Han Ye-ri, Im Shi-wan, Jeon Ji-hyun, Jo Eun-ji, Jo Jae-hyun, Jung Eun-ji, Jung Woo, Kim Ah-joong, Kim Hee-ae, Kim Hyang-gi, Kim Ji-soo, Kim Soo-hyun, Kim Sung-kyun, Lee Bo-young, Lee Byung-heon, Lee Chun-hee, Lee Jung-jae, Moon Jung-hee, Park Jung-ah, Park Seo-joon, Shim Eun-kyung, Shin Dong-yup, Shin Sung-rok, Sohn Hyun-joo, Sohn Tae-young, Sol Kyung-gu, Song Kang-ho, Taecyeon, Yeo Jin-gu, Yuri