Gap-dong: Episode 14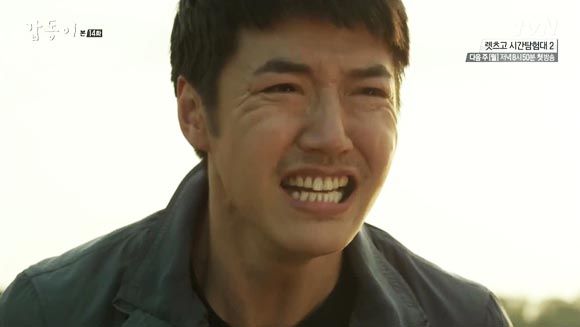 Whoa, things get legitimately good. It came a little later than I wanted, but better late than never. This episode injects a fresh jolt of energy into a story that has already revealed its villain and mystery, and I find that a very welcome thing. While the plot developments to date haven't been outright predictable, per se, I've found them to be largely unsurprising, mostly because we're always a step ahead of the characters, and that omniscience tends to get kind of boring. Which is why Gap-dong is a show I'd been enjoying for many reasons, but not for any sort of keep-you-on-the-edge-of-your-seat anticipation. With this episode, the game transforms and throws in a curveball, which has me sitting up a little in my seat, curiosity piqued.
SONG OF THE DAY
Every Single Day – "Time" from the Gap-dong OST [ Download ]
Audio clip: Adobe Flash Player (version 9 or above) is required to play this audio clip. Download the latest version here. You also need to have JavaScript enabled in your browser.

EPISODE 14 RECAP
In the interrogation room, Section Chief Cha waits in tense anticipation as Maria readies to share her newly recovered memory of Gap-dong's face. She says slowly that it's like she's seen that face somewhere before, trying to pin down where. Chief Cha steps aside at the arrival of the sketch artists, and Maria eyes him closely as he exits. Has she made the connection?
The monk recognizes one of the women on the missing persons board, recalling that she used to work at a coffee shop. The woman, Jung-sook, regularly observed memorial rites at the temple.
The prison gets its wedding after all, and Ji-wool and Tae-oh take their wedding march down the hospital corridor. Tae-oh looks smug, while Ji-wool wears a wooden face and looks more like she's heading to her execution.
Maria sends her a sorrowful look and shakes her head no, but it's Mu-yeom who steps in to the rescue when the monk asks the age-old question about voicing objections. Ji-wool lights up as Mu-yeom grabs her wrist to drag her away.
…and then Ji-wool snaps out of her reverie. Ha, you can't blame a girl for dreaming. She brightens when Mu-yeom calls, but deflates when she steps inside the station and finds him with Maria. They're sitting with the sketch artist, using a computer program to fine-tune the rendering of Gap-dong's face. However, the result doesn't align with Maria's mental image, which is frustrating.
So at Mu-yeom's request, Ji-wool joins them and helps direct the process, which goes much better and leaves them with a sketch that looks a lot closer to our culprit.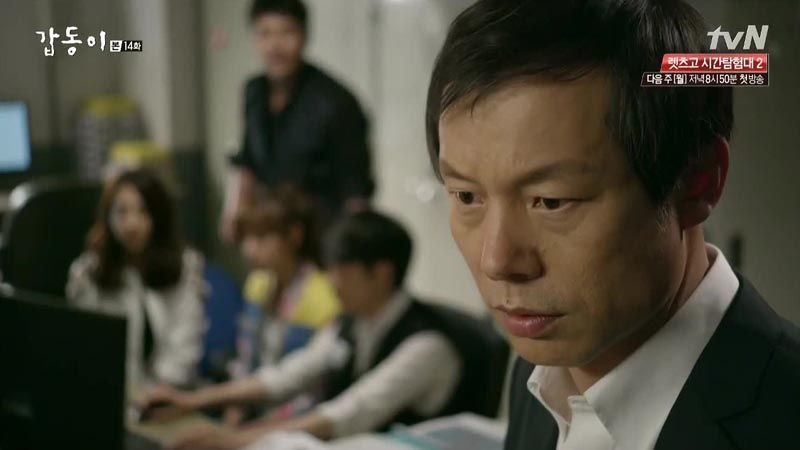 Chief Cha grows increasingly tense as he watches them working. Mu-yeom informs him of his plans to get the Digital Forensic Center to age the drawing twenty years, which puts him even more on edge.
Tae-oh begs his prison guard to call Maria again, growing increasingly anxious. But Maria replies sternly that the only reason for her to see Tae-oh is if he has more crimes to confess. It may sound harsh in light of Tae-oh's desperation (which is beginning to feel pitiful), but it does seem the most professional response. She isn't going to be Tae-oh's toy anymore, available for emotional manipulation.
Ji-wool visits Tae-oh, who guesses that she's struggling over the marriage proposition. He tells her not to agonize over it, or pretend to agonize, when she's just going to agree in the end.
Contrary to his expectation, Ji-wool calls Tae-oh's family quite impoverished, particularly in comparison to Mu-yeom, who had once told her, "Lacking compassion is the greatest poverty. So that makes you a chaebol." She says that he and his mother are beggars in the extreme, and therefore she rejects their proposal. Good for her.
The monk shows Mu-yeom the temple records of the family memorials that the missing woman, Jung-sook, observed every year. The visits end in 1995, just before the eighth murder was committed (of the woman officer, Crybaby). Mu-yeom asks if anybody is still around who might remember Jung-sook, and is pointed in the direction of an ajumma who happens to be an old friend of Ji-wool's mother; both were friendly with Jung-sook back in the day. One look at the whistle found nearby has the woman gasping in recollection.
The ajumma explains that when they worked at the cafe, there was a woman officer who was undercover there. It was at the height of the Gap-dong terror, and she'd given the women whistles to use in case of trouble. Her real name was Kim Eun-ji, but to preserve her cover they'd called her by a nickname—Crybaby.
Delving further, Mu-yeom finds that Crybaby and Jung-sook were high school classmates. Section Chief Cha suggests that it's premature to call Jung-sook another Gap-dong victim, but Mu-yeom is committed to investigating.
Chief Cha definitely looks worried, but he thinks to himself, "How can you guys possibly find out the truth?"
Tae-oh's lawyers proceed with the affluenza defense, which has the district attorney's office nervous. The prosecutor wants to go after Tae-oh to the full extent and is thus frustrated when he's told by higher-ups to seek life imprisonment rather than the death penalty. But the district attorney points out that Tae-oh has a good chance of getting away with the psychiatric patient diagnosis, and thus they could lose if they go after the harshest sentence. The prosecutor asks whether the chaebol group is putting pressure on the case, which seems likely.
Ji-wool arrives at the station, ready to tell Mu-yeom of her decision not to accept Tae-oh's proposal. But his reaction is the opposite of what she's hoping for; when she says she visited Tae-oh, he jokes that he's happy to have her transfer her feelings away from himself and onto Tae-oh instead.
Hurt, Ji-wool states point-blank, right there in the middle of the station, "I like you." She points to the love letter on the board, saying, "That's exactly how I feel." She wells up in angry tears and says that she may have not said the words explicitly, but it feels like she's said them countless times already. "Is that what love is to you? You only see the person you want?"
Mu-yeom gently pulls her aside and apologizes, saying that he's just worried because she seems to be hoping for Tae-oh to change, "But people like that don't change."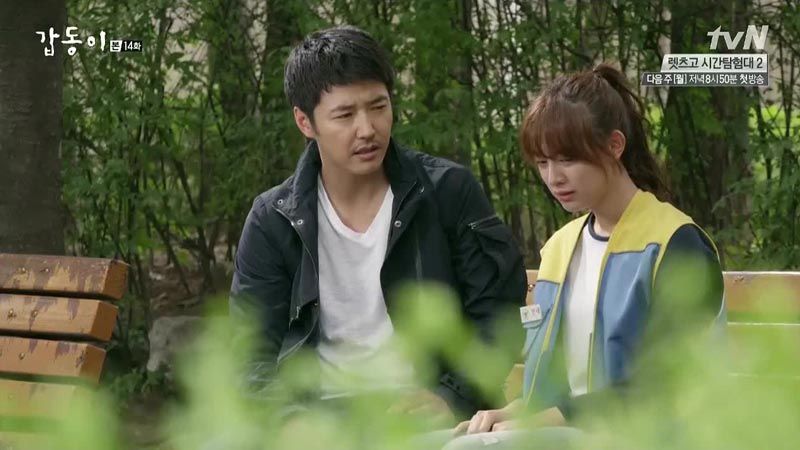 He wonders who really sent that letter, and that's something Ji-wool can help him with. She shows him the copy of Crime and Punishment that it came from, saying that Chief Cha must have donated it to the library. He sees the name written on the cover under the "Is there such a thing as a perfect crime?" note (dated Christmas Eve, 1993—the day of the first Gap-dong murder), and realizes that the dead officer Kim Eun-ji must have liked Chief Cha.
The age progression modeling is complete, and Mu-yeom looks over the Gap-dong image with Maria, who can't shake her feeling of deja vu when seeing that face. Mu-yeom suggests that she might have seen him in her day-to-day life and encourages her to think. The aged model certainly has traces of Chief Cha in it, which we can tell because we know he's the guy, but it's understandable why it doesn't trigger immediate recognition for now.
Maria hasn't made the conscious connection yet because she goes to Chief Cha to request making another official witness statement. Now that she has recovered her memory, she hopes her additional information about Gap-dong will shed more light.
Mu-yeom takes the love letter to the mother of Officer Eun-ji, Victim No. 8, who is grateful to have it. Mom recognizes her daughter's writing and stationery, and is comforted at the thought of Eun-ji having loved somebody, especially when Mu-yeom describes the man as a wonderful person and good detective, and someone who will make sure Gap-dong is caught.
Chief Cha watches from the observation as Maria gives her official statement. She explains that she and her best friend had repeatedly played the same hand in rock-scissors-paper, as though by tacit promise. But her hand changed almost of its own accord, and the instant she won, she'd thought, "I'm saved."
But Gap-dong had just been playing with her will to live, intending to kill her next. She recalls the words he'd used mockingly: "Did it feel good to win?"
Tae-oh stews in his cell, thinking over Maria's words about the secret of the ninth murder. She'd wondered if perhaps Gap-dong had felt compassion for the first time in his encounter with her—is that why he stopped? Tae-oh chafes to hear that word "compassion" again, grumbling, "What's so great about compassion?"
Maria waits outside the station that evening for Mu-yeom to take her to dinner, although he doesn't make it because he's meeting with the victim's mother. Chief Cha chats with her in a friendly tone and once again tells Maria she's quite tough, and that she's won against Gap-dong. There's something about his face that triggers a sense of recognition in Maria, though she still hasn't put her finger on why.
Then Chief Cha's face turns sinister and he asks pointedly, "Did it feel good to win?" Maria looks at him in shock, but he just smiles at her blandly and she stammers, "Uh, yes."
Maria's bracelet falls to the ground and Chief Cha offers to help, taking the opportunity to step closer to fasten it for her—is he deliberately provoking her memory? Maria looks at his face in a new light, that sense of unease growing. Even still, she shakes her head against the suspicion, telling herself it can't be.
Chief Cha hears that Mu-yeom asked for the address of Victim No. 8's mother, which alarms him. He visits Profiler Han and Chul-gon next, and when Mu-yeom joins them, he lies that he's coming from dinner with Maria.
As Cha leaves, he flashes back to before that eighth murder, when as a young detective he had arrived at the cafe and seen his colleague there, working in her cafe girl guise. Jung-sook is with her and upon Cha's arrival, she asks Crybaby/Eun-ji, "Is that him?" Eun-ji mutters at her to lower her voice, and Cha clocks this all curiously. It sounds to my ears that Eun-ji was caught in an I have a crush moment, but Cha's mind goes in a different direction.
Late that night as Eun-ji walks home, Cha waits in the shadows, knocking her down and tying her up. Eun-ji cries as he binds her wrists, and Cha chides her not to: "It's more fun when you cry." And then he attacks, strangling the life out of her.
Now Cha wonders, "What is it that Ha Mu-yeom knows? Why lie?"
But perhaps it's the letter that finally triggers Mu-yeom's suspicions, because now he shares his concerns about Cha with Chul-gon and Profiler Han. They mull it over.
Eun-ji's mother calls Mu-yeom to make a request: The thought of her daughter's feelings going unrecognized is too sad. Could Mu-yeom tell the letter's intended recipient about Eun-ji being in love with him? He's torn over the request, which he shares with Maria later that evening, saying that it could come as a shock to Cha—he had never dated before he married rather late, so the dead officer could have been a first love.
Maria hesitantly asks what kind of man Cha is, but stops herself from continuing the line of thought, not ready to voice those suspicions.
Mu-yeom thinks back to the night of the ninth murder, when he'd been walking along throwing around his nunchaku. He hears rustling in the woods, and a shadowy figure leaps out at him. Mu-yeom hits him with his nunchaku, shouting, "Gap-dong!" only to recognize his hyung (Cha) and laugh it off as a misunderstanding.
He asks Chief Cha to step aside for a chat that afternoon, carrying with him an envelope marked with Eun-ji's name. They're anxious for different reasons, and Cha listens tensely as Mu-yeom says Eun-ji left something behind before she died. He hands over the letter, and Cha realizes, "This is what it was?"
Chief Cha's stunned reaction sticks with Mu-yeom, who decides to head back after parting ways and thus sees Chief Cha crumpling up that letter and throwing it in the trash. Something about his reaction provides confirmation for Mu-yeom, who can't shake his suspicions any longer. The sight is deeply alarming, and Mu-yeom breaks down in angry sobs, thinking of the good hyung who'd watched after him for so many years.
Mu-yeom storms into Chief Cha's office with his nunchaku in hand, and Cha smirks. The jig is up. "You've finally figured it out?" he asks. "That I'm Gap-dong?" Mu-yeom flies at him in a rage and strikes him on the head, blood spattering everywhere… and then he wakes from his nightmare.
The monk finds him brooding outside in the middle of the night and offers him some advice: "Don't try to be a hero. The difference between a hero and a psychopath is a piece of paper." People like Hitler and Napoleon, for instance, are just psychopaths who became heroes. People want heroes to save them when their lives become difficult, but you must close your eyes to too much in order to become great—people's lives, feelings, cares.
The monk worries about Mu-yeom going over the edge, especially as he already has a touch of the crazy energy. The monk advises him to let go of the chase, saying philosophically that Gap-dong will be a wreck anyway, wherever he is, scared of getting caught.
But Mu-yeom interrupts: "What if he isn't? What if he's still doing something?"
He heads over to Maria's trailer, telling her of his dream. And then he asks the question nobody's really stopped to ask: What happens once they find Gap-dong? He tells Maria the story of a woman who met her daughter's rapist after he was released, and he asked how the girl was doing. The mother became so enraged that she burned down his building and killed him, and ended up just as punished as he had.
Maria asks what Mu-yeom would do, and asks if he's figured out who it is. He deflects, saying that he wouldn't be wondering this if he knew the answer.
The next day, Chul-gon drops by Chief Cha's office to ask how the matter of his reinstatement is coming along. Or rather, I suspect that's his excuse to bring up that letter, which he says Mu-yeom worried about since Chief Cha might be unduly troubled by it. Chul-gon asks to see it, but the potentially tense moment passes when he retracts the request laughingly. He calls this (his suspicions) the curse of the detective, but there's a hard look in his eye that he levels toward Cha.
Mu-yeom digs through old files of the eighth murder, looking for Chief Cha's witness statement from 1995. He puts Hyung-nyun on the job of tailing Chief Cha secretly, and lets him in on the secret that Cha is Gap-dong.
Ji-wool and Maria chat as they bathe the young temple boys, talking about her new webtoon about that detective killer. Ji-wool shares the tidbit that many psychopaths are drawn to the career of police officer, and while most get stymied by the entry test or otherwise fail to become cops, some do manage to make it into the ranks.
There's a woman in Ji-wool's story who writes a love letter to the detective psychopath, but the letter doesn't resurface until twenty years after she'd been killed by him on the day she confessed. Well, give it to Ji-wool for pulling relevant facts out of real life and weaving them together into a plausible psychopath story, though I find them a little too exact for my liking. C'mon, she's a good storyteller, not clairvoyant.
Maria gets a text from Mu-yeom, wherein he says that since she likes Chief Cha so much (one of the passing jokes he'd teased her about), he's sending her a photo of his young self. And the moment Maria sees young Cha, she flinches in horror. She scrambles to her trailer in a cold sweat, aghast.
Ji-wool finds her shaking and crying, and Maria hangs on to her for dear life as she sobs out her terror.
Mu-yeom meets Maria later that night, and despite their hopes to the contrary, they're now on the same page about Cha's identity. Mu-yeom had felt the hunch, but needed Maria's certainty to cement his own.
They drive over to the station, where the sight of a smiling Chief Cha has Maria so incensed that she tries to go out to confront him. Mu-yeom holds her back, knowing that her impulse to deck him one and accuse him isn't going to be satisfying. "True rage isn't enough to be just rage," he says. "We need to prove now that he's the monster."
Mu-yeom bitterly notes the irony of the matter, where catching the killer brings his captors more suffering than the criminal himself. Maria starts to ask if they ought to just kill him then, but he rules that out—too easy. Now begins the new countdown, the new timespan marked by how long the beast continues to live.
Mu-yeom sends over a confidential file to the prosecutor, instructing him to watch it with Detective Ki-ri. It's a video that lists examples from other countries where the statute of limitations was suspended, such as the case of France doing so to prosecute Nazis after World War II, or with the U.S. allowing for it when DNA evidence is found without a suspect to match it to.
As Mu-yeom thinks back to Chief Cha throwing away the love letter, now we see exactly why he got so upset. Cha had been practically in a rage trance as his hands automatically twisted the letter into a familiar knot. He'd stuffed that knotted letter into the garbage bin, stabbing at the trash with near-manic energy. Afterward, Mu-yeom had fished that paper out.
Mu-yeom heads to the prison hospital, where he shows that letter to Tae-oh and asks for his assistance. Omo. Now this is a strange new twist. But Tae-oh is, admittedly, valuable: "I need you to tell me how we can lock up that beast."
Mu-yeom calls it a fun game for a psychopath, proposing a game of chicken. Maria shows up to add her two cents: "Can I be the referee?"
And so, Tae-oh is outfitted with a tracking anklet and released. The trio relocate to an open stretch of road, with two cars at the ready. Oh wait, that wasn't a metaphor? You meant a literal game of chicken? Maria tells them the rules: The one who gets closest to the edge of the cliff wins, and the loser becomes "the hunting dog to catch Gap-dong." (I… don't think they understand how chicken really works. There's no cliff's edge in chicken! But I suppose that's minutiae.)
The boys get into their respective cars and take the wheel. They rev their engines and wait for the signal. Maria flings the white scarf, and the race is on.

COMMENTS
Innnnteresting. I had given up on the idea of Gap-dong being any sort of thriller, because while its story has been quite interesting as a character study of intense, damaged, and/or compelling characters, it hasn't actually excited me. It was more of an intellectual exercise than an emotional experience, to follow people's thought processes and delve into their psychological workings. We had all the murders shown to us before the good guys knew about them, and we saw the killers' reactions up front and therefore deduced the truth episodes before our investigators did. As a result, I watched more to see how our heroes would react rather than because of a pressing need to know what would happen.
Now, though, the focus shifts away from locating a murderer whose location we already knew (Tae-oh) or discovering the identity of a dormant one (Chief Cha) or uncovering the details of an interesting but frankly long-past string of cases. We move away from making discoveries about the past to working in the present, and I just find that a lot more exciting. For the first time in this show, I felt my pulse literally speed up a little in the way that a good thriller will engage your feelings on top of your mind.
My newfound interest is twofold, the first of which is triggered by Mu-yeom trying to get the statute of limitations suspended. All along, the show has reminded us that Gap-dong is essentially home free now, that merely finding him wouldn't net us a victory because legally our heroes' hands are tied. This was a concern that the characters could push to the side while they had the more pressing issue of the copycat killer on the loose, but once Tae-oh was apprehended, the expiration problem resurfaced.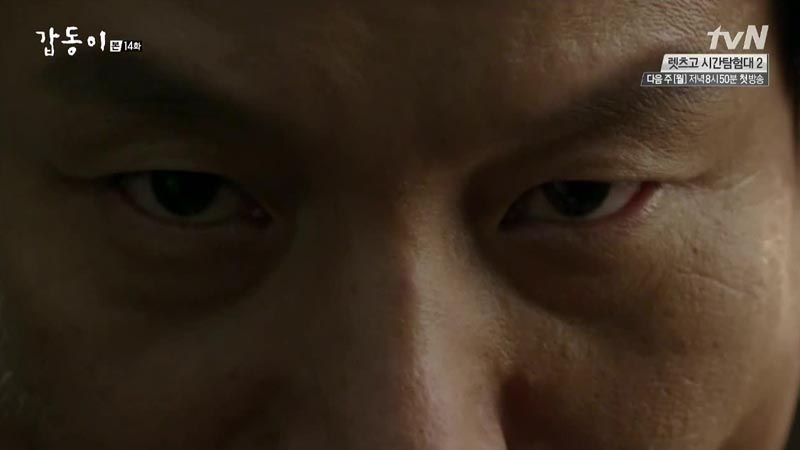 Sure, our characters could go in search of vigilante justice and kill Gap-dong themselves, law be damned, but this show has always made sure to point out that the victims' suffering does not end with the villain. That's the great injustice of, well, injustice — you can't turn it into justice. If you could make it all better with a counteraction, it wouldn't be injustice. That's the nature of the beast, and that's why, despite a sympathetic acting performance by Lee Joon, I have limited sympathy for Tae-oh. He might feel sad now that he's shut in a cell with nobody to listen to him talk about how "suffocated" he feels (oh boo hoo), but he took six lives, enjoyed himself for five of them, and there's no way to make up for that. Oh, your mother never loved you? I fail to see how killing people is in any way mitigated by an unfortunate circumstance experienced by lots of people feel who somehow manage to lead productive lives anyway.
So at best, it would be a hollow victory for our heroes to kill Gap-dong even if they could pull it off and escape legal reprisal. More likely, however, is the worse scenario in which that just adds to their anguish, becoming a double punishment, rather than a reclamation.
The statute of limitations is one of those things we just took for granted as a fixed entity, inasmuch as our characters' entire lives have been shaped by knowing it's this hard line that they can't alter, that they have to live with. But in a broader context, a statute of limitations is an arbitrarily decided number codified into law — who's to say you can't change it? We've been working on the assumption that our characters will have to find their way around that roadblock, but Mu-yeom decides to go for the frontal attack and drive right through it. I know the monk asked him not to be a hero, but that's pretty hero-worthy stuff right there.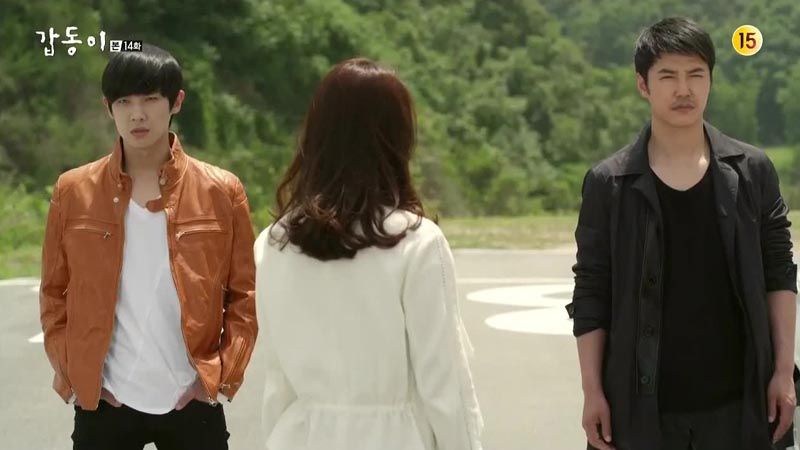 The second point of interest is this unlikely (unholy?) teaming of Mu-yeom and Tae-oh, which frankly throws me into a bit of conflict because of all that stuff I just said about Tae-oh. And yet, I'm suddenly intrigued at the thought of them working together to catch Gap-dong. I don't want them to bromance it out and develop into an odd couple, but I do think it'll be a curiously effective matching of complementary skills. I'd worried about Mu-yeom turning into the monster to catch the monster because I'm invested in the idea of him living past the capture of Gap-dong, so the second-best thing is to utilize the monster in your midst. It's kind of a perfect pairing.
On the other hand, I don't want Tae-oh redeemed because he doesn't deserve it, and certainly not because of his pretty face or sad eyes or the actor drawing you into his portrayal. Real-life killers shouldn't be cut slack for being good-looking (although it certainly happens; I'm recalling all the "he's so hot" commentary that surfaced in the wake of the Boston marathon bomber), so I feel uneasy for recognizing that this is a factor in a drama. I'm rooting for Mu-yeom, but does that mean now I'm also rooting for Tae-oh? And what does a Tae-oh triumph even mean in the context of this story? He can't come around to "good" because I honestly don't believe he's capable of it, but if he can help the good side regardless of his motives (I'd say he's spurred by curiosity and challenge, not any sense of doing good), maybe he deserves credit for that. And so, I want to like him, but I'm weirded out at the thought of liking him.
I don't actually know how to reconcile the conflict and I recognize that I'm sharing some contradictory thoughts, but maybe my only explanation is that I'm a flawed human? Maybe all I can do is to acknowledge that there's a clash here, even if I don't have the answers. Life's a mystery that way.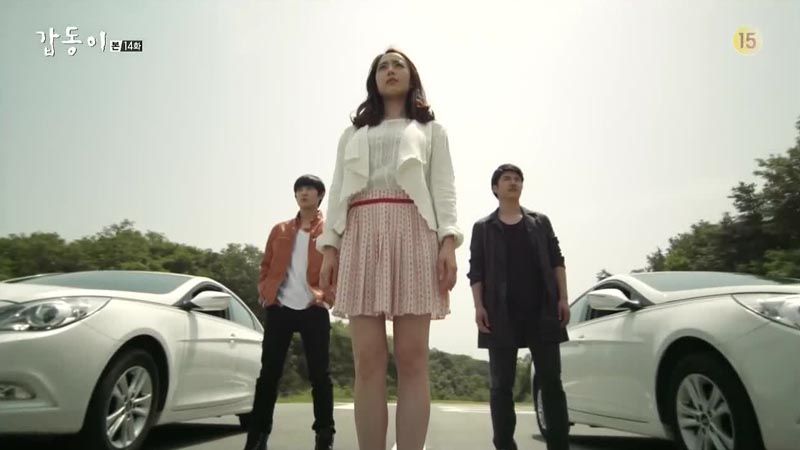 RELATED POSTS
Tags: featured, Gap-dong, Kim Ji-won, Kim Min-jung, Lee Joon, Sung Dong-il, Yoon Sang-hyun