Running Man: Episode 200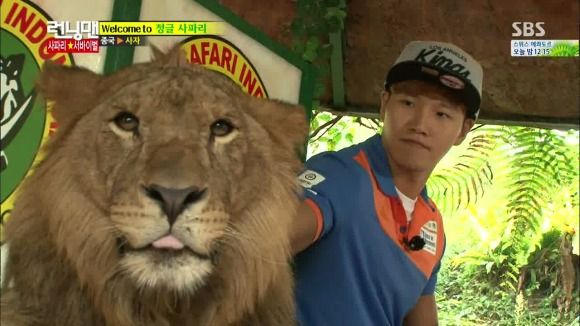 Happy 200th Episode, Running Man! What better way is there to celebrate than spending ninety more minutes with Park Ji-sung both on and off the soccer pitch. The cast experiences all that Indonesia has to offer from its ardent fans to befriending the wildlife, topped off with the most ultimate punishment for this momentous milestone.
EPISODE 200. Broadcast on June 15, 2014.
Right away from the preview, this episode looks like it's going to be a wild ride—Kwang-soo looks legit scared for his life in his corner… staring into the eyes of a crocodile mere yards away. Gulp.
But before we get to the wildlife, our cast's first objective is the Asian Dream Cup in Jakarta, Indonesia—the match we saw them (sort of) train for last week. A few hours before kickoff, the cast kicks the ball around before Ji-sung joins them and remarks that they already look exhausted. Heh.
Everyone is pumped and ready to go, but they're in for another surprise: Cha Bum-kun. Oh yay, we get to see you again, but… aren't you supposed to already be in Brazil and prepare for that whole World Cup thingy? Coach Cha: "I came 'cause I was worried [about you all]!"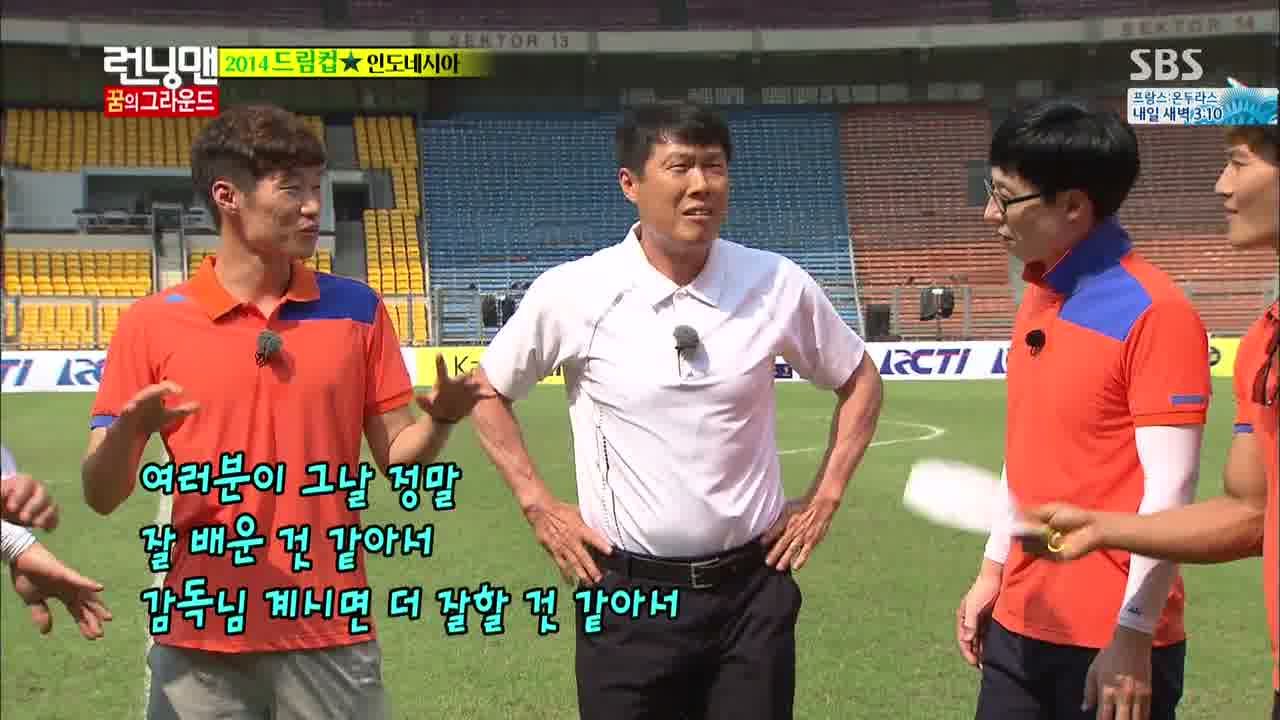 The cast immediately greet him with the tips they learned last week, like Kwang-soo's robotic kick or dribbling (that part was edited out, since we haven't seen it before). Turns out Cha is here again on Ji-sung's request, and the cast is ready to impress and put their lessons into practice tonight.
Then Ji-sung takes it one step further and asks Cha to participate in tonight's match, even if it's just for a few minutes. Everyone immediately rallies for the idea, and Cha argues that he's too old to play now. Yet their persuasion works because a fast-forward shows the soccer legend wearing his trademark number 11.
In order to incorporate the show's elements into the Dream Cup, the cast members will have differing missions to complete during the match. Asked where Ji-sung would place the Running Man members, he says they'd be wingbackers, and when Suk-jin suggests being in a prime scoring position, Ji-sung tosses back: "We'd definitely lose." Ha.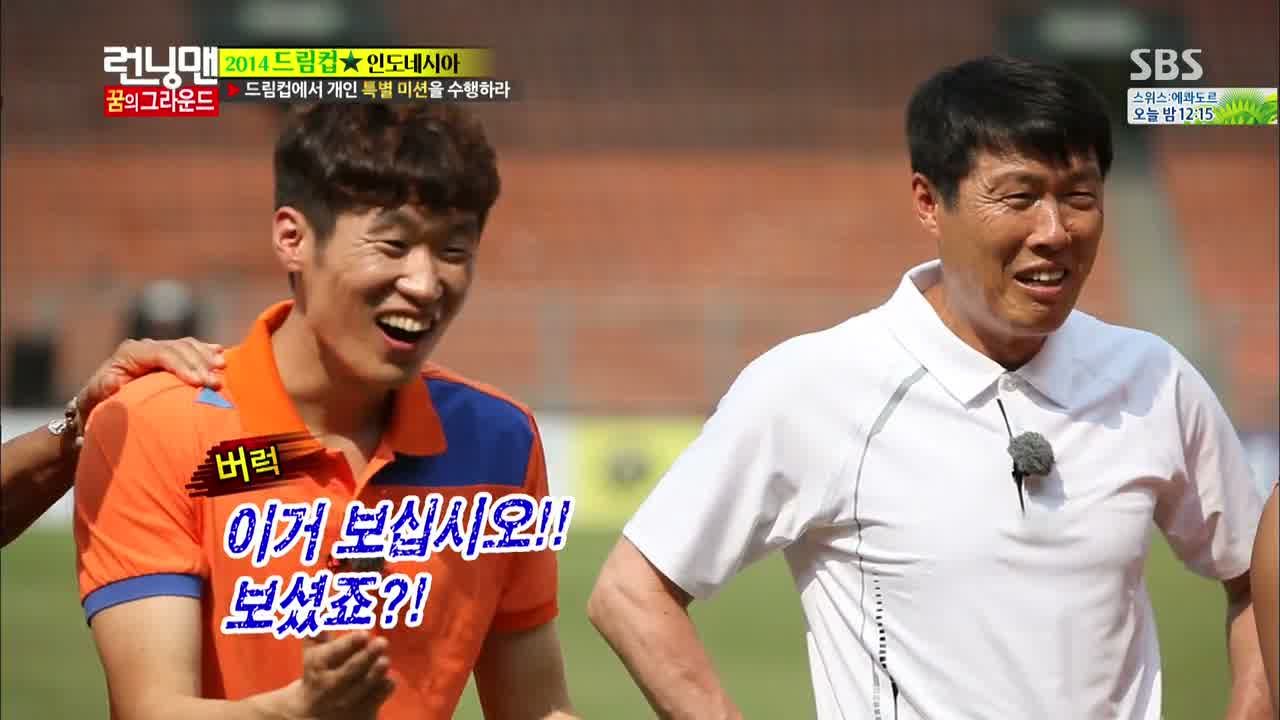 Naturally Ji-sung has his own mission to complete: to score three goals, aka a hat-trick. He may be "the man with two hearts," but that doesn't even sound feasible given the circumstances, let alone in a regular match. (I suppose Thomas Muller would beg to differ, but that man's a beast.)
Ji-sung thinks so, too: "I've never even scored a hat-trick in my soccer career!" Caption: You can just do it today!
Cha has done it before, though, as he corrects Suk-jin that it wasn't "four goals in seven minutes" but actually "three goals in five minutes." Cha hesitates when asked whether he thinks Ji-sung could do it, to which Ji-sung immediately cries in defense: "See?! You see his reaction?!"
No level of optimism can change the fact that they're mostly amateurs, and to top it off, they're up against professional-level footballers. So they amend Ji-sung's mission to two goals, which is still hard but more doable(ish).
As for our cast: should Suk-jin and Ji-hyo step onto the field, they must handle the ball at least five times each whereas the other boys either must assist or score a goal. For instance, Jong-kook could assist in Gary's goal, though both men are quick to deny that possibility. Gary: "That just can't happen!"
I love Jae-suk's initial suggestion for sleepyhead Ji-hyo: "She needs to stay awake for the entire game." Ji-sung has some fun with these rules, too: "If I bench all of them, they all receive punishment, right?" 'Cause if he ends up failing his own mission, he's going to take everyone down with him. Ha.
Cha imparts some encouraging wisdom to the cast, which doubles as a life lesson: Be confident to the end.
As the stadium fills up with fervent fans, the cast hits the locker room to meet some famous faces, like Italian defender Gianluca Zambrotta and striker Stephan El Shaarawy with whom the cast takes selcas. Aw, it's cute when our boys turn into fanboys.
Eee, it's North Korean-Japanese striker Jung Dae-sae, who we saw two years ago. Back then the show had joked that he and Gary looked like twins, and Ji-suk jokes that the two can't be on the field at the same time, a nod to their resemblance.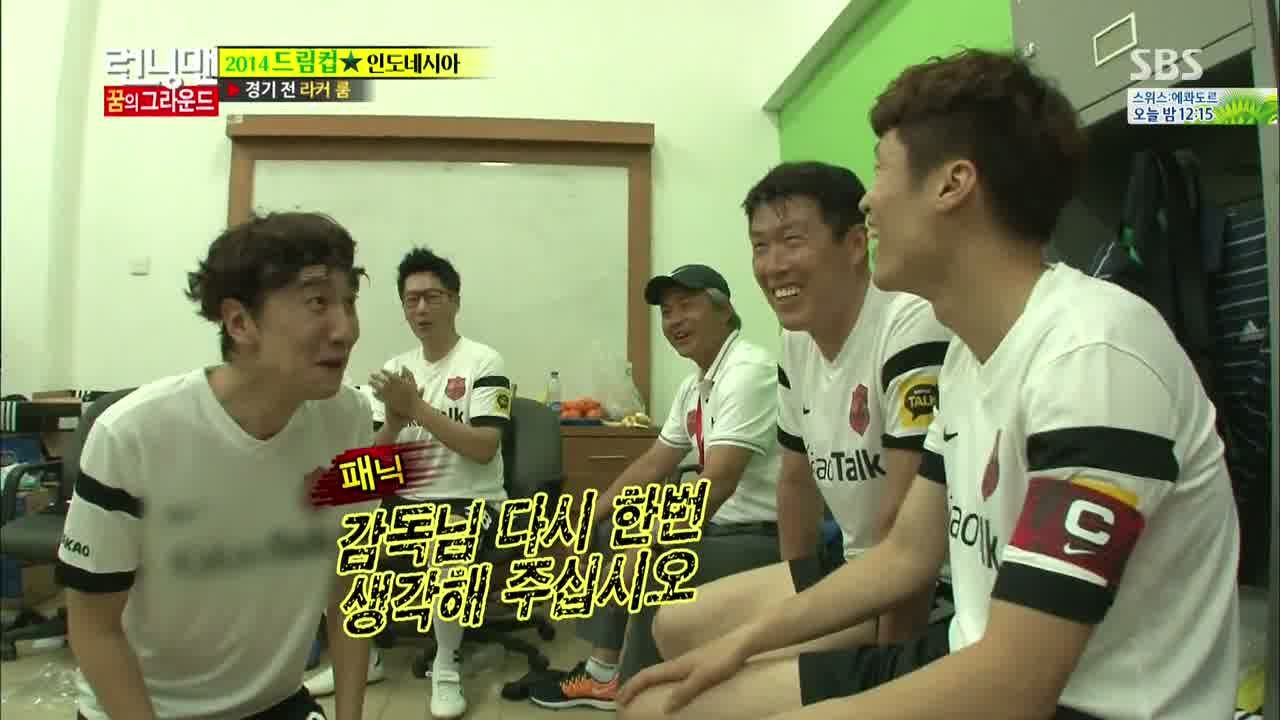 Cha changes into his already prepared jersey, and ha, El Shaarawy can't help but smile at Ji-hyo's beauty.
Kwang-soo panics when he learns that he'll be playing at the start, and the scoring position, at that. Kwang-soo: "I'm not prepared yet! I'll be prepared by the second half!" Cha jokingly scolds him for his sudden cowardice, so Kwang-soo musters up his courage just in time before the match.
There are over 60,000 screaming fans in the stadium tonight, most of them Kwang-soo fans. Asia's Prince, indeed. Awww, Ji-sung's fiancée Kim Min-ji is in attendance to cheer on Team JS & Friends versus the Indonesia All-Stars.
The cast cheers their team on from the bench, though they wonder where Kwang-soo keeps running off to. Even the commentators can't help but give a chuckle: "He is… running, right?" "Yes, he's running like the giraffe he is."
But then finally, a chance. Kwang-soo receives a pass, remembering the three key points in a kick: knees bent, face forward, leg straight. He shoots… but it ends up in the goalkeeper's waiting hands. Aw.
Dae-sae's free kick leads to the team's first goal, and eventually Kwang-soo is switched out. With neither a goal or assist, he fails his mission but is all smiles to the loving fans. He looks like he's about to hurl, which I can totally understand since I'm sure he could barely think straight on the field, let alone kick anything.
Kwang-soo thanks Cha for this opportunity. Good work, Kwang-soo! Then it's Suk-jin's turn on the field and it's so nice to hear the crowd chant his name.
Turns out that Suk-jin's taking over for Ji-sung, which immediately makes him panic. Aw, this means that Suk-jin's the captain on the field! Show 'em what you're made of, Captain Ji!
Haha: "Suk-jin really runs like an ajusshi." Jong-kook: "He keeps [raising his hand like he's] trying to hail a taxi!" Suk-jin gets his first chance near the goalpost, but the ball lands past him into the goalkeeper's hands, and he gives it a little kick for his first "touch." (It doesn't count.)
Woot, Dae-sae scores another goal and gives a big hug to Gary. Still without a single touch, Suk-jin looks exhausted, but then he gets in a tiny kick right before the whistle blows. He just looks happy to finally get off the pitch.
At halftime, Suk-jin regales everyone with how he kept running in the opposite direction of the ball. In the second half, Gary is first to switch in, as the video clips remind us how he was a black hole two years ago.
He kicks a clean pass to his teammate… but that ball lands jusssstt outside the goalpost. Ack, so close! Haha soon cycles in to join him, yet he gets pushed around and loses possession of the ball, and I'm giggling in my chair at the Pororo theme song playing in the background.
At another point, Gary holds off a defender while dribbling the ball, using Cha's lesson on sticking one's butt out like a duck. It's seriously impressive how Gary doesn't let up in the slightest, and then switches out with Jong-kook.
Jong-kook passes the ball to Haha, who sets it up for a header, but the goalkeeper catches it instead. That would've been so cool if it worked out! Jong-kook looks like a natural on the field, and everyone else can't help but notice his marked improvement.
As Jae-suk gets ready to play, Mr. PD says that he can't mess up this time (last year, his penalty kick missed). He's wearing contact lenses this time around, to which the PD retorts, "So you can't say that you couldn't see!"
Jae-suk fills in for Haha, and things are looking good for him with a clean pass. Kwang-soo gets the crowd riled up (and collapses in exhaustion in the effort, aw), and then finally, it's Cha's turn to get in on the action.
The two legends shake hands as our commentators tell us that Ji-sung has never seen Cha physically play in person before. This is a historic moment, bridging soccer generations on one field.
Cha and Ji-sung share a synchronous dynamic on the field, and even though it's been a number of years since Cha has actively played, his skills are still sharp. He certainly knows how to set up plays for his team, passing the ball to Jae-suk, who gets so close at scoring a goal.
The current score is 2:3 in favor of the Indonesia All-Stars, and Ji-sung strikes, but the attempt is blocked. There's some fancy footwork beyond my soccer knowledge that happens, and then Jae-suk gets another chance when Jong-kook passes the ball to him.
… but Jae-suk misses the ball by mere inches. D'aww. That concludes the match, giving the All-Stars the win. In a show of good sportsmanship, the players exchange jerseys.
Back in the locker room, Ji-sung throws down his jersey in his half-frustration. Everyone has failed their mission, which means punishment for all. Still, Ji-sung smiles as the others ask for another chance to play next year. Ji-sung shares about how honored he is to have played alongside his childhood idol and soccer sunbae, and Cha returns the warm words in kind.
Day 2. Indonesia. The second half of the episode starts off with our cast members driving to fulfill their punishments. As Jae-suk and Kwang-soo reminisce on last night's match, Suk-jin pipes in, "Could we not talk about that?" Ha.
They only grow more anxious as they drive into a safari where all kinds of wildlife awaits them. The cast has one last opportunity to save themselves from their respective punishments today, which prompts Gary to comment that it must be just that bad if they're being given another chance.
And that punishment is epic: skydiving. What a way to set the bar in the show's 200th. And ha, we see that Jo PD tried it out himself.
So in order to get out of that, the cast must complete their animal missions within 30 minutes. Those cast-animal pairings are determined by whoever responds the fastest to the animal mentioned.
Everyone freezes at the first option (tiger), but then Kwang-soo inputs in Haha's name. Pffft, that actually counts. Ji-sung pairs himself up with deer, and then Jong-kook gets back at Kwang-soo and volunteers him with the crocodile. HA, at least we know that that wasn't Kwang-soo's choice now.
I love how that starts a round of cast members volunteering each other, like how Ji-hyo types in Gary's name with a snake (baem). Annoyed, Gary yells, "Hey, kkot-baem! There's already a snake here!" (A wordplay off of baem [snake] and kkot [flower], commonly a gold-digger.)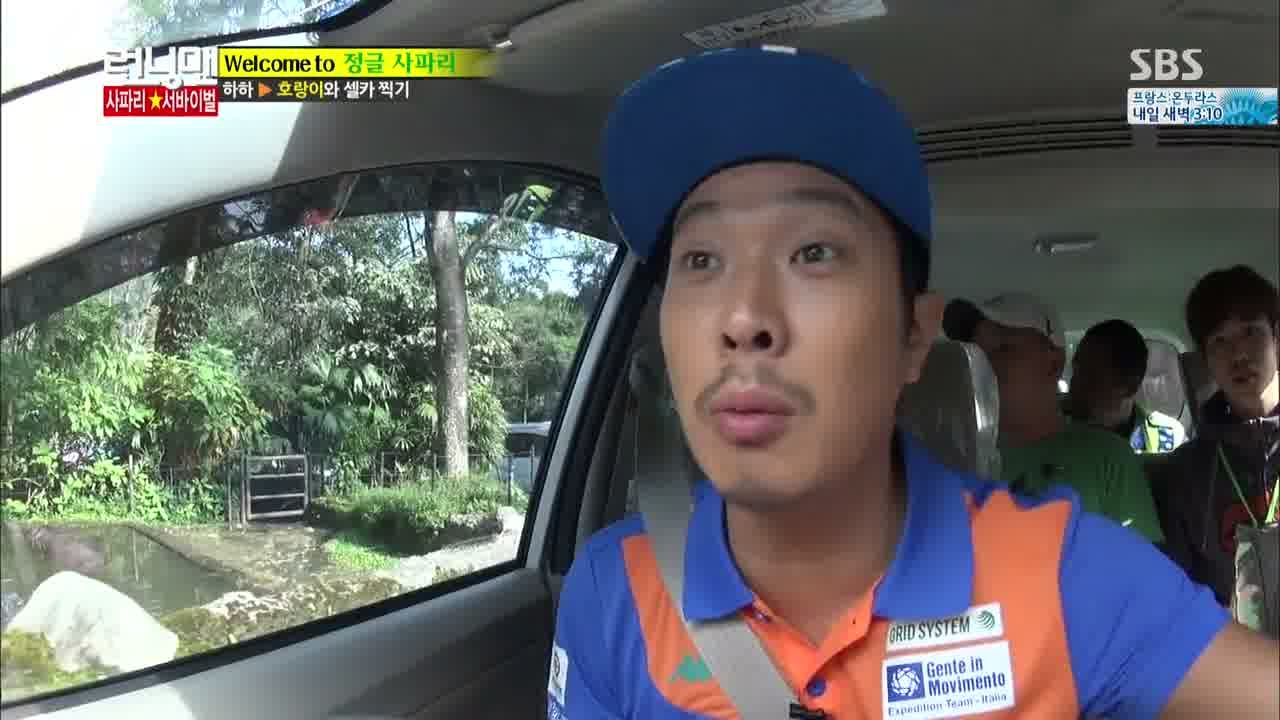 Haha tries to talk himself through his unlucky choice in the car before he resignedly accepts that none of the predatory animals would be a good fit. With that, he drives in and receives his mission: take a selca with the tiger. Haha: "Are you kidding me? I'll lose my head!"
Thankfully, Haha can remain inside the car to take the picture, just so long as the tiger's face appears in the photo as well. Hearing that restores his confidence, and he sets off in higher spirits.
Haha's on his own safari adventure, taking in the exhibits and worried that he might hit a deer. Speaking of which, Ji-sung has to take a selca with a deer and a zebra, the latter located past the savage beasts area. Gulp, knew that it couldn't be that easy.
Ji-sung tries to call the deer over, but they're disinterested. Unaware of what awaits him should he fail, he says he'll just take his chances with the punishment.
Now it's back to Kwang-soo, who freaks out to see a headless photozone (where one poses for pictures) of someone holding a crocodile. A sign of what's to come?
Even though there's a trainer around, Kwang-soo can only gape in awe, repeating, "It's a real crocodile!" over and over again. See all those ribbons tied to their tails? It's Kwang-soo's job to remove them. So the crocs will have giraffe for breakfast?
I love how the PD is all, They're NICE crocs, they're gentle! and Kwang-soo doesn't believe him at all: "What if he's not feeling great? What if he was scolded by his mother! What if he fought with his girlfriend?"
Even the trainers assure him that it's perfectly safe, but Kwang-soo still approaches with caution.
Ji-hyo crumples to the ground when she sees what her supposedly easy mission with a seal entails: to wait until the seal jumps and bites the fish in your mouth. Our usually courageous Ace can't help but cringe at the the thought, though that lasts all but three seconds before she goes ahead to befriend the animal.
Before you know it, Ji-hyo's dancing with the seal and getting kisses. Her mission is with a different seal, though, and it's actually pretty gorgeous watching the seal jump into the air…
Meanwhile, Suk-jin befriends an orangutan that would rather eat anything in sight than pay attention. We then check back in with Ji-sung, who finds another group of deer and attempts to lure them with carrots.
It's hilarious how Ji-sung tries to plan everything out, like how the first interested deer is too small, so he'll use its interest to lure in another one. He even tells the deer to share while keeping his eye on the biggest one with antlers.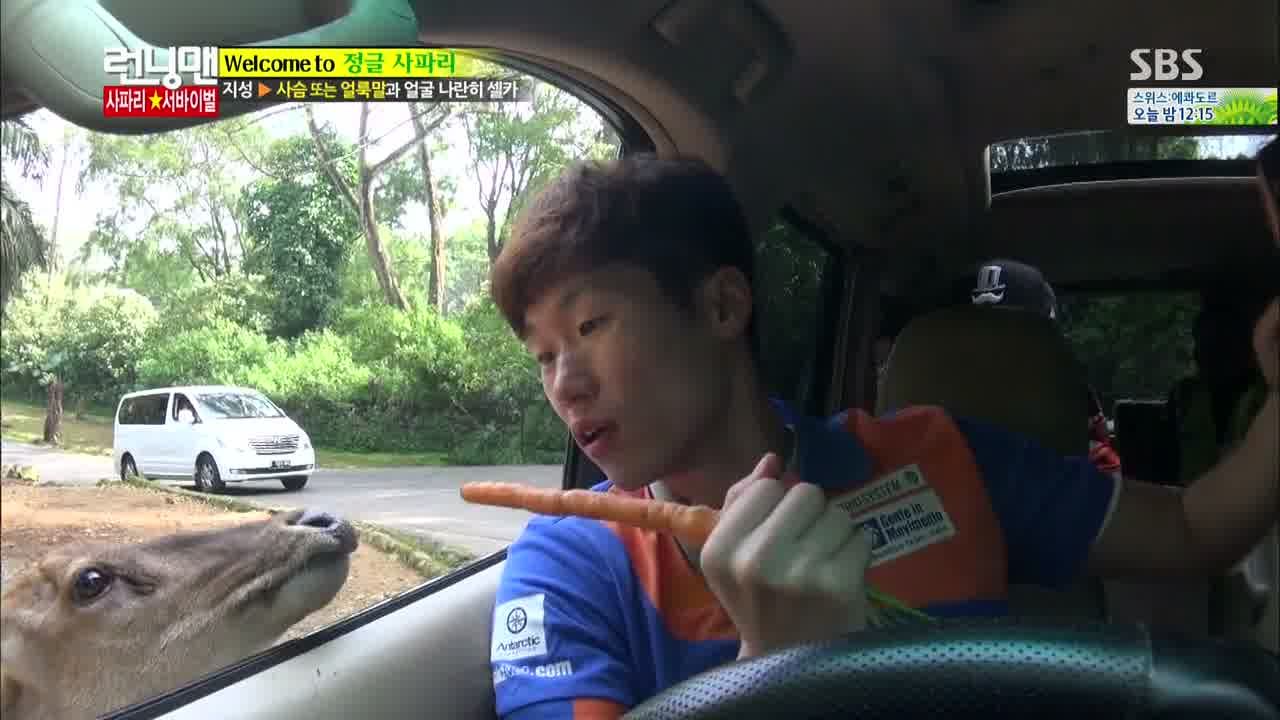 At one point, he tells a smallish deer to use its noggin' and lift its head, and when it backtracks, he's like, "Are you going to give up? Are you? What are you so scared of that you won't try?" Hahahaha, it's like he's training them at life.
Ji-sung keeps rambling on, luring the animal closer, until he finally says, "It'd be easier to just kiss [the deer]."
Elsewhere, Gary tries to give himself a pep talk to rid himself of his fears. He instantly breaks at the sight of them. The trainers assure them that it's perfectly safe, and Gary receives his task: to wrap one snake around his waist and another around his neck, and then to kiss the snake.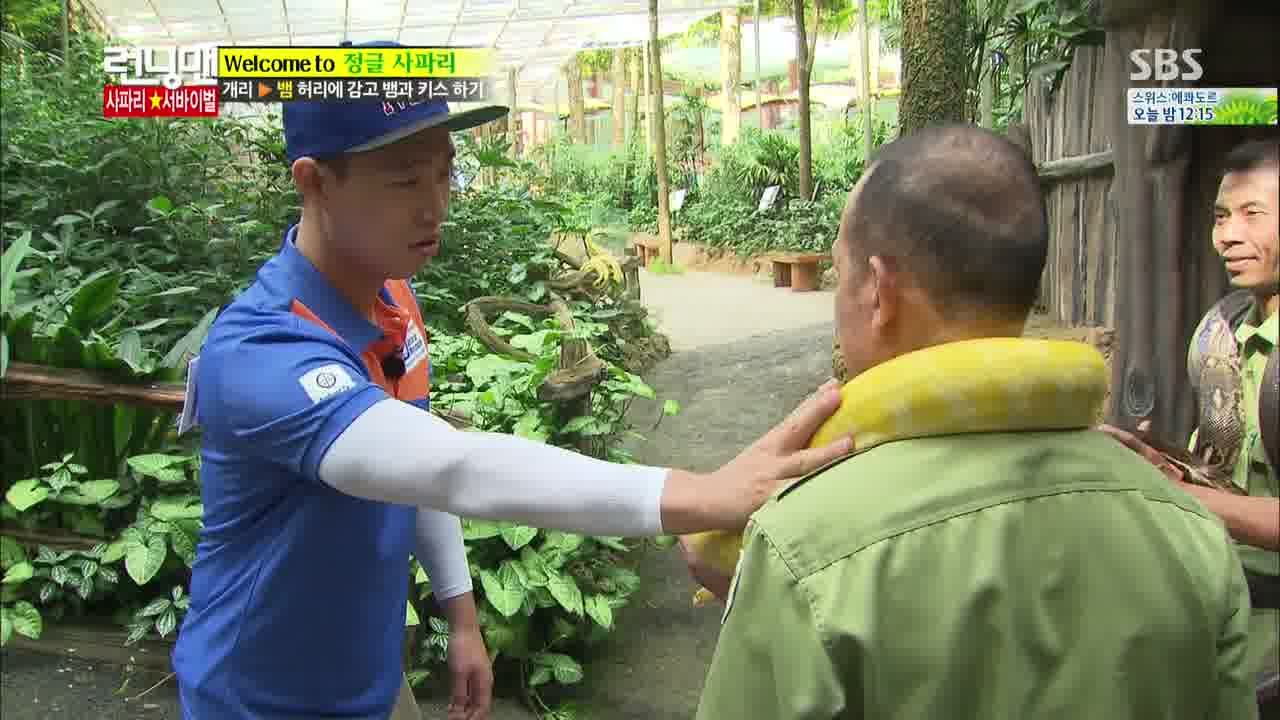 Gary musters up the courage to touch the young snakes, and though his hand shakes, he says that they are soft. Poor Gary looks like he's about to cry, which is the same for Jong-kook, as he sits next to an actual lion.
Apparently, the lion is a popular attraction, and Jong-kook reels in shock and fear when it turns its head towards him. Jong-kook: "It opened its mouth!"
El Tigre is assigned to brush the lion's coat, and even though the trainer puts his arm into the lion's mouth to show how harmless it is (at the moment, anyway), I totally understand Jong-kook's fear—I've got a cat and he also hates being brushed.
Jong-kook argues to the staff that the lion just tried to bite him, to which they're like, "It was just yawning." I've never seen Jong-kook so scared, but it's still funny.
While Suk-jin is fighting a losing battle with his orangutan, Kwang-soo is told that the crocs are sleeping. So Kwang-soo holds his breath and slowly reaches for the ribbon… and it comes lose. One down, only two more to go!
Haha is having so much fun on his animal-watching adventure, that he's barely focused about his task on hand. He's greeted by lions bathing in the sun as soon as the wild beasts area opens up. He drives past, his muscles all tensed.
Haha has about twelve or so minutes by the time he enters the tiger exhibit, and his voice cracks at seeing a real-life Bengal tiger. He admits that he's more amazed than scared right now and wonders how he'll grab his selca.
To his luck(?) a White Bengal tiger approaches, and Haha taps the window to get it to look at the camera. Ack, don't provoke the animal! He tries to grab its attention by asking if it knows the 1988 Summer Olympics mascot Hodori (also a tiger), but Haha has got his perfect shot, and with time to spare!
Back at the pool, the seal doesn't jump high enough to grab the fish. So Ji-hyo leans in further and this time, she succeeds. She saunters over to the eagle exhibit, where Jae-suk has a hula hoop.
Evidently, Jae-suk has to hula hoop at least three times with an eagle on his head. Jae-suk braces himself once the bird of prey lands on his head, careful not to scare it away. It flies away, anyway, and Ji-hyo gets in a few more remarks before moving on.
I love how Kwang-soo's been sticking leaves under his shirt to camouflage himself, though Ji-hyo doesn't make his task any easier, telling the crocs that there's a giraffe over there. She does get worried when he starts running towards the crocs, though: "No, run away from them, not towards them!"
Suk-jin is still having trouble with a different orangutan whereas Jong-kook completes his mission with just about five minutes remaining. Gary tries to make kissy faces with the python while fighting off his fear. Then he lays one on the python's head.
Ji-sung lures a zebra with his stash of carrots, though he draws away whenever it comes too close for comfort. With three minutes remaining, Jae-suk completes his mission while Ji-sung snaps a selca with a zebra and Kwang-soo unties his last ribbon.
All they have to do now is get back to their original meeting place, and Ji-sung is still trying to get the zebra to leave. He's got a less than a minute to get back, and something tells me that he isn't going to make it.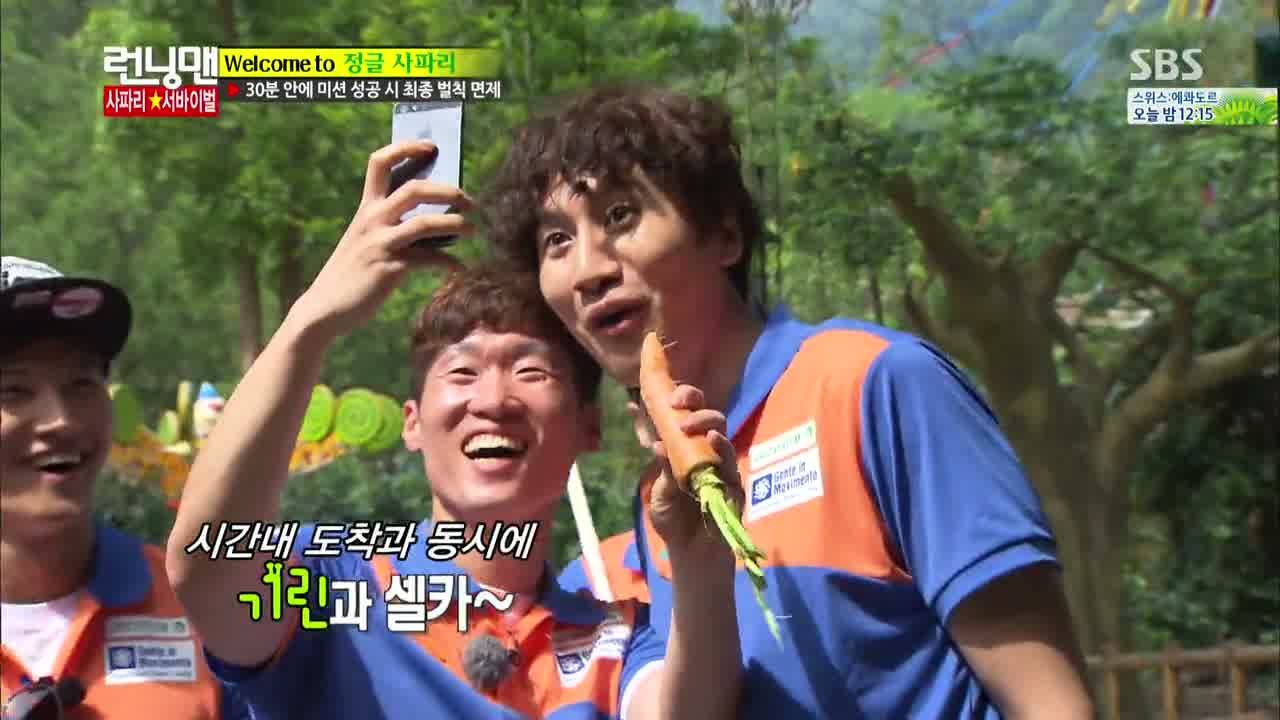 He shows up with thirty seconds left, however, and then grabs a selca with our resident giraffe Kwang-soo. HA, I don't think that's going to fly. Which means everyone's up for the skydiving punishment that we'll see next week. Oh boo, I was looking forward to seeing them jump. (And you all pointed out that everyone did make it back in time and thus exempt from skydiving. For now. Heh.)
The cast reflects upon the show's history in the closing, thinking back to the numerous guests and sharing their gratitude to the viewers. Happy 200 episodes, Running Man! May you continue to bring us laughter and joy!
RELATED POSTS
Tags: featured, Haha, Ji Suk-jin, Kang Gary, Kim Jong-kook, Lee Kwang-soo, Running Man, Song Ji-hyo, Yoo Jae-suk