Yoo Yeon-seok on The Informant and life after Chilbongie
Ahhh, I luffff him. If you've seen the 30-year-old Yoo Yeon-seok in Youths Over Flowers, you know that he's a meticulous planner — the type who stays up late planning everyone's activities for the next day. On the variety show, he never wants to waste a moment on the trip, and in a new interview for his upcoming movie The Informant, it's clear he is just as intent on savoring every moment in real life.
Yoo plays Shim Min-ho in the film, which is based on the true story of Dr. Hwang Woo-suk, the South Korean veterinarian and medical scientist who in 2005 claimed to be the first individual to clone human embryonic stem cells. Shim, a researcher and former employee under Dr. Hwang (the characters are renamed in the film), is overcome by his guilty conscience and compelled to reveal the doctor as a fraud. He'll work with the PD of an investigative news program (played by Park Hae-il) to expose the elaborate deception to the public. Yoo was asked why this was the first project he chose after wrapping Answer Me 1994:
"I wanted to show viewers a different character from Chilbongie. I felt that Shim Min-ho in The Informant would be the answer to that challenge. As a father and a researcher, he was the exact opposite in many ways. With its strong message and appeal, it was meaningful that I was even allowed to participate in the film."
To prepare for the role, diligent Yoo met with veterinary researchers and and observed their slightest hand movements, habits, and even wardrobe. He chose to demonstrate his character's poor vision as a result of staring at tiny cells all day by donning glasses, and he covered the body he built up for Answer Me 1994 by wearing loose and modest clothing (can I just say, booooo).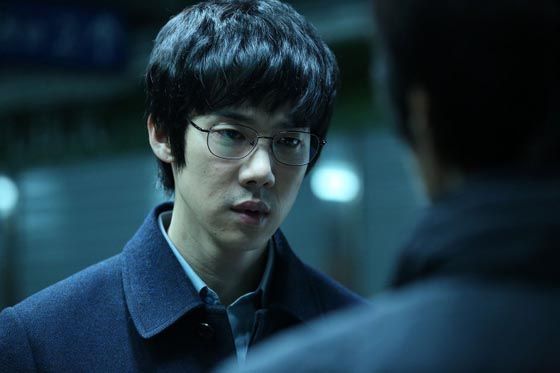 "I realized that all of the researchers wore glasses because they spend so much time working with stem cells. I deliberately picked somewhat old-fashioned glasses for my character that were neither fancy nor trendy. Researchers spend their whole lives absorbed in experiments; they aren't too concerned about style. Another habit I observed was that when they were concentrating, they would either twist their hair or tear at their fingernails. If you look closely in the movie, my character often touches his hands. I learned these details from watching them."
With regards to playing a father, Yoo said, "Before in a drama I played a guy who briefly was married and had a child, but this is the first time I've really acted as a dad. I discovered it's not easy to act and watch a child at the same time." (Laughs)
Asked if he had any desire to be a solo lead after Answer Me 1994, Yoo said, "Whether I was the solo lead or not wasn't important. That I was able to show a different side through The Informant, and that I was able to work with director Im Soon-rye and Park Hae-il sunbae was what was meaningful to me.
"About director Im Soon-rye, I had a prejudice that he would be straight-laced and stern, but I actually found him to be really warm. His visions and thoughts for scenes were very clear.
"Park Hae-il sunbae started with plays and then moved into various projects, without shying away from any type of genre. He doesn't have one image that defines him. Warmhearted, evil, sly… He's embodied various roles, and the diversity in his movies is great. I want to emulate him in that way."
He was asked how Answer Me 1994′s success has affected him:
"I've become more cautious. I haven't changed but my surroundings have. It's true that because of the expectations and interest I'm getting now, I feel burdened. I'm worried that I might change. The people who watched me before Answer Me 1994, I hope I can continue doing the filmography they like.
"Before Answer Me 1994, I played villains, so people thought I was prickly. Now that I've done Answer Me, they think I'm a softy. Although I think I've shed that image with my appearance in Youths Over Flowers," he laughed. "I'm not always soft. Maybe because I grew up in Kyeongsangdo in my youth, I'm often pretty brusque."
While the actor catapulted to fame with Answer Me 1994, he actually debuted in Park Chan-wook's critically acclaimed 2003 film, Oldboy. For the ten years following, he struggled to come up with another hit of that size.
"After Oldboy, there was a period when I felt disheartened. I had a fervent desire to act, but I wasn't given any projects. I felt restless and anxious. Thankfully, acting in plays while in school helped me find my footing again. Because of that experience, I think I was able to prepare myself to be around for the long haul."
Born Ahn Yeon-seok, Yoo actually changed to his current stage name while filming General Hospital 2. "There were opinions that Ahn Yeon-seok was hard to pronounce correctly. Thankfully, people thought 'Yeon-seok' fit so I only needed to change my last name. I've never told this story before, but in the movie Oldboy, initially my name was listed in the credits as Yeok-seok. I'm not sure if it got fixed afterwards, but for awhile my nickname was Yeok-seok." (Laughs)
Among his nicknames, he's also called Yoo Yeon-so (so = cow), because he never takes a break and is always working. "I haven't taken a break since Late Night Hospital. After we stayed up all night shooting the epilogue to Answer Me 1994, I went straight to my grad school class, so everyone teased me by calling me a cow. I don't have any intent to deliberately take a break. Even when on break, I don't think I've ever taken one comfortably. Just taking a three-week break is hard." (Laughs)
Through Youths Over Flowers, audiences have seen that he likes to stay on the move. "Even after the show concluded, I went on a backpacking trip to Turkey and Greece with friends. Even then, I reserved lodging and did all the planning," he laughed proudly.
He doesn't smoke or drink, so what are his hobbies?
"Photography, fishing, traveling. My personality is such that even when resting I can't just stay home sleeping and doing nothing, I have to go out, get moving and do something."
What is his biggest weakness?
"Before, I used to have a complex about my flat and expressionless face, but now I am able to accept it as an advantage. My biggest flaw now is that I'm too careful and prudent, so even when I'm preparing for a role, I spend way too much time thinking about it. I wish I could be a little more spontaneous. I think I need an experience where actors are just organically reacting to each other on set."
The interviewer tells him he thinks he got better looking in his 30s.
"Euhaha. There is a lot said about men in their 30s. I'm anticipating it, too. Hoping to shed my obvious youth and become closer to a male actor."
Following the drought post-Oldboy and the overnight heartthrob status he achieved with Answer Me 1994, Yoo has two other movies, Tailor and Secret Temptation being released soon, and he's due to start filming That One Day.
"They're all three different genres and different characters. I'm curious as to how they turned out."
And of course the million dollar question — is he dating?
"For the first time in ten years, I'm doing the work I wanted to do, and I'm finally immersed in projects. Although not right now, I expect that the desire to get married will come upon me one day. When the day comes, even if I have to take back time, I'll make the time to date." (Laughs)
At the close of the interview, he vowed to put his whole body and soul into every work he does, and to give his all throughout his life. "Although I can't be perfect, at least if I work earnestly on each project, I don't think I'll have any regrets. I don't want to waste time."
The Informant hits theaters October 2.
Via TV Report
RELATED POSTS
Tags: interviews, Yoo Yeon-seok