2014 MBC Drama Awards
Red carpet time! The year-end station awards are upon us, and MBC is up first with their Drama Awards for 2014. MBC isn't historically known for making a whole lot of sense when it comes to how they hand out trophies at the end of the year, though to be fair, they're not the only ones — the general rule at all three major broadcasters is to reward good ratings. And yet, this year MBC has managed to find a way to make their awards even more meaningless, by awarding the Daesang (the Grand Prize) based only on text-in votes. No, really.
The big winner of the night was Lee Yuri, who played the villain in MBC's hit weekend makjang Jang Bori Is Here. I don't actually have an argument against Lee Yuri winning (I didn't see Jang Bori, but it's interesting that her villainous character was more popular than Oh Yeon-seo's heroine, who was also a contender for the Daesang along with Mama's Song Yoon-ah) — I just feel like deciding your Daesang by popular vote is a way to wash your hands of all responsibility, like you couldn't be bothered to make a decision yourself, so you didn't even try. Way to pass the buck, MBC.
Unsurprisingly, weekend ratings mega-hit Jang Bori Is Here was the drama of the night, with Fated To Love You, Pride and Prejudice, Mama, and Records of a Nightwatchman getting recognition for its lead actors. Kim Ja-ok (Thrice Married Woman) was posthumously honored with the Lifetime Achievement Award (*sniff*), and curiously, Choi Min-soo declined his Golden Acting Award. Perhaps he ran out of trophy space on his mantle. That or he thinks the whole thing is meaningless, which I guess I can't really fault him for.
And here's Ji Chang-wook presenting an award, just because. We don't get to see him on the red carpet, because Healers don't have time to dawdle and smile for the cameras. Swoop in, present award, run off to save the world!

WINNERS LIST
Daesang (Grand Prize): Lee Yuri (Jang Bori Is Here)
Drama of the Year: Jang Bori Is Here
Top Excellence, Miniseries, Actor: Jang Hyuk (Fated To Love You)
Top Excellence, Miniseries, Actress: Jang Nara (Fated To Love You)
Top Excellence Award, Special Production, Actor: Jung Il-woo (Records of a Night Watchman)
Top Excellence Award, Special Production, Actress: Song Yoon-ah (Mama)
Top Excellence, Serial Drama, Actor: Kim Ji-hoon (Jang Bori Is Here)
Top Excellence, Serial Drama, Actress: Oh Yeon-seo (Jang Bori Is Here)
Excellence Award, Miniseries, Actor: Kim Sang-joong (A New Leaf)
Excellence Award, Miniseries, Actress: Choi Sooyoung (My Spring Days)
Excellence, Special Production, Actor: Choi Jin-hyuk (Pride and Prejudice),
Excellence, Special Production, Actress: Baek Jin-hee (Pride and Prejudice)
Excellence Award, Serial Drama, Actor: Lee Jang-woo (Rosy Lovers)
Excellence Award, Serial Drama, Actress: Kim Ji-young (Everybody Kimchi)
Drama Short Award: Byun Hee-bong (The Lump in My Life)
New Actor Award: Im Shi-wan (Triangle),
Choi Tae-joon (Mother's Garden)
New Actress Award: Go Sung-hee (Miss Korea, Records of a Night Watchman),
Han Sun-hwa (Rosy Lovers)
Writer of the Year: Kim Soon-ok (Jang Bori Is Here),
Yoo Yoon-kyung (Mama)
Actor of the Year, awarded by PDs from all three broadcasters: Lee Yuri (Jang Bori Is Here)
Child Actor Award: Yoon Chan-young (Mama)
Kim Ji-young (Jang Bori Is Here)
Golden Acting Award, Actor: Ahn Nae-sang (Jang Bori Is Here),
Choi Min-soo (Pride and Prejudice)
Golden Acting Award, Actress: Kim Hye-ok (Jang Bori Is Here),
Lee Mi-sook (Miss Korea, Rosy Lovers)
Popularity Award: Shin Ha-kyun (Mr. Back),
Jang Nara (Fated To Love You, Mr. Back)
Best Couple Award: Jang Hyuk, Jang Nara (Fated To Love You)
Lifetime Achievement Award: Kim Ja-ok
Awarding method aside, I do think it's cool that a villainess won the Daesang, which doesn't happen often. I just wish I liked Lee Yuri's dress more. It's so costume-bride, not even all that flattering, and the very opposite of fun. The train in the back is confusingly made of a different lace altogether, and maybe on a different dress that side peek-a-boo panel would be sexy, but on the one-armed wedding dress, it's just there. How I wish she'd picked a sexy dress to match her bright pink lips and her shiny trophy.
Her costar Oh Yeon-seo (Jang Bori Is Here), on the other hand, looks amazing in this structured black ball gown. It seems rather simple, but the material takes a familiar silhouette and makes it edgy. She wears it like a boss, with sleek, no-frills styling that makes the dress really stand out. I'm pretty sure she can't breathe in it, but who the hell cares about breathing when you look this good?
Prettyyyyyy. Kim Ji-hoon picked up a win for Jang Bori Is Here right alongside Oh Yeon-seo, and struts in with a confident smile and a fitted tux with a touch of velvet. Makes me want to put my hands all over that jacket. To touch the fabric!
His Jang Bori costar Oh Chang-seok also sports velvet, but I find this version less appealing. Is it the paisley on top of the velvet doing too many mixy things, or is it just that Oh Chang-seok has the same look on his face no matter what he's doing?
Now we're talkin' — move aside, people! Movie star coming through! Jang Hyuk arrives looking just about perfect in a fashionably patterned tux. He picks up a win for his hilarious return to comedy in Fated To Love You, as well as the Best Couple Award…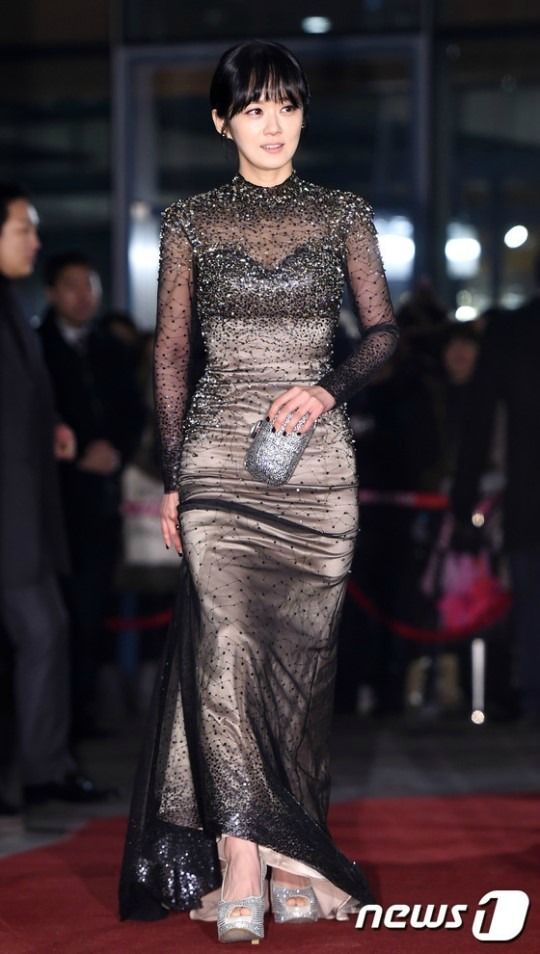 …with his costar Jang Nara (Fated To Love You), who proves that sensible long sleeves can be sexy. On this red carpet, this gown counts as colorful — the sequins are dreamy, her styling makes me envious, and the back cutout is what makes the dress. Well, that and Jang Nara in it.
Her Mr. Back costar Lee Joon seems a little tired. He looks good in his sleek and simple black suit, but it's hard to find pictures of him looking remotely happy. Or does he not smile much? If I made it on the acting map with a serial killer role, I'd make sure to smile until my cheeks hurt, just to remind people that I'm not scary. Just sayin'.
Wang Ji-won (Fated To Love You) wears another white dress in a sea of white dresses, though hers is different. It's just not a cut I'd ever choose voluntarily (the chances of looking like a sack of potatoes — so high!), and I dislike that open sleeve design on just about anything you can attach a sleeve to. Still, she's a statuesque ballerina, so she decidedly does not look like a sack of potatoes. But I feel like this is luck and not good styling.
Choi Jin-hyuk (Fated To Love You, Pride and Prejudice) is so adorable, but there's always just 2% missing when it comes to his red carpet wear. Okay, so sometimes it's more than 2%. In theory, I see nothing objectively wrong with his suit with bold black and white contrasts, but it looks… borrowed, or something. I think it's maybe that he just wears clothes awkwardly, like it's written on his face that red carpets still freak him out.
Baek Jin-hee is also here with two projects (Pride and Prejudice, Triangle) and wears the one white gown on this red carpet that I like. It's odd, but I like the feather train on this dress, mostly because the cut is so flattering. That neckline is to die for, and it keeps the dress from being boring. Granted, this is in no way veering away from Baek Jin-hee's closet full of sweet, pretty dresses, but I love the way this one makes her look.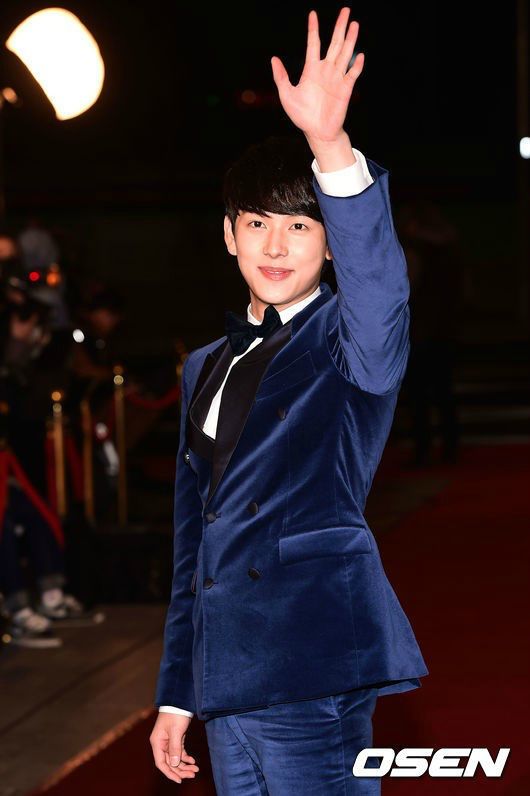 Im Shi-wan is technically here for Triangle, but we all know he's really here because of Misaeng, right? Really, if anyone else wore a head-to-toe blue velvet suit, I'd probably find it ridiculous. But it's Jang Geu-rae, and he just puts a smile on my face and makes me want to hug him like the adorable blueberry that he is.
Winner! This is my favorite dress of the night. Sooyoung picks up a trophy for My Spring Days, though she shows up looking like she's here to win all of the shiny things. This dress glitters and wows in all the right ways, from fit to color to the way she walks in it, and screams, Give me that Oscar! Her hair and makeup are perfect too. Want. Dress. Now.
This is a nice pop of color on Song Yoon-ah, who takes home a Top Excellence Award and a Daesang nomination for Mama. I don't love the dress though, which is too mermaidy for my taste. It looks better in motion, when she's strutting and sort of using the mermaidy-ness to her advantage. But she looks curvy and beautiful, which makes me happy.
Her Mama costar Hong Jong-hyun looks like a perfectly styled, beautiful model… which I guess is what he is. He's super awkward on the red carpet, but then that seems to be true in real life too. When you're this pretty, you have to have flaws somewhere, or else it wouldn't be fair.
Jung Jun-ho is also here for weekend drama Mama, looking like a spiffy ajusshi leading man.
Yoon Chan-young takes home a Child Actor Award for his role as Song Yoon-ah's son in Mama, and looks uncomfortable being in the spotlight, but omg — his suit is plaid! So cute.
Moon Jung-hee rounds out the Mama crew, and arrives in yet another white dress. She looks pretty and it's not a bad dress at all, but it's totally forgettable, especially in tonight's bridal lineup.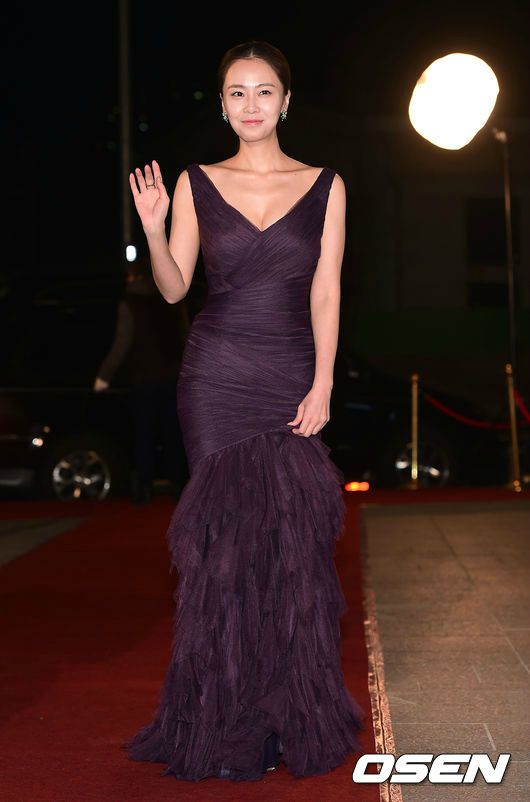 Hong Soo-hyun is here for the weekender Would You Give Love Away, and looks great in a vibrant color with a sleek ponytail. I love the color, but to be honest, the angles of the dress are too severe — it pulls one too many ways, and the cascade of tulle makes it look like she's riding in on her own purple wave.
Bleh, Oh Ji-eun (Tell Me Your Wish), this dress could not be more boring if it tried.
Well here's one white dress that doesn't blend into the background. Kim Seul-gi is here for the drama special Won-nyeo's Diary, after having a fantastic year with breakout second lead roles in Discovery of Romance and Surplus Princess. I don't know that the overall effect of the dress is something that I love (it's mostly the vest-like top part that cuts a little weirdly), but the look is modern and breezy, and I like that she's daring to be different.
Lee Jang-woo (Rosy Lovers) really likes these double-breasted suits and jackets. I… do not.
His Rosy Lovers costar Han Sun-hwa wins for Most Boring Dress of the Evening. She's beautiful, but this is how she always looks. It's a long straight white dress with some ruffles. Zzzzzzzzzzzzz.
Choi Tae-joon picks up a New Actor Award for Mother's Garden.
Kim Ji-young wins a Child Actress Award for the weekender Jang Bori Is Here. I love that she gets a train on her tiny tiny dress. Hey if I were her age and walking the red carpet, I'd want a train too, and I'd swish it around just like that.
The other Kim Ji-young also picks up an award for Everybody Kimchi, in a slick black number. The neckline is interesting, but not much else about the dress is.
Gangnam must be here as a presenter, because he's an idol and a variety star (I'm Going to School, Hello Foreigner). I've only ever seen him looking slovenly on TV, so it's a surprise to see him all cleaned up. His hair still drives me crazy though.
Okay, I love this dress on Kim Sae-ron (High School: Love On). The whole look is just too cute — the black detailing on the dress, the collar, her braid to one side. It's all so lovely and age-appropriate, and she looks like she's having fun.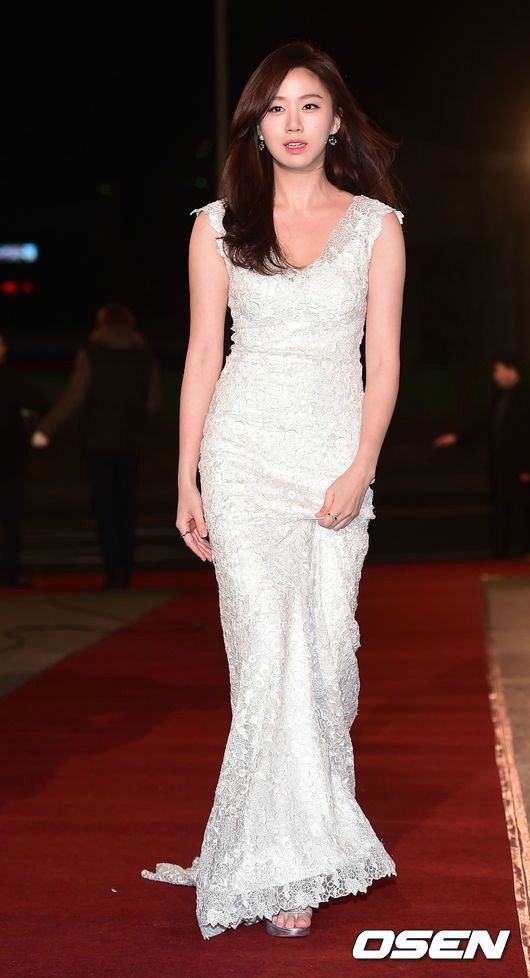 Go Sung-hee (Miss Korea, Night Watchman), you're very pretty, and you look pretty in this dress, but there is literally nothing else to say about your look other than: It's bridal. Yay?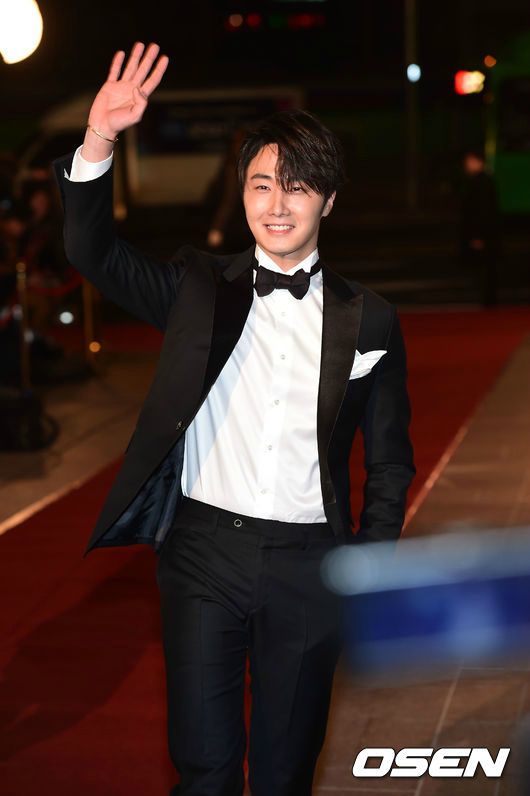 And here I was, hoping that her Night Watchman costar Jung Il-woo would be my eye candy of the night. How wrong I was. How very, very wrong. Jung Il-woo, did you go on a five-day bender and roll out of bed with just enough time to shower and pull on a tux without blow-drying your hair? Did you pull the day-old WHITE socks from under your bed as you were running out the door and put them on in the dark? Are you rebelling against conformity? Are you mad at me? Tell me what I did wrong to make you show up on the red carpet looking like this. I must've done something, and it must've been awful.
Via MBC
RELATED POSTS
Tags: awards, Baek Jin-hee, Choi Jin-hyuk, Go Sung-hee, Hong Jong-hyun, Hong Soo-hyun, Im Shi-wan, Jang Hyuk, Jang Nara, Jung Il-woo, Jung Jun-ho, Kim Ji-hoon, Kim Sae-ron, Kim Seul-gi, Lee Jang-woo, Lee Joon, Moon Jung-hee, Oh Ji-eun, Oh Yeon-seo, Song Yoon-ah, Sooyoung