Odds and Ends: Christmas in dramaland
girlfriday: Christmas is coming! I wish an elf would sneak into my house and make it festive and Christmassy, because I sure as hell won't. Maybe it's because it doesn't snow here, but store-bought Christmas is as good as it gets.
javabeans: The holidays snuck up on me, which is disorienting both because I'm not a festive holiday person, and because I'm not ready for the rest of the world to be festive and holidayish either. Today the person in front of me in the drive-thru paid for my coffee for me, and I went ice skating and the monitor waved me through without paying. All this goodwill is making me suspicious.
girlfriday: What, do people become randomly nice at Christmas time where you live? Because where I live, I'm constantly afraid of being run over by a mom on a mission to buy things.
javabeans: I'm not convinced there's no catch. I feel like I'm supposed to pay it onward before Fate gets back at me for being selfish, because if dramas have taught us anything, it's that Fate is real and easily angered.
girlfriday: This is the universe telling you to buy me coffee. And many other gifts.
javabeans: But if I give because I feel coerced by fear, doesn't that defeat the whole purpose of holiday cheer?
girlfriday: Who said anything about cheer? This is all in an effort to stave off Fate's inevitable retaliation, and I find that fear is a good motivator for most things in life. Also shame. Every time I procrastinate on writing my year-end review, shame kicks my butt back into gear.
javabeans: Just think: If you don't finish, you don't get Christmas!
girlfriday: My mother would be pretty mad at me if I ruined Christmas. See? It all comes back to fear and shame.
javabeans: I'm going home to see the family this Christmas, although the holiday itself was never big in my family. It's not really the same in Korea as it is here — they've adopted some of the American customs, but Christmas has that romantic theme in Korea that it doesn't have here. Like, who are you spending Christmas with?
girlfriday: Yeah it's strange that it ended up being such a coupley holiday in Korea, where the emphasis is placed on needing to find that special someone to spend Christmas with, or you're supposed to feel sad and lonely or something. Whereas here, if I didn't shirk all of my other social obligations to see my parents on Christmas, they'd disown me. But this tradition has no bearing on my actual life — it's just in every drama I'm watching at Christmas time.
javabeans: Honestly, these days if it's not in a drama, it doesn't feel relevant to my real life. But yes to the drama part: Will It Snow For Christmas, Christmas in August, If It Snows on Christmas, romances all. Okay, maybe not White Christmas.
girlfriday: LOL. Not exactly. The thing that dramas do really well is make snow seem really pretty and romantic, and I always catch myself thinking that I miss living in a cold state where it snows over the holidays. But then I remember that snow turns to slush and I have to tell myself that dramas don't show you the part where you're shoveling your driveway. Still, winter dramas do have that extra snuggly factor that I think adds to the romance.
javabeans: Plus the live-shoot means at least it looks like it's actually Christmastime outside, instead of 80 degrees in autumn with fake snow swirling around. On the downside, why don't dramas break for Christmas? Won't they think of the recappers??? Don't tell me the answer to that.
girlfriday: That's the worst part about Christmas in Korea, actually — there's no all-day marathon of old-timey Christmas cartoons followed by Miracle on 34th Street. It's just regular dramas airing like clockwork, which means that we have to juggle holiday plans with a full TV schedule. It's so insensitive. What about OUR NEEDS?
javabeans: Well, it is sort of a self-imposed pickle. We could just un-pickle. We just don't know how to do that yet or maybe ever. Apparently the only holiday important enough to disrupt the drama machine in Korea is Chuseok. I guess as a fan I would be happy to have more dramas airing, but it's just that I'm tired.
girlfriday: What we need is a forced de-pickling, like when you come home for the holidays, your mother takes away your computer, shuts off the wifi, and detoxes you.
javabeans: Over my dead body. Also, that only works if you're going to be on the wagon forever. You'll just come back and retox anyway, and in that case why deal with the pain? Also, we should probably ditch the drugs metaphor because it's heading into an unhealthy place.
girlfriday: I think it's a little late for that. Hey, no one likes a quitter, right?
javabeans: Also, what else would I do over the holidays at home? My parents pester me for months to come, I do, and then Mom and Dad go off pursuing their own interests while I'm in my room doing nothing. I think they just like knowing I'm stuck at home.
girlfriday: So, it's either watching dramas at your house, or watching dramas at Mom's house. Or you could go outside and… do stuff.
javabeans: Christmas without dramas? What are you, a barbarian?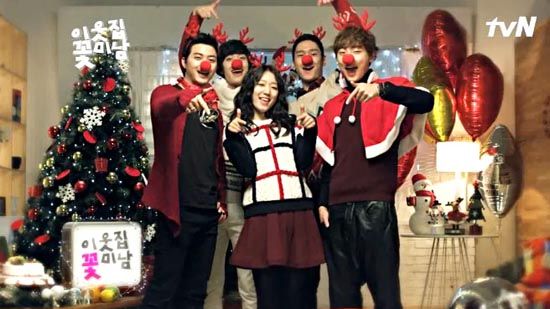 RELATED POSTS
Tags: conversation post, Odds and Ends